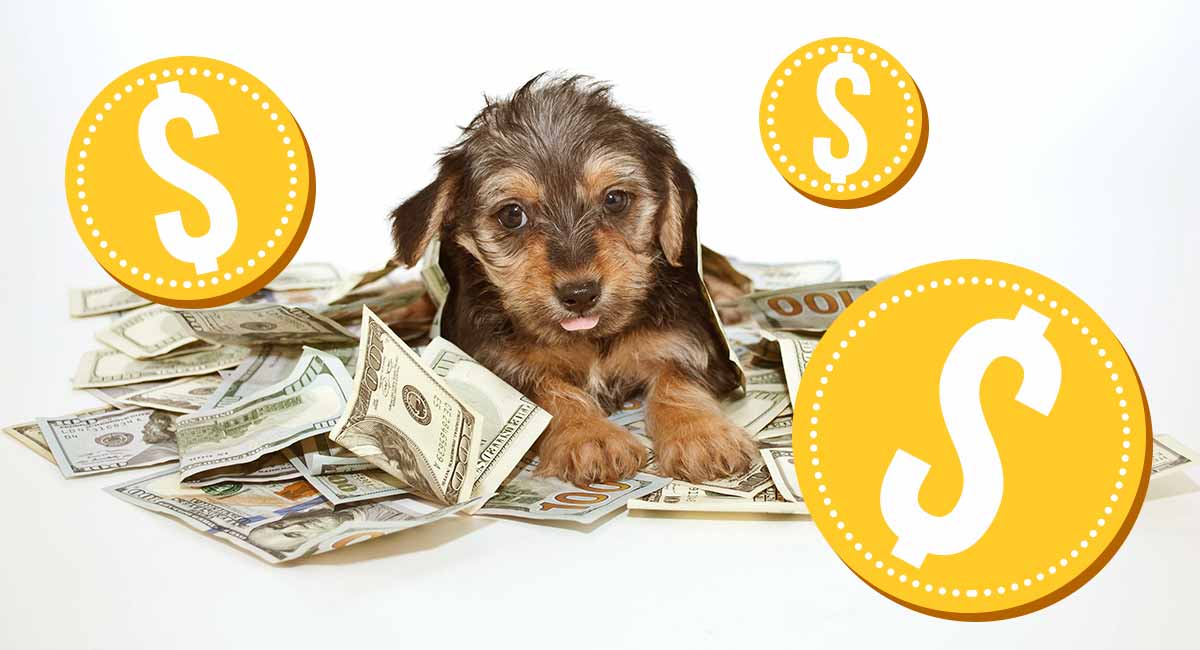 The most expensive dog on record is a Tibetan Mastiff sold in China in 2014 for $1.9M!
But, the most expensive breeds commonly bought as pets are the French Bulldog, Pug, and Chow Chow.
These puppies command high fees due to their popularity, but they also cost more than average in lifetime care.
Let's look in closer detail at what causes this high cost, and which breed is the most expensive dog to buy and raise.
The Most Expensive Dogs
What are the most expensive dog breeds?
If you're in the market for a four-legged friend, you may be wondering why there's such a variance in price from breed to breed.
There are actually a number of reasons why some dogs come with an exorbitant price tag.
Being extremely popular, like the French Bulldog currently is, can drive their asking price sky high.
In the case of the Löwchen, their rarity has put their price in the stratosphere.
But It's Not Just Initial Price
When it comes to breeds with excessive conformational health concerns, like the English Bulldog, you're not only looking at the initial outlay but the high cost of vet care throughout their lifetime.
In this article we'll take a look at the most expensive dogs not only to buy but to raise.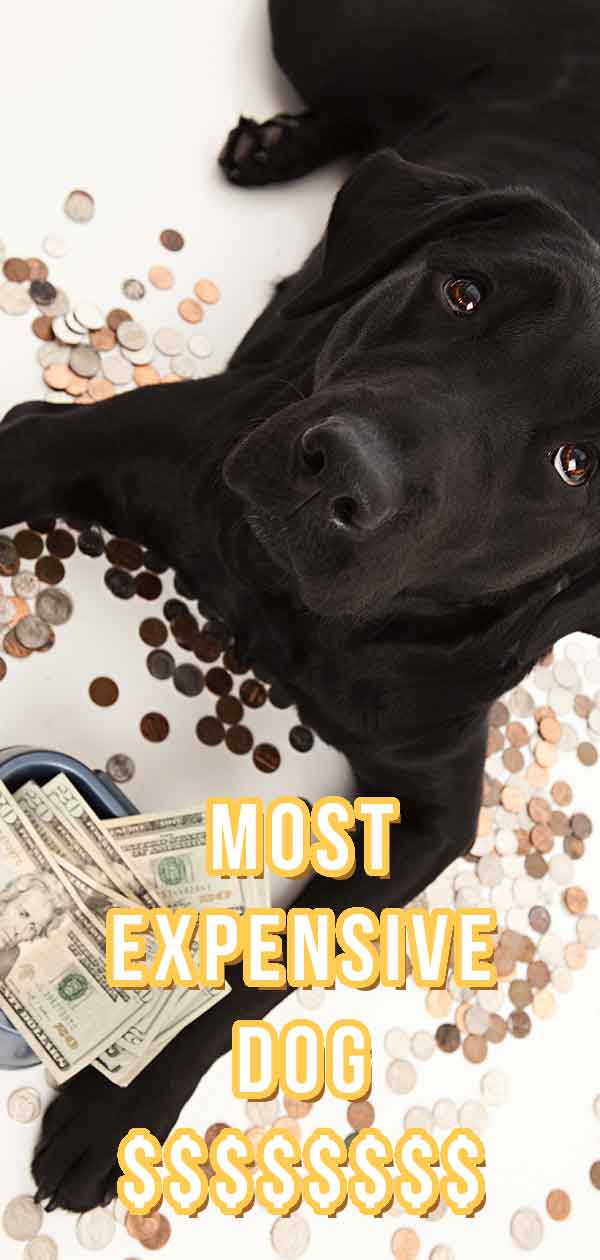 Why Are Some Puppies More Expensive Than Others?
A puppy whose lineage includes a long line of champions can exponentially increase the price, regardless of the breed.
The assumption is that if the parents were champs, then their offspring will be too.
Puppy price is also linked to behind-the-scenes breeders' costs.
From genetic health testing to stud services, breeders incur a lot of upfront costs before the puppies are even born.
Litter Size
It may not be surprising that, generally speaking, the bigger the dog, the larger the litter.
However, there are a number of factors that affect litter size.
This includes everything from the age of the mother to the time of year.
Artificially inseminated dogs typically have smaller litters than those who are impregnated naturally.
Reputable breeders will put the health and welfare of their dogs first and foremost.
For the well-being of the mother, this means having no more than four litters in their lifetime.
Average Litter Sizes
This large-scale study of 224 dog breeds found the average litter size to be 5.4 puppies.
But the tiny Chihuahua may have only one puppy.
The breed's diminutive size combined with their oversized, apple-shaped head means they usually need assistance giving birth.
And this entails additional costs for the breeder. Which can contribute to the most expensive dog price!
Cesarean Birth
Whelping problems are not uncommon in certain breeds.
Over 80% of Boston Terriers, English Bulldogs, and French Bulldogs require cesarean sections.
If there are complications, it's possible for a cesarean birth to cost thousands of dollars.
Health Tests
The number of genetic health screening tests available will vary greatly from breed to breed as will the pricing.
Each purebred dog tends to have its own inherited diseases.
It's important for a puppy's parents to be health tested to prevent puppies from inheriting these conditions.
Unfortunately, some of our favorite breeds also have some of the most health problems due to having an exaggerated conformation.
The Problem with Being a Popular Breed
It's a fundamental economic principle that when demand exceeds supply, prices tend to rise.
So it's not surprising that when a breed becomes extremely popular, their price goes up.
Sometimes it's a movie or television show featuring a certain breed that spikes people's interest.
Being seen as the constant companion of an admired celebrity can also give a pup's profile a boost.
Unfortunately, when a breed becomes popular, there's usually no shortage of backyard breeders who will try to cash in on a trend by selling poorly bred dogs at premium prices.
Most Expensive Dogs to Buy and Raise
The upfront cost of a dog is just a drop in the bucket compared to what you'll pay for other expenses over the dog's lifetime.
From food and toys to grooming and doggie daycare, the list of expenses associated with dog ownership can add up quickly.
But it's the high cost of veterinary care that can easily outweigh all of these other costs combined.
This is especially true for certain breeds who are at a high risk of medical problems due to their conformation.
Pet Insurance
Purchasing pet insurance is a good idea, and pricing can vary significantly depending on the breed.
In fact, the structural problems associated with some dogs could be considered a preexisting condition, making them uninsurable.
So when it comes to the price of a pooch, don't just look at the initial outlay.
Ongoing costs can put a bigger dent in your bank account.
Most Expensive Dog #1: English Bulldog
With his well-muscled, low-slung physique and large head with the signature sourpuss expression, the English Bulldog is one of the most recognizable and adored breeds.
Unfortunately their famously flat face means they're brachycephalic.
This extreme shortening of the facial bones causes an obstruction of the airway that makes it difficult for them to breathe properly.
In fact, sometimes expensive surgery is the only option for the breed.
So What Do They Cost?
Pricing for a Bulldog puppy typically starts in the $1,500 range, but due to their many health problems, the real cost of owning one is much more.
Bulldogs are one of the most expensive dogs to breed for a number of reasons.
Not only do the majority get birthed by cesarean section, most are bred using artificial insemination, and both of these procedures are costly.
Health Issues
There are also a slew of recommended and optional health tests for the Bulldog including:
patella luxation
hip and elbow dysplasia
congenital heart disease
tracheal hypoplasia
congenital deafness
eye problems
autoimmune thyroiditis.
Cancer, skin problems, obesity, eye infections, spinal problems, kidney stones, and dental issues also affect the beleaguered Bulldog.
Most Expensive Dog #2: French Bulldog
The French Bulldog, with their distinctive bat ears, have exploded in popularity in recent years.
Like their larger cousin, they're a brachycephalic dog and prone to the same respiratory problems.
This 2016 study in the UK found that nearly half of French Bulldogs have significant breathing problems.
What's really distressing is that these breeds didn't always look this way.
That's because unscrupulous breeders are creating dogs with exaggerated features to appeal to a public who finds these flattened features cute. This causes a number of health problems that make them one of the most expensive dog breeds.
When you compare today's brachycephalic breeds with photos from decades ago, there's no question that their muzzles have become shortened.
Health ISsues
The French Bulldog also suffers from chondrodystrophy.
This form of dwarfism causes numerous malformations of the vertebrae.
The Frenchie's protruding eyes are prone to eye disorders such as corneal ulcers, which can potentially cause blindness.
Costly DNA tests for the breed include:
primary hereditary cataract
chondrodysplasia
cystinuria type 1-a
cystinuria type 111
hyperuricosuria
degenerative myelopathy
progressive retinal atrophy
canine multifocal retinopathy 1
dilated cardiomyopathy.
Most Expensive Dog #3: Pug
Small but mighty, the Pug is another flat-faced breed that is one of the most expensive dogs.
A wrinkled brow gives them an array of human-like expressions that people seem to find extremely appealing.
The Pug has also been subject to extreme facial shortening by selective breeding.
Like all dogs with a flattened muzzle, their breathing will be affected to some degree.
Their cute curly tail, which is characteristic of other brachycephalic breeds, is known as screw tail.
It causes spinal deformation and, in severe cases, paralysis.
Most Expensive Dog #4: Chow Chow
The Chow Chow is an ancient breed with a lineage that dates back to 200 BC.
With their large lion-like head, abundant fluffy coat, and unique blue-black tongue, it's not surprising that these dogs are becoming increasingly popular.
Although their muzzle isn't as shortened as the breeds we've discussed, they're still considered brachycephalic and can suffer from breathing problems.
This condition also creates folds of skin on their face, which can hide trapped dirt and bacteria. Let's look at other health problems that contribute to their position as one of the most expensive dogs.
Health Issues
Their deep-set eyes leave them prone to multiple eye conditions such as cataracts, glaucoma, and entropion.
Other known health issues include:
hip dysplasia
elbow dysplasia
allergies
thyroid issues
patellar luxation
heart disease.
In addition to high insurance and vet bills, Chow Chows can have an upfront cost of anywhere from $3,000 to $8,500.
Most Expensive Dog #5: Tibetan Mastiff
Imposing and intimidating, the massive Tibetan Mastiff is an ancient guardian breed with a distinctively lion-like look.
They're not only one of the world's largest breeds, they're also one of the rarest.
This is in part due to the fact that females only go into heat once a year.
It's also said that since they're one of the oldest dog breeds, very few lineages have been kept pure.
In 2011, a red Mastiff named Big Splash reportedly sold for $1.5 million.
That record was broken in 2014 when a golden-haired Tibetan Mastiff weighing nearly 200 pounds sold for $1.9 million.
Most Expensive Dog #6: Samoyed
The ancient Siberian Samoyed is a beautiful breed.
They're nicknamed "Smiling Sammies" for the perpetual upturned corners of the mouth.
This actually serves the purpose of keeping drool from forming icicles on the face.
Although these dogs are known for their lush white coats, they also come in cream and biscuit.
And if you're interested in one of these rarer colors you can expect to pay a premium.
Samoyeds with an award-winning pedigree can cost up to $10,000.
Most Expensive Dog #7: Egyptian Pharaoh Hound
This striking breed has a history that dates back to 4400 BC, making them one of the oldest domesticated dogs.
Sleek, strong, and athletic, these beautiful sighthounds were built for speed.
These dogs have a truly unique feature.
When they're happy or excited, their nose and ears turn a blushing rose color.
Although they're the national dog of Malta, Egyptian Pharaoh Hounds are rarely found in the rest of the world.
This rarity comes at a high price of up to $6,500, making them a good contender for most expensive dog!
Most Expensive Dog #8: Löwchen
This German breed's name translates to "little lion," and that's exactly what the friendly Löwchen looks like with their full mane and plumed tail.
These dogs have almost become extinct several times and were once considered the world's rarest breed.
There're still only a few hundred new registrations each year worldwide.
This is why the Löwchen will set you back anywhere from $5,000 to $8,000.
Most Expensive Dog #9: Cavalier King Charles Spaniel
The combination of a sweet personality and an adorable face have made the Cavalier King Charles Spaniel a favorite.
There's no question that these toy spaniels make excellent companions.
But these pups also have their share of health problems.
Health Issues
They're predisposed to brachycephalic airway obstruction syndrome (BAOS), due to the relatively short length of the head and compressed upper jaw.
The breed is also prone to a serious condition called syringomyelia caused by the skull being too small for the brain.
Mitral valve disease, in which the dog's heart valve deteriorates, can become fatal quite quickly.
It affects the Cavalier King Charles Spaniel more than other breeds.
Responsible breeders will health test, and pricing typically starts in the $2,000 to $3,000 range.
Most Expensive Dog #10: Rottweiler
Both strong guardian and gentle playmate, the popular Rottweiler is the image of canine strength.
However, the breed has some serious and expensive health conditions, such as hip dysplasia, eye diseases, and heart problems.
These tests, combined with the high price of stud services, can run into thousands of dollars.
A well-bred Rottweiler can set you back anywhere from $2,000 to $8,000.
Finding a Healthy Puppy
You may see some of the breeds listed above advertised for prices that are much lower than the amounts quoted here. It might initially seem like a bargain for one of the most expensive dog breeds.
But, this should be a red flag.
The importance of choosing a responsible breeder who puts the health and welfare of their dogs over profit cannot be overstated.
Remember that the initial price of the dog is only the beginning of what it costs to be a dog owner.
Choosing a breed with myriad health concerns can quickly drain your wallet.
But what's truly agonizing is seeing your loving companion suffer throughout their life.
What You Can Do To Help
Many of our most beloved breeds are subject to numerous health conditions.
And distressingly, many of these problems are needlessly caused by selective breeding for sought-after physical characteristics.
Instead of encouraging this practice, you can opt to adopt a dog from a shelter.
This selection of guides by Pippa Mattinson, author of best-selling dog books, The Happy Puppy Handbook and Total Recall will help you find the right dog for you.
References and Resources
References and Resources Continued