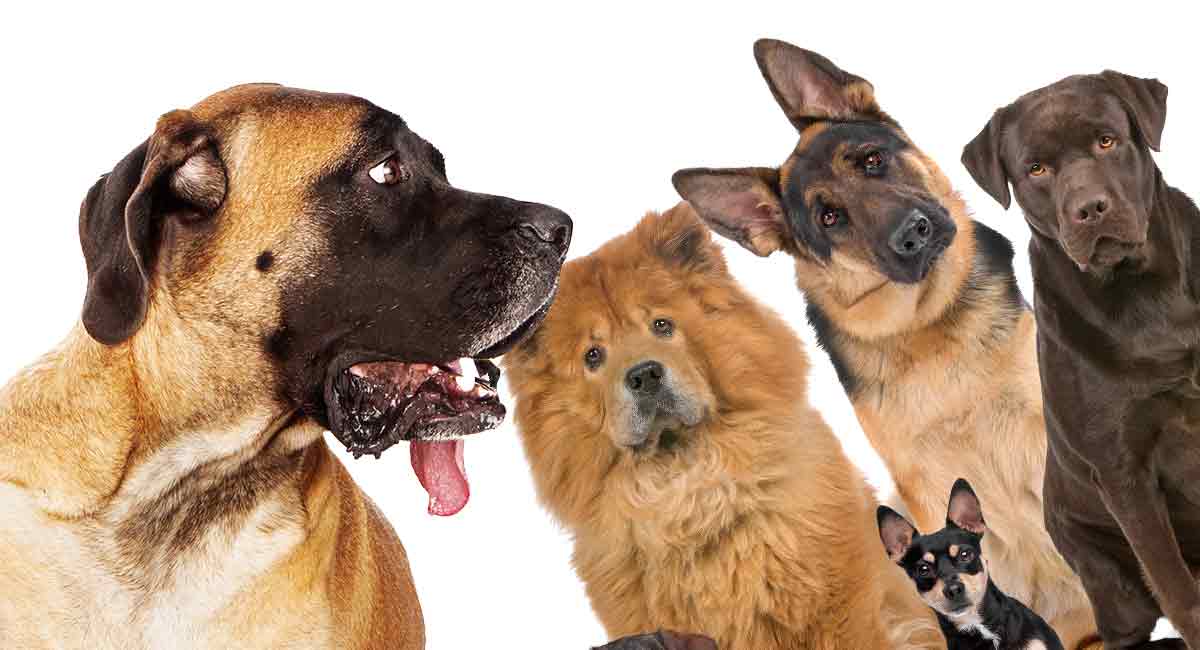 Mastiff mix puppies are unusual and when adopted into the right homes can grow into fantastic family pets.
Mastiff mix dogs can also sometimes be found in Mastiff breed rescue centers or animal shelters.
We look at several different Mastiff mixes in this guide.
We help you figure out what your Mastiff mix puppy will look like when grown up. And what kind of temperament and care needs a Mastiff mix is likely to have.
The giant Mastiff almost needs no introduction.
These massive pups, including Mastiff mixes, can be found in all walks of life today.
They are lounging at the feet of celebrities, standing guard on K-9 duty, keeping watch over livestock herds and taking up whole couches in homes around the world.
Crossing Mastiff dogs with other breeds has become common practice for a variety of sensible reasons, which we talk about in more detail here.
Read on to meet some of the most popular Mastiff mix dogs.
The Mastiff
The Mastiff is a truly ancient pure breed.
There is some evidence that the Mastiff's lineage extends all the way back to 2,500 B.C. in the mountainous regions of the continent of Asia.
The Mastiff has also aided in the development of many other popular now-purebred dog breeds, including the Chow Chow, the Saint Bernard and even the tiny Pug dog.
Different Mastiff varieties
It can be a bit confusing at first to learn about Mastiffs and discover how many different purebred Mastiff dogs exist.
For instance, there are Neapolitan Mastiffs, English Mastiffs, Bullmastiffs, Tibetan Mastiffs and even more.
The most common of these breeds is the Old English Mastiff, sometimes referred to as the OEM, and the breed which gets to call itself simply Mastiff.
Mastiffs have large bones, wide shoulders and large heads.
They typically weigh upwards of 100 pounds, although the largest Mastiff on record weighed 343 pounds.
The Mastiff breed standard outlines certain general breed traits to look for: a calm disposition, gentle and steady, good with children, strong protective instincts, and devoted to their families.
Mastiff Mix Varieties
The practice of crossbreeding, sometimes called hybrid breeding, is a controversial one.
That being said, most modern purebred dogs were mix breed dogs at some point in their breed development.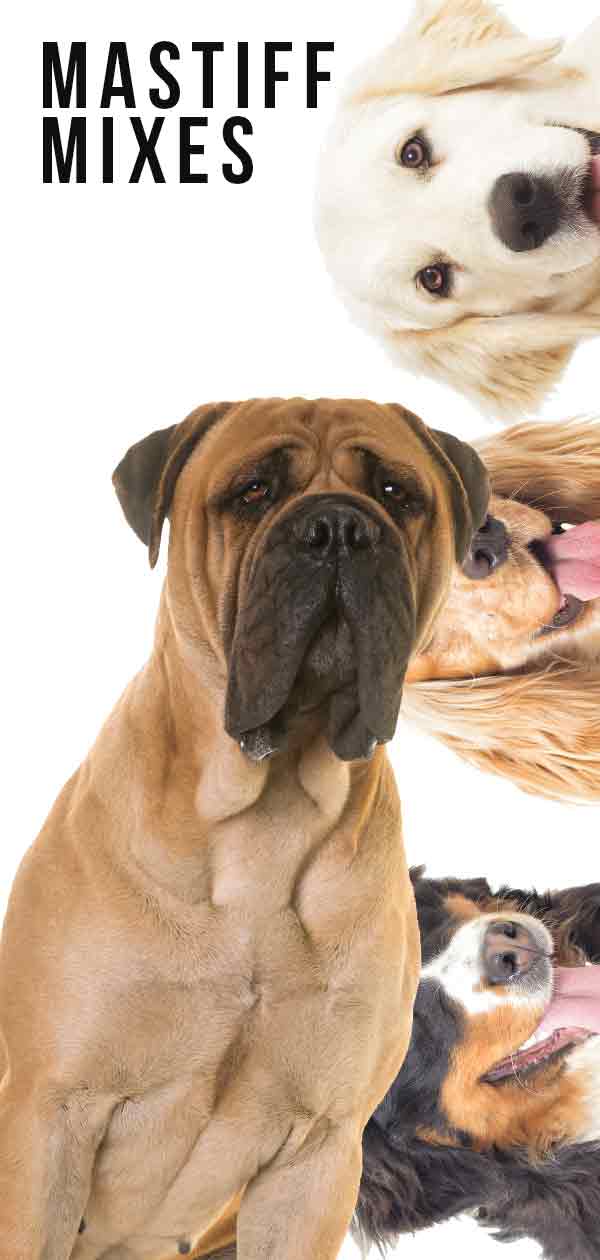 One of the major potential benefits of cross-breeding two purebred dogs is called hybrid vigor.
This theory dates back to Charles Darwin himself.
It states that crossbreeding can ease health issues caused by "inbreeding depression" (lack of genetic diversity).
Among domestic canines, crossing two purebred dogs can produce a canine more suited to the pet life.
Personality and temperament, size, coat type, energy level, prey drive, aggression and other traits can be modified through hybrid breeding.
The ideal outcome is to promote each breed's strengths while minimizing behavioral concerns or known health weaknesses.
Mastiff Mix Health
In the case of the purebred Mastiff, known health issues to watch for include bloat (gastric torsion) elbow and hip dysplasia, and cardiac, thyroid and eye issues.
A traditional Mastiff's life expectancy ranges from six to 10 years. It's typical for a giant breed, but low compared to dog population at large.
Crossbreeding with a smaller, longer-lived breed can give their puppies the chance of a longer lifespan.
Let's meet some of today's most popular Mastiff mix breed dogs.
List of Mastiff Mixes
If you are searching for information about a specific Mastiff mix breed dog, this handy clickable list can get you to the right section quickly.
Akita Mastiff Mix
Also known as: the Makita
A Makita dog has one Akita parent and one Mastiff parent.
This is a dog that is going to inherit a strong personality, and strong guarding and protecting instincts from both sides, as this inspiring story of a rescued adopted Makita showcases.
The Makita is smaller than most Mastiffs, likely weighing between 70 and 160 pounds.
But this is a powerful pup and also a hairy one during seasonal sheds.
An Akita Mastiff mix has a life expectancy of six to 13 years.
American Bulldog Mastiff Mix
Also known as: the Masti-Bull
When an American Bulldog and a Mastiff are bred, the puppies are called Masti-Bulls.
Your Masti-Bull is likely to be a large but not giant pup, weighing between 50 and 120 pounds.
These dogs need some extra grooming due to the Bulldog parent's characteristic facial wrinkles and short (brachycephalic) muzzle type.
In personality, a Masti-Bull is likely to be people-centric with moderate activity needs.
The typical life expectancy is six to 10 years.
Bernese Mountain Dog Mastiff Mix
Also known as: the Mountain Mastiff
Breeding a Bernese Mountain dog and a Mastiff creates Mountain Mastiff puppies.
Both parent dogs are bred for working alongside people in jobs that require independent thinking, strength and courage.
Your Mountain Mastiff is likely to inherit a sweet temperament and very strong people focus.
However, this is a shedding pup so prepare for lots of brushing and vacuuming.
As Berners are another giant breed, the general life expectancy Mountain Mastiff puppies is still just six to 10 years.
Boxer Mastiff Mix
Also known as: the Boxmas
Boxmas puppies have one Boxer parent and one Mastiff parent.
These dogs are likely to be large sized, weighing 65 to 160 pounds.
Boxmas dogs won't need lots of grooming—a weekly brushing should do it.
These pups inherit an active, people-centric personality with strong watchdog instincts and heaps of courage.
Their average life expectancy is six to 12 years.
Catahoula Mastiff Mix (Mastahoula)
Also known as: the Mastahoula
The Mastahoula is a cross-bred dog with one Catahoula Leopard dog parent and one Mastiff parent.
This dog is an interesting hybrid. Catahoula Leopard dogs are not generally recommended for first-time or companion canine-only owners, and the mixed breed might be too much of a challenge too.
This dog may shed lightly year-round, and is easy to brush and groom.
The typical life expectancy for the Mastahoula is six to 14 years.
Chesapeake Bay Retriever Mastiff Mix
Also known as: the Mastapeake
A Mastapeake is a puppy bred from a Chesapeake Bay Retriever and a Mastiff.
Both of these dogs are smart, active, and have strong protecting and guarding instincts.
The Chesapeake Bay Retriever is more naturally reserved and needs more socialization training. There's no way to control or predict whether a Mastapeake puppy will inherit this reserve.
Expect your pup to shed somewhat year-round and also go through a seasonal "coat blow" shed.
A Mastapeake's typical life expectancy ranges from six to 13 years.
Doberman Mastiff Mix
Also known as: the Mastiffman
The Mastiffman is a cross between a Doberman Pinscher and a Mastiff.
This dog weighs anywhere from 75 to 160 pounds, and may be leaner or stockier, depending on genetic influence.
The Mastiffman is smart, people-centric and active with strong protective instincts.
These dogs shed some year-round, but are easy to brush and groom.
Their typical life expectancy is six to 12 years.
German Shepherd Mastiff Mix
Also known as: the Mastiff Shepherd
The Mastiff Shepherd is a crossbred dog with one German Shepherd parent and one Mastiff parent.
The Mastiff Shepherd weighs 50 to 120 pounds.
The GSD has more natural reserve and a more serious nature, while the Mastiff is more affectionate and loving.
You wouldn't know for sure until your Mastiff Shepherd puppy reaches maturity which dog their temperament will most take after.
Both are excellent athletes.
You can expect some shedding year-round and seasonally with your Mastiff Shepherd.
The average life expectancy is six to 10 years.
Great Dane Mastiff Mix
Also known as: the Daniff
The Daniff is what you get when a Great Dane and a Mastiff have puppies.
Both parent dogs are known to be gentle with children.
Neither one appears to know they are enormous—expect your adult Daniff to weigh between 170 and 230 pounds but try to cuddle up on the sofa regardless.
Sadly these dogs have the shortened life expectancy of many giant breeds, with the average being six to 10 years.
Great Pyrenees Mastiff Mix
Also known as: the Maspyr
The Maspyr is the name given to a puppy with one Great Pyrenees parent and one Mastiff parent.
Expect your Maspyr to weigh 100-plus pounds in adulthood.
Both parent dogs have amiable, laid-back personalities that disguise a brave guard dog who would do anything for family.
The Great Pyrenees sheds profusely during seasonal sheds.
A Maspyr can be a bit of a challenge to train, especially if your puppy takes after the Great Pyrenees dog, which is a particularly independent breed.
The Maspyr's general life expectancy is six to 12 years.
Irish Wolfhound Mastiff Mix
Also known as: the Irish Mastiff
An Irish Mastiff dog is a cross between an Irish Wolfhound and a Mastiff.
Expect your Irish Mastiff to weigh anywhere from 105 to 200-plus pounds.
Both dogs shed moderately year-round. Mastiffs also shed seasonally, but Irish Wolfhounds do not.
Both purebred parents are known to be kind, amiable and gentle companions.
The Irish Wolfhound tends to be a late-maturing dog that can be destructive in puppyhood.
These dogs typically live six to 10 years.
Labrador Retriever Mastiff Mix
Also known as: the Mastidor
The Mastidor crosses the uber-popular Labrador Retriever with the Mastiff.
Your Mastidor's adult weight may be anywhere from 80 to 120-plus pounds.
One thing you can count on with a Mastidor is a shedding coat, especially when the seasons change.
These dogs tend to be gentle, loving and good with kids.
The Mastidor's life span is likely to range from six to 12 years.
Pitbull Mastiff Mix
Also known as: the Pit Mastiff
The Pit Mastiff is a puppy with one American Pitbull Terrier parent and one Mastiff parent.
The official breed standard for Pitbulls specifies that these dogs are known to be completely loving and devoted to their people.
Well-bred, genuine American Pitbull Terriers are confident, sociable, brave, smart and affectionate.
However, poor breeding practices mean that Pitbulls have a reputation for aggression too, and owning or breeding from them is prohibited in some regions.
Check local laws before you look for Pit Mastiff puppies, and always insist on meeting their Pitbull parent.
Expect a sizable pup weighing 60 to 120-plus pounds.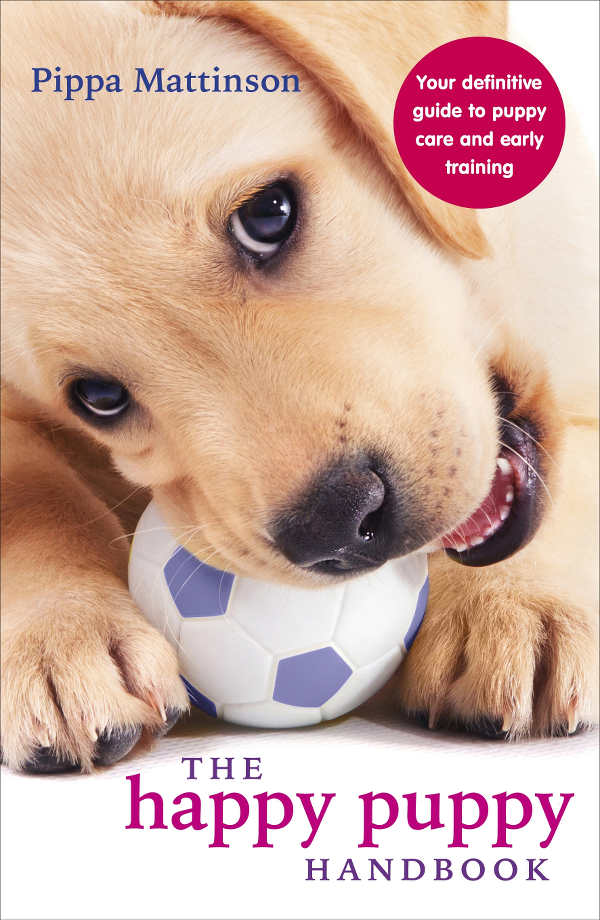 The Perfect Companion For Life With A New Puppy
These dogs shed seasonally and have a general life expectancy of six to 15 years.
Poodle Mastiff Mix
Also known as: the Mastidoodle
The Mastidoodle is one of the best-known and most popular of the Mastiff mix dogs.
The Standard Poodle is a popular choice in hybrid breeding because of this dog's signature non-shedding coat.
But with a Mastidoodle, there is no guarantee your pup is non-shedding.
Mastiffs do shed seasonally while Poodles don't shed visibly.
Expect a dog that weighs between 70 and 160 pounds. The typical life expectancy is six to 18 years.
Rottweiler Mastiff Mix
Also known as: the English Mastweiler
The English Mastweiler has one Rottweiler parent and one Mastiff parent.
Your pup likely weighs between 80 and 160 pounds.
While Rottweilers have a reputation for being fierce guard dogs, with their people they are generally goofy, loving and playful.
The English Mastweiler's coat is short- to medium-length, straight and smooth, with seasonal shedding.
This hybrid dog may live six to 10 years.
Saint Bernard Mastiff Mix
Also known as: the Saint Mastiff
The Saint Mastiff is a mix puppy with one Saint Bernard parent and one Mastiff parent.
This giant dog weighs 120 to 240 pounds.
Both are working K-9 dog breeds developed to serve people rescuing, guarding and protecting.
Your Saint Mastiff is likely to shed and drool, so be prepared for lots of both.
Their typical life expectancy is six to 10 years.
Is a Mastiff Mix Right for Me?
Whether each dog is right for you is an individual decision.
But getting familiar with the habits, health and size of their parents from puppy to adulthood may help with your choice.
We hope you have enjoyed learning more about each of these wonderful Mastiff mix breed dogs.
If you already have one, please tell us what they're like in the comments box below!
References and Further Reading:
Birchler, J.A., et al., 2006, "Unraveling the Genetic Basis for Hybrid Vigor," Proceedings of the National Academy of Sciences of the United States of America, Vol. 103, Issue 35, pgs. 12957-12958
Del Prete, C.L., 2016, "Akita-Mastiff Mix Is a Hero Dog," Best Friends Animal Society
LaBombard, J., 2016, "Official Health Statement," American Kennel Club/Mastiff Club of America
Maldarelli, C., 2014, "Although Purebred Dogs Can Be Best in Show, Are They Worst in Health?" Scientific American
"The History of the Mastiff," The Mastiff Club of America