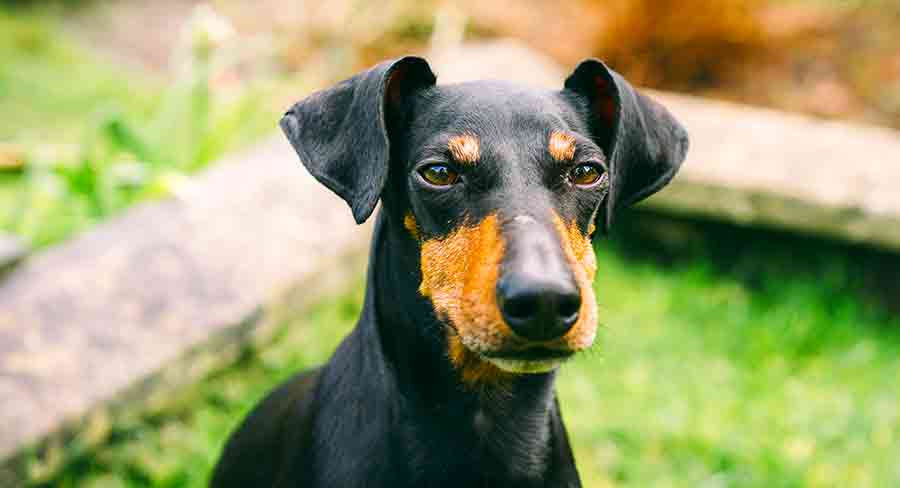 The Manchester Terrier is one of the world's oldest terrier breeds. These dogs were first bred for both rat catching and hare coursing. And they were so popular that a smaller version was bred as a ladies' lap dog!
But despite their popularity in the past, Manchester Terriers are a vulnerable native breed in the UK today.
In this article, we find out what's in store for people who manage to find one of these special dogs.
Breed At A Glance
Popularity: 133rd out of 197 breeds recognized by the AKC
Purpose: Pest control, companionship
Weight: Standard: 12-22lbs, Toy: >12lbs
Temperament: Quick, confident, and charming
Manchester Terrier Breed Review: Contents
History and Original Purpose of the Manchester Terrier
The Manchester Terrier started out in the 19th century as a mix of the now-extinct Black and Tan Terrier, and the Whippet.
Black and Tan Terriers were already widely used as rat catching dogs in factories in the industrial cities of North West England.
Breeders crossed them with Whippets so that the offspring could be used for both rat catching and hare coursing. This was part of a long tradition in the region for creating multi-purpose lurchers.
The city of Manchester became well known for good examples of this new dog. So the breed took on Manchester Terrier as its name.
Manchester Terriers were so popular for their personalities as well as their working ability that people began breeding smaller versions as lap dogs. Eventually the breed had two distinct types: standard-sized and toy-sized.
They were among the first breeds to be recognized by the American Kennel Club – right back in 1887.
Fun Facts About Manchester Terrier
Manchesters were nicknamed the Gentleman's Terrier, because they were seen as being exceptionally dignified.
Historians of the breed think that Italian Greyhounds and Dachshunds may also have contributed to the foundation of the breed.
Manchester Terrier Appearance
Manchester Terriers come in two sizes. But just like Standard and Toy Poodles, the smaller version ought to look like a perfectly scaled down version of the larger one.
So, all Manchester Terriers have a short, smooth coat. It is always black with tan markings on the feet, muzzle and eyebrows.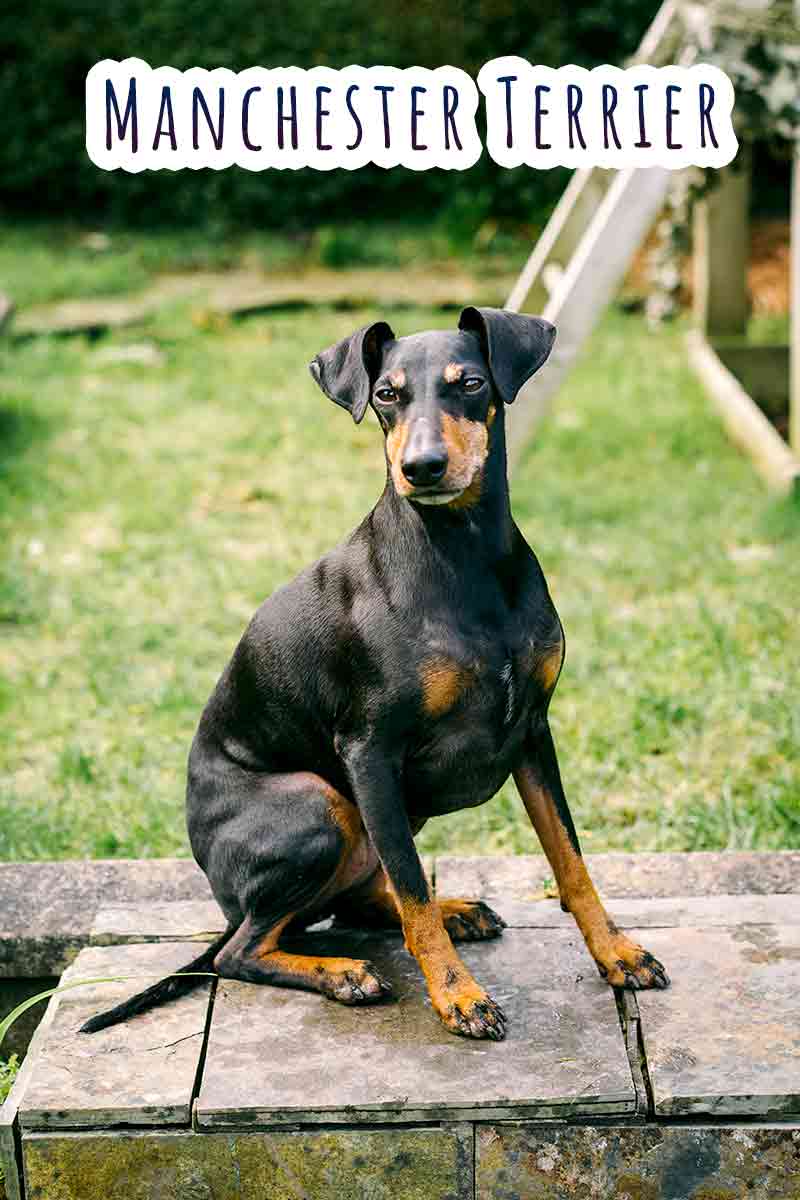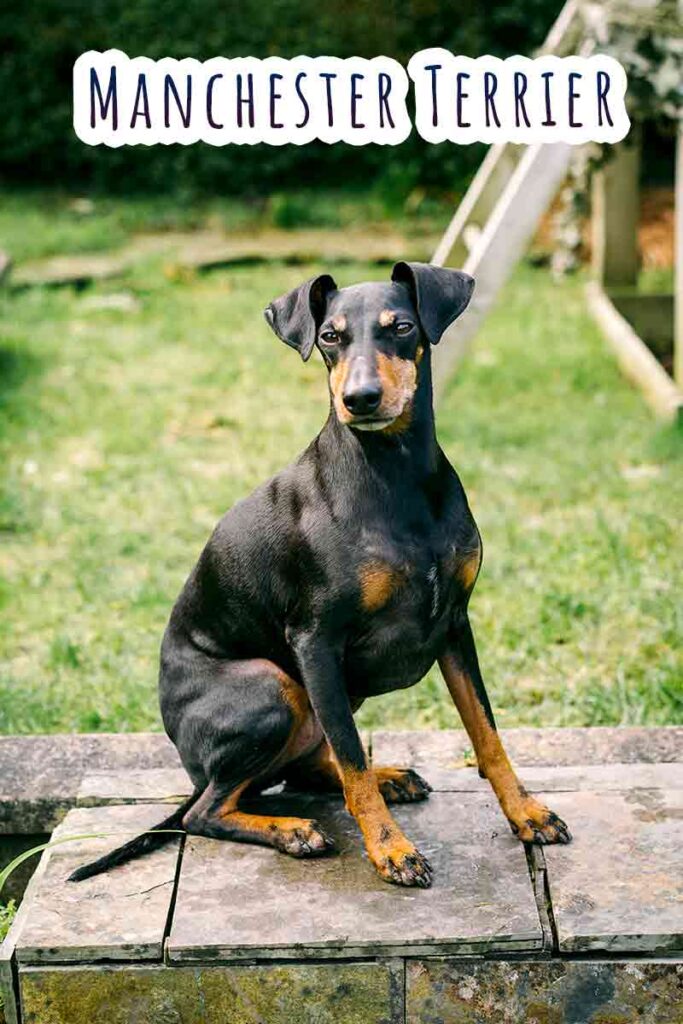 Their short coat shows off a compact and muscular body, designed for action.
They have a somewhat wedge-shaped head, akin to a Whippet or Greyhound.
Their overall looks appear poised and alert. The breed standard specifically states that their eyes should be 'bright and sparkling'!
How Big Are They?
Standard Manchester Terriers weigh 12 to 22 pounds. Although dogs from pet lines (as opposed to show lines) may fall outside this range.
Toy Manchester Terriers weigh less than 12 pounds. Whilst this represents the upper limit on their size, some may weigh as little as 5 – 7 pounds – similar to a Chihuahua.
Manchester Terrier Temperament
Owners of Manchester Terriers wax lyrical about their charms.
They are curious, affectionate, joyful, entertaining, clever and brave.
Since they have both Whippet and Terrier heritage, they are likely to have a very strong prey drive and chase instinct.
Off the leash, they will be quick to pursue anything that moves. From other animals, to cyclists and small children.
They are generally good with other dogs though, and reasonably easy to train.
Training and Exercising Your Manchester Terrier
Manchester Terriers have lively minds. They respond well to positive reinforcement training.
Since they have a strong prey drive, they may respond better to toys than treats as a reward in training games.
As a puppy, toy Manchester Terriers may take longer to toilet train than average, due to having a very small bladder capacity.
Socialization and Obedience
Manchester Terriers are not prone to fear around strange people or dogs. But it is still vital to socialize them from a young age.
Successful socialization training establishes a positive association with new experiences, which gives puppies confidence to enjoy the world without fear or anxiety when they're older.
Structured obedience training throughout a Manchester Terriers life teaches them how to be a good citizen, and is important source of mental stimulation.
Dogs who get to use their brains for regular training games are also less likely to become destructive around the home.
Recall Training
For any breed with a high prey drive and chase instinct, a strong recall cue is vital to stop them from getting into trouble.
Dogs with a strong chase instinct are prone to getting lost on walks, running into traffic, and disturbing livestock. (Bear in mind that in some regions, farmers can legally shoot dogs disturbing livestock.)
A strong recall response, plus a back up emergency recall cue, are important for keeping Manchesters safe whilst walking off leash.
But, bear in mind that many trainers are sceptical about whether a recall cue can ever completely override a strong prey drive though. So when in doubt, keep them on the leash.
This means Manchester Terriers also need a safe enclosed space for exercising when off leash walks aren't possible. For example a large backyard.
Exercise
Manchester Terriers need at least an hour of exercise a day.
Toy dogs may not be able to manage as much walking as standard ones. But they still have lots of energy, and you'll need to make up the difference playing games at home.
Bigger Manchester Terriers might enjoy dog sports like lure coursing, flyball and Earthdog.
These are a great way for dogs with brains and a strong chase instinct to use both at once. Dogs with both sighthound and terrier ancestry often excel in them!
Manchester Terrier Health and Care
Manchester Terriers are generally a healthy breed. They are relatively free from hereditary health problems.
That said, a slump in popularity during the 20th century caused something of a genetic bottleneck in the breed.
In other words, all of today's dogs descend from the small number of individuals left at the time. So the health problems of those dogs are amplified in the current population.
Von Willebrand's Disease
Von Willebrand's disease (VWD) is a blood clotting disorder. Affected dogs are prone to severe blood loss from wounds or surgery.
Between 24% and 37% Manchester Terriers carry one copy of the faulty gene which causes VWD.
But, since it is a recessive condition, only puppies which inherit two copies (one from each parent) are affected by the disease.
Genetic testing is available to make sure no two carriers mate.
Joint Problems
Manchester Terriers are also affected by joint conditions including:
Hip dysplasia
Elbow dysplasia
Patella luxation
All sires and dams should have a clean bill of health. Dogs with symptoms of these problems should not be used for breeding.
Dental Disease
Toy Manchester Terriers in particular are at risk of over crowded teeth. (Despite their size, they still have the same number of gnashers as a wolf!)
This can result in:
Lost teeth
Decay
Gum infections
Bad breath
Dilated Cardiomyopathy
As of 2013, a rapid onset form of the heart disease dilated cardiomyopathy has been reported in some toy Manchester Terrier breeding lines.
Affected puppies usually die suddenly before their first birthday, without any prior symptoms.
The condition is likely to have an inherited component. But at the moment there isn't a DNA test for the genes responsible.
So whilst affected puppies are likely to die before they can pass on the condition, unaffected siblings from the same litter may still carry the faulty gene, and should also be excluded from breeding.
Good breeders will keep detailed records of their dogs' family trees, for exactly this purpose.
Lifespan
Manchester Terriers live for 14 to 15 years on average. But dogs living to 17 have been recorded.
This is significantly longer than the all-dog average. It's partly down to their overall genetic health, and partly down to their size. The smaller the dog breed, the longer they tend to live.
Unfortunately at the time of writing, standard and toy Manchesters have been counted together in longevity surveys. So we don't know if the toy size lives consistently longer than the standard size.
Grooming your Manchester Terrier
The Manchester's short coat is low shedding and low maintenance.
They don't need brushing, but they may benefit from occasional baths to keep them smelling fresh. (Their parent breed the Whippet for example, has a remarkable ability to hit their own front legs every time they pee.)
You'll also need to clip their nails regularly.
Do Manchester Terriers Make Good Pets?
Manchester Terriers are superlative pets in the right home.
Due to their high prey drive, they may not suit homes with smaller pets, like cats or rabbits.
They love companionship. So they fit well in homes with other dogs, and homes where someone is home for all or most of the day.
The standard variety is a good walking companion for people who like hiking. But the toy variety needs an owner who can intersperse short walks with games at home.
Manchester Terriers enjoy having somewhere safe to exercise and explore off leash. This satisfies their curiosity, and need for action. For lots of owners, a large, enclosed yard does the job.
Manchesters are a good choice for people with an interest in advanced training (such as advanced obedience, agility, or teaching tricks) and dog sports.
Rescuing a Manchester Terrier
There are lots of good reasons to rehome an older dog, rather than purchase a puppy.
Since the Manchester Terrier population is small, the number of homeless dogs looking for new families is also small.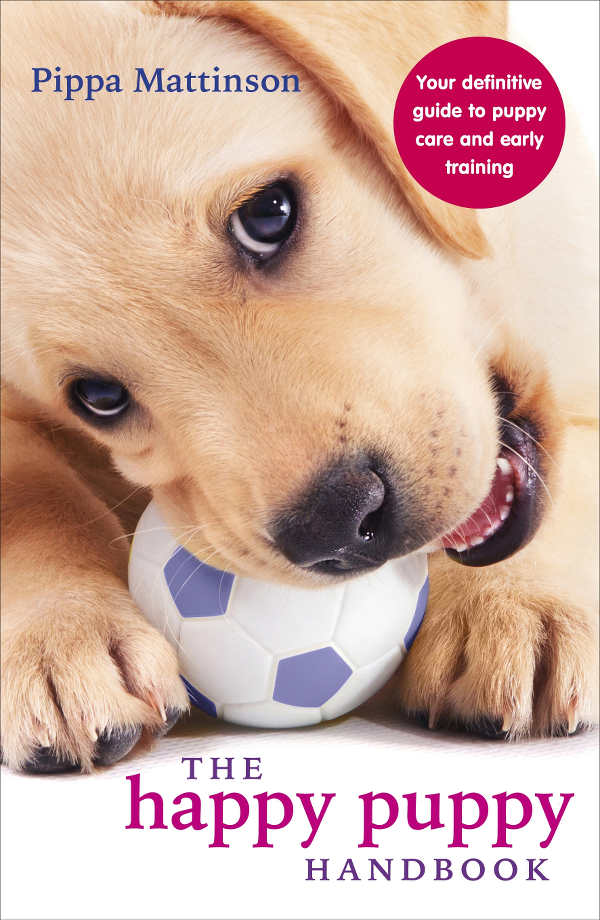 But, it may still be quicker to find a rescue dog than to join the waiting list for a puppy.
We've included a list of rescue societies dedicated to the Manchester Terrier at the bottom of this article.
Finding a Manchester Terrier Puppy
Manchester Terriers may be a vulnerable breed, but happily there are many fans of this dog dedicated to keeping them going.
Our Puppy Search Guide has more information to help you find a puppy.
The American Manchester Terrier Club also maintains a directory of affiliated breeders.
Since this is quite a rare breed, you may need to join a waiting list for a litter.
Raising a Manchester Terrier Puppy
Puppies of all breeds are a big responsibility.
These articles an help you prepare for your new arrival, and navigate those first weeks and months.
You might also enjoy the Puppy Parenting course on our Dogsnet site.
Pros And Cons of Getting A Manchester Terrier
There's a lot to consider before getting a Manchester Terrier. Here's a summary of their pros and cons:
Cons
High prey drive, so may not be suitable for home with smaller pets
Toy variety can be hard to toilet train
Somewhat rare
Pros
Winning personality
Low grooming needs
Reasonably healthy
Similar Breeds
If you decide that ultimately a Manchester Terrier is not for you, you might find that one of these breeds ticks all your boxes instead:
And finally, those rescue shelters we promised you…
Manchester Terrier Breed Rescues
In the USA, Maximal Manchester Terriers in New Jersey foster and rehome Manchesters down on their luck.
In Canada, the Canadian Manchester Terrier Club may be able to help.
And in the UK, the British Manchester Terrier Club coordinates a breed welfare and rehoming service.
Do you know of a Manchester Terrier Rescue center we haven't included?
Tell us about them in the comments box down below!
Readers Also Liked
References And Resources