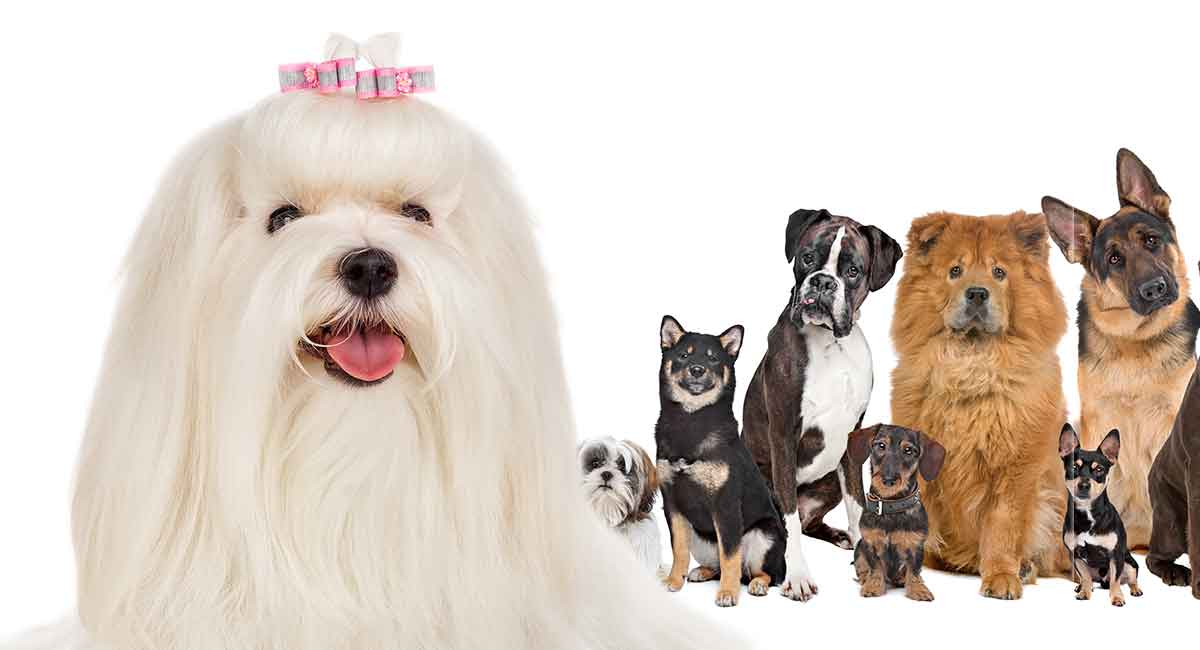 The Maltese Mix breed dog has so much to offer to the right dog owner.
The Maltese has developed a fan following of dog lovers.
They include bona fide royalty and international celebrities, as well as people from all walks of life around the world.
This small white dog breed is so cute it is easy to see why so many people want one!
But the purebred Maltese is not always the right choice for every aspiring dog owner.
In this article, learn about classic Maltese dog traits and meet popular Maltese mix breed dogs including the Maltese Yorkshire Terrier, Maltese Poodle and Maltese Beagle.
The Maltese
The purebred Maltese typically weighs less than seven pounds and stands at most just nine inches tall.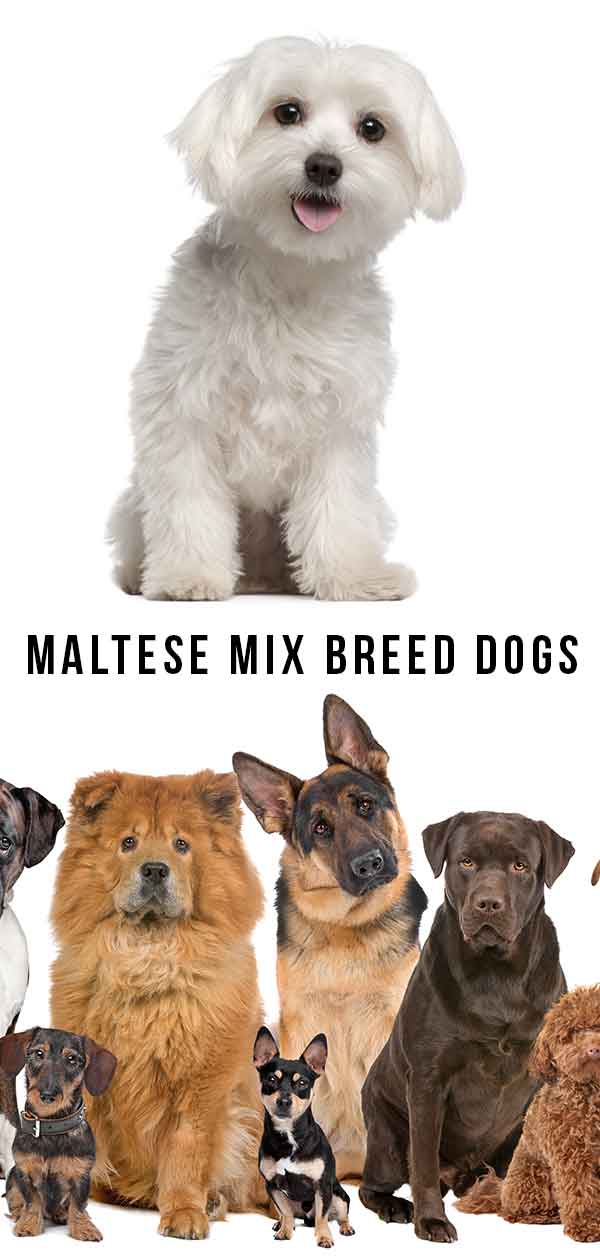 This teensy pup with the long, luxurious white coat has been charming dog lovers since the time of the ancient Roman and Greek empires!
The Maltese Mix
Hybrid dog breeding is relatively new in theory, although in fact this is precisely how many of today's purebred dog breeds were developed!
Crossing two purebred dog breeds can produce some significant benefits.
One vital benefit of hybrid breeding is to strengthen the genetic line for each purebred dog breed, a concept called "hybrid vigor."
Another benefit is to produce puppies with a new mix of desirable traits, from personality and size to trainability and coat type.
However, with hybrid breeds, you have two distinct gene pools contributing to each litter of puppies.
So this also means you can have quite a bit of variation in looks, temperament, coat type, and other traits even within a single litter!
For this reason, it is not possible to predict in advance how each set of genes may influence each puppy.
No. 1: Maltese Yorkshire Terrier Mix (Morkie)
The Morkie is what you get when you crossbreed a purebred Maltese with a Yorkshire Terrier.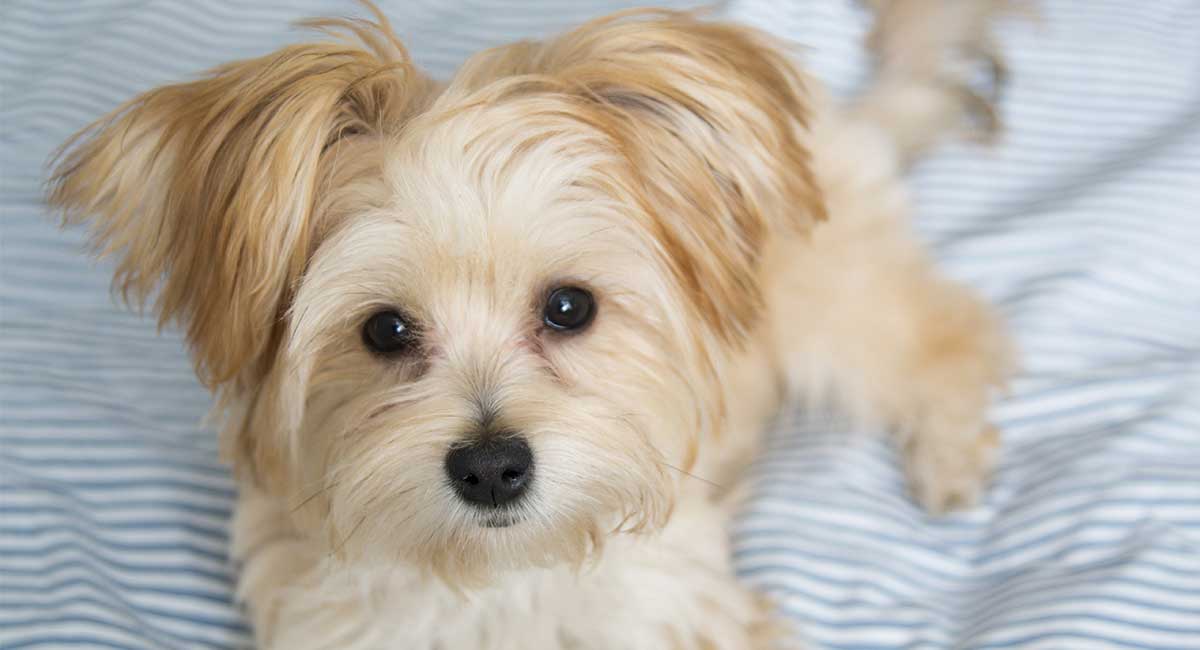 This adorably-named dog comes from two purebred parents with long, silky, human hair-like coats.
Both are tiny by nature, weighing seven to eight pounds at most.
Both have similar health concerns and are low-shedding dogs.
The Morkie will likely inherit both parent dogs' athletic ability, playful nature and tendency to use cuteness to skip tough training lessons.
Both can be prone to hypoglycemia and hypothermia because of their extremely small size.
Most importantly, both are born and bred to be companion dogs to "their" people and really need to have continual human companionship to stay healthy and happy.
Happily, the overall life expectancy for Morkie dogs today is 11 to 15 years.
To learn much more about the petite and precious Morkie, visit our full hybrid breed review here.
No. 2: Maltese Miniature Schnauzer Mix (Mauzer)
The Mauzer comes from the pairing of a Maltese with a Miniature Schnauzer.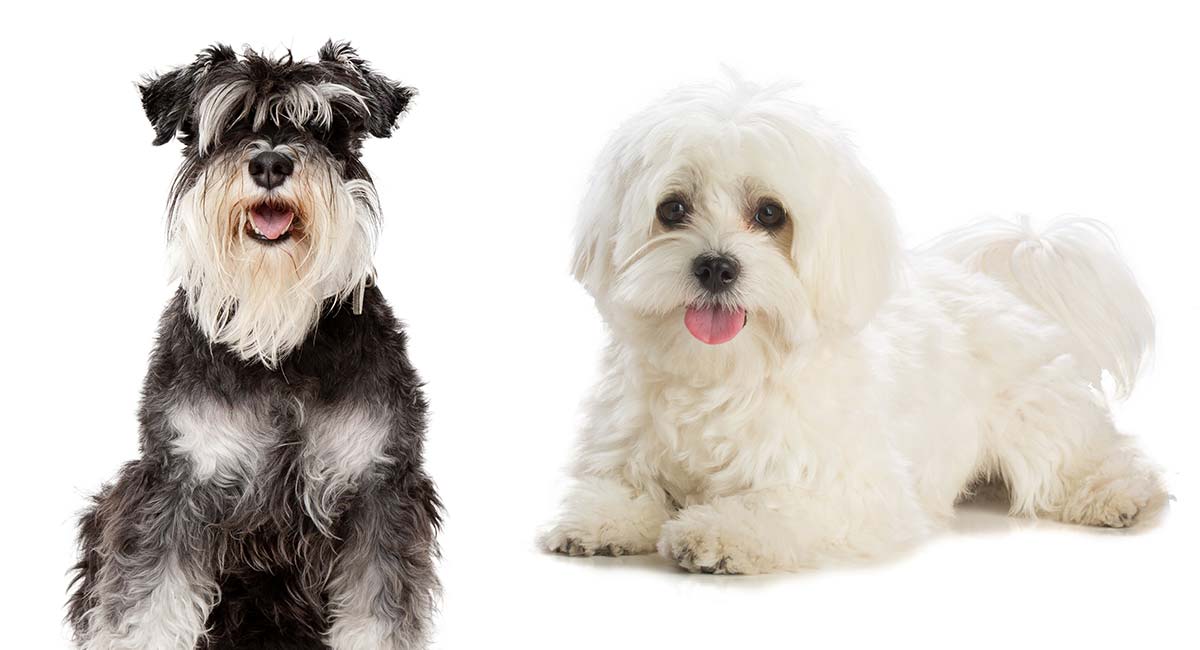 This interesting pairing can result in a slightly larger-than-toy-sized dog, since the Miniature Schnauzer can weigh up to 20 pounds.
Like the Maltese, the Schnauzer is a low-shedding dog. Unlike the Maltese, the Schnauzer's coat is more coarse, wiry even, and double-layer, with a dense insulating undercoat.
A close body clip is common with Schnauzers and this can help reduce brushing chores.
Mini Schnauzers are great athletes and tend to be quick studies in training courses.
They love to be with "their" people and crave constant socialization.
It is important to keep Schnauzers on a leash when out walking because their strong prey drive can make it easy for them to run off after a squirrel or other small animal and get lost.
To learn even more about the Mauzer, visit our full hybrid breed review here.
No. 3: Maltese Poodle Mix (MaltiPoo)
The Maltese and the Poodle are both popular for a number of reasons, including their non-shedding coats.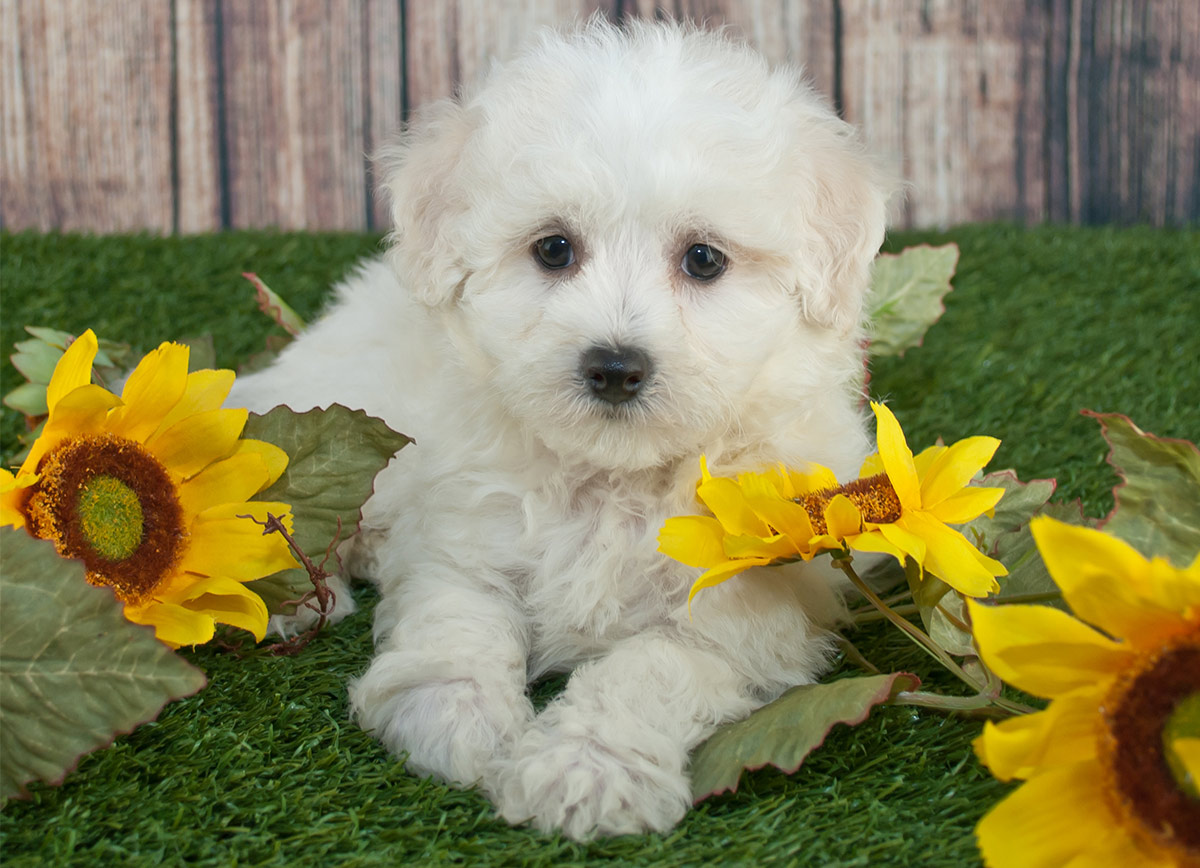 While the Maltese's coat is straight and fine and the Poodle's coat is curly and coarser, both need lots of daily brushing and grooming.
The MaltiPoo's weight can fluctuate depending on the size of the Poodle parent.
Typically, a Maltese will be bred to a Miniature or toy Poodle, which means weight may range from 4 to 15 pounds.
Both dogs are very much oriented towards "their" people in personality and both can make amazing canine athletes.
They are very smart and trainable.
To learn even more about the MaltiPoo, visit our full hybrid breed review here.
No. 4: Maltese Beagle Mix (MaltiBeag)
The MaltiBeag is the nickname given to a puppy with one Maltese parent and one Beagle parent.
The Beagle is bred in two sizes: under 20 pounds and 20 to 30 pounds.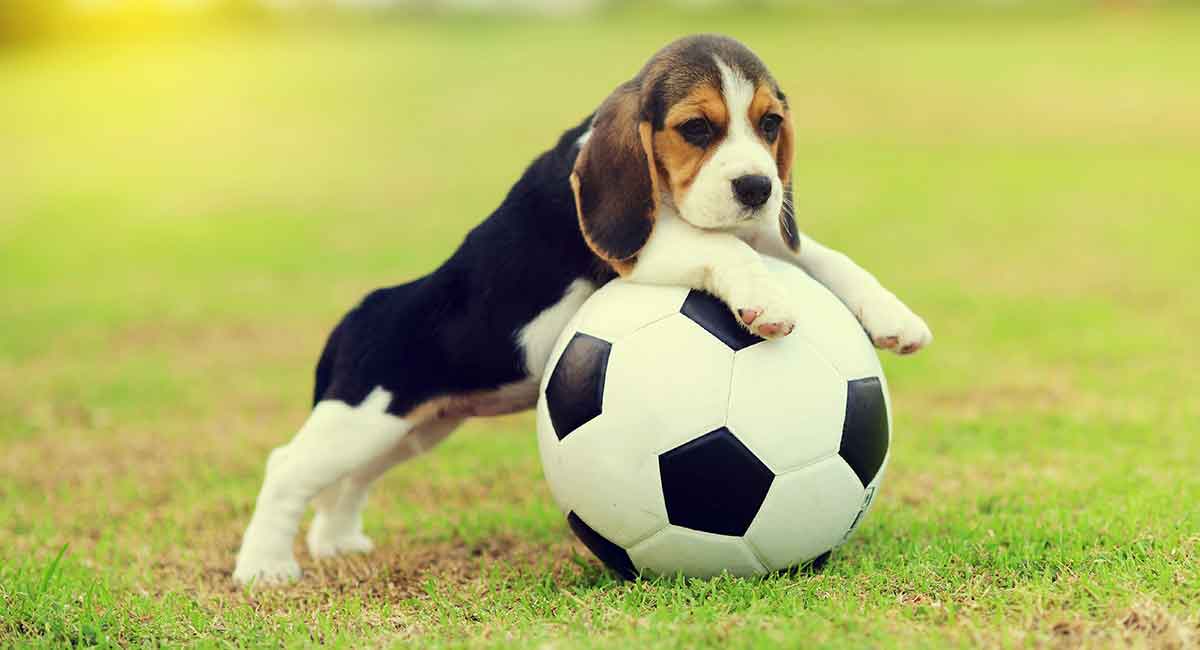 So the best way to predict your MaltiBeag's adult size is to meet both parent dogs in person!
Unlike the Maltese, the Beagle sheds year-round even though this dog's double-layer coat is quite short.
However, you won't have as frequent brushing chores if your pup takes more after the Beagle parent, since these dogs can get away with a weekly brush.
Beagles need plenty of exercise (an hour or more) daily to stay happy and healthy. They tend to bay rather than bark and are difficult to distract when scenting out a trail.
You can expect the happy, friendly MaltiBeag to live 10 to 15 years.
No. 5: Maltese Papillon Mix (Papitese)
The Papitese is a puppy with one Maltese parent and one Papillon parent.
In its own way, the Papillon is just as striking as the Maltese with its signature "butterfly ears."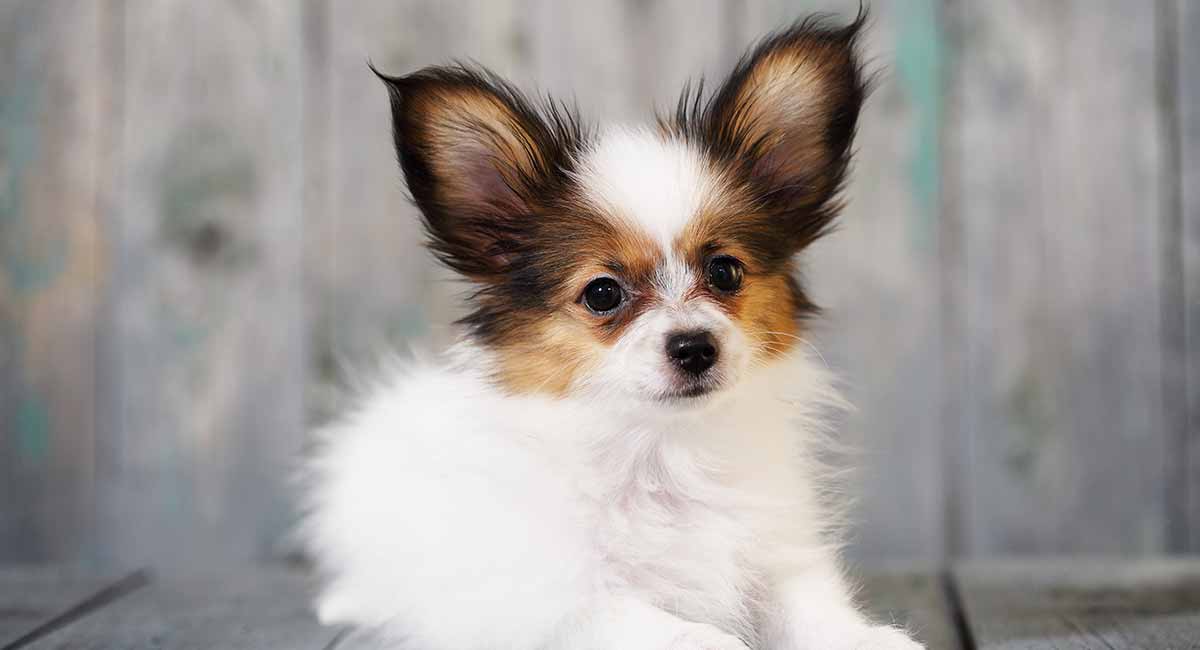 Both dogs have very thin, soft, human-like hair. And both weigh 10 pounds or less, placing them firmly in the toy breeds category.
Like the Maltese, the Papillon does not have an undercoat.
Neither dog does much visible shedding.
But unlike with the Maltese, if your puppy takes after the Papillon parent, you won't have as much brushing to do since the coat is fairly self-maintaining.
Both dogs are much more athletic than their appearance might make you think! The Papitese or MaltiPap is quite a good canine athlete and loves playing games like fetch.
They are smart and can learn tricks and commands quickly. But they don't do well when left alone for long periods of time – these dogs really need to be with "their" people!
The MaltiPap can live 12 to 16 years.
No. 6: Maltese West Highland Terrier Mix (Waltese)
The Waltese is the name given to puppies with one Maltese parent dog and one West Highland Terrier (Westie) parent dog.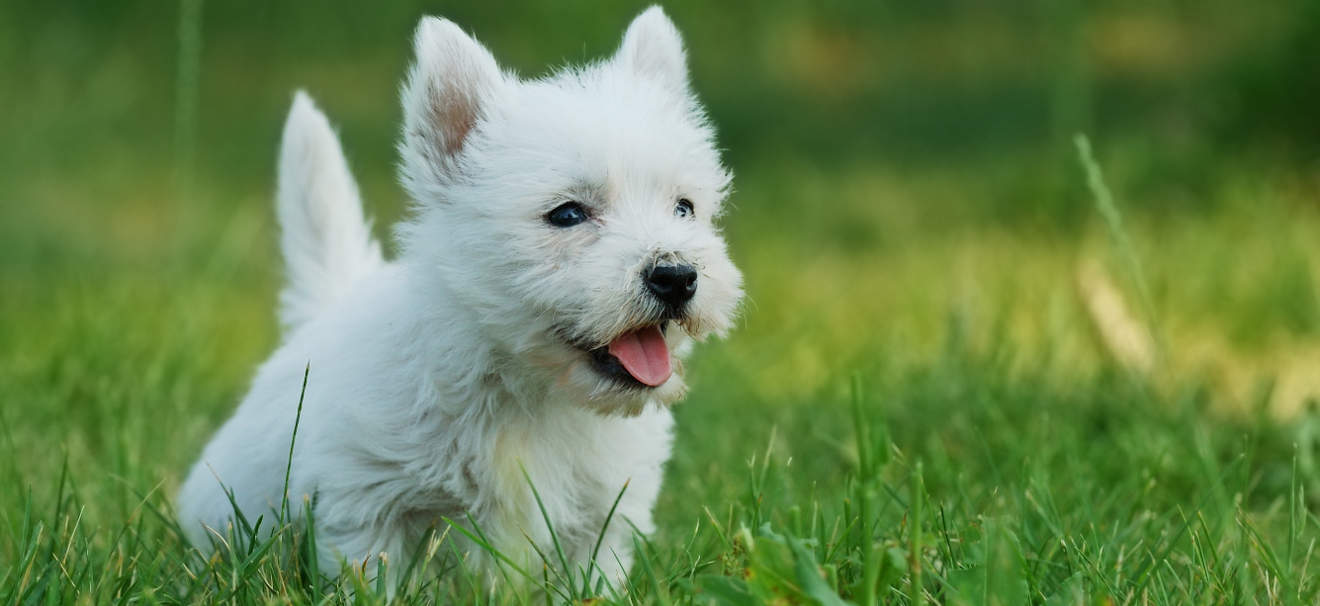 The Westie, like the Maltese, also has a low-shedding coat and this means it will be necessary to do more brushing to remove dead, shed hairs before they can develop into tangles or mats.
Size-wise, at 11 to 20 pounds, the Westie is a bit bigger than the toy Maltese. So your puppy might weigh anywhere from 7 to 20 pounds in adulthood.
Westies are talented canine athletes and they really love to play and romp and run.
Because of this dog's strong prey drive, they do need to be kept on-leash during walks and their yard needs to be escape-proof.
The Waltese will inherit a strong need to be with "their" people from both parent dogs, so this won't be a dog breed that will do well when left alone frequently.
These dogs can live 12 to 15 years.
No. 7: Maltese Havanese Mix (Havamalt)
When a Maltese and a Havanese dog have puppies, they are called Havamalts.
The Havanese dog is also a toy-sized breed and weighs 7 to 13 pounds – just a few pounds heavier than an adult Maltese.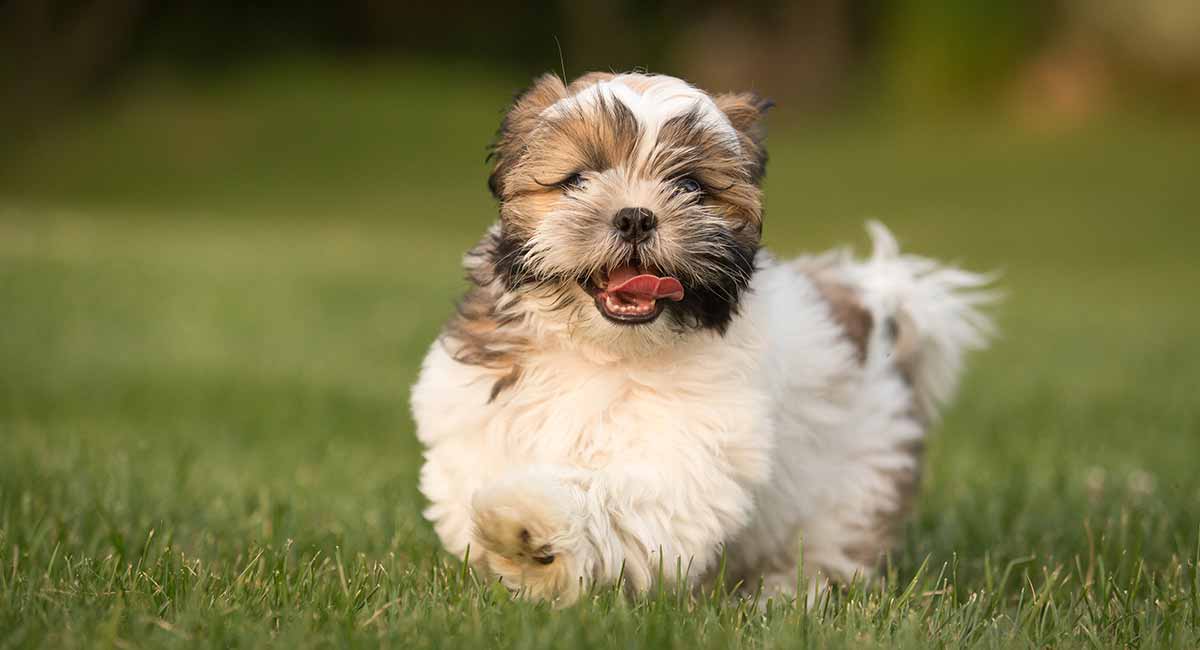 These Cuban natives also have long, lush fur, long ears and a long, plumed tail. Their coat color can vary but often has a white base color with streaks ("highlights") of black, tan, brown, red, gold or other lovely combinations.
The Havanese is sometimes given a short clip to reduce brushing time, but they will still need some brushing daily to avoid tangles.
Another option if your Havamalt pup takes after the Havanese parent dog is to let the coat cord naturally.
Havanese love to play interactive games and just spend as much time as possible with "their" people.
They are very smart and sensitive and will only respond well to positive training methods.
A Havanese Maltese cross can live 12 to 16 years.
Maltese Personality and Temperament
When you mix a Maltese with another breed, there is no way of knowing how much of each parent's personality the pup will get.
As a well-established pure breed with a sweet and gentle nature, adorable looks and relatively few health issues compared to other purebred breeds, the Maltese makes a natural choice for hybrid breeding programs.
But they won't necessarily pass these temperament genes along.
Brushing and Grooming
The Maltese needs daily brushing and grooming to keep their long, lovely, almost-human coat free of tangles and mats!
They also need daily tooth brushing and regular nail trims.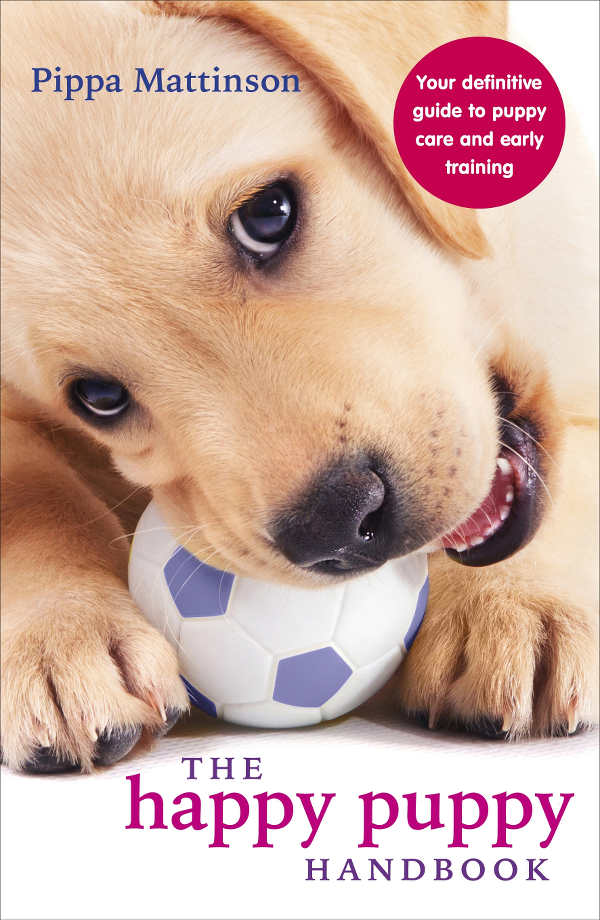 Attention must be given to cleaning the reddish-brown tear stains that can accumulate around their eyes and mouth.
For the Maltese, tear staining often occurs due to low-grade infection or environmental allergies or toxins, so always consult your dog's vet if it occurs.
While the Maltese coat is described as hypo-allergenic, what is more accurate is to say this dog breed rarely sheds visibly.
Rather, the shed hair gets trapped in the long coat.
Regular brushing is vital to keep the skin and coat healthy.
Your mix may or may not inherit this cute but high maintenance look.
Health Concerns
The Maltese is known to suffer from certain heritable (genetic) health conditions.
The Canine Health Information Center (CHIC) recommends health testing parent dogs for cardiac issues, patellar luxation and liver issues.
Other Maltese health conditions of note include:
hydrocephalus (fluid on the brain)
white shaker dog syndrome (idiopathic cerebellitis)
congenital deafness
skin allergies
collapsing trachea
thyroid dysfunction
hypoglycemia (low blood sugar)
hypothermia (low body temperature)
Overall, the typical life expectancy for a Maltese dog is 12 to 15 years.
Regardless of the breed they are mixed with, your pup's Maltese parent must have been health tested or vet checked for the above concerns.
Training and Enrichment
You will want to use positive yet firm training with your Maltese, who is well able to use charm and cuteness to skip lessons they aren't keen to learn!
In spite of the Maltese's tiny size, this dog has lots of energy and loves to play and jump.
This, however, is not actually ideal given this breed's predisposition to luxating patella (trick knee cap).
Otherwise, Maltese are great at canine sports and make quick studies when learning tricks.
The Maltese's biggest need is to be with "their" people as much as possible.
This is not the right dog breed for families where no one is home for hours at a time!
Is A Maltese Mix Right For Me?
Have you fallen in love with one of the hybrid dog breeds you have just met in this article?
Please drop us a comment to share which Maltese mix dog is your favorite and why – we love to learn from our readers!
References and Resources
Fern-King, C.., et al, "Maltese Hydrocephalus/Tear Staining," The American Maltese Association, 2018.
Ravine, D., "Making a Difference: Riley the Maltese Comforts Kids in Pain," NWF Daily News, 2014.
Tuttle, B., "The 10 Richest Pets of All Time," Time Magazine, 2015.
Buccone, B., "Breed Standard/The Maltese, Toy Dog of Myth and Legend," American Kennel Club, 2015.
Taylor, M., "The Dog Days of Summer: Hybrid Dogs," Princeton University Press, 2018.