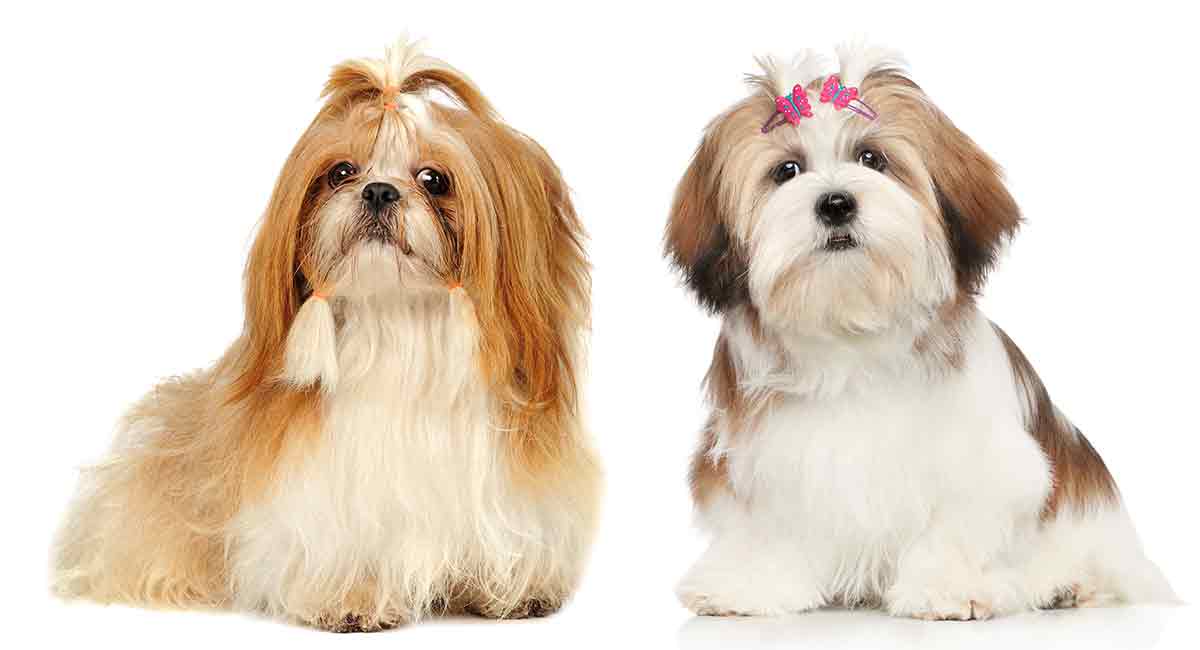 It sure isn't an easy choice between the Lhasa Apso vs Shih Tzu dog breeds!
Both of these dogs are super cute and wonderfully smart, which makes your decision even harder!
We have prepared this focused article outlining the major Lhasa Apso vs Shih Tzu differences and similarities.
We hope it helps you identify which dog is the better fit for your lifestyle!
Read on now to discover vital facts and information to help you choose between the Lhasa Apso and the Shih Tzu!
Lhasa Apso vs Shih Tzu – which pet to choose!
So now let's take a look at the Lhasa Apso dog and the Shih Tzu dog each in turn.
We'll compare their size, coat, temperament, training, smarts and health!
What is the difference between Lhasa Apso and Shih Tzu dogs?
Just to look at these two dog breeds side by side, you might be forgiven if you have trouble telling the two apart!
They both sport long, luxurious, show-stopping coats, are both super-cute and petite and both have winning personalities and truly ancient histories.
For example, the Lhasa Apso can trace its origins back to the ancient mountainous region of Tibet.
This tiny pup was used to guard monasteries and temples from invaders.
The Shih Tzu, a name which means "Lion Dog," was bred to sit in the laps of Chinese emperors.
Go back far enough and you will discover the Shih Tzu also has Tibetan ancestry.
Lhasa Apso vs Shih Tzu size
Both the Lhasa Apso and the Shih Tzu are petite pups!
The Lhasa Apso will weigh in at 12 to 18 pounds and stand 10 to 11 inches tall when fully grown.
The Shih Tzu will weigh between 9 and 16 pounds as an adult dog and stand 9.5 to 10 inches tall.
Lhasa Apso vs Shih Tzu shedding and grooming
Since both the Lhasa Apso and the Shih Tzu are breeds known for their showy, long, silky coats.
This is one area where these two breeds are quite similar!
This also means your grooming chores will be similar regardless of which dog you choose.
Shih Tzus and Lhasa Apsos are often touted as "hypoallergenic" dogs, but this isn't precisely accurate.
Rather, while both dogs will shed continuously, you probably will not see much actual shed hair.
It will get caught up in the dog's long coat.
Both the Lhasa Apso and the Shih Tzu will need regular grooming.
Grooming prevents the coat from tangling and matting even if you opt for the popular short "puppy cut."
You may also want to take your pup to a professional groomer for help with grooming chores.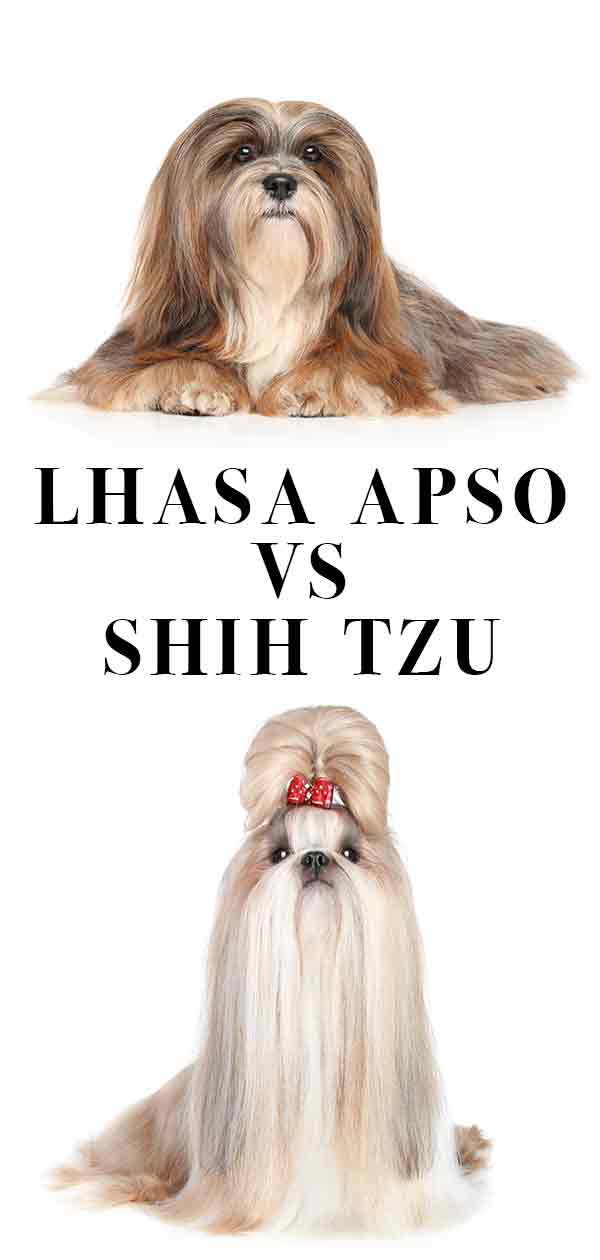 Lhasa Apso vs Shih Tzu temperament
The Lhasa Apso's origins as a sentinel and guard dog can make this dog breed intensely loyal to family.
Yet be aloof with people they don't know.
The Shih Tzu is quite affectionate and playful.
This is a dog that knows how to work "cuteness" to the max to get what they want!
Lhasa Apso vs Shih Tzu training
The Lhasa Apso's smarts can make training this dog a bit of a challenge.
They can be stubborn and tend to dig in their heels once they've decided training should be over for the day.
However, this dog can learn any skill or trick you want to teach – provided they decide they want to!
The Shih Tzu's long lineage as a lap charmer will work in your favor during training as long as you use positive motivation.
These dogs can have short attention spans and may want to nip or play when they should be learning.
Your challenge will be to stay firm in the face of such cute displays to make sure your pup grows up with healthy, acceptable behaviors.
Lhasa Apso vs Shih Tzu intelligence
Both the Lhasa Apso and the Shih Tzu are very smart dogs!
Lhasa Apso vs Shih Tzu exercise needs
This is one area where these two dog breeds can be very different!
The Lhasa Apso is actually quite a high energy, athletic dog that loves to run and jump and play.
Once past puppyhood, the Shih Tzu's favorite exertion is to move from one warm lap to the next.
Health Problems: Lhasa Apso vs Shih Tzu
Both the Lhasa Apso and the Shih Tzu breeds can be prone to certain heritable (genetically transmitted) health issues.
It is smart to learn all you can about potential health issues for any puppy or adult dog you are interested in bringing into your family!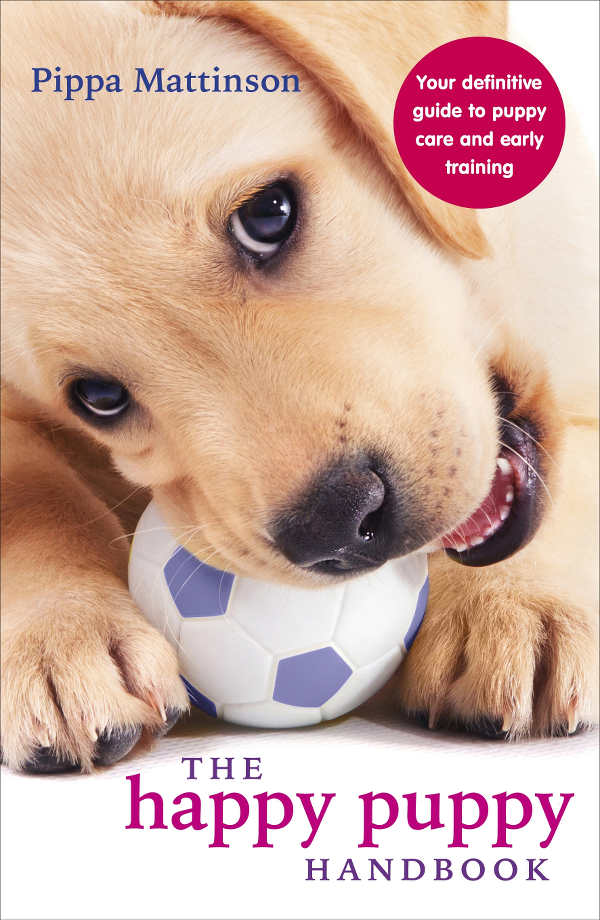 If you work with a breeder, ask to see written proof that parent dogs have been tested and cleared of any known genetic health issues before being bred.
For rescue pups, it can be wise to have your own veterinarian examine and test the dog for genetic health concerns before you make that commitment.
Lhasa Apso health problems and testing
Major health issues that can arise in the Lhasa Apso dog include:
patellar luxation,
hernias,
eye issues,
bladder stones and
kidney problems.
Lhasa Apso dogs are brachycephalic, which means they have a shortened muzzle and flat face.
This can cause breathing, respiratory and dental issues.
They can also be born with a rare blood disease called haemophilia b.
These issues can be more or less severe from dog to dog, making breeder pre-screening a vital component of choosing a puppy.
Lhasa Apso puppies have an estimated average lifespan of 12 to 15 years.
Shih Tzu health problems and testing
Shih Tzu dogs have the same flat face and muzzle that can cause:
brachycephalic airway syndrome,
breathing, eye and dental issues of varying severity.
Shih Tzu puppies have an estimated average lifespan of 10 to 18 years.
Lhasa Apso vs Shih Tzu which is the best pet for me?
We hope you have found this focused article about the Lhasa Apso Shih Tzu differences to be a helpful guide as you choose your next canine bestie! Let us know which you chose in the comments below.
Resources