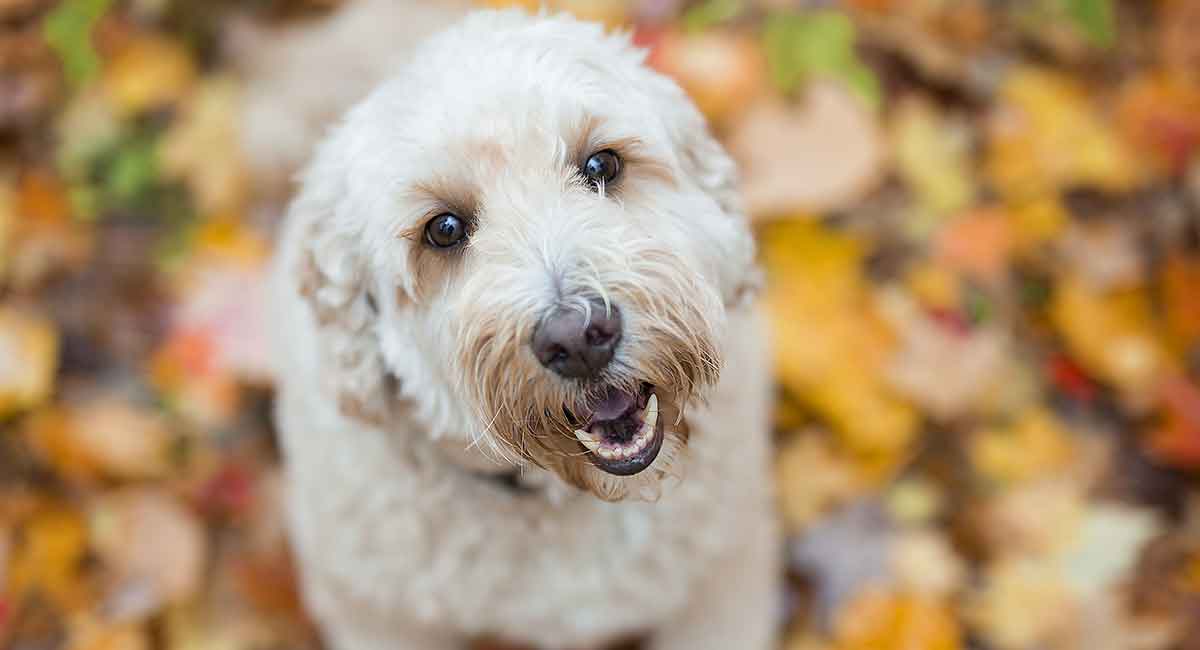 The Labradoodle is a crossbreed that has been taking the world by storm.
Do you know all of the possible Labradoodle colors?
There is certainly a lot of variation in the coat colors of this cross!
What Are The Genetics Of Labradoodle Colors?
To properly explain the origins and rarity of the many Labradoodle colors, it will help to have a basic knowledge of the genetics involved.
But it's rather easy to get lost in the exact science behind coat genetics.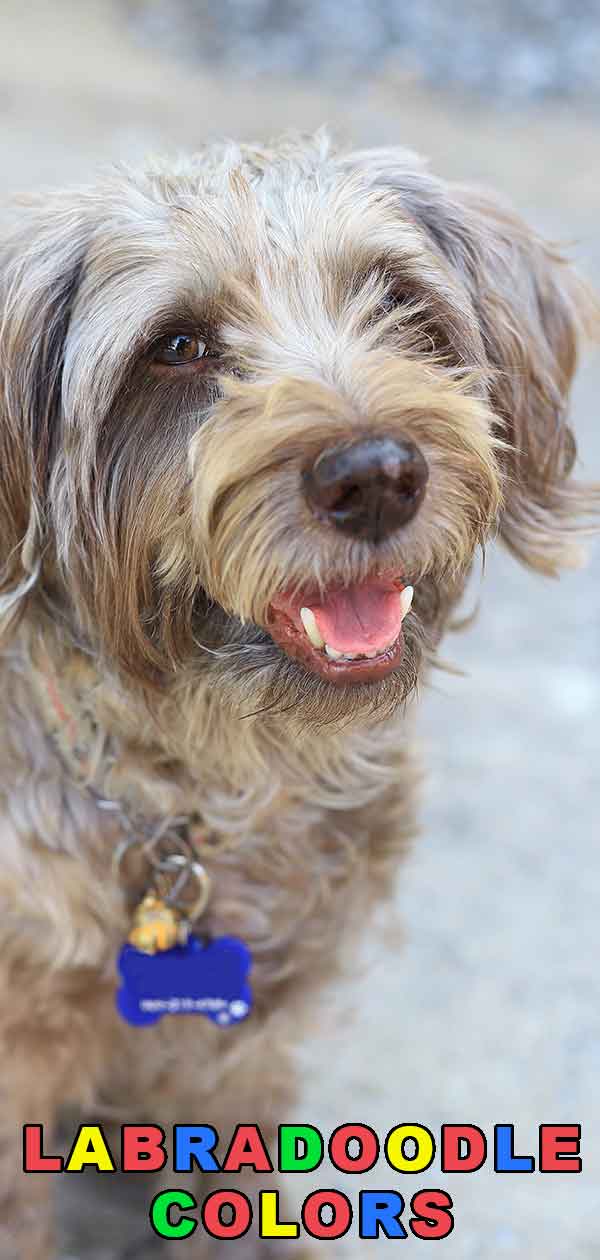 Fortunately, every possible coat color is either the work of a dominant or a recessive gene.
A puppy will receive a coat color gene from both of their parents, meaning every puppy will have two coat color genes.
How these two genes interact with each other determines what color the dog's coat will be.
Dominant Vs Recessive Genes
Dominant genes will always beat out recessive genes, meaning that they will be the one expressed.
To have a recessive coat color gene expressed, you need a recessive gene from each parent.
If there are any dominant genes involved, they will be expressed instead.
This can also lead to some seemingly surprising outcomes.
For example, two black dogs may result in a brown puppy.
The black coat color is dominant, while brown is recessive.
So how is this possible?
Basically, both of the black parents must have been carrying a copy of the brown recessive gene from their parents.
However, due to the fact that they are black coated, the other gene they must have been carrying would have been the black dominant gene.
Therefore, the two genes present in both parents would have been one copy of the black dominant gene and one copy of the brown recessive gene.
Leading to black being the expressed color.
Chance vs Design
Due to pure chance, both parents must have passed the brown recessive gene on.
Leading to the puppy receiving two of that gene.
Determining brown as the expressed color.
Still with me?
There is a lot of chance involved in genetics, but understanding the basic mechanics behind it will help you understand the origins of the Labradoodle colors.
So now we have that out of the way, let's get started!
Black Labradoodle
The Black Labradoodle is a very striking variation of the breed and therefore quite a popular one!
It brings a further air of elegance to an already proud breed.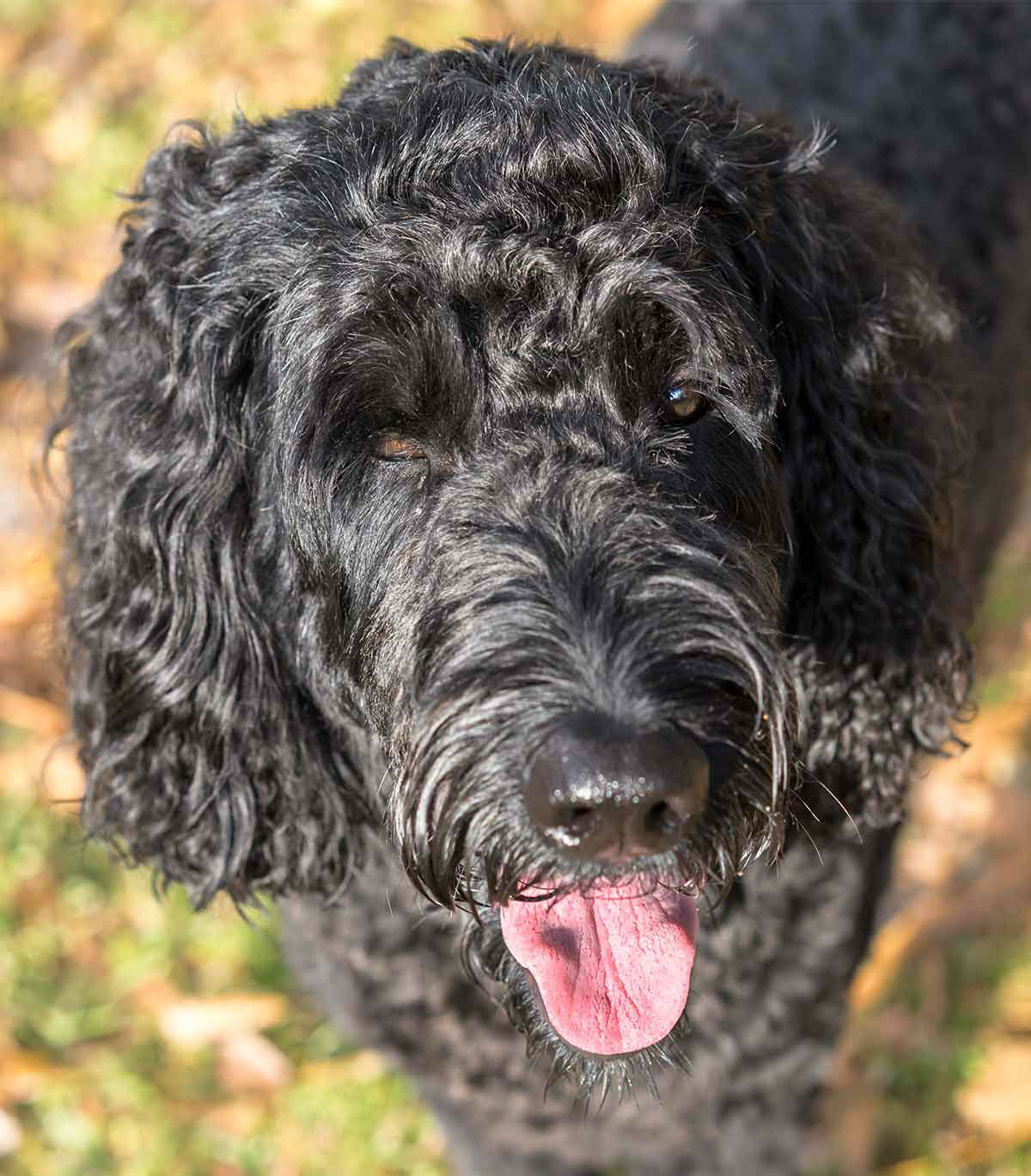 As black coat color is a dominant gene, Labradoodles of this coat are usually simply created from pairing a black-coated Poodle and a black-coated Labrador.
There are some who may say that black Labradoodles have a different temperament to the rest of the members of the breed.
However, there is very little to none scientific backing to these claims.
Chocolate Labradoodle
The chocolate variation of the Labradoodle is my personal favorite of all the Labradoodle colors!
It just fits the breed so well.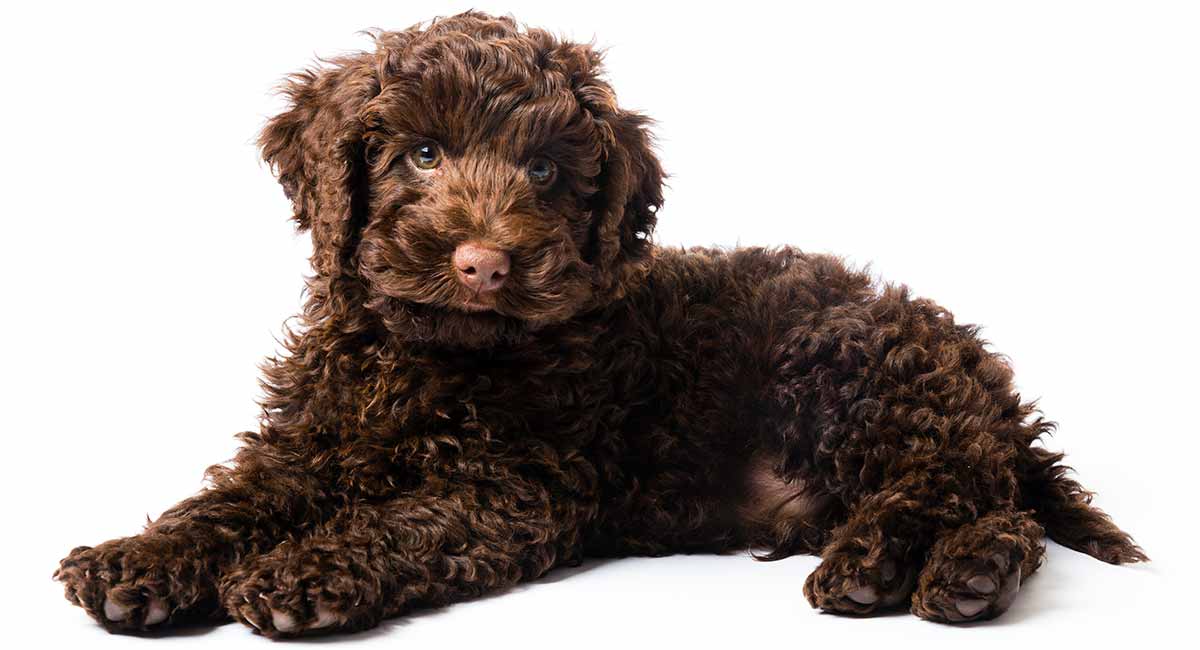 Brown is a recessive gene and therefore requires that no dominant genes be inherited from the parents.
Therefore, it can be a tougher coat color to come across naturally.
However, there are breeders who sometimes dedicate themselves to producing puppies of a certain color.
Golden Labradoodle
Gold is a color that looks fantastic on Labradoodles.
Warm and bright, it's a color that has been sought after in many breeds.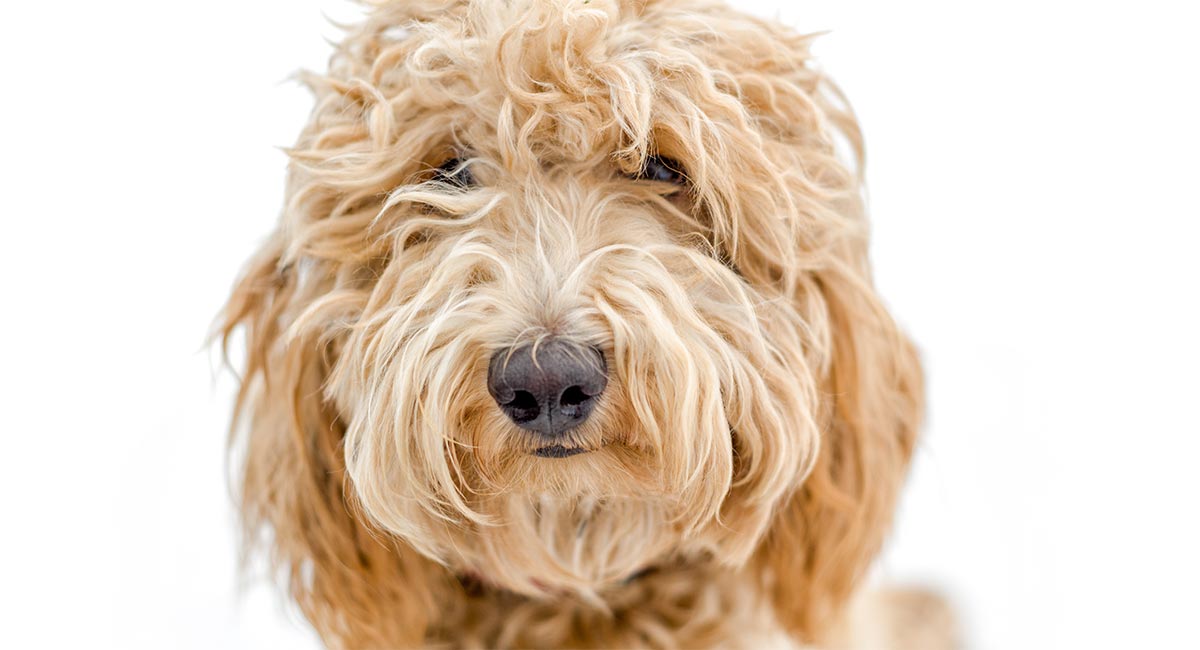 However, this color can be the cause of a lot of confusion!
It is important to note that Goldendoodles are not Labradoodles, despite how visually similar they are.
The Goldendoodle is, in fact, a cross between a Golden Retriever and a Poodle.
Red Labradoodle
This is another popular color for the Labradoodle and can be of many different shades ranging from light to dark.
Red tends to be a dominant coat color in most cases, so again, this color can be somewhat more common than others.
White Labradoodle
When it comes to Labradoodle colors, white is a favorite of those who like the pure and innocent look.
That is, if you are willing to fight the losing battle to keep that white coat free of dirt!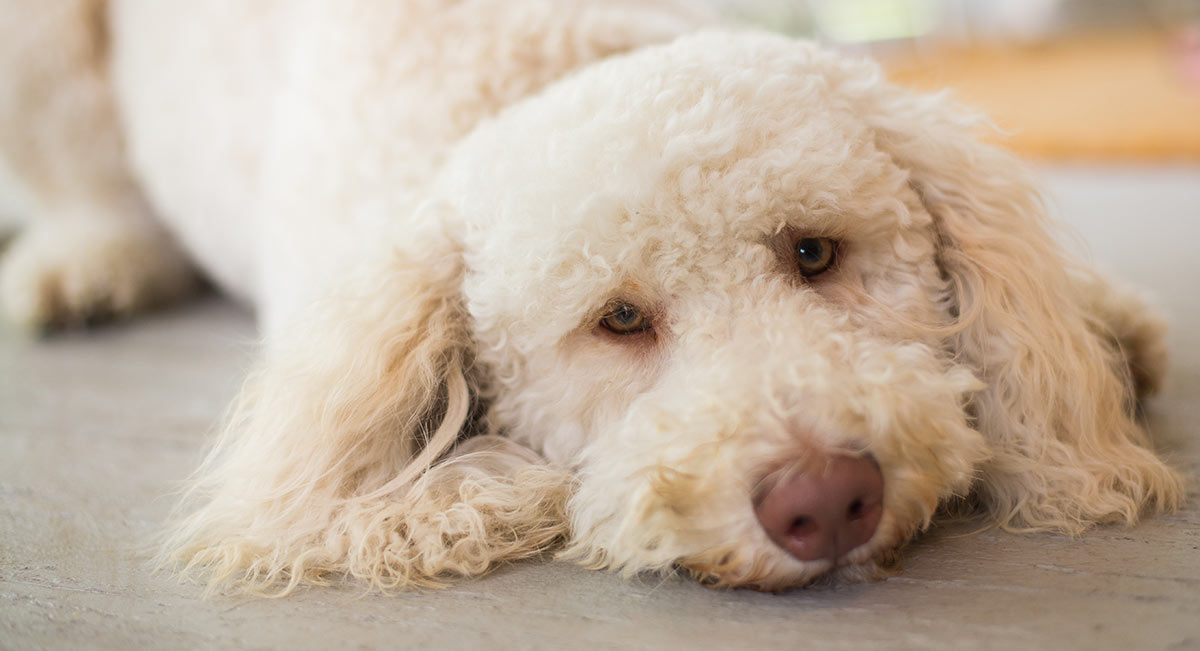 The white color is caused by a lack of pigment, which can either be localized or all over.
This can potentially lead to problems if the lack of pigment extends to the inner ear, as this may cause deafness in one or both ears.
This lack of pigmentation is the result of a gene, and therefore dogs with deafness related to their white coat color should not be bred.
Luckily, this is not a gene that is prevalent within either the Labrador or the Poodle, so it is unlikely to affect Labradoodles.
However, it can still be a good thing to keep in mind.
Check the hearing of any all-white Labradoodles before purchase.
Silver Labradoodle
The Silver Labradoodle is a little less common than other Labradoodle colors, but it's a great choice.
The coloring adds an air of dignity to the breed, which creates quite the majestic dog!
The silver coat seems to stem from recessive genes once again, hence the rarity.
If you are looking for this color, be sure to find a breeder who includes a silver-coated Poodle and/or silver-coated Labrador in the cross.
Again, there should be breeders who specialize in this color of Labradoodle.
Cream Labradoodle
Cream Labradoodles are another popular choice.
With their coat looking the exact same shade as vanilla ice cream, it's no wonder they have an instant sweet appeal!
There are varying intensities of this coat color within the Labradoodle.
Ranging from a full creamy yellow to almost fully white with a slight cream tinge.
If you're looking at purchasing a White Labradoodle, look closely to ensure it isn't actually a cream one.
Grooming The Labradoodle Coat
Regardless of which of the Labradoodle colors is present, every Labradoodle needs to be groomed.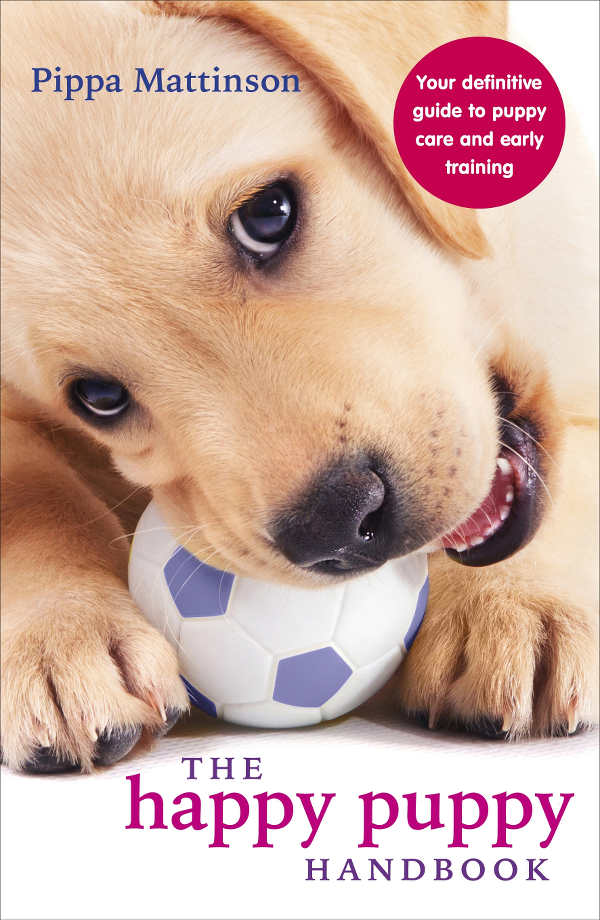 Grooming requirements will change depending on the type of coat.
For example, if the coat of the Labradoodle is similar to the Lab's, a weekly brush will be enough to keep their coat and skin healthy.
However, if the corded and curly coat of the Poodle is present, this will not nearly suffice.
To properly groom this coat variation, you must brush your Labradoodle daily down to the skin to prevent matting and other problems.
Time!
As Labradoodles tend to be bigger than your normal Poodle, this can be quite a significant time sink!
Of course, you could choose to hire a professional groomer to trim the coat, which will make the requirements more manageable.
However, this results in losing the flashy coat, which is one reason many love this breed.
Grooming is a huge part of owning this breed and you will have to consider whether you have the time daily to look after their coat properly, or are happy trimming the coat down.
Which One Is Your Favorite?
Every color looks good in its own right, so when it comes to deciding which one you would like in a Labradoodle, it may just be the hardest decision you've made all day.
It's important to note that despite superstitions, none of the colors outlined in this article have any bearing on the Labradoodle's temperament.
There is no scientific evidence that links the coat colors of this breed to significant temperament differences.
How your Labradoodle behaves comes down to how they are raised, trained, and treated.
So now that you have seen many of the potential Labradoodle colors, we must ask. What are your favorite Labradoodle colors? Do you own one of these cute pups yourself?
Let us know below!
If you love everything about Labradoodles, make sure to take a look at the mini Labradoodle guide!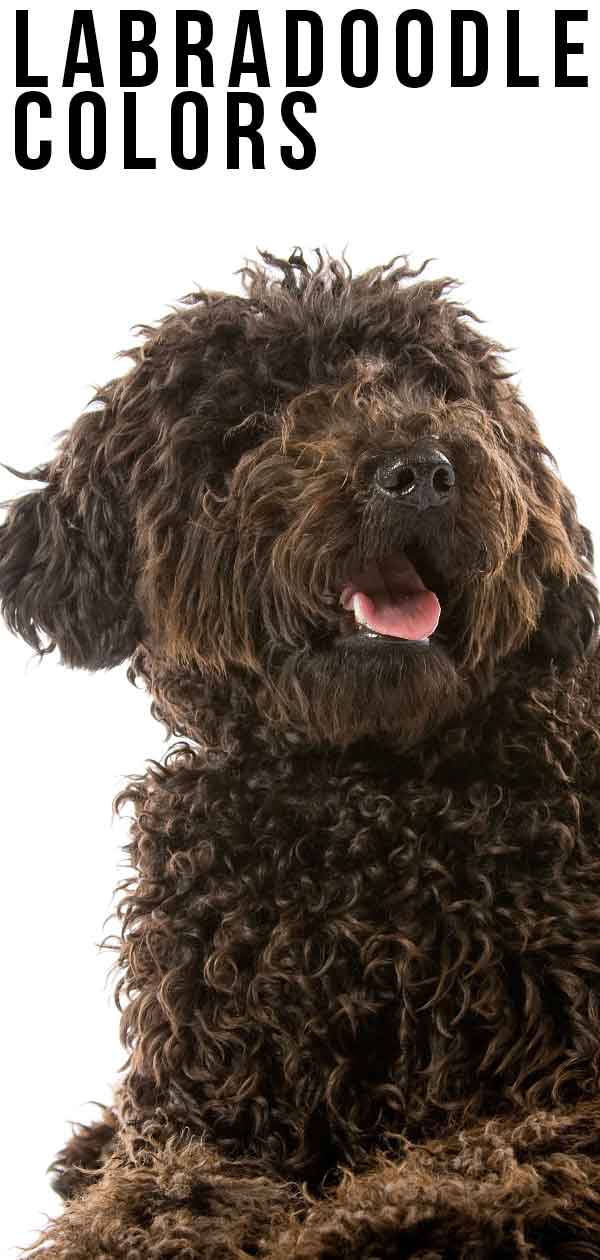 References and Resources
Strain, GM, Canine Deafness, Veterinary Clinics: Small Animal Practice, 2012
Strain, GM, Deafness prevalence and pigmentation and gender associations in dog breeds at risk, The Veterinary Journal, 2004
Schmutz, SM, Genetics of Coat Color and Type in Dogs