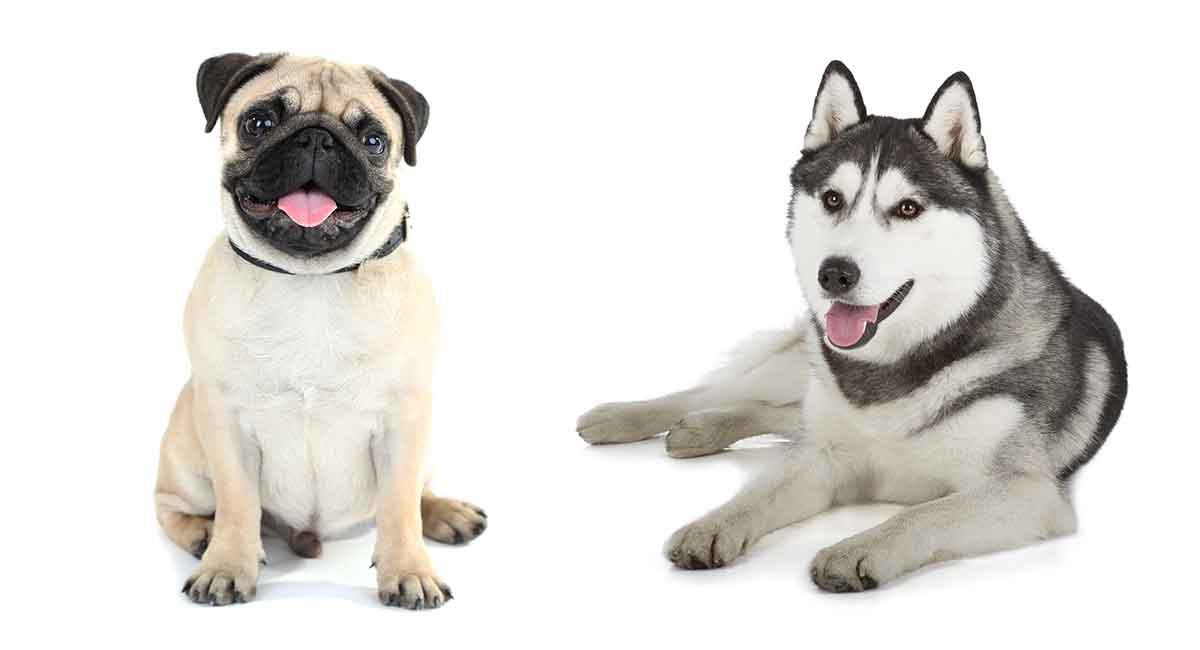 The Husky Pug mix is a designer dog that aims to combine well-loved aspects of both the Siberian Husky and the Pug.
This crossbreed is receiving more attention in recent years.
There are a lot of dog lovers who love both parent breeds.
So what could be more appealing than having elements of both in one dog?
However, as with any dog breed, there is a lot of important information you should know before you purchase this puppy.
Where Does the Husky Pug Mix Come From?
To get a good background on the Husky Pug mix, it is helpful to learn the histories of both parent dogs.
The First Siberian Huskies
Siberian Husky ancestry traces back to northeastern Asia.
There they were bred as both companion and working dogs by the Chukchi, an indigenous people.
Huskies were used to haul supplies over the long subzero frozen expanses between Chukchi settlements.
A job the breed did admirably due to their limitless stamina.
Past Pugs
Pugs, on the other hand, certainly had an easier and much lazier history.
Around 2000 years ago in Ancient China, royalty had a certain fascination with developing flat-faced breeds.
The Pug is one of them.
Pugs lived in luxury as lapdogs within the Chinese palaces.
They were kept as a closely guarded treasure and were treated with the same dignity as nobility.
Can You Breed a Husky With a Pug?
We don't know when the first Husky Pug dog cross was created, but they're definitely out there now.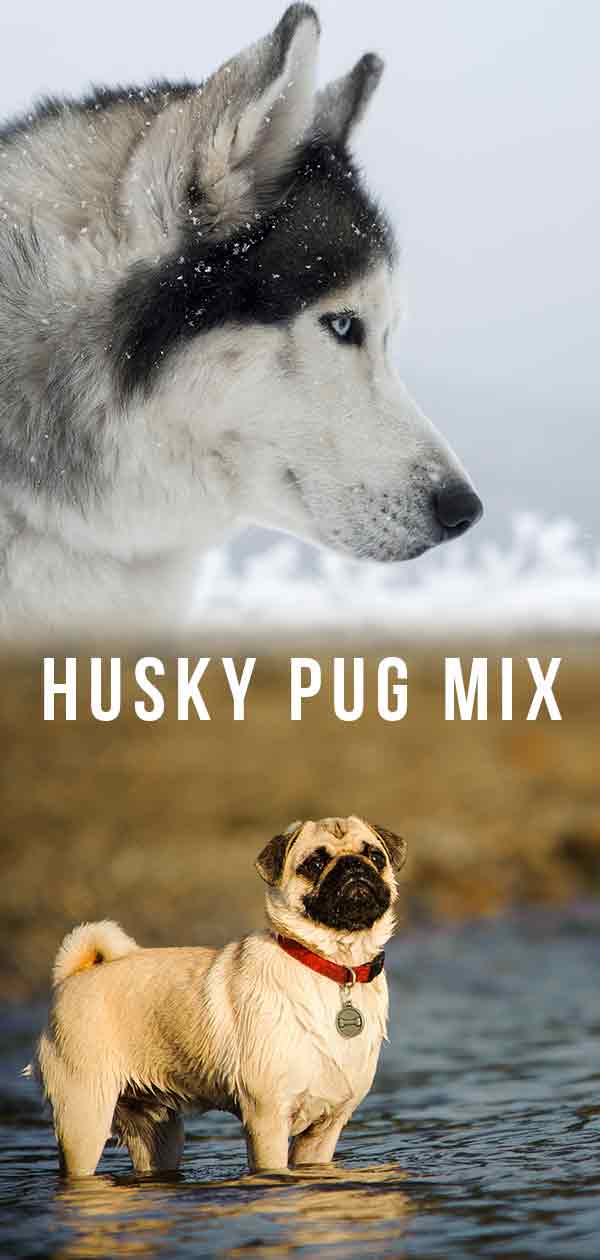 Like many Pug litters (including most purebred Pug litters) conception involves a little helping hand from the breeder.
And in recent years, with rising interest in designer dogs, the Pug Husky mix has certainly become more popular.
However designer dogs are the topic of much-heated discussion.
The Highs and Lows of Hybrids
Many advocates of purebred breeds are concerned about the ascent of these new crossbreeds.
Their principal misgivings are:
That first generation hybrid dogs have unpredictable health and temperaments, which is undesirable.
They can inherit conflicting or incompatible traits from each parent, which is confusing and distressing for them.
Too many designer dogs are bred in poor welfare conditions to realise a quick profit.
On the other hand, the advantages of hybrid dogs are:
That some people enjoy getting to know a new kind of dog – the unknowns are exciting for them.
Hybrid dogs benefit from a wider gene pool than pedigree dogs, many of which have a high frequency of hereditary diseases due to generations of breeding within a very confined population.
As a result, crossbreed dogs and hybrids benefit from the biological phenomenon of "hybrid vigor".
This article explores the purebred vs mutt debate in more detail, to help you decide which is best for you.
Now let's look closer at the Husky Pug.
Fun Facts About the Husky Pug Mix
This cross has been cutely nicknamed the "Hug," a combination of both breed names.
Both parent breeds originated in Asia.
The Husky Pug mix is one of many popular mixes involving the Pug.
Owing to their difference in size, and Pugs' difficulties in giving birth at the best of times, the Siberian Husky is always mom of a Husky Pug litter.
Husky Pug Mix Appearance
Husky Pug mix dogs can take after either parent in any aspect. This goes for their physical appearance too.
How Big Is A Husky Pug Mix?
Due to the large height and weight difference between both of the parent breeds, it is especially difficult to estimate the height and weight of the Husky Pug mix.
They can grow anywhere from 10 to 23.5 inches in height.
And reach as little as 14 pounds in weight to as much as 60 pounds.
Therefore, it is important that you have enough space for a larger dog within your home because your puppy could grow much more than you'd expect.
Husky Pug Looks
Muzzle length also varies greatly between dogs of the Husky Pug mix.
Both a strongly defined muzzle and a completely flat face are possible, while most will occupy a spot somewhere in between.
Their coats may be either short- or medium-length with a lot of possible colors and patterns.
Skinfolds and wrinkles are possible if they take after the Pug parent.
Their tail may be curled or straight.
It's also possible to see Hugs with the beautiful blue eyes of the Husky parent, which makes quite the sight.
Husky Pug Mix Temperament
Siberian Huskies and Pugs were founded and developed for very different purposes, and they are very different dogs.
Huskies are consummate hard workers. They are loyal to their humans, but spent most of their history working in a team with other dogs.
They have bottomless reserves of energy, and a devilish tendency for mischief.
They are notorious escape artists!
Pugs on the other hand have known nothing but hundreds of years of companionship.
They crave interaction with their people, and demand center stage in their household with their clownish behavior.
In return, they are affectionate and devoted.
They like to play games and hold your attention, but their compressed muzzle means they can't exercise hard without risking their health.
What Is a Husky Pug Mix Dog Like?
A Husky Pug mix can be a Pug in a Husky's body, the other way round, or a scramble of qualities from both dogs.
Since both dogs are extroverted and mischievous, you'll certainly never have a dull moment with a Husky Pug mix.
A Hug is also likely to be a loyal companion.
But you won't know until he grows up whether he's more independent like a Husky, or completely co-dependent like a Pug.
Likewise, only time will tell if he has a Husky's energy and overwhelming desire to run.
Training Your Husky Pug Mix
Hugs can be quite difficult to train.
Huskies have a famous disregard for doing anything unless they see the value in it. And Pugs have simply adapted to getting their own way for centuries.
However, at their core, dogs always eager to please their owners. With positive reward-based training, even Husky Pugs will catch on.
We have resources available here on how to understand your dog and how to train him.
Nonetheless, we don't recommend Husky Pug mix dogs for inexperienced dog owners, or households without lots of time for training.
Socializing a Husky Pug Mix
While Husky Pug mix dogs are generally very friendly and outgoing dogs, it is still important to ensure they receive socialization training from a young age.
This ensures they will be well-behaved around other dogs and strangers.
This article has twelve great places you can go and get started.
Exercise for your Husky Pug Mix
Due to the difference in energy levels between Huskies and Pugs, you need to gauge for yourself how much stamina your Hug has as it grows up.
Huskies need at least two hours of vigorous exercise a day.
They are also suited to agility classes and activities which channel their intelligence productively.
Pugs are often only capable of a couple of short walks, with lots of indoor games in between.
Families with large secure gardens work great for Hugs who have these energy levels.
The Husky Pug Conundrum
It is very important to mention that if your Hug has the flat face of the Pug, he may struggle to exercise.
Flat-faced breeds can easily overheat during vigorous exercise, especially on hot days.
And sadly once they have overdone it, recovery is not as simple as taking a breaking to cool off.
Many flat-faced breeds die suddenly exercising in hot weather.
This is a massive problem for a Husky Pug dog with the energy and instincts of a Husky, but the physique of a Pug.
Dogs who can't burn of their energy get bored, frustrated, and destructive.
They need A LOT of indoor games and mental stimulation to replace the urge to sprint.
Husky Pug Mix Health
Most dog owners want to know what kind of life their dog will have, and how long it will last.
Huskies and Pugs are both vulnerable to hereditary illnesses, which they can pass onto Husky Pug puppies too.
This is especially true of the unlucky Pug.
Pug health
The Pug breed has severe structural health issues which they can pass on to purebreed and mix breed puppies.
Brachycephalic Airway Syndrome
The first of these is Brachycephalic Airway Syndrome.
Due to the shortened skull of flat-faced dogs, their nasal cavity is compressed and leads to constant difficulties breathing.
Pugs are often very noisy breathers; this is actually because they struggle to take a breath through their very tight nostrils.
Their breathing difficulties become more dangerous during exercise because they cannot meet the increased oxygen demand.
Heat is also a big danger. Flat-faced breeds can't pant effectively with such a short muzzle, so they can't regulate their temperature in warm weather.
Along with breathing problems, brachycephalic breeds also tend to suffer:
Skin problems
Many brachycephalic breeds have skinfolds and wrinkles, which are easily irritated or infected.
Birthing problems
Due to the large, round heads of brachycephalic breeds, many cannot give birth to litters naturally, a require a Caesarean.
This is a big part of why Pugs and other flat-faced dogs are so expensive.
Eye problems
Collectively known as brachycephalic ocular syndrome.
Brachycephalic breeds have shallower eye sockets, leading to bulging eyes.
This leaves them unprotected and prone to injury or infection.
Spinal issues
Some brachycephalic breeds including the Pug have screw tails; a coiled tail that is very curly.
These coils can actually extend from the tail into the back, twisting the vertebrae in the spine.
This can lead to paralysis in severe cases.
Husky Pug Dogs and Brachcephaly
As you can see, Pugs have a lot of worrying and potentially life-threatening issues to deal with.
For this reason, we never recommend them as pets.
If a Husky Pug mix puppy has the flat face of the Pug, it is very likely that he will suffer from the issues that come with being a brachycephalic breed.
You might be able to avoid them by choosing a puppy with a defined and strong muzzle, more like a Husky.
More on Husky Pug Mix Health
There are other issues within the parent breeds that could potentially arise in a Husky Pug mix dog.
Around 70% of Pugs have hip dysplasia and a further 40% have elbow dysplasia.
Hip and elbows dysplasia are genetic conditions in which the bones do not develop correctly at the joints, leading to early onset arthritis.
About 1 in 20 Pugs also suffer patella luxation – knee caps which easily dislocate.
Finally, since Pugs' raison d'etre is to keep people company, they are very prone to separation anxiety.
So they tend to get depressed in households without someone at home all day.
Husky Health
By comparison, Huskies are a healthy breed.
Since they were required to work very hard, owners prioritized breeding from the healthiest individuals – an excellent genetic legacy.
Small numbers of Huskies are prone to hip dysplasia and patella luxation.
Since these are common problems with Pugs, good breeders of Husky Pug puppies have both parents' joints screened before mating.
Cataracts are also known to occur within Huskies, and they can have a genetic basis. This increases the risk that a Husky Pug mix may develop cataracts.
How Long Does a Husky Pug Live?
The expected life span for a Hug is approximately 12 to 15 years.
Their lifespan and quality of life will depend a lot on the care they receive.
We've written about the best food for Huskies, and the best food for Pugs.
But both breeds have different nutritional priorities, so ask your vet which food is best for your Husky Pug mix.
If they take after the Pug and cannot exercise much, keep a close eye on their diet to prevent obesity.
As for grooming, regardless of which coat the Husky Pug mix has inherited, they should only require a standard weekly, thorough brush for maintenance.
However, if they have the skinfolds and wrinkles of the Pug, they will require a regular deep cleaning of these wrinkles.
It's also important to trim their nails to prevent discomfort and to brush their teeth regularly.
Does a Husky Pug Mix Make a Good Family Dog?
Unfortunately, we cannot recommend this mix due to their high risk of developing Brachycephalic Airway Syndrome.
Breeding from Pugs compromises the health and welfare of another generation of puppies.
In this case, it condemns the puppies of an otherwise healthy Husky as well.
If you have your heart set on a Husky Pug mix, we recommend adopting an adult from a rescue center instead.
Any dog health issues should be clearly explained to you by the staff so you can make an informed decision.
Rescuing a dog also does not support the unethical breeding practices that surround Pugs.
Rescuing a Husky Pug Mix
If you decide to adopt, there are a few things to keep in mind.
It's very important that you ask about the background of the dog, including his current and past health issues, his current temperament, and why he is in the rescue center to begin with.
Some rescue dogs have temperament problems due to rough upbringings and may require an experienced hand.
It is important that you are aware of any such issues before applying to adopt a dog.
Some rescue centers are rather strict about who they let adopt a dog.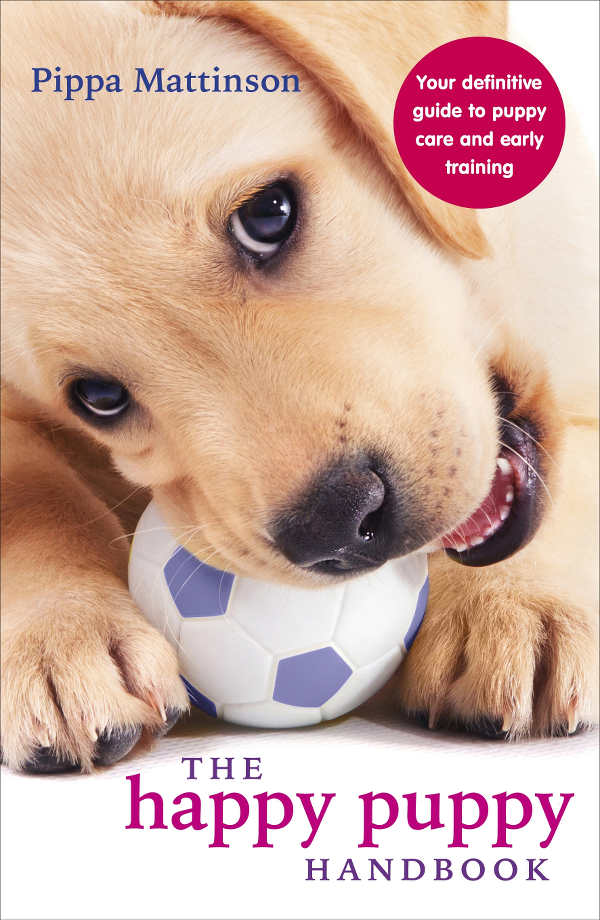 They will ask questions about your family situation and how much time you have to devote to a dog.
Sometimes denials can feel quite unfair.
In such cases, try not to get discouraged, but have a frank and candid conversation with the shelter about what kind of dog would fit into your home.
Husky Pug Mix Products and Accessories
Due to the possibility of severe Brachycephalic Airway Syndrome, choose a harness as opposed to a leash for your Husky Pug mix.
If your dog is having trouble breathing, a leash can add to the strain. A harness is a much safer option.
We've reviewed the best harnesses for Pugs and Pug mixes here.
We can also help you choose grooming tools for your new dog.
Pros and Cons of Getting a Husky Pug Mix
We've given you a lot to take in, so here is a brief summary of the good and bad of this breed.
Cons
Hugs are likely to inherit significant health problems from their Pug side of the family
Which can require regular and expensive vet visits
Whilst intelligent, they need a lot of patience and experience to train
A Hug with the body of a Pug but the running instincts of a Husky is likely get frustrated and need a lot of help coping
Pros
The Hug combines two popular and well-loved breeds
The are likely to have a loyal and entertaining temperament
Generally gets along well with other dogs if socialized well
Similar Husky Pug Mixes and Breeds
As we cannot truly recommend this breed due to its structural health issues, we recommend that you take a look at these healthier breeds with a similar disposition
Husky Pug Mix Rescues
At the time of writing, there are no established rescue groups for the Husky Pug mix specifically.
However, you may have luck contacting rescue centers for the parent breeds. Links are below.
U.S.:
Canada:
U.K.:
Australia:
If you have any more rescue centers to add to the list, let us know in the comments below.
Is a Husky Pug Mix Right for Me?
We cannot recommend this breed. However, it is your decision.
If your heart is truly set on a Husky Pug mix, consider buying an adult dog from a rescue center if possible.
If you do choose this mix, take a look at some name inspiration in our Husky name guide.
What is your opinion on Hugs?
Good for Pugs? Bad for Huskies?
Join in the debates using the comments box below.
References and Further Reading
Bright, R.M., "Laryngeal Collapse in Dogs," Saint Francis Veterinary Center, 2011
Karabagli, M., "Brachycephalic Airway Syndrome in Dogs," Istanbul University, 2012
Lewis, T.W., et al., "Comparative Analyses of Genetic Trends and Prospects for Selection Against Hip and Elbow Dysplasia in 15 UK Dog Breeds," BMC Genetics, 2013
Lim, C.C., et al., "Cataracts in 44 Dogs (77 Eyes): A Comparison of Outcomes for No Treatment, Topical Medical Management, or Phacoemulsification with Intraocular Lens Implantation," The Canadian Veterinary Journal, 2011
Monnet, E., "Brachycephalic Airway Syndrome," World Small Animal Veterinary Association, 2015
O'Neill, D.G., et al., "The Epidemiology of Patellar Luxation in Dogs Attending Primary-Care Veterinary Practices in England," Canine Genetics and Epidemiology, 2016