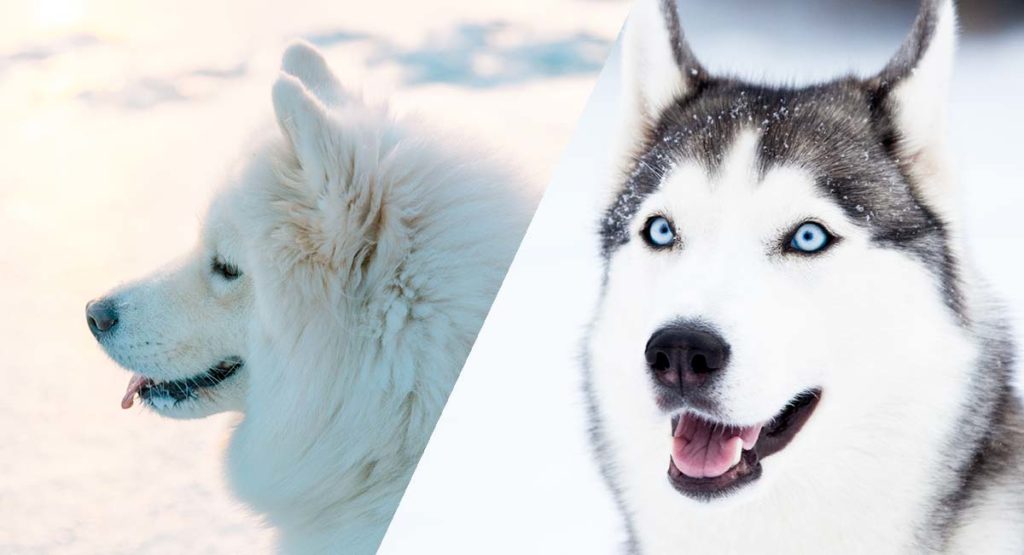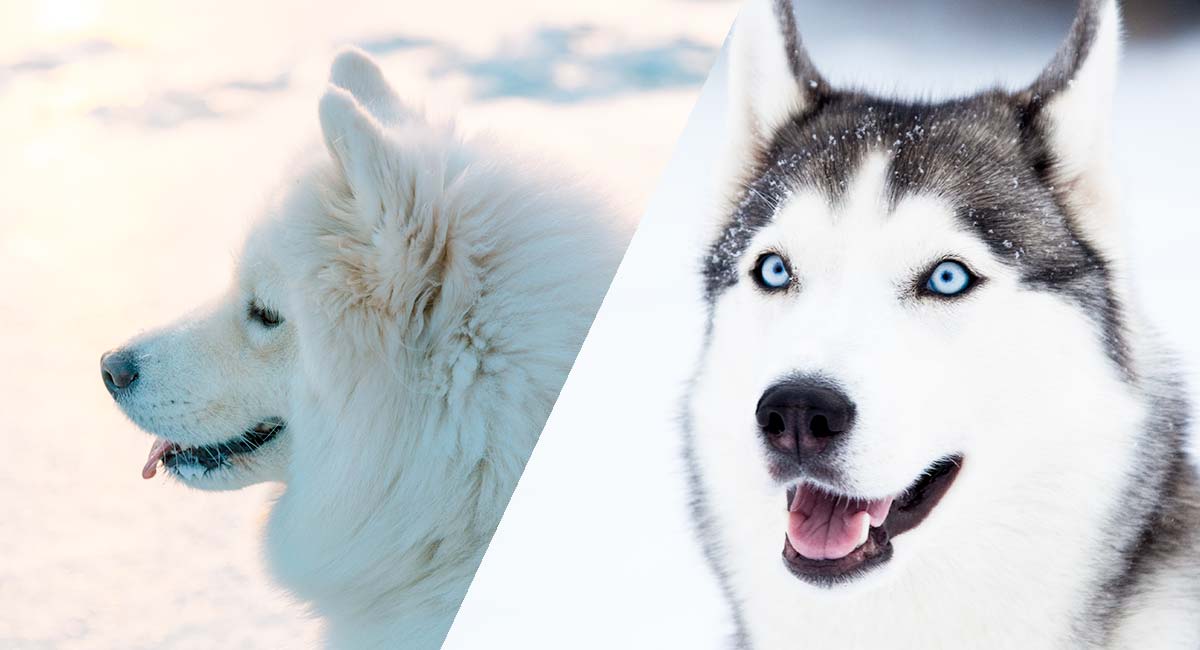 The Huskimo is a new hybrid dog that has two different purebred dog parents, the American Eskimo and the Siberian Husky.
In this article, learn what you need to know about the Huskimo dog, an American Eskimo and Husky mix dog with many unique qualities to offer!
Purebred dogs and designer dogs – the controversy & the science
Part of the reason behind the rising popularity of hybrid dogs like the Huskimo is a theory called heterosis, or hybrid vigor.
Hybrid vigor refers to what happens when increased genetic diversity is introduced into a limited gene pool by interbreeding two related species.
In the canine world, a true intraspecies or hybrid dog like a Huskimo is called an F1, or first generation, hybrid.
Why is hybrid vigor so controversial, yet so important for dog health?
Breeders want to maintain the purity of their dog's genetic line.
Yet breeding for specific traits such as physical appearance can, over time, introduce other genetic weaknesses into that lineage.
Here, canine biologists tell us, the introduction of heterosis, or hybrid vigor, into those weakened purebred lines has the potential to strengthen each purebred dog's gene pool.
In fact, if you have ever heard someone say that the good old-fashioned "mutt"  is often healthier than those pricey purebreds, this is what they mean!
The Huskimo – a Husky American Eskimo mix
The Huskimo, an American Eskimo husky mix, is a dog with two different purebred parents: the American Eskimo and the Siberian Husky.
So let's take a look at the parent breeds!
Origins of the American Eskimo dog
The American Eskimo dog, or "Eskie" as enthusiasts call this breed, actually hails from an ancient line of German Spitz dogs.
Interestingly, despite this dog's modern name, the Eskimos have had no influence on the evolution of the Eskie dog!
These hard-working dogs have partnered with people for generations in sledding, hunting, hauling, herding, search and rescue, tracking, dog therapy, and service work in their native Germany, in the United States, and now around the world.
Eskies were originally medium-sized dogs, but today there are three registered sizes: standard, miniature and toy.
Origins of the Siberian Husky dog
The Siberian Husky hails from – no surprise here – Siberia, where the native Chuchki people have lived and worked alongside these powerful, loyal sled dogs for generations.
Until the early 20th century, Siberian Huskies were virtually unknown outside of Siberia.
But in 1925, a musher (sled dog leader) named Leonhard Seppala undertook a 658-mile trip with his lead sled dog, Balto, and a relay team.
The trip made international news headlines and resulted in a movie about Balto's bravery.
Today, Siberian Huskies have become popular around the world both as sled racing dogs and pets.
What is the Huskimo dog like?
The Huskimo dog is a hard-working, high energy dog breed! These dogs can make amazing working, show, and agility dogs, as well as good therapy or service dogs.
The Huskimo dog will bond closely with "their" people and will crave an active place in the family's daily life. This is not a dog that can tolerate alone-time or neglect.
Size, Height & Weight of a Huskimo mix dog
As with any hybrid dog, the overall size, height and weight of a given Huskimo puppy will greatly depend on how much genetic influence that puppy takes from each parent dog.
The American Eskimo dog is now bred in three sizes: standard, miniature and toy.
A standard adult Eskie will weigh 25 to 35 pounds and stand 15 to 19 inches.
A miniature adult Eskie will weigh 10 to 20 pounds and stand 12 to 15 inches. A toy Eskie will weigh 6 to 10 pounds and stand 9 to 12 inches.
The Siberian Husky dog weighs anywhere from 35 to 60 pounds. The Siberian Husky stands 20 to 23.5 inches.
You can see how a standard Huskimo may grow much larger than a mini Huskimo!
Appearance and grooming for a Huskimo dog coat
On first glance, the Eskie's long, fluffy, double-layer coat looks high maintenance. But it is surprisingly simple to care for – just brush it every other day to keep shedding manageable.
Twice a year, the Eskie will "blow coat" with the seasons.
Eskie coat colors don't vary much – they are typically either all white or white and tan (biscuit).
Siberian Huskies are rather unique among dogs in that they shed very little, almost never have any "doggy" odor and their coat is basically self-cleaning.
You will need to brush the thick double-layer coat at least weekly and be prepared for a heavier shed twice annually.
Siberian Husky coat colors can vary quite a bit, but you can expect at least a bi-color coat with white patches and then another color.
Gray, red, black, sable, brown and copper are common.
You can expect your Huskimo to have a short to medium-long double-layer coat that needs regular brushing and will shed at least twice per year seasonally.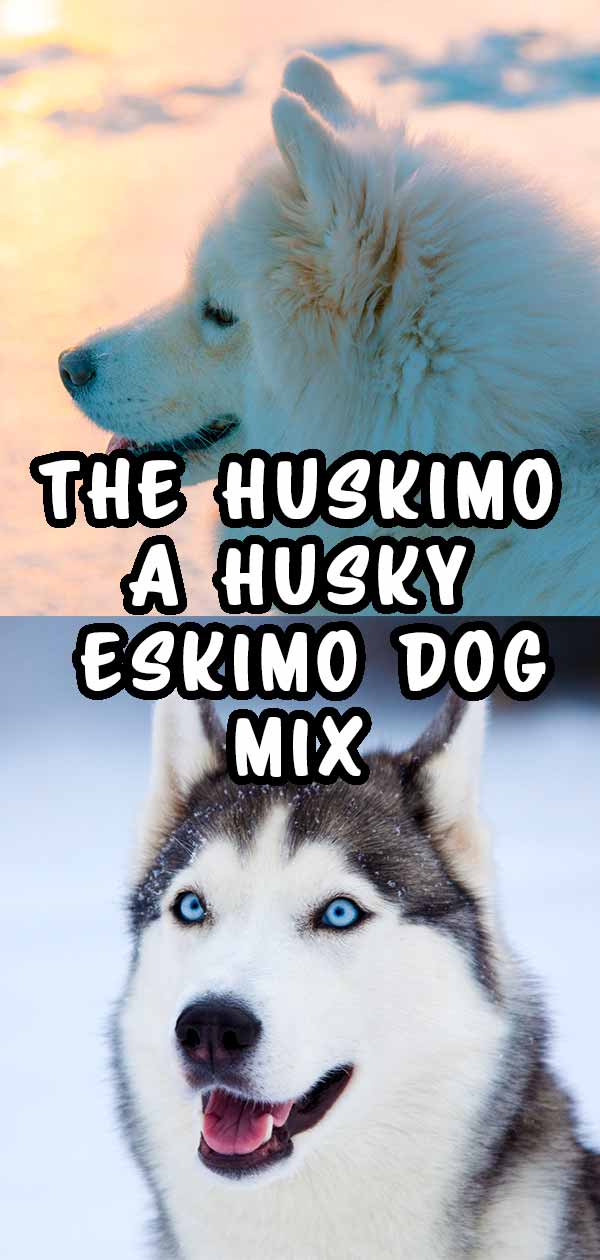 Personality and temperament of a Huskimo
The American Eskimo dog will be a high energy dog into middle age. These dogs are intelligent and have a high drive to please.
They are considered particularly trainable due to their working and circus dog background.
The Siberian Husky dog is a working dog born and bred with a strong drive to run and exercise.
They are smart and trainable and need to feel like part of a "pack" due to their sled dog history working as part of a unified team.
Huskimo dog harness training will be an essential part of ensuring your puppy fits in well with family and community life.
If your pup gets off leash, the drive to run may make it hard to retrieve her!
Many Huskimo owners elect to enroll in Huskimo dog jumpers training, agility training and other sports to keep these active dogs happy.
Health issues of Huskimos
The Eskie can have different health issues depending on size.
One issue all Eskie's tend to struggle with is wax buildup in the ears and dental issues. Regular ear and teeth cleaning can help nip any issues in the bud.
The American Eskimo dog's average lifespan is 13 to 15 years.
The Siberian Husky is considered to be a healthy dog breed overall.
Other than the recommended health testing noted below, the only significant issue to be aware of is that working dog breeds can be especially good at hiding the beginnings of illness or injury.
Regular preventative veterinary care can help minimize potential issues.
The Siberian Husky's average lifespan is 12 to 14 years.
Health testing for Huskimo mix dogs
The Canine Health Information Center (CHIC) database recommends health testing American Eskimo parent dogs for eye issues and hip dysplasia.
Other recommended optional health tests include elbow dysplasia, cardiac issues, autoimmune thyroiditis, patellar luxation and Legg-Calve-Perthes disease.
The Canine Health Information Center (CHIC) database recommends health testing Siberian Husky parent dogs for eye issues and hip dysplasia.
Working with a reputable breeder can help ensure your new Husky American Eskimo puppy comes to you free and clear of any known genetic issues for which preventative tests exist.
Socialization and training needs for Huskimo dogs
American Eskimo dogs can make excellent guard dogs with proper training and socialization.
Siberian Husky dogs, on the other hand, make very poor guard dogs even with training and socialization.
Your Huskimo puppy may fall anywhere along this spectrum, which means your best approach is to ensure you begin positive training and socialization with people, other dogs and other animals during puppyhood.
This will help your Huskimo grow up into a happy, healthy part of your family and community.
Are Huskimo dogs good family dogs?
Both American Eskimo dogs and Siberian Husky dogs are known to be wonderful family dogs – very loving and affectionate, and even tolerant of pet cats!
How to Pick a Huskimo puppy
Huskimo breeders can be challenging to locate. You may need to be prepared to put your name on a waiting list and then travel to pick up your new pup.
Any reputable breeder of Huskimo puppies should willingly volunteer information about both parent dogs along with results of all required and recommended health screenings.
Your puppy should come with proof of all required vaccinations, an initial guarantee of health and a take-back guarantee if the puppy doesn't work out for any reason.
The best way to pick out your new puppy is to look for a puppy with clear, bright eyes, healthy skin and coat, clear ears and tail area, an active and alert personality and a willingness to be held and to play.
Should I get a Huskimo?
There is no definitive answer to the question of whether the Huskimo is the right next canine companion for you.
The Husky Eskimo mix dog can make an amazing pet for the right person who has the time and energy to offer this dog a fun and active lifestyle!
SOURCES:
Demidoff, L., et al, "The Siberian Husky: A Brief History of the Breed/Hereditary Problems," Siberian Husky Club of America, 2009.
Beynon, B., et al, "American Eskimo Health," American Eskimo Dog Club of America, 2011.
Allen, D.L., "Eskie Essence and Instincts," National American Eskimo Dog Association, 2018.
Stryeski, K., DVM, "Health Issues with Siberian Huskies," Siberian Husky Health Foundation, 2018.
Clark, R., DVM, "Genetic Tests for American Eskimo Dogs," Medical, Genetic & Behavioral Risk Factors of American Eskimo Dogs, 2014. Xlibris Corporation.