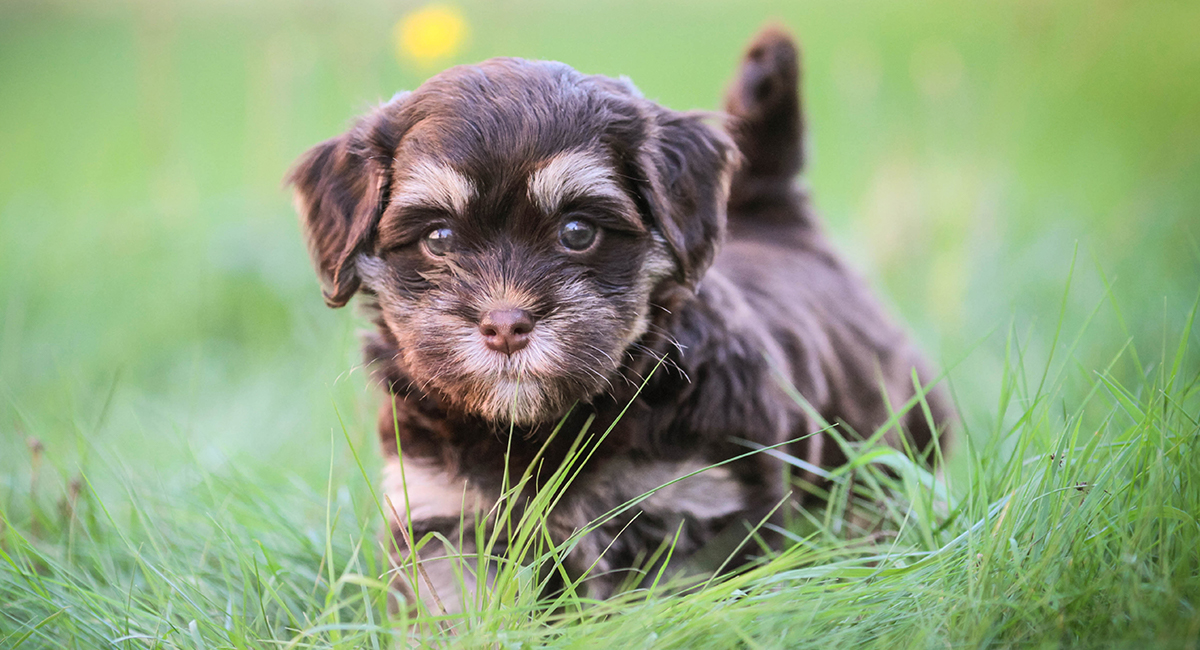 The Havanese dog is a show stopper, famous for a silky coat and affectionate disposition. Clever, funny, and very affectionate, the Havanese is a lapdog, bred for companionship. Short and light, the Havanese puppy makes a perfect apartment dog for those that don't mind grooming! Today we'll look at the breed traits, lifespan facts, training and exercise needs of Havanese puppies and adults.
Contents
What is a Havanese?
A social purebred show dog, the history of the Havanese is all about the pet world. And this pup can make a great family dog. It grows between 8.5 and 11.5 inches tall, and can weigh from 7 to 13 pounds as an adult. Which is very manageable in most homes!
Popularity: Popular, #24 of 193 in AKC rankings
Purpose: Companionship
Weight: 7-13 lbs
Temperament: Sociable, intelligent, happy
Common Havanese Questions
Our readers' most popular and frequently asked questions about this little breed.
History and Original Purpose of the Havanese
While many dogs were created to work, the Havanese dog was bred for companionship. That's right! This little dog's sole duty was to master the art of love, providing his people with a ridiculous amount of snuggles and regaling all those who encountered him with that famously funny personality of his!
Havanese puppies are thought to be descendants of other lap dogs like the Bichon Frise, Maltese, and toy Poodle.They were likely brought to Cuba by Italian or Spanish colonizers in the 1600s.
These pups have enjoyed over 300 years in the literal laps of luxury, a favorite companion animal amongst the upper class.
From Cuba to America
In 1959, the breed found its way to America in the arms of Cuban refugees.
Ever since the breed arrived in America, his popularity as a pet has skyrocketed.
In fact, according to the American Kennel Club (AKC), they sit at number 24 out of 194 of America's most popular dog breeds!
But what is it that makes these adorable dogs so popular?
It must be his infectious disposition, right?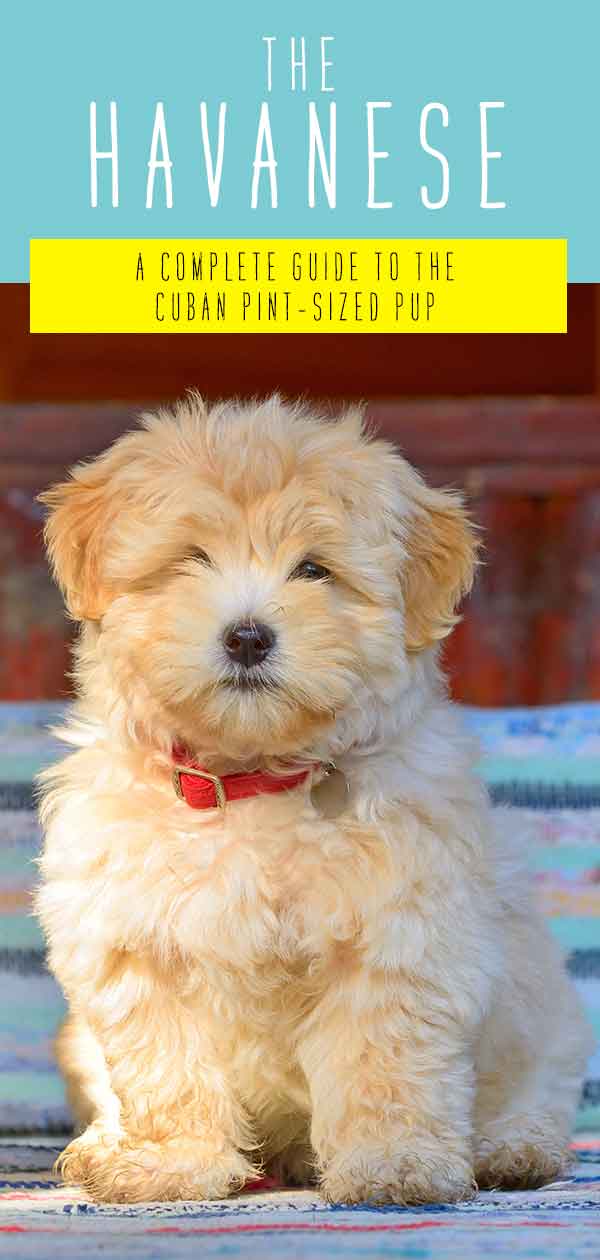 This Cuban breed was named after the capital city of Havana.
Fun Facts about Havanese
Their adoring pet parents have included: Venus Williams, Barbara Walters, Queen Victoria, Ernest Hemingway, Joan Rivers, and Charles Dickens.
They are the only native breed from Cuba.
Glenn Close's dog, Pip, has been known to make unplanned stage appearances with her.
Havanese Appearance
A beautiful little dog, this breed is famous for his big brown eyes and dense, silky coat.
Part of the toy group, an adult Havanese is small and very portable.
You may have heard of a miniature or teacup Havanese. Does such a dog really exist?
Despite what some breeders may advertise, there is only one standard weight and height.
A true Havanese is going to be about 8.5 to 11.5 inches tall and will weigh around 7 to 13 pounds when full grown.
Coat Type and Colors
Havanese are famous for their gorgeous coat, with flowing hair that can grow to floor length, if allowed. It is either straight or will fall in gentle waves.
Their coat colors are wide-ranging and can be either a solid color or a combination of colors.
Colors and combinations can include:
black
blue
silver
chocolate
brindle
red
sable
white
cream
gold.
Other characteristics include long, floppy ears, big brown eyes, and a tail that curves over the dog's back with a plume of hair on the end.
Havanese Temperament
This breed's temperament is a treat!
As anyone who has ever met this spirited dog knows, they are lovers through and through!
With a cheerful nature and affinity for – well – just about everyone, they are very intelligent, very compact, and get on famously with children, strangers, and other household pets.
They were bred to be a companion dog.
Are Havanese Good Pets?
One thing is — they are needier than most and will do best with owners who are able to be home with them often.
This dog even earned himself the nickname of "Velcro Dog," as a description of how closely bonded he becomes with his family members.
Their gentle nature does not lead to much tendency for aggression or chasing. The Havanese temperament is more in line with playing and cuddling. Being intelligent and keen to please, they take well to training.
Training and Exercising your Havanese
Highly sensitive and eager to please, the Havanese is easy to train but can get hurt feelings rather quickly.
It is best to use a gentle and loving hand with this delicate breed. Reward-based training methods will suit him well.
All he wants in life is to make you happy.
Though this is a small, friendly dog, early socialization and obedience training of Havanese puppies is highly important.
He could have a tendency to become skittish if not properly socialized in puppyhood. It is best to introduce him to a number of new places and people starting early.
Luckily, with proper socialization and training, these dogs can be very adaptable and easy going.
He will enjoy joining you on all your adventures!
Havanese Exercise Needs
Since he is such a tiny little thing, he only needs moderate exercise.
A simple walk once a day will suffice, and if you can't get out with your pup, playtime in the home suits him as well.
Your Havanese will love chasing his toys through the living room or romping in the backyard with you.
Keep in mind this breed is happiest when you're around, so anything the two of you can do together is a bonus.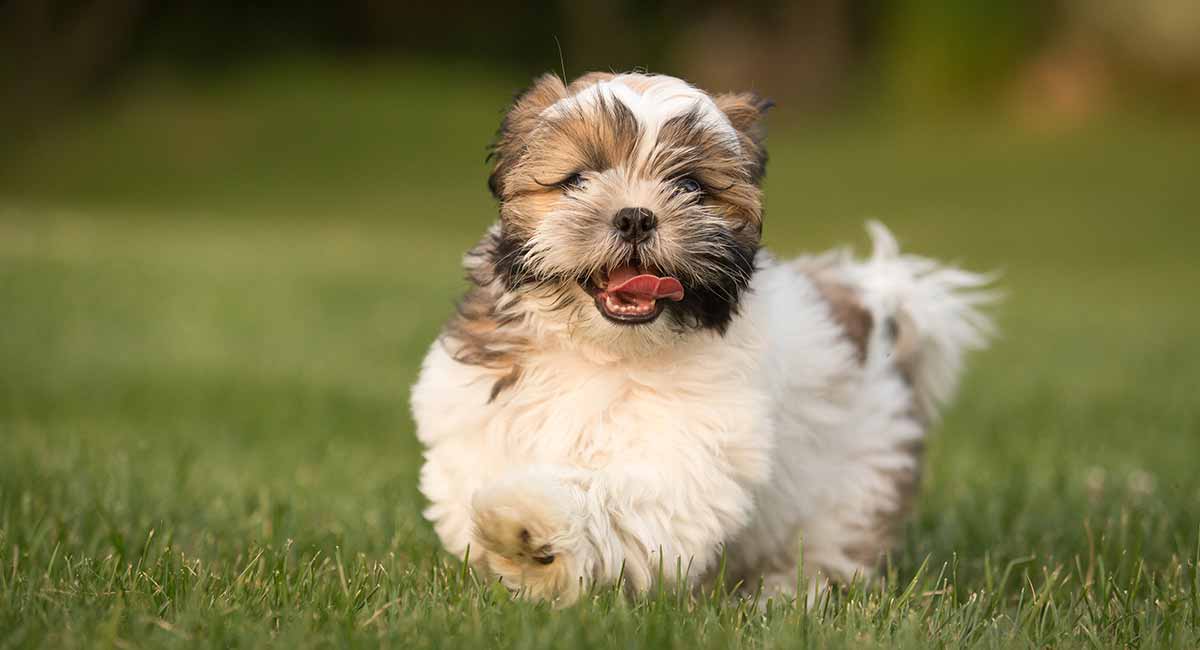 Over Exercise
As playful as he is, it is important not to over-exercise your dog. It is important to keep this in mind if you are an avid hiker or runner.
If panting begins or your dog has difficulty keeping up with you on a walk, it would be best to scoop him up and take him home to rest.
While this dog enjoys being around you more than he enjoys anything else, he is not the dog to accompany you on outings that require lots of exertion.
There are a few bone and joint problems that can affect this dog, but many are avoidable by careful puppy selection.
Being small, he will do better in warmer weather or with some booties and a coat in the cold.
Training Tips
When it comes to training this breed, expect to be amazed!
The Havanese is a fast learner and enjoys pleasing you!
We always suggest that you be patient and gentle when training.
He may be very intelligent and eager to please, but he can easily get his feelings hurt if scolded too harshly.
We recommend the treat-based reward system when training any dog, and of course a patient and loving hand.
Housetraining and Crate Training Havanese Puppies
Small dogs have a perhaps unfair reputation for being hard to housetrain. It need not be so hard. Consistent habits are key.
Keeping to a schedule for feeding and going outside can prevent mistakes from happening. Check out our guide to housetraining to get it right from the start!
It helps if you keep his indoor environment clean. It is also worth keeping in mind that as such a small dog, he loses body heat quickly in the cold. Providing a sweater of some sort in cold weather will help make going outside more pleasant.
While this is a dog that would do better with mostly in-person supervision, it is still useful to crate train most puppies. Check out our guide on crate training here.
Havanese Health and Care
This breed's lifespan is generally long and healthy median 10.25 years, but almost a third will survive to 15-19 years.
There are some health issues to be aware of in this breed. The most common are orthopedic and include:
Osteochondrodysplasia — An improper formation of bones that may lead to structural asymmetries or short stature.
Legg Calve Perthes Disease (LCPD) — A poor blood supply to the head of the femur causes it to degrade over time and affects alignment of the leg (s).
Patella (knee cap) luxation — The kneecap pops out of place.
Hip dysplasia — The improper development of the hip joint. It can be painful, affect gait, and cause arthritis.
Other Problems
Other common health issues affecting Havanese (by system) are:
Eyes:

Cataracts — cloudiness of the eye lens — Blocks vision.
Cherry eye — prolapse of the third eyelid gland — Causes a red mass to protrude from the third eyelid gland.

Ears: congenital deafness
Heart: murmur
Liver: shunt (one parent has to have this to pass it on) — Blood bypsees the liver in one of several ways so the liver can not function normally.
Thyroid:

Hyperthyroidism — Too much thyroid hormone is produced. This leads to weight loss, anxiety, potentially heart problems.
Hypothyroidism — Too little thyroid hormone is produced. This leads to weight gain, lethargy, and cognitive issues

Sebaceous adenitis — Inflammation of sebaceous glands in the skin, often in younger dogs, leads to loss of hair.
Recommended Health Screening
The Havanese club of America recommends 4 tests:
An annual eye exam (CAER test)
A hearing test (BAER test)
A hip x-ray, and
Patella (knee) certification.
Always ask to see evidence that both parents have passed these tests before buying a puppy.
If you have already taken on a pup from untested parents, you can ask your vet to arrange screening for them.
Health screening in your Havanese puppy could help you to prepare for these heritable health issues that commonly affect the breed.
Does a Havanese Have Any Specific Dietary Needs?
Like all dogs, this breed does best on a high-quality dog food with meat proteins listed in the first few ingredients.
Make sure the food is made specifically for small breed dogs and is appropriate for the Havanese dog's age, weight, and activity level.
Many owners opt to cook their Havanese meals at home.
Just make sure you do plenty of research and are providing your dog with the proper nutrition he needs to grow and thrive.
Also, make sure you research any human foods you are tempted to share with your Havanese pup, as not all human foods are safe for our canine counterparts.
Treats are often a wonderful aid during training. However, since he is a small dog and can be prone to obesity, experts recommend that treats be given in moderation. Splitting them in pieces while training can help moderate the total amount given.
Grooming and Care of the Havanese Breed
Their hair can grow all the way to the floor. This is a key part of their beauty, and a consideration for grooming!
With such long hair, surprisingly, Havanese dogs' shedding is not so bad.
If you are looking to grow out your dog's hair, you may want to consider a professional groomer to help keep it tame.
A long coat will be more prone to mats and tangles. Even with a professional groomer, your long-haired pup will still require daily brushing.
If you prefer to keep your pup's coat shorter so it is easier to maintain, you should still prepare to brush at least two to three times a week.
Bathing
They will also need occasional bathing with a high-quality dog shampoo.
For lighter colored dogs, you will need to take special care to clean around the eyes to keep tear stains from forming.
Like all breeds, these puppies need their nails cut regularly and their ears checked and cleaned to keep moisture and wax from building up and causing infection.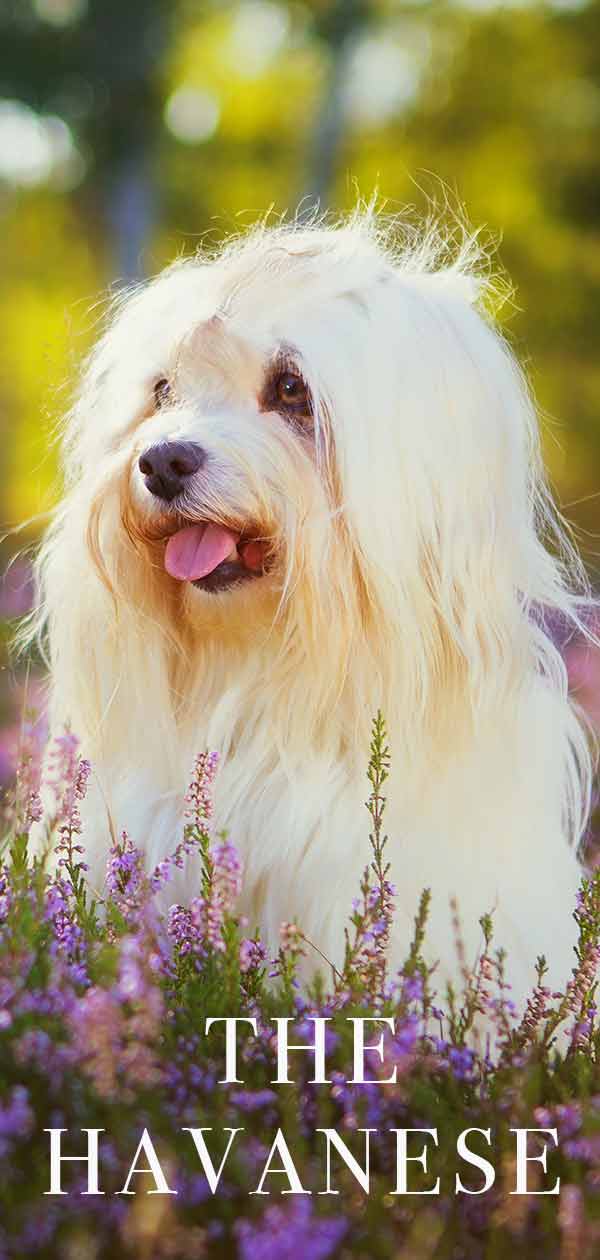 Are Havanese Hypoallergenic?
He is famous for his silky coat, but is the Havanese hypoallergenic? Do they shed?
In short, no. No dog is truly 100% hypoallergenic. This breed sheds relatively lightly given their long hair.
That said, this breed produces less allergy-inducing dander in his coat than many other breeds, making him a great choice for allergy-sufferers.
Do Havanese Make Good Family Pets?
The Havanese makes a wonderful companion dog for singles, couples, and families alike.
He is an adaptable little canine who is small enough to travel with you and sturdy enough to live in the same household as gentle children.
While he makes a playful, cheerful pet, he becomes incredibly bonded with his people and does not tolerate being left home alone for hours at a time.
He would do best in a setting with people who have flexible work schedules or are able to work from home.
You should also keep in mind that this breed, while portable and eager to join you on most exploits, is not the dog you would want to utilize as a running partner. Over-exercising one of these pups can lead to serious health issues.
Pros And Cons of Getting A Havanese
Cons:
You'll need to keep on top of grooming so their coat stays nice.
He won't be up for joining you on your crazy long trail runs.
He won't be happy if left alone much.
Pros:
You'll have an adorable, cuddly little dog.
His small size is more manageable for small children.
He is unlikely to bother neighbor cats or wild birds.
Starting Socialization Early
While the breed gets along famously with children and other household pets, he should be socialized from puppyhood so that he can grow up to be an adaptable and well-adjusted dog.
Early socialization also helps reduce the chances of anxiety when introducing your dog to new people and environments.
Rescuing a Havanese
One of the benefits of going through a shelter or rescue organization is that the price is much less than you will pay for a Havanese puppy through a breeder. Adoption fees typically range from $50 to $100.
This is an especially good deal considering that rescues or shelters will often provide vaccinations, de-sexing, and breed-specific health screening.
Besides being a more economical option, rescuing a Havanese dog provides a home for a dog that has lost theirs and possibly saves their life.
Scroll to the end of the article for our list of rescue centers.
Are Rescue Dogs Trouble?
Sometimes people assume that if a dog is a rescue it must have problems, but this is not necessarily true. There are many reasons that people may be unable to keep their amazing dog.
In addition, rescue organizations also often do temperament testing on the rescue animals so you will likely be aware of the dog's past and personality.
If you have your heart set on a rescue, there are many Havanese shelters and rescue clubs available.
Finding a Havanese Puppy
As a simple search on Google will show you, Havanese puppies are not difficult to find.
A good place to start might be looking at our guide to finding your puppy.
These dogs, whether cross breeds or purebred, are very popular throughout the world, so you should have good luck in finding one.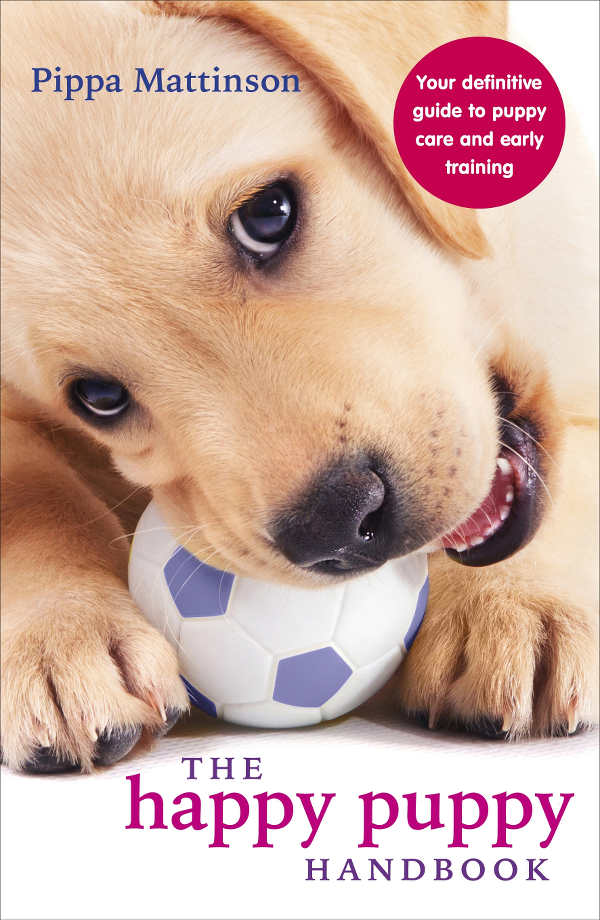 Mini Havanese, teacup Havanese, or pocket Havanese
One issue to be aware of with this little dog, is breeders who misrepresent it.
Remember, this breed does not come in size varieties.
Breeders who advertise teacup Havanese, mini Havanese, or pocket Havanese could be selling puppies who were irresponsibly bred.
This could lead to a number of devastating consequences for you and the puppy down the road.
While tinier than average Havanese are not unheard of, they may come with more health complications, especially if they are purposefully bred down by irresponsible breeders looking to make more money. For this reason, we highly recommend avoiding any breeded making such claims.
Research Breeders
When going through a breeder, it is important to do plenty of research.
As far as price, breeders will typically charge anywhere from $1000 to $1500 for a Havanese puppy.
Keep in mind that if the parents of your Havanese puppy are show quality, the price will be higher.
One of the benefits of going through a reputable breeder is that you will have the opportunity to ask questions regarding temperament and health issues of the parent dogs or previous litters.
I addition, a reputable breeder will be able to provide health certificates proving their puppies have been screened and are healthy and ready to go home with you.
Puppy Mills and Pet Store Puppies
It is important to avoid puppies which may be cheaper because they were raised irresponsibly in puppy mills. This includes many sold in pet stores.
In order to raise the puppy with less money, the puppy mill will almost certainly have had to sacrifice on things like cleanliness, health checks of parents and puppies, living space, and early socialization.
Since early experience has a profound impact on the puppy for life, and many such dogs' lives end tragically, it is best to not support such businesses.
How About a Mixed Breed Puppy?
While many of us often think in terms of straight purebred dogs, mixed breeds are becoming more popular.
In addition to cool traits from both breeds, they also have the advantage of slightly more robust health and longer life.
See here for a list of common Havanese mixes.
Raising a Havanese Puppy
Caring for a vulnerable Havanese puppy is a big responsibility, but you're not alone. We have some great guides to help you with all aspects of puppy care and training. You'll find them listed on our puppy page.
Popular Havanese Breed Mixes
Here are some popular Havanese breed mixes you might want to consider:
Comparing the Havanese with Other Breeds
Maybe you're certain now that you'd love to have a Havanese, however, maybe you're still considering how they compare to similar breeds.
Havanese vs. Cavalier King Charles Spaniel: Both are gentle, small dogs, suitable for small children, people new to dogs and smaller spaces. The Havanese will need more attention to grooming. The Cavalier King Charles Spaniel will have a greater tendency to bark.
Havanese vs. miniature Poodle: Both are small, affectionate dogs. The Havanese is more attached (at the hip) to his people. The miniature Poodle is a bit more of a hunter, and more cold tolerant.
Havanese vs. Shih Tzu: These two small, playful breeds share a lot in common. One difference can be found in the ease of housetraining. Havanese will tend to have more desire to please. Shih Tzu may take a little more attention to training. The Shih Tzu will also be more prone to barking.
Similar Breeds
Other dog breeds you might want to consider:
Havanese Products and Accessories
Here are a few tools that may help you care for your new dog or puppy.
Havanese Breed Rescues
These organizations would be a great place to start your search for a dog in need of rescue.
USA-Based Rescues
UK-Based Rescues
Australia-Based Rescues
Check with local shelters or breeders.
Canada-Based Rescues
Are you on the hunt for a Havanese puppy?
Tell us about it in the comments!
References And Resources
Adams VJ, et al. 2010. Results of a Survey of UK Purebred Dogs. Journal of Small Animal Practice.
Alison N. Starr, Thomas R. Famula, Nathan J. Markward, Joanne V. Baldwin, Karon D. Fowler, Diane E. Klumb, Nancy L. Simpson, Keith E. Murphy, Hereditary Evaluation of Multiple Developmental Abnormalities in the Havanese Dog Breed, Journal of Heredity.
Duffy D et al. Breed differences in canine aggression. Applied Animal Behavior Science 2008
Frazer, Megan M., Anthea E. Schick, Thomas P. Lewis, Edward Jazic, Sebaceous Adenitis in Havanese Dogs: A Retrospective Study of the Clinical Presentation and Incidence, Veterinary Dermatology.
Gough A, Thomas A, O'Neill D. 2018 Breed Predispositions to Disease In Dogs and Cats. Wiley Blackwell
Howell, Tiffany j, Tammie King, Pauleen C Bennett, Puppy Parties and Beyond: the role of early age socialization practices on adult dog behavior, Volume 6, pages 143-153
Schindler, Rafe H, and Sara Dellorto, 2018. Report on the Results of the 2017 Havanese Longevity Survey, Health Committee of the Havanese Club of America.
Nathan B Sutter and Elaine A Ostrander, Dog Star Rising: The Canine Genetic System, Nature Reviews Genetics, Volume 5, pages 900-910