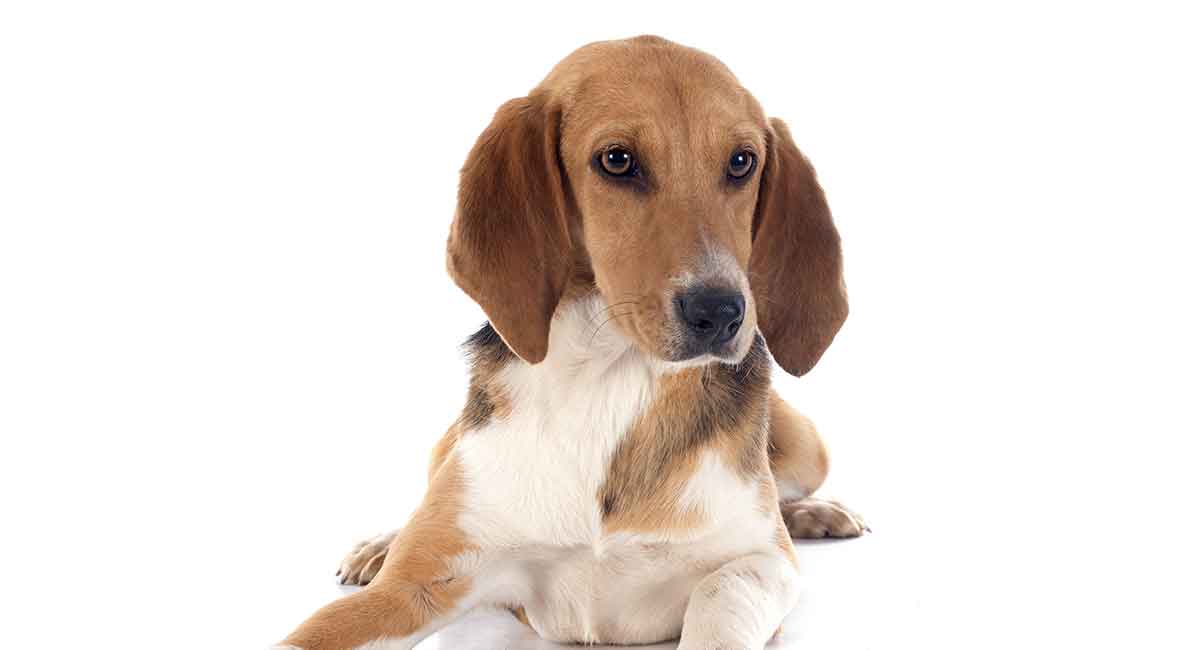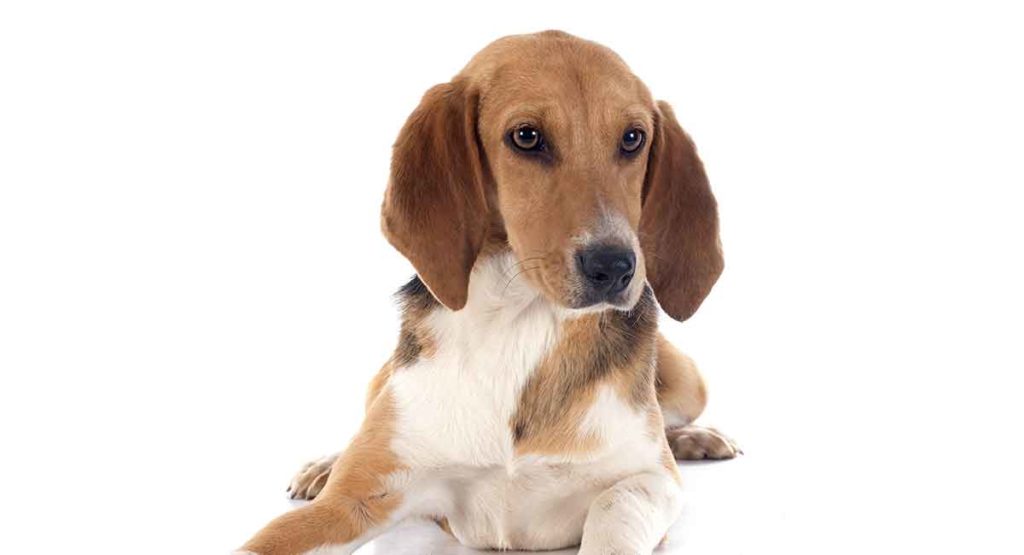 The Harrier dog is friendly, outgoing and people-oriented. These medium sized dogs of the hound group are one of the American Kennel Club's rarest breeds, ranking 183rd in popularity.
Chances are you've never actually encountered the Harrier.
Even if you've seen a Harrier dog, you may have mistaken him for an oversized Beagle because they share many physical attributes.
But they are definitely two separate breeds.
From temperament to training, let's get to know the little-known Harrier dog.
Where Does the Harrier Dog Come From?
There are conflicting versions of the Harrier's long history.
We do know that they were first bred in medieval England for the purpose of hunting hares.
As scent hounds, they have an excellent sense of smell and can follow their noses over long distances.
They're generally believed to be the result of breeding smaller and smaller English Foxhounds.
In 1260, the first pack of Harriers was established by Sir Elias de Midhope.
The Penistone pack endured for 500 years, well into the 18th century.
The breed was imported to America during Colonial times.
It's even possible that George Washington used them to create the American hounds.
The Harrier Dog was first recognized by the AKC in 1885.
Fun Facts About the Harrier Dog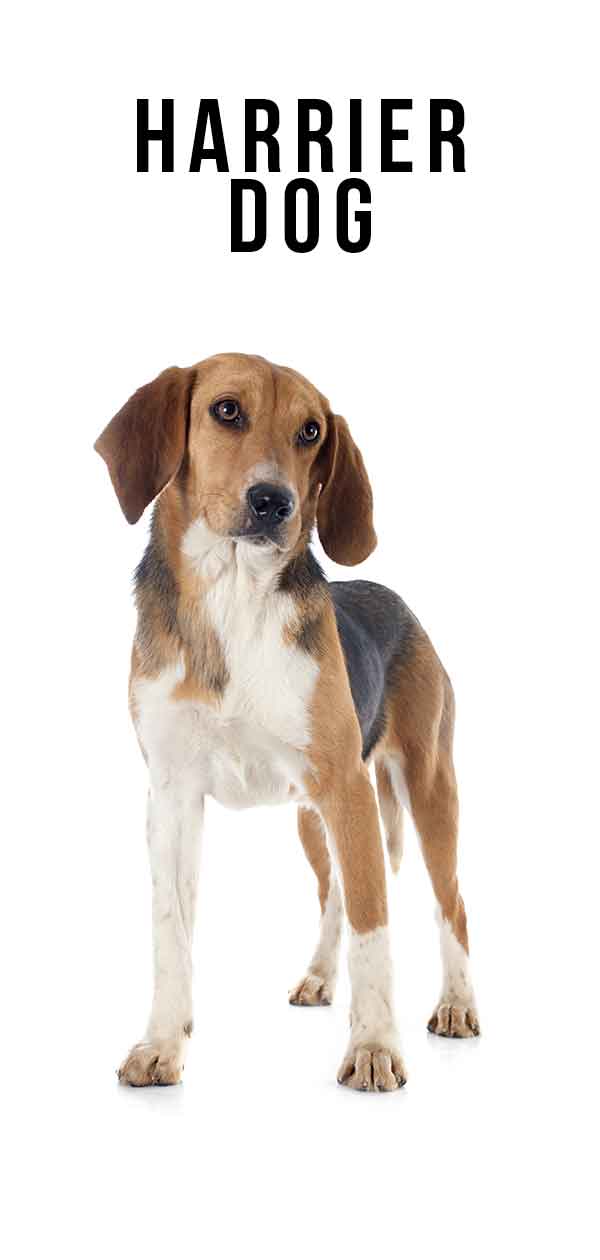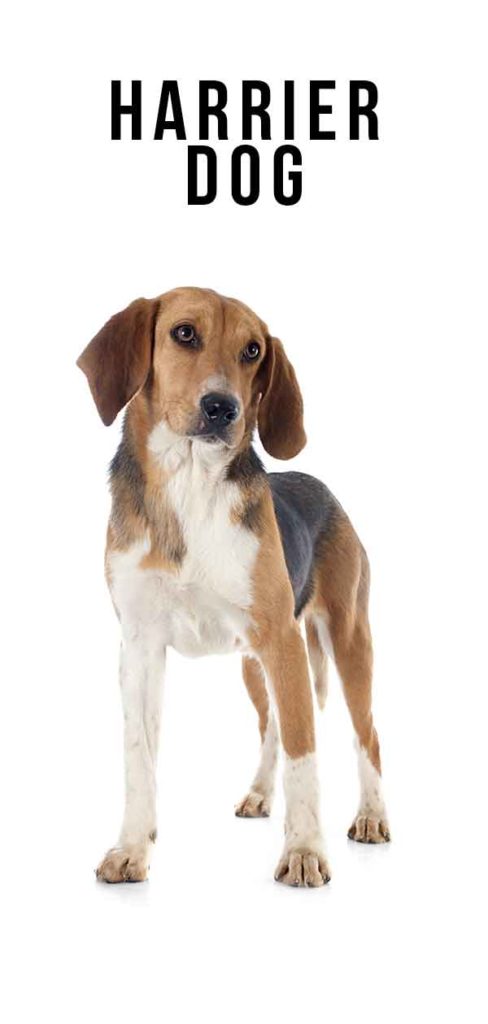 Despite originating in England, the Harrier dog hasn't been recognized by the English Kennel Club since 1971.
The reason may be that they're used for hunting, not for showing.
The last time the breed appeared at an English Kennel Club show was in 1915.
However, they are the most popular hunting hounds in Ireland where they're still employed hunting both hares and foxes.
Harrier Dog Appearance
The Harrier Dog has been said to resemble a large Beagle or a small English Foxhound.
They stand from 19 to 21 inches and weigh between 45 and 60 pounds.
They possess the classic look and attributes of a scenting pack hound.
Their sturdy build encompasses a broad chest with bones that are large for their size.
These dogs were built for resilience and are able to cover long distances with a smooth stride.
The tail is set high and carried upright.
A sweet hound face with a long muzzle is enhanced by floppy, low-set, velvety ears.
Their short, dense, glossy coat comes in a variety of colors.
Harrier Dog Temperament
The Harrier Dog is very playful and energetic.
Harriers are pack dogs and love to be around people and other dogs.
This feeling does not extend to other animals.
Harrier Dogs are meant to hunt and will see cats and other small pets as prey to be chased.
Although they're acknowledged for being good with children, all dogs should always be supervised around young ones.
This is an intelligent and independent breed who can think for himself.
Is the Harrier dog a guard dog?
Like any hound, Harriers are barkers.
They're known for a particularly prolonged bay, especially if left on their own too much.
This makes them good watchdogs.
They're sure to let you know when someone approaches their territory.
However, they're not great guard dogs.
Their sweet temperament makes them more likely to greet strangers like they're old friends.
Life With a Harrier Dog
Many of the Harrier Dogs being bred in the U.S. today are direct descendants from working packs in the UK.
The hunting instinct is still very strong in the breed.
They were bred for stamina to the point of tirelessness.
If left on their own too much Harriers can get bored and will resort to destructive behavior like chewing and digging.
If they get a scent, they'll want to explore it and not much will stand in their way.
Fences must be reinforced, otherwise they'll find a way to go over or under them.
Training Your Harrier Dog
The Harrier's penchant for being independent and stubborn can cause some problems when it comes to training.
This is a breed that needs early socialization to ensure he's exposed to a wide variety of people, noises, and experiences from a young age.
Positive reinforcement training methods that reward correct behavior will get the best results— especially if he thinks the response was his idea.
Crate training works well to housetrain the Harrier Dog.
Pee or poop accidents are less likely, because they won't want to go where they sleep and eat.
Exercising Your Harrier Dog
Harriers were bred to spend hours hunting and chasing after prey.
This high energy dog needs plenty of daily exercise to keep him from becoming destructive.
Long walks, jogging, and outdoor games are an absolute must to keep the Harrier happy and well-behaved.
Their inclination to hunt and chase means that they will always need to be kept on a leash.
They should only be allowed to run free in secure areas.
If they do get sufficient exercise they can be quite adaptable to any living situation.
They do like to live indoors and be close to their family.
Harrier Dog Health
Overall the Harrier is a healthy dog with a lifespan of 12 to 15 years.
But like any breed, they are prone to certain health conditions.
Hip dysplasia is the major health problem for the Harrier Dog.
This genetic condition is an abnormal formation of the hip socket that can be adversely affected by environmental factors.
If severe, it can cause lameness and painful arthritis of the joints.
Make sure to get proof that the parents have been tested and cleared for hip dysplasia when buying a Harrier puppy.
An ophthalmologist evaluation is also recommended, as Harrier Dogs are prone to eye diseases.
Harrier Dog Grooming
The short thick coat of the Harrier is fairly low maintenance.
It requires only weekly brushing or rubdown with a hound mitt to remove loose hair and dirt.
His long soft ears will involve a little more care as they're susceptible to infection.
Inspect them on a weekly basis, and if needed, clean with soft gauze and an ear-cleaning solution recommended by your vet.
Their nails should be trimmed often. Long nails can cause discomfort and difficulty walking and running.
Harrier Dog Feeding
Your Harrier should do well with a high-quality dog food that's appropriate for his age and activity level.
This is a very active dog and shouldn't have a weight problem if he gets enough exercise.
However, this is a breed that loves food and will eat as much as you give them.
It's important to control their calories to keep them healthy.
Do Harrier Dogs Make Good Family Dogs?
The Harrier Dog is a pack animal, so they love to be around people and other dogs.
Like most hound breeds, they're friendly, sociable, and spirted.
While he loves attention, he's not needy. This is an independent dog who's quite capable of entertaining himself.
However, it's in your best interest to keep him occupied and well-exercised both mentally and physically to avoid destructive behavior like chewing, digging, and excessive barking.
With energy to burn and stamina to spare, this is a dog best-suited to a family with an active lifestyle.
Rescuing a Harrier Dog
Before searching for a breeder, consider the benefits of adopting a shelter dog.
No matter where you live, shelters are filled with dogs who are looking for a loving home.
The pet overpopulation crisis means that many dogs get euthanized because there aren't enough loving homes to accommodate the number of abandoned dogs.
There's often a misconception that shelter dogs are there because they're aggressive or have behavioral issues.
The reality is that most behavioral problems can be traced back to how they were treated by their former owners.
Some were born in puppy mills and have never had a real home, others end up in shelters because their owners are moving or they don't have enough time for a pet.
Perhaps the best reason for choosing to get a dog from a shelter is the feeling you get from saving a life.
Finding a Harrier Dog Puppy
Finding a purebred Harrier Dog puppy may be difficult because they're so rare.
Patience will be required.
Avoid buying from puppy mills, pet stores, and the internet.
These dogs are often neglected and have health problems.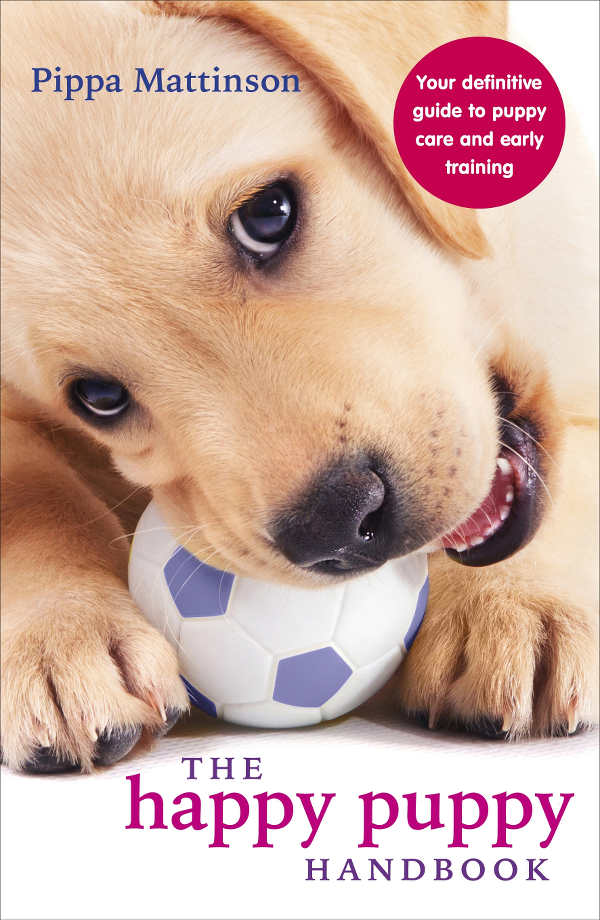 Look for a breeder who has health tested their dogs for genetic diseases that can be passed on to the puppies.
Seeing the parents and where the puppies live will give you a good indication of the care they've received.
Raising a Harrier Dog Puppy
Harrier Dogs are independent thinkers who have a tendency to be stubborn.
Training and socialization should begin early.
You might also want to consider puppy training classes.
For those who choose to train their own puppy, consistency, patience, and understanding the scent hound temperament, are vital for success.
This article will break down puppy training into stages so you're not overwhelmed. You can also learn about puppy development stages here.
Harrier Dog Products and Accessories
The energetic Harrier can benefit from having access to a wide array of toys to keep him engaged.
This selection of playthings, from chew toys to interactive puzzles, were designed for active dogs who play rough.
Before you bring your Harrier Dog home, make sure you have the appropriate leash.
Ear cleaner is important to have on hand for a dog who is prone to ear infections.
Pros and Cons of Getting a Harrier Dog
Cons:
They require a lot of exercise
A prey instinct means they're not good with small pets like cats and rodents
Can be stubborn and difficult to train
Have a tendency to bay or be destructive when they're lonely or bored
Pros:
An excellent outgoing companion for active people
Good with kids and other dogs
Minimal grooming requirements
An overall healthy breed
Similar Breeds
Due to their relative rarity, you may have trouble tracking down a Harrier dog from a breeder or a shelter.
Here are some similar breed alternatives to consider:
Harrier Dog Rescues
Since Harrier Dogs are so scarce, there are few rescue groups dedicated specifically to them.
If you're aware of any local or national shelters specializing in Harrier Dogs, please add details in the comments box below.
Is a Harrier Dog Right For Me?
Despite their status as one of the rarest breeds, Harrier Dogs have plenty to recommend them.
This friendly dog with the tireless work ethic is perfect for active families and athletic people.
You couldn't ask for a better jogging or hiking companion.
Although they're sweet-tempered, the Harrier Dog is not recommended for first-time dog owners because of their excessive training and exercise requirements.
As long as you can provide them with adequate activity and attention, the Harrier Dog could be your new best friend.
References and Resources