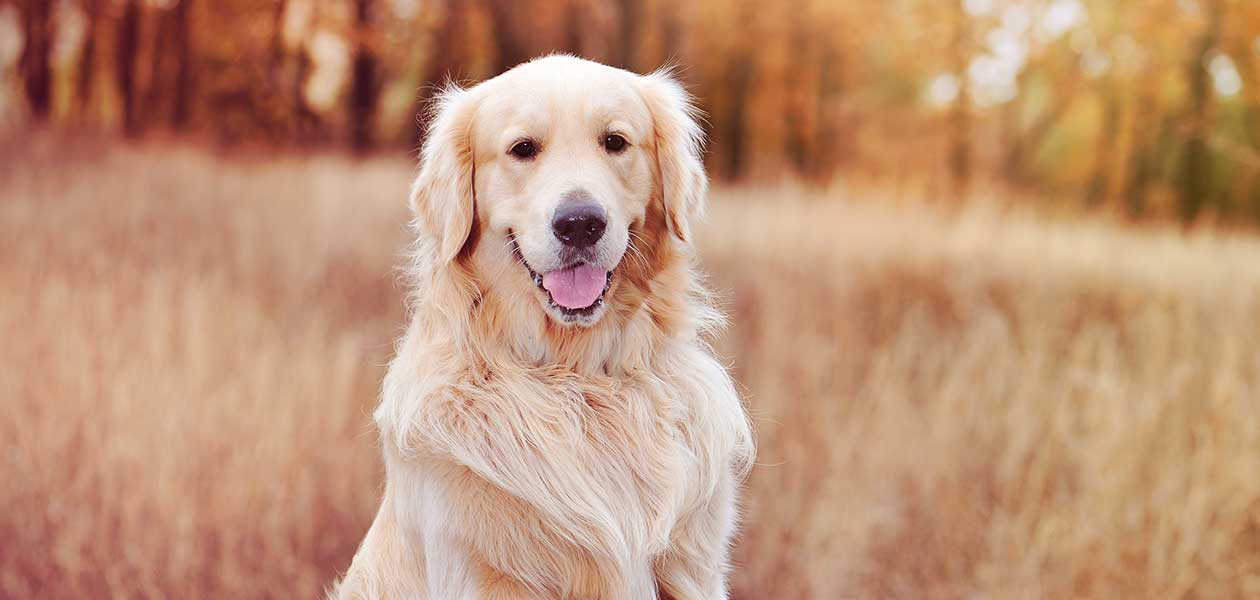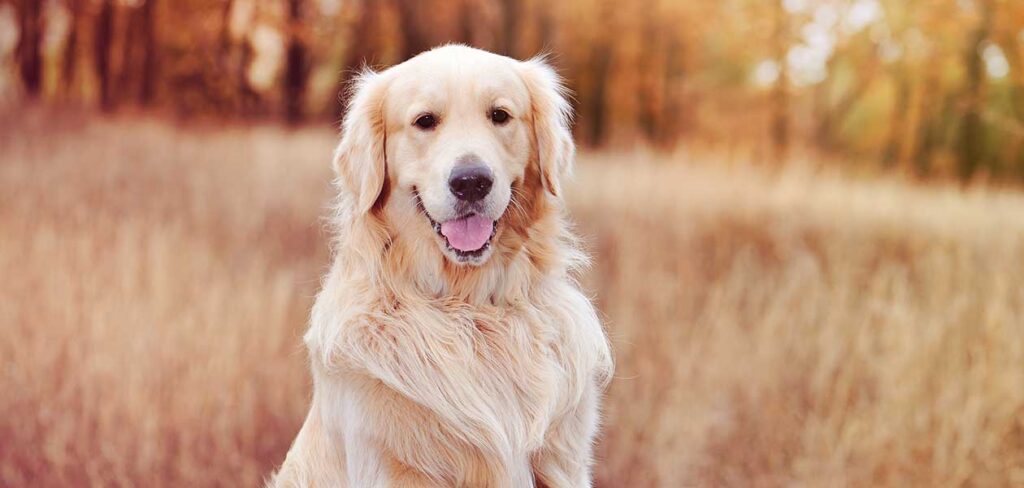 Golden dog breeds have beautiful fur! The best known of the gold dog breeds is the Golden Retriever, but there are many other dogs who share this lovely coat color. Today we'll be looking at a range of golden dogs of different types. We'll see how their temperament and needs compare, and help you choose between them!
Where do gold dog breeds come from?
Are gold dog breeds rare?
Meet the gold dog breeds!
Some of the smaller golden dog breeds are better suited to life in town or appartments. But there are some smaller breeds with high energy levels too.
Before we start looking at individual golden dog breeds, let's take a look at how dogs can get a beautiful golden coat color. And why we can sometimes be surprised with puppies of a different color!
Gold Dog Coat Genetics
The two pigments that can contribute to a dog's coat color are eumelanin and pheomelanin. Eumelanin appears black, brown or gray.
The Golden Pigment
Pheomelanin appears red, gold, or yellow. Pheomelanin production is controlled by the 'e' gene (which, rather oddly, stands for 'extension').
Every dog has two 'e' genes, in one of three possible combinations: EE, Ee and ee.
The e gene comes in two forms. Big E which is dominant, and little e, which is recessive. Big E, switches off the yellow coat color if it is present. Whereas little e, allows it to shine through! Because big E switches little e off, if it is present, only the third combination – the double little e at the bottom of that list, will give you a yellow or golden coat.
So, in order to be golden, dogs need to inherit little e from both their mom and dad in order to produce pheomelanin. And this 'recessive' nature of the 'e' gene is why the color can be carried and passed on from generation to generation undetected in black dogs. This is why, for example, two black labradors could have a litter containing yellow puppies, if both parents carried the 'e' gene
What Caused Shades Of Yellow?
The tone, or shade of gold in your dog's coat is determined by C genes, which control the depth of pigmentation.
Dogs which carry the dominant C version have a dark red coat. Dogs which have two copies of the recessive c version of the gene have a light gold coat.
Are Gold Dogs Rare?
Since gold coats rely upon inheriting two sets of recessive genes, you might expect them to be rare! But they remain widespread, because breeders have intentionally fixed those genes into some breeding lines (or entire breeds) and eliminated the dominant genes which could mask them.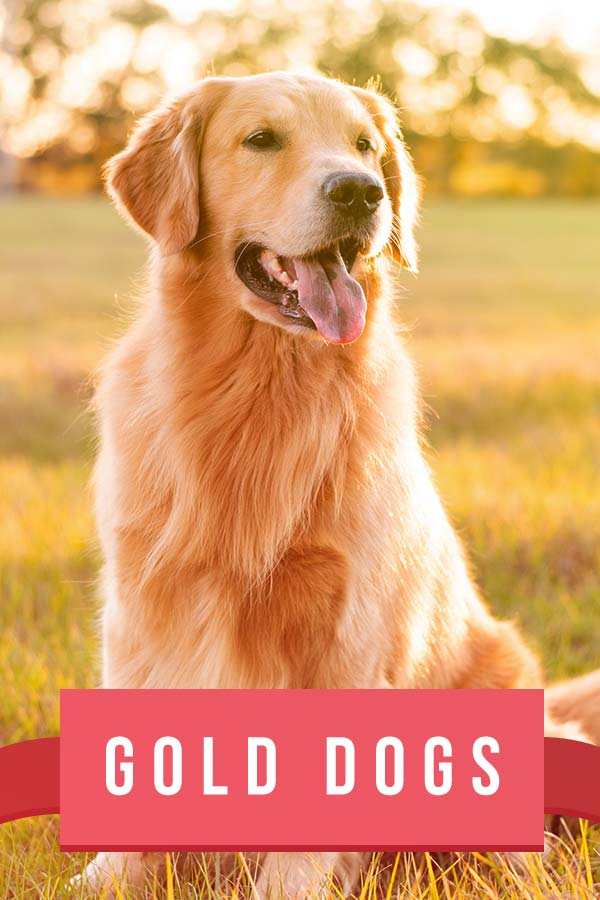 And since golden dogs are so pretty, it's easy to see why!
Top 20 Gold Dog Breeds
What's the Best Gold Dog Breed?
It's important to remember that coat color alone won't determine how suitable a dog breed is for your family. When choosing a new puppy, you should look at the care needs, exercise and training needs, temperament, and health of a breed. This will help you find a dog that is well-suited to your lifestyle.
For instance, a highly active and social dog won't be well suited for a small apartment and a family who spend a lot of time at work.
We've included a variety of golden dogs with different needs and temperaments in our list. So, there should be a gold dog breed here for everyone. Let's get started with the most popular gold dog we know!
Golden Retriever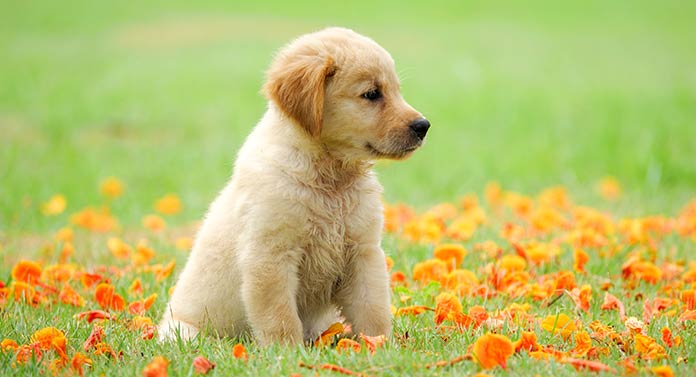 The Golden Retriever is a beautiful golden breed from Scotland. This breed was developed in the 1800s by a man named Lord Tweedmouth.
Golden Retrievers are medium to large dogs. They grow up to 22 inches tall, weighing between 55 and 75 pounds as an adult. Generally, Goldens have a muscular build.
Golden Retrievers are known for being good natured. They are friendly, confident, and intelligent dogs that are very affectionate and loving to their families.
Goldens need lots of exercise and mental stimulation to stay happy. Plus, this breed is unfortunately prone to cancer, so you should read into this before bringing a Golden Retriever home.
The Cocker Spaniel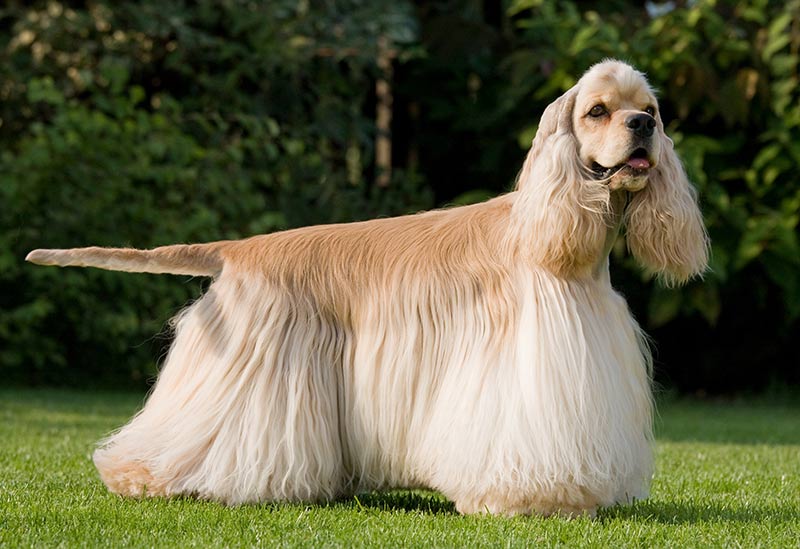 The Cocker Spaniel is another one of our beautiful gold dog breeds. This Cocker Spaniel has a different breed standard to the English Cocker Spaniel, who we will look at in a moment.
The American Cocker has a shorter head, smaller body, and thicker coat than its English equivalent. These dogs are gentle, intelligent, and a generally happy breed.
American Cocker Spaniels will make great dogs for families who have small children and other pets. But, they need to be socialized well as puppies to avoid any potential aggression.
These dogs also need plenty of daily exercise, regular grooming and lots of mental stimulation.
English Cocker Spaniel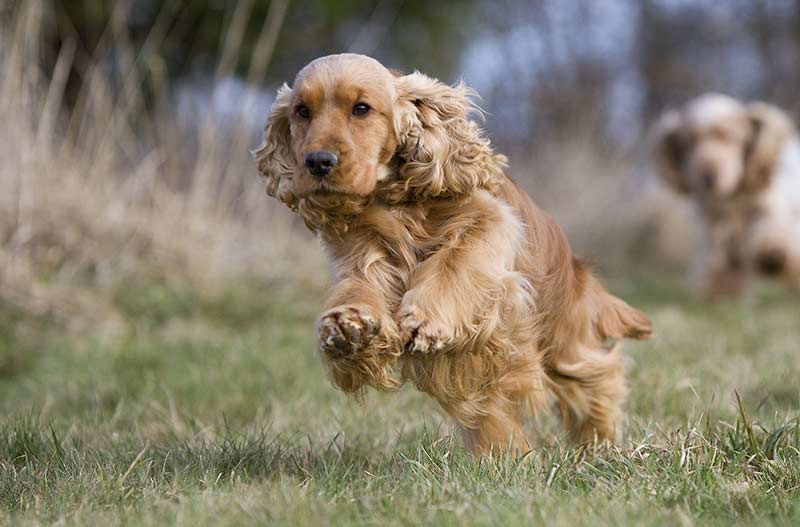 The English Cocker Spaniel is very similar to its American cousin, and also comes in a beautiful golden shade.
English Cockers are intelligent, friendly, and active dogs that require plenty of exercise, mental stimulation, and social interaction.
The English Cocker Spaniel splits into two strains – working and show. These to strains are somewhat different in appearance and temperament.
This dog won't be suitable for families who spend lots of time apart from their dogs, as Cockers can be prone to separation anxiety. Being left alone for too long can result in anxiousness, barking, and destructive behaviors.
This breed can also have a strong prey drive, and very high energy levels in the working strain. So lots of exercise, mental stimulation and obedience training are vital. English Cockers from show lines tend to be more laid back and relaxed.
Boerboel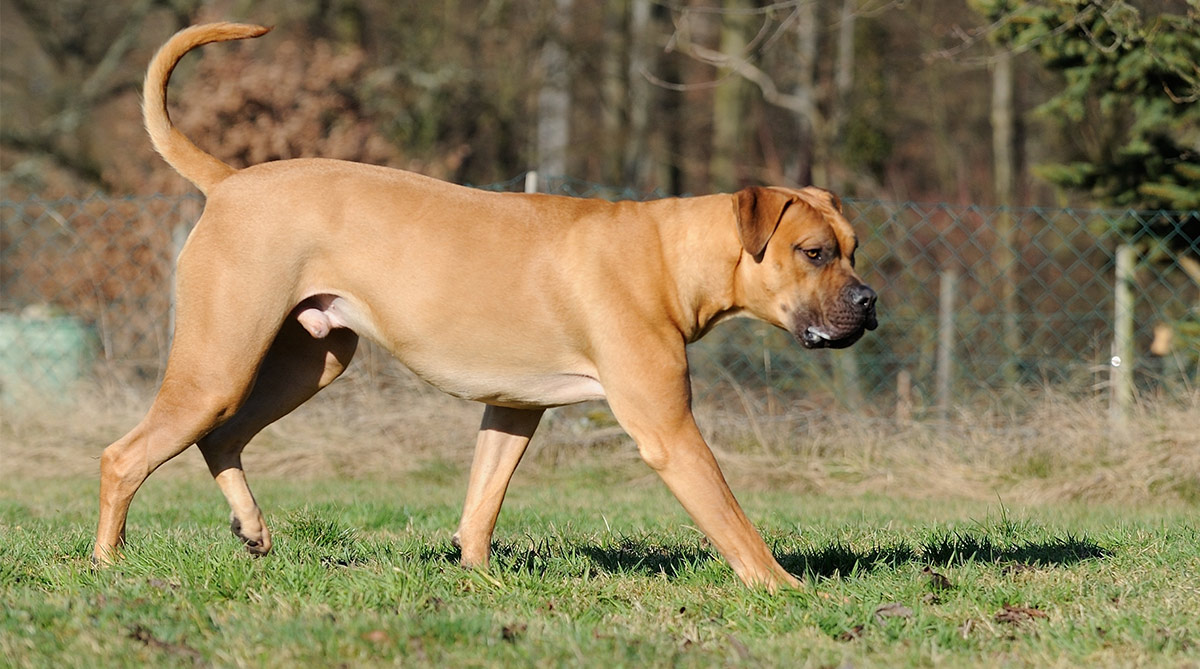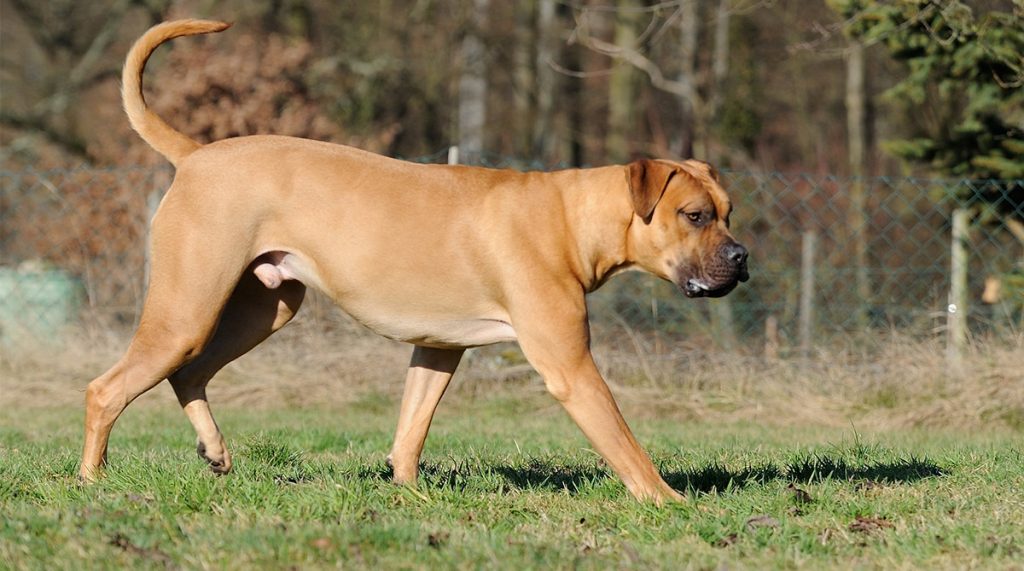 The Boerboel is one of the larger golden dog breeds on our list. This dog actually comes from South Africa, and is often used by farmers to protect livestock.
Boerboels are territorial, loyal, and very strong dogs. So, they aren't suitable to every family.
They need plenty of socialization and obedience training to minimise the potential for aggression towards strangers and other animals.
Boerboels can reach up to 27 inches at the shoulder, weighing up to 200 pounds! This is a very strong, stocky breed.
Unfortunately, large dogs like this have some health problems associated with their size, so it's important to learn about these if you're considering bringing a Boerboel home.
Goldendoodle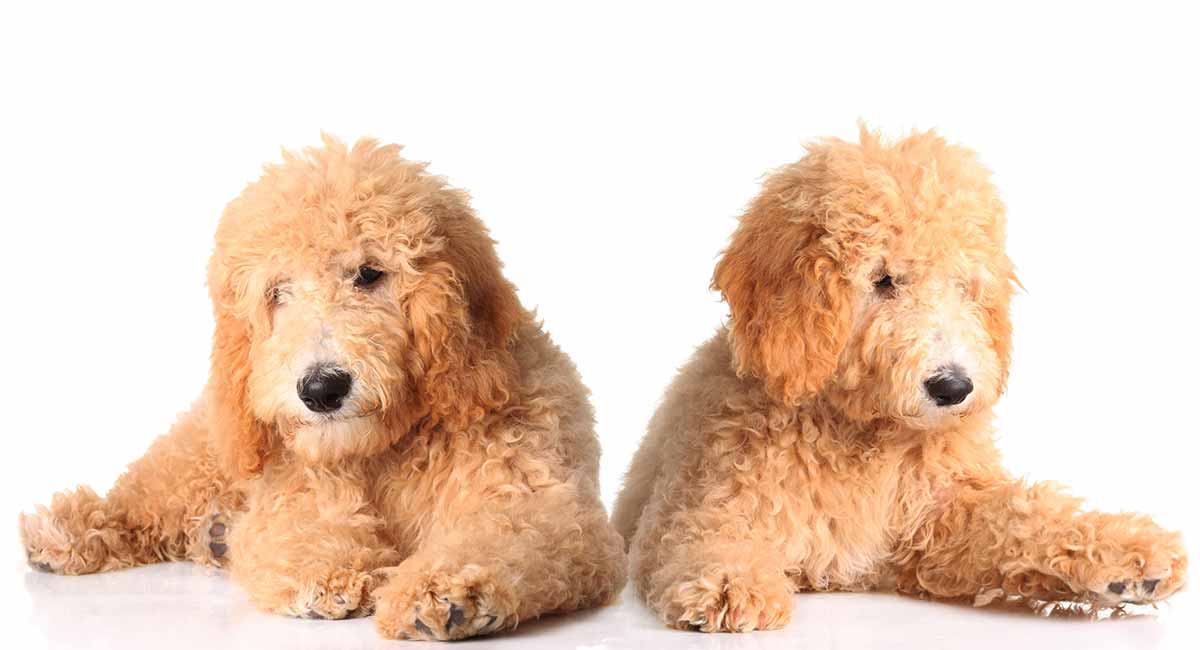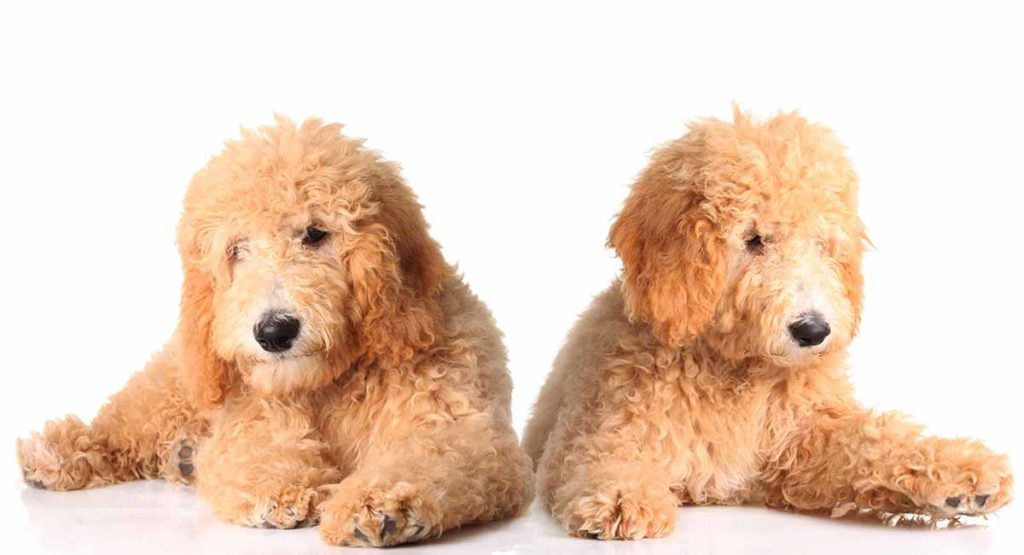 Goldendoodles are actually a popular mixed breed. They are a cross between the Golden Retriever and the Poodle breeds.
Because Goldendoodles are a mixed breed, predicting their traits is actually very hard. They could inherit any mixture of characteristics from their two parent dogs.
So, you might not be able to tell what your Goldendoodle will be like until you meet your puppy.
You can get a good idea by looking at the parent breeds though.
Generally, this dog has golden, curly fur. They are usually intelligent, friendly, and confident dogs, especially when well socialized.
Pembroke Welsh Corgi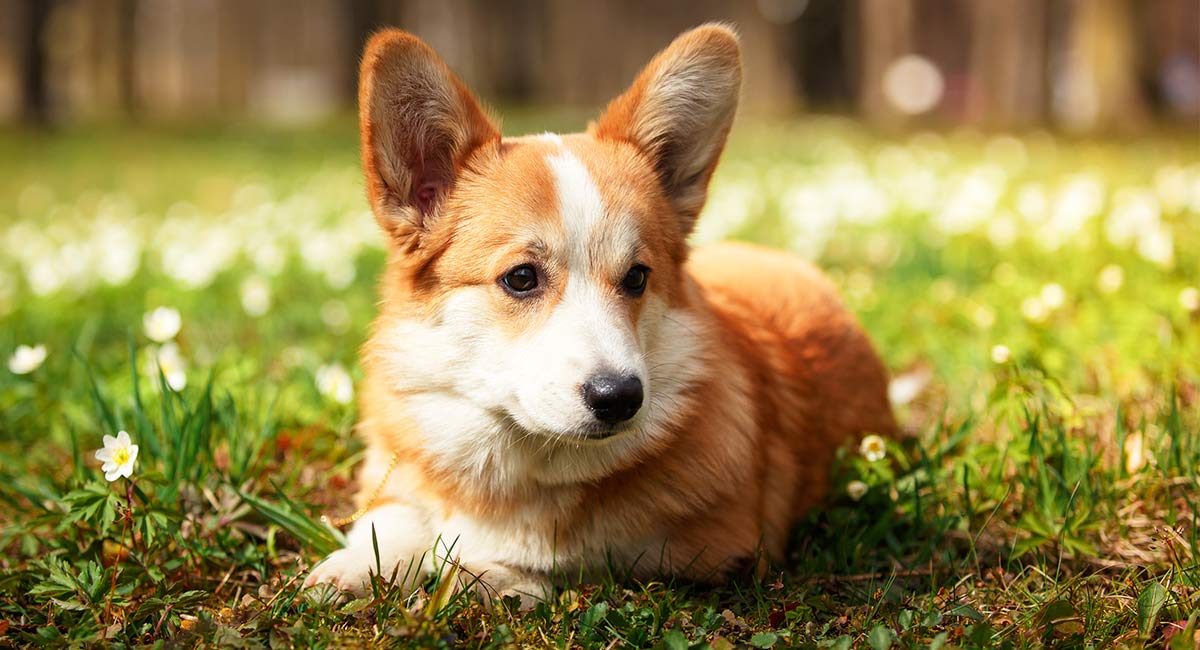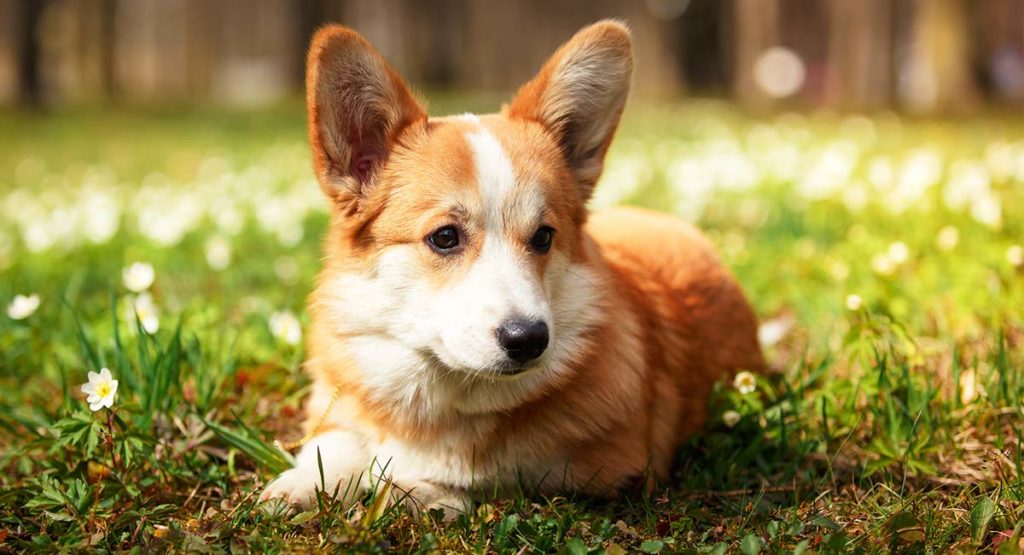 The Pembroke Welsh Corgi is a smaller gold dog breed, that has a long back and short legs due to a condition called chondrodysplasia.
Even though Corgis are small, growing up to 12 inches tall, they can weigh up to 30 pounds! So, they are generally quite stocky dogs.
Corgis are affectionate, curious, and bold dogs.
But, they can have strong herding instincts that can complicate living with children and other pets.
These dogs need families who can satisfy their high exercise needs, and give them plenty of mental stimulation to prevent them from becoming bored.
Chow Chow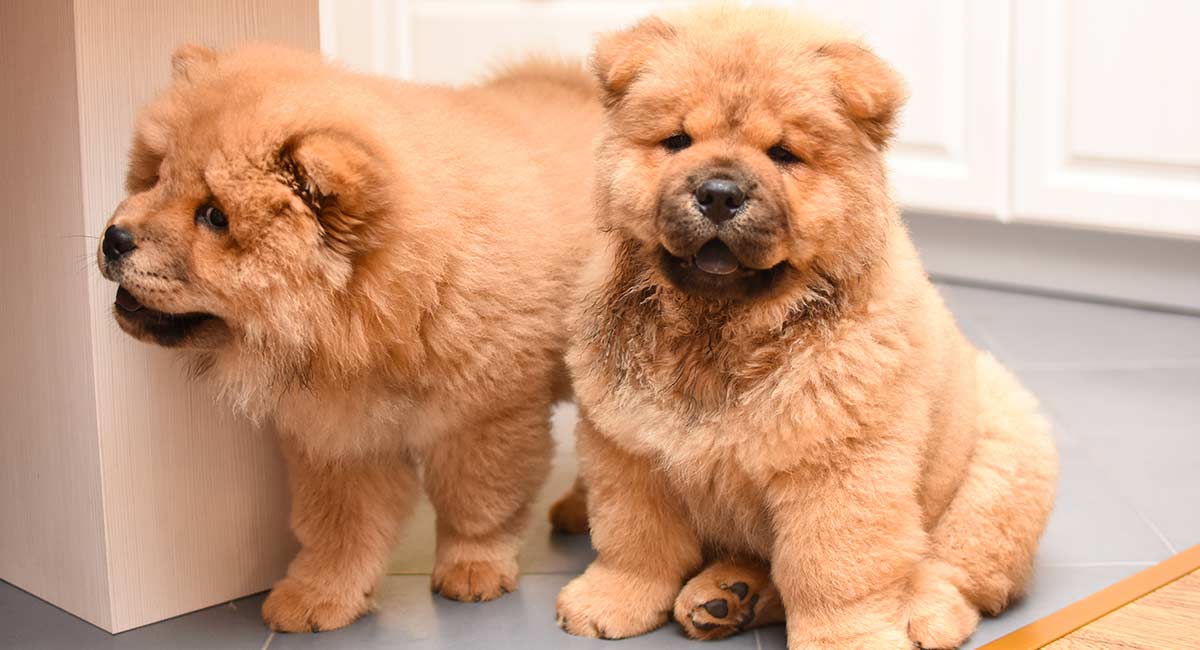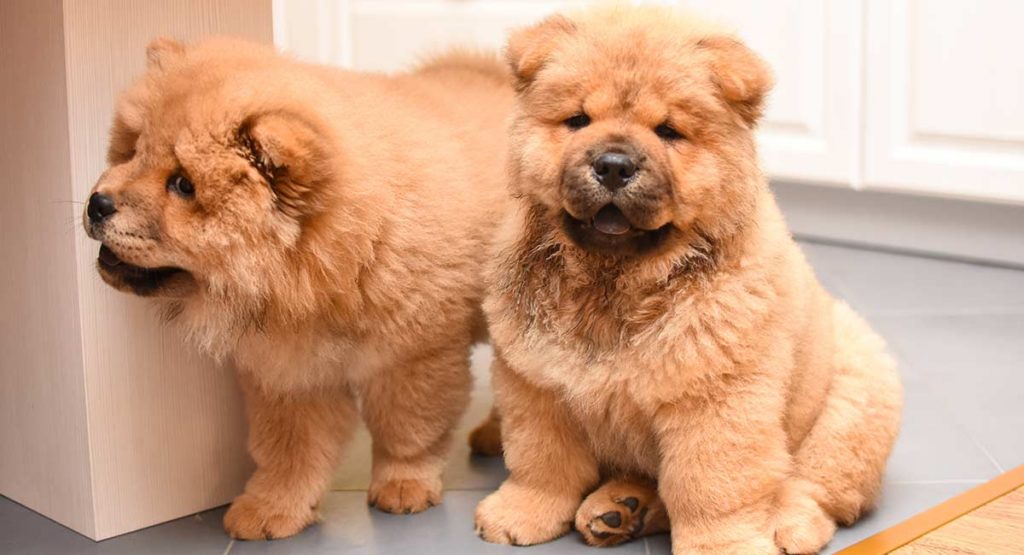 Chow Chows are large fluffy gold dog breeds! They can grow up to 21 inches tall, weighing between 44 and 70 pounds on average.
Chow Chow dogs are intelligent, independent, and can be quite aloof. So, they won't suit owners who want a dog they can cuddle all day.
They are loyal with family, but can be wary of strangers, so socialization is important.
This golden dog breed has a stubborn streak that can make training quite hard.
So, be very patient, and stick with positive reward methods.
This might not be the best breed for a first time owner.
Chow Chows need regular exercise, but are prone to overheating thanks to their thick fur. So, make sure you don't overdo it!
Afghan Hound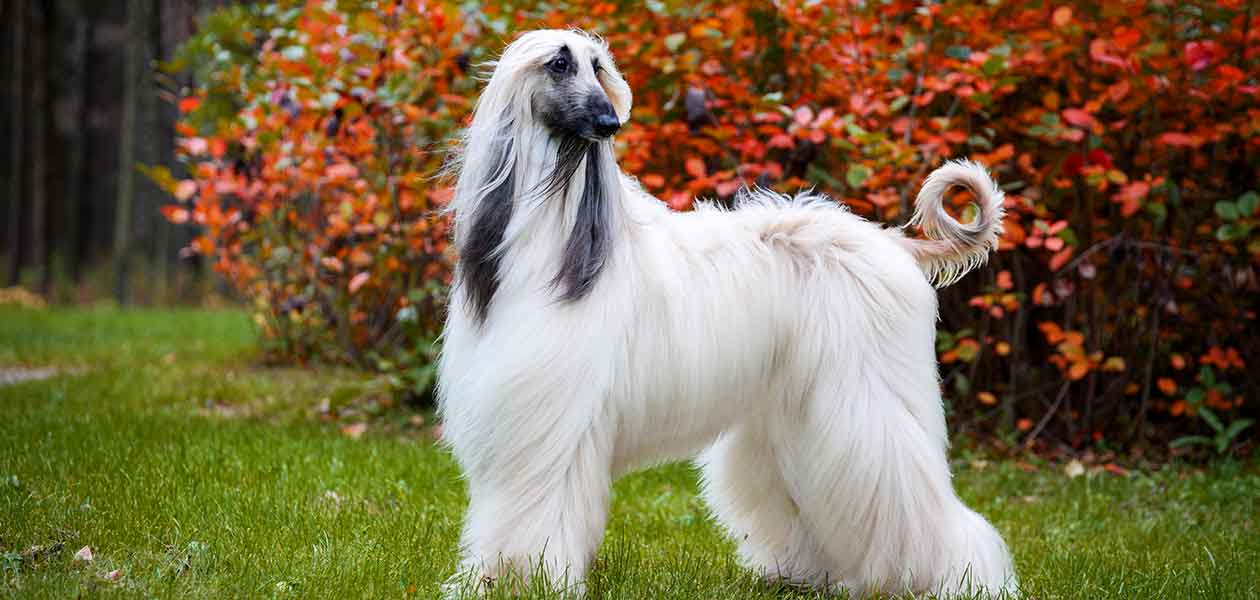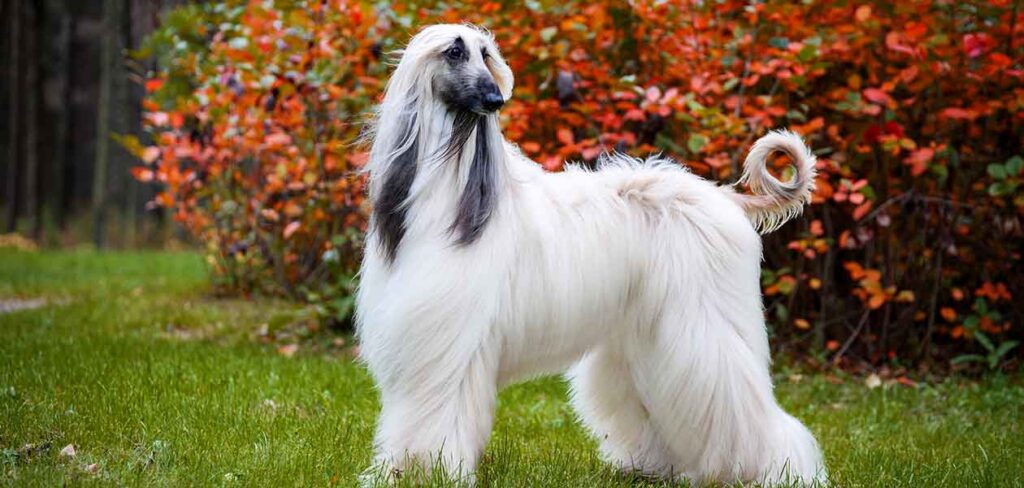 This gold dog breed has beautiful, long, sleek fur that falls around their face like human hair. Afghan Hounds are aloof, regal, but often also playful.
These dogs were originally used as sight hounds. So they could have a strong prey drive.
Socialization and obedience training are important to minimize this chase instinct.
Afghan Hounds do not shed much at all, but they require a lot of grooming.
Grooming their coat will help to avoid any tangles and knots in their fur that could cause discomfort.
These dogs need lots of exercise, but you also need to take care to maintain a regular feeding programme.
They are lean dogs, but be careful they don't become underweight.
Cairn Terrier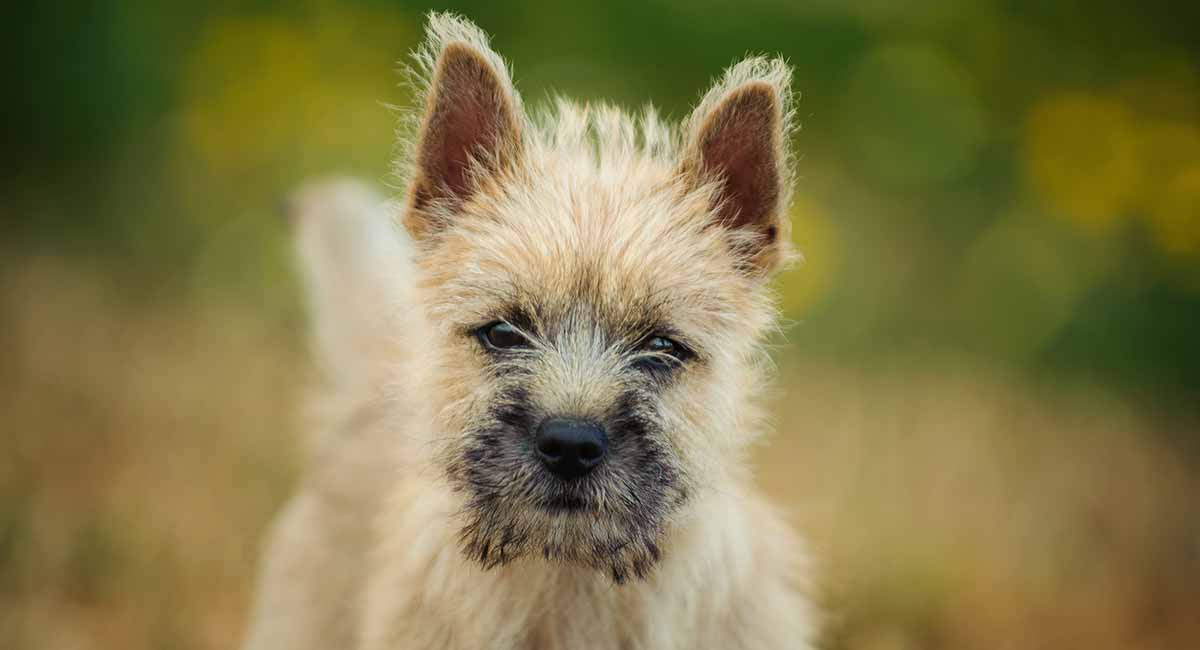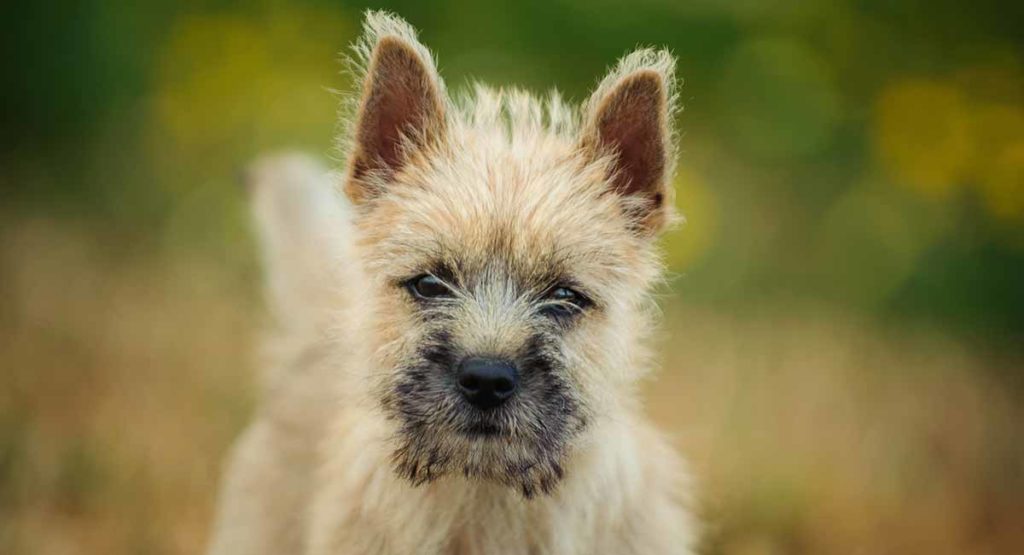 The Cairn Terrier is a gold dog breed that will love playing with you just as much as they love curling up on your lap!
Cairn Terriers are fearless, curious, and cheerful dogs. But, these dogs can be impatient towards young children who tend to be a little rough in their play.
This breed will get on well with other dogs and animals, especially if it is raised with them. As it is a small dog, he only requires a moderate amount of exercise.
Plus, this breed is very low shedding, so they can be a good option for people with allergies.
Yorkshire Terrier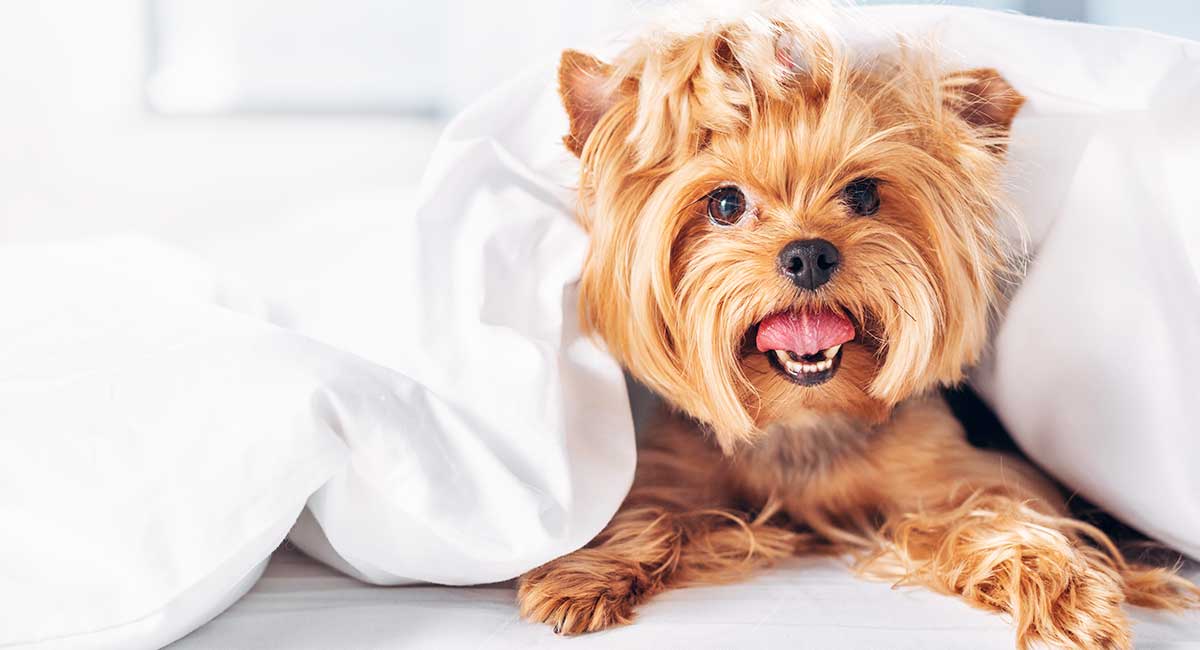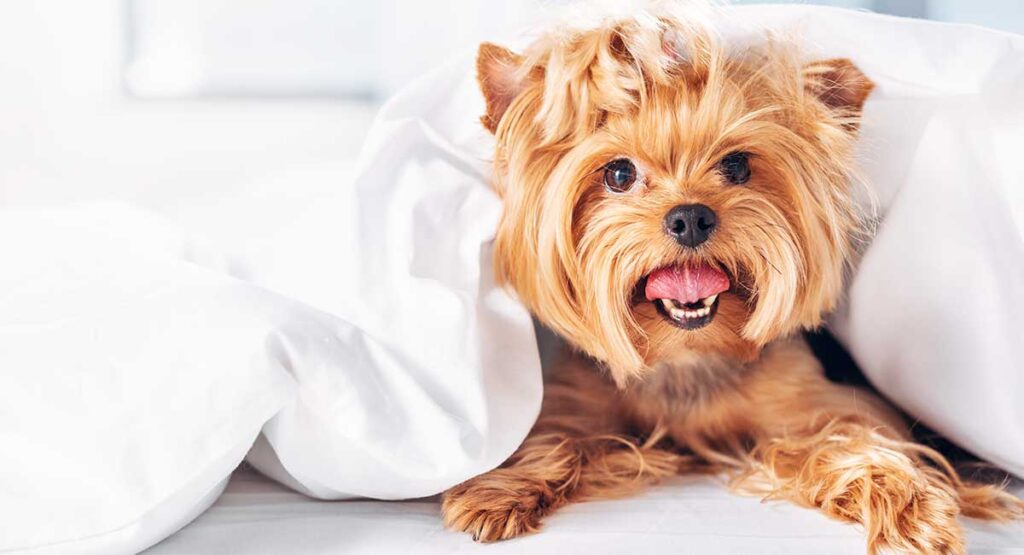 The Yorkshire Terrier is a breed that is gold mixed with very dark blue. Their coat will be silky and glossy. It is straight fur that can grow very long if left alone!
Yorkies will grow up to 9 inches tall, weighing only 5 – 6 pounds as an adult. But, their small size contains a huge personality!
They are known for being bold, confident, and stubborn. So it is important to socialize them well and be very patient during training.
As small dogs, Yorkies don't need a huge amount of exercise, but it can help to prevent boredom and keep them healthy.
This is definitely a breed you could consider if you have a smaller home.
Carolina Dog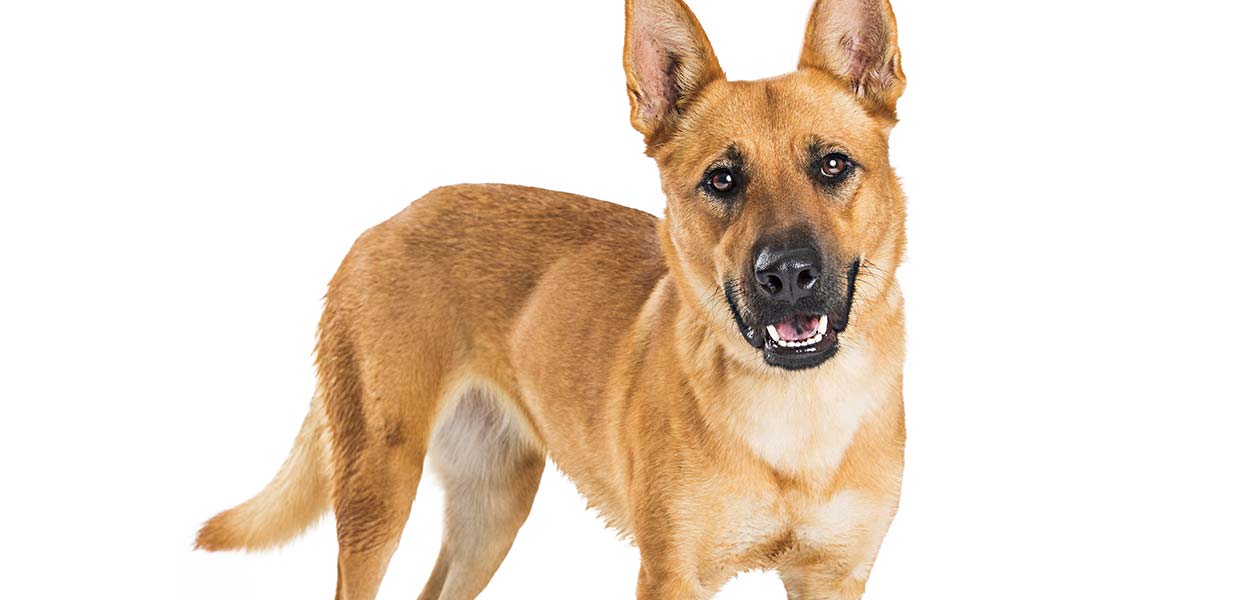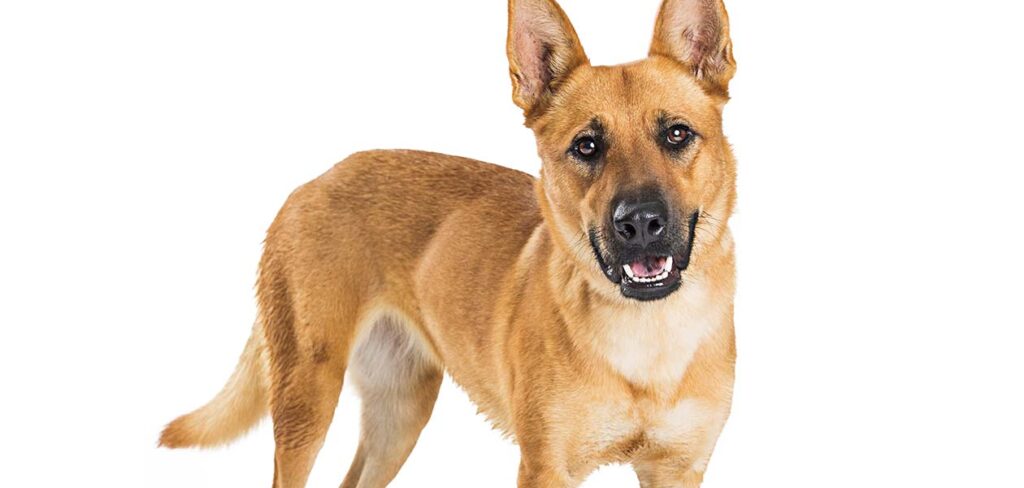 The Carolina dog is a gold dog breed known for its independence. But, it can also be very loving and affectionate towards its close family.
Socialization is important with this breed.
Loyal dogs like this can be very protective and territorial around their family, so socialize them well from a young age to minimise any potential aggression.
Carolina dogs need plenty of exercise every day, and will be a perfect choice for an active family. If you're looking for a lazy lap dog, this isn't the breed for you!
They are also very intelligent, so can take well to doggy sports like canine agility.
Carolina dogs have short golden fur that doesn't require very much grooming.
Pomeranian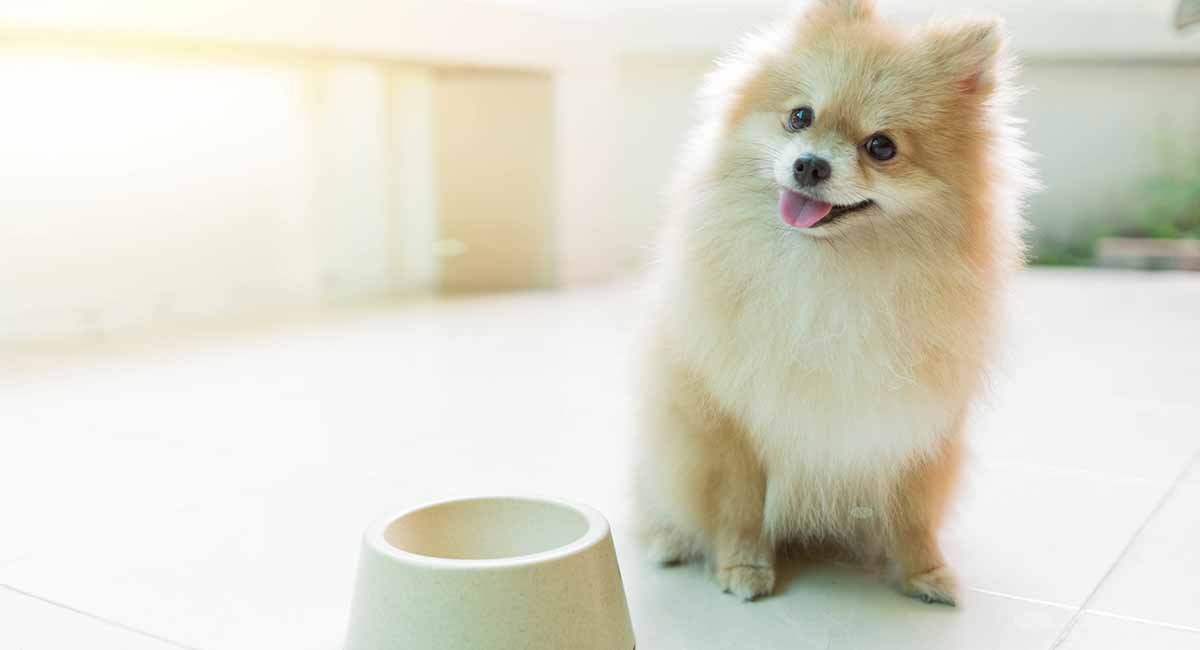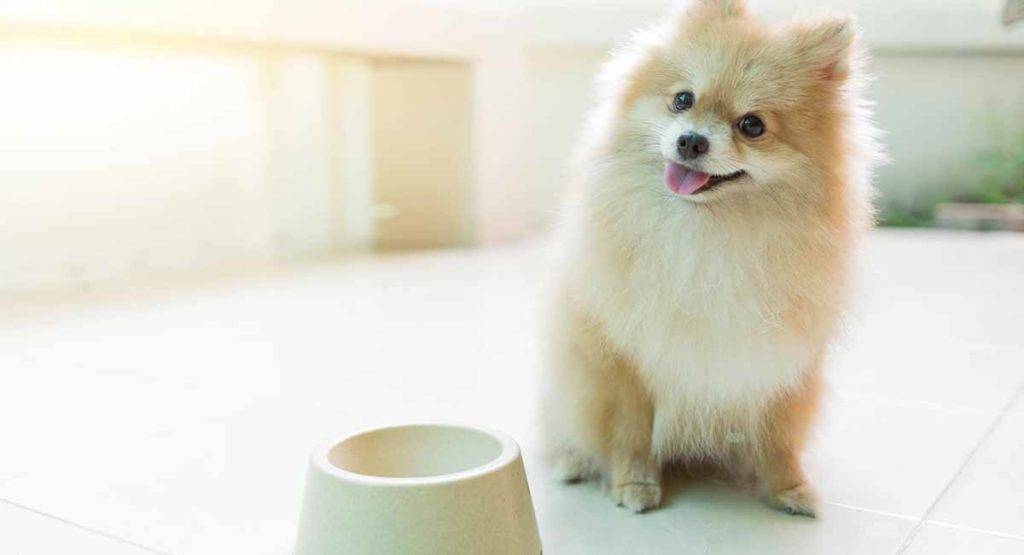 The Pomeranian is another small gold dog breed that is also extremely fluffy! These little pups grow up to 7 inches tall, weighing from 3 to 7 pounds.
Pomeranians are known for looking very fox-like. They have triangular ears, a pointed nose, and fluffy golden bodies!
These dogs are confident, energetic, and intelligent.
But this means they can get bored easily. So keep training sessions short and interesting, and invest in some interesting toys!
Poms need lots of social interaction and at least one walk a day. But other than that, they can suit most homes.
Shar Pei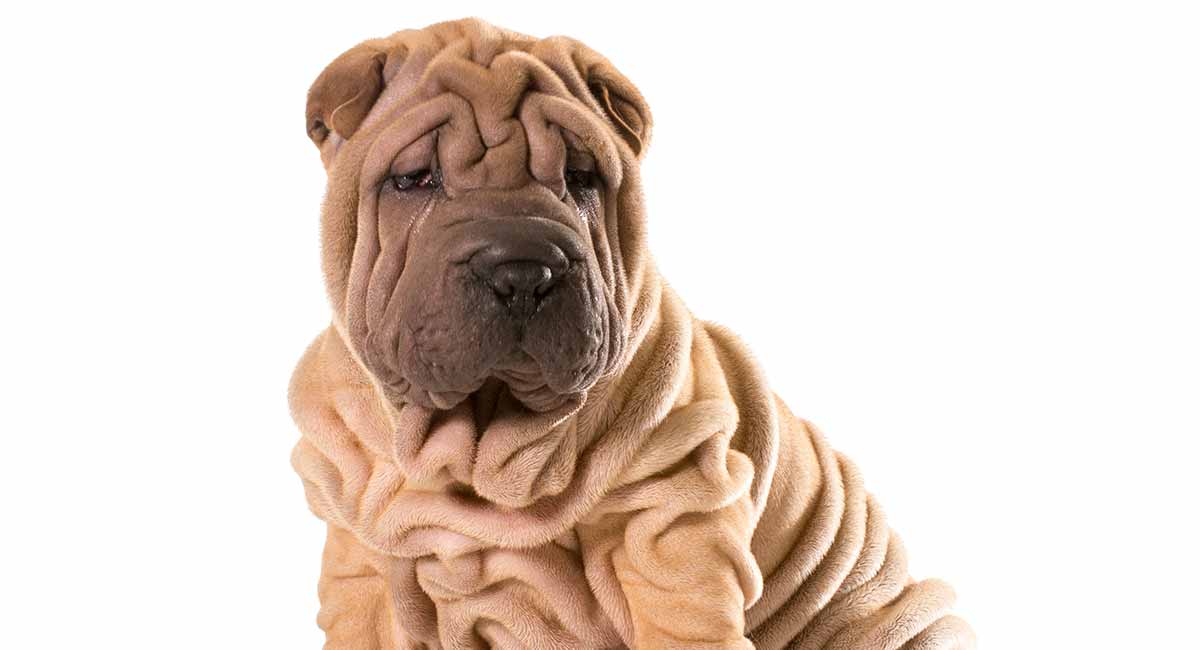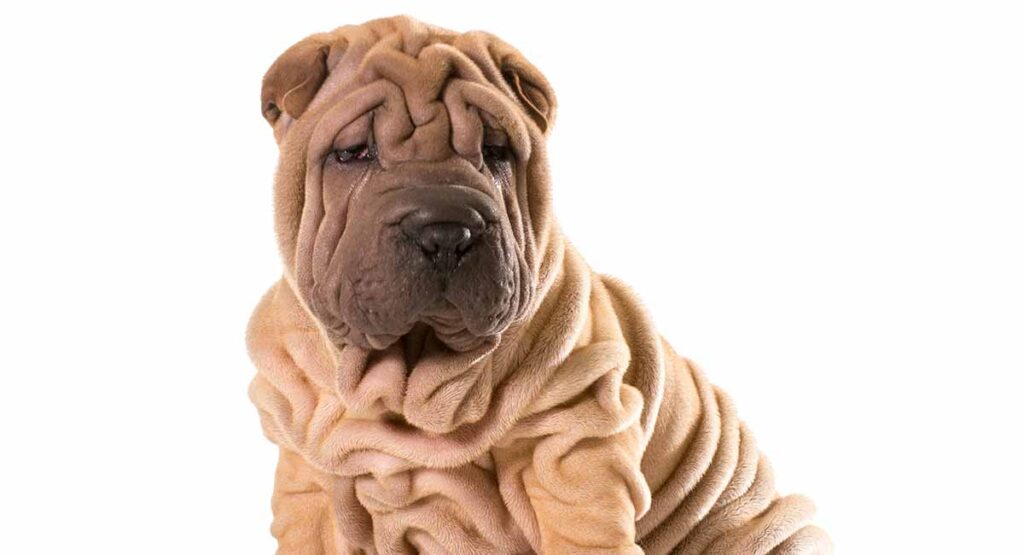 Shar Peis are one of the medium sized gold dog breeds, that is often recognized for their heavily wrinkled skin. They are loyal, confident, and protective.
Like some of the other golden dog breeds on this list, loyalty to their family can be coupled with aggression or wariness around strangers.
So, it's important to socialize Shar Peis well from a young age.
Shar Pei training is usually very easy. In fact, these dogs have been known to house train themselves in some cases, as they are very clean dogs.
This breed doesn't need a huge amount of exercise, and can be well suited to city living.
But be wary of walking them off-leash, as they can chase after small animals in parks.
Airedale Terrier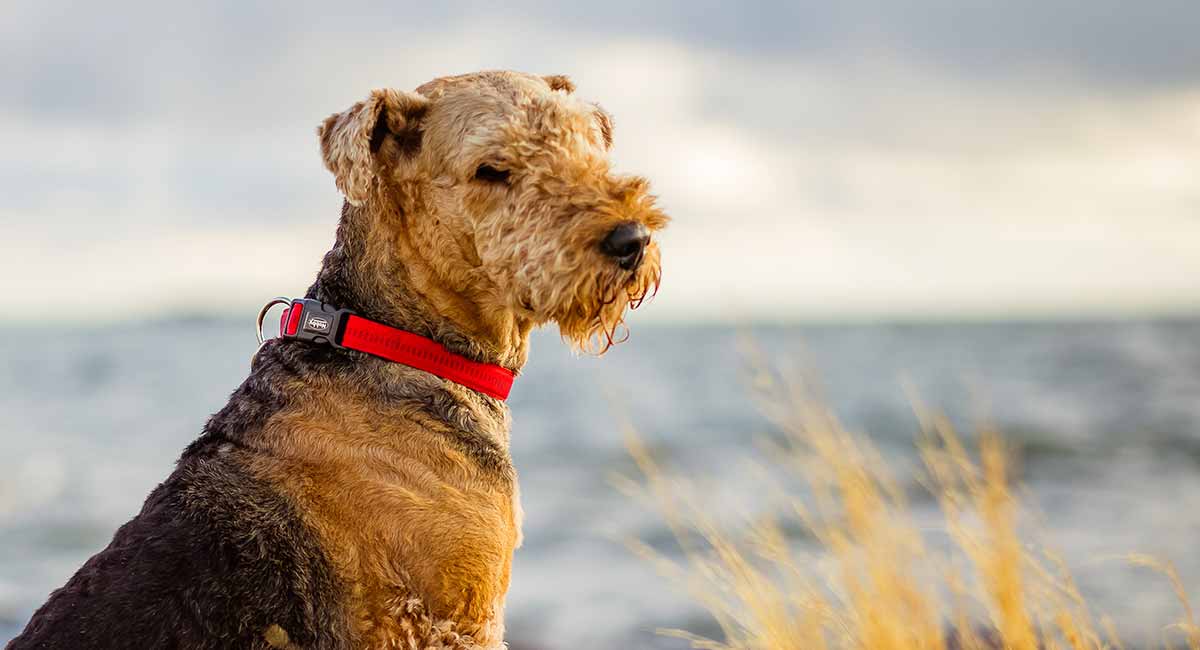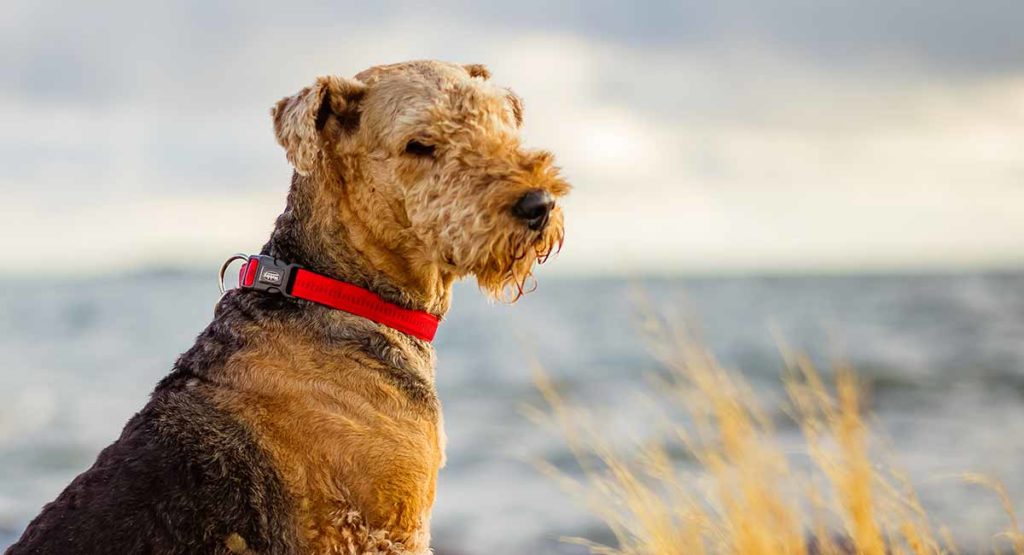 The Airedale Terrier is another gold and black dog breed. They grow up to 23 inches tall, weighing between 50 and 70 pounds when fully grown.
As a large dog, Airedale Terriers need quite a bit of space in their homes. They also need plenty of exercise to stay happy and healthy.
Airedales are intelligent, energetic, and independent dogs. They are also known for being vocal, and herding people.
Socialization is important in this breed to reduce any potential for aggression, especially towards strangers and other animals.
Belgian Malinois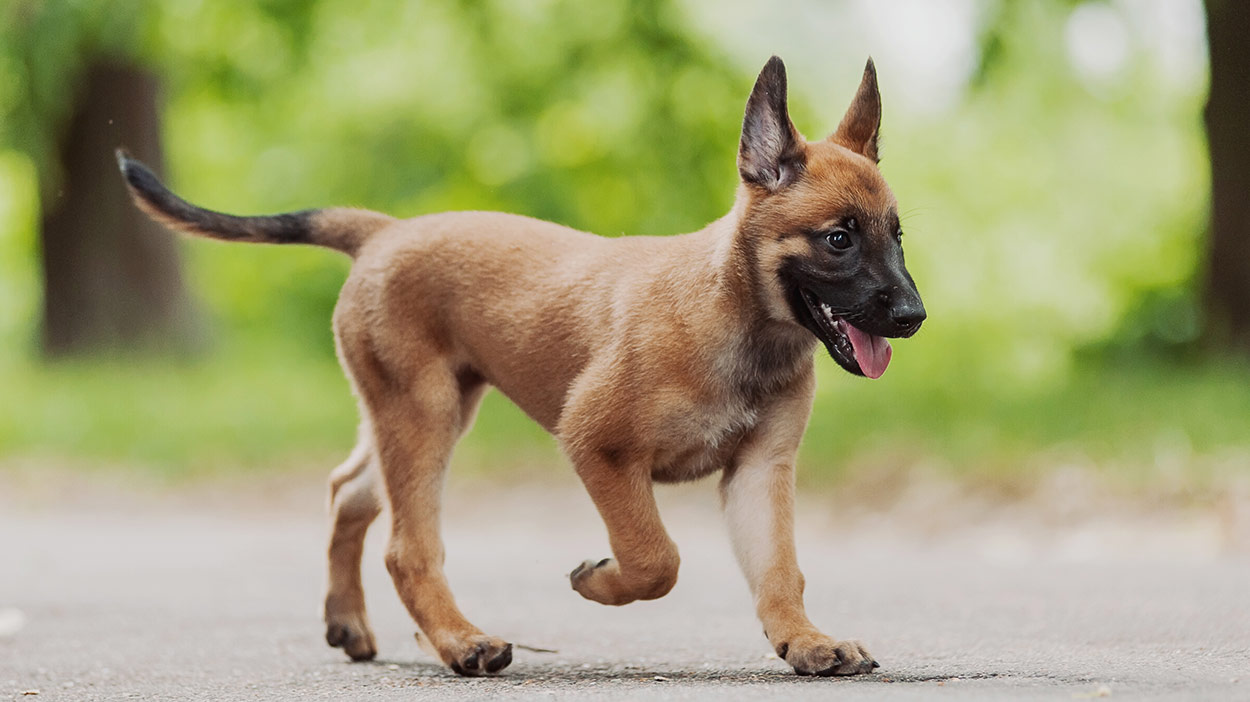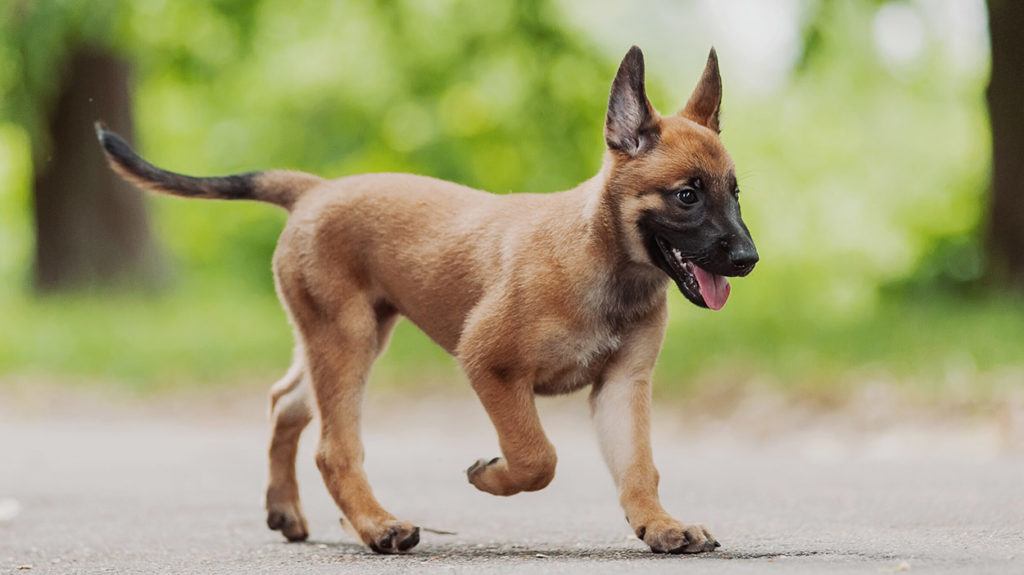 The Belgian Malinois coat is golden with black flecks. It often also has a completely black face and ears.
These dogs grow up to 26 inches tall, weighing 40 to 80 pounds as an average when fully grown. They are energetic, protective, and loyal.
Socialization from a young age is important to stop loyalty from turning into aggression.
Plus, thanks to this breed's high intelligence, they can become bored easily.
So, make sure to provide plenty of social interaction and exercise to keep this dog happy and satisfied.
Collie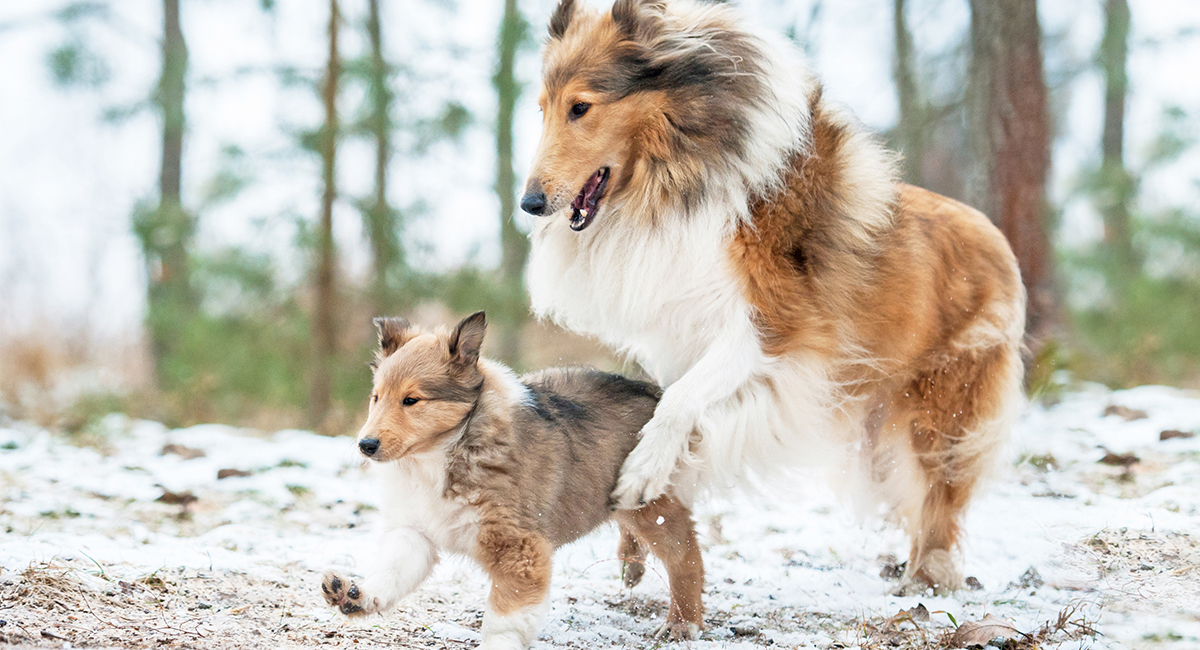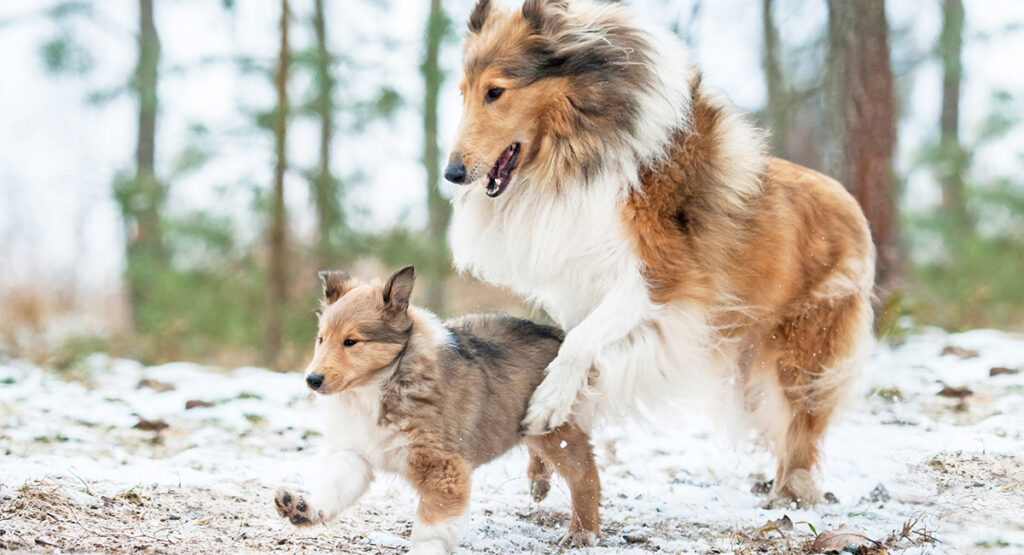 The Collie has gorgeous fur that is often seen in a pattern of gold and white. It has a fluffy coat, that needs plenty of grooming to prevent knots and tangles.
Collies are intelligent, protective, and friendly. These dogs are known to form strong bonds with their families, and will be a great choice for homes with children.
This breed isn't often aggressive but can be vocal towards strangers. Make sure to socialize a Collie from a young age to keep any aggression to a minimum.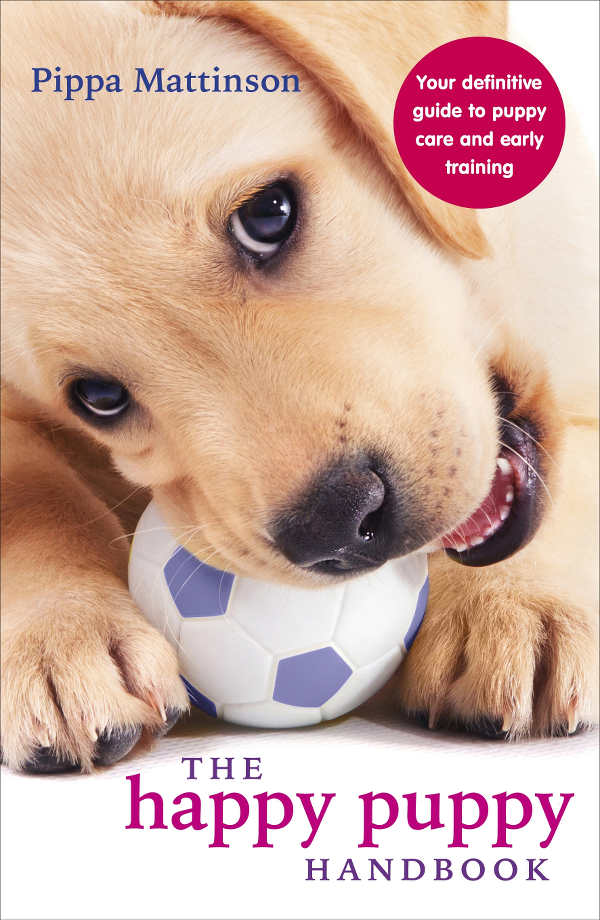 Plenty of training and exercise will keep your Collie healthy, but also happy and mentally stimulated.
So, this is a perfect breed for an active family looking for a dog to join them.
Staffordshire Bull Terrier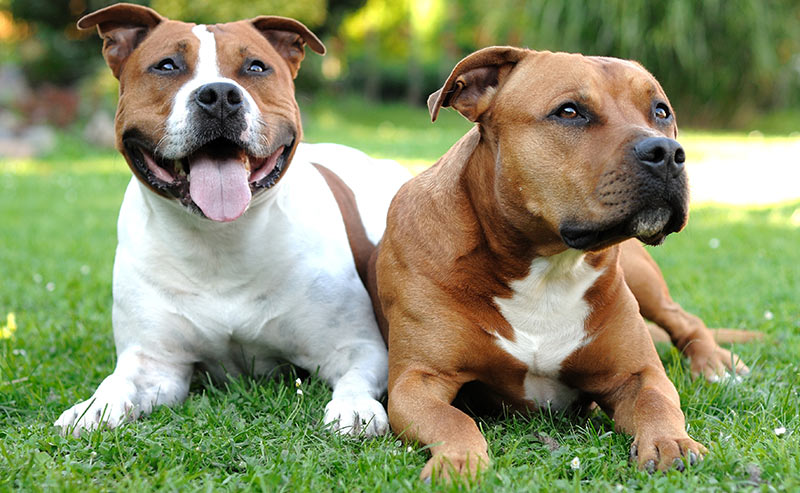 The Staffordshire Bull Terrier is another breed that can come in a beautiful golden shade. These dogs are often also known as Staffies.
Staffies are strong, friendly, and affectionate, especially towards their families.
But, unfortunately, people have taken advantage of their strength in the past to use them as fighting dogs.
Staffordshire Bull Terriers need plenty of socialization to minimise any change of aggression.
But, if well socialized, this dog will be a loving addition to any home.
Staffies need plenty of exercise and social interaction every day. Otherwise, they can become quite bored!
Barbet
The Barbet is a friendly, active, and intelligent golden dog breed. This dog has a very fluffy coat that falls in waves over its whole body.
Barbets need regular grooming to keep their coat from getting dirty or knotted. Plus, they need plenty of exercise and mental stimulation.
These dogs were originally used for hunting water game, so they will love going for a swim! But, they could retain a strong chase instinct.
Make sure to socialize your Barbet from an early age and practice great recall and obedience training.
Australian Terrier
The Australian Terrier is another of the black and gold dog breeds on our list. This breed is intelligent, brave, and affectionate.
But, they come in a very small package! Australian Terriers will grow up to 11 inches tall, weighing 15 to 20 pounds as an adult.
They have a weatherproof double coat that needs brushing weekly to keep it clean and free of any tangles. They also need plenty of exercise.
If your Aussie doesn't get enough exercise, he can become bored and start to display unwanted behaviors like digging and barking.
Chihuahua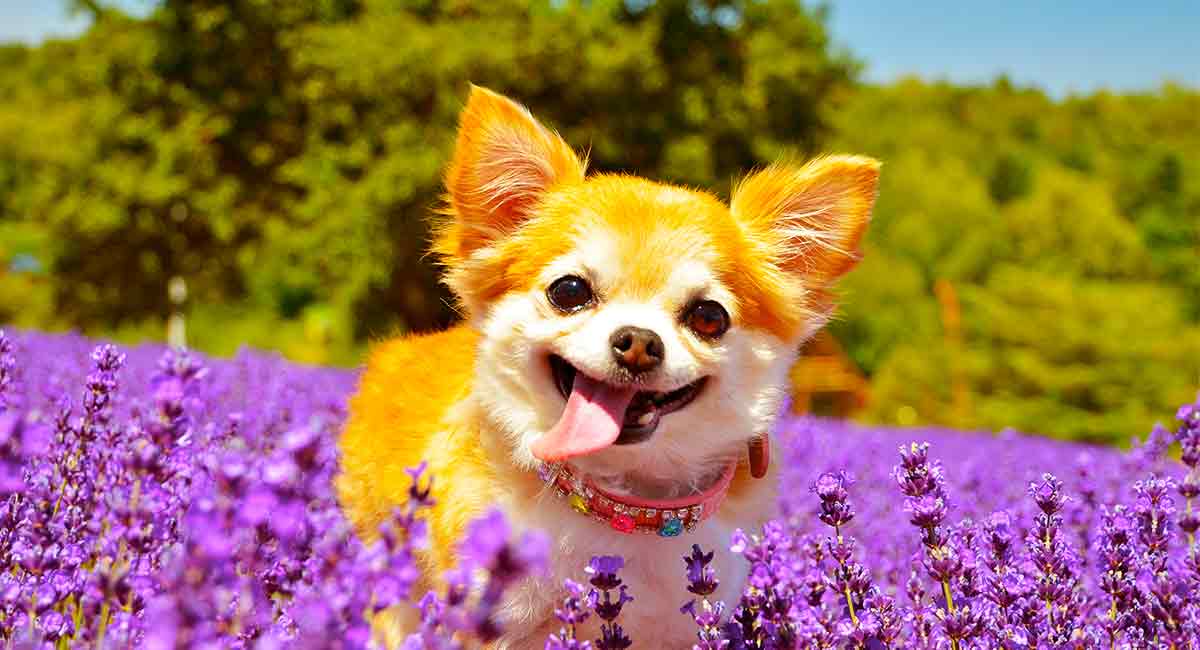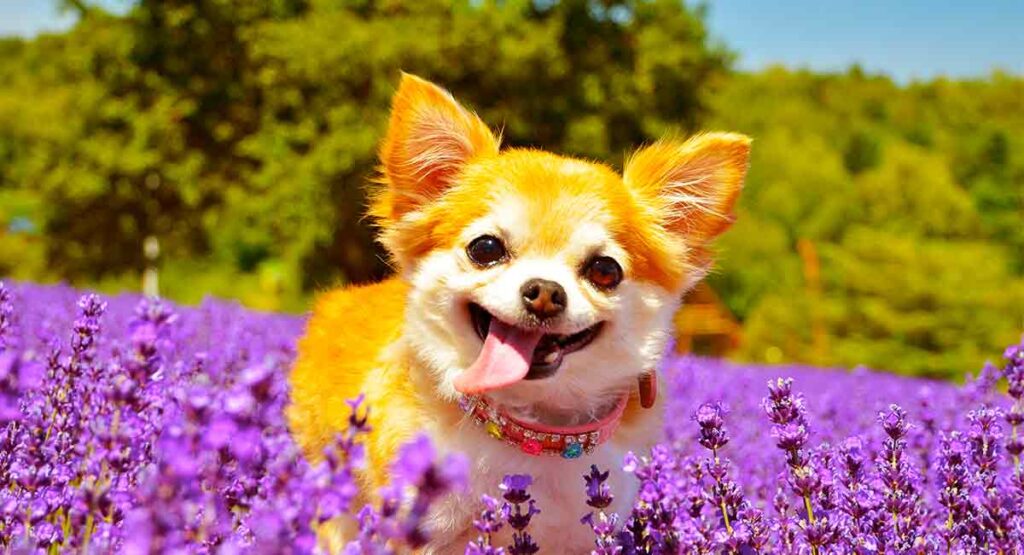 The last of our gold dog breeds is the tiny Chihuahua! These little dogs can have either long or short fur, so their grooming needs will vary.
They tend to grow up to 15 inches tall, weighing up to 10 pounds. Chihuahuas are feisty, devoted, and loving towards their owners.
But this can develop into over-protection.
Even though they're a small breed, it's important to socialize them well to minimise any potential aggression.
Chis don't need too much space or exercise to stay happy, as long as they get at least one walk a day. So, they can be well suited to city living.
What Are Your Favorite Gold Dog Breeds?
So, we've looked at 20 common gold dogs that could be perfect for your family! Which one is your favorite?
If you own any of the dogs we've looked at in this list, make sure to tell us what they're like in the comments! We would love to hear about your experiences with our top 20 golden dog breeds!
Related Articles
Find Out More About The Gold Dog Breeds
References and Resources