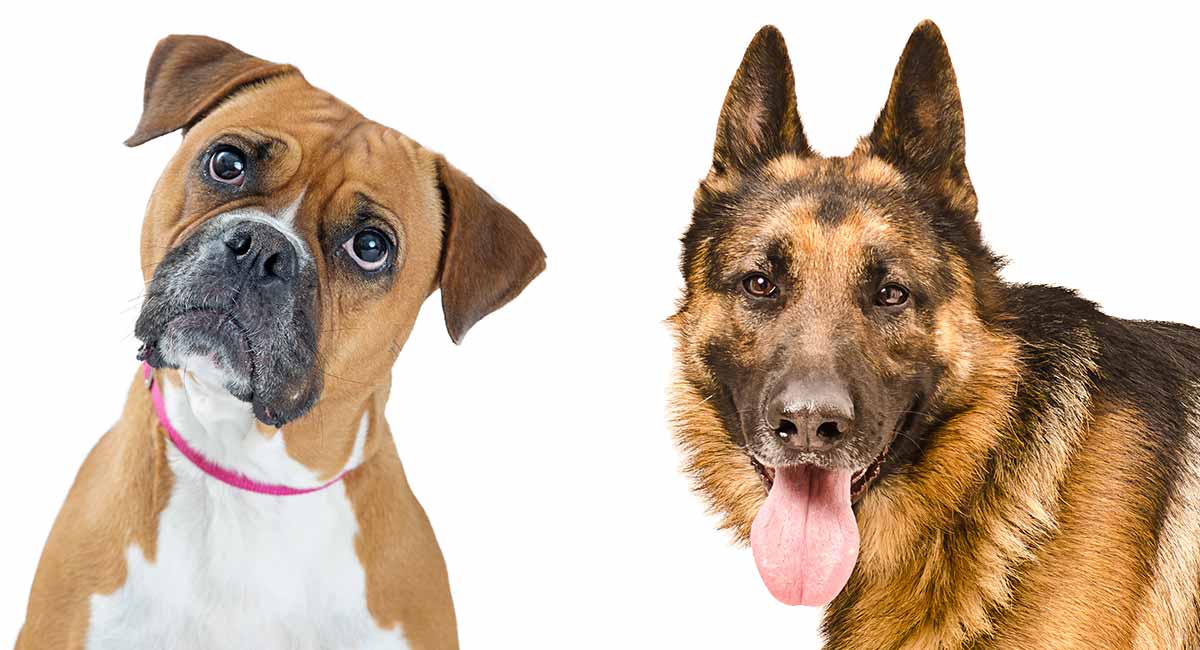 Is a German Shepherd Boxer mix the right dog for you?
It's cute combination of the loyal German Shepherd and the fun loving Boxer dog.
But is this pup the best choice for your family?
Or your lifestyle?
Let's find out what you can expect from this curious cross.
The History of the German Shepherd
The name German Shepherd used to be an umbrella term for several different kinds of herding dogs.
In the 1800s, a German cavalry officer developed his perfect herding dog from these breeds.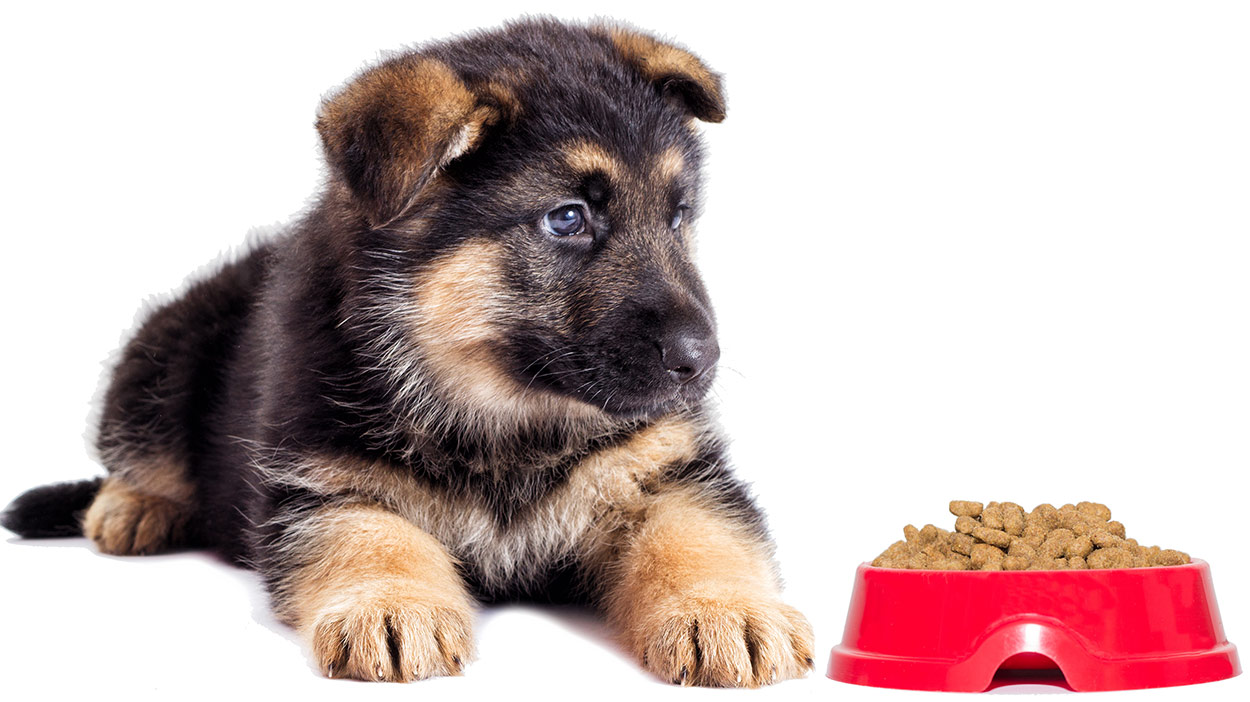 That same officer, Captain Max von Stephanitz, co-founded the first club dedicated to the newly established breed.
The popularity of the dog began to grow, thanks to the adventures of celebrity German Shepherds RinTin-Tin and Strongheart.
German Shepherds are the dog of choice for military and police work, too.
The History of the Boxer
Like the German Shepherd, the Boxer also originated in Germany sometime in the late 1800s, although ancestors of this breed go back as far as 2,500 B.C.
Those ancestors were known as big game hunters able to take on bears, bison and wild boar.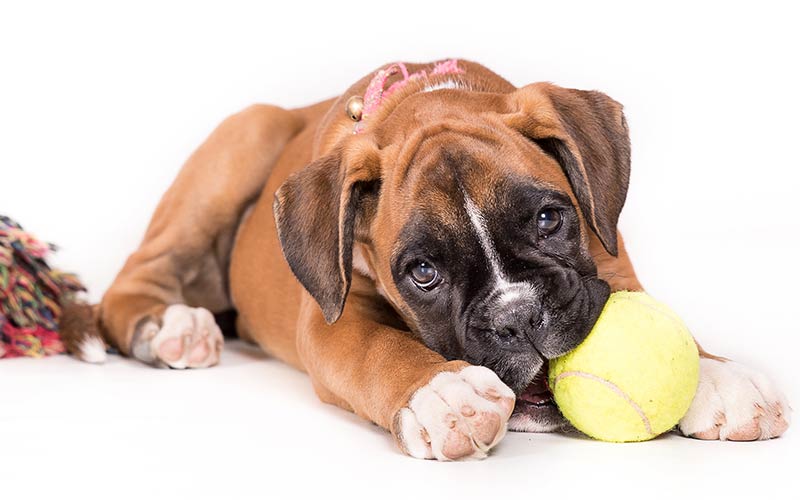 Since then, the Boxer has been bred down to a smaller but just as impressive dog.
Also like the German Shepherd, the Boxer is a worker bee.
Known for its ability to herd cattle, work with military and police forces and provide protection.
The modern Boxer is one of the 10 most popular breeds in the U.S.
It's not clear when the German Shepherd Boxer mix first came into the scene, but we can be confident it's here to stay.
What is the German Shepherd Boxer Mix Like?
For one thing, it is a medium to large-sized dog, which makes sense when both parents are 25 or more inches.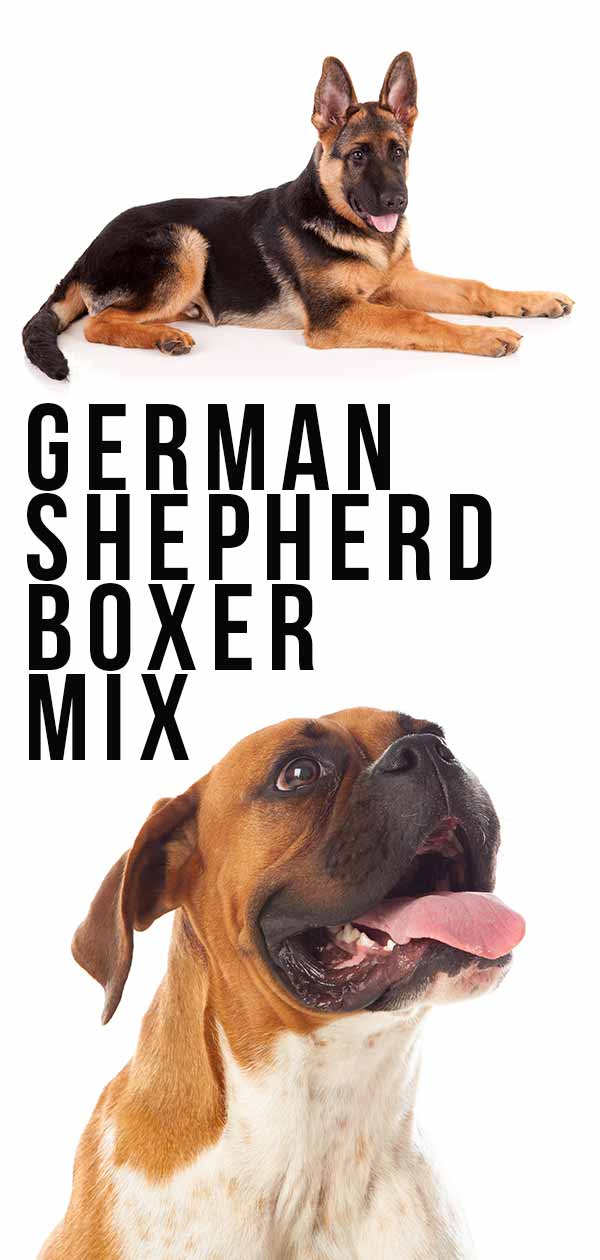 In fact, the German Shepherd and Boxer have quite a few appearance features in common.
Both parents have a solid, sturdy build.
The German Shepherd and Boxer puppy will likely inherit that trait and weighs from 65 to 95 pounds fully grown.
Coloring is another shared feature of Boxers and German Shepherds.
You can expect German Shepherd Boxer puppies to be:
tawny brown with a black face
light brown
dark brown
or grey.
The pup will have a combination of both parents coloring, but many have the Boxer's dark face or white patches.
German Shepherd Boxer Features
The floppy ears of a Boxer are controlled by a dominant gene, which means all the puppies in a Boxer German Shepherd litter will have them too.
But the shape of a dog's muzzle is controlled by several genes.
This means a Boxer German Shepherd puppy could have a muzzle which closely resembles one parent, or looks like a mix of both.
A Boxer Shepherd mix dog will probably have a short and thick coat.
The German Shepherd Boxer Mix Temperament
The German Shepherd Boxer puppy comes from parents known for their intelligence and trainability.
Both parents are athletic, too, but that's where the commonalities end.
A German Shepherd has a softer temperament and natural reserve.
Boxers are a little more outgoing.
Their puppies could inherit one or a mix of both personalities.
Even within a single litter, some puppies could be a little shy, and other bouncing extroverts.
Life with a German Shepherd Boxer Mix
Both parents develop a strong bond with their owners and family members and are natural herders.
That can extend to herding other pets and small children.
They'll need help and guidance to learn what's acceptable and appropriate.
An Austrian study of dog bites in children found that kids are five times more likely to be bitten by a German Shepherd than a Labrador Retriever or a crossbreed dog.
For this reason, German Shepherd mix breed dogs might not be the best fit in a household with young children.
However, breed is only part of the story with dog bites – training and socialization are important factors too.
Ultimately, you can expect your German Shepherd Boxer puppies might be:
Smart
Loyal
Playful
Obedient
Protective
The exact traits will differ from dog to dog, though, depending on their personal temperament and that of their parents.
Care Needs of German Shepherd Boxer Mix Puppies
These are dogs that generally like to run and play.
They are not likely to be happy living with a couch potato.
They need plenty of outdoor time, exercise and enrichment toys to be content.
Without that, the Boxer Shepherd puppy can be rambunctious and moody.
These are intelligent dogs that not only respond well to training but thrive on it.
Start the training early.
As the dog grows older expand it, so you keep your best friend mentally stimulated.
Socialize at a young age, as well, and introduce the puppy to a diverse group of dogs to prevent aggression issues later in life.
When adequately socialized as a puppy, the adult German Shepherd Boxer mix may acclimate better to new pets.
Health Concerns With a German Shepherd Boxer Mix Dog
All designer dogs can inherit characteristics and health issues from their parents.
This is why checking the parentage of a Boxer x German Shepherd is so critical.
The best way to understand the potential health problems of a crossbred puppy is to look at what conditions frequently affect their parents.
Conditions common in Boxers include:
Hip dysplasia
Heart disease
Thyroid disease
Degenerative Myelopathy – a degenerative neurological condition which leads to hindlimb paralysis
Cancer
German Shepherds are at risk of:
Hip and elbow dysplasia
Degenerative Myelopathy
Thyroid disease
Pancreatic insufficiency
Bloat
Allergies
Finding a Healthy German Shepherd Mix Puppy
There are some common hereditary problems for both parents like hip dysplasia.
That doubles the puppy's odds of developing the condition.
With this in mind, both parents should be health tested before breeding.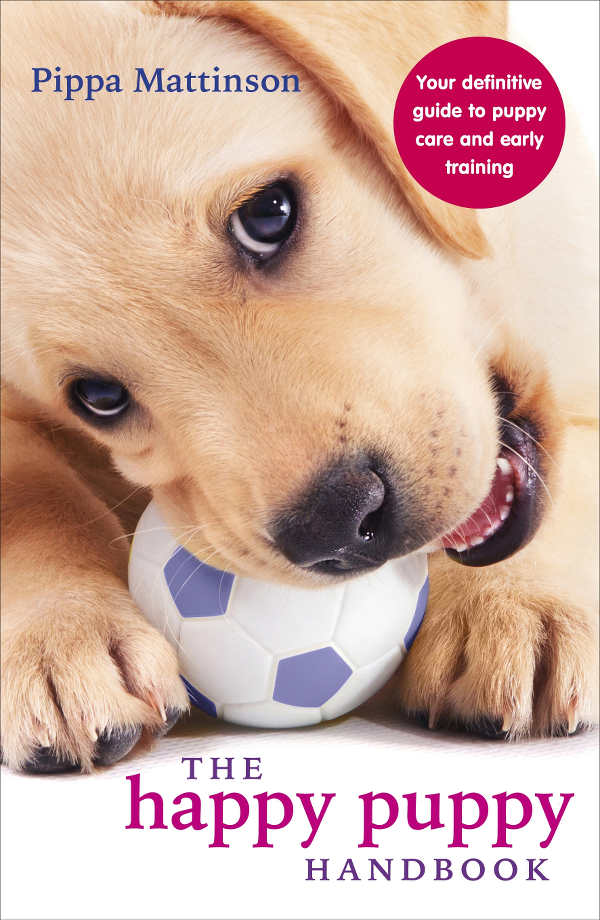 Tests you can expect the responsible breeder to do include:
Hip and elbow evaluation
Thyroid test
Cardiac exam
Degenerative Myelopathy DNA test
Before purchasing a German Shepherd Boxer mix puppy, ask the breeder about the parent dogs' medical history.
And for proof of health tests.
Does the German Shepherd Boxer Dog Make a Good Family Pet?
A German Shepherd Boxer dog is an excellent choice for the right home, but it might not be the best breed for everyone.
The ideal home might be with someone who is athletic and likes to spend time outdoors.
They need plenty of exercise and training.
This mix breed makes excellent watchdogs but will need close supervision around small children and other pets.
One thing you can probably count on from a Boxer Shepherd mix puppy is loyalty and protection.
They tend to be pretty healthy, but they can have medical problems that require ongoing treatment or correction.
Finding a German Shepherd Box mix puppy
If you are looking for a German Shepherd Boxer mix puppy, start with a reputable breeder.
Stay away from puppy mills or getting a dog from a classified ad.
You need to know the history of the puppy to ensure it is healthy and not aggressive.
A proper breeder will allow you to meet the dog's parents so you can see for yourself what to expect from the offspring.
In some cases, you may need to travel to find the right breeder, but it will be worth the effort when you get that new puppy home.
Do you have a German Shepherd Boxer mix?
We'd love to hear about him or her in the comments below!
References