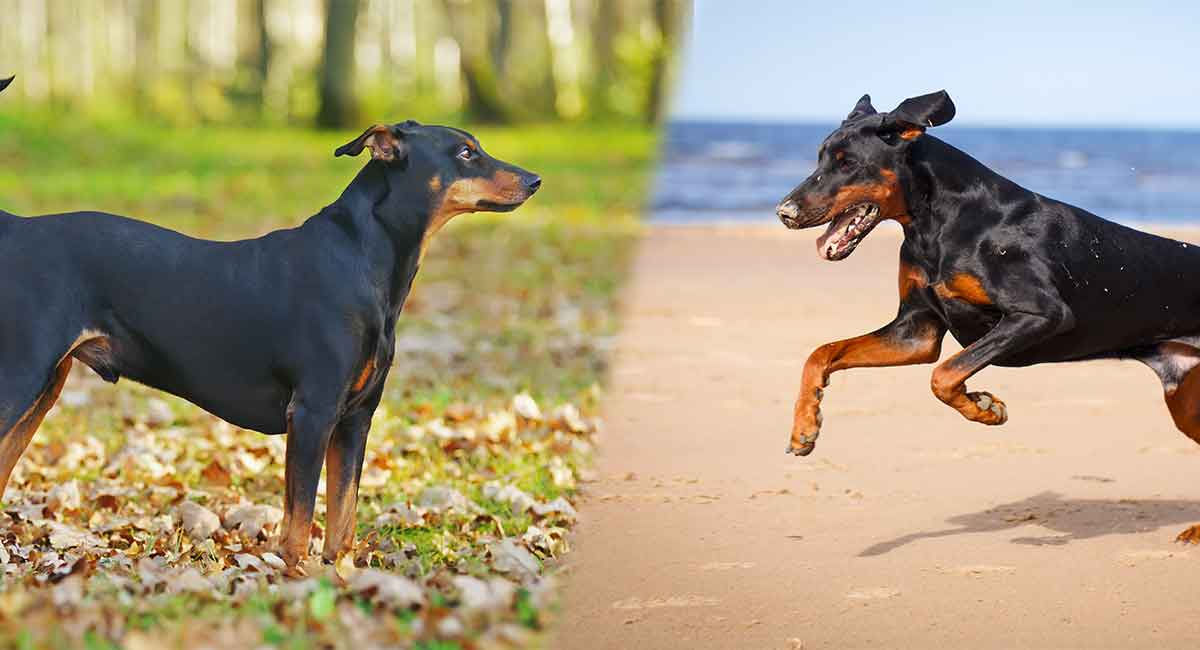 Choosing between two dogs such as the German Pinscher vs Doberman Pinscher can be really tough.
Maybe your dilemma is that their both similar.
Or perhaps you're just unclear on what makes each breed unique.
Here, we will look in detail at both breeds to find out what distinguishes them from one another.
This article will help you see which breed would suit your family best and learn a few important canine facts.
German Pinscher vs Doberman Pinscher History
One of the most interesting ways to find out just how similar two dogs are is to look at their histories.
Where did the breeds come from? When did they start to become popular? What were they originally bred for?
Let's take a look.
As the name suggests, the German Pinscher originated in Germany, and is actually one of the earliest dog breeds from this country.
This breed was originally bred as a pest exterminator, to hunt and kill rats.
The German Pinscher was used to breed the Doberman Pinscher into creation.
The Doberman Pinscher is another German breed, but they were created and bred for a very different purpose.
Bred by a taxman called Louis Dobermann, he wanted to create a dog that could protect him from his tax-collecting rounds.
This use as a working dog has led to a number of careers for the breed over the years, including military and police dogs, therapy dogs, service dogs, search dogs and even sporting dogs.
The breeds thought to have been used to create the Doberman Pinscher include Rottweilers, Black and Tan Terriers, the German Pinscher, and any other working dogs available in Germany at the time it was created.
So we can see that the German Pinscher and Doberman Pinscher have quite strikingly different histories and purposes, even though they are linked.
German Pinscher Pinscher Appearance
We've looked into their histories, but what about the breeds as we know and love them today?
Let's look at the similarities and differences between the two breeds in terms of appearance.
The German Pinscher generally grows to be 17 to 20 inches tall at the shoulder. A healthy adult can weigh 25 to 45 pounds.
This is a muscular, powerful breed. Its physique will show this.
They are have a distinguished wedge-shaped head and dark eyes.
The German Pinscher has a short, thick coat that can come in a variety of colors, including black, blue, brown, fawn and red.
The markings that can occur on the German Pinscher can be red, tan or a mixture of the two colors.
But how similar is this to the Doberman Pinscher?
Doberman Pinscher Appearance
The Doberman Pinscher generally grows to be 24 to 28 inches, depending on its sex.
The colors Doberman Pinschers can come in include black and rust, blue and rust, fawn and rust, red and rust, or white.
Healthy Doberman Pinschers can weigh 60 to 100 pounds when fully grown.
So, as you can see, this breed is quite a bit bigger than the German Pinscher, although just as muscular.
There are a few similarities between the two breeds.
The Doberman Pinscher also has the same wedge-shaped head, dark eyes, and short, thick fur.
German Pinscher vs Doberman Pinscher Temperament
The German Pinscher was used as a rat-hunter partly because of its temperament.
It is a brave, outgoing dog that is extremely intelligent.
Although intelligent, this breed can have an independent streak. This dog is also playful and mischievous.
But how similar is the Doberman Pinscher?
The Doberman Pinscher is known for being a loyal, brave, alert breed—hence this dog's perfection as a protection dog.
This is also a very intelligent breed, who loves being around the owners as often as possible.
German Pinscher vs Doberman Pinscher Training
So, we know both the German Pinscher and Doberman Pinscher breeds are extremely intelligent, but how easy is it to train them?
It is important to start socialization and training as early as possible, but for slightly different reasons.
The independent streak that German Pinschers can be prone to means it's important for your dog to know exactly who is boss.
The Doberman Pinscher, on the other hand, needs to know who is boss mostly because it's such a large dog.
If your dog does not respond to commands, it can accidentally end up hurting both adults and small children simply from being too rough or jumping around.
It is important to be in complete control of your big dog to avoid destructive tendencies.
Socialization from an early age is just as important as training, even though these breeds are confident.
Socialization helps to ensure your dog feels comfortable in new situations, and around other animals and people.
This is important because it minimizes the chance of your dog reacting aggressively to something new or feeling scared in a new situation.
It can be difficult to maintain the attention of both breeds, so short bursts of training several times a day is a good option.
If you're not sure how to go about training your Doberman Pinscher or German Pinscher, one option is to go to puppy training classes.
German Pinscher vs Doberman Pinscher Exercise
Both of these dog breeds are high-energy, athletic dogs. This means both require lots of exercise every day.
Their athletic ability can be seen in the careers they were bred for. These are dogs that needed to be on their feet all day.
Therefore, if you don't have the time to dedicate to giving these dogs lots of exercise every day, another dog breed might be better for you.
The intelligence and energy levels of these breeds mean both are great for activities like obedience, agility and tracking.
If you're an active person that wants to take your dog with you on hikes and walks, both would be a great choice.
However, the Doberman Pinscher would be slightly better because the German Pinscher has retained its prey drive.
This means if it sees something it considers prey when out and about with you, the German Pinscher is likely to chase after the target.
This can be hard to control, after any level of training, which might make Dobermans a better choice for those who want a companion outdoors.
German Pinscher vs Doberman Pinscher Health
Finally, let's look at the health of these breeds, any conditions they can be prone to and which would make a healthier pet.
There are some issues that both breeds are vulnerable to.
These include:
Hip dysplasia
Eye issues, such as progressive retinal atrophy
von Willebrand's disease
Heart conditions, such as an enlarged heart
The Doberman Pinscher is prone to bloat, wobbler syndrome and hypothyroidism.
The German Pinscher has also been reported to have experienced delayed, post-vaccine complications.
Neither of these breeds are guaranteed to develop these conditions but can be prone to them.
Choosing a reputable breeder and keeping up with vet checks can help to ensure a healthy pup for life.
Generally, healthy German Pinschers live up to 14 years old. Doberman Pinschers can live up to 12 years.
German Pinscher vs Doberman Pinscher Grooming
Neither the German Pinscher or the Doberman Pinscher have pressing grooming needs.
The Doberman can generally stay shiny and clean with a daily brush.
The German Pinscher should be brushed at least once a week, with the occasional bath.
If their nails aren't worn down naturally, they should be trimmed monthly to avoid any issues walking around.
Additionally, as with every breed of dog, make sure to check teeth and ears for any problems or irregularities.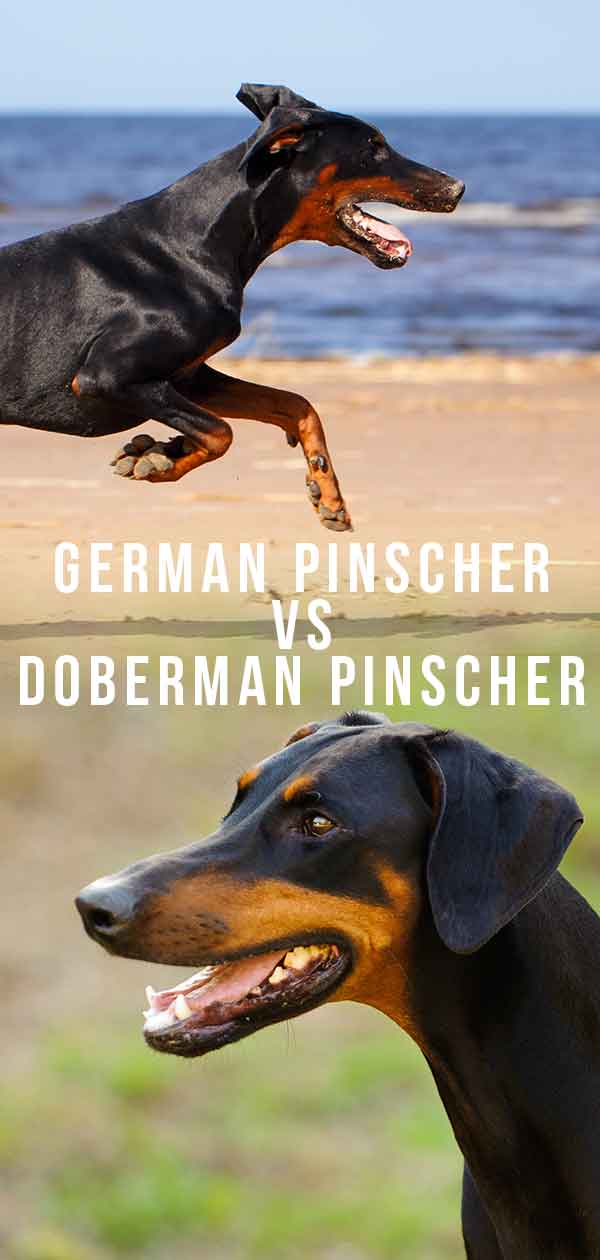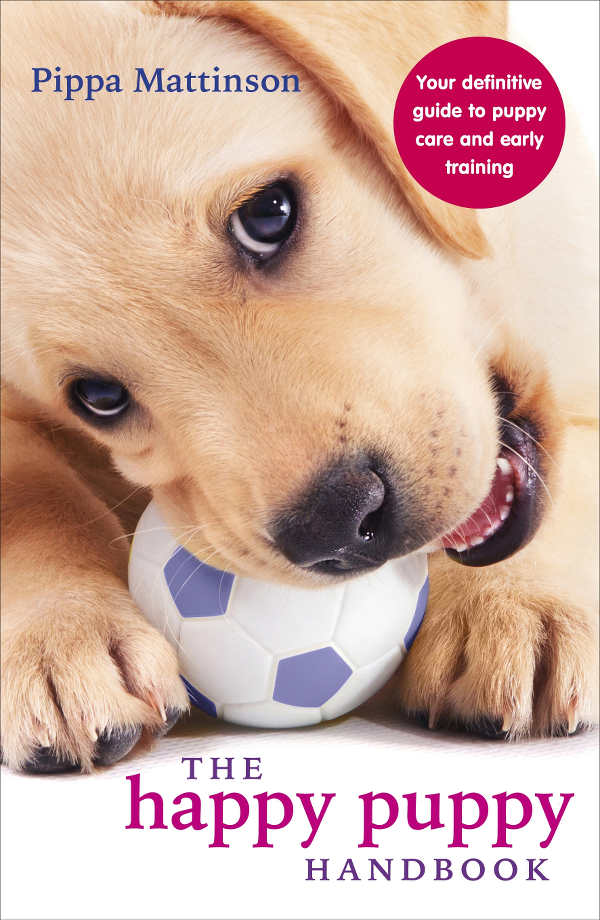 Which Breed Makes a Better Pet?
So, if you have an active lifestyle and are looking for a loyal companion to be a part of it, the Doberman Pinscher and German Pinschers might be the right breeds for you.
They are loyal and love spending time with their owners. Please do not leave them at home most of the time.
Their high energy means they aren't suitable for small homes.
They are better off living with families that have lots of space for them to run around and stay entertained.
The German Pinscher has slightly fewer grooming needs than the Doberman, but both are generally healthy dogs without too many health conditions to worry about.
Have you ever had a German Pinscher or Doberman Pinscher as a pet?
Tell us what they're like to have in your home.
What's your favorite thing about these breeds?
More Breed Comparisons
If you've found this interesting, we bet you're going to love our other breed comparisons.
Take a look at some of them here!
Related Articles
References and Further Reading:
Brooks, M., et al., 1992, "Epidemiologic Features of Von Willebrand's Disease in Doberman Pinschers, Scottish Terriers, and Shetland Sheepdogs: 260 Cases (1984-1988)," Journal of the American Veterinary Medical Association, Vol. 200, Issue 8, pgs. 1123-1127
Jerold S. Bell, J.S., 2014, "Inherited and Predisposing Factors in the Development of Gastric Dilatation Volvulus in Dogs," Topics in Companion Animal Medicine, Vol. 29, Issue 3, pgs. 60-63
Kennedy, L.J., et al., 2006, "Association of Hypothyroid Disease in Doberman Pinscher Dogs with a Rare Major Histocompatibility Complex DLA Class II Haplotype," Tissue Antigens, Vol. 67, Issue 1, pgs. 53-56
Mellersh, C., 2012, "DNA Testing and Domestic Dogs," Mammalian Genome, Vol. 23, Issue 1-2, pgs. 109-123
Minna Leppanen, M., et al., 2001, "Results of Ophthalmologic Screening Examinations of German Pinschers in Finland – A Retrospective Study," Veterinary Ophthalmology, Vol. 4, Issue 3, pgs. 165-169
VanGundy, T.E., 1998, "Disc-Associated Wobbler Syndrome in the Doberman Pinscher," Veterinary Clinics: Small Animal Practice, Vol. 18, Issue 3, pgs. 667-696
Wess, G., et al., 2010, "Prevalence of Dilated Cardiomyopathy in Doberman Pinschers in Various Age Groups," Journal of Veterinary Internal Medicine, Vol. 4, Issue 3, pgs. 533-538