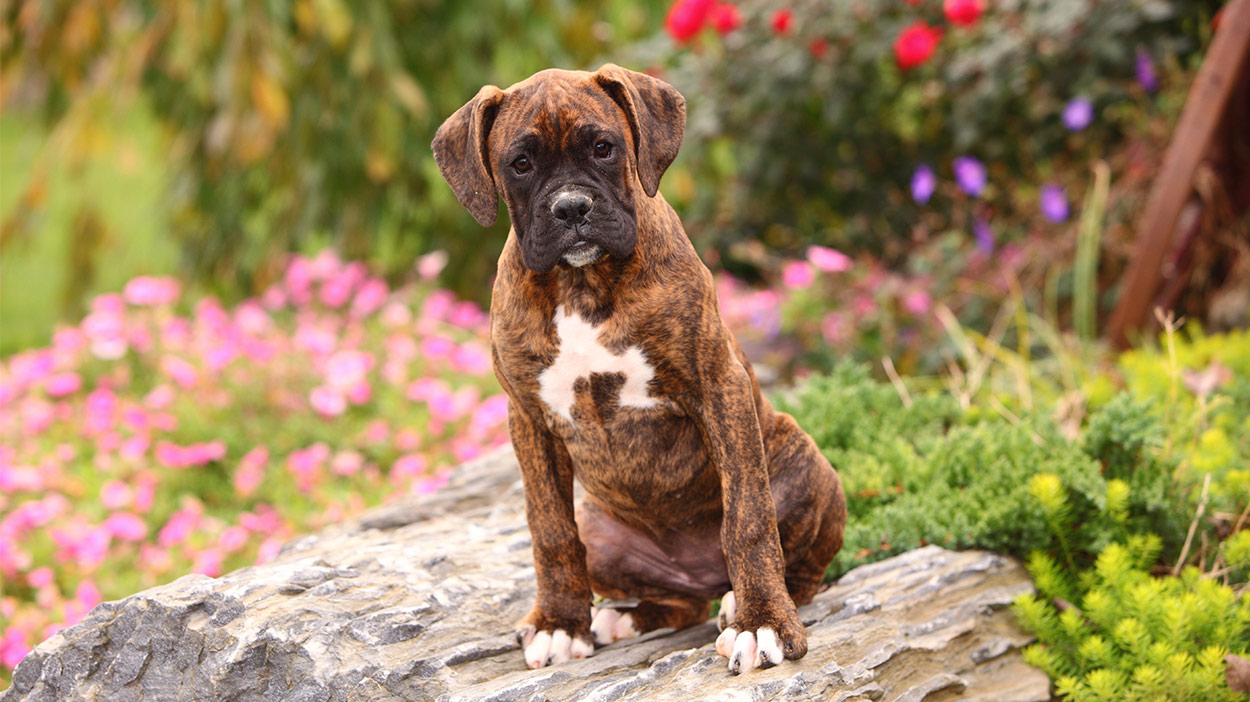 German dog breeds are truly a wonderful and diverse canine group!
From the teensy Dachshund to the giant Great Dane, these dogs come in a fascinating array of shapes and sizes, each with their own temperament and talents in tow!
Learning about German dog breeds not only gives you a great crash course in some of the most beloved and popular dogs of our day.
But also offers a unique way to turn back time and learn more about these dogs' home country and culture.
So now let's dive in to learn more about German breeds of dogs, including small German dog breeds and big German dog breeds!
We've put this list in alphabetical order to help you find the German dog breeds you're most interested in more quickly.
German Dog Breeds – The Affenpinscher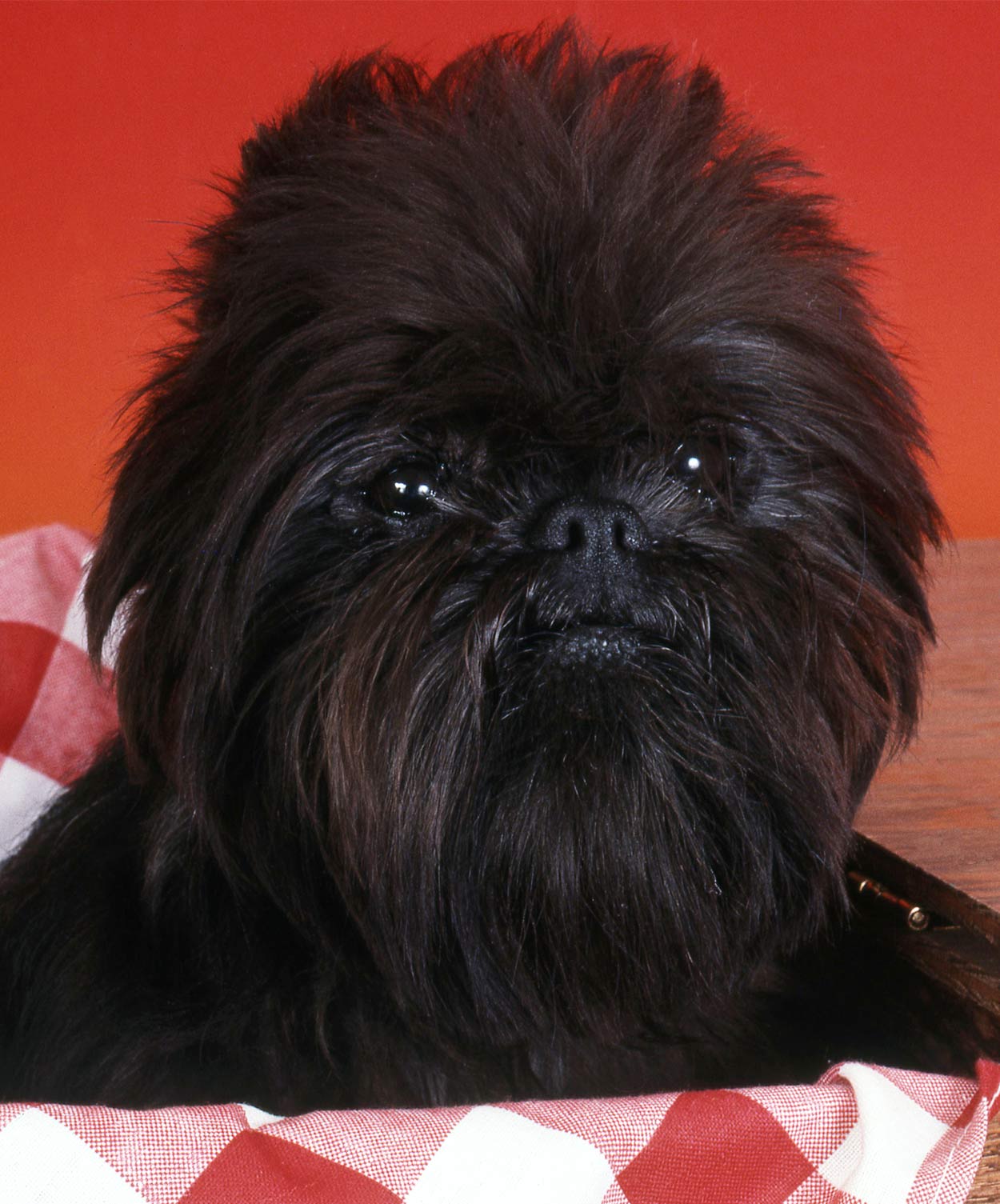 First up on the list of German dog breeds is the Affenpinscher, often called Affens by enthusiasts. At first glimpse, this pint-sized pup seems to be all hair!
Star Wars movie fans like to compare Affens to Ewoks or Wookies (size-wise, we personally favor the Ewoks camp).
Affenpinscher is quite a name for a pup that rarely tops 10 pounds. The name literally translates to mean "ape terrier," a nod to this dog's shaggy coat and terrier lineage.
These dogs were originally bred to be ratters on farms and in kitchens. But it didn't take long for this pseudo-serious canine comedian to transition from kitchen help to constant companion.
The Affenpinscher may be small in size, but like many petite pups, he doesn't seem to realize it. One anecdote describes a teensy Affen facing down a grizzly bear!
These dogs are great athletes and do well in the show ring as well as in agility training and service dog work.
Affenpinschers breeders should (at a minimum) have parent dogs tested for eye issues and luxating patella (kneecap dislocation).
Other potential genetically heritable health conditions to check for before bringing home a new Affen puppy are:
hip and elbow dysplasia
Legg-Calvé-Perthes disease
cardiac issues
German Dogs Breeds – The American Eskimo Dog (formerly German Spitz)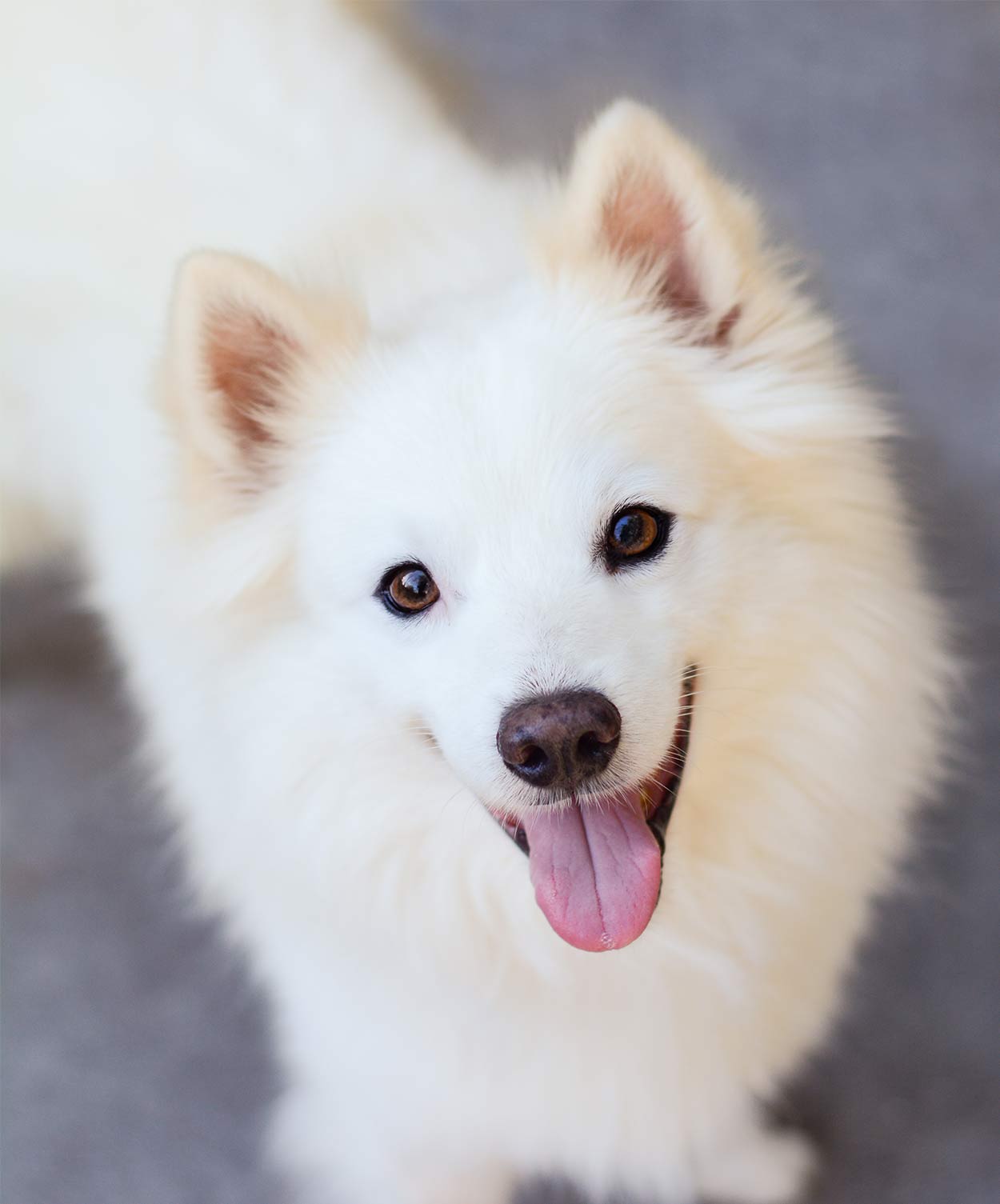 From this dog's name alone, you wouldn't necessarily assume it is even a member of the German dog breeds club!
But these beautiful, soft and fluffy white dogs actually migrated with early German immigrants from their home country under the name of "German Spitz."
The German Spitz dog comes from a line that has certain traits: a long pointy muzzle, pointy ears, densely thick fur and curly, puffy tails.
Over time, the breed is known today as the American Eskimo dog, or "Eskie" for short, was bred for certain traits, including fluffy white or cream fur.
It wasn't until the onset of World War I that these beloved dogs got their pivotal name change to ward off anti-German sentiment against Eskies.
Today, the American Eskimo dog comes in three sizes: toy, miniature, and standard. So this dog may weigh anywhere from 6 to 35 lbs depending on your dog's size class!
The American Eskimo dog really does need socialization—these dogs are all about living life around people.
They also need brushing every few days to control shedding and avoid tangles and matting.
Eskie breeders should have their parent dogs tested for hip dysplasia and eye issues. A genetic condition called Progressive Retinal Atrophy can cause blindness in the Eskie.
German Dog Breeds – The Boxer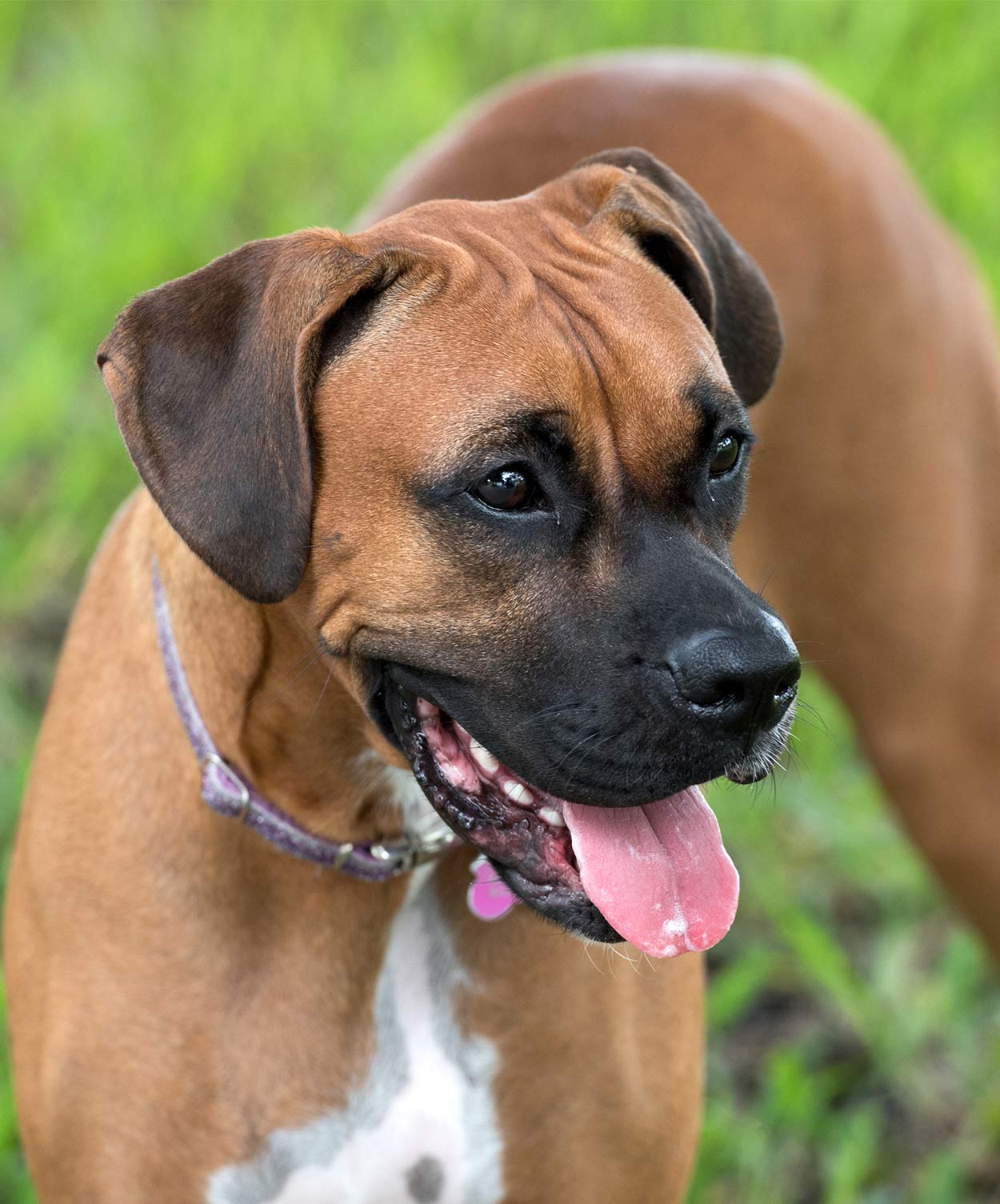 The Boxer is one of the German dog breeds so ingrained in US culture that it's easy to forget it was once an immigrant!
This dog firmly holds the number 10 spot on the American Kennel Club (AKC)'s annual list of the 192 most popular dog breeds.
The Boxer is considered one of the bigger German dog breeds, weighing anywhere from 65 to 80 lbs.
These dogs are all muscle— incredible athletes who exhibit an unfailingly happy, positive nature towards their owners.
However, these dogs were born and bred to work on farms, in the military and police forces, with hunters, and in service work as guide dogs.
Therefore, they really do well when they have a job to do or lots of daily exercise and activity. Not surprisingly, Boxers make excellent guard dogs and watchdogs for many families today!
One fun fact about the Boxer is that this dog gets its name from the way it "boxes" with its front paws when play-sparring or hunting prey.
The Boxer has a lovely short, neat coat that requires minimal brushing to maintain.
Health-wise, Boxer breeders should screen parent dogs for a number of potential issues including:
hip and elbow dysplasia
cardiomyopathy
aortic valve disease
degenerative myelopathy
aortic stenosis
hypothyroidism
Boxers are also prone to canine cancer.
German Dog Breeds – The Dachshund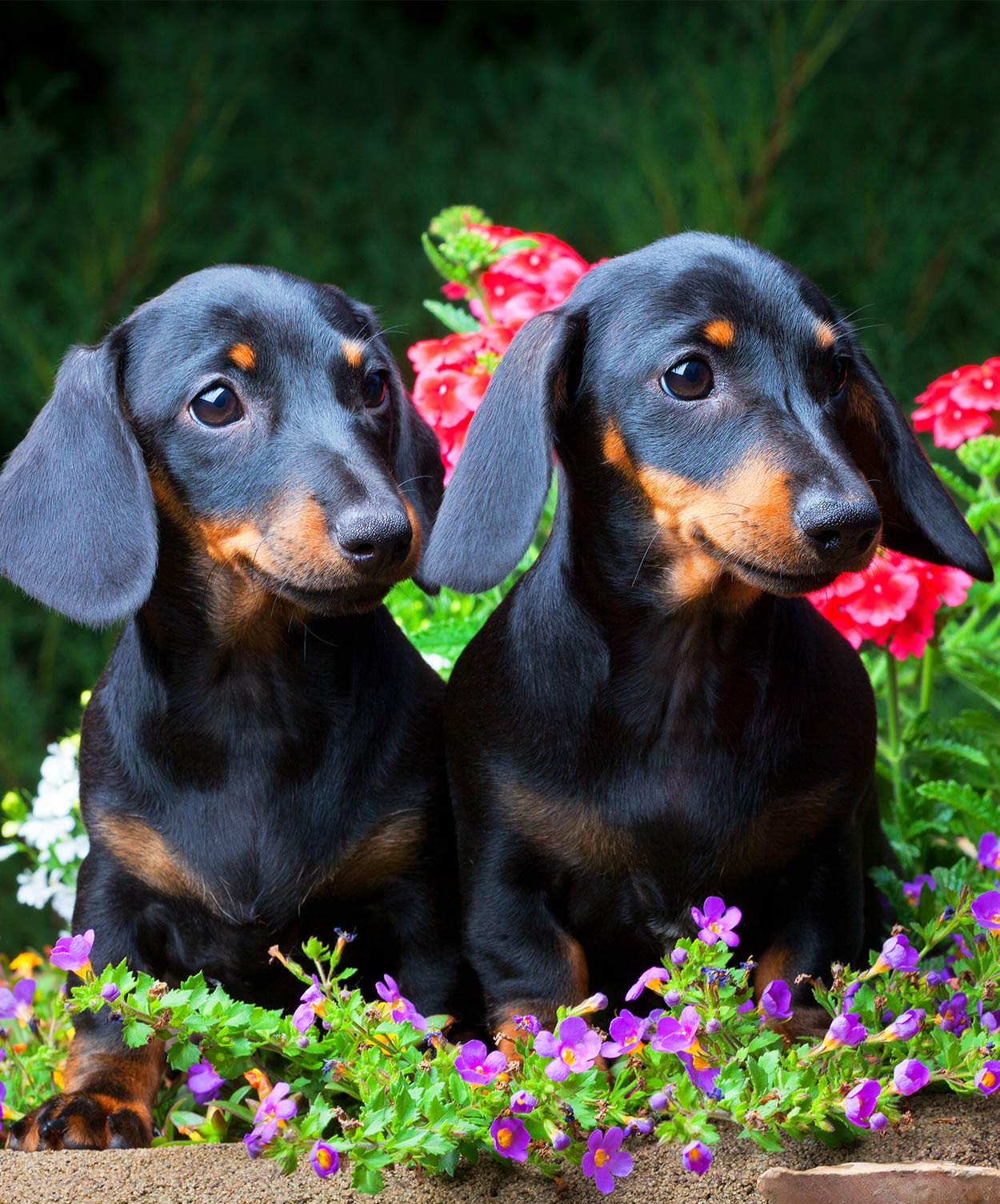 Is there any more classic representative of German hound breeds than the diminutive and distinctive Dachshund.
Out of the AKC's 192 registered purebred dog breeds, the "weenie dog" is currently ranked at number 13.
The Dachshund comes in two sizes: miniature and standard.
So depending on your Doxie's lineage, she might weigh just 10 lbs or less, or more than 30 lbs!
The name dachshund literally translated means "badger dog."
This is a nod to what these dogs were born and bred to do—chase down badgers and extract them from their underground burrows.
This explains their long bodies and low hanging ears, as well as short, sturdy legs.
But today, the Doxie is mostly called upon as a lap companion, a job which these dogs are excellent at.
Dachshunds, like many small dog breeds, don't realize they're a tiny size and have loud, hound barks, which they have been bred to use
You can expect plenty of alerts from your pint-sized, sausage-shaped watchdog.
Dachshunds can have smooth or wiry-haired coats, short or long. So the amount of brushing and grooming your dog will need can vary depending on the type and length of their coat.
Dachshund ears also require regular attention since they are long and floppy and can easily become infected.
Dachshund breeders should ensure parent dogs are free from the following:
hemangiosarcoma (an invasive canine cancer)
hock joint deformity
epilepsy
intervertebral disc disease
In addition, dachshunds are prone to back problems and bloat due to their elongated, deep torsos.
Moreover, they can also easily become overweight, so it's important to carefully control mealtime portions and treats.
German Dog Breeds – The Doberman Pinscher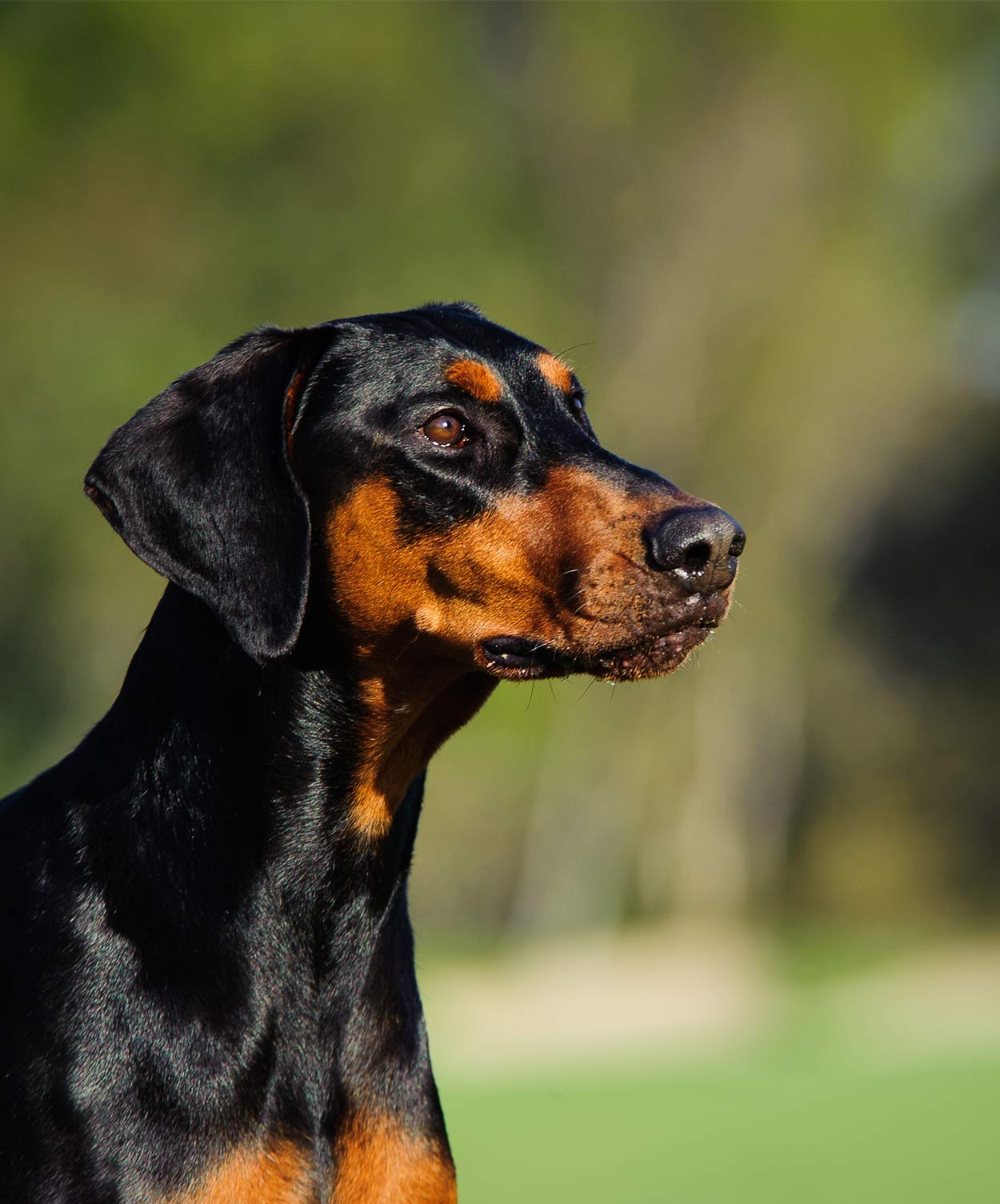 The Doberman Pinscher is another classic representative of the German dog breeds.
The Doberman actually takes its name from its creator, Louis Doberman, a tax collector who wanted a canine companion to protect him during his rounds.
Understandably, debtors were never too delighted to see him showing up!
The word "Pinscher" translates to "terrier," which makes the Doberman a particularly large, sleek and powerful type of terrier.
As it turned out, Doberman's initial canine was very good at his job, and soon the Doberman Pinscher became a fixture in military, police, and service work.
The Doberman has a short, smooth coat that is very easy to groom and maintain. These dogs are also very smart and active and to thrive, require regular exercise.
Health-wise, Doberman Pinscher breeders should test parent dogs for certain heritable conditions including:
heart disease
thyroid disease
liver disease
neck instability
Other issues to watch out for include:
von Willebrand's disease,
eye issues canine hepatitis (not viral)
bloat
German Dog Breeds – The Pointer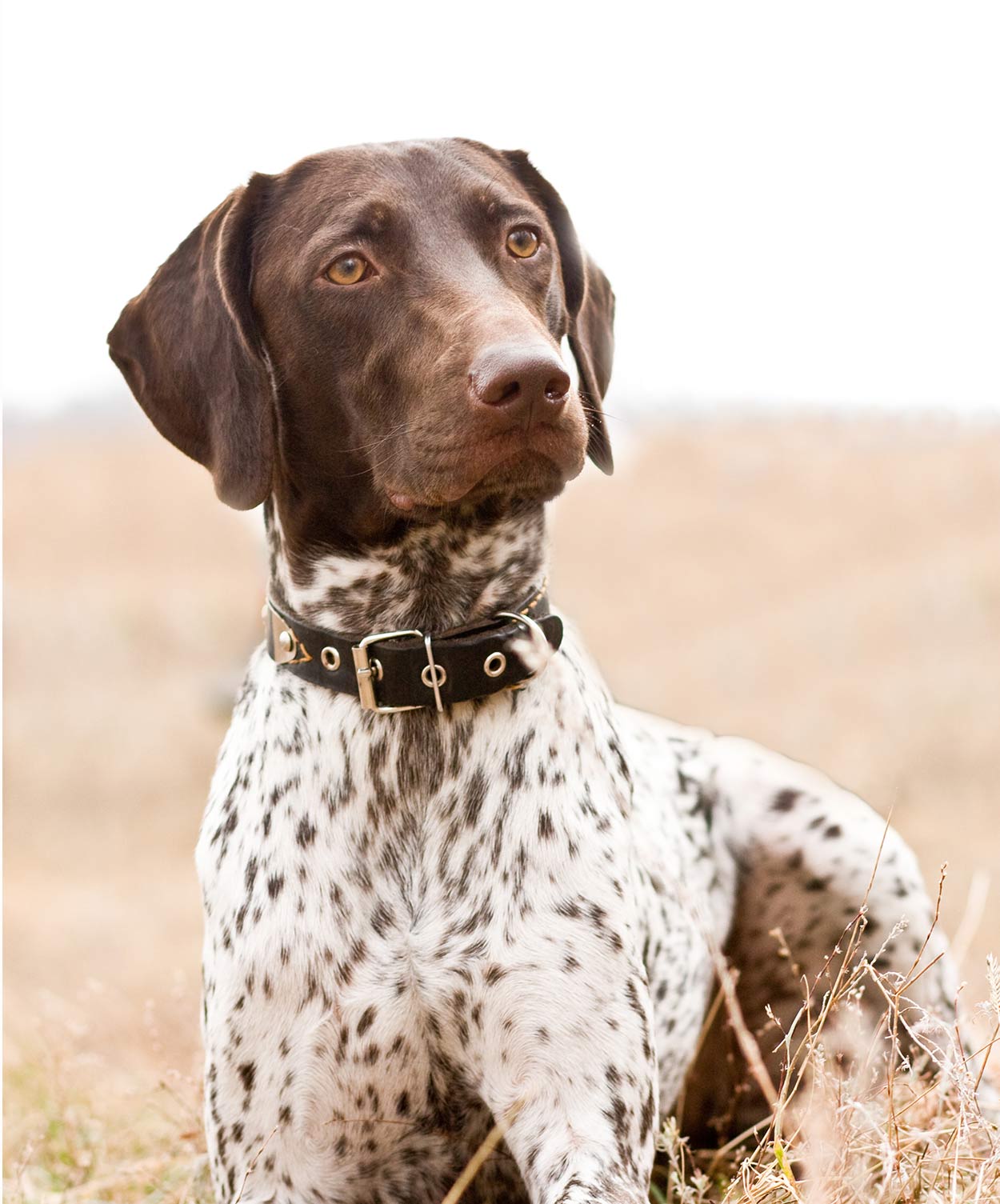 Thanks to its name, the German Pointer is easy to identify as one of the German dog breeds!
Like the Dachshund, another German breed, the German Pointer can sport both smooth and wirehaired coat, which can vary in length from short to long.
The wirehaired German Pointer is often slightly bigger and heavier than its smooth-haired cousin.
The German Pointer was originally born and bred as a sport and hunting dog.
As such, these dogs are extremely smart and active—this is not a dog who will happily sit on the couch all day.
German Pointers are great at agility and obedience training, service work, and tracking work.
If you like hunting, they can be willing and eager sidekicks.
Breeders of the German Pointer should make sure parent dogs are free from the following:
hip and elbow dysplasia
thyroid disease
cardiac issues
von Willebrand's disease
lupoid dermatosis
eye issues
retinal (eye) degeneration
Bloat is an additional concern with this deep-chested dog breed, so it's a good idea to talk with your dog's vet about preventative surgery.
German Dog Breeds – The German Shepherd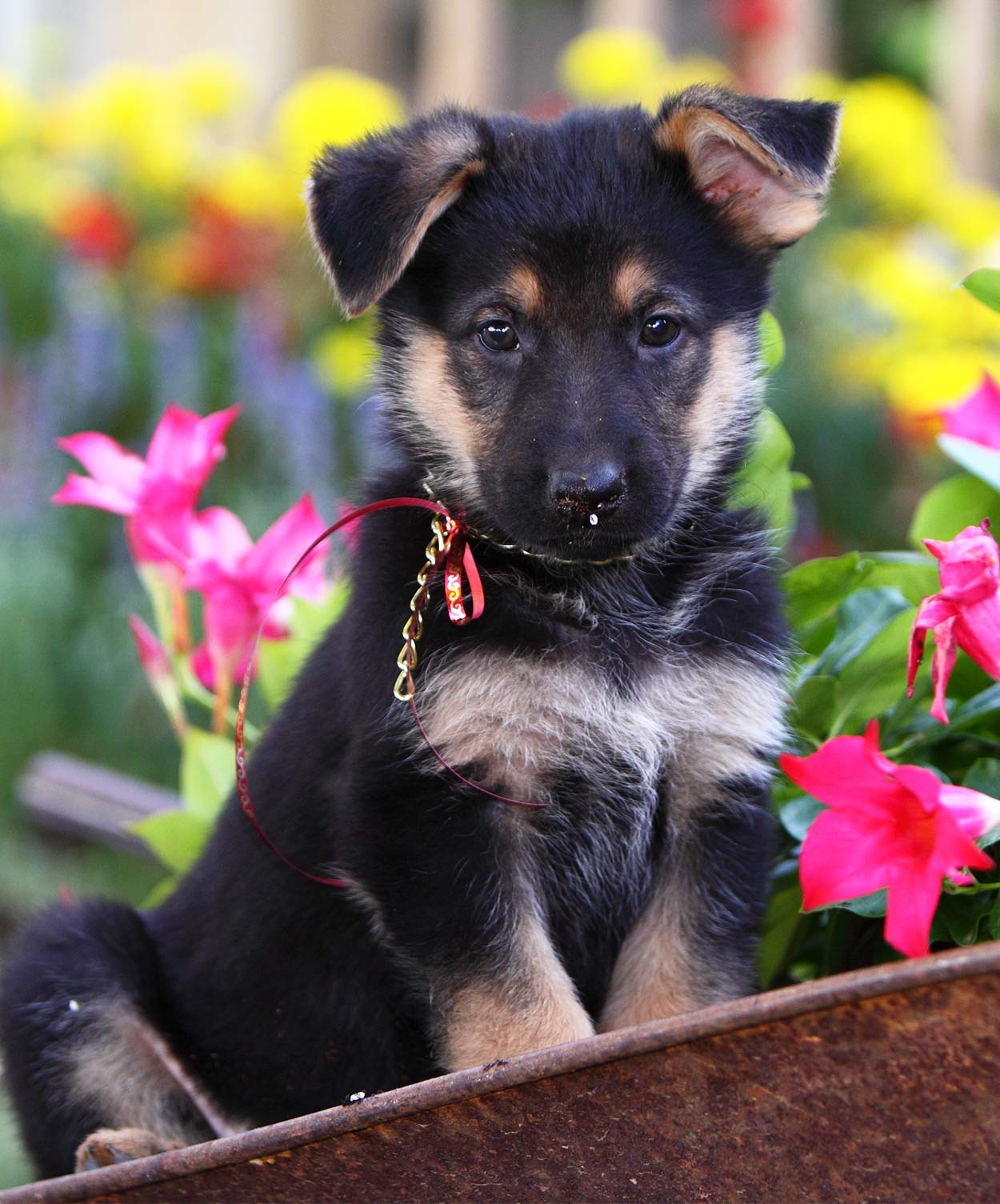 The German shepherd is arguably Germany's ambassador dog, currently ranked 2nd on the AKC's list of 192 most popular breeds!
What is less commonly known is that there are actually several different German shepherds. For simplicity, they can be categorized as either working lines and show lines.
It's important to be aware that show lines are increasingly plagued with lower back issues on account of the steeply sloping back curve currently prized in the show ring.
Overall, the German Shepherd makes a great family companion for active families that like to run, play, and exercise with their dog.
These dogs have thick, double layer coats that shed seasonally, but generally, weekly brushing is sufficient to maintain their coat.
German shepherds dogs bond closely with their owners and don't do well left on their own or cooped up for long hours.
They are great at agility, obedience training, and service work, as well as police and military work.
German Shepherd breeders should check the parent dogs for a number of health conditions including:
hip and elbow dysplasia
hemangiosarcoma (canine cancer)
degenerative myelopathy
pituitary dwarfism
megaesophagus
pancreatic acinar atrophy
Bloat is also a concern with these barrel-chested dogs, but luckily a preventative surgery can be performed so it's best to talk to your dog's vet about this.
German Dog Breeds – The German Spaniel
The German Spaniel is one of the lesser known German hunting dog breeds even in Germany!
Currently, in the US, the German Spaniel, or Deutscher Wachtelhund, is a dog breed typically only released to owners who plan to hunt with them or to professional gamekeepers.
In fact, it's estimated to be as few as 150 of these dogs in North America, and all of them are owned by hunters, gamekeepers, or forestry professionals.
The name "Deutscher Wachtelhund" translates to mean "versatile forest dog," whilei "hund" means "hound," placing these dogs firmly in the ranks of German hound breeds.
The bloodline is limited, especially in North America but also worldwide.
Therefore, it is critical to ensure breeders have tested and cleared parent dogs of hip and elbow dysplasia, both of which are known heritable issues, particularly in North American lines.
German Dog Breeds – The Great Dane
Among the larger German dog breeds, the Great Dane is perhaps the country's most sizeable and thus most visible!
The Great Dane enjoys ongoing popularity and is currently ranked 14th out of 192 registered purebred dog breeds on the AKC's annual list.
The Great Dane is considered one of the world's largest breed of dog and maintains a regular place in the Guinness Book of World Records.
Check out Zeuss, the current reigning GBWR champion as the tallest dog!
However, the Great Dane's name is actually somewhat of a mystery even to the most dedicated historians.
The name suggests this dog hails from Denmark when it is actually one of the German dog breeds!
Great Danes were originally bred to hunt fearsome wild boars, but today spend much of their time taking up most of the couch in homes across the world.
The Great Dane has a life expectancy of 7 to 10 years, which is just half of what many of the smaller representatives of the German dog breeds enjoy.
However, you can ensure the healthiest puppy by carefully selecting a reputable breeder and ensuring your puppy's parents have been tested for the following:
hip dysplasia
cardiomyopathy
hypothyroidism
eye issues
Wobbler's syndrome
hypertrophic osteodystrophy
panosteitis
canine cancer
Bloat is the single most fatal condition in Great Danes but there is a minor preventative surgery to prevent this so be sure to talk with your dog's vet about it.
German Dog Breeds – The Leonberger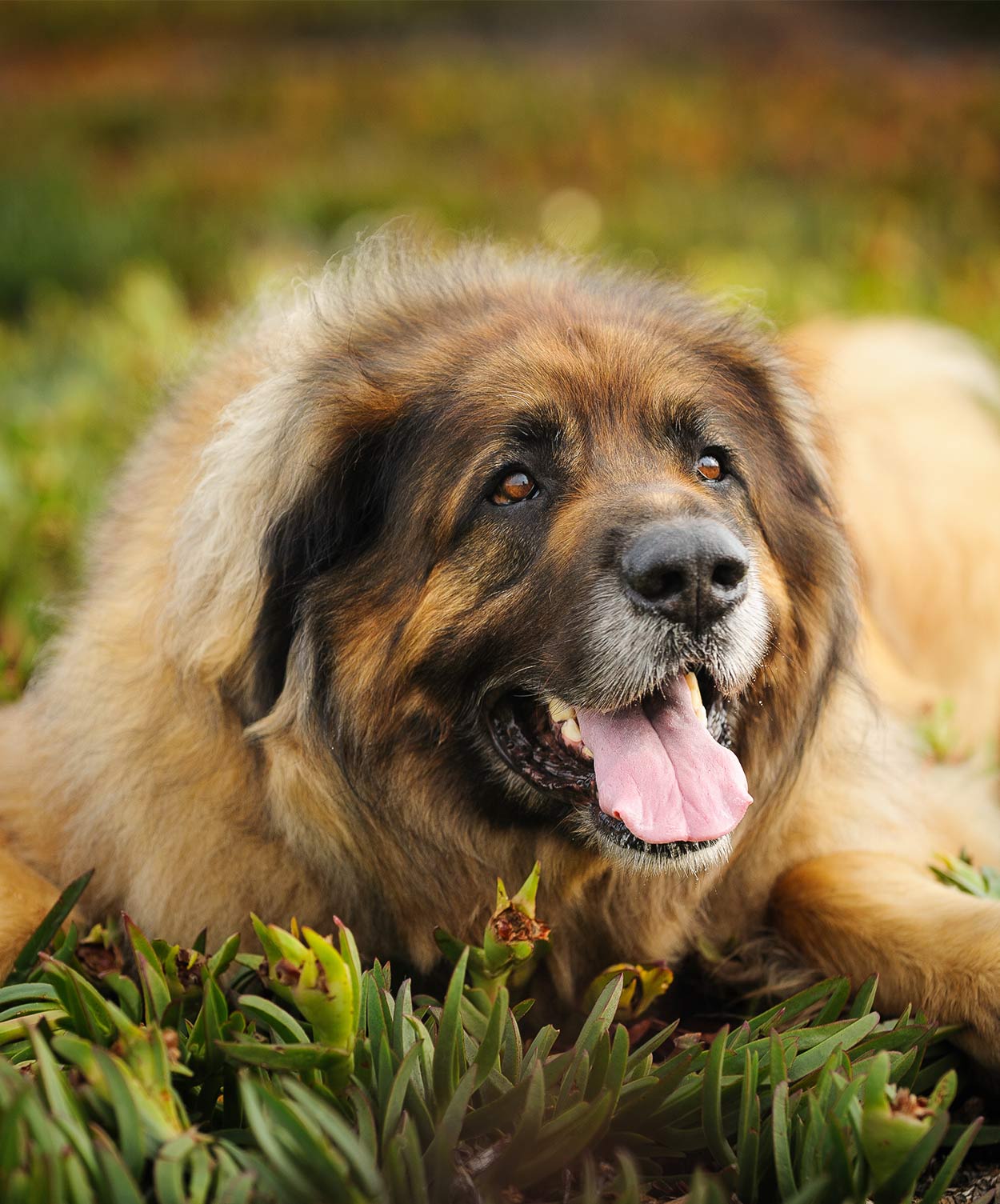 The Leonberger sure is a looker among German dog breeds!
This extra-large fluffy dog can weigh anywhere from 90 to 170+ pounds as an adult, but their long manes make this dog look even larger.
The Leonberger is considered one of the aristocrats of the German breeds and although this dog may be huge in body, they are truly gentle and patient in spirit.
Sometimes referred to as Leos by their fans, the Leonberger is a fabulous family dog as well as a great working dog. And a surprisingly good swimmer!
The Leonberger takes its name from its birthplace, the town of Leonberg, Germany.
The dog's creator, Heinrich Essig, wanted to breed a dog that looked like the Leonberg town's mascot, a lion. When you see this dog, you'll see he succeeded!
Leonbergers need a lot of grooming and will shed a lot, so you'll need to be prepared if you welcome a Leo into your life.
The Leonberger Health Foundation, a nonprofit arm of the national club, sponsors and promotes genetic health testing for these dogs.
Leonberger breeders should always test parent dogs for:
hip and elbow dysplasia
leukoencephalomyelopathy
eye issues
thyroid issues
known genetic mutations, LPN1 and LPN2
German Dog Breeds – The Pomeranian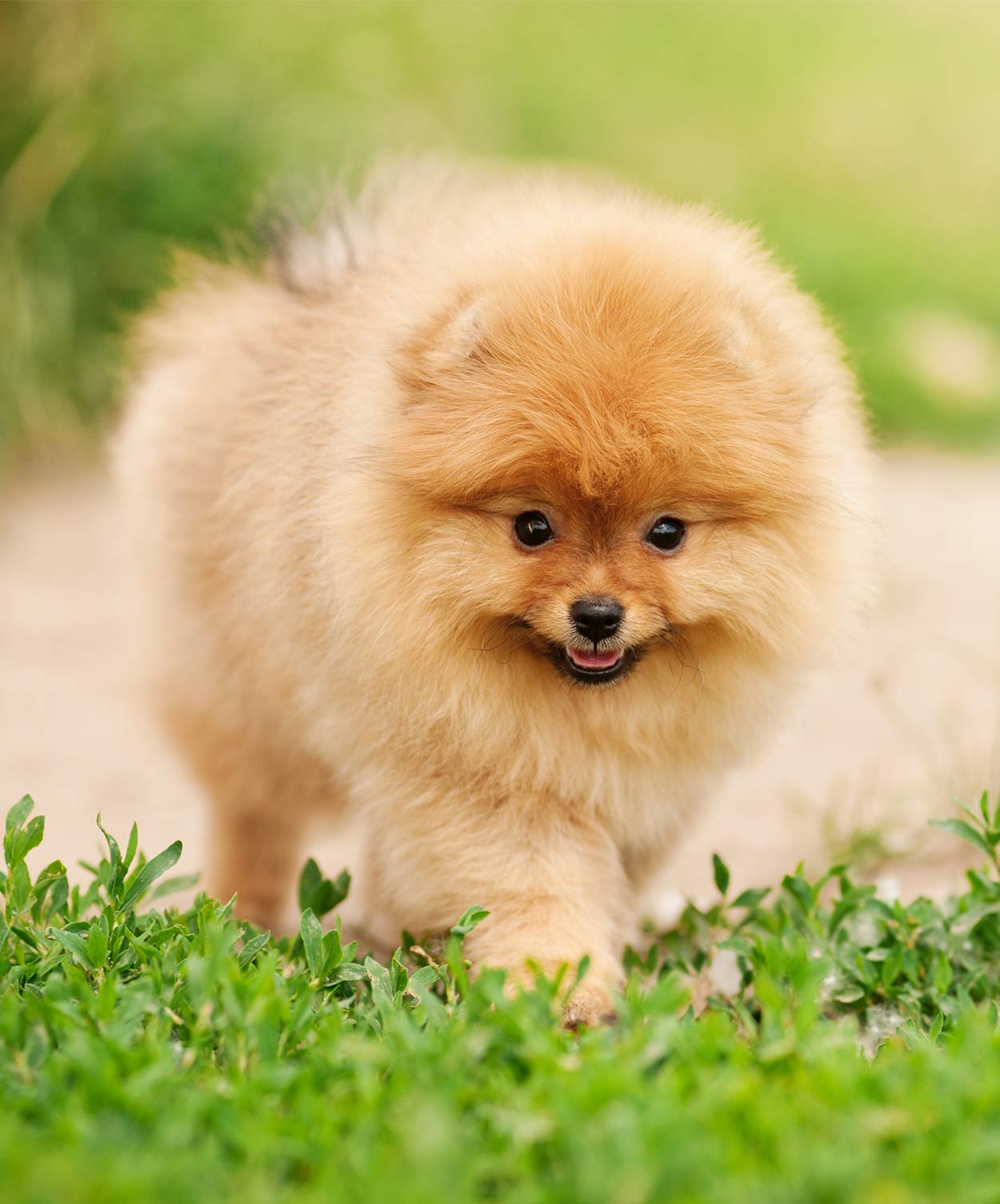 No discussion of German dog breeds would be complete without including the Pomeranian, the miniature dazzler hailing from what was once Pomerania and is now part of Western Germany.
In some parts of the world, the Pomeranian is called the Zwergspitz, a nod to the dog 's Spitz ancestors.
However, it's fairly safe to say that the Pom, as many fans call them, is hairier than any spitz dog on the planet!
Pomeranians are incredibly smart but can be stubborn. They are, however, easy to train.
The truth is, Pomeranians, like many miniature dog breeds, just don't seem to realize their size, despite the fact that Pom could be described as a big ball of fluff on legs.
Then factor in their adult weight, which is just 3 to 7 lbs!
The Pomeranian became popular outside of Germany after Queen Victoria, smitten with the breed, took Poms back to England to breed them.
Pomeranians require a lot of combing and brushing to maintain their luxurious coat.
They also need daily exercise and play.
But it's best to make sure they aren't allowed to jump up and down on furniture since this can lead to broken bones in these tiny fragile dogs.
Health-wise, breeders should test parents for:
thyroid issues
patellar luxation
heart disease
eye issues
seizures a
hereditary alopecia X (black skin disease)
Other health concerns may include a collapsed trachea and congestive heart failure.
German Dog Breeds – The Schnauzer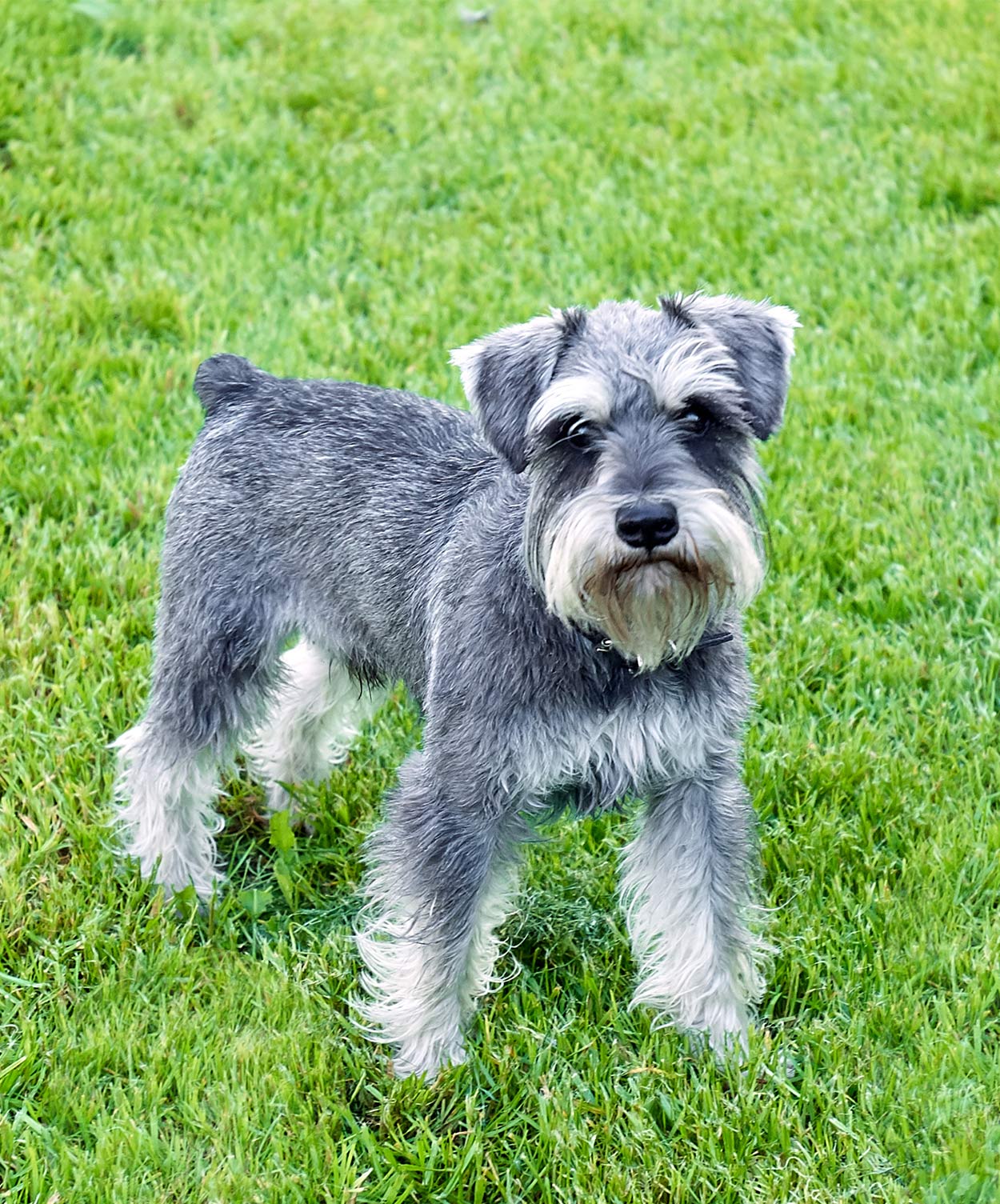 Even today, the Schnauzer is a staple on German farms.
Schnauzers are bred in three sizes: miniature, standard, and giant.
All of them are extremely intelligent and share a wiry, close-fitting coat, exaggerated whiskers, and arched eyebrows.
Schnauzers make very good family dogs and are great with kids. They are also excellent watchdogs.
It is important to hand-strip (manually remove dead or shed hairs) your Schnauzer's coat rather than using electric clippers. This allows their coat to retain its protective waterproof properties.
These dogs are very sociable and active and don't do well when left on their own for long periods of time. You will also need to make time daily for exercise and play.
Schnauzer breeders should make sure parent dogs are free from:
hip dysplasia
cardiomyopathy
eye issues
other heart issues
German Dog Breeds – The Weimaraner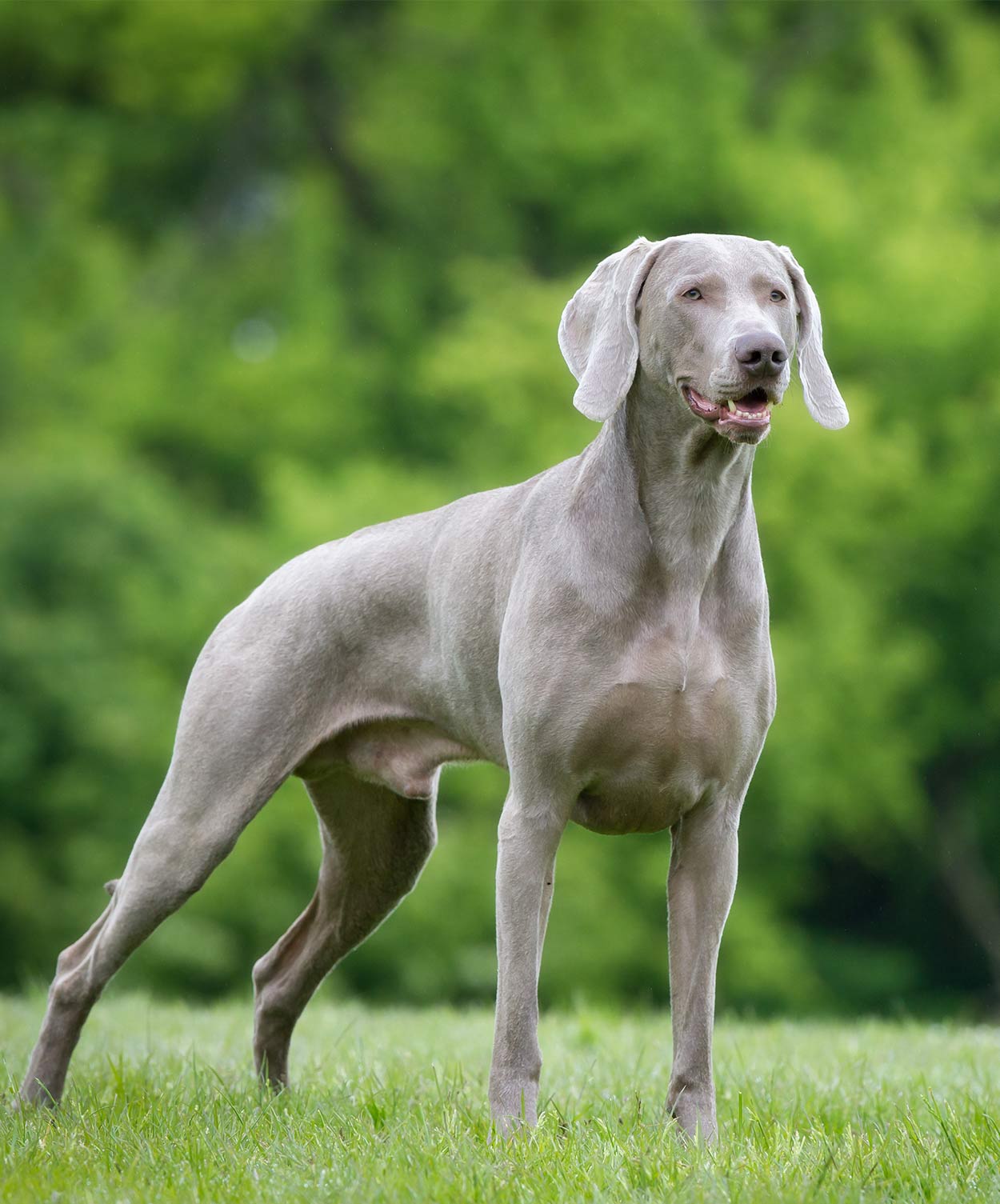 The Weimaraner is called the "Grey Ghost" in its home country of Germany. These truly gorgeous dogs and there are many Weimaraner supermodels that have been immortalized by artists, including William Wegman.
With their short close coats, Weimaraners are easy to groom.
But you'll need to make time weekly to check and clean your dog's ears since they hang closely over the ear canals and are prone to infection.
The Weimaraner is a smart, high-energy dog that really needs a lot of daily exercise and activity!
If it's not provided, you can expect your intelligent dog to find her own fun, which may include remodeling your interior décor and perhaps your lawn and garden as well.
Weimaraner breeders should test parent dogs for the following:
hip dysplasia
thyroid issues
eye issues
You may also want to talk with your veterinarian about the preventative surgery for bloat, which these dogs are quite prone to.
German Dog Breeds
From the tiny Dachshund to giant Great Danes, German dog breeds come in a fascinating array of shapes and sizes, with an even wider range of temperaments and talents.
Hopefully, you've enjoyed a brief tour of German dog breeds and their intriguing histories!
What are your favorite German dog breeds? Post a comment below and let us know!
References and Further Reading
Tsai KL et al. 2011. Genome-wide association studies for multiple diseases of the German Shepherd Dog. Mammalian Genome Journal.