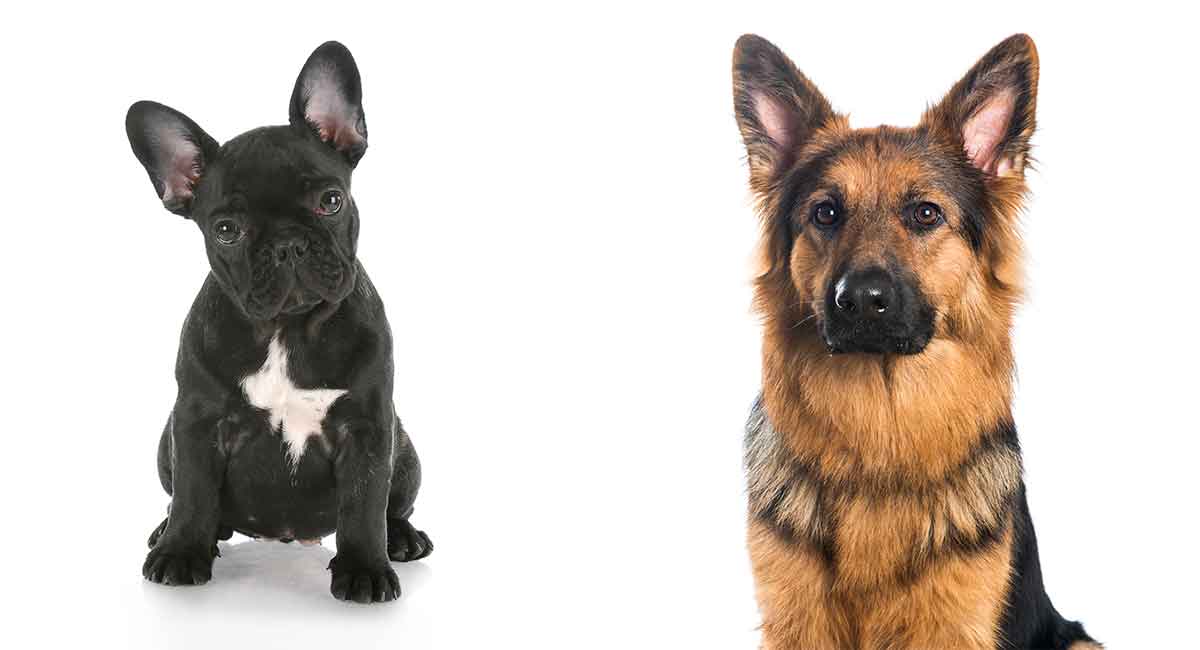 The French Bulldog German Shepherd mix combines two very popular but extremely different dog breeds.
This hybrid is also known as the Frenchie Shepherd.
In this article, we'll take an in-depth look at both parent breeds.
We'll explain what to expect from a French Bulldog German Shepherd mix dog's looks, personality, and health.
So you can decide if this mix is right for you.
Where Does the French Bulldog German Shepherd Mix Come From?
Frenchie Shepherds are first generation offspring of the playful French Bulldog and the courageous German Shepherd.
As with most mixed breeds, there's very little recorded history of the first French Bulldog German Shepherd hybrid pups.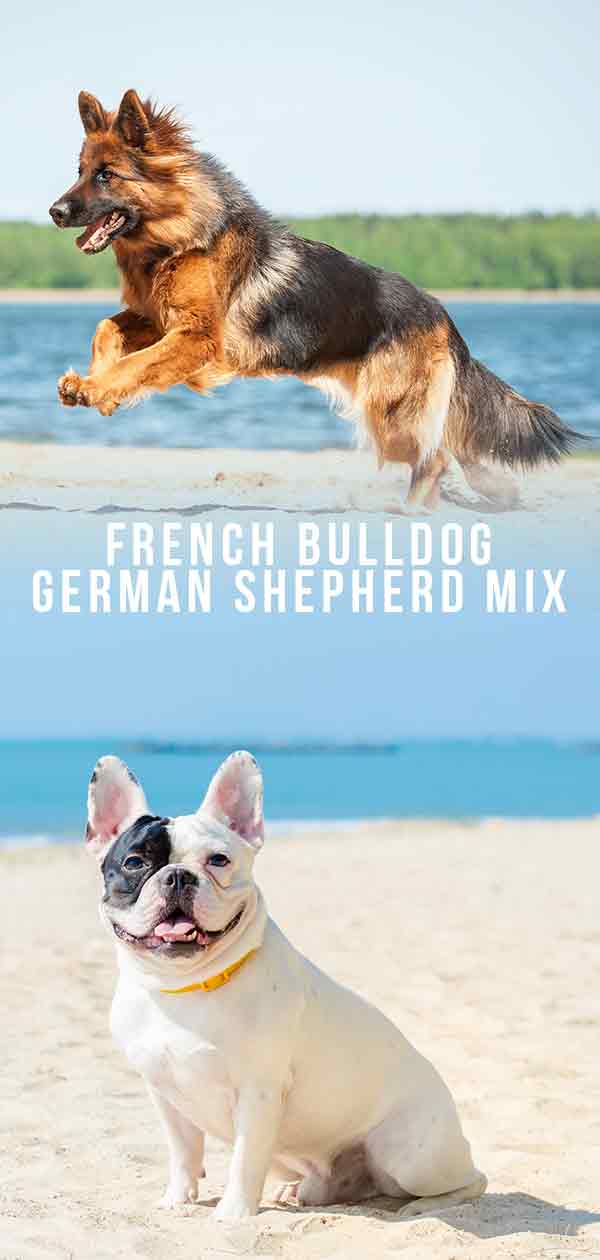 But we can look at the heritage of both parents breeds to find out more about these unlikely canines.
Despite the name, the French Bulldog originated in England.
In the mid-1800s, a toy-size Bulldog was a popular lapdog for Nottingham's lace makers.
When the industry moved to France, the dogs went along.
Over several decades, they were crossed with other breeds, probably terriers and Pugs.
Find out what happens when a German Shepherd is crossed with:
The German Shepherd's history began in the early 1890s.
Breed founder Captain Max von Stephanitz crossed various German shepherding dogs with the intention of creating the ultimate herding dog.
These dogs were the ancestors of today's German Shepherd.
The Mixed Breed Controversy
There's plenty of debate about the pros and cons of crossbreeding.
One of the main points of contention is in regard to health.
Purebred enthusiasts argue that keeping the bloodlines pure means that dog's health is predictable.
And the known health concerns of each pedigree can be screened for and avoided.
However, on the other hand, there is evidence that breeding within a confined gene pool increases the risk of genetic illnesses.
And hybrid dogs are healthier because they benefit from the opposite phenomenon: hybrid vigor.
The French Bulldog and the German Shepherd are highly affected by hereditary health issues.
So we'll look especially closely at whether breeding together protects their offspring, further down.
But first let's look at something a little more light-hearted.
Fun Facts About the French Bulldog German Shepherd Mix
Famous Frenchie fans include Lady Gaga, Hugh Jackman, Madonna, Martha Stewart and Dwayne "the Rock" Johnson.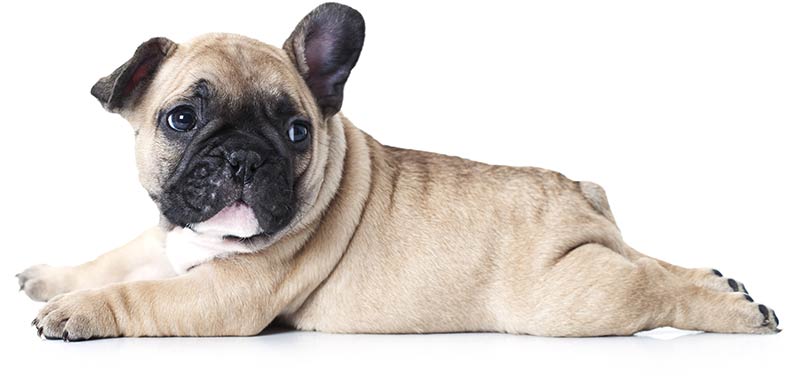 Rin Tin Tin was a German Shepherd who became an international star.
He rescued from a World War I battlefield and went on to appear in 27 Hollywood films.
French Bulldog German Shepherd Mix Appearance
Whenever two different dogs are bred together, it's impossible to know exactly which parent the puppies will favor.
The French Bulldog is a small dog who measures from 11 to 13 inches and shouldn't weigh more than 28 pounds.
Compact and muscular with a broad chest, he looks like a smaller version of the Bulldog.
Besides his size, his oversized bat ears also set him apart from his bigger cousins.
His head is square and big for his body, while his face is heavily wrinkled with a very short muzzle and a classic Bulldog pout.
His coat is smooth and short and comes in white, cream and fawn, or a combination of these colors.
Patterns include brindle and piebald. Markings can be white or black.
How does German Shepherd Compare?
Very much in contrast is the large, muscular German Shepherd.
He stands from 22 to 26 inches and weighs between 50 and 90 pounds.
This powerful dog has a deep chest, strong hindquarters and is longer than he is tall.
His chiseled, noble head has an intelligent bearing.
His ears are pointed and erect when at attention.
The German Shepherd's appearance has changed from what it was 70 years ago.
Some breeders have created a steeply sloping top line with an extreme bend in the back legs.
We've looked at the drawbacks of this shape in our main breed review for German Shepherds.
Their double waterproof coat is of medium length and comes in a variety of colors.
How will a Frenchie Shepherd turn out?
As you can imagine, the appearance of the French Bulldog German Shepherd mix can vary greatly.
Not only in size but in facial characteristics.
Typically he'll be considerably smaller than the German Shepherd but with a longer muzzle than the French Bulldog.
French Bulldog German Shepherd Mix Temperament
French Bulldogs were bred as lapdogs, and love to be pampered and petted.
They are generally loving, loyal and friendly, even with children and other pets.
This breed is also quite intelligent and can sometimes have a stubborn streak.
Like any dog, they need to be socialized from a young age, and exposed to a variety of people, places and situations.
The German Shepherd is a large, powerful dog who was bred as a working breed.
Deeply loyal to their family, they have a strong guarding instinct and are often wary of strangers.
The German Shepherd has been considered aggressive.
When incidences of dogs biting children were analyzed by breed, only German Shepherds were represented more frequently than their prevalence in the community.
Life with a French Bulldog German Shepherd Mix Dog
As with appearance, when you combine two such different breeds it's impossible to know exactly what kind of dog you're getting.
Your French Bulldog German Shepherd mix will likely be very loyal to you.
However he may be a nervous around those he doesn't know, both in the home and outdoors.
Socializing from a young age is imperative so that he grows up calm and confident around strangers.
Training Your French Bulldog German Shepherd Mix
Consistent and encouraging potty training should begin right away.
Crate training can help to avoid pee and poop accidents when you're not at home.
Frenches can be stubborn and may require more attention to training than other breeds.
German Shepherd training requires consistency, positive reinforcement and regular routines, with plenty of socialization and obedience training.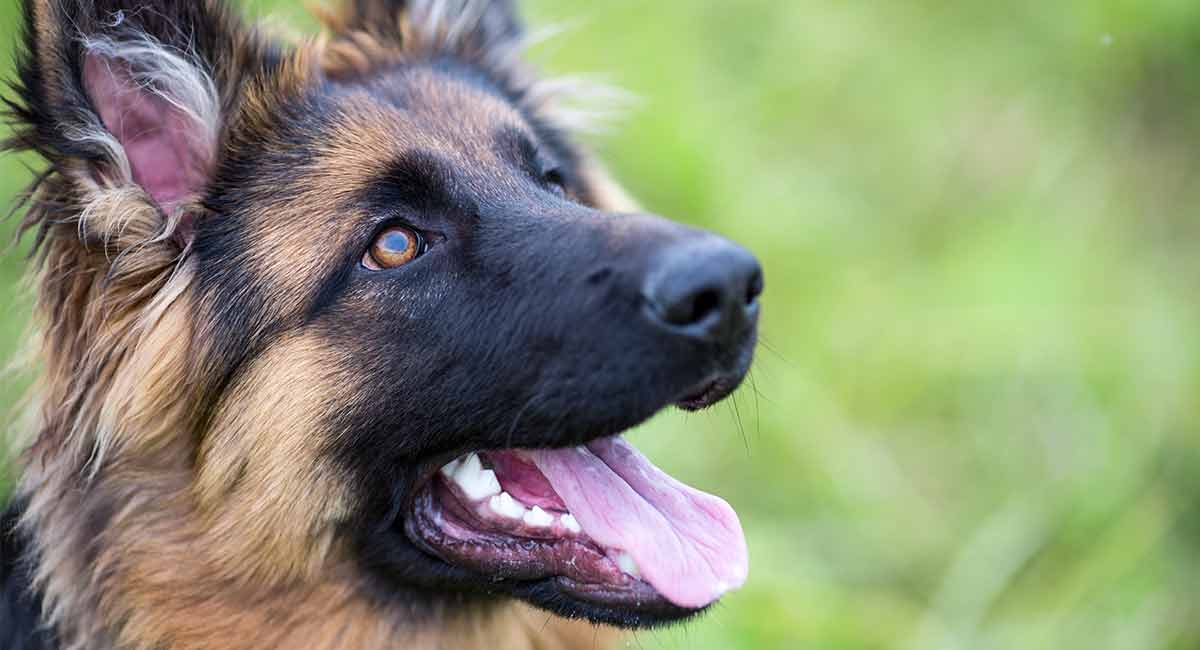 Reward-based training works well.
Timing is everything with this technique. It only works if the dog is aware of why he's getting a treat.
With clicker training, the clicker works as a signal to help the dog identify the exact behavior he's being rewarded for.
The French Bulldog German Shepherd mix will need to understand his new surroundings and routine to ensure he's gentle and not guarded with people.
Exercising Your French Bulldog German Shepherd Mix
When it comes to exercise requirements, you're looking at two breeds who couldn't be more different.
While the German Shepherd is a very active and athletic dog who requires lots of exercise, the French Bulldog is a brachycephalic breed who rapidly runs out of energy.
If your French Bulldog German Shepherd mix has the flat face of the Frenchie, he will be prone to breathing difficulties.
This means he can't get enough oxygen for vigorous exercise, nor cool himself efficiently enough.
For this reason, he should never overexert himself, especially in hot or humid weather.
Although German Shepherds are strong swimmers, brachycephalic dogs cannot swim at all and will drown in water that's over their heads.
If your Frenchie Shepherd mix more closely resembles the German Shepherd parent, you can start with short daily walks and play sessions.
As he grows, progress to longer walks, higher paced exercise.
Complex retrieving activities and games will keep him mentally stimulated.
Bored dogs are more to undesirable or destructive behavior.
French Bulldog German Shepherd Mix Health
Regrettably, both parent breeds are subject to serious health conditions.
French Bulldog
As noted, the Frenchie is a brachycephalic breed, which means that due to extreme shortening of facial bones, the throat and breathing passages are compromised.
This causes severe chronic breathing problems known as brachycephalic syndrome.
What's worse is that because the Frenchie's extremely flat face is deemed desirable, some breeders deliberately produce puppies with increasingly flatter faces.
Their structural problems are not confined to their face.
The French Bulldog also suffers from chondrodystrophy, a form of dwarfism that causes numerous vertebral malformations.
The French Bulldog is predisposed to screw tail, another disease which causes spinal deformation.
In severe cases, this can cause paralysis.
The Frenchie has a life span of 10 to 12 years.
German Shepherd Dog
Hip and elbow dysplasia is the abnormal development of the respective joints. It's common in many large breeds, and the GSD is no exception.
Osteochondritis dissecans (OCD) is caused by an abnormal growth in the cartilage of the dog's joints.
Degenerative myelopathy is a progressive and incurable disease of the spinal cord.
This is another health problem for the German Shepherd.
Responsible breeders will screen their breeding stock for these genetic conditions.
Bloat, a gastrointestinal condition, is a sudden, life-threatening swelling of the stomach that's common in large breeds.
The German Shepherd has a life span of 7 to 10 years.
The French Bulldog German Shepherd mix can inherit health issues from either parent.
You can find a full list of all the testing available on the Dog Breed Health website for the French Bulldog and the German Shepherd.
Grooming and Feeding a French Bulldog German Shepherd Mix
While the Bulldog has a very short coat that sheds minimally, the GSD has a medium-length double coat that sheds a fair amount.
The Frenchie Shepherd's coat should be fairly low maintenance, requiring only weekly brushing, with more frequent grooming required twice a year.
Nails should be trimmed regularly because long nails can cause pain and structural issues.
A high-quality, age-appropriate dog food will have the nutrients he needs.
Frenchies are prone to obesity, which puts them at a higher risk for health issues and can damage their conformation so calorie consumption should always be monitored.
Check with your vet if you have questions about the best food for your dog.
Does the French Bulldog German Shepherd Mix Make a Good Family Dog?
Both of these popular breeds have the potential for serious health issues.
The French Bulldog has many inherent structural problems.
These were created by humans, entirely at the expense of the health and quality of life these dogs.
Sadly then, we can't recommend purchasing a French Bulldog mix puppy as a pet.
We believe that doing so will reinforce and perpetuate unethical dog breeding.
However, there is still a way.
If you have you heart set on a French Bulldog German Shepherd mix, why not look into adopting?
Rescuing a French Bulldog German Shepherd Mix
If you really want a pet that's part French Bulldog, consider rescuing one from a shelter.
Adoption means you won't be helping a breeder produce more dogs with serious and painful health problems.
There are pros and cons to adopting a dog from a shelter.
This article will go into more depth.
At the bottom of this article, we will link to shelters – let us know in the comments if there's a shelter near you which we've missed!
Finding a French Bulldog German Shepherd Mix
If you choose to buy French Bulldog German Shepherd mix puppy, find a puppy who has the longer muzzle of the German Shepherd.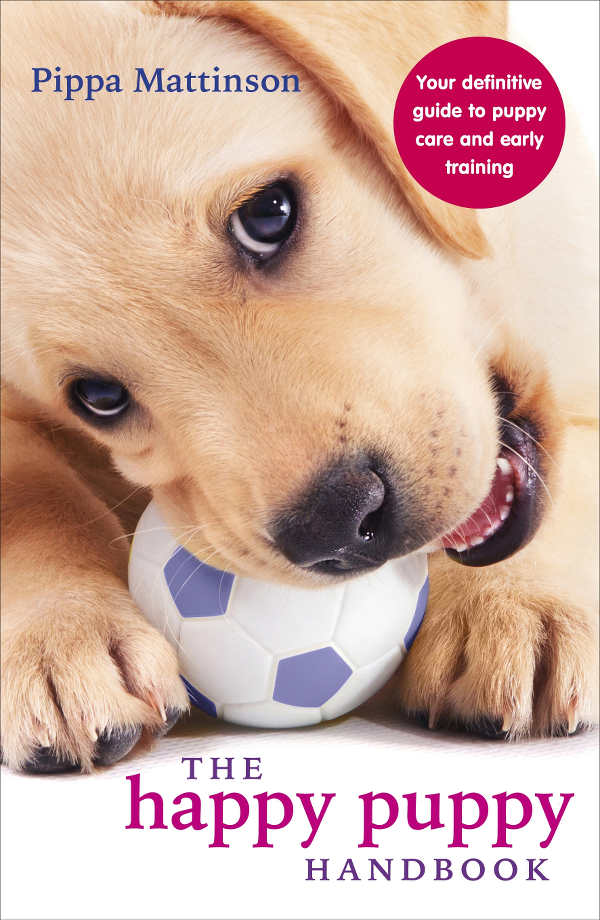 Avoid pet stores and puppy mills. These puppies will not only have an even higher probability of health problems; the dogs are often mistreated.
Choose reputable breeders who can prove they've tested their stock for inherited health issues.
For more detailed information, check out this guide to help you find a puppy.
French Bulldog German Shepherd Mix Products and Accessories
A French Bulldog harness not only works as a training tool. It also puts less pressure on the dog's neck than a collar would.
Proper grooming with a brush designed for the thick double coat of the German Shepherd can reduce the effects of shedding.
Pros and Cons of Getting a French Bulldog German Shepherd Mix
We've given you a lot of information now.
So here's a run down of the main pros and cons of getting a Frenchie Shepherd.
Cons
A major con is that the conformation of both parent breeds has been compromised over the years.
Modern breeders have produced German Shepherd dogs with a steep slope to their backs and extreme angulation in the back legs.
For the Frenchie, their nostrils have all but closed. Deep facial skin folds have formed around the flattened muzzle.
These changes have created needless and serious problems for these dogs.
Pros
These dogs are likely to be loyal, brave and smart.
This is a loving dog with an engaging personality.
Similar French Bulldog German Shepherd Mixes and Breeds
Before making a final decision on a puppy, consider these breeds with a healthier conformation.
French Bulldog German Shepherd Mix Rescues
If you'd like to be added to this growing list of French Bulldog and German Shepherd rescue organizations (featured here), please post your organization's details in the comment box below.
Is a French Bulldog German Shepherd Mix Right for Me?
Bringing a dog into your home is a life-changing decision.
Keep in mind the many health problems that a French Bulldog German Shepherd mix can face.
Whichever breed you choose, seriously consider getting a rescue dog.
You'll be giving a dog a second chance to have a happy life.
References
Barclay, K.B. and Haines, D.M. "Immunohistochemical Evidence for Immunoglobulin and Complement Deposition in Spinal Cord Lesions in Degenerative Myelopathy in German Shepherd Dogs." Canadian Journal of Veterinary Research, 1994.
Brockman, D.J., et al. "Canine Gastric Dilatation/Volvulus Syndrome in a Veterinary Critical Care Unit: 295 Cases (1986-1992)." Journal of the American Veterinary Medical Association, 1995.
Brown, E.A., et al. "FGG4 Retrogene on CFA12 Is Responsible for Chondrodystrophy and Intervertebral Disc Disease in Dogs." Proceedings of the National Academy of Sciences of the United States of America, 2017.
De Lorenzi, D., et al. "Bronchial Abnormalities Found in a Consecutive Series of 40 Brachycephalic Dogs." Journal of the American Veterinary Medical Association, 2009.
Greenhalgh, C., et al. "An Epidemiological Survey of Dog Bites Presenting to the Emergency Department of a Children's Hospital." Journal of Paediatrics and Child Health, 1991.
Further Reading
Gutierrez‐Quintana, R., et al. "A Proposed Radiographic Classification Scheme for Congenital Thoracic Vertebral Malformations in Brachycephalic "Screw‐Tailed" Dog Breeds." Veterinary Radiology & Ultrasound, 2014.
Kuricova, M., et al. "Vertebral Malformations in French Bulldogs." Journal of The Faculty of Veterinary Medicine Istanbul University, 2017.
Lang, J., et al. "A Sacral Lesion Resembling Osteochondrosis in the German Shepherd Dog." Veterinary Radiology & Ultrasound, 1992.
Stafford, K.J. "Opinions of Veterinarians Regarding Aggression in Different Breeds of Dogs." New Zealand Veterinary Journal, 1996.
Stock, K.F., et al. "Genetic Analyses of Elbow and Hip Dysplasia in the German Shepherd Dog." Journal of Animal Breeding and Genetics, 2011.