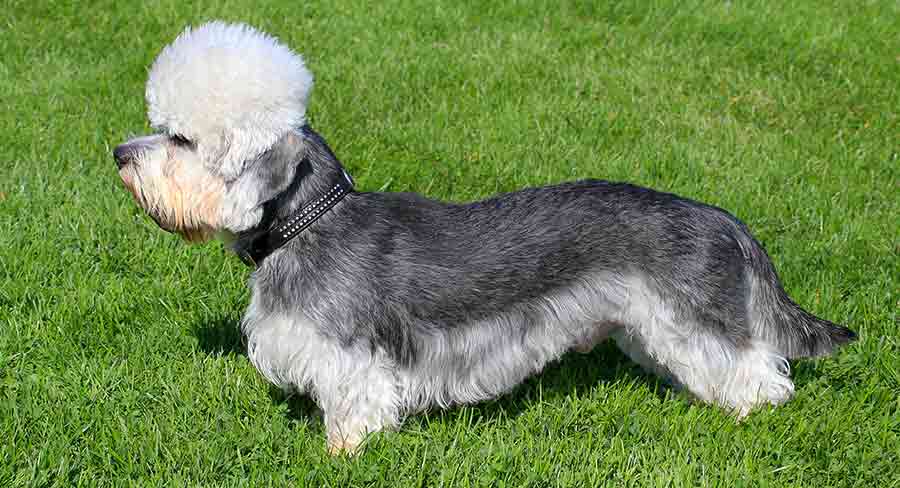 The Dandie Dinmont Terrier is a small, sturdy breed. This dog has a long body, a large head, and very short legs. These little dogs are intelligent, tough, and can be quite vocal due to their natural chase and hunt instincts. Today we take a look at finding and raising Dandie Dinmont Terrier puppies. And at the pros and cons of the feisty Dandie Dinmont temperament.
Contents
If you're thinking about getting the Dandy Dinmont Terrier, it's important to make sure the little dog will suit your home and family well. You can click the links above to jump straight to a certain section. Or, keep reading to learn everything you need to know about their tenacious little breed.
History and Original Purpose of the Breed
Like most terrier breeds, the Dandie Dinmont Terrier started its life as an exterminator. In this case, its main quarry were otters and badgers. The Dandie Dinmont breed stretches back to the 1700s, where it worked between England and Scotland.
Throughout their history, the Dandie breed has caught the attention of many. As well as working dogs, some Dandies were kept as royal pets. However, this widespread popularity has not stretched to the modern day. Some Dandies may still lead working lives. But, they are primarily kept now as family pets.
Fun Facts About Dandie Dinmont Terriers
Dandie Dinmont Terriers get their name from a fictional character created by Sir Walter Scott.
As of 2021, they rank 176 out of 197 AKC breeds, in terms of popularity.
Famous royal owners include Queen Victoria, and the French King Louis Phillipe.
The English Dandie Dinmont Terrier breed club is one of the world's oldest breed clubs.
Dandie Dinmont Terrier Appearance
The Dandie Dinmont Terrier has short legs, which keep its entire body close to the ground. They have dark round eyes, low hanging ears, and a tapering tail that is often about as long as the dog is tall.
These dogs have a thick double coat, with a hard but not wiry texture. Standard colors for the breed include mustard and pepper. Their coat needs hand stripping a few times a year, and a daily brush to stay in good condition. You only need to bathe your Dandie Dinmont Terrier when they get grubby!
How big are Dandie Dinmont Terriers?
As adults, Dandies tend to be around 8 to 11 inches tall. But, they are stocky for their height, weighing anywhere from 18 to 24 pounds.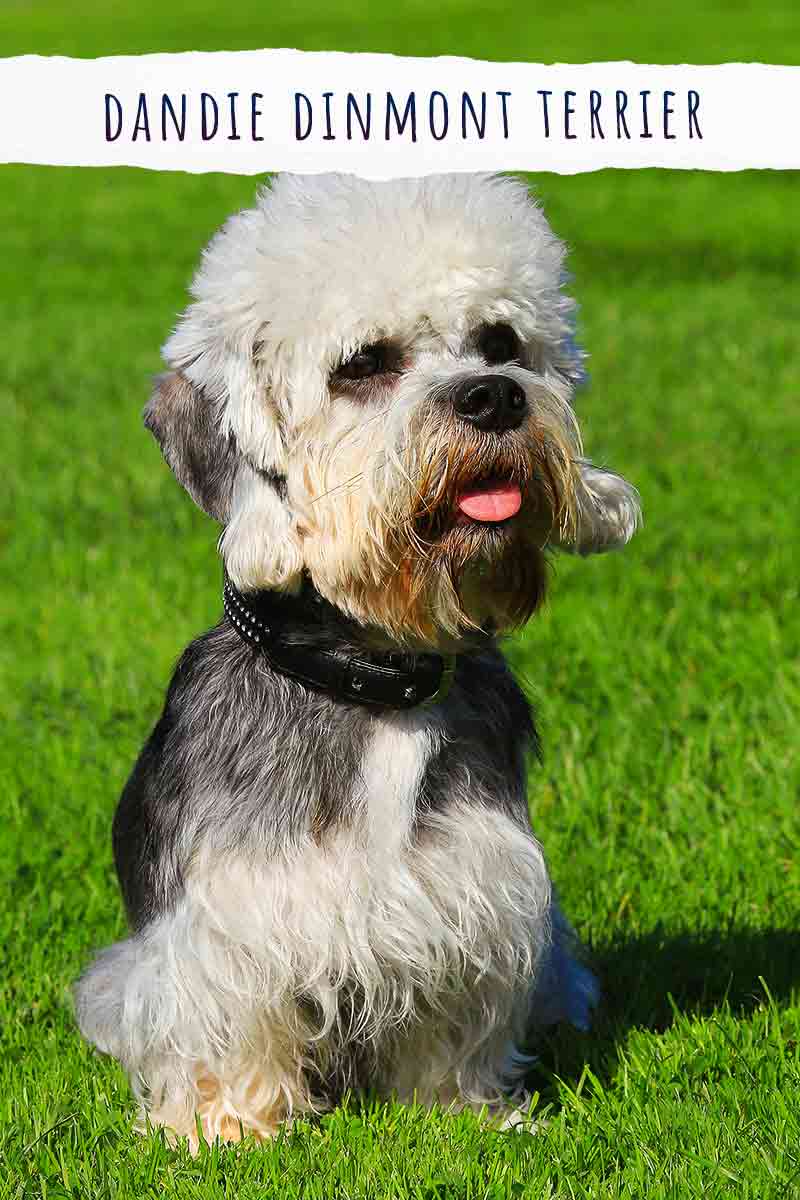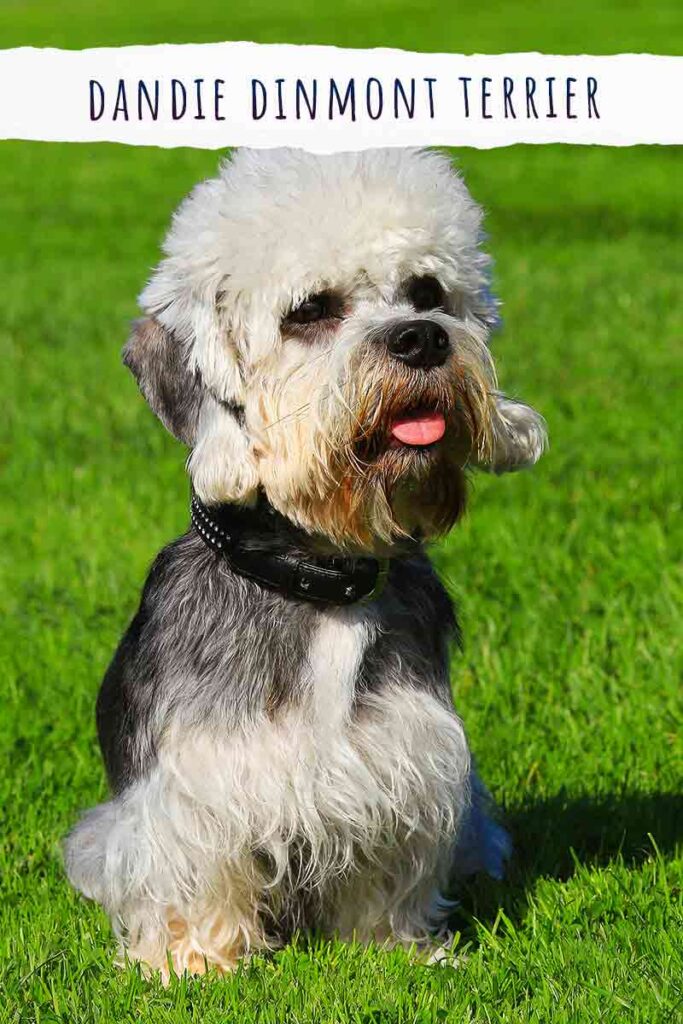 Dandie Dinmont Terrier Temperament
Like many other terriers, the Dandie Dinmont Terrier breed is intelligent, alert, and courageous. This temperament is, in large part, thanks to its history as an exterminating breed.
Dandies generally get along well with children, as long as they are well socialized as puppies. However, you should supervise interactions with younger children, as the Dandie's body conformation makes him vulnerable to injuries if play gets rough.
Barking
These little terriers can be very vocal, alerting you to strangers or anything they consider important. So, if you're looking for a quiet dog, this might not be the best choice for you. You can however reduce the chances of having a noisy Dandie Dinmont Terrier by ignoring any sound they make from puppyhood. Don't ever reward them for making noise, and try not to react when they do. You can also praise them for staying quiet, and use the click for quiet training method to encourage silences.
Natural Instincts
Dandies generally have a good temperament, especially when they are well trained and thoroughly socialized from a young age. However, it's important to remember their terrier roots. To succeed as pest exterminators, Dandie's needed to be brave, tough, and independent. Some modern dogs may retain these instincts. So, Dandie Terriers won't always suit homes with other pets or with very young children.
You may find that your pup will start chasing these other pets, particularly cats! Or, start chasing young kids in your home, which can end up in tears. Socialization can help with this to an extent. But it won't remove natural instincts altogether.
So, it's important to consider your lifestyle before bringing home this little dog. Would you be better with a calmer, less spirited breed?
Are Dandie Dinmont Terriers Good Family Dogs?
These little dogs can make good additions to the right home, but owners must be aware of how to raise a well behaved Dandie, and how to protect their vulnerable backs.
Dandie Terriers often won't suit homes with small children or other small pets. Their natural instincts can kick in, causing them to chase and nip. But, they are also vulnerable to injuries if young children don't know how to properly play and interact with them.
These little dogs can suit city life well, as long as their mental and physical needs are met. Owners may need to learn how to properly groom them too, brushing them daily but also learning to hand strip their coat.
All in all, these little dogs can be a lot of work, and can be expensive to care for if they experience any of the common health issues we looked at earlier.
But, to the right family, they can be a great companion.
Dandie Dinmont Terrier Training and Exercise
Dandies are very small dogs, so they won't need as much exercise as larger, more long-legged breeds. However, they are quite energetic, and need some form of exercise each day. Just be wary of straining their backs.
Because of their very short legs, activities like climbing stairs or jumping can lead to back problems. We will cover this in a bit more detail in a moment.
Best Training Methods
Training should start from a young age, as should socialization. Dandies are clever dogs that are often eager to learn and stimulate their brains. However, they weren't traditionally bred for working closely with people, so it can take time to build up motivation and enthusiasm for training.
Positive reinforcement methods are a great way to achieve this, whilst fostering a strong bond at the same time.
Dandie Dinmont Terrier Health
Like any other purebred breed, there are certain hereditary health issues that owners should be aware of. Some of these can be tested for before breeding Dandie dogs. Owners and breeders should be aware of the following issues:
Cancer
Ear infections
Pectinate Ligament Dysplasia
Eye issues
Tear stains
Back Problems
Another potential health concern relates to the body shape of this breed. Because Dandie Dinmonts have such short legs and long backs, they can be more prone to back problems like disc herniation or intervertebral disc disease. In some cases, these issues can cause pain, difficulty moving, and even paralysis.
This breed's body conformation can also cause problems when it comes to breeding and giving birth. Because of their body shape, Dandie Dinmont Terriers may need cesarean section births. This can lead to higher prices for puppies, and more issues for families who aren't aware of the potential problems for their pregnant dog.
Dandie Dinmont Terrier owners may need to avoid letting their dog use stairs, or jump off things, to protect their vulnerable backs. Investing in dog ramps is a great idea.
Finding Dandie Dinmont Terrier Puppies
Since the Dandie Dinmont breed is not hugely popular nowadays, you may struggle to find a puppy immediately. More often than not, potential owners must sit on waiting lists with reputable breeders until a new litter is expected.
And remember, some Dandies can experience complications at birth which lead to cesarean sections, which can drive up the price of your puppy.
Dandie Dinmont Terrier Puppy Price
Usually, puppies cost around $2,000. But, prices vary depending on your location, the quality of the parents, and on demand.
Avoid buying puppies from puppy mills, pet stores, or backyard breeders. It may save you a few bucks now, but leads to complications with health and behavior in the long run.
Reputable breeders health screen dogs before breeding them to avoid as many hereditary health issues as possible.
Caring for a Dandie Dinmont Puppy
When you bring your puppy home you will need to be prepared with a puppy safe zone, including a puppy crate and baby gates on the doorways. Make sure you've booked a few weeks off work to completely focus on potty training and socialization.
Dandie Dinmont Terrier Rescue
If you're struggling to find breeders with expected litters, rescue is a great way to add a new member to your family much sooner.
Since the breed is not hugely popular at the moment, you may have to search around a little to find a dog available to rescue. But, rescue center staff will usually be happy to work with you to find the breed you're looking for. Here are some links to get you started:
Similar Breeds
If you're considering the Dandie Dinmont, you may also like the following breeds.
Is a Dandie Dinmont Terrier Right for Me?
Have you fallen in love with the Dandie Dinmont Terrier, or do you already have some of these loyal little dogs at home? If you can find a reputable breeder that works to minimise their Dandie's health issues, these dogs can make a great family pet. Just make sure to train and socialize them from a young age!
What's your favorite thing about the Dandie Dinmont Terrier? Let us know in the comments box down below!
Find Out More
Terrier breeds
'Official Standard of the Dandie Dinmont Terrier', AKC (1991)
Evans, K. & Adams, V. 'Proportion of Litters of Purebred Dogs Born by Caesarean Section', Journal of Small Animal Practice (2010)
Oliver, J. (et al), 'Prevalence of Pectinate Ligament Dysplasia and Associations with Age, Sex, and Intraocular Pressue in the Basset Hound, Flatcoated Retriever and Dandie Dinmont Terrier', Canine Genetics and Epidemiology (2016)
Howell, T. (et al), 'Puppy Parties and Beyond: The Role of Early Age Socialization Practices on Adult Dog Behavior', Veterinary Medicine: Research and Reports (2015)
Priester, W. 'Canine Intervertebral Disc Disease – Occurrence by Age, Breed, and Sex Among 8,117 Cases', Theriogenology (1976)
Rossi, G. (et al), 'Intervertebral Disc Disease and Aortic Thromboembolism are the Most Common Causes of Acute Paralysis in Dogs and Cats Presenting to an Emergency Clinic', Vet Record (2020)
The Canine Health Information Center