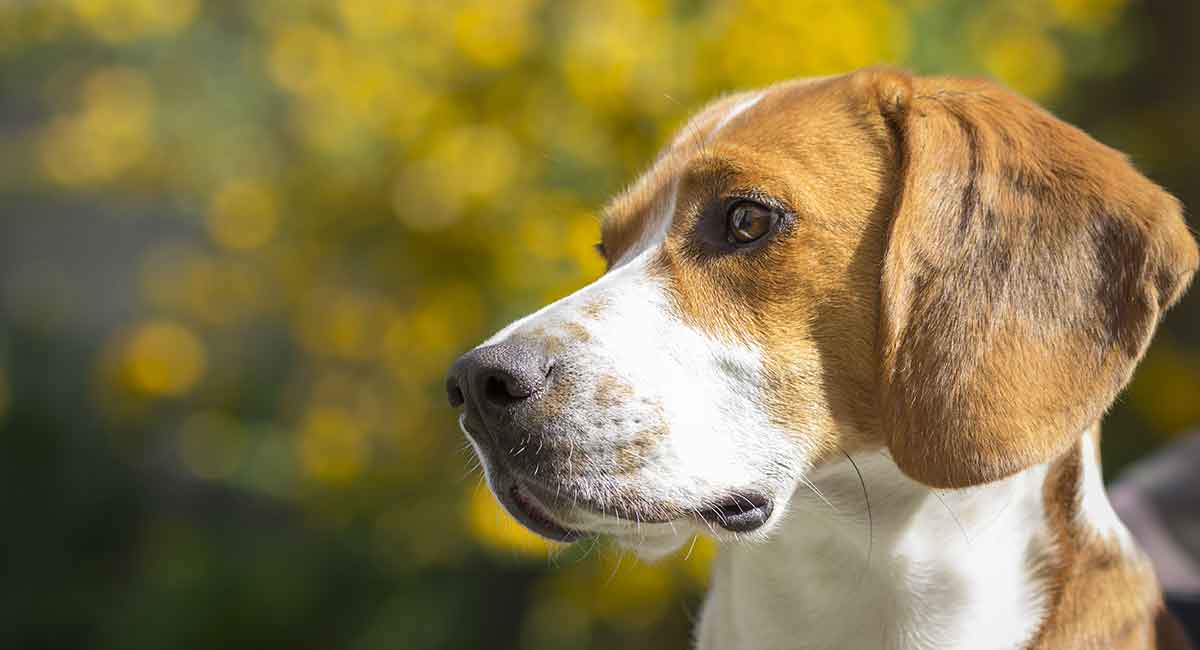 Has your eye been turned by the smooth good looks of an American Foxhound?
Perhaps you've met one and been charmed by their jovial personality.
If you're thinking about buying or adopting your own American Foxhound, we've got everything you need to know about their personality, health, and exercise and training needs.
Let's get better acquainted!
Where Does the American Foxhound Come From?
In 1650, Robert Brooke sailed from England to Crown Colony in North America with his pack of hunting dogs, which were the root of several strains of American Hounds.
This dog bloodline remained in the Brooke family for nearly three hundred years.
The American Foxhound originated in the states of Maryland and Virginia.
In the 1830s, hounds imported from Ireland were crossbred with the American Foxhound to increase their speed and stamina.
They were specifically developed for the sport of hunting American grey and red foxes.
Today there are many different types of the American Foxhound.
These include Walker, Calhoun, Goodman, Trigg, July, and Penn-Marydel.
These types look quite different but are still members of the same breed.
Fun Facts about the American Foxhound
George Washington received an American Foxhound from Lord Fairfax in the mid-1700s.
These dogs were initially used to detect American Indians.
If the American Foxhound picks up a scent, it will follow the scent and ignore any command you give them.
These dogs do not make good watchdogs.
The American Foxhound has a better sense of smell, agility, and stamina when compared with the English and French Foxhound.
American Foxhound Appearance
The American Foxhound has a standard height around twenty-one to twenty-five inches, weighing anywhere between fifty-five and seventy-one pounds.

They tend to have very straight and long legs, narrow chest, long muzzle, and a large domed skull.
American Foxhounds have a herd coat at a medium length of any color, though the combination of black, white, and tan is prevalent.
These dogs do tend to shed but brushing them regularly will decrease the shedding.
American Foxhound Temperament
This breed has a stubborn and independent nature that is common among hounds.
This is because they have been bred to hunt with little training from humans to listen to standard commands. When outside they can hunt for hours without any break.
American Foxhounds do not like to be alone for long periods of time and cannot live in an apartment due to seemingly endless energy.
Also, this breed doesn't make a good guard dog.
The American Foxhound is not aggressive and is typically friendly towards everyone, even children and other dogs. However, these dogs usually do not get along well with cats.
Though these dogs do not chase other animals, they can be difficult to call back if they get on a scent. They were bred to hunt foxes, so this could cause them to possibly chase a scent.
Training Your American Foxhound
Obedience training is essential for this breed.
They are extremely independent and have a natural tendency to follow scents.
This will cause them to ignore any commands you give them.
Training often requires patience and skill because of the breed's stubbornness.
This particular breed can have severe separation anxiety and should not be left alone for long periods of time.
Like any other pet, they will need to be house trained, and one of the most successful ways to do that is crate training them.
We recommend getting them a crate that they can sit, stand, and turn around in.
Also, you can take them on daily walks to give them exercise and keep accidents from happening inside your home.
The American Foxhound is very energetic, so making them play outside is a must.
They tend to need significant mental stimulation and can have endless energy. Consider this before you purchase one of these companions.
American Foxhound Health
This breed is generally not a breed that carries genetic disorders. Although they can quickly become overweight if they get fed too much.
One minor health risk with the American Foxhound is thrombocytopathy or platelet disease.
This is due to the reduced function of blood platelets and can cause minor bleeding and bumps or cuts.
You can have your dog tested early on, so you can catch the condition sooner rather than later.
Dysplasia in Foxhounds is mostly unknown but is starting to appear occasionally, along with minor eye issues.
The American Foxhound lives ten to twelve years on average.
Also, according to experts, the Foxhound is very energetic and will need plenty of exercise, for example, long walks or a game of fetch.
The American Foxhound will shed but making sure to brush them once or twice per week will reduce most of the shedding.
When the American Foxhound is eight to twelve weeks old, they need to be fed four meals per day, three to six months old will need three meals per day, and six months to one year old or older will only need two meals per day.
Do American Foxhounds Make Good Family Dogs?
American Foxhounds generally do not make excellent family pets due to them being bred specially for hunting.
They are too active and hunting oriented to settle for dozing at the family hearth. Many people are happier a dog that is less energetic and not bred to chase prey.
However, if you live a very active, outdoors lifestyle, and you've got the time to provide mental as well as physical exertion for your dog, then a Foxhound might fit well with your household.
Rescuing an American Foxhound
You will need to consider a few things before you go out and rescue an American Foxhound.
Like most animals that are rescues, they will need special attention because of the new environment they are being brought into.
This can cause anxiety and socialization issues. To better help your dog adapt, you will need to give them time to settle down.
Also look out for any skin issues and fleas.
The last thing you will want to do is spread fleas into your home, so you can give them a flea bath that should take care of any unwanted fleas that may be on your dog if the shelter hasn't done so already.
Lastly, having some toys for them to play fetch with can help keep them active and hopefully reduce any excess energy they may have.
Finding an American Foxhound puppy
Finding an American Foxhound isn't too difficult.
The cost of getting an American Foxhound will vary from location, litter size, reputation, and lineage of the puppy.
We recommend getting a dog from a reputable seller that doesn't mistreat their pets and gives the proper care dogs deserve.
We do not recommend getting a dog from a puppy mill or pet store.
Puppy mills tend to have unethical practices and may not take the proper action in taking care of these dogs.
Avoid pet stores; they may have adopted from a puppy mill.
Raising An American Foxhound Puppy
When raising an American Foxhound, you will need to take time in showing them what you want.
Reward and praise them when they listen to you or when you are pleased with them.
Using treats is an effective way to teach a dog to listen.
These animals are stubborn in their ways and require a lot of attention.
You will need to let them play for long periods of time to ensure they get enough exercise and use up any excessive energy.
Like all hounds they like to follow their nose, so you will want to start training them the day you bring them home.
American Foxhound Products and Accessories
We want to keep you and your pet happy, so we have a few suggestions listed below.
Since the American Foxhound needs a lot of attention and has seemingly endless energy you will need to have a toy they can play fetch with.
These dogs usually tend to follow their noses, so you always need to keep them on a leash.
We recommend a dog harness for maximum comfort and control.
The American Foxhound does shed a little. You may need to get a brush to minimize the shedding and any mess this can cause inside your home.
Pros and Cons of Getting An American Foxhound
Owning an American Foxhound comes with various pros and cons. These dogs are friendly towards other animals and children.
They also live happily in packs and for the most part are loyal, sweet, and docile.
If these dogs are raised around kids they can make good family companion dogs.
They make excellent hunters due to a great sense of smell and being bred for hunting foxes in the past.
The cons of this breed include their independent temperament; they require a large yard with a fence to expend some of their energy.
American Foxhounds have a deafening howl that can travel for miles. This would not be ideal for apartment owners.
American Foxhounds are aggressive to non-canine pets, meaning they would likely not get along with cats.
These dogs require a patient owner who understands their stubborn and independent nature.
Similar Breeds
This is a beautiful dog that has very few health issues.
However, they are full of energy and require extensive exercise.
They are independent and stubborn at times, so you would need to be patient with them.
If you want a dog that doesn't require extensive time and attention, then we recommend looking into a dog that needs less maintenance, for example, the Beagle.
If you enjoy hunting with a companion or have plenty of time to play outside with your dog, then you cannot go wrong with the American Foxhound.
Similar breeds to the American Foxhound include the English Foxhound and the Welsh Hound.
American Foxhound Rescues
The ASPCA operates a nationwide dog rescue service, and sometimes has American Foxhound available to adopt.
Do you know a local or national shelter specializing in American Foxhounds?
Please tell us about them the comments box!
Is An American Foxhound Right For Me?
The American Foxhound is a smooth, long hunter well known for its incredible speed, stamina, and work ethic.
These dogs are easily distinguished from other hounds because of their long bony legs. They have large, kind eyes and a docile personality.
These dogs have a sweet personality and can get along with children and other dogs.
However, they do not get along well with other non-canine pets.
Also, they howl instead of barking, making it near impossible to keep one in an apartment.
This is a very active breed with very high energy levels that requires a lot of exercise. They do best in habitats where they have room to run and play.
Because of their strong instinct to hunt, obedience training will be essential.
Naturally, they are independent and will follow a scent for miles.
If they pick up a scent, commands will be ignored.
Overall this is a healthy, loving, independent animal that enjoys activities like playing catch. Being patient with the American Foxhound is ideal to be a good owner of one of these pets.
If you have a big yard, open schedule, and don't mind howling, then you will love the American Foxhound.
References and Further Reading