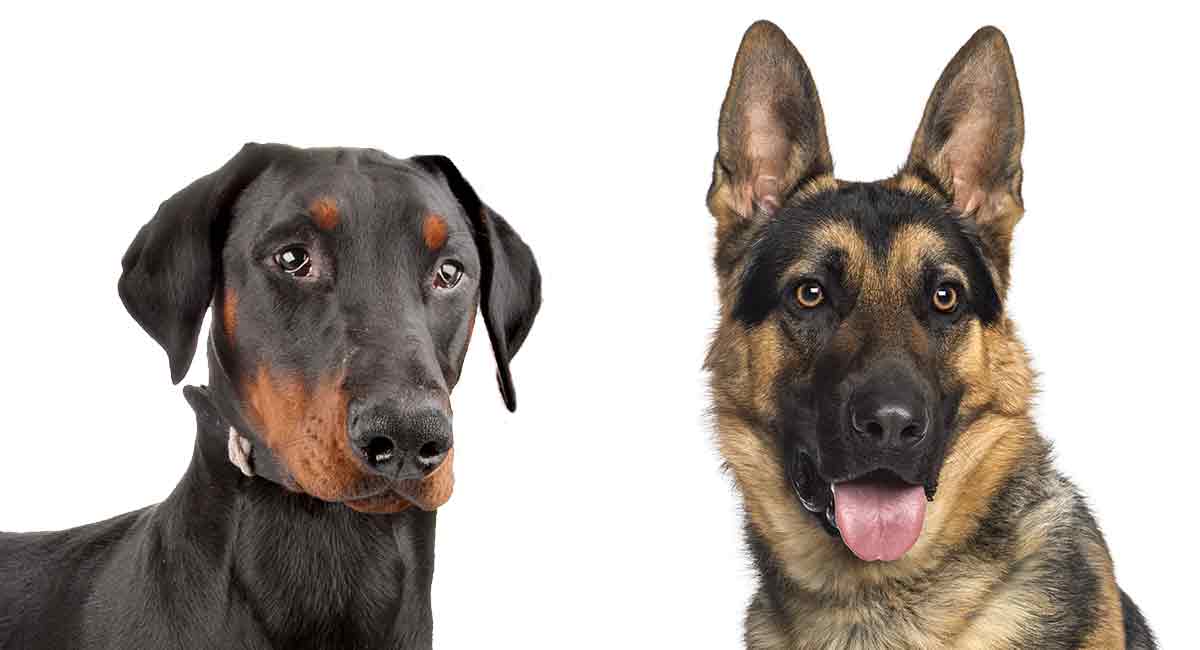 Can any choice be more challenging than choosing between a Doberman vs German Shepherd for your next pet dog?
You have a big dilemma on your hands and we want to help you figure it out!
Your choice of canine companion represents an exciting new shared journey as well as a long-term commitment of your time, energy, money and most of all, heart!
In this focused article, we give you the German Shepherd vs Doberman facts you need to decide which one of these wonderful dog breeds – the Doberman Pinscher or the German Shepherd – will be the lucky winner!
Doberman vs German Shepherd – which pet to choose!
Both the Doberman and the German Shepherd are dog breeds bred to work and serve people.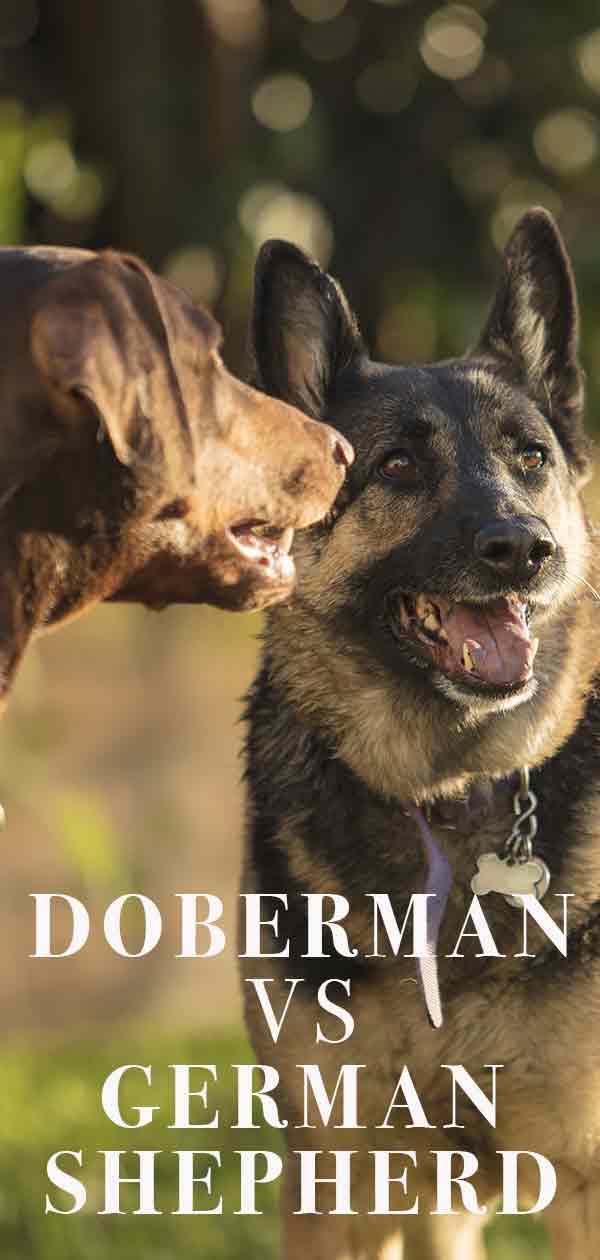 And both of these dogs originally hail from German and are products of careful, focused breeding efforts over many decades.
So both dog breeds share some important similarities as well as the differences you will learn about here.
What is the difference between Doberman and German Shepherd dogs?
The Doberman Pinscher was born in 1890 and named after this breed's founder, Karl Friedrich Louis Dobermann.
The goal was to create a police and soldier dog that would be strong, fearless and intimidating.
The German Shepherd dog breed was born in 1889 in Germany by Captain Max von Stephanitz.
His goal was to create a strong and sturdy working dog to assist people with a variety of jobs, including military and police work.
Doberman vs German Shepherd size
When comparing the Doberman vs German Shepherd to determine which is stronger, it will be a close contest indeed!
The Doberman weighs 60 to 100 pounds and stands 24 to 28 inches tall in adulthood.
Male dogs tend to be taller and heavier than females.
The German Shepherd dog weighs 50 to 90 pounds and stands 22 to 26 inches tall in adulthood.
Again, males of the breed tend to be taller and stronger than females.
Doberman vs German Shepherd shedding and grooming
The Doberman's short coat is typically easy to maintain.
This dog breed won't shed much and usually looks smooth and shiny with just a bit of daily brushing.
In contrast, the German Shepherd dog's medium, thick, double-layer coat can shed quite a bit.
This is especially during the twice-annual seasonal "coat blows" when the entire coat replenishes itself.
You will need to commit to more regular brushing and grooming during these times.
Doberman vs German Shepherd temperament
Both the Doberman and the GSD are popular pet dogs!
The Doberman is currently the 15th most popular pet dog registered with the American Kennel Club (out of 194 purebred breeds) and the German Shepherd is the 2nd most popular pet dog.
Overall, both dog breeds have a loving, calm and confident temperament.
Both breeds are very smart and eager to please "their" people.
Doberman vs German Shepherd guarding tendencies
If you had to choose between a Doberman vs German Shepherd for protection, you truly can't go wrong with either dog breed!
To watch a Doberman vs German Shepherd race to protect and defend their people and their territory from a threat is a sight you won't soon forget!
In canine training lingo, this trait is called the "guarding tendency."
Both the Doberman and the GSD score very high – off the charts, really – in this particular trait. It is truly hard to say which dog has more of the trait than the other.
However, choosing a pet dog with high guarding tendencies also means you will have a special and ongoing responsibility and obligation to train your dog to use this trait wisely.
Doberman vs German Shepherd training
Both of these dog breeds were originally created to work and serve people with jobs like police, military, K-9, guarding and protection.
As well, both dog breeds are quite strong, which means that early and ongoing socialization and training is key to bringing up a pup prepared to live productively in a family and community.
Be aware that some home insurance companies may be reluctant to issue a policy to a homeowner living with a GSD or Doberman.
Doberman vs German Shepherd intelligence
The Doberman and the GSD are both very smart, independent and confident dogs.
Luckily this means they learn good behavior quickly with consistent positive reinforcement!
It also means they can get bored and destructive if they don't have enough opportunities to exercise and "work".
So before you bring home either breed, make sure you have the time to keep these workaholic pups occupied.
Health Problems: Doberman vs German Shepherd
Nothing is more heart-breaking than making a commitment to a new puppy, only to discover that puppy has major genetic (and perhaps life-limiting) health issues.
This is the main reason we recommend doing your research in advance before choosing a new puppy to love and care for!
One of the best resources for finding out about current known breed-specific health concerns is the CHIC health database. CHIC stands for Canine Health Information Center.
You can always consult the CHIC database to find out about the latest recommended health pre-screenings and tests for any listed dog breed.
Read on to learn what tests are recommended for Doberman Pinscher and German Shepherd parent dogs and puppies.
Doberman health problems and testing
The CHIC database currently recommends that Doberman Pinscher parent dogs be pre-screened for:
hip dysplasia
cardiac issues
autoimmune thyroiditis
von Willebrand's disease
eye issues
and working aptitude.
Your puppy's breeder should be able to show proof that parent dogs have been tested and cleared for all currently known major hereditary health concerns.
If you are adopting a rescued Doberman, you may want to have your own veterinarian test for these issues before making that commitment.
German Shepherd health problems and testing
The CHIC database currently recommends that German Shepherd parent dogs be pre-screened for:
hip and elbow dysplasia
and temperament.
Optional recommended tests include: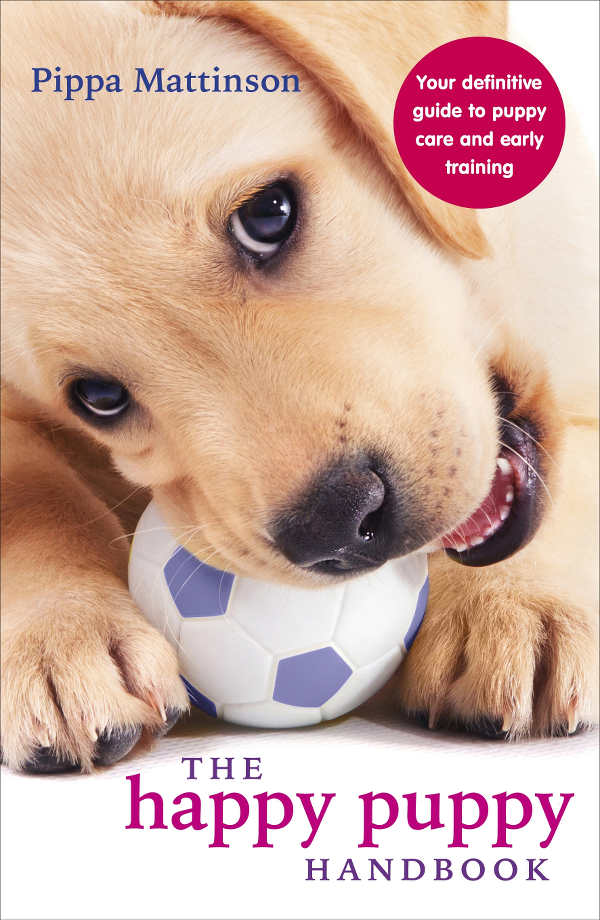 cardiac issues
eye issues
autoimmune thyroiditis
and degenerative myelopathy.
Again, be sure to obtain proof of testing before working with a breeder and consider having your own vet test any rescue pup you are interested in adopting.
Doberman vs German Shepherd which is better for me?
We hope this article has helped you select the right pet dog for you!
These smart, loyal, and devoted dogs have so many admirable qualities in common, that choosing between them is an unenviable task indeed!
Ultimately your choice might come down to looks, or practical considerations about grooming.
Or you might visit litters of both breeds, and make a final choice based on which breeder most impressed you with their commitment to the health of their pups.
Either way, we'd love to hear which dog you chose, and what finally tipped you in their favor! Or if you picked another breed of guard dog like the Presa Canario, Cane Corso or Keeshond what made you settle on them?
Let us know in the comments below.
Related Articles
Resources
Brown, M., MD, 2018, History The Doberman Pinscher Club of America
Gerganoff, C., 2018, Breed History German Shepherd Dog Club of America
Teffner, D., et al,2018, Common Health Problems of Dobes Hand Me Down Dobes Rescue
Frazier, J., 2017, 5 Most Common German Shepherd Health Problems Continental Kennel Club
Vachs, A., 2003, Dogs and Personal Security: An Introductory Guide North Carolina State University.