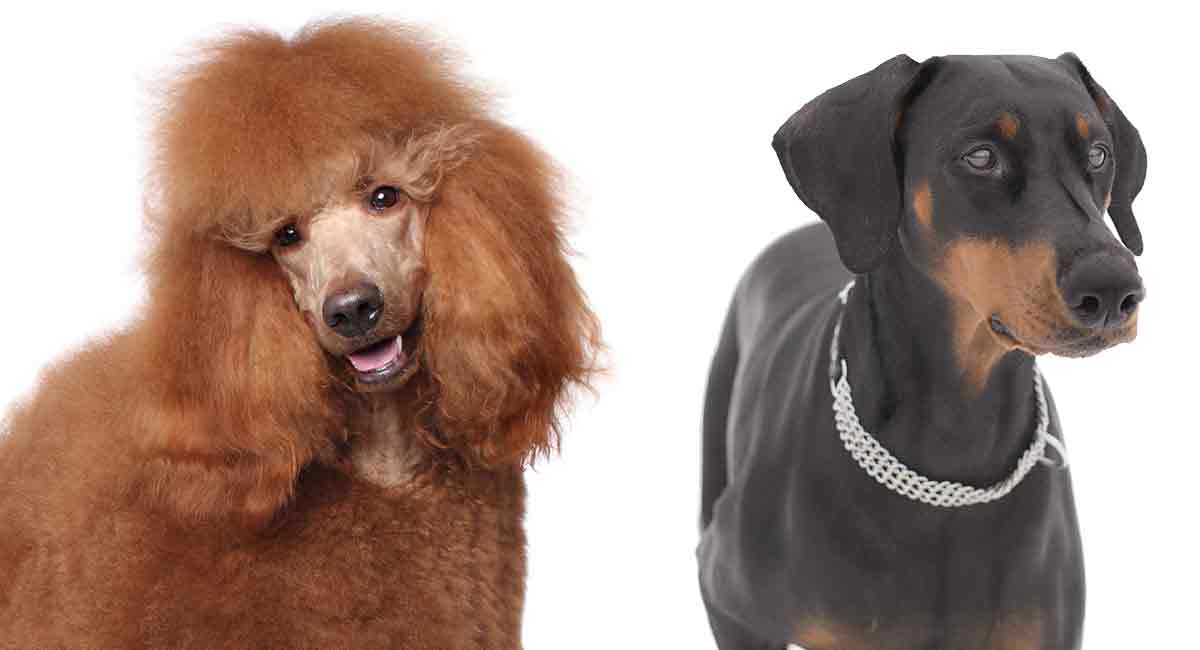 Are you inerested in a Doberman Poodle mix dog?
This mix combines the loyal, robust Doberman Pinscher and the whip-smart, people pleasing Standard Poodle.
These are two good-looking, hardworking dogs with engaging personalities in their own right.
So is there anything gained by crossing the two?
Let's find out more about the Doberman Poodle Mix.
Where Does the Doberman Poodle Mix Come From?
Before we talk about the history of the Doberman Poodle mix, we must acknowledge that any discussion around a mixed breed dog is likely to invite some controversy.
Advocates of mixed breeds point out that the inbreeding of purebred dogs often results in dogs with serious health problems.
They point to scientific studies which indicate that dogs with a genetically diverse background are healthier than purebreds.
Advocates of mixed breed dogs state that a truly responsible breeder will encourage traits that make the dog healthier and happier, even if that means straying from the traditional breed standard.
What about the other side?
On the other hand, advocates of purebred dogs claim purebred dog breeders encourage the betterment of the breed.
Don't miss our guide to the lovely Chocolate Labradoodle
They claim that by ensuring the characteristics and abilities inherent in purebreds are protected, these breeds are preserved for generations to come.
It is worth bearing in mind that all the breeds we see today started as a mix at some point in history, which is somewhat ironic considering how heated the debate can get.
Controversy aside, what about the Doberman Poodle mix?
Exactly when this mix first appeared is not clear.
However, it is thought that this mix had its beginnings in the United States.
The histories of Poodles and Pinschers are better documented though.
And we can look at these for clues about what their hybrid puppies will be like.
Pinschers Past
The Doberman Pinscher is actually a relatively new breed of dog. It was first developed in the mid-1800s in Germany.
The man who developed the breed mixed a variety of dogs together in the hopes of creating a strong and loyal companion to protect him in his work as a tax collector.
Soon these dogs gained a reputation as intelligent working dogs. They were first registered with the American Kennel Club in 1922.
Poodle Histories
The Poodle has a long history. It is first mentioned in Germany, where it was used on duck hunts as a retriever.
Later in the Poodle's history it began to be associated with nobility, particularly in France.
Their showy looks, intelligence and trainability made them entertaining companions.
Over the years, smaller Poodles were bred to bring about the Miniature and Toy Poodle varieties.
They also found another role as truffle hunters, thanks to their keen sense of smell.
Fun Facts About the Doberman Poodle Mix
As is the case with many cross breeds, the Doberman Poodle mix has been given a funny name – it is most commonly called the "Doodleman Pinscher."
Both the Doberman and Poodle parents have some quirky details in their past.
In the 1970s a film was released called The Doberman Gang. This movie represents everything corny and cringeworthy about the 70s. Add to that a wholly unbelievable plot, a gang of bank robbing Dobermans, and you have a spectacularly bad film.
Sadly, for Dobermans, it probably didn't do much for their reputation, as most screen grabs are of a fierce looking dog, teeth bared. But it did perhaps highlight their intelligence.
Poodles, on the other hand, are often assumed to be lap dogs, or little pieces of fluff to be carted around in the handbags of celebrities.
On the contrary, as we have learned, the original Poodle (which was the size of today's standard poodle) was actually a hunting dog, bred to retrieve waterfowl.
Doberman Poodle Mix Appearance
Both these dogs are tall, lean and athletic. The Doberman is larger, but they are fairly similar to one another in build.
A Doberman will stand around 24 – 28 inches at the shoulder. It weighs from 60 to 100 pounds depending on the gender of the dog.
The Standard Poodle stands anywhere above 15 inches at the shoulder. It will weigh from 40 to 70 pounds according to build and gender.
Both breeds have long, slender muzzles and a deep chest. The most obvious way in which these breeds differ is the coat.
The Poodle has a distinctive curly coat, while the Doberman's is sleek and short.
Poodles come in a variety of solid colors such as greys, browns and creams.
The Doberman comes in black, red blue and fawn with the distinctive rust colored patches above the eyes, on the muzzle, throat, chest, lower legs and tail.
A mix of these two could lead to a dog with any combination of these coat colors and textures.
Doberman Poodle Mix Temperament
As a mixed breed, the personality of the Doodleman Pinscher will fall somewhere between that of a Poodle and a Doberman. As such, an examination of the traits of both breeds is worthwhile.
One characteristic that both breeds have in spades is intelligence.
Both breeds are smart and very trainable. Training these dogs in the right way is vital if you hope to have a happy and well-mannered dog.
Doberman Traits
Dobermans are known to be loyal and fearless. Their intelligence also means they don't miss a trick.
Historically, they've had a reputation for being aggressive thanks to their bravery, strength and loyalty.
Their use as guard dogs and police dogs has also backed up the assumption that they are inherently aggressive.
Their temperament has been refined a lot since the days they were bred primarily as guard dogs. There has been an emphasis on breeding out traits such as aggression and shyness.
Poodle Personality
The Poodle is active, smart and dignified.
They are loved for their cheerful, even temperament, which has made them a popular companion dog.
This perhaps makes them a perfect counterbalance to the more serious-natured Doberman.
Whatever the case, the combination of these two breeds is sure to produce a dog that is very intelligent and will thrive when given plenty of attention and time to bond with their family.
Training Your Doberman Poodle Mix
A Doodleman Pinscher will need lots of exercise, as both parents are very active breeds.
While Poodles will love fetching thanks to their history as retrieving dogs, the Doberman just needs to run.
Whether it be on a hike, a jog or canine sports, any kind of activity will keep a Doberman happy, as long as there is plenty of it.
An emphasis on good socialization is important when training your Doodleman Pinscher, especially if the dog has taken after the Doberman parent in temperament.
Thankfully, both these breeds are eager to please their owners. If training is done properly, it will be hugely rewarding for both you and your dog.
If you would like to learn more about how to train your dog, then please check out these articles which will answer most questions you have.
Doberman Poodle Mix Health
Both the Doberman and the Poodle are fairly sound breeds, and both have lifespans over 10 years, with the Poodle sometimes living up to 18 years of age.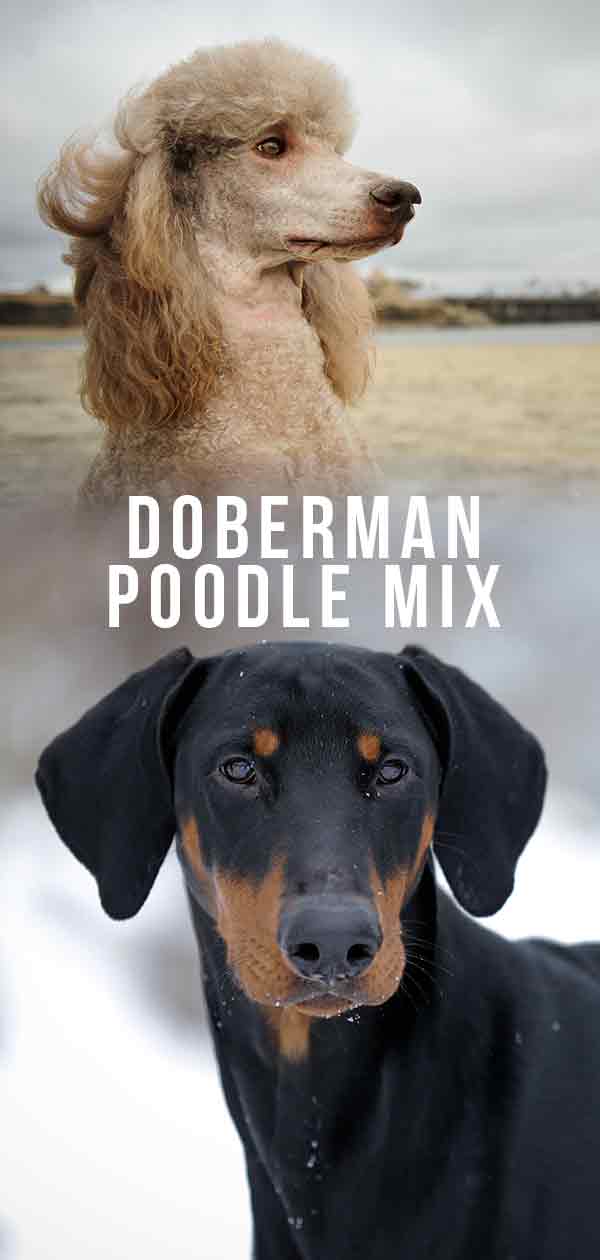 Both breeds can be susceptible to bloat, which is a life-threatening emergency. Be aware of the signs of bloat so you can take your dog to the vet immediately.
Both breeds can suffer hip dysplasia and von Willebrand's disease, which is a clotting disorder.
Other than these conditions which these breeds share, it is a good idea to check that neither parent suffered with an enlarged heart, eye diseases, albinism, hypothyroidism, epilepsy or sebaceous adenitis.
If your Doodleman has inherited the longer coat from their Poodle parent, they will need daily brushing to prevent their coat from matting.
Do Doberman Poodle Mixes Make Good Family Dogs?
A Doodleman Pinscher can make a great family dog, as long as you have the time to spend training and exercising them.
Ideally, these dogs would be good for people who have some experience owning and training dogs.
They are sound dogs with plenty of energy and intelligence but cannot be classed as low-maintenance.
Rescuing a Doberman Poodle Mix
You may not find a rescue group dedicated specifically to the Doodleman Pinscher cross.
However, if you are looking to rescue one of these dogs, check local rescue groups dedicated to the parent breeds.
Sometimes these groups will help find homes for crosses as well as purebreds.
Otherwise, check general rescue groups and ask about this crossbreed.
Make sure you meet any dog before you take them home, so you know you will make a good match.
Finding a Doberman Poodle Mix Puppy
When looking for a mixed breed pup, you may find them in a pet shop.
Sadly, those cute puppies you see in the pet shop window often come from puppy mills.
Similarly, sellers who have mixed breed dogs which are suspiciously cheap, or who have loads of puppies constantly available, may be running a puppy mill.
When looking for a puppy, please steer clear of puppy farms.
The dogs in these establishments are housed in appalling conditions and often suffer untreated injuries and health problems.
Not only are they often neglected physically, but these dogs are deprived of the chance to socialize and play.
If you would like to know how to avoid getting a puppy from a puppy mill, check out this article.
It has plenty of resources to help you find a puppy that has been raised in conditions that are clean and healthy.
Raising A Doberman Poodle Mix Puppy
If you are ready to introduce a Doodleman Pinscher into your home, then you will find these resources helpful when it comes to raising and training your new puppy.
Pros and Cons of Getting a Doberman Poodle Mix
Cons:
Can be destructive if not trained appropriately and exercised adequately.
Larger size, and will need a large fenced yard.
Will most likely need daily brushing.
Pros:
Trainable and intelligent.
Loyal to their family.
Great for people who would like a jogging companion.
Similar Doberman Poodle Mixes and Breeds
If you like the sound of the Doodleman Pinscher but want to check out some dogs that have similar characteristics, you might like to consider:
Doberman Poodle Mix Rescues
If you have read and considered carefully the information in this article and think the Doodleman Pinscher right dog for you, then consider rescuing one.
Here is a list of rescue organizations dedicated to the parent breeds. At this time there are no rescue organizations we know of that are solely dedicated to the mix itself.
If you know of another rescue organization with particular ties to the Doberman, the Poodle, or the Doodleman Pinscher, then feel free to add to the list in the comments section below.
Is A Doberman Poodle Mix Right for Me?
If you are won over by the intelligence, loyalty and athleticism of these dogs, just make sure you have the time and space to give these dogs the lifestyle they need to be happy and healthy.
Doodleman Pinschers are ideally suited to experienced dog owners who know how to properly train a dog, and who can exercise an active dog.
For those who are up to it, these dogs can make a loyal, intelligent and fun-loving companions.
Related Articles
References and Resources
Beuchat, C "The Myth of Hybrid Vigor in Dogs is a Myth" Institute of Canine Biology
Lauten, S.D., "Nutritional Risks to Large-Breed Dogs: From Weaning to the Geriatric Years" Veterinary Clinics, Small Animal Practice, 2006
Dodds, W.J., "Von Willebrand's Disease in Dogs" Modern Veterinary Practice, 1984
RSPCA
American Kennel Club
The Kennel Club (UK)
The Doberman Pinscher Club of America
The International Designer Canine Registry