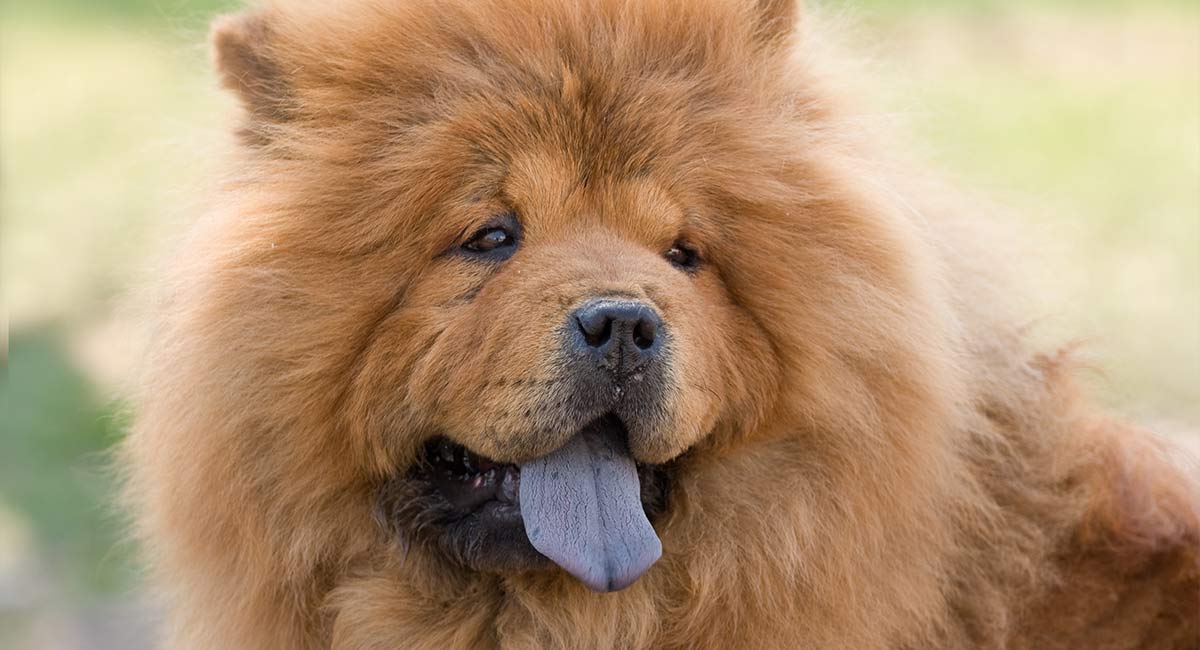 The Chow Chow is a sturdy, powerful dog with a high set tail and a fluffy coat. Weighing between 44 and 70 lbs, they may grow up to 21 inches tall. This breed is independent, dignified, and intelligent. It is also one of the oldest breeds in the world. But before you get ready to pick out puppy names, you should know that  Early socialization and positive reinforcement training are vital for these dogs. This is because of their working history, as we'll see later.
What's In This Guide
Chow FAQs
Our readers' most popular and frequently asked questions about the Chow.
Breed At A Glance
Popularity: 74 of 193
Purpose: Originally, sporting and hunting. Now, house dogs, watch dogs, companion dogs
Weight 44-70 lbs
Temperament stubborn, intelligent, dignified
The Chow Chow is a beautiful breed, but one that causes some controversy too.
Will this glorious, sturdy, powerful guard dog also make a great family pet? And do you have what it takes to make the most of owning your very own little lion?
Chow Chow Breed Review: Contents
History and original purpose
Chows are one of the oldest dog breeds in the world—having been around for over two thousand years! The breed dates back to the Han Dynasty which is around 150-206 BC.
It is a member of the Chinese dog breed group. They were originally used as a sporting and hunting dog and Chinese aristocrats used them to hunt game birds. In fact, one Chinese emperor was said to have had a kennel of 5,000!
Since then, Chows have taken on many roles. These include herding, carting, guarding and hauling. Or simply being pets.
Fun Facts About Chows
The history of this breed alone is packed with intriguing fun facts. They were taken abroad from 1800. Before then, China had a "closed door" policy.
Then in the 1820s, Chows showed up at the London Zoo where they were labeled as the "Wild Dogs of China."
Chows first appeared in the US in 1890 and were finally let into the AKC in 1903. By the 1920s, the British Queen Victoria had one.
The breed first appeared in shows at Crufts in 1925 and they were recognized by the United Kennel Club (UKC) in 1934.
One extra fun fact? They are known to have a serious foot fetish. They'll happily snuggle by your feet for ages in the winter!
Famous Owners
A few celebrities have owned and treasured a Chow in their lifetime. Here are some of the distinguished owners of this dignified breed:
Sigmund Freud, famed neurologist and the founder of psychoanalysis
Janet Jackson, famous singer and dancer
Martha Stewart, businesswoman and television personality
Elvis Presley, famous singer
John Calvin Coolidge
Name Origin
Something else that is interesting to note is the origin of the name "Chow Chow." Still, the origin of the name is up for debate.
One belief is that long ago in China, Chows were a food source! As a result, they were named the "edible dog." It turns out that the Cantonese word for edible is Chow.
However, a more common explanation comes from the 18th-century British Empire. Ship captains used the term "chow chow." It was pidgin English for various items in a ship's cargo.
So, when these dogs became part of the cargo, they were classed as "chow chow." The name stuck.
Chow Chow Appearance
This breed is reported to be related to Spitz dogs of the Nordic type. They are also said to be similar to the mastiff—sturdy, squarely built powerful dogs.
These dogs are compact yet strong. They have a high-set tail curled that is carried close to their back and are known for their shorter, stilted gait. This gait is due to their unusually straight hind legs.
Unique Features
Chows have a distinct appearance—possibly as a combination of their many unique features. First, they have a large head with a broad, flat skull and a short, deep muzzle.
Another striking feature is their tongue. When this breed is young, its tongue is pink like any other dog. However, as they get older, their tongues turn a unique blue or black.
Regarding their face, many people consider their natural expression to be scowling.
Overall, they are a medium sized dog. A fully-grown male stands 18-21 inches tall and weighs 55-70 lbs. The typical weight for a female is 44-60 lbs. They stand 17-20 inches tall.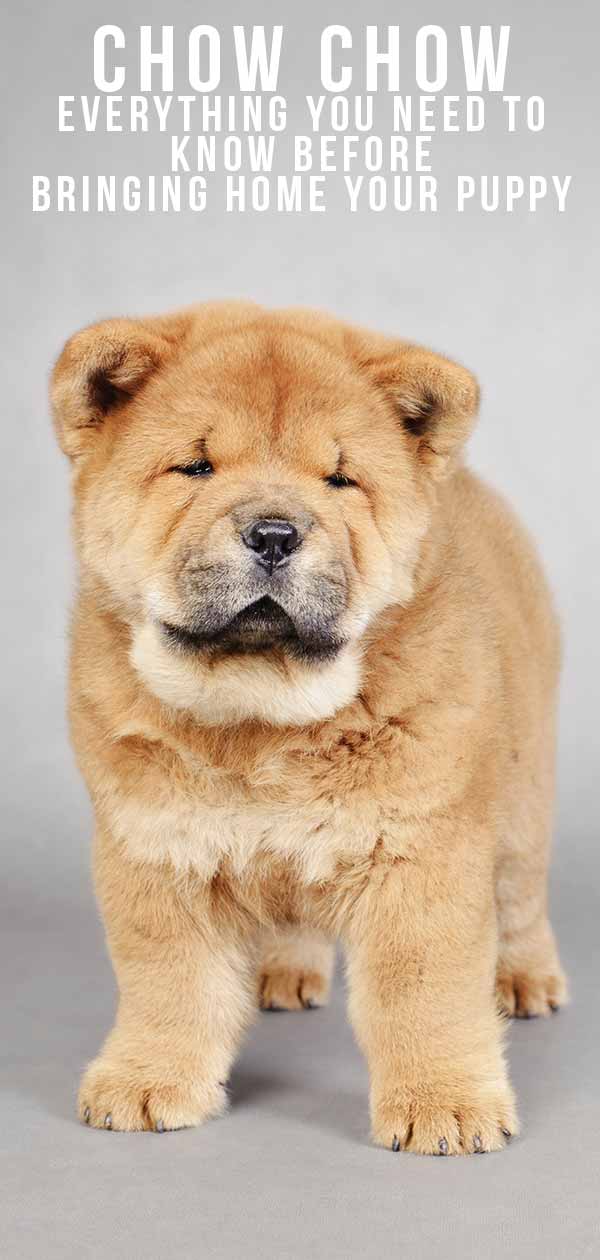 Coloring
These dogs can have any solid color. They may also have lighter patches. These will usually be found on their ruff, tail, and the back of their upper hind legs.
Common colors are:
Red
Cinnamon
Black
Blue
Cream
Chow Chow Temperament
Chows are dignified, serious, and aloof dogs. These dogs are keenly intelligent and have an independent spirit.
They are also known to be reserved and suspicious around strangers. With family, however, these dogs are very loyal.
This is a natural watchdog. So, it is essential that you socialize your puppy from the day they arrive home.
Training and Exercise
Due to their history as guard dogs, these dogs need to be seriously trained. You will also need to meet both parents. And ensure that your aristocrat dog is comfortable around strangers.
With puppy training classes, patience, and positive reinforcement, your pup can become a mannerly dog. It is best to avoid harsh training as Chows may struggle to trust owners who train harshly. Videos like the one below are helpful to start.
Instead, start young and don't rush these serious dogs. They can indeed be very stubborn when it comes to training.
If you're nervous about potty training, Chows may be perfect for you! Same if you're a bit of a neat freak. These doggies are quick to potty train and take cleanliness seriously. You won't have to endure too much of a doggy smell from them.
Exercise
This is an alert dog which requires a moderate level of exercise. This means that a steady paced walk is sufficient—Chows are not built to be runners.
Also, be careful to avoid any strenuous exercise or rough play. Moreso, avoid walking your pup when it's too hot or humid. With all that dense fur, these dogs are prone to overheating.
Chows are also not huge fans of swimming, thanks to their coat. When wet, it can weigh them down a ton. So, they won't be winning any swimming matches any time. It also pays to keep a close eye on them if you're ever near a body of water.
Breed Health
Due to its deep-set eyes, this breed has limited peripheral vision. This means it is best approached from the front. In addition, they may suffer from eye issues.
Other known health issues include:
Hip dysplasia
Allergies
Heart disease
Hip and Elbow Dysplasia
Hip and elbow dysplasia occurs when the joint socket is abnormally formed. What it means is that the joint does not fit properly.
This hereditary disorder can cause pain and even lameness in dogs. So, breeders should have both parents' elbows and hips tested.
Hypothyroidism
The most common thyroid issue with this breed is hypothyroidism. Some common symptoms of this are obesity, hair loss, and skin problems.
Hypothyroidism can be diagnosed with a blood test.
Patellar Luxation
Patellar luxation is when the kneecap pops out of place.
Dogs can be diagnosed as young as eight weeks of age. So, it's smart to make sure any puppy you're considering has been tested.
Brachycephaly
Unfortunately, Chows are also classed as brachycephalic dogs.
Some research studies and vets disagree, classing the breed as mesocephalic dogs.
"Mesocephalic" refers to dogs with a head of medium proportions. Regardless, the face of a Chow is still more flattened than their wolf ancestors.
While not as extreme as some other breeds, be aware that they are still likely to have compromised breathing and overall health.
Other Health Issues
Chows have folds of skin on their face. These are caused by shortened muzzles. This extra skin, however, can easily hide trapped dirt and bacteria.
So, if not properly cleaned, they can lead to sores and infections.
Dogs with brachycephaly are also likely to struggle with overheating. As mentioned before, this is something the this breed may have to deal with.
When dogs overheat, they can become very uncomfortable and ill, and if not cooled fast enough they can even die.
Another common problem with flat-faced dogs is teeth overcrowding. This can lead to dental decay.
It makes sense then that due to the struggle to breathe, these dogs are likely to breathe noisily and snore.
Treatment
Insurance for flat faced dogs is expensive; some conditions are completely excluded from cover.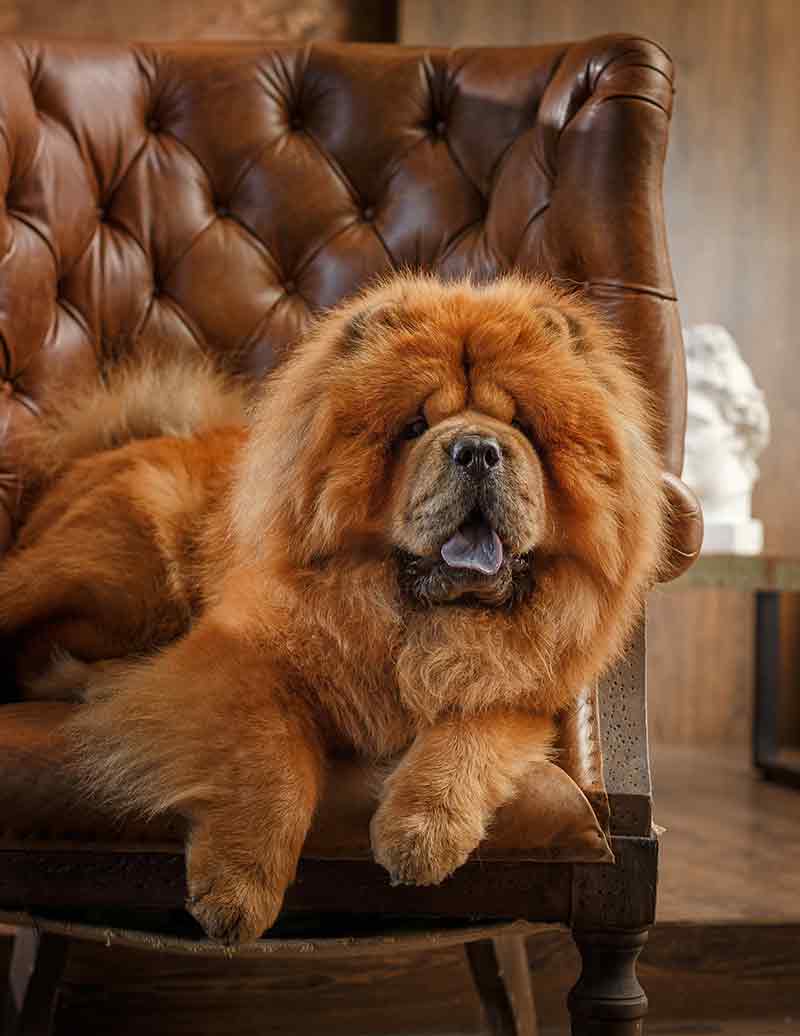 Expected Life Span
The average life expectancy of a chow chow is about 12 – 15 years.
Grooming and Care
These dogs have two coats. All Chows have a soft undercoat, but they can have either a smooth or a rough topcoat.
The rough coat is the more well-known type of Chow. On the other hand, smooth-coated Chows have a hard, dense, short outer coat. It has a heavy lion-like ruff and leg and tail feathering.
Brushing
This breed requires thorough brushing—at least twice a week. It will make sure their coat does not get matted. It is particularly important to avoid matting around the head.
Brushing is also useful with the softer coats found on puppies.
Bathing
This breed should have a monthly bath. Just make sure they are thoroughly dried afterward. Use a cool air dryer to ensure you don't overheat your pup.
Their ears and eyes need cleaning once a week and nails should be trimmed regularly.
Although they are considered very clean dogs, they do shed seasonally.
Do Chows Make Good Family Pets
This breed is becoming more and more popular. They currently rank in 74th place out of 194 breeds on the AKC website.
The good news is that they are serene, dignified dogs. However, they have lots of health risks. This breed is therefore not for everyone.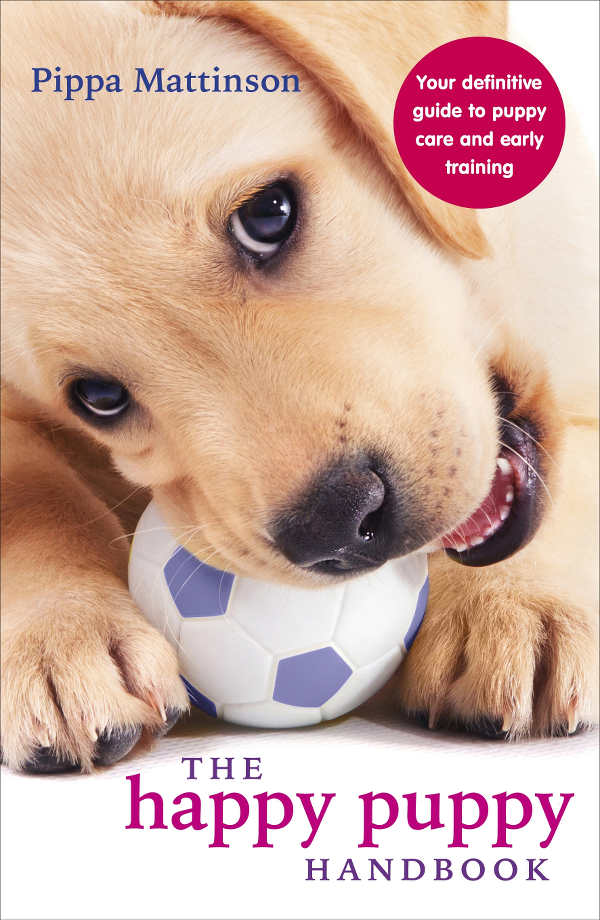 If you're unprepared to care for these dogs, we would recommend choosing another breed. One that has health issues you can test for, not structural issues to do with muzzle length.
Another option, if you're willing, would be to simply rescue an adult. More on that in the next section.
Rescuing a Chow
Adopting a puppy is often a wonderful experience! It always feels great to give a home to a fur child in need. We have some information on dog rescue here.And you can find some rescue societies here.
Finding a Chow Chow puppy
If you're sure you'd like to get one of these fluffy puppies regardless of health issues, there are a few things to note. You'll find all our tips to help you with your puppy search in our guide here. It is also wise to avoid puppy mills on your search for a puppy.
Be prepared for a high price, especially given the health problems this breed can face.
An alternative many people have found enjoyable is adopting a mixed breed. Chow Chows mixes include the popular Chow Lab cross and can sometimes be found at rescue centers.  If that sounds like something you're willing to consider, check out some mix options here.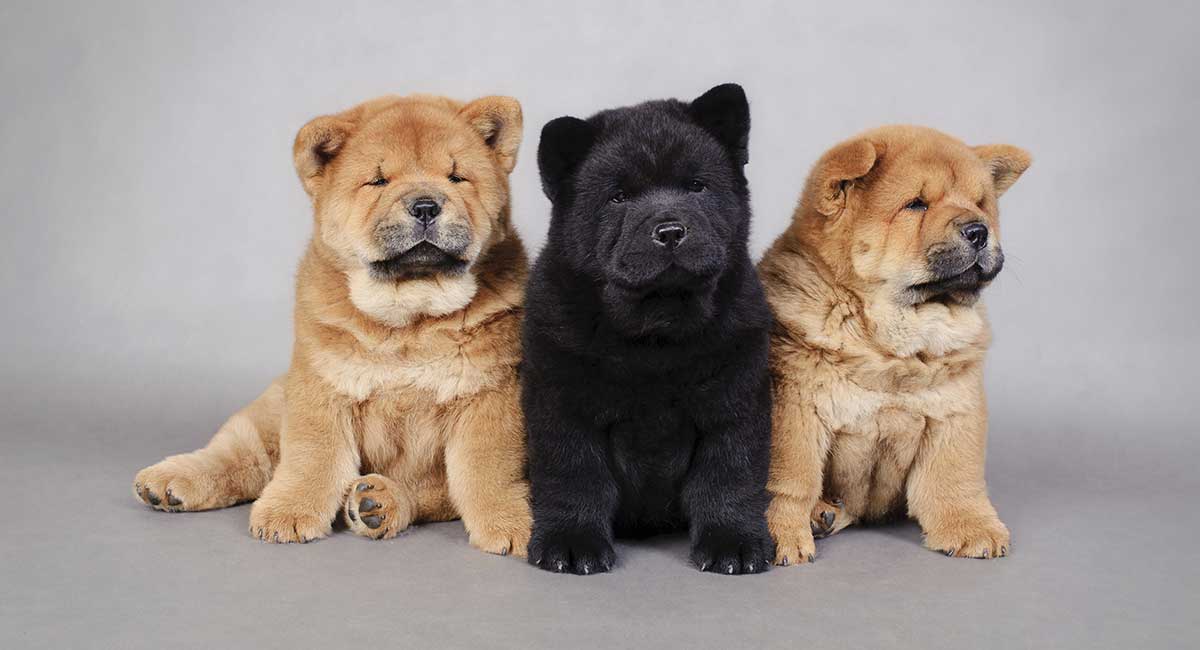 Raising a Chow Chow puppy
Caring for a vulnerable puppy is a big responsibility. There are some great guides to help you with all aspects of puppy care and training. You'll find them listed on our puppy page. You'll also want to think deeply about finding the best food for your Chow Chow puppy—we've got all the info!
Popular Chow breed mixes
If perhaps you're now leaning away from Chows, you may want to look into similar breeds.
Similar Breeds
Here are some other breeds you might like:
Pros And Cons of Getting A Chow
Cons
Health issues: As discussed earlier, it is wise to be fully aware of the potential health issues before getting this breed.
Aloof toward strangers: If you're looking for super friendly breed to befriend all your friends, look again. Chows may not be the one for you.
Unlikely to get along with other pets: If you have other pets, tread with caution. Chows have serious hunting history and may be predatory toward smaller animals.
High maintenance coat: There's going to be a ton of brushing with this breed!
Pros
Protective and loyal: As unfriendly as they are to strangers, they'll have your back.
City dog: This low-activity doggie is perfect for city and apartment dwellers.
Low exercise requirement: Chows only need one moderate walk a day—if you're a couch potato, this works!
Very tidy: Besides some seasonal shedding, these dogs are the cleanest of dogs!
Are Chows Expensive?
You could say so! On average, a well-bred puppy from a responsible breeder is between $900- $1,200. It's also common knowledge that the fluffier the Chow, the more expensive they'll be.

Should I Adopt a Cat If I Own a Chow?
This may be possible if a cat is introduced in puppyhood and your pup is trained to stay and leave. Still, Chows have strong "prey drive" and are likely to chase cats. We definitely recommend treading with caution. Also seek the assistance of a dog trainer. You may find this video helpful.
Chow Breed Rescues
Here are some rescue societies you may find helpful if adoption is on your radar. Please share some of your favorites in the comments!
Chow Chow Rescue Society
North Haven Chow Chow Haven
Chow Rescue New York
The Chow Chow Club
Houston Chow Chow Connection
Australia Chow Chow Rescue
Merlin's Hope, Canada
References and Further Reading