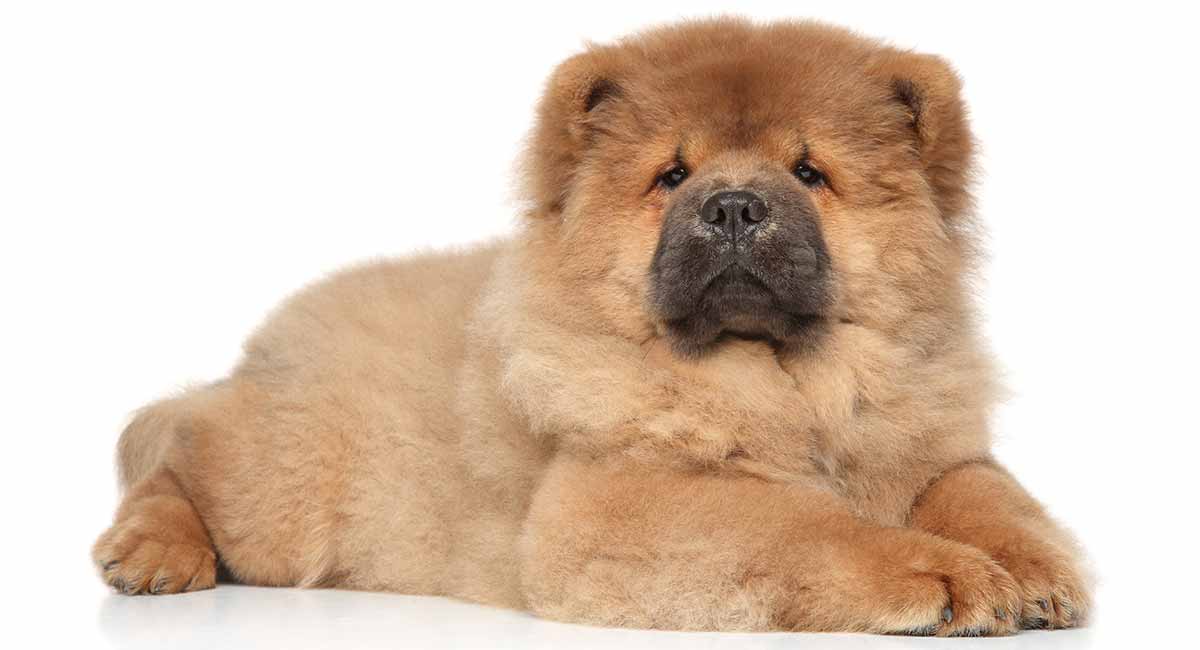 Are you curious as to what Chow Chow temperament resides behind that fluffy exterior?
Do they have a cuddly personality to match their teddy bear appearance?
In the article we explore everything you need to know about the Chow Chow's temperament and personality.
By the end, you'll have a complete idea of whether or not this dog is a good fit for your family.
The Chow Chow
Let's start with a brief introduction to the distinctive Chow Chow.
These compact dogs only stand up to 20 inches at the shoulder, though they can weigh up to 70 pounds.
They have a number of unique traits, such as their blue-black tongue and stiff-legged gait.
These dogs are most often described as serious, smart, and aloof.
So what can you expect life to be like with one of them at home?
The Typical Chow Chow Temperament
The Chow Chow is daunting and imposing. They have a deep, bellowing bark and constant serious expression.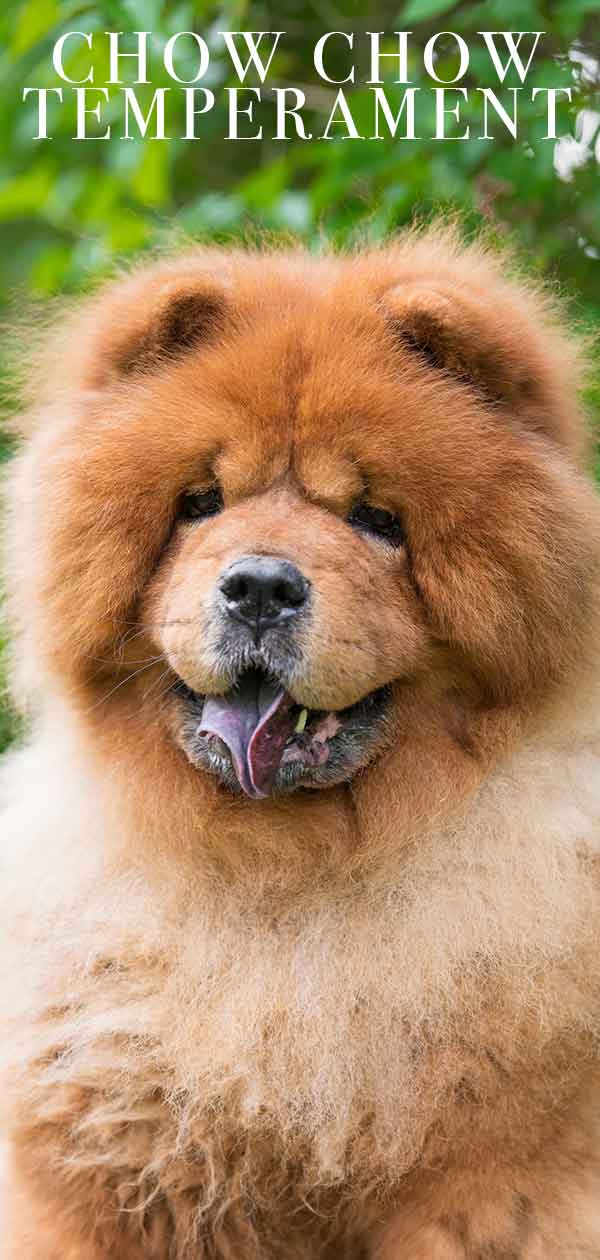 Originally bred as an all-purpose work dog, they hunted everything you could think of, pulled carts, and guarded homes.
And the qualities which made them good at those jobs are still apparent in today's Chow Chows living as pets.
The Chow Chow loves to be put to work, and they make excellent guard dogs.
The Working Chow Chow
Your Chow Chow is likely to get bored without activities to occupy their mind and muscle.
To protect them from getting frustrated, you'll need to give them regular opportunities for exercise and play.
Chow Chows as Guard Dogs
Your Chow Chow is also likely to be wary of strangers and slow to relax around unfamiliar people.
Without proper training and socialization, these dogs can accidentally mistake friend for a foe.
To overcome this, they need lots of socialisation from an early age. This will give them confidence to meet new people calmly and confidently.
A Good Home for a Chow Chow
These dogs are best kept in a household by themselves, though many owners have success raising them with dogs of the opposite sex as well.
Chows are not a good fit for families with small children. They are not very patient with teasing or inappropriate handling.
They tend to attach themselves to one person, who they are fiercely loyal to. This can lead to separation anxiety, so take time to teach you Chow that it is okay to be alone.
Are Chow Chows Easy to Train?
Chow Chows are not particularly easy to train. They were bred to work independently and often prefer to make their own decisions.
However, these dogs are smart.
It is said that it's easy to teach them a command, but difficult to convince them to listen every time you say it!
It takes a lot of patience and time to train these dogs. But it is not impossible.
Owners recommend short, sweet, regular training sessions. As soon as your Chow starts to lose interest, take a break.
Persisting once they've stopped listening can teach them that following your cues is optional!
Positive reinforcement is very important. Treats, affection, and praise will go a long way to teaching your Chow Chow to listen to you.
Negative reinforcement will have the opposite effect, and no longer has a place in modern training methods.
Potty Training
Luckily, Chow Chows are extremely easy to potty train. Many owners describe them as almost potty training themselves, and accidents in the home are rare.
This ease of potty training is likely due to the Chow Chows inclination towards cleanliness. They do not like to use the bathroom near where they hang out.
Are Chow Chows Friendly?
The Chow Chow temperament is aloof. They are not naturally friendly towards strangers.
They have a strong guarding instinct and urge to protect their people. They're more likely to assume that a new person is a threat, than a friend.
They can overcome this somewhat if they are socialized from an early age to a wide variety of people who they will go on to meet through their life.
Take your Chow Chow puppy out in town to meet people, visit friends' houses, and invite people over as soon as possible. Even before their final vaccinations, you can still pop your pup in a roomy bag (or your arms) and sit with them in busy places.
Some Chow Chows are friendly to others when in neutral territory, but aloof or even aggressive when someone new comes into their home.
Even if a Chow is trained and socialized, though, they are often not friendly towards visitors.
After a few visits, a Chow Chow might let a friend pet them. But it is important not to force them to become friendly. This can result in fear-driven aggression.
A Family Dog
However, towards their family, the Chow Chow is very friendly and affectionate. They very family-oriented and enjoy "their" people's company.
Many attach themselves to one particular family member that they love the most. They will often follow this person around and get upset when they leave.
Crate training is often helpful. And, even if you are going to be home, it is important to designate times for your dog to be alone.
This will prevent separation anxiety and over-bonding.
Are Chow Chows Aggressive?
Chow Chows have an undeniable reputation as an aggressive dog.
Any dog has the potential to be aggressive. But some dogs are more likely to be aggressive than others.
Part of aggression is genetic – the Chow Chow was originally bred for their guarding instincts, and historically many owners would have wanted their Chow to respond aggressively to an intruder.
They still have these genetics today, which means they are more predisposed to fearful aggression that other, more trusting breeds.
Still, dogs aren't aggressive for absolutely no reason. Chow Chow temperament can be influenced in puppyhood.
Aggression is borne of fear – by socialising your Chow and making their early experiences of strangers positive and rewarding ones, they can learn to be calm and confident instead of fearful.
Chow Chows are also very sensitive to others invading their personal space. They might look cuddly, but they will not tolerate being treated like a stuffed animal, which is why they don't fit well in households with young children.
Always supervise Chows around children, and your children's friends – who are strangers to your Chow.
Do Chow Chows Like Other Dogs?
No. In general, Chow Chows do not get along well with other dogs.
These dogs were bred to guard their home against everyone, including other dogs. Bringing another dog into your home without the proper introduction is bound to lead to fighting and hurt feelings all around.
But, when properly socialized, Chow Chows can learn to tolerate other dogs, though they may never be truly friendly with them.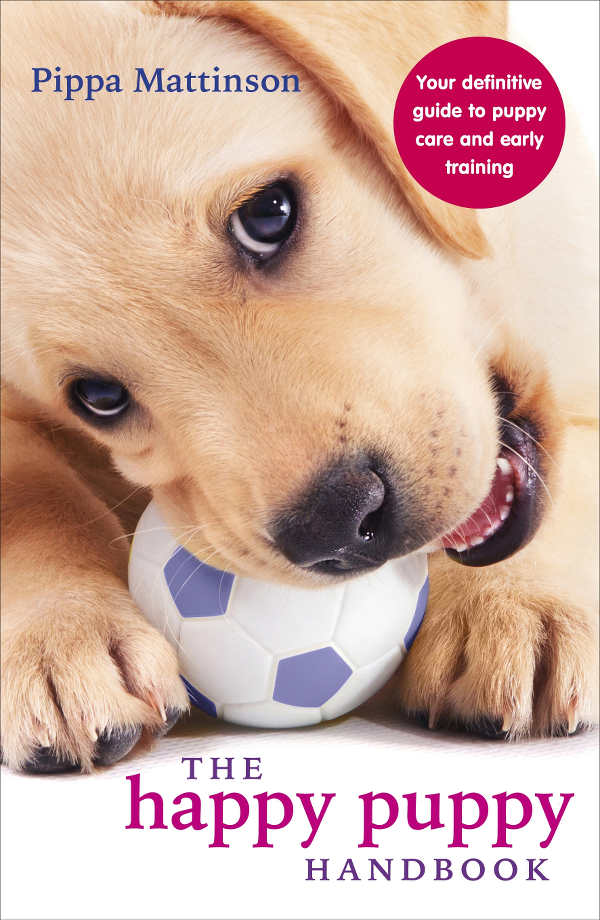 Introducing them to a wide variety of dogs as a puppy can prevent them from assuming all dogs are a threat, which can lead to aggressiveness.
Take your Chow Chow on regular walks in locations where they are likely to see other dogs. Puppy classes and obedience classes can also help your Chow Chow get used to other dogs.
The Chow Chow temperament can also be aggressive towards other animals. They still have prey instincts and can mistake small pets, such as cats, for food.
Are Chow Chows Good Family Pets?
Chow Chows are best suited to a single person or a couple who has plenty of time to devote to the training and socialization of their dog.
The Chow Chow temperament is serious and wary of strangers. They are clever and hard working, but not always easy to train.
Pleasing people isn't a reward in itself for these independent thinkers – but time, patience, and plenty of positive reinforcement will still work in the long run.
How Would You Sum Up Chow Chow Temperament?
Let us know about your thoughts and experiences with Chow Chows!
References and Resources
1Overall, Karen. "Dog bites to humans—demography, epidemiology, injury, and risk." Journal of the American Veterinary Medical Association. 2001.
2Stafford, K.J. "Opinions of veterinarians regarding aggression in different breeds of dogs." Clinical Communication. 1996.
3Gershman, Kenneth. "Which Dogs Bite? A Case-Control Study of Risk Factors." Pediatrics. 1994.
4Brogan, Thomas. "Severe Dog Bites in Children." Pediatrics. 1995.
5Unshelm, Roll. "Aggressive conflicts amongst dogs and factors affecting them." Applied Animal Behavior Science. 1997.