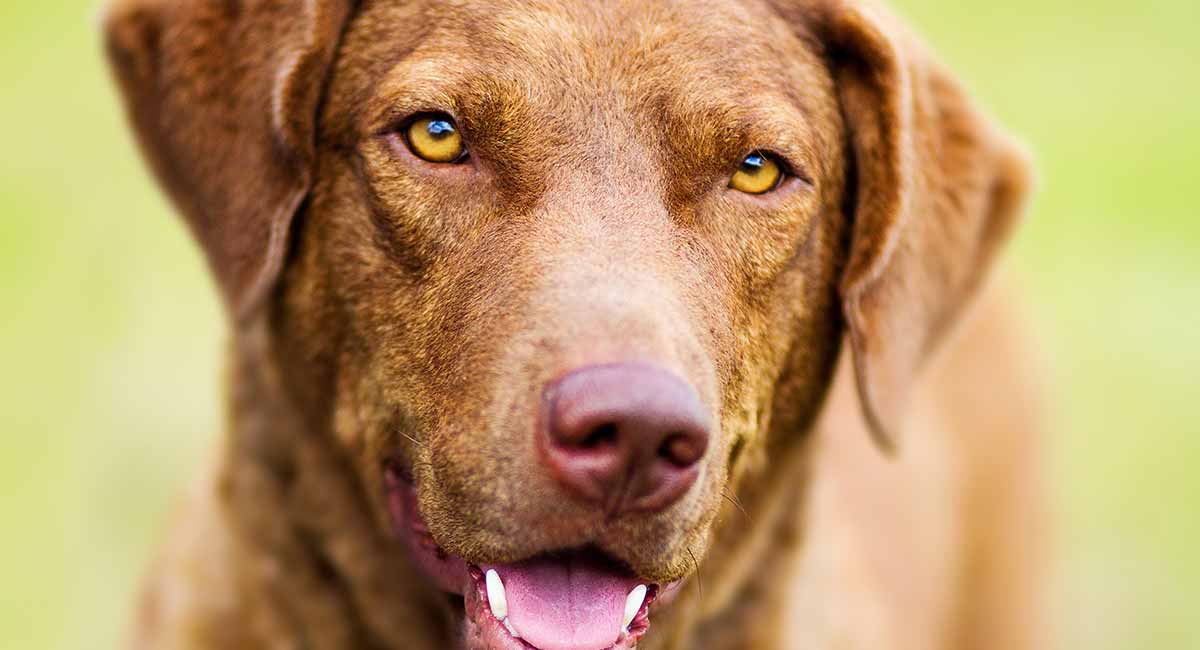 With a reputation as one of the best duck hunting dogs around, the Chesapeake Bay Retriever is an American breed with the tireless energy of a classic retriever.
Affectionate and loyal, this dog is perhaps most famous for its luscious, waterproof coat.
A powerfully built dog, this breed takes well to training and is a versatile athlete.
Here is everything you need to know about raising this elegant breed.
Where Does the Chesapeake Bay Retriever Come From?
The Chesapeake Bay Retriever breed was first recognized in the late 19th century – around the same time that the American Kennel Club was founded.
Originally referred to as the Red Chester and the Brown Winchester, the Chesapeake Bay Retriever was a favorite of wealthy duck hunters in and around the Chesapeake Bay.
This bay is located along the Atlantic Flyway, a path taken by migratory ducks and geese to their winter homes. The bay plays host to a whopping one-third of all migratory waterfowl on the East Coast, making it a sportsman's paradise.
The Chesapeake Bay Retriever was bred specifically for this region. It has a thick double coat that has waterproofing and insulating qualities. Interestingly, it repels water in a similar manner as the feathers of a duck.
Fun Facts About the Chesapeake Bay Retriever
The history of the Chesapeake Bay Retriever is best described in a unique tale of two puppies who in 1807 were saved from a sinking ship off the coast of Maryland.
The puppies, Sailor and Canton, were likely Newfoundland or St. John's water dogs but were bred with other local dogs to create what is now known as the Chesapeake Bay Retriever.
According to historical accounts, the dogs were "sagacious in every thing, particularly so in all duties connected with duck-shooting," (Youatt, 1855, p. 89).
Later declared the official dog of Maryland, this breed is also the mascot of the University of Maryland, Baltimore County.
Members of the breed have found some prestigious homes in the likes of Theodore Roosevelt, Senator John McCain, and General George Armstrong Custer, just to name a few.
Chesapeake Bay Retriever Appearance
Your Chesapeake Bay Retriever can grow to a height of 26 inches as a male or 24 inches as a female, weighing anywhere between 55 and 80 pounds.
Chesapeake Bay Retrievers have wavy coats that are somewhat oily to the touch – a necessary trait to help this dog's coat remain watertight.
You can find Chesapeake Bay Retrievers in a range of colors, but they are usually found in shades of brown such as chocolate, deadgrass, or sedge. They also have calm eyes in a shade of amber that stand out sharply amidst their luxurious coats.
Chesapeake Bay Retrievers have broad chests that enable them to swim for long distances, even in icy waters. They have powerful hindquarters and large feet that help them retrieve ducks and other waterfowl from cold or even choppy waters.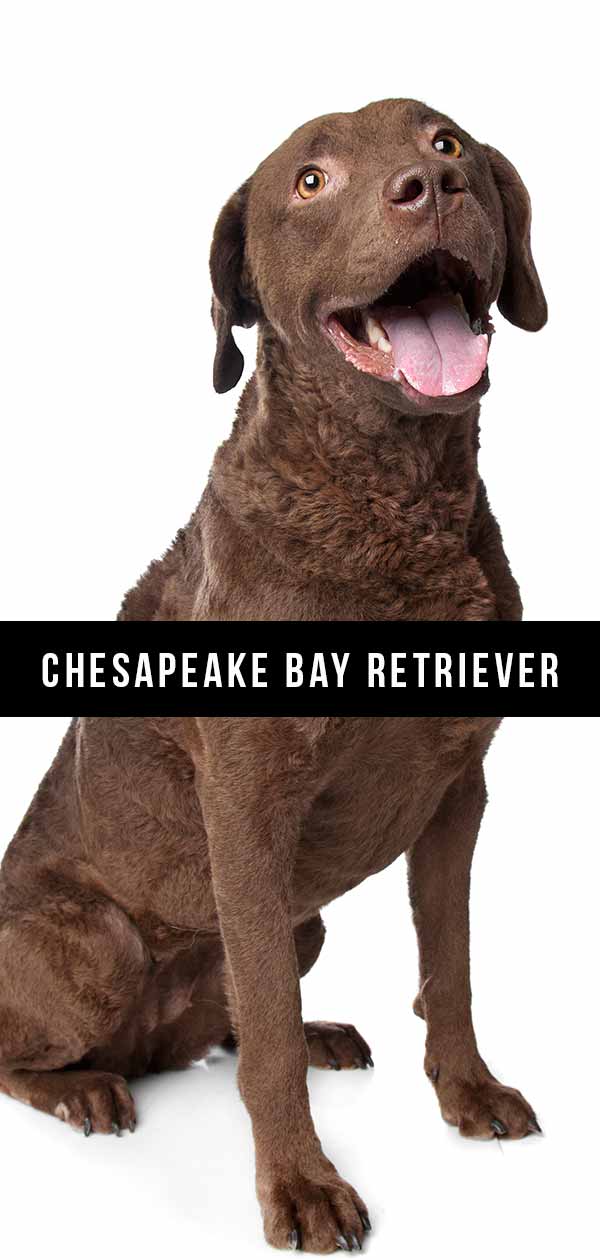 Chesapeake Bay Retriever Temperament
Chesapeake Bay Retrievers, often referred to simply as "Chessies," are "more emotionally complex than the usual gundog," according to the American Kennel Club.
For humans, this means that your Chesapeake Bay Retriever is more likely to be stubborn and protective. These pups make excellent watchdogs and are also athletic, making them good companions for hunting and outdoor enthusiasts.
Because these dogs are perceptive and attuned to detail, they are not only used as hunting dogs but also as therapy workers and search-and-rescue settings. They have acute scenting abilities that make them ideal for detecting and following scents.
Training Your Chesapeake Bay Retriever
Chesapeake Bay Retrievers are remarkably intelligent, so enrolling your dog in early socialization and puppy training classes will help him become a well-mannered companion.
You should consider obedience training as well as specialized gun dog training if you intend to hunt with your Chessie.
Consistent, daily obedience training should be structured around playtime both before and after.
Teach the basics, like how to come and how to sit, before moving on to more advanced skills, like retrieving a duck. This will help your Chesapeake Bay Retriever learn how to work while requiring minimal verbal or physical prompting or interventions.
Chesapeake Bay Retriever Health
Chesapeake Bay Retrievers are high-energy, high-activity dogs, so you should feed them food that contains at least 20 percent protein to keep their energy up.
Your Chesapeake Bay Retriever will love to run and be outdoors. This sporting breed is intelligent and high-energy, so you will need to provide it with plenty of exercise.
Although your Chessie should excel in most sports, those that require agility and tracking will be your dog's favorite, since the breed was originally bred for hunting and field work.
Regular exercise and a solid diet will keep your Chessie healthy, but you may want to keep an eye out for certain illnesses to which this breed is predisposed.
Hip dysplasia is common among retrievers, with Chesapeake Bay Retrievers included. There are also some hereditary eye disease that can be inherited from a Chessie's parents.
Parents should be tested for these conditions and will have certificates proving a clear bill of health.
Consider having your vet test regularly for hip dysplasia, as well as for other bone and joint-related abnormalities in the hips and elbows.
Because these dogs spend much of their time in or around the water, it's a good idea to check the ears for infection on a regular basis, too – often, this can show no symptoms.
These dogs do shed, but brushing once a week can help keep the dead hair on the floor to a minimum.
They don't require much else in terms of bathing or grooming, but you should trim their nails regularly to make sure they are able to run and walk with ease. On average, a Chesapeake Bay Retriever can live for 10 to 13 years.
Do Chesapeake Bay Retrievers Make Good Family Dogs?
The Chesapeake Bay Retriever is an excellent dog for a family that enjoys an active lifestyle. This dog should be taken hiking, swimming, or jogging as often as possible to keep him healthy and happy.
Chessies are extremely loyal to their families but can be reserved around strangers. They make good watchdogs and while they aren't known to be aggressive toward strangers, they may be a bit wary initially.
This breed typically gets along well with other pets, including dogs of other breeds and cats. He might be a bit standoffish toward dogs he does not recognize, just as he might with people.
Rescuing a Chesapeake Bay Retriever
Rescuing a dog is a good way to provide a home for one of the many Chesapeake Bay Retrievers that are born every year.
When you rescue a dog instead of purchasing one from a pet store, you can help stop cruelty in mass breeding facilities known as puppy mills.
Plus, adopting an adult animal means you can get to know your dog without having to go through a higher-energy "puppy phase."
Finding a Chesapeake Bay Retriever puppy
Finding a Chesapeake Bay Retriever is not difficult to do, but you should avoid purchasing one through a puppy mill or pet store.
Avoid buying from a store that offers multiple types of dogs at the same location, as well as one that cannot introduce you to the dog's parents.
Instead, consider alternatives like breeders dedicated specifically to Chesapeake Bay Retrievers.
These breeders usually have a clear understanding of the intricacies of raising one of these unique dogs, and they will also often possess health certificates for the parents so you will know whether your dog is predisposed to any genetic problems.
If you are having trouble finding a breeder that specializes in Chesapeake Bay Retrievers, check out our puppy search guide here.
Raising A Chesapeake Bay Retriever Puppy
If you are disciplined about training your Chesapeake Bay Retriever while he is still a puppy, you will be much more successful than if you try to train or retrain as an adult.
These dogs are smart, but they can supposedly be slow learners. It will take some time for you to teach basic commands like stay, come, and sit down – you need to give your puppy plenty of time to digest this information.
Finding the reward which he'll do absolutely anything to get at will be priceless for keeping him motivated!
Start with basic obedience training, and as your puppies become more familiar with the structure and specific rules, you can train them in more complicated, challenging tasks, including those related to hunting and outdoor activities.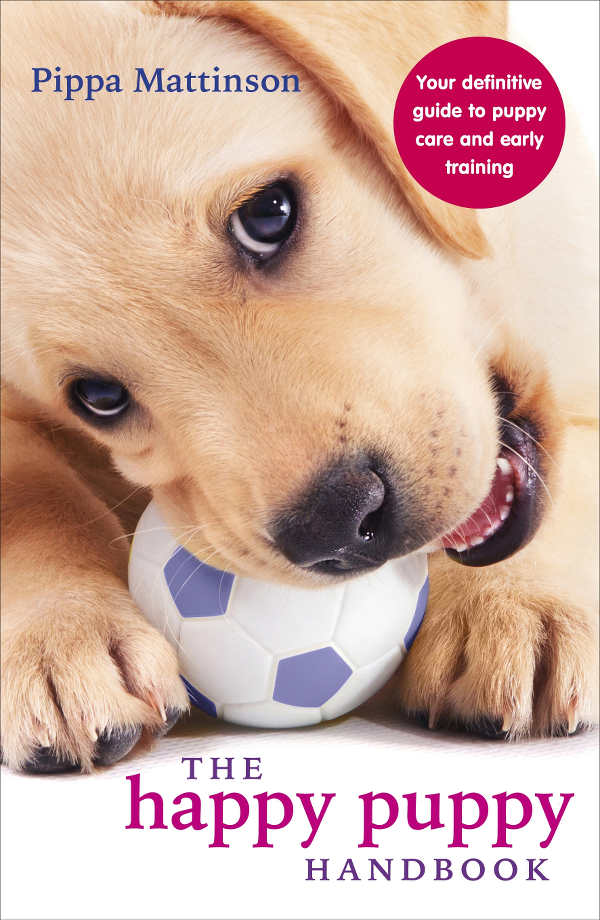 Chesapeake Bay Retriever Products and Accessories
As with all retrievers, you might find that your Chessie has a tendency to pick up and carry things in his mouth.
You can channel this tendency by providing him with plenty of indestructible chew toys. Don't attempt to train this behavior out of your Chesapeake Bay Retriever but instead encourage him to use it in an acceptable way.
Pros and Cons of Getting A Chesapeake Bay Retriever
Chesapeake Bay Retrievers are loyal without end and will protect their families at all costs.
As long as your puppy is socialized early and trained to listen to basic commands, he will follow you into any work environment. If you are looking for a hunting dog with a work-focused mindset, this is the breed for you.
However, if you're looking for a good companion-only dog – in other words, one to just hang around the house with you – the Chesapeake Bay Retriever is probably not the best choice for you.
Unless you provide your dog with plenty of exercise, he is likely to behave in destructive manners. He needs to exercise his pent-up energy somehow!
Similar Breeds
This dog is closely related to other species of retrievers and hunting dogs, such as the Labrador Retriever. It is also believed to be related to early breeds like the English Otter Hound, Flat-Coat and Curly Coat Retrievers, and the Irish Water Dog.
If you're looking for a similar working gundog, you may be interested in the Wirehaired Pointing Griffon!
Chesapeake Bay Retriever Rescues
The following rescues are great resources if you are looking to adopt a Chesapeake Bay Retriever:
Know of other rescues that specialize in Chesapeake Bay Retrievers? Be sure to let us know by commenting below.
Is A Chesapeake Bay Retriever Right For Me?
If you are looking for an active dog with a loyal temperament, you should consider this breed.
Although this dog can be prone to some standard health issues, like hip dysplasia, and needs high levels of exercise, it otherwise has a long life expectancy and makes a great family dog for adventure-loving households.
References and Resources