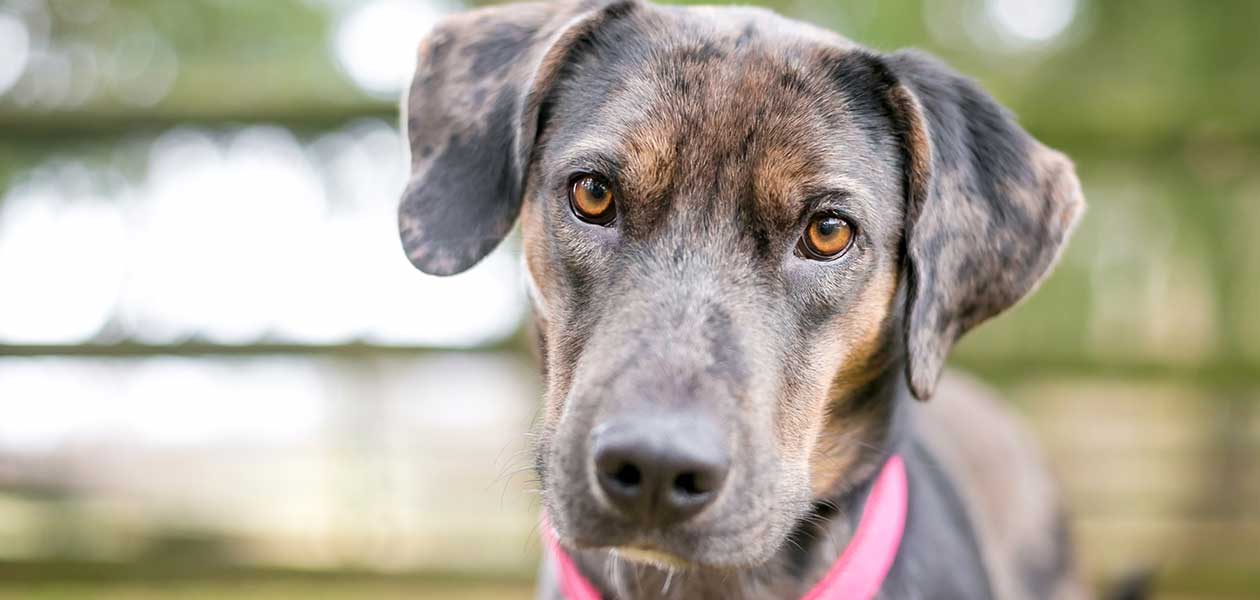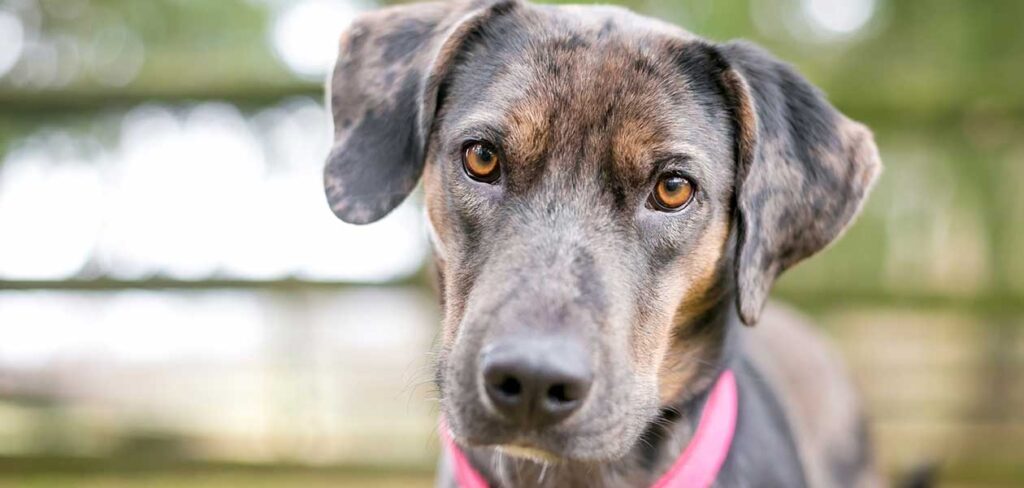 The Catahoula Leopard Dog temperament is well suited to active homes that are used to owning a driven dog. This breed makes a great working companion, but may be too demanding for a novice owner! They are sheep herding, cattle driving, guardian and even sled dogs historically. This means they have bags of energy, intelligence and a tenacious attitude. Although it is friendly, affectionate and loyal to its family, the Catahoula Leopard Dog's personality can include some challenging natural instincts. Especially as they can weigh nearly 100lbs and stand up to 24 inches tall!
Contents
Today I'll share my experiences of how to harness strong temperament instincts in working dogs. And the best ways to encourage healthy development from puppyhood to adulthood. I'll share tips to socialize your puppy, train them with positive reinforcement techniques and help them to fit into a family as well as working home.
A Working History
Since 1979 this breed has been the state dog of Louisiana. It has its history deeply rooted in America. A large number of breeds were mixed to create the Catahoula Leopard Dog we know today, including those brought across by Spanish and French explorers in the 16th Century. They worked as guard dogs as well as hunting and herding companions over the years. Parents of new litters were selected carefully for these useful task based traits.
The modern Catahoula Leopard Dog has a variety of roles. From a faithful companion, to a guard dog or herding dog. In Canada, this breed has even been used in sled dog competitions! So they're a very versatile dog. But dogs that have been bred for generations to show certain working traits don't suddenly lose them when they are introduced to a residential home.
Typical Catahoula Leopard Dog Personality
It's important to make sure any new dog matches your own personality well. So, you'll need to learn about the Catahoula's personality if you're considering this breed. The Catahoula Leopard Dog is known for being affectionate, loyal, and gentle when they are settled in a family.
This loyalty is great if you're looking for a guard dog or watchful breed. But, it can pose problems if you don't socialize them properly. They will love spending time around you, especially if this involves doing something active to burn off energy.
If you enjoy leading an active lifestyle, and are experienced in training and socializing dogs, you could be a perfect match for the Catahoula.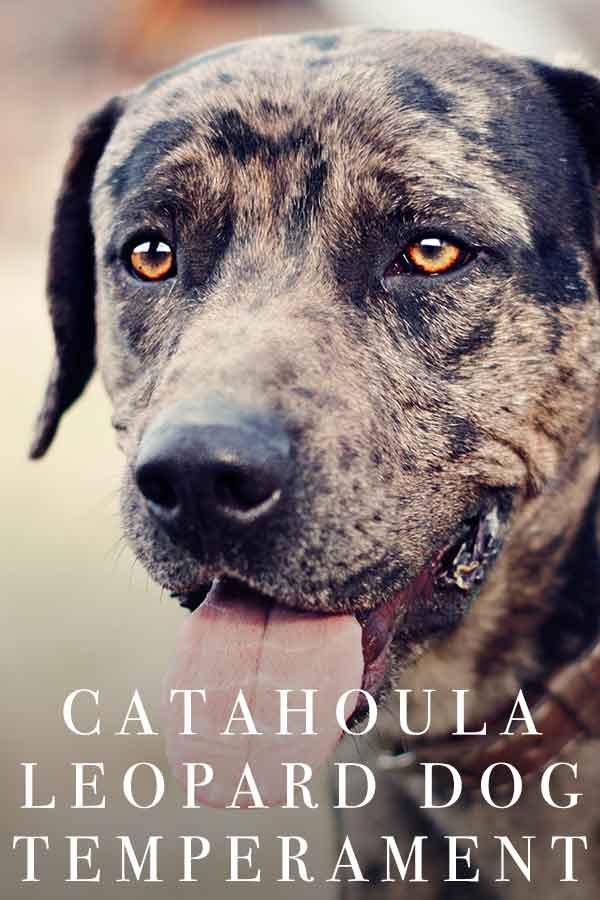 High Energy
The major point to consider when looking at this breed is the amount of energy they have. Catahoulas are not suited to living in apartments. They are intelligent dogs that can get bored very easily. So, these pups will always need a job to do.
Training is a great way to keep them entertained, but they will also need a lot of exercise. So, this is a breed to consider if you're looking for a dog to accompany you on outdoor activities like hiking or swimming. They would also be great candidates for dog sports, such as agility and rally.
Guarding Instincts and Aggression
As well as this herding instinct, you may find a guarding instinct in the Catahoula Leopard Dog temperament. This breed is very loyal to its family. But this means it can show signs of being territorial.
A Catahoula is likely to guard his home and his family against anything he sees as a threat.
One thing people are always wary of with strong, loyal dogs like the Catahoula Leopard Dog is aggression. Loyalty can be a great trait, but it can result in territorial and guarding instincts. These can often be expressed as aggression. In fact, one study found that herding breeds, including the Catahoula, had the third lowest pass rate to a series of 'temperament tests'.
This included reacting to aggressive and non-aggressive strangers, and recovering from loud, sudden noises. Not all Catahoulas will be aggressive. The best way to combat potential aggression in any breed, including this one, is to socialize them well from a young age.
Socialization for Puppies
Socialization involves introducing a puppy to as many new environments and stimuli as possible while they are young. One great way to do this is puppy training or socialization classes. One study has even found a link between puppy classes and retention at home.
A well socialized Catahoula Leopard Dog is more likely to be friendly and social. If you socialize your dog well, you are less likely to see any forms of aggression. A lot of aggression is fear-based, so socialization can help to solve this problem before it occurs.
Are Catahoula Leopard Dogs Easy To Train?
The Catahoula Leopard Dog breed has worked alongside humans for generations. But, it is also known for being quite independent. In other words, it can be hard to find a treat or reward to offer during training which is more satisfying to them than just wandering off and doing their own thing.
This means Catahoula Leopard Dogs trainers need to be patient and consistent. Lots of very brief training sessions a day might be more successful than one or two protracted ones.
If you have never owned or trained a dog before, you may struggle to keep the Catahoula under control. Catahoula Leopard Dogs have very active minds. But, frequent training games can be a great way to keep them entertained, as well as to keep them out of trouble. Consistency and positive reinforcement will help you get the best results.
Are Catahoula Leopard Dogs Good With Children?
If you have young children, you need to make sure you're bringing home a dog breed that is happy and reacts well around young kids. Catahoulas are often friendly, gentle, and affectionate towards their close families.
The main problem with this breed and young children is the natural herding instinct. When a herding dog like the Catahoula Leopard Dog sees kids running around, natural instincts can kick in. I've seen many working dogs over tghe years attempt to gather children together when we're out in family groups. This can be quite amusing, but when the dog suddenly tries the old age tactic of nipping to achieve it the humor disappears quite quickly.
What About Other Animals?
These herding instincts apply to smaller animals too. So, you may find that your Catahoula tries to herd other pets – even other dogs, who won't always take kindly to this action!