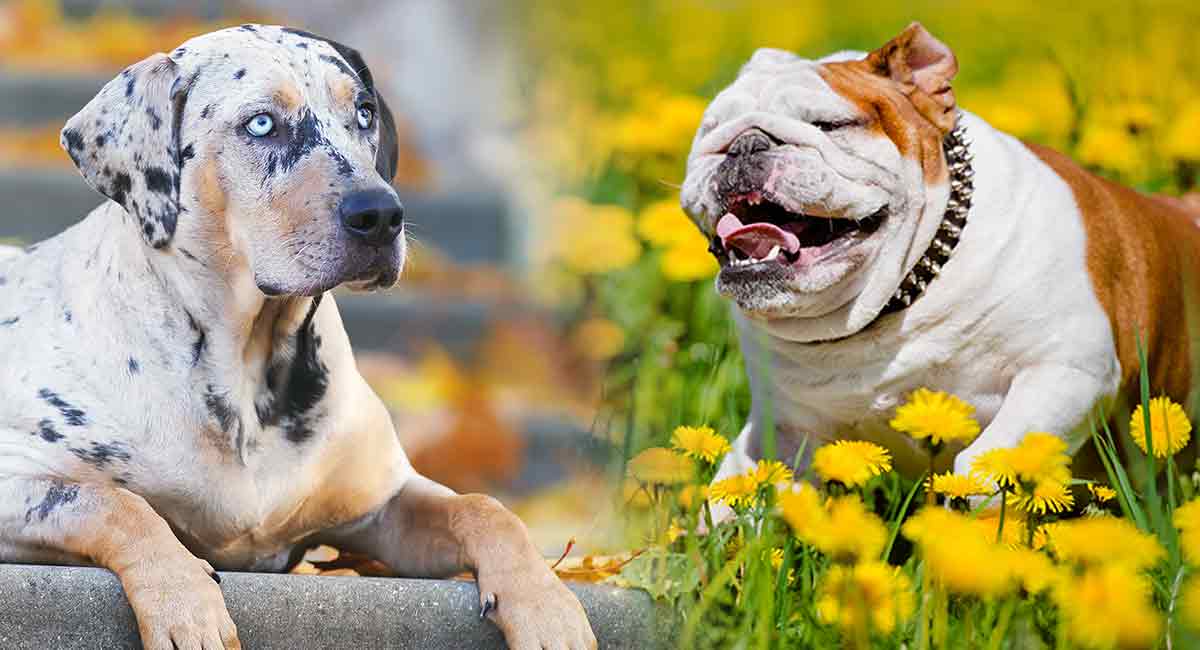 A Catahoula Bulldog is a mixed breed dog combining the Catahoula Leopard Dog and the American Bulldog.
This American breed ranges from 20 to 26 inches tall, weighing between 45 and 100 pounds when fully grown.
Unlike many popular mixes, the Catahoula Bulldog has a surprisingly long recorded history.
In fact, they're prized for their work ethic. Which is something owners looking for a companion dog need to bear in mind.
The Catahoula Bulldog Mix
If you like unique dogs, it is no wonder you have stumbled across this mixed breed.
The Catahoula Bulldog combines the muscular stature of the American Bulldog with the eye-catching coat and eye colors of the Catahoula Leopard Dog.
But looks are just part of the equation when you are searching for a new furry member of the family.
What are these dogs like? Let's have a closer look at the Catahoula Bulldog.
Where Does the Catahoula Bulldog Come From?
The Catahoula Bulldog has been around for over 100 years. Unlike many newer hybrids, the Catahoula Bulldog's history can be traced. This is largely because in 1951 a Catahoula Bulldog registry was established in America.
Let's take a look at the ancestry of the parent breeds to begin with.
Origins Of The Catahoula Leopard Dog
The Catahoula Leopard Dog originated in the southern parts of the US. They were used to herd cattle, hunt, and protect livestock.
It appears that Native American dogs bred with Mastiffs, Greyhounds, and Bloodhounds from other lands.
As the resulting breed became more distinct. They were used to work stock, hunt, and guard.
Origins Of The American Bulldog
The American Bulldog as we know it today can be traced back to the 17th century.
They were largely kept by butchers, used as baiting dogs, kept as guard dogs or used to keep unruly cattle in line.
It was not until the late 1800s that they began being called "American Bulldogs". Up until then they were referred to by a variety of names. This included "English White," "Alabama," or "Southern Bulldog".
Later, these dogs started to gain popularity as a domestic pet, which had the temperament and strength required to protect the family if required.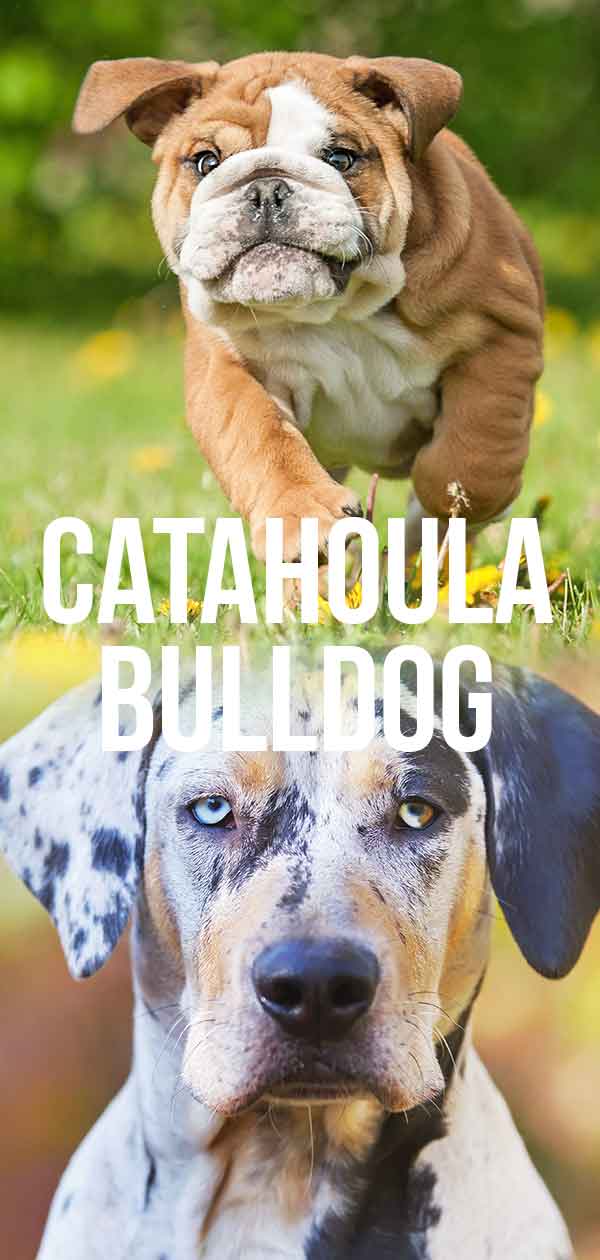 The Catahoula Bulldog Today
As a mix of these two breeds, the Catahoula Bulldog is a designer dog, or mixed breed. The subject of mixed breed dogs is a controversial one within dog breeding circles.
Advocates of purebred dogs claim that purebred dogs are bred to standards that make aspects of the dog predictable.
Furthermore, if a dog is bred well, breeders know where the dog has come from genetically. This allows breeders to be selective about which dogs are fit to breed from.
However, the tight rein on the gene pool of purebred dogs can also lead to problems if breeders are not selective. The smaller the gene pool, the greater the risk of inbreeding and all the associated risks.
Health Issues
Additionally, the desire for certain physical characteristics in purebreds can lead to dogs with serious health issues.
Some are breathing problems, back pain, joint issues and lameness, and trouble giving birth to puppies. These are exacerbated when the "standard" is more important than the dog's well-being.
Advocates of mixed breeds claim that crossing two breeds ensures that dogs are healthier and have a lower risk of developing illnesses or carrying weaknesses that can be associated with inbreeding.
Fun Facts About The Catahoula Bulldog
Unlike many other mixed breeds, the Catahoula Bulldog has a dedicated registry. This is a testament to the amazing work these dogs are capable of.
For a dog to be eligible to be registered, they must be no less than 25% of either breed.
Thanks to the strength, work ethic, intelligence and bravery of this hybrid, the Catahoula Bulldog has been used in search and rescue work. They're also used as service dogs.
With stock, they can be rather unique workers. Rather than herd stock like other working breeds, Catahoula Bulldogs create a canine fence which contains the stock while the dogs wait for directions from the stock master.
Catahoula Bulldog Appearance
Like all mixed breeds, the Catahoula Bulldog will take on elements from both parents. However, seeing there is a registry for these dogs, we can get a pretty good idea about the hybrid itself.
While the Catahoula Leopard Dog is lean and athletic, the Bulldog is sturdy and muscular. A Catahoula Bulldog is a medium sized dog with an athletic build but is not too bulky.
They range between 20 and 26 inches at the shoulder, and weigh between 45 and 100 pounds. Usually the females will fall on the smaller side of this range, while the males will be larger.
Coat and Eye Colors
The Catahoula Leopard Dog can have a distinctive merle or spotted coat. Their eyes may have a distinctive "cracked/marbled" appearance. This is when the eye itself is multicolored. Each eye may be a different color.
The Bulldog is white or white patched.
A Catahoula Bulldog could be solid, leopard, merle, brindle or patched in color. Similarly, their eyes may take on the unique appearance that can occur in the Catahoula Leopard Dog.
Most importantly, as this hybrid is still used as a working dog, it should be able to breathe freely. The muzzle should make up at least 40% of the length of the head when viewed from the side. Also, the dog should have a free, balanced gait that demonstrates athleticism and vigor.
Catahoula Bulldog Temperament
These dogs are described as eager to please, confident, loyal, intelligent, animated, yet mild tempered. But they may also be a little aloof and independent.
According to the Catahoula Bulldog registry, aloofness with strangers is not considered a fault. But the dog should not be too shy and should definitely not show signs of aggression.
They will often possess the prey drive of a Catahoula. But this is evened out by the calmer temperament of the Bulldog.
The introduction of the Bulldog also means the Catahoula Bulldog is a more muscular dog, with a stronger jaw.
Catahoula Bulldogs cannot be left to get bored as they are likely to become destructive. Remember that they are working dogs at heart and love being busy.
Training Your Catahoula Bulldog
While these dogs are known to make loyal companions, you will need to put in plenty of time and effort to keep a Catahoula Bulldog entertained.
Being strong, active dogs with a hunting and guarding background with plenty of physical strength, it is vital they are well socialized. You can find some great tips on how to socialize your dog here.
Catahoula Leopard Dogs are capable of working from around 10 months but are not mature until 2 years. So keep this in mind when planning activities.
Bulldogs, on the other hand, are known to be a little shy until around 18 months. After this, they gain confidence and come out of their shell.
So, training a Catahoula Bulldog involves striking a balance between keeping the dog stimulated and busy while not creating an environment of all work and no play.
If you would like some information on training your dog, you can find a great overview of some of the most common methods here.
You may also want some pointers on how to potty train and crate train your puppy.
Catahoula Bulldog Health
Catahoula Leopard Dogs are generally healthy. However, like many dogs of their size, they can suffer with hip and shoulder dysplasia.
Bulldogs are also prone to hip and shoulder dysplasia. So, be sure to make inquiries about the health of your puppies' parents.
Hip and shoulder issues are a problem with many breeds. But, there are tests which can detect this problem. The testing organizations are different from country to country. Kennel clubs, breed associations, or your vet will be able to put in touch with the correct organization.
Catahoula Leopard Dogs are also known to have some problems with deafness, which is associated with the pigmentation gene. The Bulldog is also reported to have some problems with deafness. But not to the same extent as the Catahoula.
Seeing deafness can be an issue in both breeds, it is something that could affect the Catahoula Bulldog.
Also, since the American Bulldog is listed on some sites as a brachycephalic breed, make sure that your Catahoula Bulldog has a proportionate muzzle.
Catahoula Bulldog Lifespan
Otherwise, the Catahoula Leopard Dog is a generally healthy dog and can live to around 14 years of age.
The Bulldog does tend to suffer with more health issues, some which include:
eyelashes that curl into the eyeball
crossed eyes
splayed feet
weak pasterns
other gait-related problems.
Despite these issues, on average a Bulldog can live up to 15 years of age.
Expect your Catahoula Bulldog to live somewhere between 14-15 years.
Do Catahoula Bulldogs Make Good Family Pets?
These dogs can make intelligent, loyal and active companions. But they are not a "one size fits all" breed.
Due to their strength, athleticism and intelligence, they need to be with a family that has the time and knowledge to provide them with the stimulation they need to remain healthy and happy.
Remember that they are largely a working dog and will thrive when they have plenty to do.
Rescuing A Catahoula Bulldog
Rescuing a dog is a deeply rewarding experience. Many who rescue dogs feel sure their new family member is eternally grateful for the second chance.
But please be aware that some dogs have had traumatic experiences. They may need some extra time, patience and treatment to get them back on their feet again.
Be sure to have an open and honest conversation with the rescue organization about the level of care you can realistically provide, so that you are matched with the right dog.
Finding A Catahoula Bulldog Puppy
Being an established hybrid, finding a reputable breeder for these dogs is a bit easier. Especially if you live in America where the Catahoula Bulldog is prized for its intelligence and work ethic.
You can visit the Catahoula Bulldog Registry site. This has a list of approved breeders which meet their code of ethics.
If you are outside of America, finding a Catahoula Bulldog may be a little more challenging. However, just because they are not so easy to come by, don't be tempted to accept a puppy that has been bred in bad conditions, or whose parents are not healthy and good-natured.
Where to Avoid
Sadly, puppy mills or puppy farms churn out lots of puppies every year, with more concern for profit than the health and well-being of the animals.
Unfortunately, if you find a puppy in the window of a pet shop, there is a strong chance they have been bred in unethical conditions.
The good news is that awareness about puppy mills is increasing and either through legislation or consumer choice, their numbers are declining.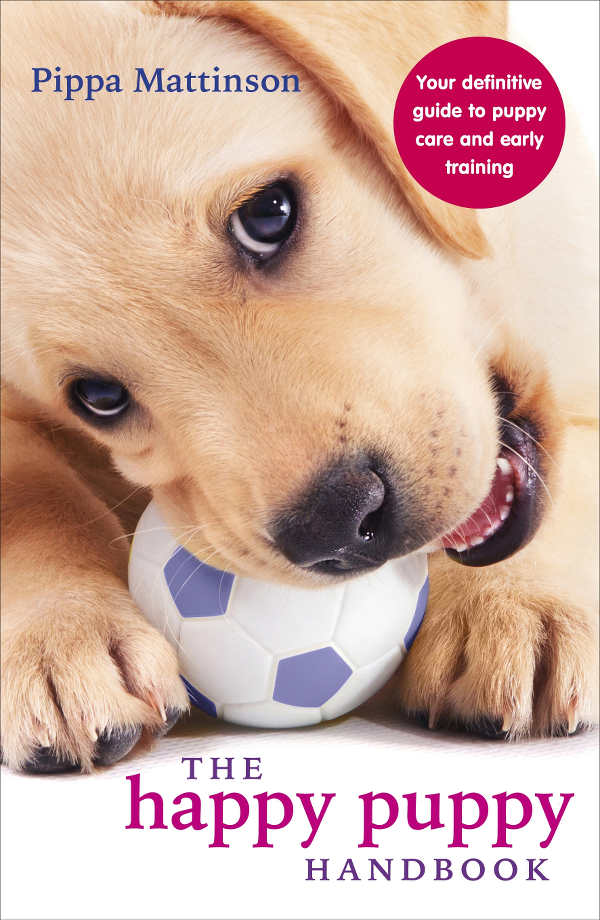 Always make sure you visit the place your puppy was born and raised. Meet your puppy's parents, and ask lots of questions about the health of the parent dogs.
Raising A Catahoula Bulldog Puppy
While you need to consider how to raise a Catahoula Bulldog specifically, there are some things about raising a puppy that apply to just about all breeds.
You can find some helpful tips on how to care for your puppy here.
You might also want to check out this article for some information on how to train your new puppy.
Pros And Cons Of Getting A Catahoula Bulldog
Cons
This is a working breed which needs lots of training and exercise
Can be aloof around strangers
Can become destructive if bored
Pros
Generally healthy
Loyal, hardworking and intelligent
Is an established cross breed, with plenty of information available about the cross
Breeds Similar to the Catahoula Bulldog
Catahoula Bulldog Rescues
Here is a list of rescue organizations which specialize in Catahoula Leopard dogs and Bulldogs along with crosses.
If you are in America you could also contact breed organizations of the Bulldog, Catahoula Leopard Dog, or the Catahoula Bulldog, seeing it is an established hybrid.
As this breed is not as well known in other countries, you may need search harder to find one of these dogs up for rescue.
If you know of any other rescue organizations, please feel free to let us know in the comments section below.
Is A Catahoula Bulldog Right for Me?
There is no doubt that these dogs can make great companions. But it should not be forgotten that they are a working dog at heart.
As such, even as a companion, they need to be kept active. Otherwise, they will get bored and frustrated.
If you feel that you can provide this kind of an environment for a Catahoula Bulldog, then this might be a breed to consider bringing into your home.
Do you already have a Catahoula Bulldog?
Do you know how much Catahoula Leopard Dog and how much American Bulldog they are? How do you keep them busy?
Please tell us about them in the comments!
References and Resources
National Catahoula Bulldog Registry
American Kennel Club – Catahoula Leopard Dog
American Bulldog Association
The Kennel Club – Estimated Effective Population Size Research Q&A
Beuchat, C., "The Myth of Hybrid Vigor in Dogs… is a Myth" The Institute of Canine Biology (accessed online 1/5/2019)
United Kennel Club – The American Bulldog
Strain, G.M., "Deafness prevalence and pigmentation and gender associations in dog breeds at risk" The Veterinary Journal, 2003
Strain, G.M., "Congenital Deafness and its Recognition" Pediatrics: Puppies and Kittens, 1999