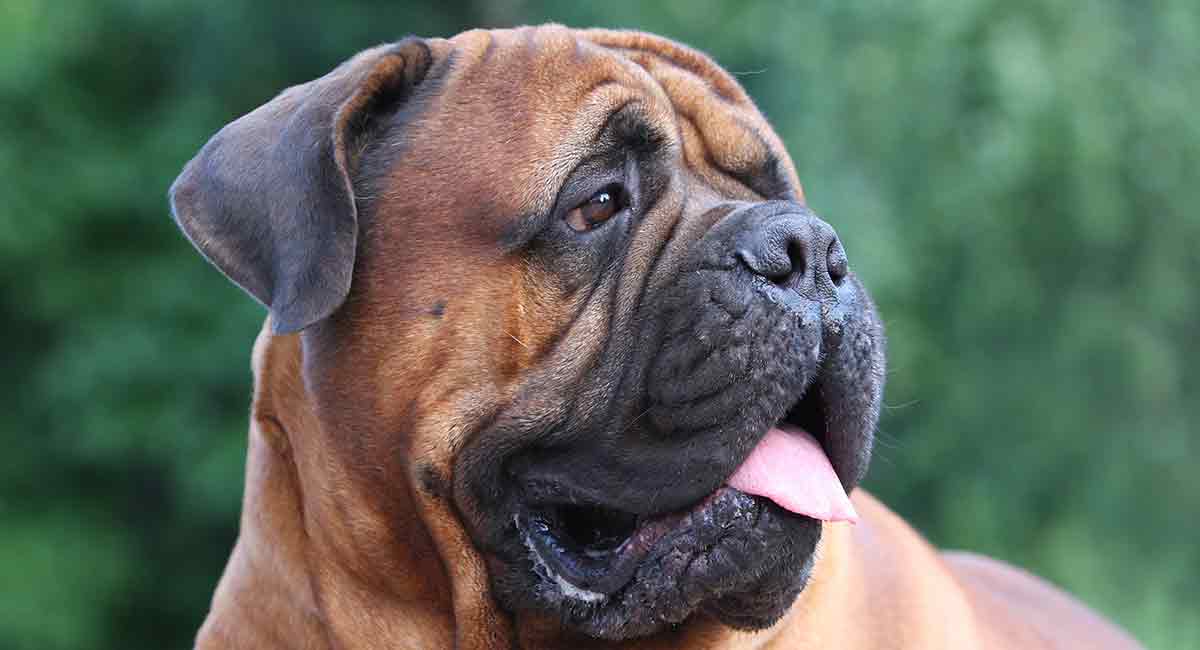 The gigantic Bullmastiff weighs between 100 and 130 pounds.
They are huge, muscular, and powerful.
These dogs are devoted and loyal to their family.
They were bred to help gamekeepers protect game from poachers.
Back in that day, poaching was a hanging offense, so being a gamekeeper was extremely dangerous.
The Bullmastiff helped the gamekeeper stay safe by tracking down the poachers and pinning them.
Back then, the Bullmastiff was much more aggressive than it usually is today.
But does that make these enormous dogs suitable for families?
How does the Bullmastiff do with other dogs?
And how bad is their aggression today?
Are they okay to have around children?
We'll answer all these questions and more in this guide to the Bullmastiff temperament.
The Typical Bullmastiff Temperament
The Bullmastiff is usually an excellent family dog.
They are loyal, loving, and good-natured, which leads to their nickname of gentle giants.
However, the Bullmastiff can become aggressive if he feels like his family is in danger.
Guarding Instincts
Their guarding instincts are still prevalent today, even though they have been bred to be less aggressive.
This guarding instinct means that it is imperative for you to properly socialize and train your Bullmastiff.
Without proper socialization, the Bullmastiff can be quite aggressive.
When socialized, though, a Bullmastiff is dependable and calm.
They really do live up to their gentle giant nickname.
Children and Other Animals
They are wonderful with children and other animals, as long as they socialize with them early on.
The only creature that the Bullmastiff really has problems with is dogs of the same sex.
He can exhibit particularly troubling guarding instincts toward these canines and has been known to be aggressive.
Early Socialization
Early socialization is vital for all dogs. It can be an important factor in developing Bullmastiff temperament.
Dogs that are properly trained and socialized are proven to show less problematic behavior, like 'disobedience or fear of strangers'
The Bullmastiff has been the target of various breed-specific legislation. However, some studies argue that a dog's breed is not a useful barometer for how dangerous a dog may be.
While temperament is equal parts genetics and environment, we will explore some of the most common temperament traits of the Bullmastiff in this article.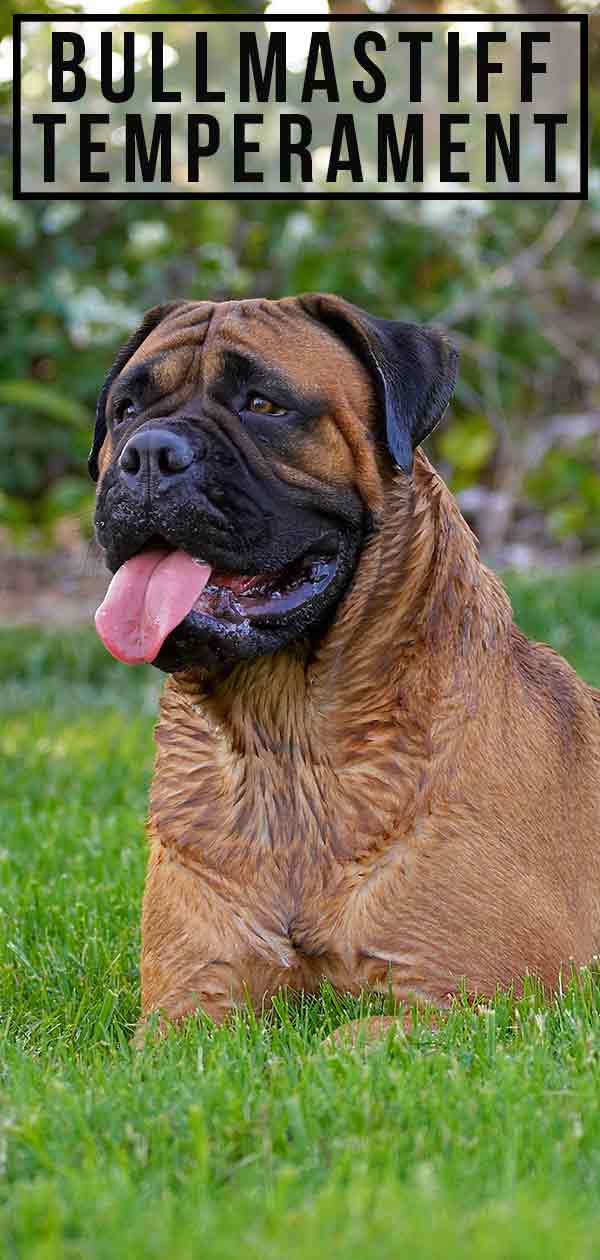 Are Bullmastiffs Easy to Train?
You should begin training with the Bullmastiff as early as possible.
Positive reinforcement training is essential so as to not come into conflict with your dog.
Make training a bonding and rewarding experience.
Start as a Puppy
You and your dog will both benefit from training regimens installed in puppyhood.
Try to enroll your pooch in a group training class as early as possible to benefit from both the socialization and training aspects.
Even if you don't enroll your dog in a class, rules and routines should be established as soon as your dog comes home.
This will help your dog feel more confident and comfortable in everyday life, which will make them easier to train.
When these guidelines are adhered to, the Bullmastiff is generally pretty easy to train.
They are agreeable and loyal to their family members.
They will often want to please you by listening to your commands.
Stubborn Phase
However, Bullmastiffs commonly go through stubborn phases, especially in their early years.
During these phases, you should go back to basics and request complete obedience from your dog.
On top of regular training, you should ensure that you train your Bullmastiff to act appropriately around other animals and people.
A lot of this involves early socialization.
However, you should also regularly reward you Bullmastiff when they act appropriately around other people and animals.
This will prevent future aggression problems.
Bullmastiffs excel at advanced obedience training and competitions.
They are smart and enjoy learning new things as much as possible.
Are Bullmastiffs Friendly?
Bullmastiffs are usually very friendly.
They get along with all sorts of people.
However, early socialization is paramount for these dogs.
They have natural guarding instincts that can make them quite responsive.
Socialization Is Key
Without proper socialization, they can display unwanted behavior like guarding
Luckily, it does not take an extreme amount of socialization to make these dogs friendly.
All you really need to do is take them out around town and on walks while they are puppies.
Their friendliness should fall into place after that.
If socialization it followed through correctly, then your Bullmastiff will likely be friendly towards strangers and anyone you meet.
But as we said earlier, this socialization step is very important.
If you do not introduce your pup to many different kinds of people, it is possible for them to become aggressive due to their guarding instincts.
Be sure to invite a variety of people over to introduce him to.
If your Bullmastiff begins showing aggressive tendencies, it is paramount that you seek the advice of a trained professional.
An experienced dog trainer is often your best bet if your Bullmastiff begins to show aggressiveness towards others.
Are Bullmastiffs Aggressive?
Bullmastiffs are not typically more aggressive than any other breed.
In a study of dog breeds that were subject to restrictive legislation, the results showed that proper training and socialization is much more  important than breed in determining aggression.
For the best Bullmastiff temperament possible, you should introduce them to many different kinds of dogs and people from a young age.
It is particularly important to introduce them to children of all ages to prevent later aggression.
With this early socialization, you should not have to worry about a Bullmastiff being aggressive often.
They are very laid back dogs when properly socialized.
Specific Commands: Recall and Leave It
Even when properly introduced to other people, these dogs can still become aggressive when startled or scared, just like every other dog.
However, unlike every other dog, these dogs are extremely large.
They can do a lot of damage, even if they don't mean to.
Training certain commands can help you control your Bullmastiff if they ever become aggressive.
The recall command can help you get their attention and make them return to you, even if they aren't at arm's distance.
The leave it command can prevent your dog from biting altogether if they show signs of aggression.
Also Consider the Place Command
You might also want to consider teaching the place command so you can redirect your pooch if they start getting anxious and you are worried about possible aggression.
Overall, though, this breed is not as aggressive as some others.
Their guarding instincts can be problematic when not properly socialized or trained.
We recommend teaching the basic commands mentioned above, just to be on the safe side.
However, you should not have to worry about your Bullmastiff being uncontrollably aggressive.
They really do live up to their name of gentle giants.
Do Bullmastiffs Like Other Dogs?
The Bullmastiff is typically people oriented and don't often need another canine companion.
Many are completely happy to hang out with their human family without any other dogs involved.
They are not usually outwardly aggressive toward other dogs.
But they do not typically like their company and are tolerant at best.
People
It is important to note that if a Bullmastiff  becomes aggressive, it may be due to their guarding instincts.
Guarding instincts can involve being sensitive toward other dogs interacting with "their people," especially if there are children involved.
Preventing resource guarding is also important.
Natural Instincts
The main instinct you should worry about with the Bullmastiff is their guarding behavior.
Bullmastiffs were originally bred in the 1800s as estate guardians to protect the land from illegal poaching.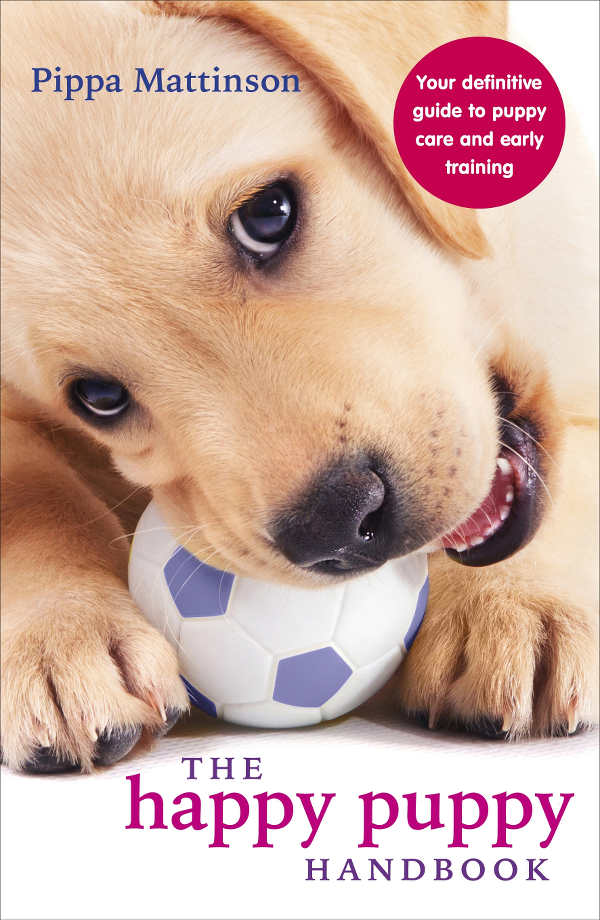 Back then, poaching was a huge deal.
If you were caught poaching, it was likely that you would be hanged.
Because of this, poachers were often willing to do whatever they could to not get caught, including killing potential guards and guard animals.
For this reason, Bullmastiffs were bred to be large, intimidating, and fearless.
They would guard their land to the death if necessary.
Still Have Guarding Instincts
This instinct still carries over to the companion dogs today.
Of course, some Bullmastiffs are going to have stronger guarding instincts than others.
Those that were bred for guarding are usually going to have stronger instincts than those bred for companionship.
However, no Bullmastiff is going to be completely free of guarding instincts.
You should take care to socialize your dog early and often.
These dogs often have a great deal of independence as well.
They were bred to work alone, without supervision.
Training should begin early, as well, to prevent stubbornness.
Are Bullmastiffs Good Family Pets?
Bullmastiffs can make good family pets.
They are lovable and gentle but can have some aggression problems, thanks to their guarding instincts.
But these should be minimal as long as you properly train and socialize your pet.
References and Resources
Schalke, Esther. "Is breed-specific legislation justified? Study of the results of the temperament test of Lower Saxony." Journal of Veterinary Behavior. 2008.
Clark, Ross. "Medical, Genetic & Behavioral Risk Factors of Bullmastiffs." Xlibris Corporation. 2014.
Watson, Linda. "Does breed specific legislation reduce dog aggression on humans and other animals? A review paper." Urban Animal Management Conference Proceedings. 2003.
Kutsumi. "Importance of Puppy Training for Future Behavior of the Dog." Journal of Veterinary Medical Science. 2013.
Dowd, Scot. "Assessment of Canine Temperament in Relation to Breed Groups." Matrix Canine Research Institute. 2006.
Hussain, SG. "Attacking the Dog-Bite Epidemic: Why Breed-Specific Legislation Won't Solve the Dangerous-Dog Dilemma." Fordham law review. 2006