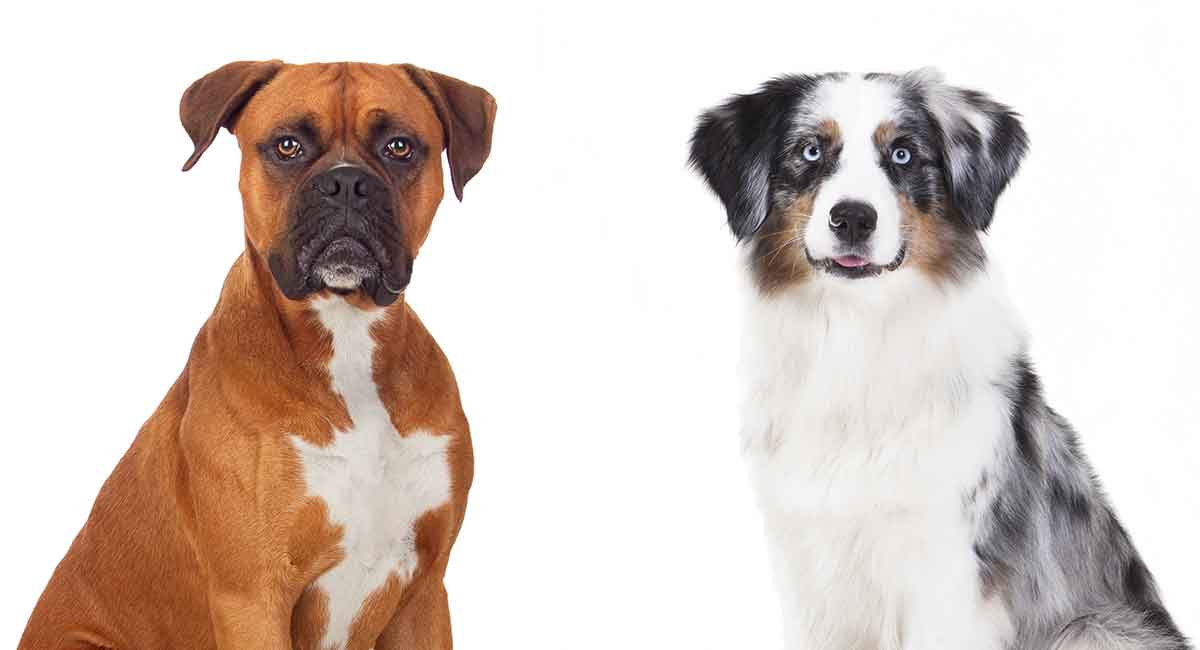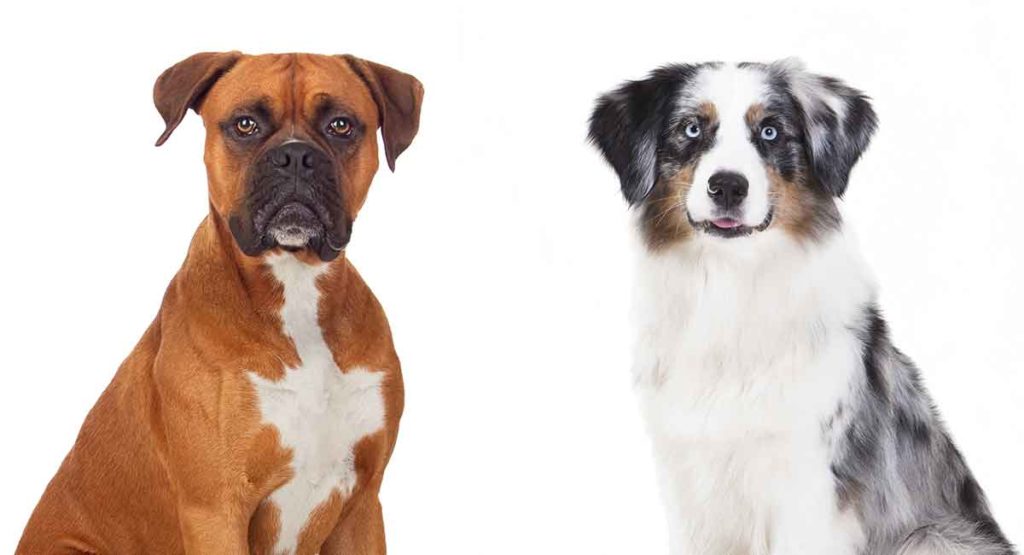 Are you interested in a Boxer Aussie mix dog?
Boxers and Aussie's are both well-loved breeds.
So many dog lovers are searching the internet to see whether the Boxer Aussie Mix makes a good family dog.
This designer dog breed aims to combine the best features and traits of both parent breeds into one dog.
We'll see why it's not always that simple.
And what you should really expect of a Boxer Aussie mix dog.
Where Do Boxer Aussie Mix Come From?
There's no definitive record of the first Boxer Aussie mix puppies.
Interest in this mixed breed has taken off recently.
Which likely originated from the designer dog trend.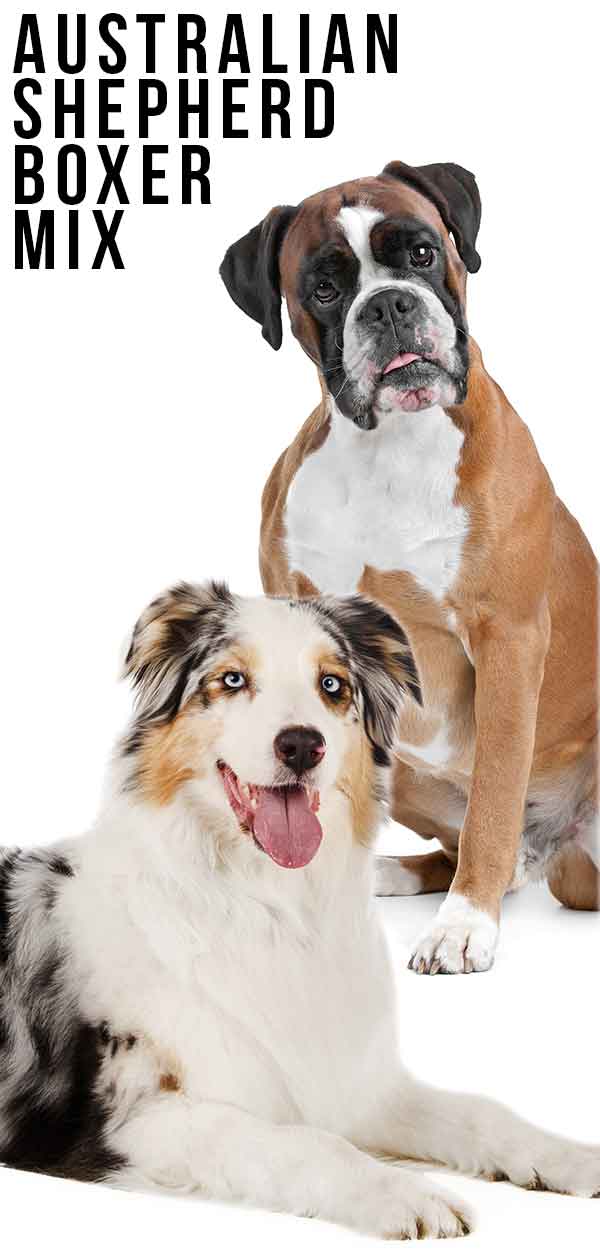 Designer dog controversy
It is worth noting that there is some debate surrounding designer dogs.
We have an article here which delves into these misunderstandings.
Despite the little information on the mix itself, we can still get a good historical background on the cross by looking at the histories of the parent dogs.
Boxer dog heritage
The Boxer can trace its lineage back thousands of years, all the way back to the Assyrian empire in 2500BC.
However, the breed as we know it today only came into existence in the 1800s .
In Germany at the time, there was a larger, heavier breed known as the Bullenbeisser.
The Bullenbeisser was used to hunt large game such as boars.
However, the noble families that owned these breeds eventually fell apart and the Bullenbeisser was left without a job.
From there, the Bullenbeisser was bred down with English Mastiffs into the Boxer breed we see today.
Australian Shepherd roots
As for the Australian Shepherd, it may surprise you to learn that the breed didn't actually originate within Australia!
In fact, they are believed to have derived from somewhere near the Pyrenees Mountains, on the border between Spain and France.
Here their ancestor the Pyrenean Shepherd was put to work as exceptional herders by the indigenous people known as the Basque.
In the early 1800s, many of the Basque people sailed east to try their luck on the newly-discovered continent of Australia.
It was here that the Pyrenean Shepherd was crossed with British import breeds, eventually becoming the Australian Shepherd we know today.
Fun Facts About Boxer Aussie Mix
They are sometimes referred to via the cute nickname "Boxherd".
Dogs of this mix tend to be highly intelligent and are at their best when they have a job to do.
Boxherds tend to love to fetch!
Boxer Aussie Mix Appearance
Dogs of the Boxer Aussie Mix can take after any aspect of their parent breeds, and this goes for their physical appearance too.
Therefore, the best way to get an idea of how a Boxherd may look is to look at the parent breeds involved.
Boxer Aussie Mix Size
Both the Boxer and the Australian Shepherd are medium to large sized dogs.
Due to this, Boxer Aussie Mix are medium to large sized too, with a height estimation of around 18-25 inches.
However, the Boxer is significantly more heavyset than the Australian Shepherd.
Meaning that depending on which parent dog the Boxherd takes after may result in a lighter or heavier dog.
An expected weight range for Boxherds is around 40-80 pounds.
For closer estimations in the height and weight of any given Boxer Aussie Mix puppy, ask the breeder about the height and weight of both parent dogs.
Boxer Aussie mix features
Other features of the Boxer Aussie mix dog will depend upon which parent they take after too.
One such example is the shape of their muzzle.
Australian Shepherds have a strongly defined muzzle, whilst a Boxer's is more compact and squashed.
Also, Boxherds can inherit the black facemask of the Boxer, and may have a short or medium-length tail depending on which parent dog they take after.
A Boxherd's coat can be short and smooth like the Boxer, or medium-length straight to wavy fur like the Australian Shepherd.
There are many potential coat colors within the Boxer Aussie Mix, including fawn, brindle, black, and red.
Patterns such as white patches are common, but spots of blue, red, and tan are a possibility too depending on the colors present within the Australian Shepherd.
Boxer Aussie Mix Temperament
Dogs of the Boxer Aussie Mix are likely to be very loving and attached of their family, highly intelligent, and very active and exercise-oriented dogs.
These are traits they will inherit from both parents.
What are the differences between Boxer and Aussie Shepherd personality?
Australian Shepherd personality
Australian Shepherds have a very strong instinct to herd.
They need to learn acceptable and appropriate behavior from a very young age.
Or they are prone to herding family members – especially young children – instead.
The Australian Shepherd also has a very strong prey drive.
They have an urge to chase any moving objects that they can see.
While this makes playing fetch a great pastime, an Australian Shepherd may try to chase running children or animals.
They are also accomplished escape artists.
A fenced yard will not be enough to keep them inside securely.
Tall walls that they are unable to jump over or dig under will be necessary to keep this dog unleashed in the yard.
Boxer personality
Boxers are clever and hardworking, but with a generous helping of silliness.
A lot of Boxer owners describe them as quite clownish.
Like the Aussie, some Boxers have strong guarding instincts and tend to be territorial.
The need to be taught from a young age to greet strangers graciously.
Obedience and socialization training from a young age will prevent these natural instincts from turning into negative behaviors.
Training Your Boxer Aussie Mix
Training is incredibly important, especially for a potentially large and powerful breed who may inherit strong instinctual urges that could cause issues if left unchecked.
It's important to know what you are doing when it comes to training a dog.
We have many guides on the subject linked below to give you everything you need to know about raising a puppy.
Both parent breeds are very eager to please and intelligent, which means they typically pick up new commands quickly.
Sometimes the Aussie's intelligence means he thrives better with an experienced dog handler.
This could be true of Boxer Aussie mix puppies too.
Training tips for Boxherds
If you are struggling to train your dog, always enroll them in puppy training classes.
Don't just give up and leave them be; this will result in a lot of negative behaviors developing in the future.
Socialization training is just as important as obedience training, especially as Boxherds may exhibit guarding and territorial tendencies.
Exercise for Boxer Aussie Mix Dogs
Both parent dogs are incredibly active and the Boxherd will be no different.
They will require a high amount of exercise daily to be at their happiest.
For adults, an hour or two daily of exercise is recommended, with the majority of that being in a full run rather than a leisurely walk!
Secure yards or fields make great places for dogs of the Boxer Aussie Mix to stretch their legs and spend some energy.
Puppies will require more leisurely and shorter exercise times while their skeleton is developing.
A short to medium walk, increasing in length with their age, topped with some indoor play is a good course of action.
How the Boxer's muzzle affects exercise
If your Boxherd has the flat face of the Boxer, they might also develop Brachycephalic Airway Syndrome.
This affects their breathing, and means that during exercise they
struggle to take in enough oxygen
and struggle to control their core body temperature through panting.
This can result in sudden death during vigorous exercise, especially during hot weather.
Unfortunately if your dog also has the extreme work ethic and unlimited energy of an Aussie, then curtailing his exercise to save his life will also make him bored, frustrated and potentially destructive around the home.
It is important to consider how you will manage a situation like this before you bring a Boxherd puppy home.
Boxer Aussie Mix Health
All dogs can get sick, and all pedigree dogs have some hereditary problems which affect them more frequently than the canine population at large.
These are the main health problems of Aussies and Boxers.
Boxer dog health – Brachycephaly
As mentioned earlier, Boxer dogs are brachycephalic.
Their flat-face has been bred into them over time by humans.
While many find a flat face very cute, it brings with it a lot of severe health problems.
Brachycephalic Airway Syndrome is where the nasal cavity is compressed due to the shortened skull present within brachycephalic dogs.
This hampers their breathing, making it much more difficult to take a breath effectively.
Their compromised breathing is exacerbated further by exercise or heat.
Therefore, take extreme care with brachycephalic breeds to ensure they do not overexert themselves or overheat in warm weather.
Dogs of the Boxer Aussie Mix may inherit the Boxers shortened muzzle and suffer from Brachycephalic Airway Syndrome.
Therefore, if you have your heart set on this breed, avoid any puppies without a pronounced muzzle.
Boxer Health – Other Potential Health Issues
Boxers are also predisposed to
hereditary heart diseases
hypothyroidism
degenerative myelopathy – a severe progressive disease that slowly paralyzes the hind legs
hip dysplasia
All of these conditions can be screened for before a Boxer dog breeds.
Good breeders will show you evidence that their dogs were health checked before they mated.
Australian Shepherd health
Australian Shepherds have been known to suffer from
elbow dysplasia – a developmental disorder where the elbow joints do not form correctly, leading to painful arthritis
hip dysplasia – the same thing but affecting the hip joint. Since this occurs in both parent breeds, screening of breeding dogs is especially important
congenital eye disorders
Finding a health Boxer Aussie Mix Puppy
As you can see, there are a lot of potential health issues present within the parent breeds that could potentially be passed down to dogs of the Boxer Aussie Mix.
It is very important to purchase puppies from trustworthy breeders to have your best chance at a healthy dog.
The expected lifespan of a Boxherd is around 13-15 years.
Grooming your Boxer Aussie Dog
As for grooming, most times a Boxherd will only require a thorough weekly brushing to keep on top of their coat.
However, if they have the coat of the Australian Shepherd, shedding season may require a bit more work.
It is also important to ensure the dog's nails are trimmed and their teeth are brushed regularly.
Do Boxer Aussie Mix Make Good Family Dogs?
The shape of Boxer dogs' muzzles has changed dramatically in the past decade.
More and more individuals are becoming so brachycephalic as to compromise their health and quality of life.
We think this is unacceptable.
If a Boxer Aussie mix dog is the pup for you, you can help prevent the spread of these structural health issues.
Only choose a puppy from a Boxer parent who still has a pronounced muzzle.
Alternatively, adopt an adult dog from a rescue center.
Rescuing a Boxer Aussie Mix
If you decide to adopt, there are a few things you should keep in mind.
Be sure to ask about the backgrounds of any dog you may be looking at.
This includes their current and past health issues, their temperament, and why they are in the rescue center to begin with.
When you decide to adopt, you will be asked many questions surrounding your current family situation and how much time you have to devote to a dog.
This is to make sure that the dog goes to a good home who can properly care for them.
However, sometimes rescue centers tend to be rather strict and may unfairly deny potentially good families for dogs.
If you find this happens to you and you are sure that you have a good family situation and the time for a dog, don't get discouraged by the denial, and keep trying.
Finding a Boxer Aussie Mix Puppy
If you decide to buy a puppy, it's very important to do everything in your ability to find a healthy dog.
Some bad breeders create "puppy farms" in an attempt to make more money.
Also called puppy mills, these establishments conduct many unethical practices.
We have a guide here which gives you the information you need to avoid a puppy mill.
It's also important to avoid pet stores. Most of the time, they purchase the dogs they sell from the puppy mills we just mentioned.
Always try to find a trustworthy breeder with recognition from breeding societies and positive feedback from previous customers.
Raising a Boxer Aussie Mix Puppy
Raising a puppy can be rightfully daunting for the inexperienced.
A puppy needs a lot of work to mature into a well-behaved and healthy adult.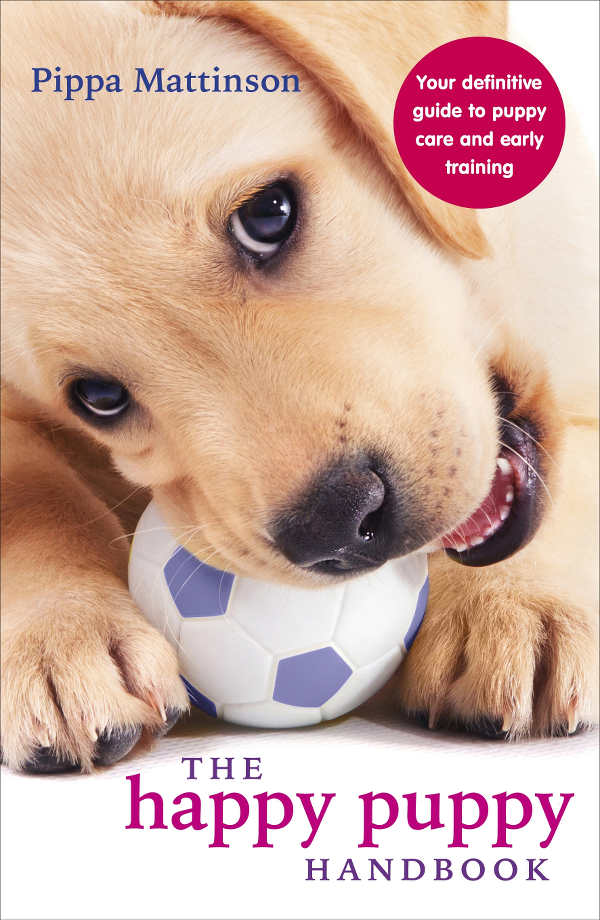 Luckily, we have a lot of resources on our site that teach you everything you need to know about raising a puppy!
Check them out here:
Boxer Aussie Mix Products and Accessories
As dogs of the Boxer Aussie Mix may suffer from Brachycephalic Airway Syndrome, purchase a harness as opposed to a leash for walking your dog.
A leash can apply even more pressure on the dog's breathing.
Pros and Cons of Getting a Boxer Aussie Mix
Here is a brief summary of the pros and cons of this breed:
Cons:
Potentially severe health issues such as joint problems and heart conditions.
The potential for Brachycephalic Airway Syndrome.
Possible temperamental issues.
Not a good dog for first-time owners.
Pros:
Can be a very good fit for active families.
Can be an effective guard dog if trained correctly.
Intelligent and picks up training quickly.
Similar Boxer Aussie Mixes and Breeds
As this is a breed with a lot of potential health issues, we heavily recommend considering other similar and healthier breeds before coming to a decision.
Here are some suggestions:
Australian Shepherd Lab Mix
Irish Terrier
Boxer Aussie Mix Rescues
Sadly, there are not any rescue centers specific to this crossbreed.
However, you may have luck searching in the rescue centers for the parent breeds. See below!
UK:
US:
Canada:
Australia:
If there's a rescue center near you that we've missed, tell us about them in the comments box!
What do you think about this cross?
Have you ever owned one?
Let us know below!
References and Resources
American Kennel Club
Monnet, E, Brachycephalic Airway Syndrome World Small Animal Veterinary Association, 2015
Karabagli, M, Brachycephalic Airway Syndrome in Dogs Istanbul University, 2012
Bright, RM, Laryngeal Collapse in Dogs, 2011
Leppänen, M, et al, Controlling canine hip dysplasia in Finland Preventive Veterinary Medicine, 1999
Cachon, T, et al, Risk of simultaneous phenotypic expression of hip and elbow dysplasia in dogs Veterinary and Comparative Orthopaedics and Traumatology, 2009
Hou, Y, et al, Monitoring Hip and Elbow Dysplasia Achieved Modest Genetic Improvement of 74 Dog Breeds over 40 Years in USA PLOS One, 2013
Gough, A, et al, Breed Predispositions to Disease in Dogs and Cats John Wiley & Sons, 2018
Mooney, CT, et al, Congenital hypothyroidism in a boxer dog Journal of Small Animal Practice, 1993
Miller, AD, et al, Degenerative Myelopathy in Two Boxer Dogs Veterinary Pathology, 2009