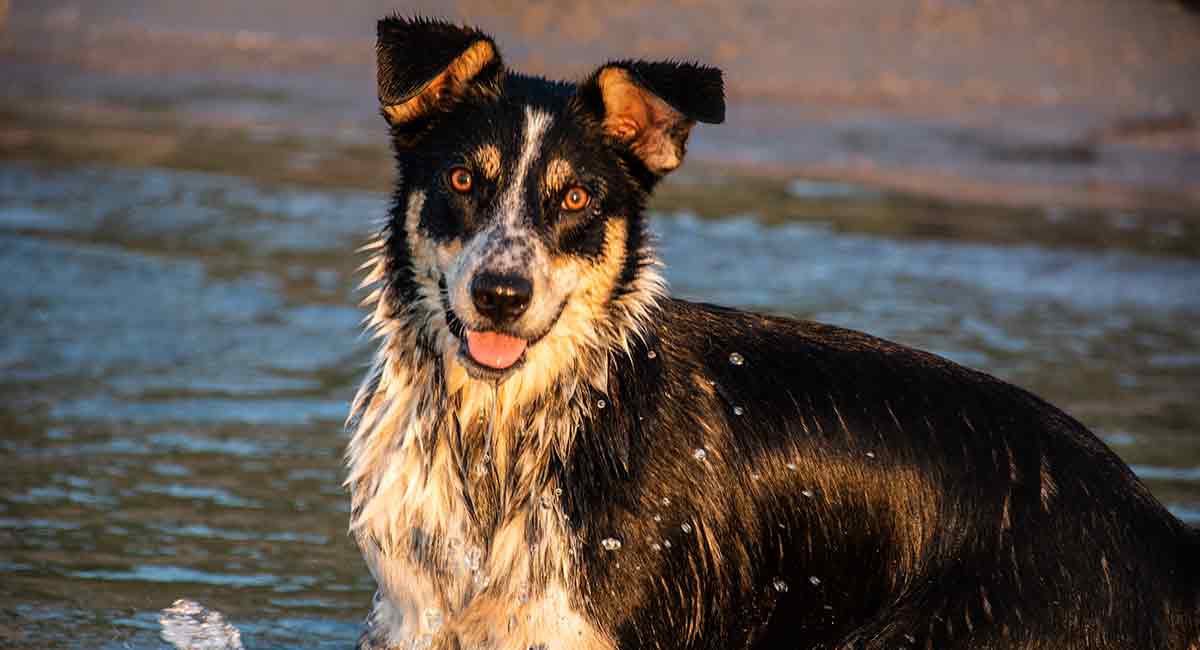 The Border Collie Jack Russell mix, also known as the Border Jack, is a high energy hybrid.
Both of these working breeds are intelligent, incredibly energetic, and highly trainable.
But physically they look very different. So predicting the appearance of their crossbreed puppies is far less straightforward.
What kind of dog does this combination make?
Let's find out.
Where Does the Border Collie Jack Russell Mix Come From?
Like many mixed breeds, there's not a lot of information about the origins of the Border Collie Jack Russell mix.
It's likely that they originated in the U.S. within the last few decades.
But, by looking into the history of both parent breeds we can gain a better understanding of this crossbreed.
Border Collie History
The Border Collie was born to herd.
In fact, they're often referred to as the world's greatest herders.
Their ancestors were crosses between old Roman dogs and Viking spitzes.
These agile dogs were well-suited to the rocky highlands along the border of Scotland and England. This is where they get their name.
Jack Russell Terrier History
The Jack Russell was bred to hunt foxes.
These working terriers are not purebred. They've had a broad standard since their origins in the early 1800s.
Jack Russells aren't recognized by the American Kennel Club (AKC). But the closely related Russell Terrier and Parson Russell Terrier are.
These dogs get their name from Reverend John Russell. He bred one of the finest strains of terriers in Devonshire, England.
It's believed that all three breeds originated from a Fox Terrier named Trump.
The Mixed Breed Debate
The popularity of mixed breeds has split the canine community.
As more and more crossbreeds emerge, purebred supporters contend that mixing bloodlines creates unpredictable, and even undesirable, traits.
However, those who favor mixed breeds claim that due to a wider gene pool, these dogs are healthier than purebred dogs.
Check out this article if you want to learning more about this ongoing debate.
Fun Facts About the Border Collie Jack Russell Mix
Border Collies have been cast in many films. This inclues: Babe, Animal Farm, and Snow Dogs.
A brainy Border Collie called Chaser knows the names of more than 1,000 objects.
Famous owners of the breed include James Dean, Jon Bon Jovi, Ethan Hawke, and Tiger Woods.
Jack Russell Terriers can jump five feet in the air. That's five times their height!
Eddie on the sitcom Frasier was played by a Jack Russell named Moose. He was so popular that he's said to have received more fan mail than any of the human actors on the show.
The Prince of Wales (Prince Charles) and Camilla Parker-Bowles, Serena Williams, and Mariah Carey are among the well-known Jack Russell Terrier enthusiasts.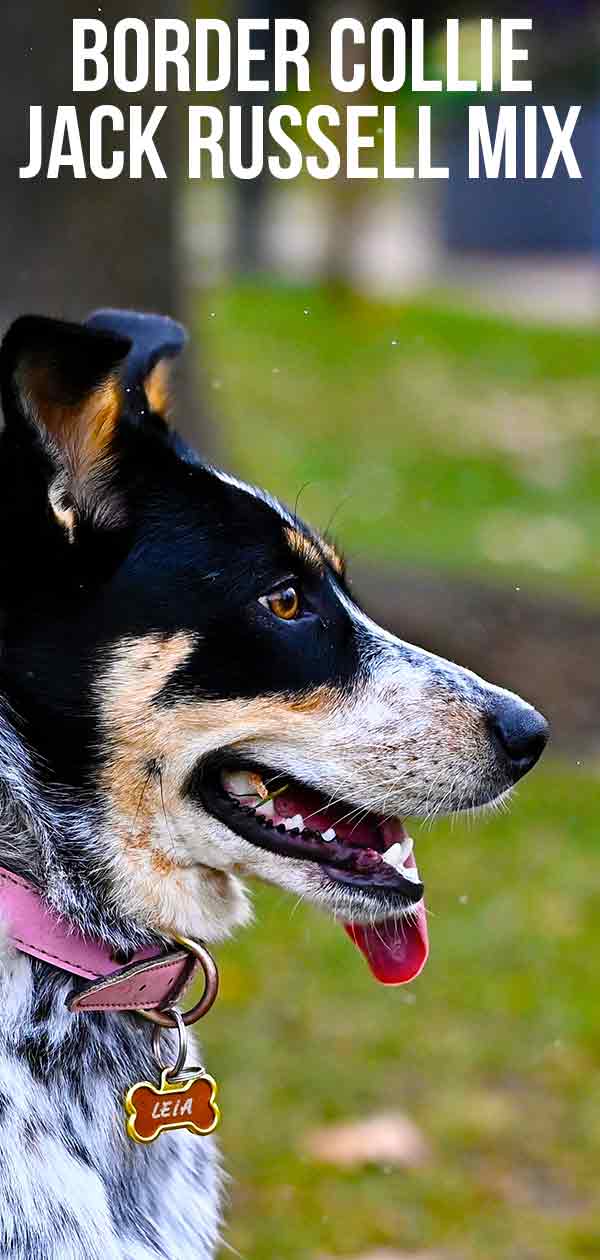 Border Collie Jack Russell Mix Appearance
Predicting exactly what the Border Collie Jack Russell mix will look like is impossible.
Whenever two different breeds are combined, the appearance of the offspring is unpredictable. They can be more like one parent or a mix of both.
Border Jacks are often smaller than a Border Collie. But bigger than a Jack Russell Terrier.
Looking at each breed individually will give us an idea of what you can expect the puppies to look like.
Border Collie Appearance
The handsome Border Collie is the picture of muscular agility.
Males stand from 19 to 22 inches and females from 18 to 21 inches. Their body is longer than it is tall.
Weight range is between 30 and 55 pounds.
Keen intelligence is detectable in their alert expression. They have an intense gaze known as the "herding eye."
The coat comes in both a short, rough and a medium-length, smooth version.
They're seen in a variety of colors and patterns. But they are most often found in black and white.
Jack Russell Terrier Appearance
Compact and solid, the Jack Russell Terrier is a sturdy and tough little terrier.
They stand from 10 to 15 inches and weigh between 13 and 17 pounds.
A flat skull, dark, almond-shaped eyes, and small V-shaped drop ears carried forward are defining features of the breed.
Their smooth coat is predominately white with tan, black, or brown markings.
Border Collie Jack Russell Mix Temperament
As with appearance, we need to look at both parents to capture the full picture of what a Border Collie Jack Russell mix could inherit.
Border Collie Temperament
Border Collies are widely regarded as one of the most intelligent of all dog breeds.
This is both an advantage and a drawback.
They mix a superior intellect with their tendency to be an obsessive workaholic. But this can make this breed more than some people can handle.
Boredom, due to a lack of physical and mental incentive, can cause destructiveness.
Their natural instinct to herd can extend to children and other pets.
Without proper socialization, Border Collies can be less than social.
Jack Russell Terrier Temperament
Brilliant, happy, fearless, intense, athletic, and alert. The Jack Russell Terrier has energy to burn.
Like the Border Collie, they need plenty to keep them busy to avoid unwanted behaviors.
Due to their hunting background, it's possible that the Jack Russell Terrier has an even greater prey drive than the Border Collie does.
It also means that they can be aggressive towards other dogs and animals if not properly socialized.
Jack Russell Terriers can also be quite vocal.
They make excellent watchdogs. They're only too happy to alert you to approaching strangers.
Training Your Border Collie Jack Russell Mix
Both parents are off-the-charts intelligent. So, training can be relatively easy.
However, each breed can also be strong-willed.
Use positive reinforcement for best results. Give your pup lots of attention and encouragement.
A dog with such a strong hunting and herding background needs socialization at a young age.
Introducing your Border Collie Jack Russell mix puppy to a wide variety of people, environments, and other dogs is essential.
Exercising Your Border Collie Jack Russell Mix
No matter which parent your puppy takes after, they will need a vigorous daily exercise.
These high-drive, athletic breeds thrive when they have a job to do and plenty of room to run.
Canine activities, such as agility and flyball, should help them burn off energy.
Left to their own devices a Border Collie Jack Russell mix is likely to become rowdy. They may take to barking, chewing, and digging.
Border Collie Jack Russell Mix Health
Fortunately, both of the parents are quite healthy breeds.
The Border Collie has a lifespan of 12 to 15 years. And the Jack Russell Terrier lives from 13 to 16 years.
But, each breed is prone to certain health conditions you should be aware of.
Border Collie Health
Responsible breeders should test their breeding stock for the following health issues:
Jack Russell Health
Border Collie Jack Russell Mix Grooming and Feeding
The Border Collie has two types of coats. Both are dense weather-resistant double coats.
Either will need to be groomed at least once or twice a week. This will keep them free of dirt, debris, and tangles.
During shedding season daily brushing will be required.
The Jack Russell Terrier can have a smooth, broken, or rough coat.
They all tend to shed and need brushing at least once a week.
Your Border Jack should do well with an age-appropriate food that lists a high-quality protein as the first ingredient.
Do Border Collie Jack Russell Mixes Make Good Family Dogs?
The parents share many qualities. So, we can predict that the Jack Russell Collie mix will be a clever, energetic dog who needs an active owner.
But they may have instinctive herding and hunting tendencies. So this is not a good dog for a home with young children or other small pets.
This is not a large breed. But they will probably not adapt to small spaces like apartments and homes with small yards.
First-time owners may also want to avoid a dog who will need so much training and daily exercise.
Rescuing a Border Collie Jack Russell Mix
The Border Jack mixed breed is popular. But it may still take a while to find the dog you're looking for.
Specialized shelters are the best place to start. We've listed some below.
Once you've found the dog you want, be patient with them.
Remember that they've already lost a home, been in a shelter, and now have to adapt to another new environment.
But, you do need to start exercising this breed as soon as you bring them home.
This will reduce the risk of bad behavior. Plus it is a great way to bond with your new family member.
Finding a Border Collie Jack Russell Mix
Mixed breeds are becoming more popular. There are now more opportunities to find a Border Collie Jack Russell mix.
However, increased demand means more people are looking to make a quick buck on a growing trend.
Take the time to seek out a reputable breeder who is able to answer all of your questions and provide proof of health testing.
You should also meet the parents and see the environment where they've been living.
Where to Avoid
Avoid pet stores as most of these dogs are from puppy mills.
These dogs are often mistreated and unhealthy.
Our puppy search guide will give you step-by-step instructions on finding a puppy.
Raising a Border Collie Jack Russell Mix
A high-energy, working dog like the Border Jack will need plenty of early socialization and positive reinforcement training.
Choosing a nutritional food in the proper amount is also a crucial part of raising a healthy puppy.
Our puppy care section offers a selection of articles on a wide array of topics.
Border Collie Jack Russell Mix Products and Accessories
It's tough to prepare for any puppy. But especially one that could be any combination of two different breeds.
Fortunately, we've got some great products any Border Collie Jack Russell Mix will love.
These Border Collie toys are designed to keep clever canines from becoming bored.
Chew-proof beds are tough, durable, and built with safety in mind.
Pros and Cons of Getting a Border Collie Jack Russell Mix
Cons:
Can become bored and destructive if not physically and mentally challenged
Herding instincts and a strong prey drive make the Border Jack a bad match for homes with small children and pets
May have a tendency to be aggressive towards other dogs
Barking, digging, and chewing tendencies.
Pros:
Both parent breeds are generally healthy
Easy to groom
Highly intelligent and very trainable
Good watchdog
Loyal and affectionate.
Similar Border Collie Jack Russell Mixes and Breeds
If you're still undecided, there are other breeds to choose from. Check out these other mixed breeds with either the Border Collie or the Jack Russell Terrier as a parent:
Border Collie Jack Russell Mix Rescues
These rescues specialize in the parent breeds. They are a good resource for finding a Border Collie Jack Russell mix.
Feel free to add to this list in the comments.
Is a Border Collie Jack Russell Mix Right For Me?
The Border Collie Jack Russell mix is a healthy breed. It has plenty to offer the right owners.
They make an excellent choice for families that enjoy an active lifestyle. And those that have time to devote to a high energy dog.
But, they don't suit homes with young children or other pets.
If you live in an apartment or don't have experience as a dog owner, you should also consider a less demanding breed.
Are you sharing your home with a Border Jack?
Let us know in the comments below!
References and Resources
Jack Russell Terrier

Club of America

Duffy, DL, et al., "Breed differences in canine aggression,"

Applied Animal Behavior Science

, 2008

Platt, S., et al., "Prevalence of Unilateral and Bilateral Deafness in Border Collies and Association with Phenotype,"

Journal of Veterinary Internal Medicine, 2008

Kishimoto, M., et al., "Quantitative Evaluation of Hip Joint Laxity in 22 Border Collies Using Computed Tomography,"

Journal of Veterinary Medical Science, 2009

Vilboux, T., et al., "Progressive Retinal Atrophy in the Border Collie: A new XLPRA,"

BMC Veterinary Research, 2008

Hülsmeyer

, V., et al., "Epilepsy in Border Collies: Clinical Manifestation, Outcome, and Mode of Inheritance,"

Journal of Veterinary Internal Medicine, 2010

Parker, HG., et al., "Breed relationships facilitate fine-mapping studies: A 7.8-kb deletion cosegregates with Collie eye anomaly across multiple dog breeds,"

Genome Research, 2007

Mizukami, K., et al., "Neuronal Ceroid Lipofuscinosis in Border Collie Dogs in Japan: Clinical and Molecular Epidemiological Study (2000–2011),"

The Scientific World Journal, 2012
Further Reading