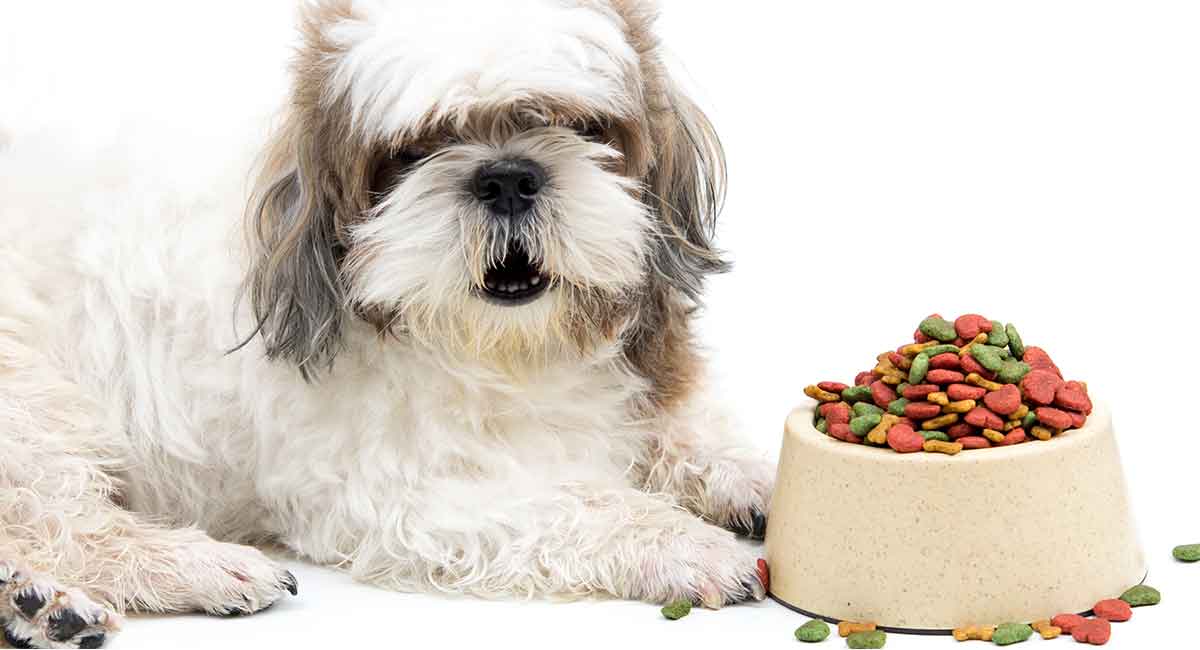 The best dog food for Shih Tzu puppies, adults and seniors is one that gives them a complete nutritional diet, in a palatable and easy to digest form. They are picky eaters, so taste matters. These affectionate little lion dogs are a small breed that often have allergies, sensitive stomaches and weight problems. We'll help you to pick whether wet, dry, raw or grain free options will suit your lively lapdog best as they develop. Our top choices are high in protein, fats, vitamins and minerals, but low in carbs and fillers, to keep their teeth and coats healthy, as well as their bodies.
Contents
The Shih Tzu is a small dog breed that ranges between 9 and 16 pounds when full grown. They're well known for their playful personalities and their beautiful coat. Unfortunately, they're also somewhat notorious for having sensitive stomachs.
Best Dog Food For Shih Tzu Adults
Because a Shih Tzu is a toy breed dog, what may look like a miniscule portion of food to you may be the equivalent of an all-you-can-eat banquet in your pint-sized pup's wide eyes. Unfortunately, over sized portions are one of the biggest causes of obesity in the Shih Tzu. They do love to eat, and are especially fond of treats! Shih Tzu dogs are not overly active. Though they do need regular exercise, they don't expend a lot of energy due to being small, rather calm dogs.
Feeding vs Health
Shih Tzu owners can struggle to find food that doesn't cause distress to their sensitive digestive systems. Some Shih Tzu may also develop food allergies. And others are just plain picky eaters.
Though it isn't guaranteed that your Shih Tzu will have trouble with their meals, it's still a good idea to choose a diet that is suited to their small stature and delicate digestion. But even if your Shih Tzu is spared the sensitive digestion and food allergies this breed is known for, weight gain on its own can also be one trigger for a host of serious health issues.
So it's best to opt for foods that don't have an excess caloric count. In the rest of this article, we will address these issues and look at choosing foods that can help to reduce the chances of digestive upsets and weight management problems.
Shih Tzu Dog Food Choices
Not all foods were created equal, of course. And even the method in which nutrition is delivered differs according to the owner's choice. For instance, there's a lot more to modern dog food than "wet or dry."
Pet owners today must choose between kibble and canned, grain free or not, raw or cooked. Naturally, it's up to the individual to do their research and determine which is the best avenue for their dog.
And it's always a good idea to consult with your vet. This is especially important when looking at Shih Tzu food, since the best food for Shih Tzu puppy dogs will differ from the best Shih Tzu dog food for adults or seniors. And even within those age classifications, your individual dog may benefit more from one food than another.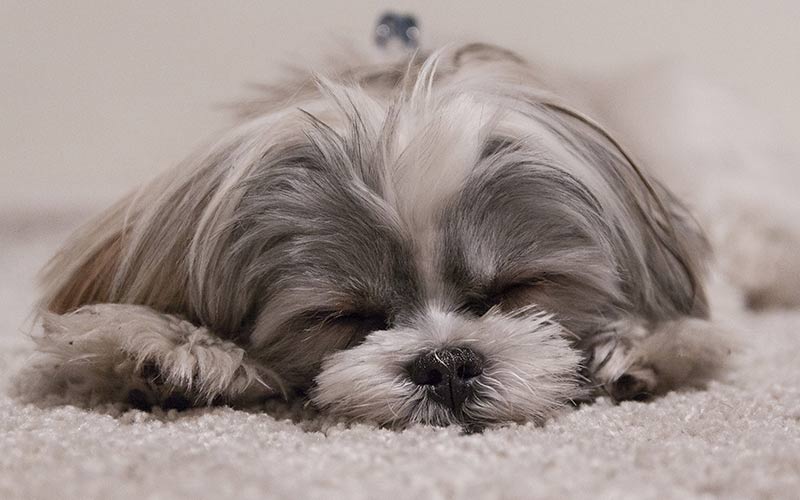 Best Dry Dog Food For Shih Tzu Adults
Royal Canin and Eukanuba are two of the best dog food for Shih Tzu brands on the pet food market today. You can't go wrong with these healthy, tasty dry food options.
Royal Canin Shih Tzu Food
This Royal Canin dog food* has been developed to cater to unique needs of this dog breed. Shih Tzu are known to have a large tongue for their mouth, which can make picking up regular dry dog food difficult. This Shih Tzu food kibble has a shape that is easy for this breed to grasp, and it also helps keep your dog's teeth clean. It is designed to be fed to Shih Tzu dogs 10 months and older. You can choose from a 2.5-pound or 10-pound bag.
Eukanuba Dog Food
Eukanuba is another brand that develops breed-specific food for different dogs' needs. This Yorkshire Terrier food* is designed to meet the nutritional, dental and kibble size needs of Shih Tzu. You can choose from a 3-pound, 10-pound, or 30-pound bag.
Blue Buffalo Dog Food
A third option for dry food is this choice* from Blue Buffalo. Notable for being grain free and all natural, this could be a good possibility for the best Shih Tzu food for your little one.
Best Wet Dog Food For Shih Tzu
You can choose whether to feed your Shih Tzu both dry and wet food, or just one type. If you choose to serve wet food, the Shih Tzu puppy food serving size should make up just 25% of each meal, with the remaining 75% consisting of soaked dry kibble. You can adjust that percentage at your veterinarian's direction as your pup matures.
Newman's Own Wet Food
The highly rated and popular Newman's Own Premium wet food* is high in protein and low in carbohydrates, a blend that is perfect for a Shih Tzu. This wet food is 70% organic and free from artificial ingredients or preservatives.
Hill's Science Diet
The Hill's Science Diet dog food* is formulated to meet the nutritional and weight management needs of small and toy dog breeds. The primary ingredient is lean protein to build lean muscle mass without adding bulk. You can choose from beef or chicken flavors. It comes in a 12-pack of 5.8-ounce cans.
Best Raw Dog Food For Shih Tzu
The raw food diet is a popular trend in feeding our pets these days, and there are reasons behind that. Because dogs do need protein as their primary dietary requirement, it makes sense to many owners that a raw meat-based diet is a good option to consider. Of course, it's always a good idea to consult with your vet. And remember that all dogs need complete nutrition, not simply one source.
Better Raw Food
This dog food supplement mix* is designed to be used as you make your own raw dog food at home. It's a healthy accompaniment to meat-based raw diets.
Dr Harveys Raw Dog Food
This food*, likewise, is designed to be in addition to the raw food you make for your dog at home. The formula is human grade.
Primal Pet Foods
These raw freeze-dried chicken formula nuggets* need to be rehydrated before your dog eats them. They are all natural and tasty options for good Shih Tzu dog food.
Best Grain-Free Food For Shih Tzu
The best dog food for Shih Tzu of any age could well be a grain free option. We've had a look at a couple already, but here are some more excellent options for small breeds like your tiny friend.
Solid Gold's Grain Free
Could Solid Gold's Grain Free Small Breed* be the best dog food for Shih Tzu members of your family? It comes in a range of flavors and sizes, and even has a dry option as well. This great food is grain and gluten free. It was specially designed with small breeds in mind.
Nature's Variety Instinct Small Breed
Another one of the best dog food for Shih Tzu options is Nature's Variety Instinct Small Breed.* This wet dog food is grain and gluten free, and also has several flavor options.
Best Dog Food For Shih Tzu Puppies
Puppies will, of course, need different dietary nutrition than adults, and when your dog gets a little older, his needs will change again. Right from puppyhood, you want to select a dog food for Shih Tzu puppy owners that has at least 22-25 percent lean protein, and at least 8-10 percent healthy fats.
As your puppy grows up, you can adjust these percentages downward as your veterinarian or the dog food manufacturer recommends. There are also some other factors that play into choosing the best food for Shih Tzu dogs.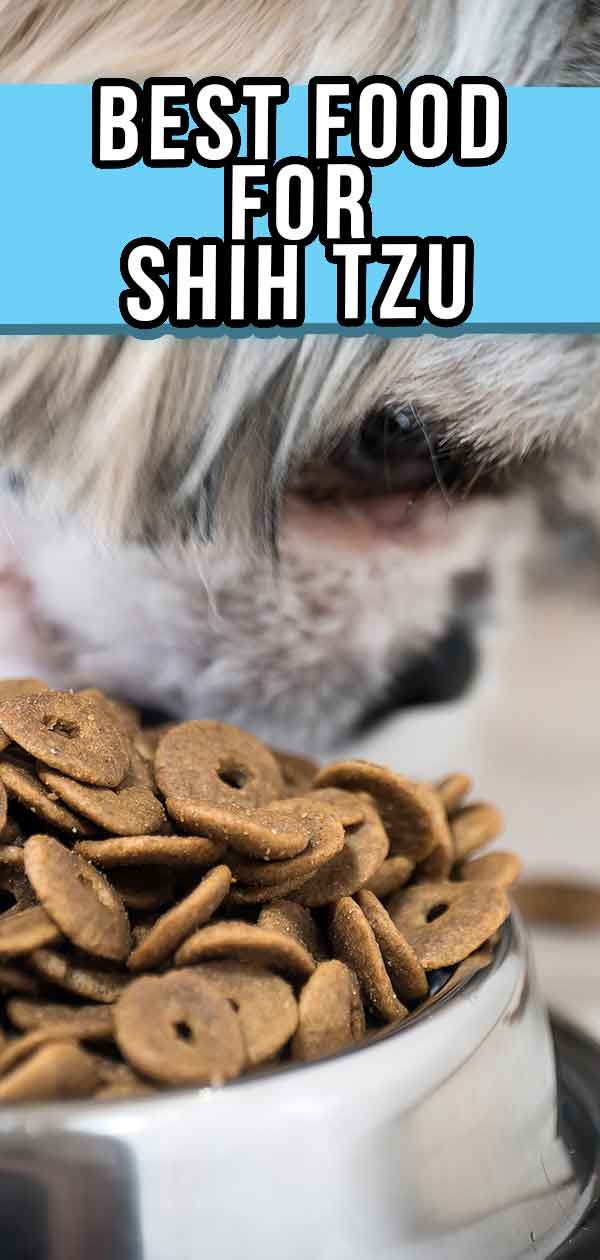 Best Puppy Food For Shih Tzu
Picking the best puppy food for Shih Tzu babies starts with ensuring the formula is geared towards toy breed puppies and their special nutritional needs. All of these Shih Tzu food for puppies formulas can meet that need in full. And for more information, check out our in-depth guide to Shih Tzu puppy food.
Royal Canin For Puppies
Royal Canin for puppies* is the counterpart to the adult dry dog food listed in an earlier section here. It is designed to feed to Shih Tzu puppies starting at 8 weeks and continuing through 10 months of age. After that time, you can transition to the same brand adult dry dog food. Royal Canin Shih Tzu puppy food comes in a 2.5-pound bag.
Iams Puppy
This popular Iams puppy food* features small size kibble that is easier on young, tender mouths. The main ingredient is chicken and it is free from soy, wheat, fillers and artificial ingredients. This food comes in a 3.5-pound, 6-pound, 7-pound, 12.5-pound, 15-pound and 30.6-pound bag.
Rachel Ray Nutrish
This chicken and brown rice recipe from Rachel Ray* creates a healthy base for your puppy as he or she grows. It contains real farm-raised chicken as the first ingredient, and also includes antioxidant fruits and vegetables.
Best Dog Food For Shih Tzu Seniors
Looking for the best dog food for Shih Tzu dogs in their twilight years? Just as Shih Tzu puppies have specific nutritional requirements, so too will your senior Shih Tzu benefit from a specific senior formula dog food. These three dog food for Shih Tzu seniors options factor in aging joints, lessening activity levels, and increased immune support needs.
Wellness Complete Senior
This special formula Wellness Complete Health small breed dog food* features protein-rich kibble with added glucosamine and chondroitin for joint health. You can choose from a number of flavors in a 2-pound, 4-pound, 11-pound or 12-pound bag.
Hills Science Diet Senior
This popular senior dry dog food* is designed to support the joint health and immune system function of senior small breed dogs. There is also a second food* for adult/senior dogs aged 7+. You can choose from a 4.5-pound or 7-pound bag for either food.
Best Dog Food For Shih Tzu Size
Though the Shih Tzu is small, he isn't exactly a toy breed, as he averages over seven pounds. Of course, neither is he a working breed! No, the Shih Tzu was seemingly specially designed to be a lap dog, with a calm temperament and an affectionate nature. So, overall, he can be expected to be relatively sturdy and not have special dietary needs. The whole nutrition recommended here should cover everything that he needs to have.
How Much Should I Feed My Shih Tzu?
The amount of food a Shih Tzu should have differs depending on the individual dog, his age, and his health. We've already linked to an article on feeding a Shih Tzu puppy food. As he grows older, he will need more and different food, specifically formulated for adults. And his needs will change again as he matures into a senior.
Shih Tzu Weight And Diet
On average, Shih Tzu are in the range of 9-16 pounds. Of course, a healthy weight for your dog will depend on his stature. You may be able to weigh your dog on your bathroom scale.
But it's also a good idea to have him weighed when you take him for his regular vet checkup. This can help ensure that your vet keeps an eye on any potential weight-related health problems.
Best Dog Food For Shih Tzu Weight Loss
As weight gain can be a chronic problem for these little dogs, here are a few options for weight maintenance foods. These foods strip out unnecessary caloric content. Focusing instead on the needed protein and fat ratio in order to help your dog reduce his weight and keep it in a healthy range.
Hills Science Diet Weight Management
This low calorie dry dog food* features L-carnitine to promote a healthy body weight. It's also great for motility, and heart health.
Weight Control
This formula is a low fat, low calorie product with plenty of fiber rich sweet potatoes as well as real chicken for protein. We definitely recommend this as one of the best food for Shih Tzu options.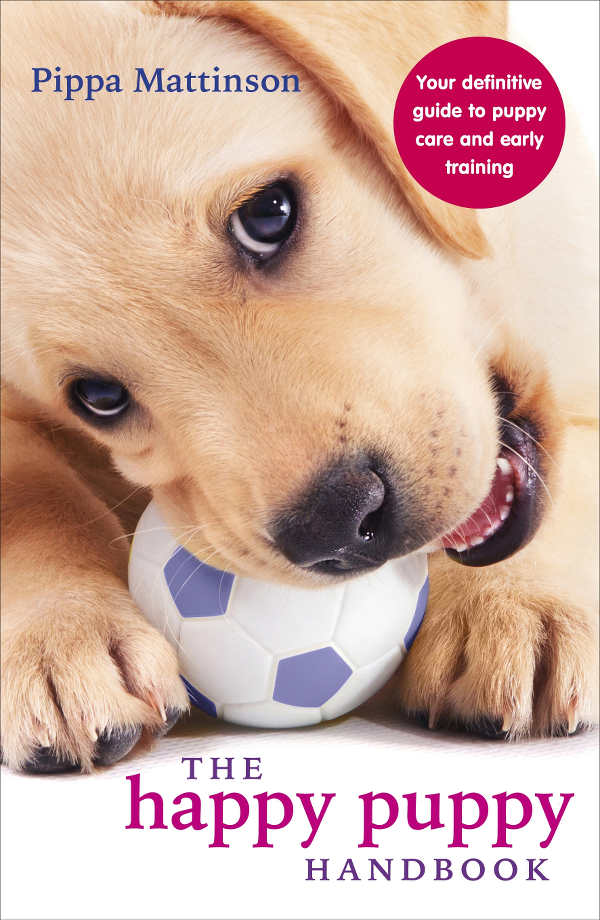 Best Dog Food For Shih Tzu With Sensitive Stomachs
Shih Tzu are definitely prone to sensitive stomachs, as many owners can attest. If your own pup has recurring problems stomaching his food, make sure to involve your vet in what the best way forward is as far as diet choices. Meanwhile, here are a few options for the best food for Shih Tzu dogs with sensitive stomachs.
Wellness Natural
The healthy Wellness Core Natural* is completely grain free and free from artificial fillers, ingredients or preservatives. It is made in the U.S.A. and backed by the manufacturer's guarantee. You can choose from several flavors, and there is also a puppy and low-fat option. The food comes in a 4-pound or 12-pound bag.
Diamond Naturals
The specially formulated Diamond Naturals Dry Food small breed adult dry dog food* features smaller kibble that is nutrient rich and easier for small breeds to chew. Enthusiastic owners say their dogs just love this food. It comes in an 18-pound bag.
Best Dog Food For Shih Tzu With Allergies
Like any purebred dog breed, your precious Shih Tzu pup can be prone to certain breed-specific health issues, such as food allergies. Some Shih Tzu can eat anything and everything without issue. For others, it can feel like a constant challenge to find the best food for Shih Tzu dogs.
One that won't cause any allergic symptoms, for instance. If your Shih Tzu is suffering from food allergies, the Shih Tzu food recommendations highlighted here may offer a solution to this common breed issue. These are two of the best dog food for Shih Tzu with sensitive stomach formulas available today.
Wellness Simple Natural
The Wellness Simple Natural* features a limited ingredients list to cater to small breed dogs with food sensitivities or allergies. There is no gluten or wheat, fillers or artificial ingredients in this food and the kibble is a smaller size for easier gripping and chewing. You can choose from several flavors in a 4.5-pound, 10.5-pound, 24-pound or 26-pound bag.
Best Food For Mini Shih Tzu
It's possible that you may have a very small Shih Tzu. Some people would call this a teacup Shih Tzu, though this is not actually a separate breed. Often, "teacup" breeds are either crossed with another, smaller breed, or bred from runts. Your miniature Shih Tzu will need less food than a regularly sized Shih Tzu, regardless of which type of food you are giving him. But you could also opt to feed your teacup Shih Tzu a food specially created for toy dogs.
Blue Buffalo
This is a "real meat first" formula by Blue Buffalo* that focuses on ensuring that small and toy breeds get the nutrition they need. It is made with all natural ingredients, including proteins, vitamins, minerals, and antioxidants.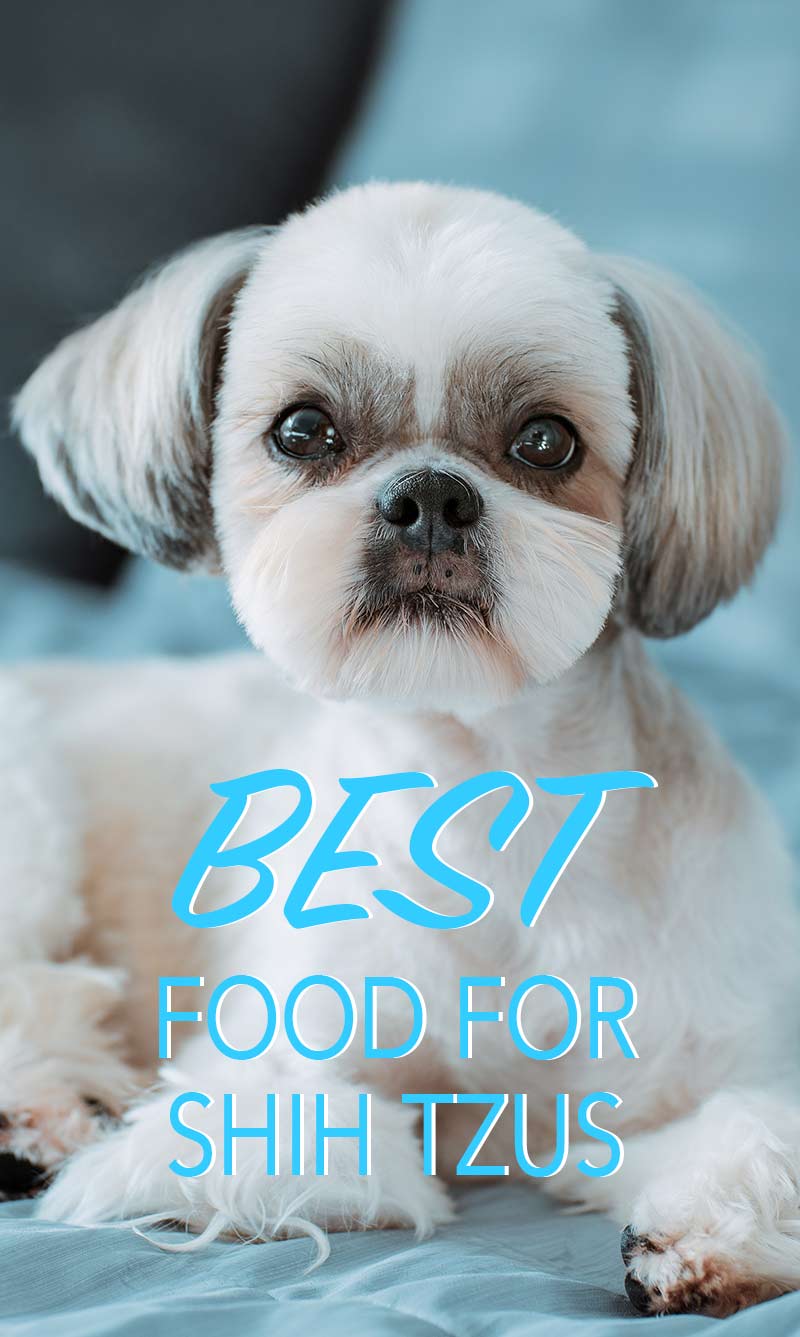 Affiliate link disclosure: Links in this article marked with an * are affiliate links, and we may receive a small commission if you purchase these products. However, we selected them for inclusion independently, and all of the views expressed in this article are our own.