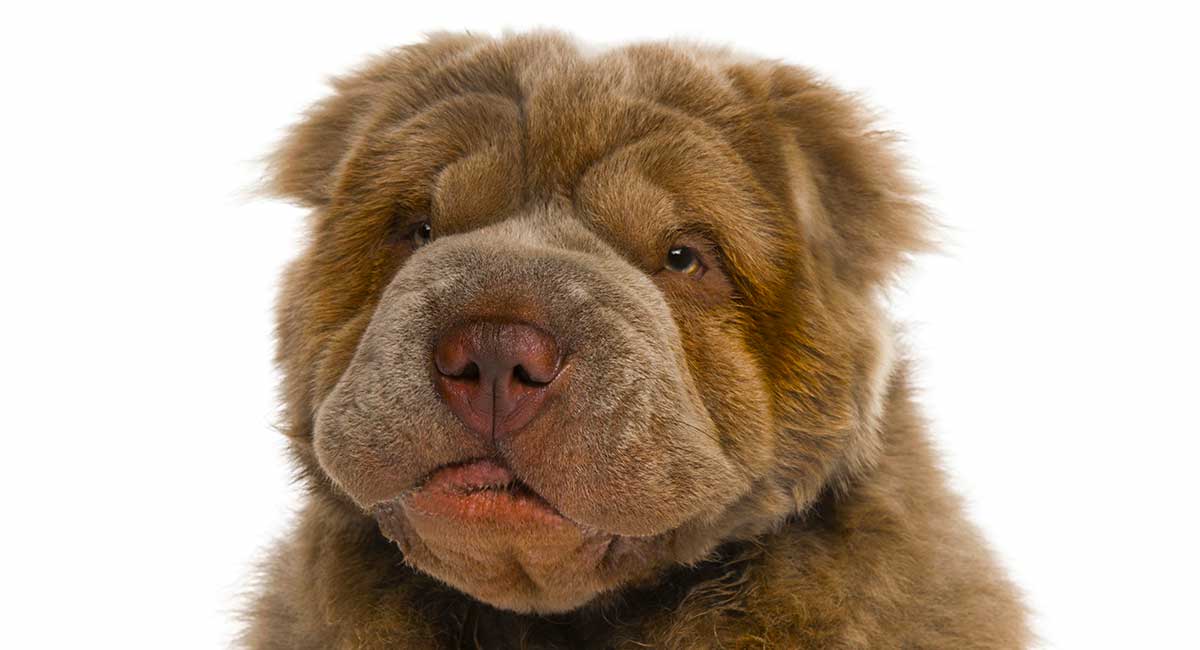 The bear coat Shar Pei has a long, soft coat, which contrasts with the short, coarse coat of most Shar Pei dogs.
They owe their coat to a recessive gene that originally came from Chow Chows.
Normal Shar Pei dogs have two recognised coat types: the horse coat, and the brush coat.
Unfortunately, bear coat Shar Pei dogs don't qualify for the show ring. But that doesn't stop people seeking them out as pets.
Introducing the Bear Coat Shar Pei
Are you interested in the Shar Pei teddy bear dog?
Most dog lovers have heard of the distinctive Chinese Shar Pei dog breed, but the bear coat Shar Pei, also called the teddy bear Shar Pei, is less well-known.
In this article, we'll tell you all about the Shar Pei in general and those with a bear coat in particular, so you can decide if this unique breed is the right dog for you.
What Is a Bear Coat Shar Pei?
A bear coat is longer and softer hair than the standard Shar Pei.
You won't find the term "bear coat" in the official breed description for the Shar Pei.
While a furry coat is appealing to many people, it is not a coat type that is recognized by the major dog breed organizations.
We'll look at the rare bear coat of the Shar Pei and how it got that special coat in a minute.
But first, here's an overview of the Shar Pei breed.
History of the Shar Pei
The Shar Pei is an ancient dog breed from China.
The breed originated as a working dog of the peasant classes over 2,000 years ago.
It was a valued guardian, herding, and hunting dog for many years.
Unfortunately, the breed nearly disappeared during the mid-1900s, and only a few individuals remained to become the founding members of the modern Shar Pei breed.
Although relatively new to Western dog fanciers, the Shar Pei became well known thanks to its distinctive wrinkled appearance.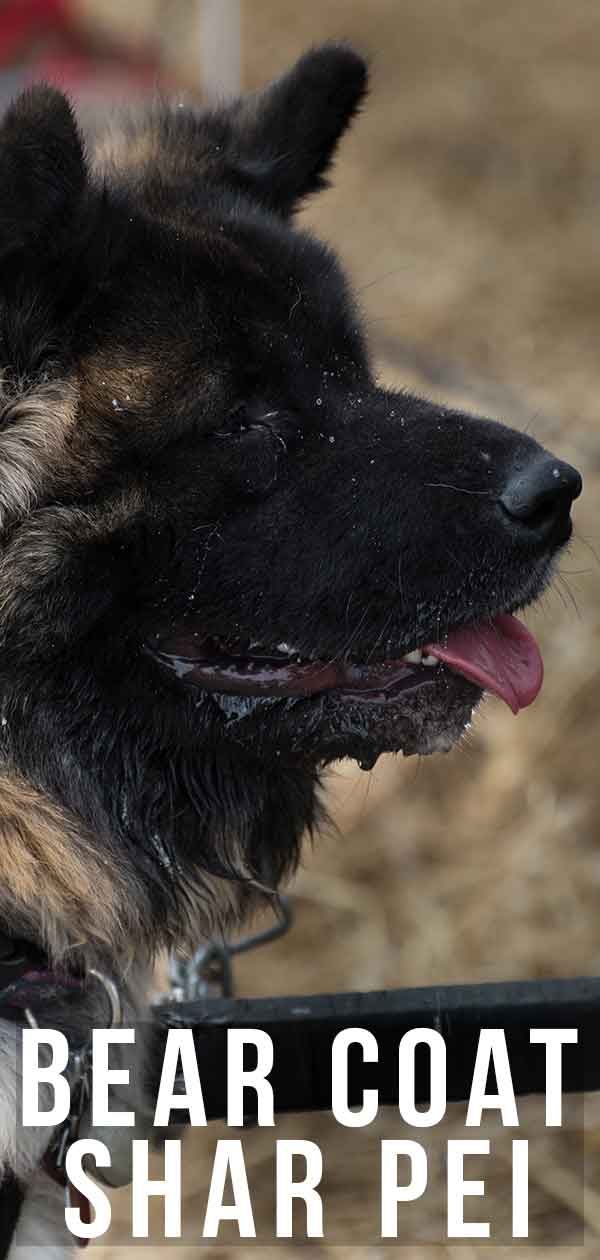 Shar Pei Coat Types
Teddy bear Shar Pei puppies have a very different coat compared to the standard Shar Pei.
The term Shar Pei means "sand skin" in Chinese.
This is a nod to the short, harsh coat of a typical Shar Pei.
Recognized Coats
Normal Shar Pei dogs have two recognized coat types: the horse coat and the brush coat.
The horse coat is extremely short, and the brush coat, while also short, can be up to one inch in length.
Why is a Shar Pei dog with a bear coat so uncommon, and why isn't the Shar Pei puppy bear coat a recognized coat type?
Let's look at the bear coated Shar Pei in more detail.
Where Does the Shar Pei Dog Bear Coat Come From?
Like coat color, a dog's coat length and type (softness, curl, etc.) are determined by genetics.
The long, soft fur of the bear coat for this breed is the result of a recessive gene.
If both parents are carriers with normal coats, their puppies have a 1 in 4 chance of growing a teddy bear coat.
Puppies have a greater chance of inheriting the bear coat if one parent is a bear coat Shar Pei and the other is a normal-coated carrier of the bear coat gene.
If two Shar Pei with bear coats have a litter of puppies, all of them will be bear coated too.
Why Do Some Shar Pei Have a Soft Coat If the Breed Is Known for a Harsh, Prickly Coat?
Breed experts report that when the Shar Pei was on the verge of disappearing in the mid-20th century, some of the few remaining Shar Pei were interbred with the Chow Chow.
The Chow is also an ancient Chinese dog breed.
It has a very thick and dense double coat.
Dog breed organizations only recognize the traditional horse and brush Shar Pei coat types that show no signs of the Chow influence.
Despite this lack of official recognition, many fans of the breed find the bear coat Shar Pei very attractive and are eager to seek out this rare dog.
Does the recessive gene that causes the bear coat have any influence on a Shar Pei's health and temperament?
How Coat Type Affects Health and Temperament
In some cases, genes associated with a dog's coat type can also be linked to other things.
This is most commonly seen with coat color and health.
The most well-known example is the link between white coat color and deafness.
There is also evidence that chocolate Labrador Retrievers have more health problems and shorter lifespans than black or yellow Labs.
Link Between Coat and Personality
The link between coat and personality is less well established.
Most experts say that a dog's personality is not influenced by coat color or type.
It's more likely that our perceptions of dogs' personalities are influenced by their coats, such as the idea that black coats are more "scary" than other colors.
Bear Coat Shar Pei Changes
So what about those with a bear coat?
There is no scientific evidence that the bear coat type has an influence on health or personality.
There is some anecdotal evidence that the brush coat and bear coat Shar Pei types have gentler personalities than the horse coat.
Some people also say that the bear coat has fewer skin problems than the other types.
What Causes These Differences?
These possible health and personality differences might be due to the Chow influence, but again, there is no scientific evidence.
Even though the bear coat type has no known negative impact on health or temperament, there are some important health and temperament issues that potential owners of any Shar Pei dog should consider.
Here's a brief overview of Shar Pei (including the bear coat) health and personality concerns.
Shar Pei Health
The wrinkly skin of the Shar Pei is a distinguishing feature of the breed.
Unfortunately, those skin folds are linked to several skin disorders and other inherited health problems, many unique to the Shar Pei.
The unusually thick and wrinkly skin of the Shar Pei is caused by an excess amount of a glycoprotein known as mucin.
The Shar Pei's skin can be prone to a condition called cutaneous mucinosis (common in the Shar Pei but rare in other breeds), as well as other skin problems like mange and skin fold infections.
Eye and Breathing Problems
The skin folds on the face can also lead to eye problems, especially a condition called entropion, which is when the eyelid turns inward, leading to irritation of the eye from lashes and hair.
Respiratory problems often seen in brachycephalic (flat-muzzled) breeds like the Bulldog can also occur in the Shar Pei, because of the excess skin around the head, face, and neck.
SPAID
Shar Pai autoinflammatory disease (SPAID) is a group of serious inflammatory conditions that are caused by the same substance that leads to skin folds and thickening.
SPAID can lead to a variety of health issues beyond skin problems, including persistent fever, joint swelling, ear infection, and abnormal deposits of protein in the organs (amyloidosis).
Potential teddy bear coat Shar Pei owners should be aware of this suite of Shar Pei health problems.
Choosing a responsible breeder is especially important with the Shar Pei.
Also, find a vet who is knowledgeable about health conditions common in the Shar Pei but rare in other dogs.
Shar Pei Temperament
The Shar Pei's long history as a guardian and hunting dog is reflected in its strong-willed personality.
The Shar Pei is famously protective of its home and human family.
But it is not particularly friendly around strangers and other dogs.
Breed experts generally do not recommend any type of Shar Pei for inexperienced dog owners.
The breed can be very independent and intolerant of other dogs.
The Shar Pei does not like to be restrained.
Therefore, owners can find basic tasks like nail trimming and ear cleaning to be a challenge.
Training
A confident approach and quality training and socialization methods are a must for any Shar Pei dog, bear coat included.
Shar Pei puppies can benefit from puppy kindergarten classes, followed by obedience training when they are a little older.
Find a trainer who is experienced in working with independent breeds like the Shar Pei.
Is the bear coat Shar Pei a dangerous or aggressive dog?
The Shar Pei is generally calm and reserved but can show aggression toward unfamiliar dogs and people.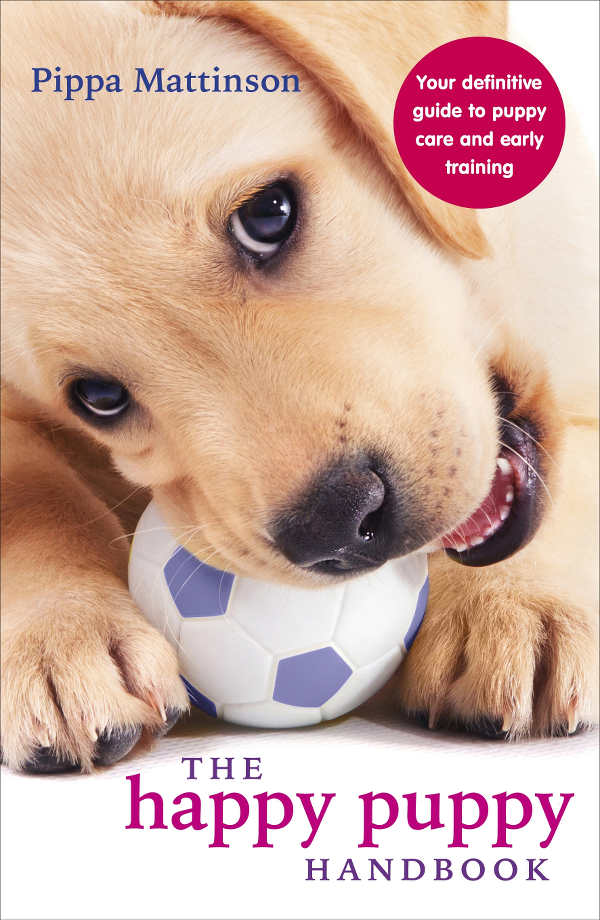 In temperament tests, the Shar Pei has a pass rate of 71%, which is lower than the average pass rate for all breeds (83%) and especially compared to easygoing breeds like the Labrador Retriever (92%).
Is the Teddy Bear Coat Shar Pei Right for Me?
The bear coat is a rare version of an already unique dog breed.
Be prepared for lots of attention when you are out and about with your dog!
The Shar Pei is not the best choice for inexperienced dog owners.
Nor those unprepared to spend the time and money that goes into caring for a high-maintenance breed.
Keep in mind that your Shar Pei could have health problems that require knowledgeable and specialized veterinary and at-home care.
Good training and socialization are also an absolute must for any Shar Pei, including the bear coat.
If you are up for the challenge, the bear coated Shar Pei can be a noble, confident, and devoted canine companion!
More Shar Pei Reading
Are you a Shar Pei fanatic? If so, we've got lots more articles for you to look at!
Let's learn even more about the distinctive Shar Pei breed!
References and Resources
Cadieu E, Neff MW, Quignon P, et al. Coat Variation in the Domestic Dog is Governed by Variants in Three Genes. Science, 2009.
Strain GM. The Genetics of Deafness in Domestic Animals. Frontiers in Veterinary Science, 2015.
McGreevy PD, Wilson BJ, Mansfield CS. Labrador Retrievers Under Primary Veterinary Care in the UK: Demography, Mortality and Disorders. Canine Genetics and Epidemiology, 2018.
Shar Pei Special Concerns & Cautions. Mar Vista Animal Medical Center.
Cutaneous Mucinosis. Canine Inherited Disorders Database, 2011.
Bromberg NM. Entropion. American College of Veterinary Ophthalmologists.
Shar-Pei Autoinflammatory Disease (SPAID). Cornell University College of Veterinary Medicine.
ATTS Breed Statistics as of December 2017. American Temperament Test Society.