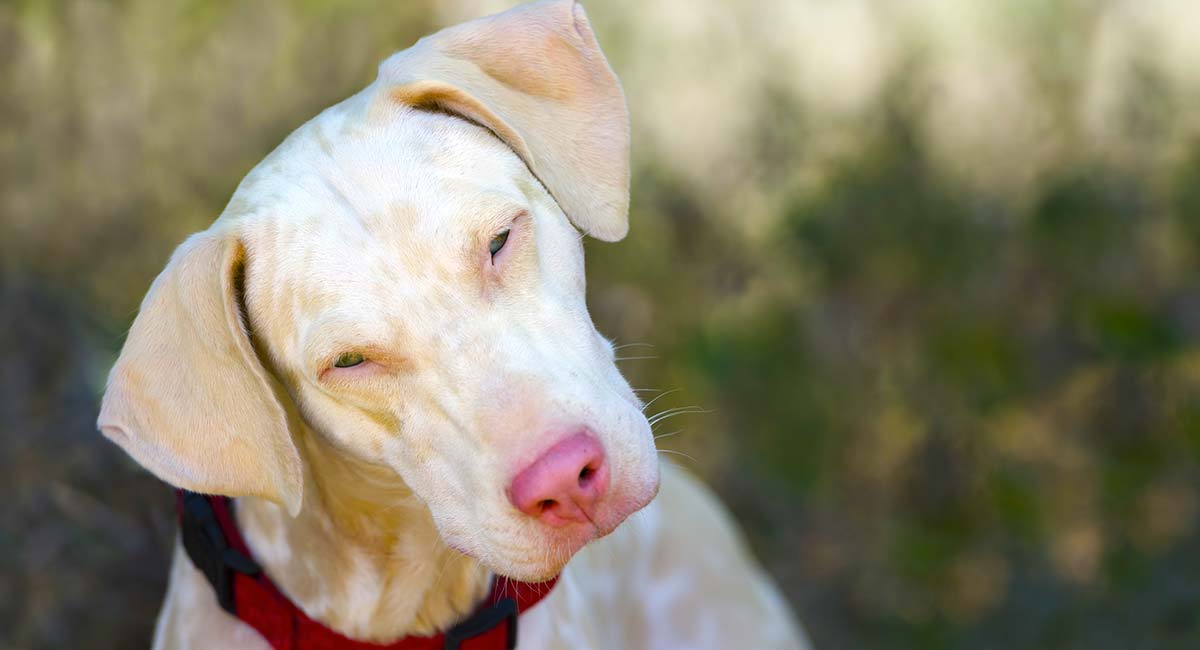 An albino dog is an incredibly rare thing. You might assume many of the white coated pups you see around town are albino, but they are likely not. A truly albino dog has inherited an unusual genetic mutation that means they lack the enzymes required to make pigment in their body. They have pale coats, red eyes, pink noses, lips, eyeliner and paw pads. Whilst spontaneous albinism is rare, breeders sometimes deliberately mate albino dogs to continue their appearance. As a result, an albino dog also inherits complex health and care needs. There are a few breeds like Doberman and Pitbull dogs where this is more common practice. Today we'll look at what makes a real albino dog, and what special care considerations you need to make as an owner to keep them safe and happy.
Contents
Albinism in Dogs
Albinism is a rare condition that affects both humans and animals. It can be a common mistake, but not all white-coated dogs are albino. Albinism is a genetic condition that causes a complete lack of pigment.
It's important to understand their unusual genetics and its effect on their health and personality. Does your dog have genetic albinism, or do they just lack color? Most importantly, what's the difference? This article will help you tell the difference between an albino dog and dogs with white or pale coloring.
What is an Albino Dog?
An albino dog has a specific mutation in their genes which means they have no melanin or pigmentation. There is a difference between a standard white dog and an albino dog. A white dog produces the color white, while an albino produces no color at all.
The best way to see if your dog has the albinism gene is to have them tested. That said, there are distinct appearance traits that can suggest it. A dog with albinism has white fur, and a pinkish color on their paws, nose, lips and skin around their eyes. They also tend to have light eyes that appear pink or red.
Where Do Albino Dogs Come From?
The albino gene was first discovered in the Doberman Pinscher. In 2014 Michigan State University published a study that showed the similarities between albinism in humans and Doberman Pinschers The first albino Doberman Pinscher was born in 1976. The Doberman Pinscher Club of America (DPCA) initially rejected the albino listing in the dog's registration, since it's not a color.
After seeing pictures, the DPCA registered the dog as a white Doberman Pinscher. She was the first one in the club's history. People saw it as a novelty, and the owner began to breed her to take advantage. The DACA set up an investigation since their main concern is maintaining breed integrity.
The result of this five-year investigation concluded that the puppies displayed traits of albinism which is caused by a double recessive gene passed on by the parents.
Albino Dog Genetics
Albinism in dogs is very rare. As mentioned, it's easy to mistake a white-coated dog for an albino dog. But there's more to albinism than just looks.
Dogs with it are born without the ability to produce melanin, which gives skin and hair its color. A missing protein means that there's no pigmentation in the cells.
This condition stems from recessive genes and can occur when both parents possess the gene and pass it to their pup. It's possible that inbreeding also plays a role in causing albinism.
Recessive Genes
The recessive genes are most prominent in Doberman Pinschers, due to the excessive breeding of the white breed. Most species have mutations in the TYR gene which produces tyrosinase enzymes that are needed for melanin production. Mutations disrupt that production, leading to a lack of pigment.
A 2014 study of albinism in Dobermans helped reveal more about the causes behind this condition. The study found that the genetic defects causing albinism is the same one that causes albinism in humans.
This was significant as it helps breeders to know if their dog could pass on the recessive gene, even if there's no visual sign. This genetic issue can't be cured, but it can be managed.
Albino Dog Health
Your albino dog is special, and they're going to need some special care to keep them in good health. Albino dogs are prone to a number of health issues, but with proper attention and management, they won't make life too difficult for you or your dog.
Sun Protection in Albino Dogs
Albinism causes sensitivity to light or sensitive skin. Normally, the pigment produced by melanin in the skin and hair absorbs UV rays from the sun. Since albino dogs don't have the color, they also don't have the protection. This can lead to a number of issues. Your dog can be easily sunburned, and the UV rays can injure their eyes. This leads to high risks of tumors and skin cancer.
For this reason, you should monitor any bump, lump, sores or general skin changes. Be sure to alert your vet if you find anything concerning.
How to Protect Your Albino Dog from the Sun
There are lots of ways you can protect your albino dog from the sun. The most obvious is keeping them inside on sunny days, or at the height of the sun. Managing their outdoor time is imperative.
Albino Dog Skin Is Sensitive
If you are taking your dog outside, be prepared. Sunscreen is a great first step. Talk to your veterinarian about dog-specific sunscreen. Make sure you avoid sunscreens with PABA or zinc oxide, as these ingredients are toxic to dogs.
You can also use clothing to help protect your dog's skin. You can try a large t-shirt, but to give maximum protection look into designed dog clothing. There's a variety of sun protection clothing available for dogs. You can purchase t-shirts and tank tops to protect your dogs skin. For your albino pup, it's best to look for suits with full-length leg coverings as well.
You can even keep your ladies stylish with dress-style shirts to block UV rays. For a dog with such sensitive skin, you'll need more than just a shirt to keep them protected. Bandanas can protect your dog's neck, and ball caps keep their head and face in the shade.
Albino Dog Eye Issues
Problems with vision is common for dogs with full and partial albinism and they can be born with small eyes. Even with regular sized eyes, there is likely some deformities in parts. Albino dogs will almost definitely have poor vision. It's also possible for them to be born blind.
Like their skin, an albino dog's eyes are very sensitive to light. The lack of pigment means that their eyes aren't able to filter the light coming in. Typically, a dog's eye can handle bright light, such as sun reflecting on the snow. But for an albino dog, this light could essentially render them blind.
Sunglasses for Albino Dogs
For their sensitive eyes, you'll want sunglasses. You can get a wide variety of styles to keep their retinas from getting hurt by UV rays.
Albino Dog Immunity
There is some speculation that albino dogs experience a weak immune system. This leaves them more vulnerable to illnesses and health issues. Melanin contributes to fighting sickness and infection, so it could be expected that albino dogs are more susceptible to these issues. However, there doesn't appear to be solid evidence behind this speculation. But it's still important to keep a close eye on your pet's health.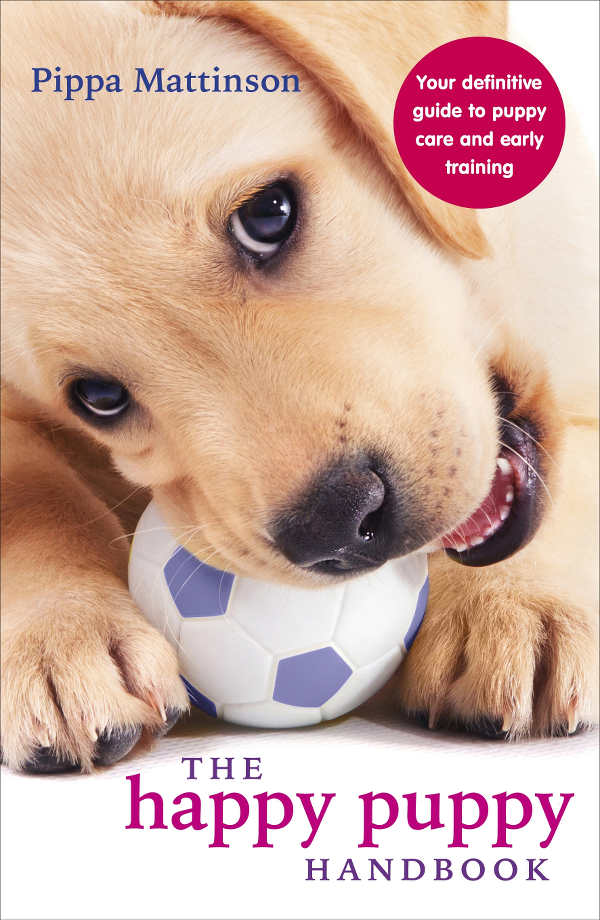 Signs of lowered immunity include lethargy, diarrhea, skin lesions and recurring illnesses, among other things. If you're worried that your dog's immunity is compromised, talk to your veterinarian about ways to boost it.
Are Albino Dogs Deaf?
There is a belief that albinism causes deafness. Research shows that this is not actually the case. While deafness does seem to be associated with coloring, such as piebald and merle colors, albinism does not directly cause deafness.
That said, there's still a higher-than-usual possibility that your albino dog will have hearing problems or deafness. Your albino dog will need a lot more focus on their health than an average dog, so make sure you're aware of the requirements and costs that will go with taking care of them.
Grooming an Albino Dog
The most important grooming tip to keep in mind for your albino dog is to never clip them. While their fur doesn't have pigmentation to absorb UV rays, long fur still offers some sun protection. When bathing your dog, be sure to use warm water, as hot water will irritate their already sensitive skin. Using a bathing glove will help clean without irritation.
Make sure the shampoo you use is designed for sensitive skin. Follow up with an appropriate conditioner. When you're done, make sure you towel dry only! Hairdryers will irritate the skin. In between baths, keep your pup clean with wipes made for sensitive skin. Daily brushing will help by removing loose hair and stimulating circulation.
Your Albino Dog
Albino dogs are very unique and require a special amount of care. There are health issues to consider, and the possibility of behavior problems. Honestly, they can be a handful. But although they're genetically different, albino dogs are just as easy to love as any other dog. As long as you're properly prepared to handle the extra responsibilities, owning an albino dog will enrich your life.
Learn More About White Dogs
References