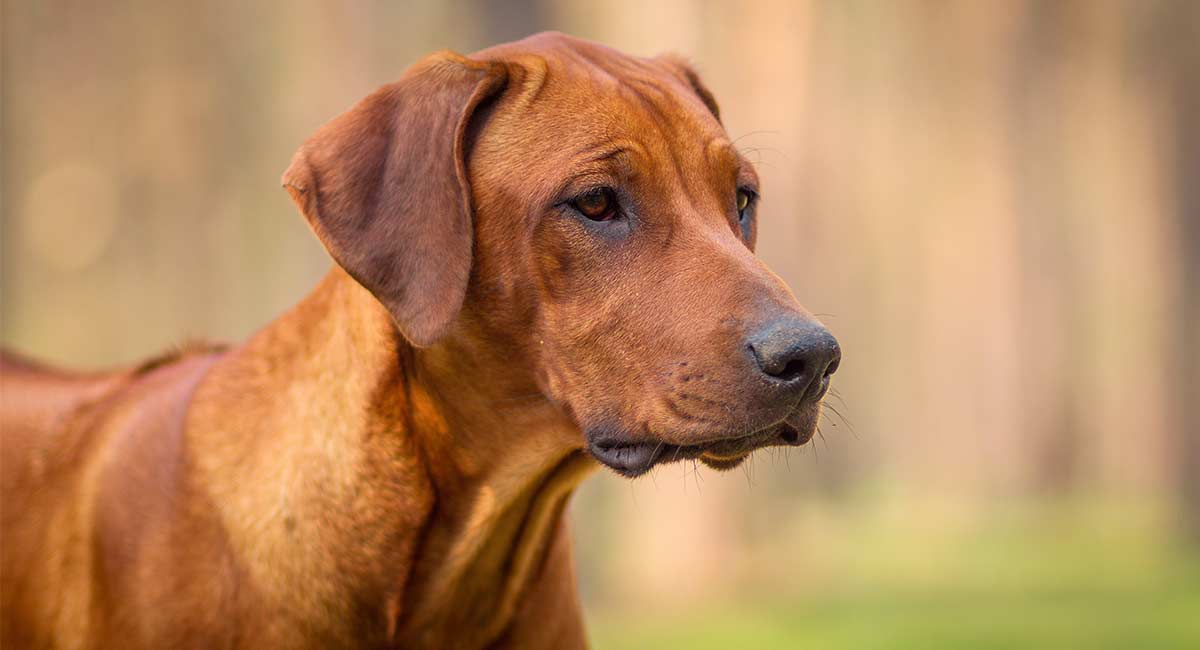 Welcome to The Wonderful World of Beautiful African Dog Breeds.
Africa is the second largest continent in the world, covering a landmass of 12 million square miles, comprising of 54 countries.
It has a diverse landscape of desert, tropical rainforests, mountainous areas and plateaux highlands, hence it consists of several different climate zones.
There are many different African dog breeds in the world today.
Some are indigenous to the continent.
Others have evolved through the cross-breeding process introduced from Asia and Europe with local dogs, developed to adapt to their environment and for various uses such as hunting, herding, guarding and companionship.
African Dog Breeds List
We look at some African domestic dog breeds, their characteristics, history, health issues and what their role is in society today.
Africanis
There are many different dog breeds in South Africa, but the Africanis is considered the dog of Africa.
Africanis is the name for all South African native dogs, with an origin that goes back approximately 7,000 years, making it one of the most ancient of African dog breeds.
The name Africanis indicates Africa (the continent) and Canis (dog). This truly is a great of the African dog breeds.
Africanis Origins
It is thought that the breed descended from pariah dogs and hounds from ancient Africa, and developed to survive and endure the harsh weather of the region, roaming the grasslands of South Africa with the Khoisan and Bantu tribes.
They are renowned for their hunting and herding skills as well as being one of the most prominent African guard dog breeds, protecting their home, family and livestock.
The Africanis Society of South Africa considers the Africanis as more of a Landrace (a species developed over time to adapt to its natural environment rather than selective breeding) than a breed.
However, the Kennel Union of South Africa (KUSA) claim that Africanis are an emerging breed and are pushing for worldwide recognition.
The Africanis was considered a mongrel, and in Swahili referred to as "umbwa wa ki-shenzi," which translates to "common dog."
This unfair stigma was removed after extensive studies of these dogs by Johan Gallant and Joseph Sithole, who concluded that although they may vary in appearance, they have the same behavioral traits and are from a coherent race.
The Africanis is a short-haired, plain-looking, medium-sized dog with a thin tail that curves around. She is well-muscled, agile and supple, with an ability to run at high speeds.
Today, the true Africanis appears still in rural tribal communities in South Africa, where they continue their traditional lifestyle.
Africanis Characteristics
The Africanis, though, makes a great pet due to her friendly nature toward people and her willingness to please.
She is playful, which makes her good with children, and she gets along well with other pets—although not always with other dogs.
She is territorial, independent and has high energy levels so she needs regular daily exercise.
Africanis Care
She does well in a home with a big yard, but the fences should be high enough that she doesn't escape and go off exploring on her own.
The Africanis is highly intelligent and obedient, making her easy to train. Her short coat is easy to maintain and an average shedder.
Due to natural breeding, the Africanis is one of the healthiest African dog breeds you could own.
She has a strong immune system and doesn't tend to suffer from inherited diseases like purebred dogs and lives on average between nine and 12 years of age.
Basenji
Lively, mischievous, intelligent and stubborn, the basenji is a small member of the African dog breeds group and among the oldest dog breeds in the world.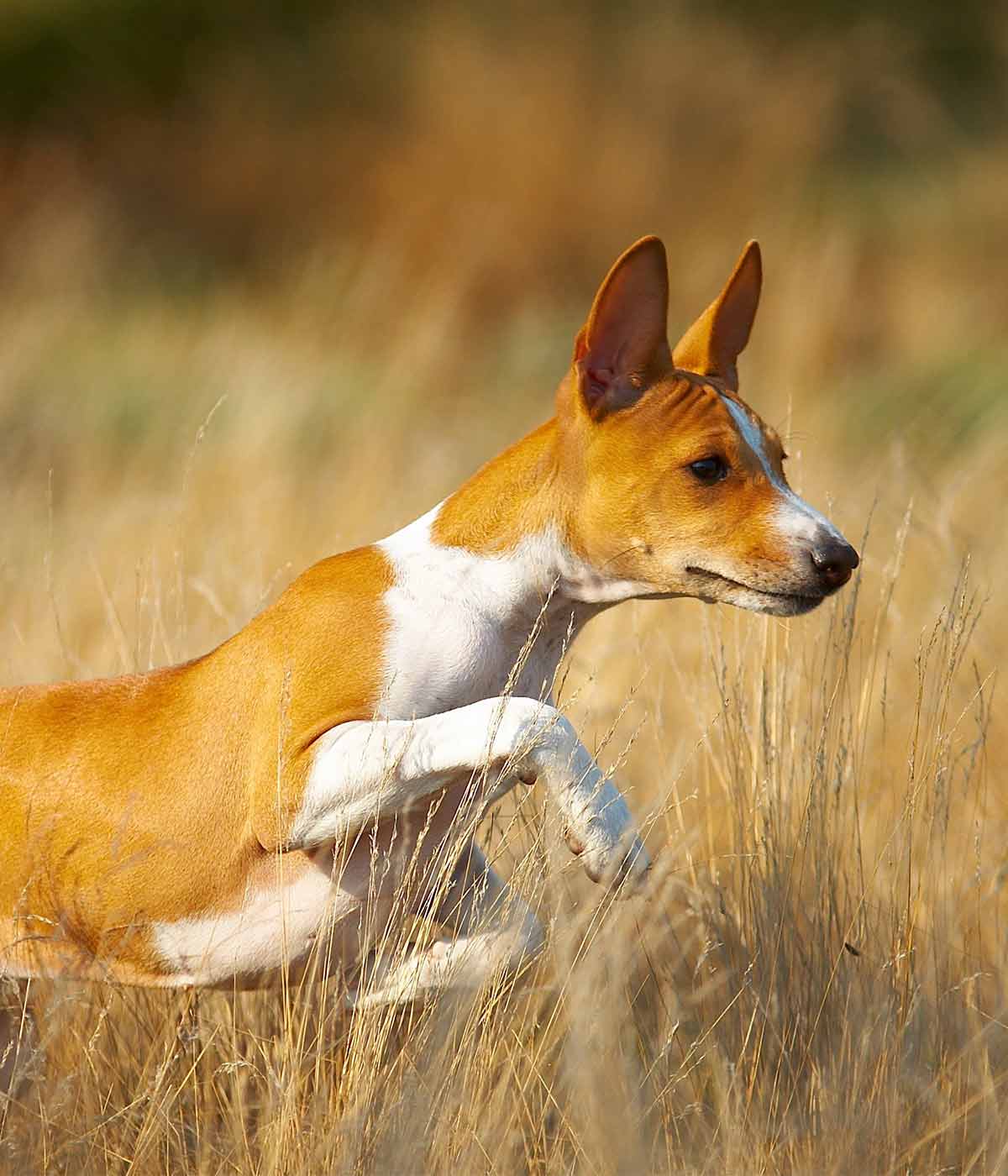 And he's pretty cute too!
Basenji Origins
The basenji was originally found in the Congo, where for thousands of years they were used as hunting dogs by native tribes and pigmy.
Because of their excellent hunting skills, this breed was valued more than a wife by some tribesmen.
Known as "the barkless dog from Africa," the basenji has a range of vocals from a yodel to a hair-raising scream.
They are unable to bark due to their flat larynx.
The name basenji translates as "small wild thing from the bush," and is one of the few African dog breeds that share similar traits to a wolf, who is also unable to bark.
Like the wolf, the basenji only comes into heat once a year, in contrast to twice a year for domestic dogs.
The breed was discovered by Westerners in the Congo region during the 19th century.
Attempts to bring the breed to Europe initially failed as all the dogs imported died of disease shortly after their arrival.
The first successful importation of basenji dogs occurred in both England and the U.S. during the 1930s.
Basenji Characteristics
The basenji has a small, muscular body with a short coat, erect ears and a tail that curls tightly over one hip. Her brow is wrinkled, giving her a quizzical but mischievous expression.
She moves with an elegant gait.
This small dog breed from Africa is extremely clean with cat-like grooming habits and is easy to house train.
Her coat requires little maintenance, and she sheds very little.
They are affectionate dogs who love being with their family but are better with older children, due to their high energy levels.
They make excellent watchdogs and will defend their home if challenged by an intruder.
However, before even considering a basenji as a pet, potential owners should thoroughly do their research due to the unique temperament and personality of this small dog breed from Africa.
The basenji is highly intelligent but has a strong, stubborn streak making her a challenge to train unless you use modern positive reinforcement techniques.
Basenji Care
They have high energy levels and need plenty of exercise.
Otherwise, they become destructive but shouldn't be let off the leash due to their strong hunting instincts.
A basenji needs a house with a big yard and secure fencing as these dogs are renowned escape artists.
Although she loves to play, don't expect her to join in with a game of fetch with you. Many excel at agility and lure coursing.
The basenji lives between 10 to 12 years, but she is vulnerable to eye diseases and a severe form of colitis as well as a deadly inherited kidney disease called Fanconi syndrome, which is unique to this breed.
Coton De Tulear
Madagascar is the largest island in Africa and home to some of the most extraordinary animals in the world, including the cutest of all the small African dog breeds, the Coton De Tulear.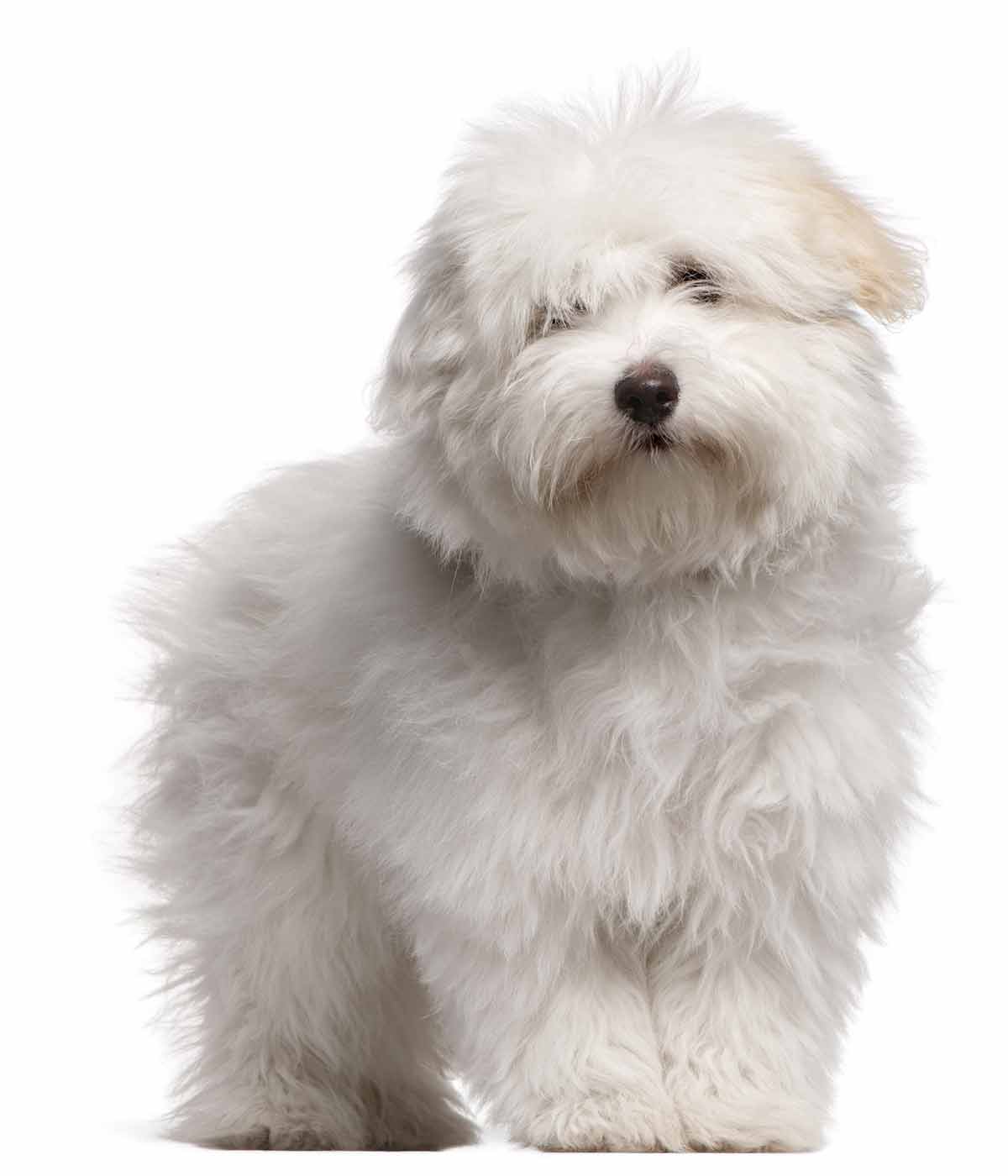 The Coton De Tulear takes its name from its long-haired, cotton-like coat. "Coton" means "cotton" in French.
"Tulear," now "Toliara," is a seaport located in Madagascar.
This rare breed is related to the Maltese and the Bichon Frise, but the Coton has her own individual style.
She is a happy-go-lucky, social butterfly with a clownish personality. Which is why she is often referred to as "the anti-depressant."
Out of all the African dog breeds, the history of the Coton De Tulear remains one of mystery and intrigue.
Coton De Tulear Origins
One tale is that their descendants were brought to Madagascar by ship and then bred with the local terriers, resulting in the Coton de Tulear.
The Coton de Tulear dogs became pets in the royal court and wealthy households in Madagascar, hence the moniker, The Royal Dog of Madagascar.
In the 1970s, a Frenchman visiting the island took the Coton back to France where she established them as a breed.
The Coton loves nothing better than being with her owner, lying at the owner's feet or following the owner from room to room.
Coton De Tulear Characteristics
She adores children but learns to hide from toddlers who may be clumsy with her.
She also gets along well with other animals, making her the perfect pet in any household.
However, the Coton doesn't like to be left alone for extended periods.
This small dog breed from Africa is highly intelligent, easy to train and loves to learn tricks. She wants to please, and many excel in agility and obedience classes.
Coton De Tulear Care
However, like many small dogs, they can be challenging to housetrain.
The Coton cocks her head to the side when you speak to her and will even talk back using her own unique language of vocalisations, which include grunts and growls.
This cute dog loves her walks and enjoys swimming as well as a game of fetch, but her exercise requirements do not need to be excessive.
Her coat requires brushing about three times a week, and she is hypoallergenic so she is suitable for those with allergies.
This hardy dog will happily play in all weathers, including the snow and rain, with a life expectancy of around 15 years.
She is generally healthy but is prone to allergies as well as luxating patella, hip dysplasia and progressive retinal atrophy (PRA).
Rhodesian Ridgeback
The big and powerful Rhodesian Ridgeback (known initially as African lion hound because of its purpose to hunt lions) is probably the most famous of African dog breeds.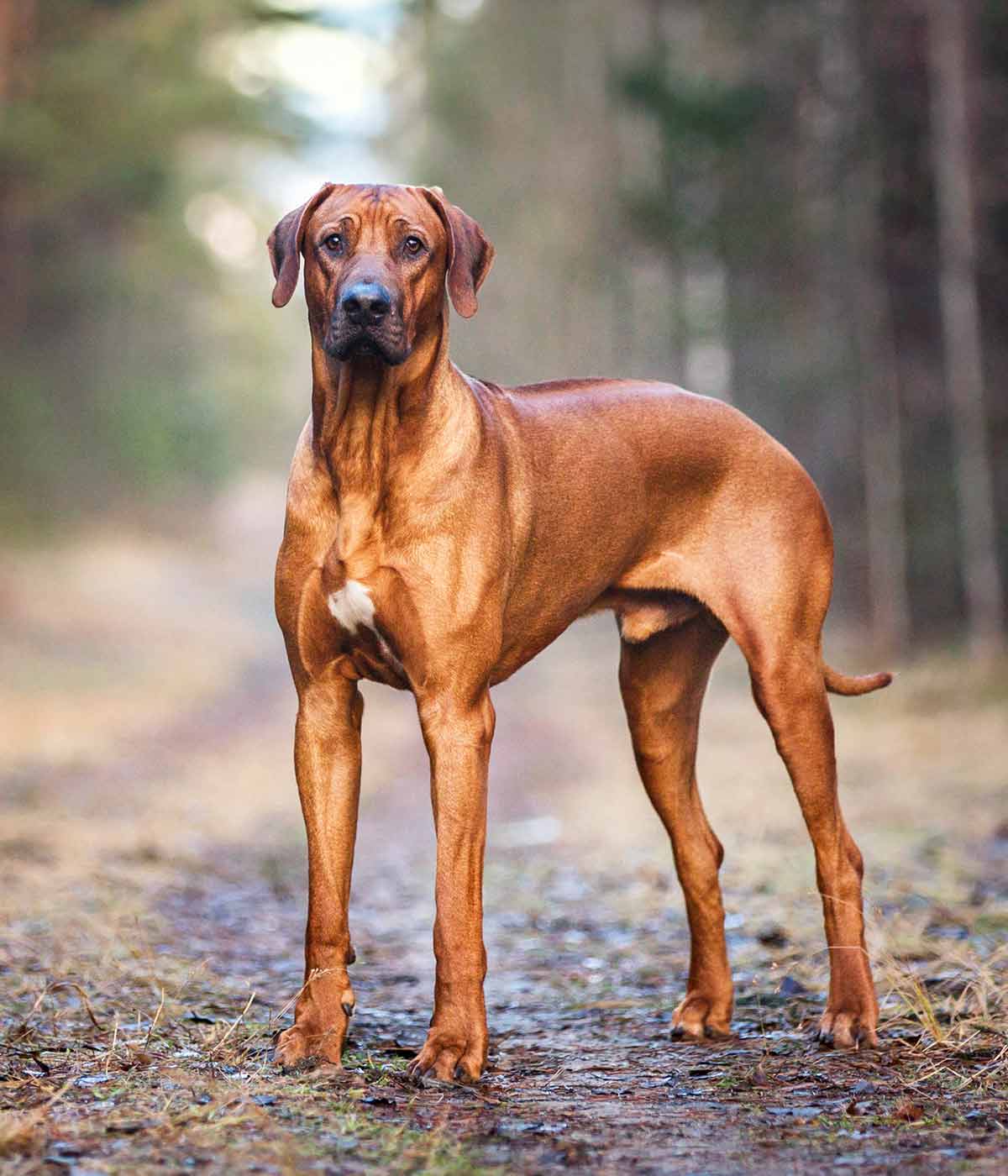 This African lion dog breed is renowned for his courage, loyalty, intelligence and reliability as both a hunting and companion dog.
He obtained his name from the area he originated and the distinct hair feature along his back.
He is often described as "the dog with a snake on its back."
Rhodesian Ridgeback Origins
The Rhodesian Ridgeback was developed in South Africa by Boer farmers.
They needed a multipurpose hunting dog that was strong enough to endure extreme temperatures in harsh bush terrain. As well as to protect and guard their property.
The Boer farmers used dogs they had brought with them from Europe, such as mastiffs, Great Danes and bloodhounds. They crossbred them with semi-wild native dogs kept by the Khoikhoi, aboriginal people of South Africa.
This Khoikhoi dog had a unique ridge of hair along its back. The ridge hair grows in the opposite direction to the rest of its coat.
It was noticed that crossbreeds who had this ridge were inclined to be outstanding hunters.
In 1922, a hunter named Cornelius von Rooyen started a breeding program in Rhodesia (now Zimbabwe). He set a breed standard as to how this African lion dog breed should look and behave.
After World War II, there were many Rhodesian Ridgebacks imported to Great Britain, the U.S. and Canada.
Rhodesian Ridgeback Characteristics
Large and well-muscled, with a coat color that ranges from light wheaten to red wheaten, the Rhodesian Ridgeback can weigh nearly 100 pounds. They are one of the most distinctive looking African dog breeds due to the unique ridge of hair along its back.
He has a smooth, short coat that is easy to care for, requiring just weekly brushing and sheds very little.
The Ridgeback is considered the most territorial of all hound breeds. They are often aloof with strangers, so early socialization is essential.
Today, the Ridgeback is still one of the most popular dog breeds in South Africa used for hunting.  Some have adapted to pointing and retrieving as well.
This confident and independent African lion dog breed is most suited to experienced owners in active families.
They are tolerant of children but are too high-spirited to have with toddlers.
They can be unfriendly with dogs of the same sex. In addition they have the potential of being aggressive with other animals due to their prey instinct.
The Ridgeback is an excellent companion for owners who have the necessary time to devote to training, exercise and socialization.
Rhodesian Ridgeback Care
They require vigorous walks and regular playtime. Along with the chance to run at least twice a week in a fenced area.
Otherwise, they become bored and destructive.
This breed makes a good hiking or running partner and excels in various dog sports such as agility, lure coursing, obedience and tracking.
The Ridgeback lives between 10 and 12 years old, and is generally a healthy dog.
Some though, are prone to hip and elbow dysplasia and dermoid cysts found in the spinal area.
Sloughi
The lean and sleek Sloughi is considered one of the most ancient north African dog breeds still in existence today. They are found mainly in Morocco, which is responsible for the breed's FCI standard.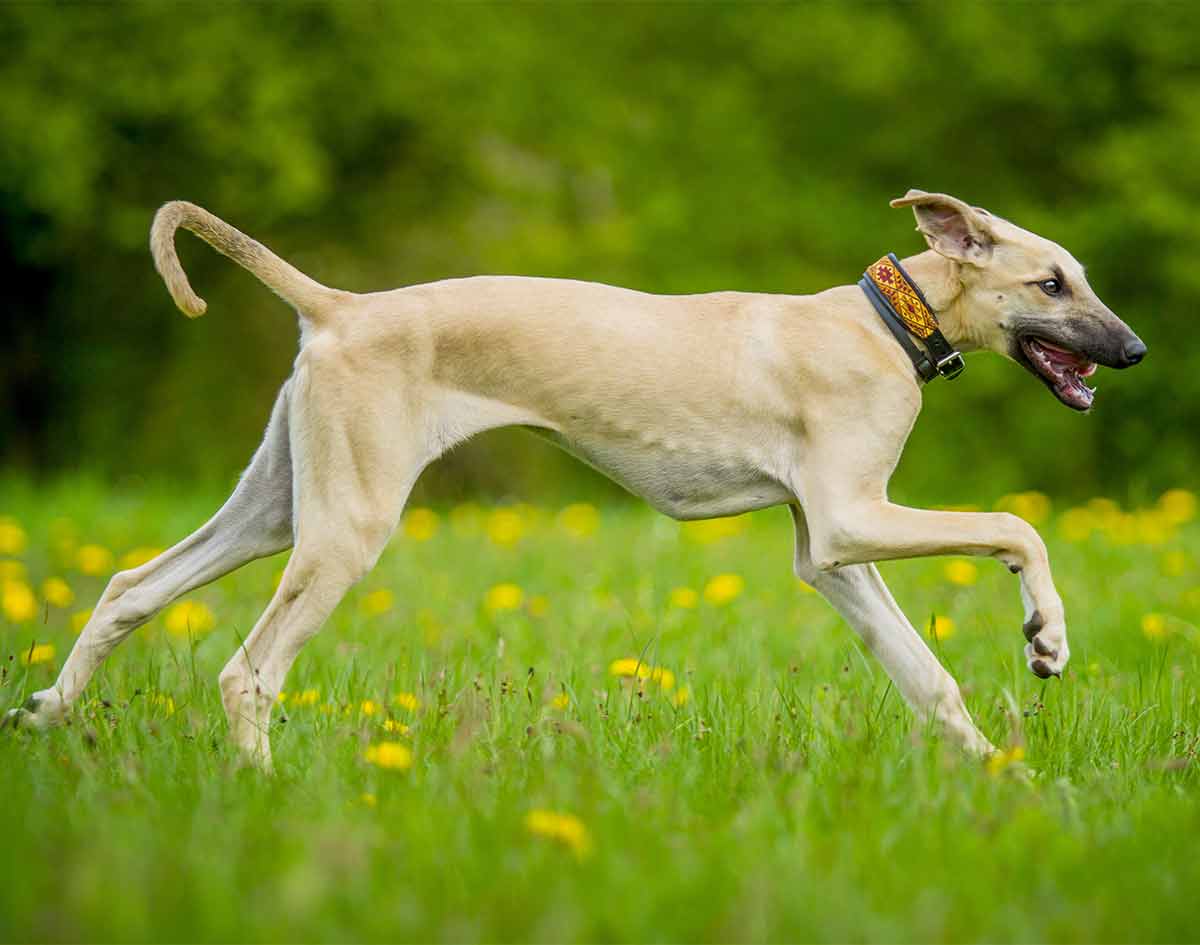 The breed is a sight hound, which means that she hunts by sight and speed rather than by scent. "Sloughi" is believed to be from an Arabic word that means "fast as the wind."
Sloughi Origins
Although its origin is uncertain, the Sloughi is thought to have been bred and developed by the Berbers in Morocco, Tunisia, Algeria and Libya.
Ancient artefacts depicted the breed including those found in the tomb of King Tutankhamen.
The Sloughi was treasured by the Berbers as much as an Arabian horse due to her renowned hunting abilities. She pursued game such as gazelle and ostrich, as well as being a guardian.
Unlike other dogs at that time, she could share the same tent as the family.
This ancient breed, so highly regarded, was often decorated with jewelry and amulets.
Berber women would breastfeed puppies if a female dog were unable to nurse its litter.
Sloughis came to Europe during the late 1800s. In 1925, in France, the original Sloughi breed standard was set by the French Sighthound Association.
The Sloughi nearly became extinct largely due to the two World Wars, the outlaw of hunting with sight hounds, along with a rabies epidemic.
In the 1960s, efforts were made in both North Africa and Europe to save the Sloughi. In 1973, she was introduced to the U.S.
The Sloughi is now recognized by the American Kennel Club's Foundation Stock Service.
Sloughi Characteristics
They have lean bodies, long legs and deep chests to support their remarkably large heart and lungs.
Their short sleek coat is easy to manage. In addition, they sometimes develop a thin undercoat during cold periods to help keep them warm.
The Sloughi is extremely affectionate, loving and loyal. He displays a dignified and proud expression. As a reault he can appear almost aloof with some describing him as cat-like.
This quiet and reserved dog bonds closely with her owner and family, and is very much a one-person pet.
However, if you want a dog you can give hugs and kisses to, then forget about a Sloughi. This breed often dislikes cuddles.
The Sloughi is one of the most sensitive of African dog breeds and requires a peaceful household.
They are good with children and other pets if they are brought up with them. But shouldn't be left alone with small animals due to their strong prey instinct.
Sloughi Care
This athletic dog requires plenty of exercise and makes excellent jogging and cycling partners.
They need a big yard for running around with a high fence because they are very able jumpers.
Because of their instinct to run and hunt, the Sloughi excels at lure coursing.
When it comes to training, a Sloughi is more competent chasing and retrieving a ball as opposed to learning tricks.
Positive reinforcement works best with this sensitive breed along with regular repetitive lessons.
A remarkably healthy breed with few hereditary issues, the Sloughi lives between 10 to 15 years. But like many sight hounds they may have reactions to vaccines and anaesthesia.
African Dog Breeds
Those are some of our favorite African dog breeds. We think they represent a fun range of the dogs that come from this amazing continent.
What are your top African dog breeds? Do you own one? Why not share your thoughts in the comments section below. 
Resources and Further Reading:
Antin, I.P., 1970, "Dermoid Sinus in a Rhodesian Ridgeback Dog," Journal of the American Veterinary Medical Association
Ashdown, R.R. and Lea, T., 1979, "The Larynx of the Basenji Dog," Journal of Small Animal Practice, Wiley Online Library
"Biochemical Genetic Typing of a Southern African Endemic Domestic Dog Breed from Rural Areas," ResearchGate
Bovee, K.C., 1978, "The Fanconi Syndrome in Basenji Dogs: A New Model for Renal Transport Defects," Science, Vol. 201, Issue 4361, pgs. 1129-1131
Grahn, B.H., Sandmeyer, L.L., and Breaux, C., 2008, "Retinopathy of Coton de Tulear Dogs: Clinical Manifestations, Electroretinographic, Ultrasonographic, Fluorescein and Indocyanine Green Angiographic, and Optical Coherence Tomographic Findings," Veterinary Ophthalmology, Wiley Online Library
Kay, N., 2016, "Canine Anesthesia: Special Considerations Based on Breed, Size, and Conformation," Spot Speaks
Lord, K., Coppinger, L., and Coppinger, R., 2013, "Differences in the Behavior of Landraces and Breeds of Dogs," Genetics and the Behavior of Domestic Animals, 2nd Ed.
Noonan, C.H. and Kay, J.M., 1990, "Prevalence and Geographic Distribution of Fanconi Syndrome in Basenjis in the United States," Journal of the American Veterinary Medical Association
Shubkina, A.V., Severtsov, A.S., and Chepeleva, K.V., 2012, "Factors Influencing the Hunting Success of the Predator: A Model with Sighthounds," Biology Bulletin, Vol. 39, Issue 1, pgs. 65–76