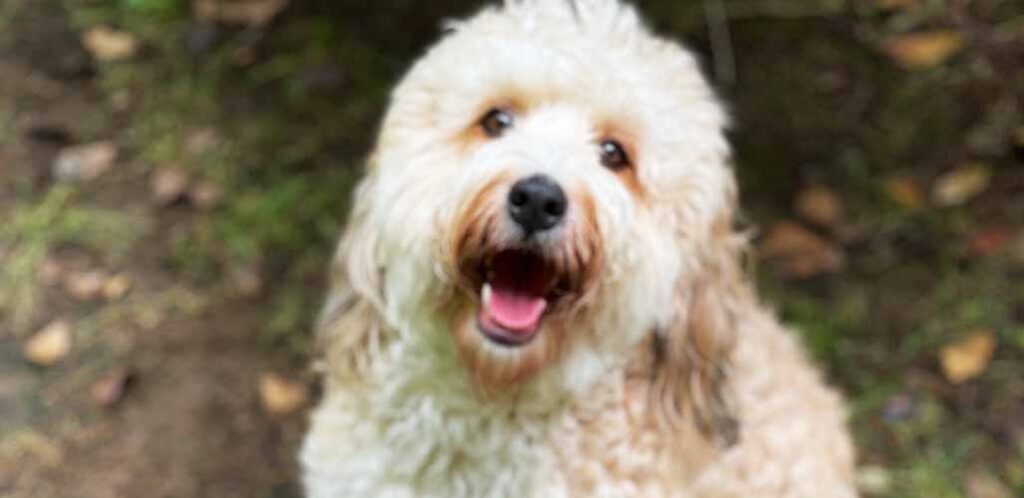 The sable Bernedoodle is a large Doodle mix with an interesting coat. Sable dogs have multiple colors on each individual strand of fur. So, the tip of their hairs will be black, but the rest will be a lighter color. This color pattern can be quite hard to identify without getting a good look up close! As a mixed breed, sable Bernedoodles can be unpredictable. Their temperament, health, and other aspects of their appearance will depend on the traits they inherit from their parents. But, on the whole, you can expect a large, affectionate, and intelligent mix.
Contents
What is a Sable Bernedoodle?
The Bernedoodle is a modern mix that is currently not accepted by the AKC or Kennel Club. This mix combines the Standard Poodle with the Bernese Mountain Dog. The first Doodle mix, the Labradoodle, originated in the 1960s, when a breeder attempted to create a hypoallergenic service dog. Since then, breeders have mixed all sorts of breeds with Poodles.
Standard Bernedoodles tend to be large dogs. But, some breeders will work hard to create smaller varieties, using the Miniature Poodle, and breeding smaller dogs over generations.
Sable is a coat color that Bernedoodle dogs can have. This coat color is similar to agouti, so you may choose to include this term when searching for puppies. Sable Bernedoodles have distinct bands of pigment on each individual hair. These hairs will always have black at the tip, but a different shade at the root.
What Do Sable Bernedoodles Look Like?
Sable Bernedoodles vary in appearance depending on the generation you choose and the traits they inherit from each parent. First generation puppies (f1) tend to be more varied than later generations, such as f2 and multigen Bernedoodles.
On the whole, you can expect a large dog. Standard Bernedoodle height ranges from 15 to 27 inches tall, though will usually be towards the larger end of this range. As adults, Bernedoodles can weigh as little as 40 lbs, but some can weigh well over 100lbs. Females tend to be smaller than males.
Like their other traits, coat type can vary. Some may have thick, double layered fur with only a slight wave. Others may have coarse, curly fur. Sable coloring is interesting up close, as you will be able to see two distinct colors on each hair. Many owners describe their sable Bernedoodle's coats as 'burnt toast' in color. And, some also report that their sable Bernedoodle's fur lightens over time. So, as they grow, these Bernedoodles may look more solid in color.
Are Bernedoodles Hypoallergenic?
Coat color won't impact shedding levels in your Bernedoodle's fur. But, it's important to note that shedding levels will vary naturally in this mix, since the parent breeds are so different. Bernese Mountain Dogs are very heavy shedders. Poodles are described as no shedding, since their curls catch any loose hairs.
Despite popular opinion, studies have shown that there is no such thing as a truly hypoallergenic dog. Even dog breeds described as hypoallergenic can trigger allergies. This is because dog allergens are found in dander, saliva, and sweat, rather than fur. Studies have also found different allergen levels in dogs of the same breed. So, someone with allergies may respond differently to two different Bernedoodles.
The tight curls in Poodle coats are great at catching saliva-coated hairs and dander when they shed. But, Bernese Mountain Dogs have straight fur, which lets those hairs and dander drop over your house. So, people with allergies may respond better to curly-haired Bernedoodles. But, this coat type require much more grooming, which involves getting up close to the sources of those allergens.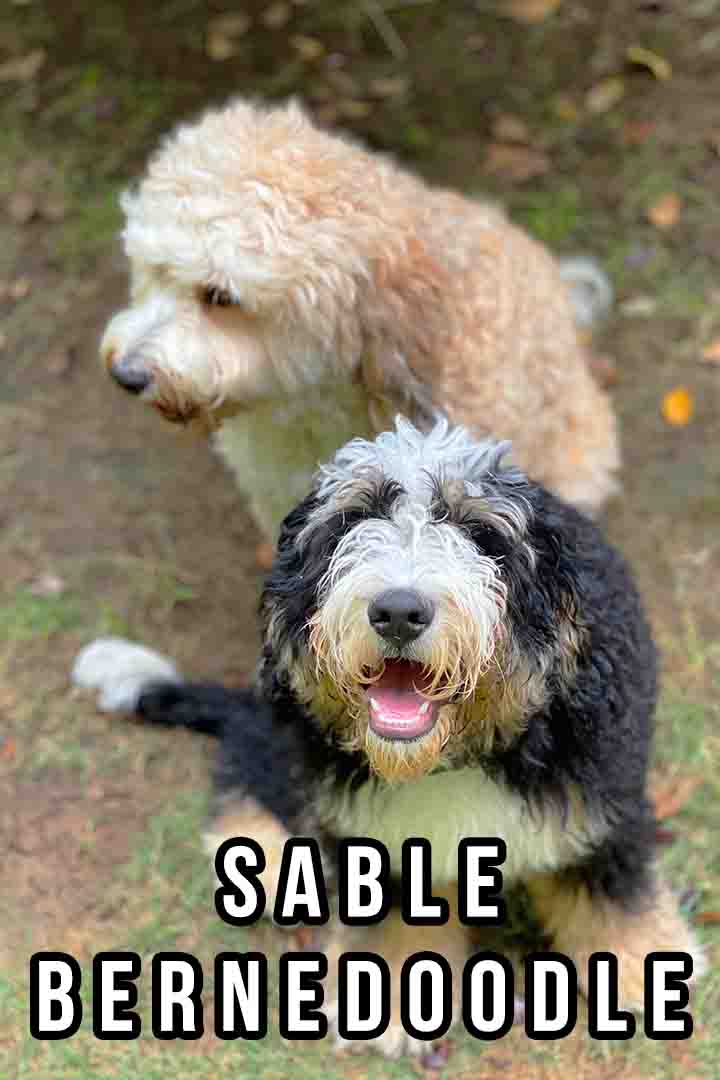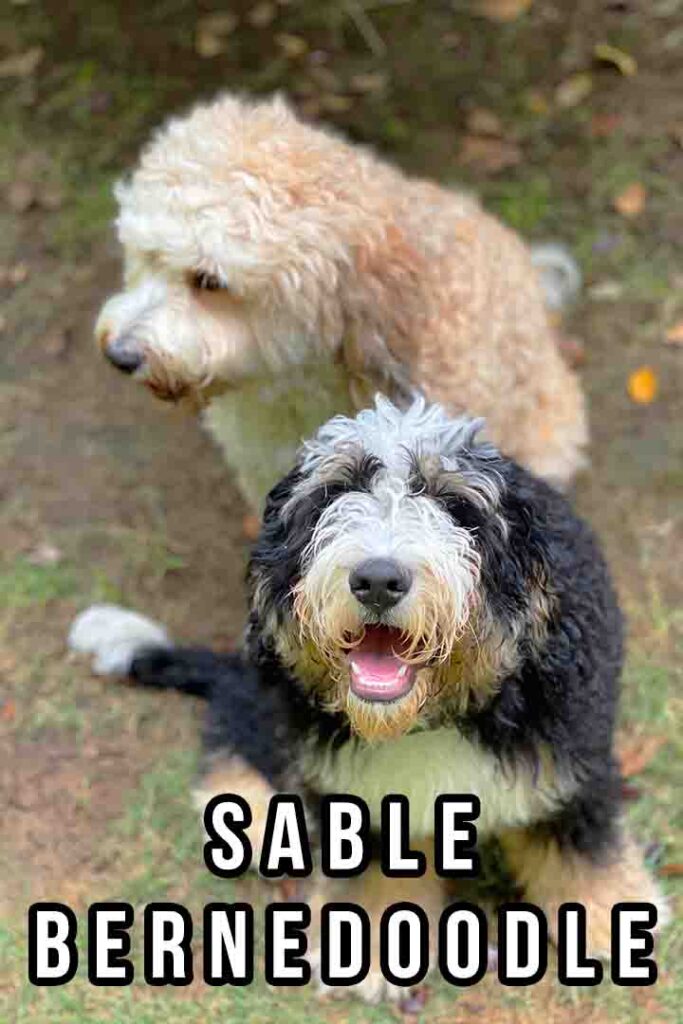 Sable Bernedoodle Grooming and Coat Care
Bernedoodle grooming needs will differ depending on the coat type they inherit. Bernese Mountain Dogs have a dense, double layered coat, with straight hair. Poodles have a single layer of tight curls or corded fur. So, Bernedoodles can be anywhere between these two extremes.
The curlier your Bernedoodle's fur, the more grooming they will need. Curly fur is more likely to tangle and form knots. So, you'll need to brush them daily, and gently untangle any knots you find. Going to a groomer once a month, or even once a week, will not be enough. You will need to brush them at home too. If you neglect brushing duties, their coat can become matted. This will be painful for your dog, and can require their entire coat to be shaved off.
If your dog inherits a more Bernese-type coat, they won't need such frequent brushing. But, brushing them regularly will help to control sheddings hairs. Bernese Mountain Dogs are heavy shedders. So, f1 Bernedoodles that take after them are likely to be the same.
Finding Sable Bernedoodle Puppies
Doodle dogs are very popular at the moment, so it likely won't be hard to find a Bernedoodle breeder near you. But, it also meant that puppy mills, pet stores, and backyard breeders are all the more likely. So, put plenty of research in to ensure you're choosing a reputable breeder.
It's also a good idea to decide your preference about the Doodle's generation, and whether a different generation would be a deal-breaker. But, bear in mind that first generation puppies tend to be more unpredictable than later generation mixes.
Bernedoodles tend to cost between $1200 and $3000. But, price will vary based on a huge number of factors, including color, coat type, location, demand, and so on. You might need to sign up to a waiting list. If you're looking for a cheaper puppy, and don't mind the age of the dog you bring home, it's a great idea to check local rescue centers.
How to Recognise a Sable Bernedoodle Puppy
Most reputable breeders who are familiar with Bernedoodles and their potential coat colors will be able to recognise a sable Bernedoodle. When they're first born, they may be mistaken for phantom colored puppies. But, between the first few days of their life and the first few weeks, sable coloring will develop.
Let breeders know what color Bernedoodle you're looking for, and they may be able to prioritise you when this shade turns up in a litter.
Is a Sable Bernedoodle Right for Me?
Sable Bernedoodles have unique coloring, which makes them popular candidates for family companions. However, this mix isn't right for every home. And, you need to consider a lot more than your dog's color before committing.
Bernedoodles often grow up to be large dogs. In fact, some will be over 100 lbs as adults. So, they need plenty of space in your home, as well as space outside to play and exercise. A daily walk to the dog park is usually not enough. Larger dogs like this can also cost more each month, since they will eat more food than smaller breeds. They can take up to 2 years to reach their adult size, which will also mean replacing harnesses and bedding more frequently.
On top of this, Bernedoodles need lots of mental stimulation, training, and socialization. So, you'll need to make time for this in your daily routine. This breed will take up a lot of your time! And, as a mixed breed, their traits can be unpredictable. So, your dog might not grow up to look exactly as you'd expect.
Bernedoodles are not necessarily good for owners with allergies. Those with curlier fur might be less likely to trigger allergy symptoms, but they will need a lot of grooming. Those with straighter fur will need less grooming, but will shed hair and dander all over your home. Make sure you're ready for all of these potential downsides before you look for a breeder!
Sable Bernedoodle – What Do You Think?
Have you already got a sable Bernedoodle puppy at home? Or are you still contemplating whether this mix is the right one for you? Bernedoodles are a popular mix, with plenty of interesting coat colors! Which one is your favorite?
Related Articles
The Mini Bernedoodle – A Giant And Miniature Pup Combined!
References and Resources