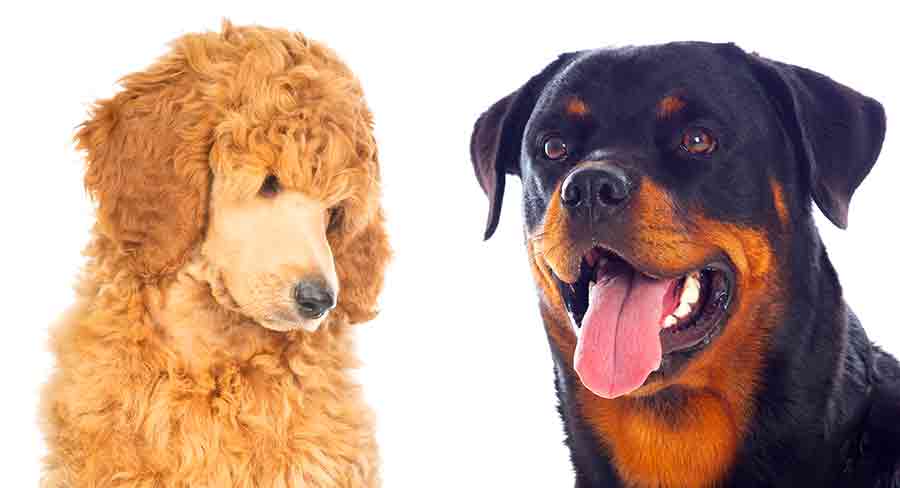 Rottle dogs are intelligent, energetic and very loyal to their close family. A Rottweiler Standard Poodle mix they are tall, broad dogs with a strong preference for spending time with their human family. They make great watchdogs, but can be a little overly suspicious of strangers if you don't socialize them well in the first four months of puppyhood. These puppies are also known as Rottie Poo or Rottie Doodle dogs. They are low shedding but need plenty of grooming and the occasional clip. Large dogs, they grow up to 27 inches and can weigh around 100lbs
Contents
History and Original Purpose
The earliest known Rottweiler Poodle mix puppies were born in Germany in the 1980s, but other Rottle puppies could have been born earlier, either bred on purpose or by accident. To get a better idea of the history behind this breed, you can take a look at that of its parents.
The Rottweiler's origins are surprising to many. The breed is often thought to be a guard dog. But, it actually started as a herding breed in Germany, driving cattle to market. Once locomotives became the preferred way to move cattle, the Rottweiler began to lose popularity. But, their protective instincts made them popular again as police, military, and guard dogs.
Standard Poodles were bred sometime before the fifteenth century to retrieve ducks for hunters. In fact, that famous Poodle haircut was meant to give Poodles a wider range of motion for swimming. As well as providing their vital organs and joints plenty of insulation against cold water.
Rottle Appearance
A full grown Rottle will fall between 15 and 27 inches in height and between 60 and 130 pounds in weight. However, most Rottie Poo puppies will grow to the middle of those ranges, between 20 and 25 inches tall and 75 and 100 pounds in weight.
The Poodle's coat is one of its most distinguishing characteristics. The Poodle has a dense, curly coat that sheds very little. The Rottweiler has a straight, coarse, dense medium length outer coat, with an undercoat around the neck and thighs. They are light seasonal shedders.
Expect a Rottweiler Poodle mix to have a lot of fur that can be wavy or curly in texture and medium to long in length. Despite that dense coat, they will shed very little.
The Rottweiler cross Poodle can have a variety of coat colors including: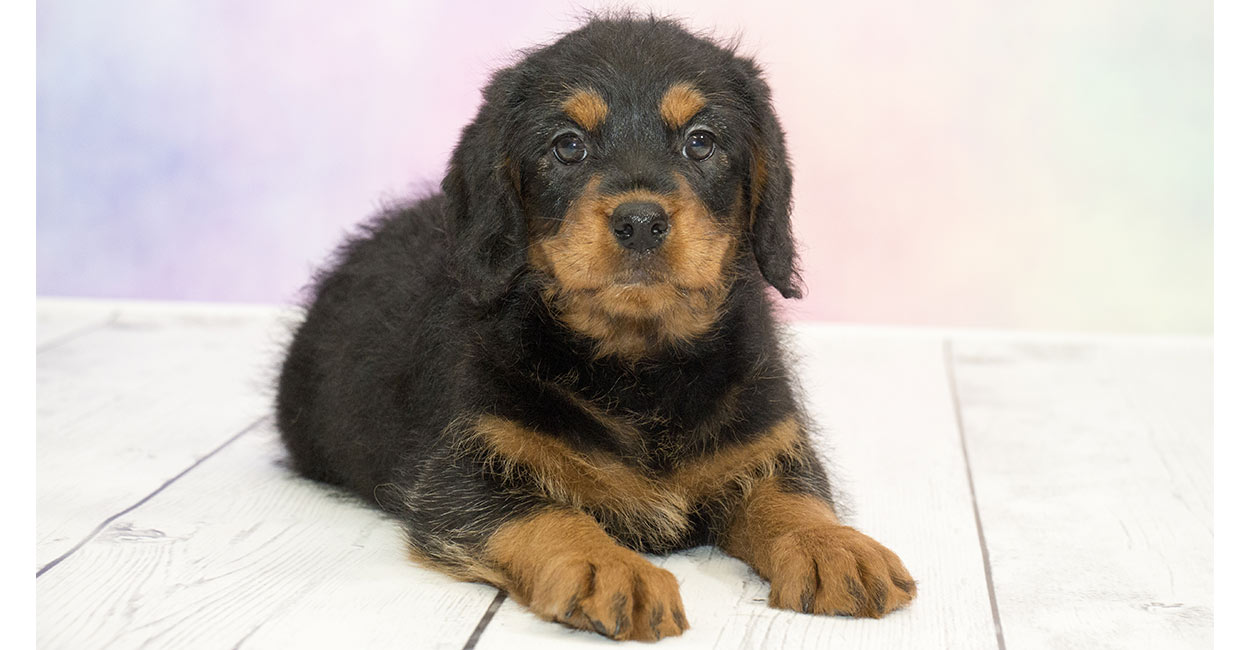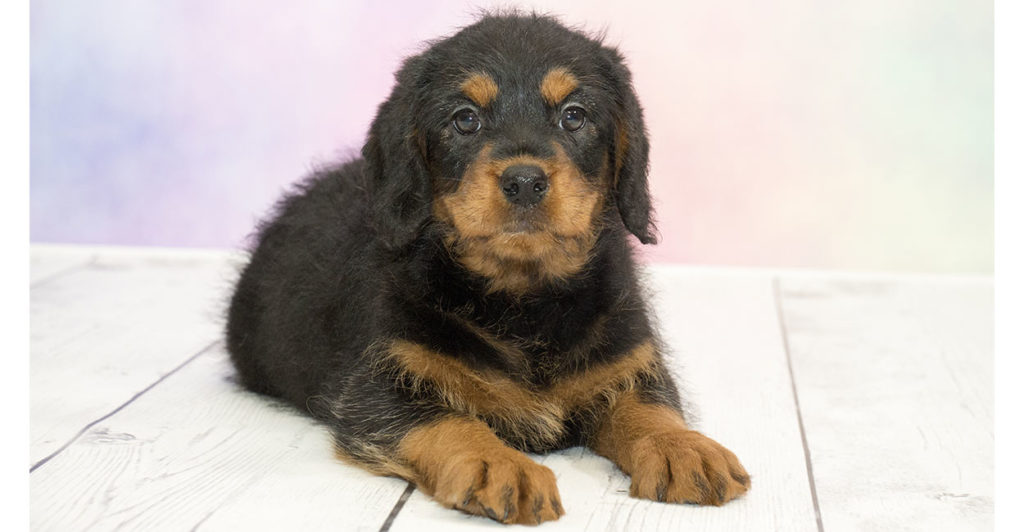 Typical Temperament Traits
The Rottweiler cross Poodle is calm, alert, and confident. But, this mix may be wary and reserved with strangers. Around its family, this dog is often playful, affectionate, and silly. They are also very loyal to their family and may act as a guardian towards the family, especially kids.
The Rottle can be very cuddly and may try to act like a lap dog. However, this mix should never be left alone with children due to their size and clumsiness. The Rottweiler Poodle mix does not typically enjoy being alone, but is not usually prone to separation anxiety.
The Rottweiler parent is known for its protective instincts. So, there's a chance your mix breed puppy will inherit this trait. Socialization as a puppy is vital to ensure your Rottle grows into the best personality possible.
It's especially important to socialize your puppy well with strangers, other animals, other dogs, and young children. This will help to minimise the risk of aggression when your puppy grows older.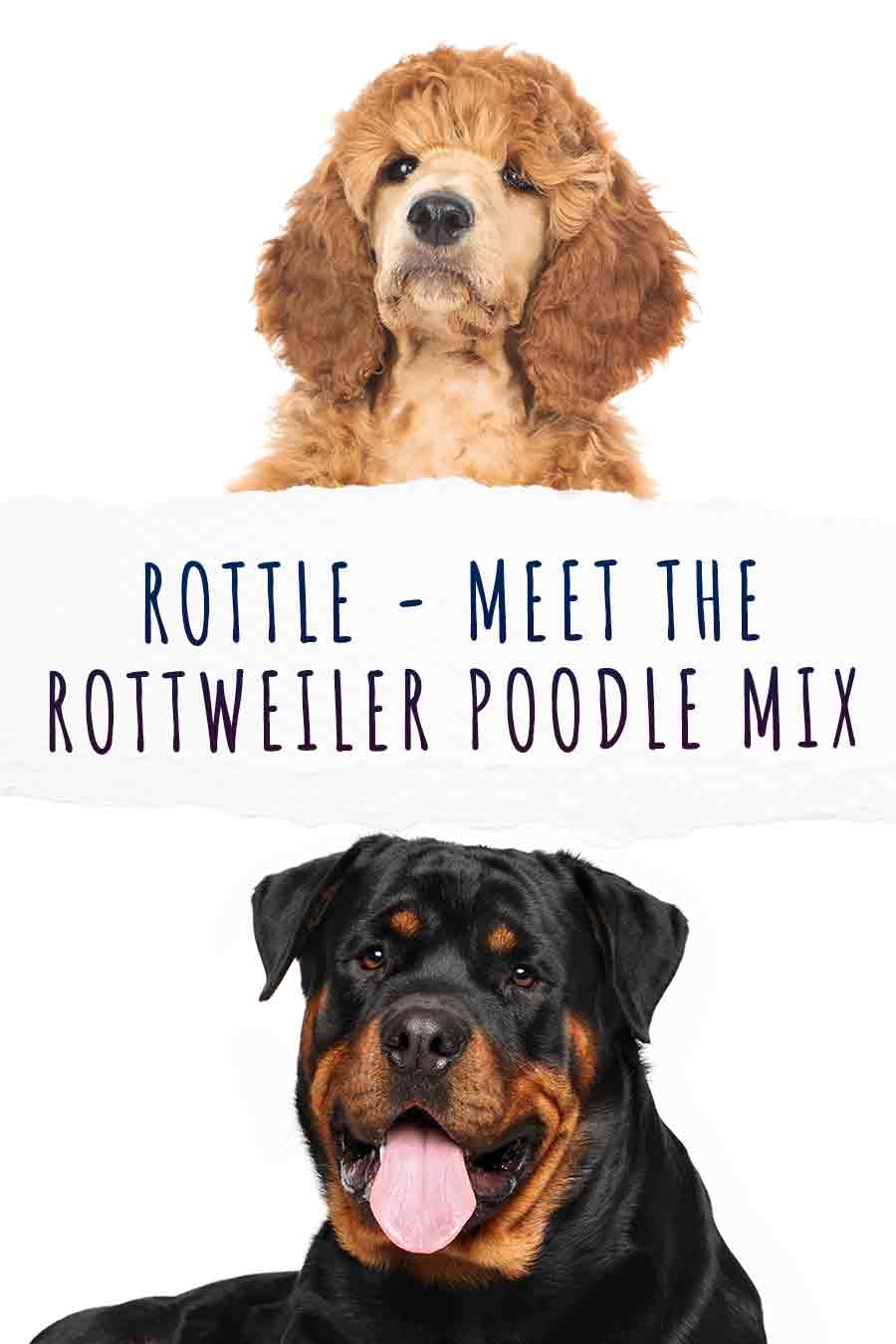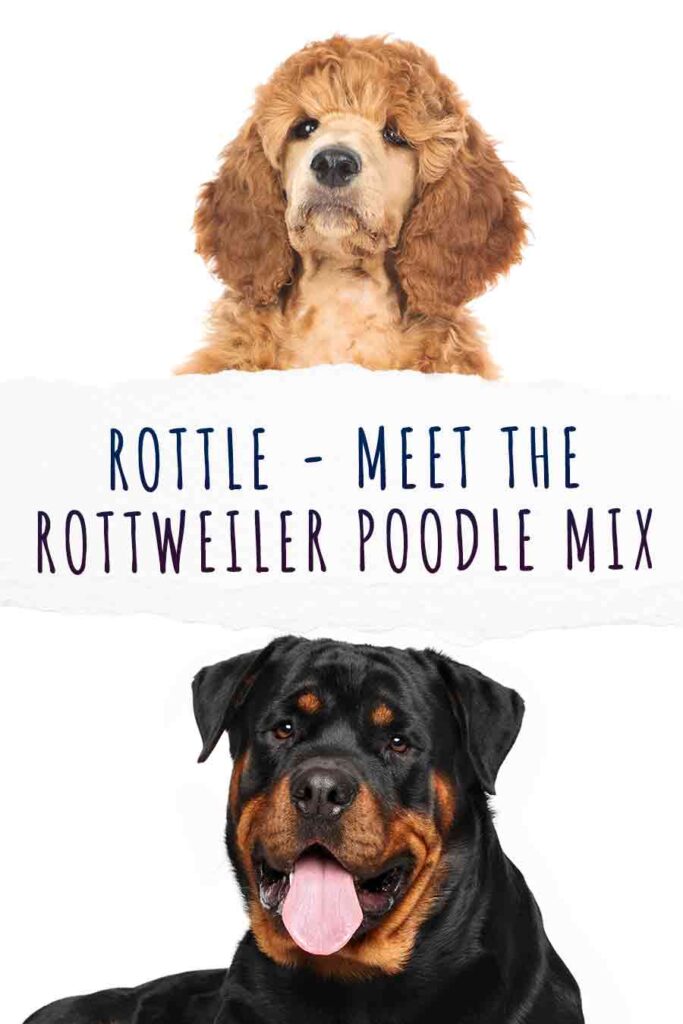 Training and Exercise
The Rottie Doodle is immensely trainable and eager to please, but may have a stubborn streak. This won't matter in terms of training however if you use modern positive methods. These work by rewarding the behaviors you want to see, rather than coming into conflict with your furry friend.
The Rottle is a mix of two athletic breeds, so daily exercise is essential. Swimming is often a favorite pastime of Rottweiler Standard Poodle mixes. They also enjoy long walks, hikes, or jobs with their favorite people. Retrieval games can also be a fun way to stay fit.
The Rottweiler Poodle mix tends to excel at canine sports like agility, tracking, and obedience, which can be excellent opportunities to exercise thebody and mind.
Although the Rottle will enjoy a cuddle, they need to burn off those high energy levels first.
Rottle Health and Care
The Rottie Poo has a potential lifespan of 8 to 12 years, but the average tends to be close to the middle, around 10 years.
They have the potential to inherit health conditions from either of their parent breeds. We recommend the Rottweiler parent has good hip scores, is PRA clear, has had a recent eye check and no family history of heart problems.
The Standard Poodle parents should also have good hip scores and a PRA clear certificate. They should also be clear for Addison's disease and von Willebrand's, with no family history of epilepsy.
Shelter Dogs
As this mixed breed gains popularity, older Rottles in need of loving homes will become more common.
Rescue dogs are usually cheaper than puppies, and many already have basic training and socialization.
Plus, you'll know exactly how your mix will look, as they are usually fully grown.
Specific rescues for mixed breeds aren't that common. But, you may be able to find a Rottle in a rescue center for the parent breeds.
Scroll to the end of this article for some links that will help you start your search.
Rottle Puppies
The first step to raising a healthy Rottle dog is choosing from healthy Rottle puppies. Healthy Rottle puppies come from healthy parents.
OFA recommends that, before breeding, Rottweilers are tested for hip dysplasia, elbow dysplasia, vision problems, and cardiac problems. Poodles should be tested for hip dysplasia, vision problems, cardiac problems, and thyroid problems.
Any ethical breeder can provide you with the results of these tests, but the results should be registered with a canine health registry like the OFA as well.
Parents should be at least two years old for these tests to be accurate, as well as for the best odds of producing healthy babies.
Because of the size difference in the Rottweiler and Poodle, the mother should be the Rottweiler, as birthing overly large pups can be dangerous for a Standard Poodle.
The breeder should allow you to meet the mother as well as any puppies in the litter that are still present. They should all appear happy and healthy. You should also be able to get information about the father and the breeder who owns him.
All dogs owned by the breeder should be working animals or beloved pets, and not simply treated as business assets.
As designer breeds are becoming more popular, their prices are rising. Rottles currently sell for upwards of $1,000. However, this will vary depending on the breeder, your location, demand for puppies, and more.
A lower cost can be an indicator of a puppy mill. But, higher prices don't guarantee reputable breeders.
Ask potential breeders plenty of questions to be certain you're choosing the healthiest puppy possible.