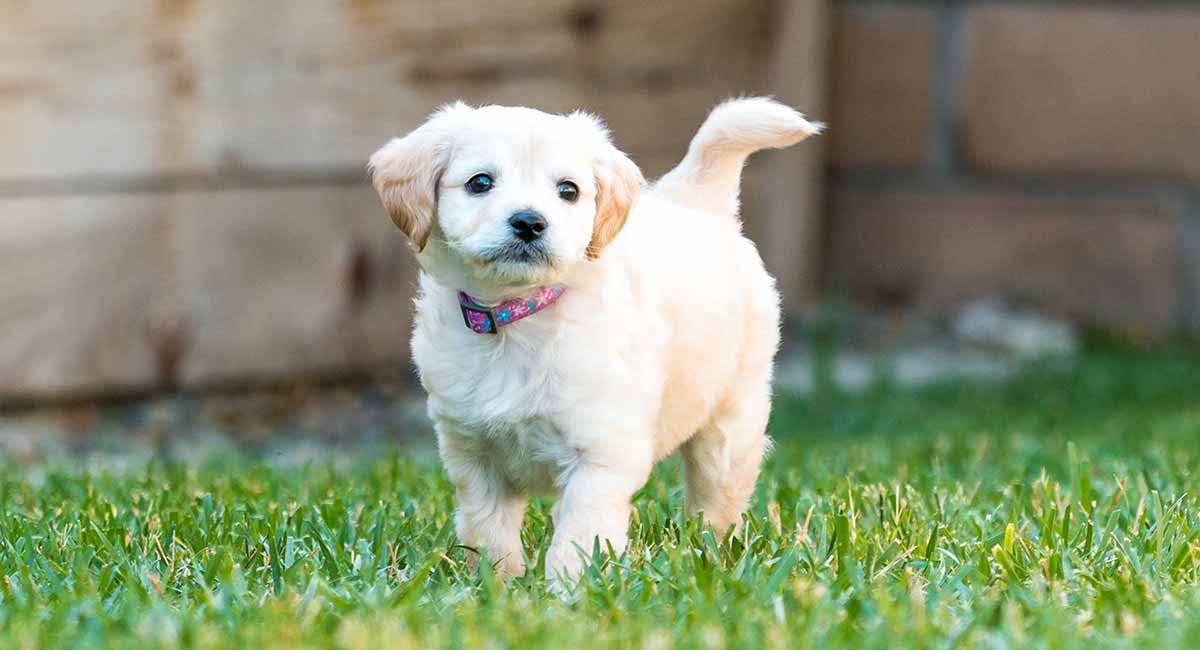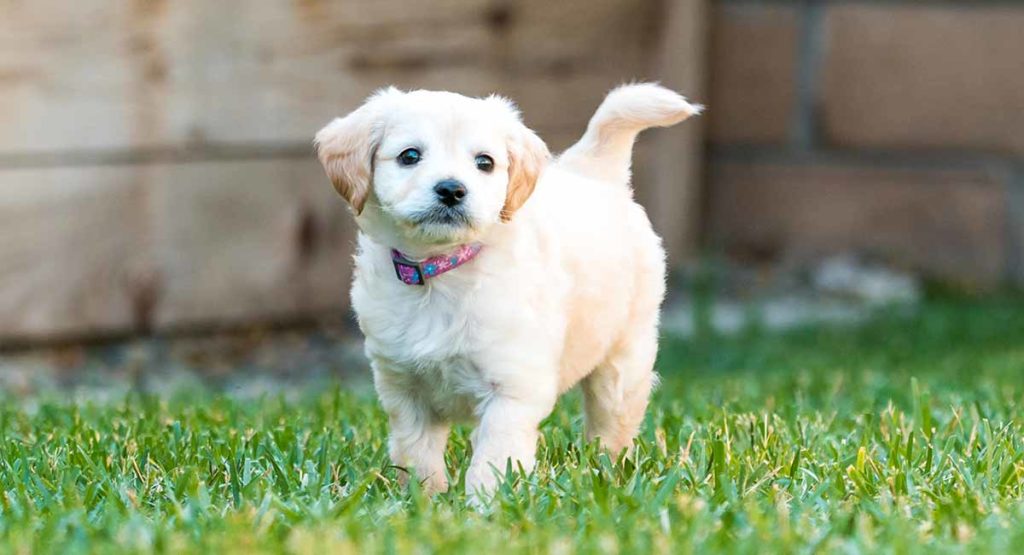 A Mini Labradoodle is a cross between a Labrador Retriever and a Miniature Poodle. Or occasionally a Toy Poodle! Most Miniature Labradoodles are under 18 inches tall and weigh less than 20lbs. They have a wavy or curly, low shedding coat. The Mini Labradoodle is intelligent, active, playful and spirited. These clever pups make great pets, companions, service and working dogs. Today we look at what breed traits, characteristics and behaviors you can expect from your Mini Labradoodle. And where to find a healthy, friendly Mini Labradoodle puppy. We'll help you to groom and bathe your doodle dog, and to give them the best possible diet and nutrition. And give you the information you need to help them live a long and happy lifespan of 13-14 years.
Contents
Labradoodles of all sizes have taken the world by storm in the past few years. Most of them were created by crossing a Labrador Retriever with a Standard Poodle. In this article, we'll take a look at why people love small Labradoodles. And what you can expect as far as health, temperament, and care.
What is a Mini Labradoodle?
A Mini Labradoodle is a Toy Poodle Lab mix or a Miniature Poodle Lab mix. Or a second generation Labradoodle with a small Poodle parent and a Labradoodle parent! Or a second or third generation Labradoodle with two Mini Labradoodle parents!
Because the Labradoodle is usually bred from a Standard Poodle line, any Labradoodle using smaller Poodles is known as a Miniature Labradoodle.
Popularity: Growing
Purpose: Companion.
Weight: 20-80 pounds.
Temperament: Friendly and playful.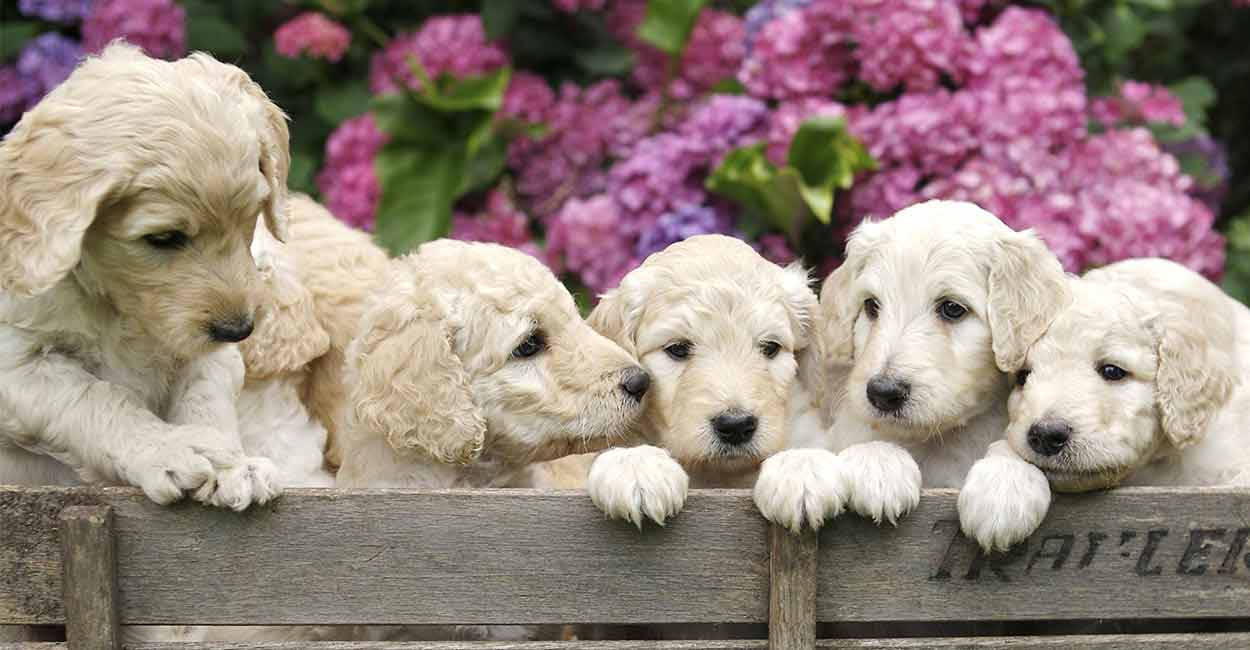 History And Original Purpose Of The Mini Labradoodle
The miniature Labradoodle is a cross of a Miniature Poodle and a Labrador Retriever. Any Poodle under 10" at the shoulder is a toy, 10-15" is miniature, and larger than 15" is a Standard Poodle. This means that the Labradoodle mini is just a Labradoodle with a Miniature Poodle parent.
Labradoodles were thought to be created in the search for a "hypoallergenic" dog. Or at least one that would be easier on owners with serious allergies.
Mini Labradoodles were further created because, well, miniature things are even cuter than the normal size! They also take up less space for owners in constricted living conditions.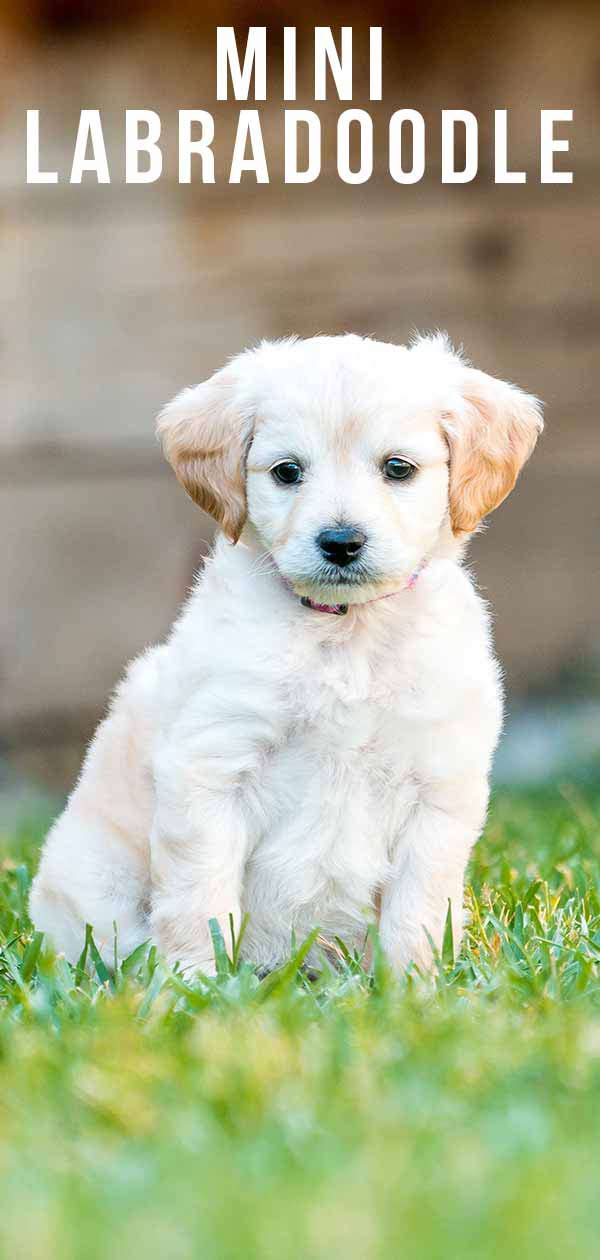 Fun Facts!
Labradoodles first began to be better known in the late 80s, in Australia. Only more recently has their popularity spiked. This is partly due to their cute appearance, and status as teddy bear dogs!
The crown prince and princess of Norway own Labradoodles.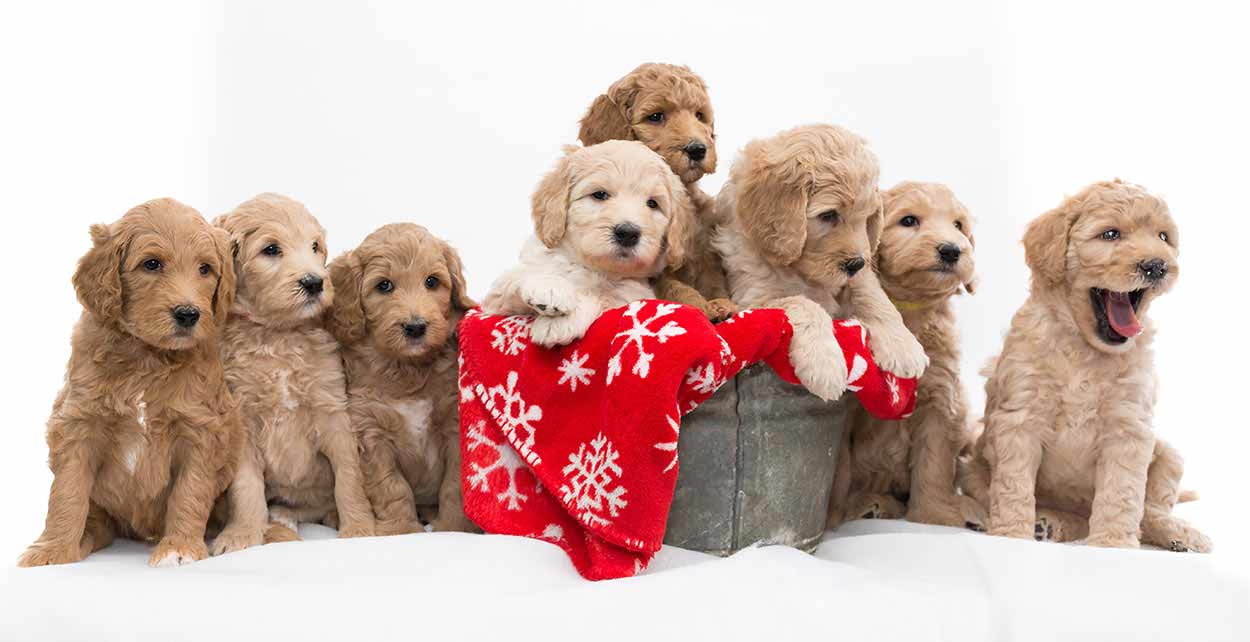 What do Mini Labradoodles Look Like?
Mini Labradoodles have long faces, floppy ears and wavy to curly coats. They tend to be fairly slim, with long legs and a happy, wide, open grin.
There are tons of coat color possibilities, drawing from all the Lab and all the Poodle colorations. You could have a miniature chocolate Labradoodle, a black mini Labradoodle, or just about any color Labradoodle you want!
We're perhaps most familiar with heavily groomed and styled Poodles. But they naturally have a fluffy, shaggy coat over their entire body.
Mini Labradoodles in their most conventional appearance will have this coat. Coupled with some more 'Labradorish' physical features.
Are Mini Labradoodles Hypoallergenic?
As far as coat and grooming, remember that your toy Labradoodle could inherit from either parent. So their coat may be shorter, like a Lab's. Or it could be long, thick, and curly like a Poodle. Or it could be somewhere in between!
Labs are notorious shedders, but Poodles tend to trap their shed in their curly coats. Although Mini Labradoodles usually shed less than the average Lab, there is no guarantee they will be low shedding or hypoallergenic.
Mini Labradoodle Size
One of the most surprising things about buying a small Labradoodle is that they won't necessarily be "mini". Within any given litter there will inevitably be a huge variance in size. Different pups will take after different parents, and some will land somewhere in the middle.
In fact, your miniature Labradoodle full grown might be as large as its Labrador parent. Miniature Poodles can be as small as 10 inches at the shoulder, and Labradors as tall as 25.
An adult Labradoodle mini will be anywhere within these size ranges. And anywhere within the weight ranges of 12-80 pounds, too! So each puppy is unique.
If you are set on your small Labradoodle being mini, look for a second generation miniature Labradoodle. If two genuinely small mini Labradoodles are bred, their pups will be much more likely to carry this size trend with them. This is the only way to almost guarantee mini Labradoodle size. But, it's always possible one will still come out Lab sized at this stage.
Mini Labradoodle Temperament
In general, these are friendly, playful family dogs. They owe this to their parent breeds. Both are energetic but social breeds. They make excellent family pets.
Labs can be a bit more pushy with strangers, and Poodles a little more aloof. Your pup's personality could go either way. Labradors are also prone to boredom and loneliness if left for long periods. Even a Lab mix isn't ideal if you work full time or are away from the home a lot.
You'll want to raise a confident dog too. Even a usually sweet tempered mix like the Labradoodle mini could end up unpredictable through poor rearing. Dogs usually get aggressive because they feel scared. Not out of any misplaced sense of dominance. Socialize your puppy well and choose them from friendly parents, and your dog is likely to grow into a confident adult.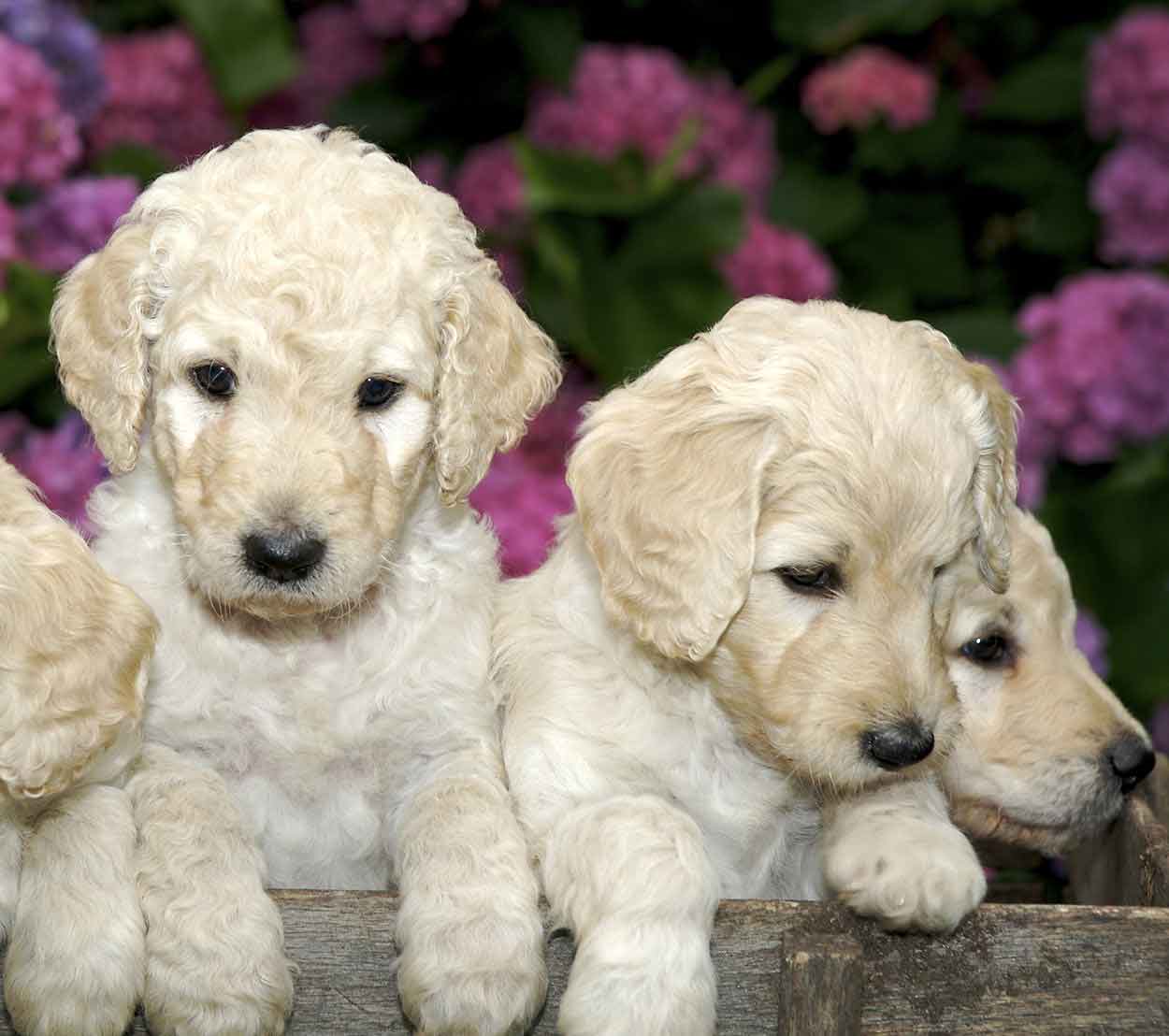 Training And Exercising Your Mini Labradoodle
Socialization plays a huge part in stopping this from ever being an issue. From the moment you bring your mini Labradoodle puppy home you should be exposing it to new places, people and dogs. Failure to do this can result in a dog that's fearful of new people in the house. Plus one that's nervous and insecure when out in public.
Until relatively recently people regularly hit their dogs and used punishments as the main reinforcement in their training. We now know this is not a good idea.
Studies have shown punishment based training methods create aggressive dogs. Fortunately there's a better way. Positive training methods are more effective. Plus they don't result in a nervous dog. Both parent breeds are energetic and athletic. So, your mini Labradoodle will needs lots of playtime and exercise. Though exactly how much time may depend on how small he actually is.
Mini Labradoodle Health And Care
You can reduce the chances of your Miniature Labradoodle inheriting their parents genetic diseases by only choosing a puppy from a litter where both of their parents were health tested. Labradors and Poodles commonly suffer from hip dysplasia, a malformation of the hip joint.
This disorder will gradually put extra stress on their joints, and can lead to a dog that's much less physically able. The extent to which a dog has hip dysplasia can be examined through an x-ray, and a hip score given.
It's important to point out that, while Poodles are at risk of hip dysplasia, the Miniature size bracket of Poodles seems to experience lower instances of this disorder. The Lab parent must have good hip and elbow scores. The Poodle parent should ideally have good hip scores.
On top of all this, Poodles regularly suffer from progressive rod cone degradation. Dogs with this inherited condition will gradually lose their vision in later life. Labs can also suffer from PRA blindness. Make sure both parents are DNA tested clear.
Mixed Breed Dog Health
Some purebred breeders argue that this presence of two different sets of diseases will make mixes less healthy. But this is a misunderstanding of genetics.
Outbreeding will mean less of the genes for these conditions have a chance to match up. But it is not impossible. Which is why you should still have each parent health tested for their own conditions.
However, mini Labradoodles are being given pedigrees of their own by independent organizations. So, this issue may have a chance to rear up again.
If miniature Labradoodles are treated as an independent breed, they may eventually be line-bred back into the state of disrepair we find modern purebreds in. Even so, having the genetic diversity of two breeds of dog does stand them in better stead than most.
Mini Labradoodle Life Expectancy
The mini Labradoodle lifespan will be a product of the parents' lifespans. It will potentially be increased a little by being a cross.
Labs live on average 12.5 years. Whereas, Poodles an impressive 14 years. So you can hope for your mini Labradoodle pup to experience somewhere in that region.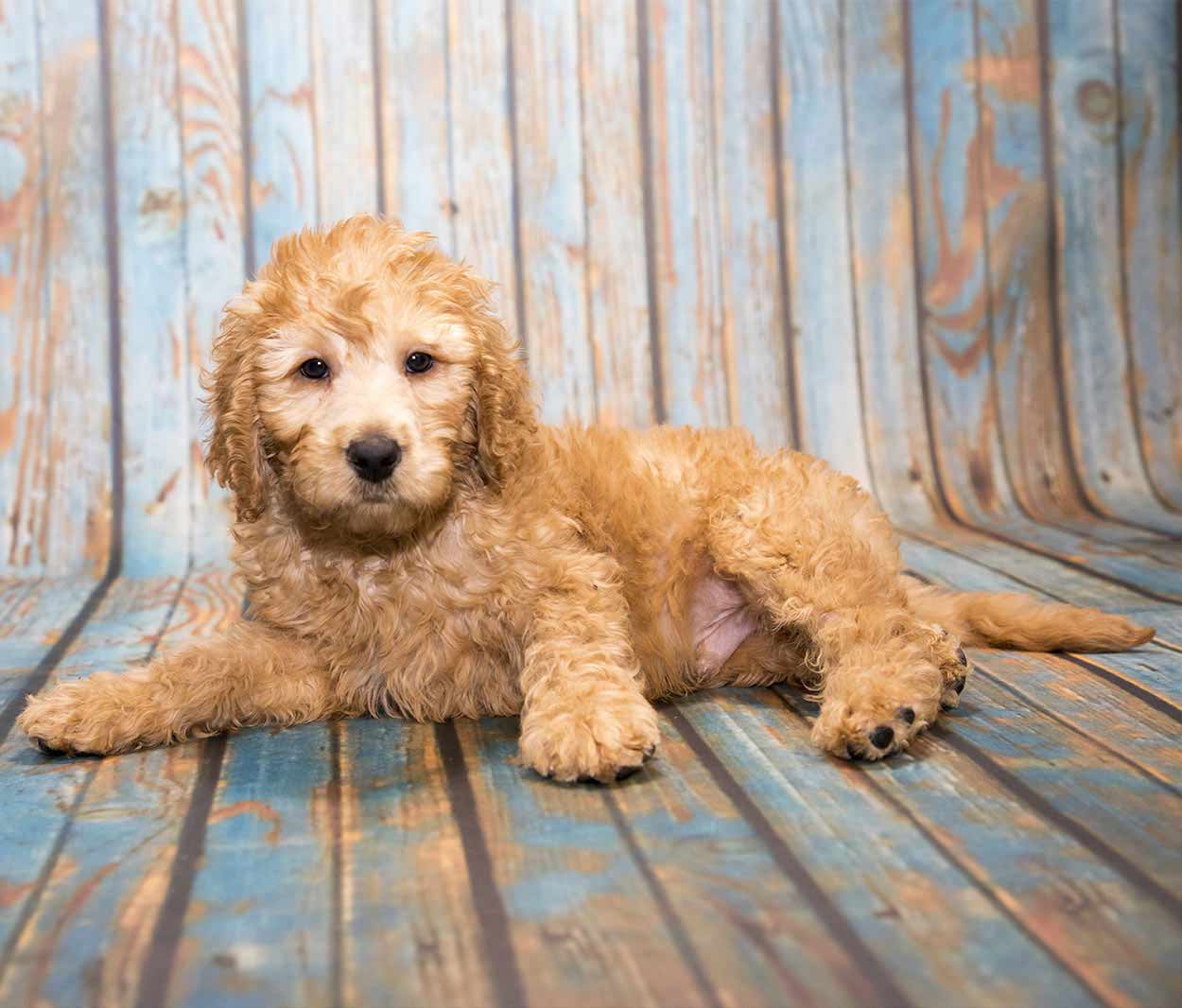 Do Mini Labradoodles Make Good Family Pets
Poodles and Labradors are both family friendly happy-go-lucky breeds. So their offspring, no matter the size, is likely to be the same!
Are you happy to exercise, train and socialize your dog every day? Do you spend plenty of time in the home, and are you happy to do lots of grooming? Are you family all on board with the idea of getting a dog?
If you can happily answer yes to all of the above, the mini Labradoodle should be a good choice. With good socialization and proper training, you can expect your mini Labradoodle to be a wonderful family pet. However, remember that a dog like this requires care and attention. It doesn't do well when left alone for long periods of time.
Pros And Cons of Getting A Mini Labradoodle
Cons
May not do well if left alone for a long period of time
Might need a lot of exercise
May not be truly "miniature"
Will likely shed.
Pros
A great family dog
Trainable
Smart and friendly.
Adopting A Mini Labradoodle
Are you thinking about getting a mini Labradoodle? Maybe you're not sure whether you want to start from scratch with a puppy? Consider rescuing an adult or senior dog who needs a good home. It'll benefit both of you!
On top of the heartwarming feeling of helping a dog who really just wants someone to love, mini Labradoodles keep their cuteness regardless of their age. So even if the dog you adopt is well past puppy stage, it might look like he's always an adorable youngster!
Take a look at some of the rescue organizations we've listed below.
Finding A Mini Labradoodle Puppy
As you go about your search, make sure that you avoid backyard breeders, puppy mills, and pet stores. These sources most likely will care far more about making money than about the health and happiness of their pups.
When you go to see a prospective pup, always ask to see the parents. You can gauge their temperament, and if it is a second generation mix even make sure of the size.
You should also ask for the medical history of the parent dogs. This will help you see if there might be any nasty inherited surprises. Choosing the right breeder is very important.
Mini Labradoodle Breeders
Labradoodles, and their miniature varieties, are one of the most popular mixed breeds. So finding a breeder shouldn't be too difficult for aspiring owners. But finding a good breeder might be a bit trickier.
Good breeders don't churn out puppies with cash as their only motivation. The mother should be a treasured pet. She should know her own name and have a clear bond with the owner. They shouldn't have too many other dogs, and they should be treated as members of the family.
The breeder must keep the puppies in excellent conditions. Make sure they ask you lots of questions as well as being happy to answer yours. They will also thoroughly health test. As we've said, to be more sure that your mini Labradoodle puppies will actually be small, you'll need to go for dogs bred from two genuinely miniature Labradoodles.
Mini Labradoodle Generations
Designer dogs like the mini Labradoodle actually come in different generations. Knowing these can be a good way of getting a smaller dog.
An F1 cross is when a Miniature Poodle is crossed with a Labrador (a cross between the parent breeds that create a Labradoodle).
An F1B is a mini Labradoodle mixed with one of these parent breeds – the Miniature Poodle or Labrador.
And an F2 type is two mini Labradoodles crossed together.
For a smaller dog and more predictable appearance, you'll need to find an F2 cross.
Mini Labradoodle Price
A mini Labradoodle puppy will range in price from hundreds to a couple of thousand dollars. It's worth pointing out that although some of the cheapest dogs might be tempting, there might be something you're not being told.
Mini Labradoodles are really popular. So there's plenty of incentive for puppy farms and unscrupulous breeders to breed unethically.
Raising A Mini Labradoodle Puppy
Caring for a vulnerable mini Labradoodle puppy is a big responsibility. There are some great guides to help you with all aspects of puppy care and training. You'll find them listed on our mini Labradoodle puppy page. You can find more helpful products here too:
Best Puppy Food For Labradoodles
Puppy Essentials
Best Brushes For Labs
For more recommendations, scroll through our reviews page.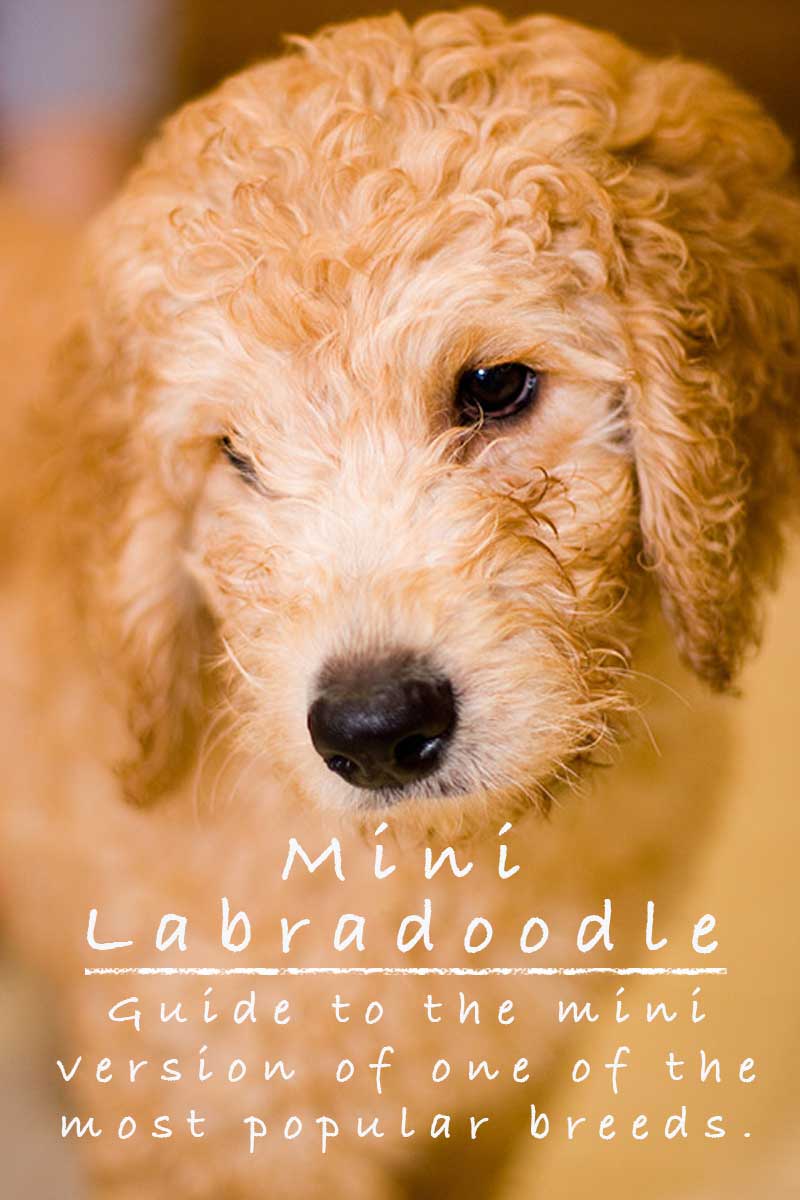 Comparing The Mini Labradoodle With Other Breeds
Some other breeds may compare favorably with the mini Labradoodle. If you're interested in getting something "mini," for instance, check out some of these options:
On the other hand, if you're more interested in mixed breeds, there are others worth investigating, too. Let's take a look at some now.
Similar Breeds
There are so many mixes out there. It would be hard to count them all! But in the search for the perfect companion, it's worth all the effort of investigating.
Take a look at our Poodle mix guide for other similar breeds.
Mini Labradoodle Breed Rescues
It may be hard to find rescues for specifically mini Labradoodles. But here are some Labradoodle rescue organizations that are a great place to start.
If you know of any rescues that may focus on Labradoodles or toy Labradoodles, please let us know in the comments!
References And Resources