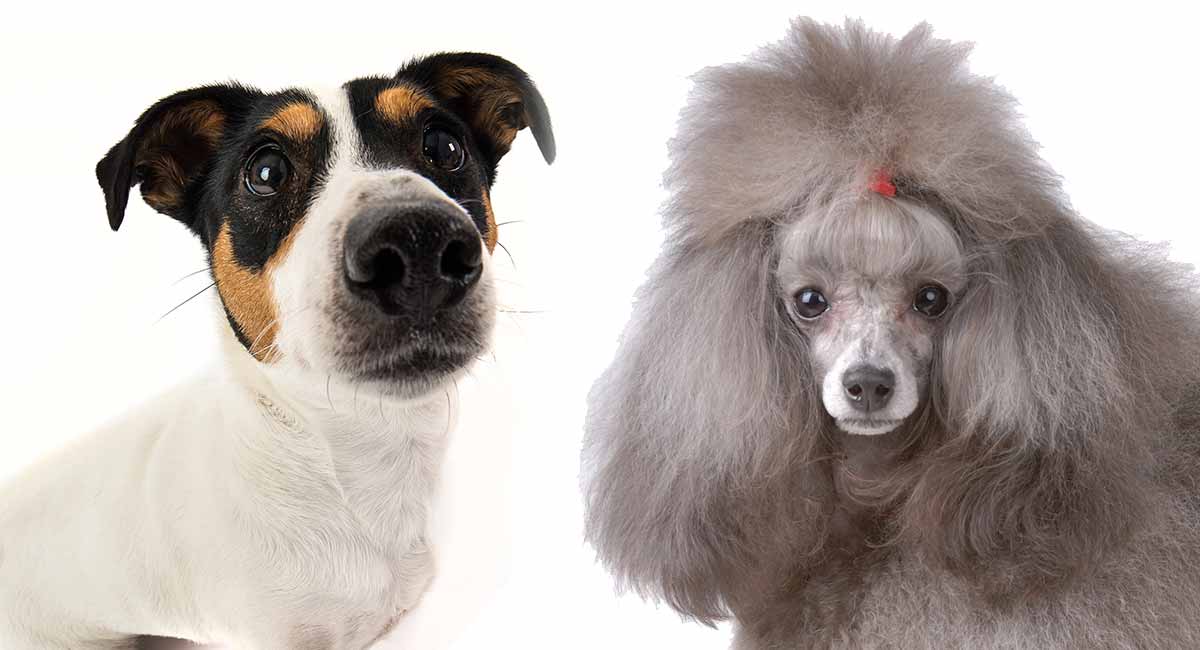 Jackapoo dogs are a designer breed, mixing the Jack Russell Terrier and Toy or Miniature Poodle. Although Poodles and Jack Russells look very different, their ancestors are both hard working, hunting breeds. Jackapoo puppies are intelligent, active and loyal. They can excel at agility and advanced obedience training, and make pretty great family pets too. As long as you don't mind a bit of grooming and a lot of exercise!
Contents
A Working History
The Jackpoo has been being produced accidentally for decades, but has only recent taken off as a designer dog breed. Their history to now is really the origins of their ancestral breeds.
Jack Russell Terriers were bred in England in the mid-1800s. Bred to be used as hunting dogs, mostly for fox, rabbit and other small game. Quick enough to keep up with other hunting breeds, but small and sturdy enough to flush and capture small game.
The Poodle has a longer history, dating back over 400 years. The Standard Poodle originated in Germany, where it was bred to be a retrieving dog for duck hunters. The Poodle's off-the-charts intelligence, strong swimming skills and eager to please temperament, made it a perfect retriever.
The Standard Poodle, a full-sized dog, was bred down to the companion Miniature Poodle. The first Toy Poodle, an even smaller version, was bred in America in the early 20th century.

What Do They Look Like?
Like any mixed-breed dog, there will be some variance in Jackapoo appearance from dog to dog. Your Jackapoo puppy could inherit more characteristics of the Poodle, or more of the Jack Russell Terrier.
This is typically a small dog, weighing around 12-25 lbs and measuring 10-15 inches. Their adult size will depend a little on whether it was bred from a Miniature Poodle or a Toy Poodle.
Their hair is typically short to mid-length, and can adopt the curly nature of the Poodle's coat, or the coarse coat of the Jack Russell. Coat color is usually black, brown, tan or white, or a mix of multiple shades. Some longer tufts of hair around the face and snout are common.
Do Jackapoos Shed A Lot?
Did you know that the Jackapoo is often considered hypoallergenic? There's no breed of dog whose skin is completely free of the proteins which trigger allergies. However, many allergy sufferers report being able to spend more time around low-shedding breeds, like the Jackapoo!
If they inherit their Poodle parent's curly coat, then the loose shed fur gets caught up and is less likely to shred around the home. They will however need regular grooming and clipping to keep their fur coats tidy and mat-free! Remember to keep up with hygiene as well, by brushing your dog's teeth, clipping nails, etc.
Temperament Traits
Generally speaking, the Jackapoo will inherit the intelligence and pride of the Poodle, and the active, hardworking nature of the Jack Russell. Some break the mould and bear a very strong resemblance to one parent over the other. But what results is always an active, high-energy crossbreed that loves to have a job to do.
Jackapoos require frequent exercise, and love to play outside. They can become destructive if they don't get enough exercise, so keep that in mind when making your decision. They also can be big barkers, if not trained otherwise.
Are Jack Russell Poodle Mixes Aggressive?
Jackapoos are not typically aggressive, so long as they are trained and socialized from a young age. The Jack Russell Terrier can be somewhat stubborn or aggressive with other animals, so again, socialization is very important.
Is This Mix Good With Kids?
Your Jackapoo will typically get along well with children, as long as it's been socialized well. They can be a bit noisy, but tend not to push or jump up. And are likely to be too small to knock over a kid too.
Training
The trainability of the Jackapoo depends on which parent breed comes through stronger. The Poodle is famous for its obedience and trainability, while the Jack Russell can have a bit more of a stubborn side.
Both parent breeds are extremely intelligent, so training usually goes well. Some Jackapoos can have a stubborn, prideful streak, which can sometimes complicate training plans. Patience might be required. Although, in the end, you'll be able to train your Jackapoo to do just about anything!
Your Jackapoo should be trained frequently, using positive reinforcement training. If need be, you can hire a professional trainer – but most Jackapoos can be trained at home. The Jack Russell in your Jackapoo might cause the dog to bark frequently. This can usually be addressed through training, but nonetheless is something to keep in mind.
Socialization and Exercise
This is a very high energy dog! Your Jackapoo will need plenty of exercise every day. In addition to walks, you'll want to schedule in some playtime to keep your Jackapoo engaged and happy!
Socialization is very important for all dogs, but particularly for the Jackapoo. If they are not exposed to plenty of other animals, dogs, children and strangers, the Jackapoo can become stubborn or even aggressive.
Health
Fortunately, most of the common health concerns of the Jackapoo are mild. Dry skin, allergies, and ear infections are common in this breed, but easily treatable. Concerns like deafness, patellar luxation, arthritis, cataracts, thyroid disease and others are also possible be less frequently seen.
They have a life expectancy of 12-15 years.
Jackapoo Puppies
Although it's not the most common designer dog breed, you will find Poodle Jack Russell Terrier mixes from time to time. Ask the breeder to show you health test certificates for both parents, and where possible meet them both too.
The puppies should be lively and alert, and the parents should be friendly and have an obvious strong bond with the breeder.