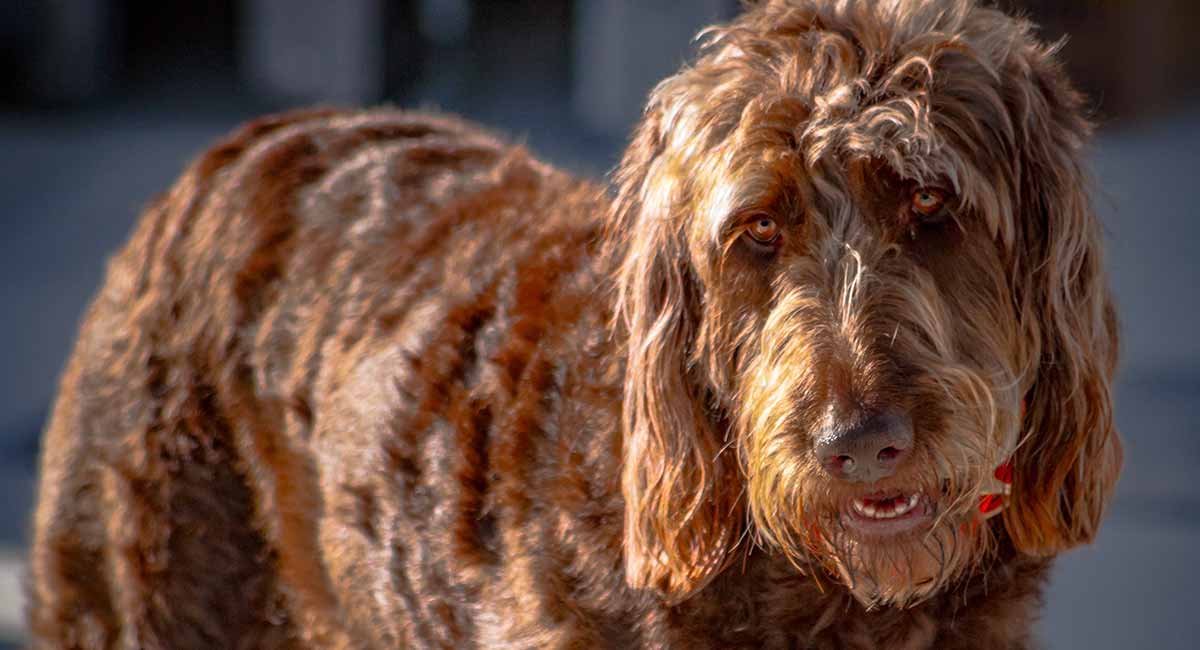 An Irish Doodle is one of the newer designer (hybrid) dog breeds that are both controversial and so popular today.
It is also called an Irish Setter Doodle, Irish Setter Poodle mix, or Irish Poodle,
They are created by mixing a purebred Poodle with an Irish Setter. The size of this mix can vary depending on the type of Poodle (Standard, Miniature, or Toy) the Setter is mixed with.
But because of many shared parental traits, you are bound to get a very active and intelligent dog.
Are you considering bringing an Irish Setter Poodle mix into your family? Read on for the most up-to-date information about them.
What's In This Guide
Irish Doodle FAQs
Our readers' most popular and frequently asked questions about the Irish Setter Poodle mix.
Irish Doodle: Breed At A Glance
Popularity: The Irish Doodle is not officially recognized by the American Kennel Association. But it's a popular designer dog. The Poodle is ranked 7th, and the Irish Setter is ranked 77th on the American Kennel Club's list of most popular breeds for 2019.
Purpose: Companion and service dog
Weight: 35 to 55 pounds
Irish Doodle Breed Review: Contents
History And Original Purpose Of The Irish Doodle
The Irish Setter Poodle mix is a fairly new mix introduced in the past thirty years. They are a popular mixed breed dog among hybrid dog lovers.
However, in purebred circles, there is some opposition to such hybrid dogs. This is because they believe breeding two purebred genetic lines together dilutes each gene pool.
But canine biologists champion such dilution in the name of "hybrid vigor." This term means that genetic diversity can strengthen the health of future canine generations.
You can read more about the debate of purebred vs. "mutt" here.
The Irish Poodle inherits interesting hunting and working dog lineages. So, let's take a look at the parent breed's origins to get a better understanding of the Irish Setter Doodle.
History Of the Irish Setter
Unsurprisingly, the Irish Setter hails from Ireland. And the Irish Setter is a gundog extraordinaire.
They were bred for their stamina and agility, and because they could maneuver over different kinds of terrain.
However, they were not the type of hunting dog that chased down their quarry. Instead, they used their powerful sense of smell. And they rhythmically wagged their tails to indicate to hunters they had tracked their prey.
The first Irish Setter came to the USA in 1875. And the American Kennel Club (AKC) first recognized this breed in 1878.
A call to revive the working Irish Setter began in the 1970s. And today, they are bred mostly as a working dog or for conformation.
Origins Of The Poodle
The Poodle has a long and noble lineage going back at least to the 15th-century. However, there is some debate about whether they originated from a German water retriever or the French Barbet dog.
They were experts in duck hunting and water retrieval. And people believe their backsides were specifically clipped to make it easier for them to swim, and bands of hair left at their ankles to keep them warm in the water.
The poodle was first recognized by the AKC in 1887.
These days you will likely watch a Poodle at an extravagant dog show. And there, you will see a keenly intelligent and athletic dog appear like a prima ballerina on a football field.
Fun Facts About Irish Doodles
There is an Irish Doodle, named Barney, who acts as a US judge's diabetic-alert dog. Barney is trained to help the judge manage his blood sugar by alerting when he should check his levels and take insulin.
A mother's post about an Irish Doodle name Willow went viral back in 2018. The specially-trained mix dog was given by a charity to provide assistance to an autistic boy.
Irish Doodle Appearance
You'll have a hard time predicting the weight and height of this hybrid mix.
Your best bet is to learn as much as you can about each parent dog to determine how large your Irish Setter Poodle mix may grow!
Being a cross between two attractive and athletic working dog breeds, the Irish Setter Doodle is guaranteed to showcase at least a few of their wonderful qualities.
Irish Setter Appearance
Irish Setters have eye-catching, long, and flowing hair. And they are best known for their fire-engine-red coats. In fact, the breed was originally called the "red setter" for this reason.
This purebred dog's coat is fine and silky and can easily begin to develop tangles or mats.
Also, the Irish Setter's ears flop over the ear canals, which cuts off airflow and circulation to the inner ear.
Poodle Appearance
The Poodle has a thick, wiry, water-repellent coat.
And the Poodle is bred in standard, miniature, and toy sizes.
Typically, standard purebred Poodles weigh around 40 to 70 pounds. Miniature Poodles weigh around 10 to 15 pounds. And toy Poodles weighs around 4 to 6 pounds.

Irish Doodle Mix Appearance
The size, height, and weight of your Irish Doodle will vary quite a bit, depending on the size of your dog's Poodle parent.
Therefore, you may get a standard, tiny, or mini Irish Setter Poodle mix!
For example, an Irish Setter Mini Poodle mix will likely stand between 15 and 25 inches and weigh between 20 and 35 pounds.
Whereas, a standard Irish Setter Doodle adult will likely stand anywhere from 15 to 27 inches tall and weigh between 35 to 55 pounds.
Irish Doodle Temperament
Both Irish Setters and Poodles are naturally smart and have friendly dispositions.
The Poodle also exhibits a sense of calmness and sensitivity. But they can also like to bark.
In contrast, the Irish Setter is a blend of energy, mischievousness, stubbornness. While loving and sociable, they too can bark and have some issues around chewing things.
In the end, the Irish Doodle temperament can balance out and consist of natural intelligence and a strong drive to please. Their personality makes these dogs easy to train and capable service and therapy dog work. But they'll also have lots of energy and will need to have the proper training to deter any bad behaviors.
Training And Exercising Your Irish Doodle
You will want to begin socialization and training your Irish Setter Poodle mix right away, as with any dog. You can consult our training guides here.
Both parent breeds are athletic and intelligent dogs that possess naturally-high energy levels. Therefore, they enjoy lots of daily exercises and playtime.
You should provide daily, enriching training sessions. It will help build a strong bond with your new dog. And you will also ensure your pup quickly learns how to be a sociable, productive member of your family and the community.
If your time and schedule permits, you will also find your Irish Doodle to be an eager and excellent participant in an assortment of dog activities. You can have them go to agility, dock diving, rally, and retrieving. And you can consider K-9, service dog, and dog therapy training.
Irish Doodle Health And Care
The most challenging aspect of choosing a hybrid dog like the Irish Setter Poodle mix relates to health. You don't know what health issues a puppy may inherit from either purebred dog parent.
For this reason, it is vital to learn all you can about health issues and required/recommended health tests for both parent dog breeds. It is safe to say that any shared health issues are a concern.
You should also ensure the breeder you work with has screened and cleared parent dogs of preventable health concerns.
Irish Setter Health Issues
Generally, Irish Setters are fairly healthy dogs. However, they are susceptible to a life-threatening condition called bloat, which requires immediate treatment by a vet.
Your dog's stomach can become distended due to gas build-up and prevent blood flow to their heart.
You can learn more about this condition in our article on canine bloat.
Research indicates a varied diet, smaller portions, and more frequent meals can reduce the risk of bloat.
Poodle Health Issues
A standard Poodle's health can be good if you are able to avoid inherited diseases that we outline below. However, they share the same risk for bloat, like the Irish Setter.
Other health issues are eye disorders. hip dysplasia, idiopathic epilepsy, von Willebrand's disease, and immune-mediated disorders.
Toy and Miniature Poodles are more likely to see orthopedic issues like Legg-Calve-Perthes and luxating patellas. And all Poodles are at risk for Addisons Disease and a skin disease called sebaceous adenitis (SA).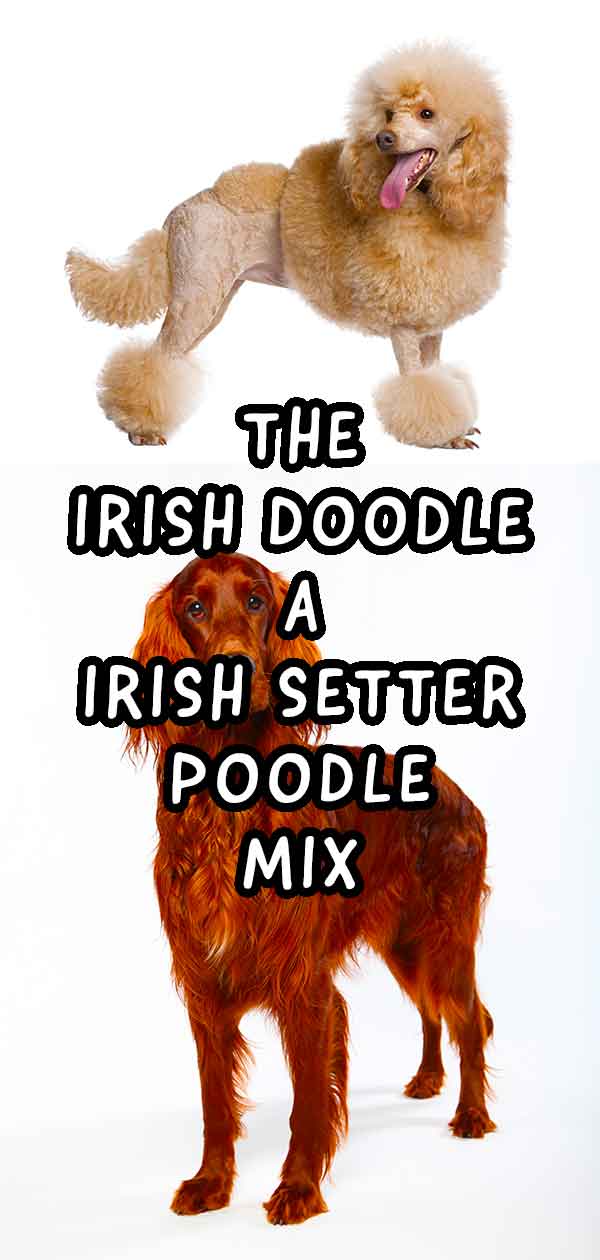 Health Testing For Irish Setters and Poodles
The Canine Health Information Center (CHIC) recommends testing purebred Irish Setter dogs for hip dysplasia, autoimmune thyroiditis, and progressive retinal atrophy.
CHIC recommends testing purebred standard Poodles for hip dysplasia and eye issues.
Optional tests include cardiac exams, skin tests, and thyroid evaluations.
They recommend miniature Poodles should be tested for hip dysplasia, patellar luxation, and eye issues, while toy Poodles should be tested for patellar luxation and eye issues.
Irish Doodle Grooming
The Irish Setter parent needs brushing and grooming at least every other day to keep the coat and the ears healthy. For working Irish Setters, daily brushing and grooming is vital to keep the coat tangle-free and the ears free from infection.
In contrast, the Poodle parent's coat is about as close as any dog breed can come to a truly hypoallergenic (non-shedding) coat. But the Poodle's coat can grow out quickly and will mat if you don't keep brushing and grooming it.
And just like the Irish Setter, the Poodle's long ears flop over the ear canals. This makes the likelihood of ear infection more common.
Therefore, for the Irish Doodle hybrid, you will need to commit to regular brushing and grooming. This means t least every other day. You want your Irish Setter Poodle mix to keep their skin and coat healthy and clean.
Opting for a short coat clip can help with the daily grooming and brushing duties. But you still need to pay close attention to regular ear cleaning to avoid infection.
And depending what your Irish Doodle puppy inherits from her Poodle parent, you may find you have a low-shedding dog that won't trigger pet allergies. But remember, there is technically no such thing as a hypoallergenic dog.
Do Irish Doodles Make Good Family Pets
Since the Irish Doodle will likely inherit the high prey drive of both working dog parents, this may not be the best pet dog if you have other vulnerable family pets!
However, the Irish Setter Doodle personality lends itself very well to life with a family. With appropriate socialization and training, both the standard or mini Irish Doodle can make an amazing family dog. They can even be good with young children.
Overall, Irish Doodles are smart and sociable. They come from a long history of partnering very closely with people at work and at home.
Rescuing An Irish Doodle
If you're unsure about getting a puppy, rescuing a dog can be a really rewarding option instead. There are many options and we have a list of rescues below where you may find an Irish Doodle.
A good rescue center will support you through the process and answer your questions to the best of their ability.
Unfortnuately, you may or may not know the whole history of the dog you are rescuing. But you get the benefit of having an adult dog that is probably already house trained. Plus, you will have a good idea of the dog's temperament.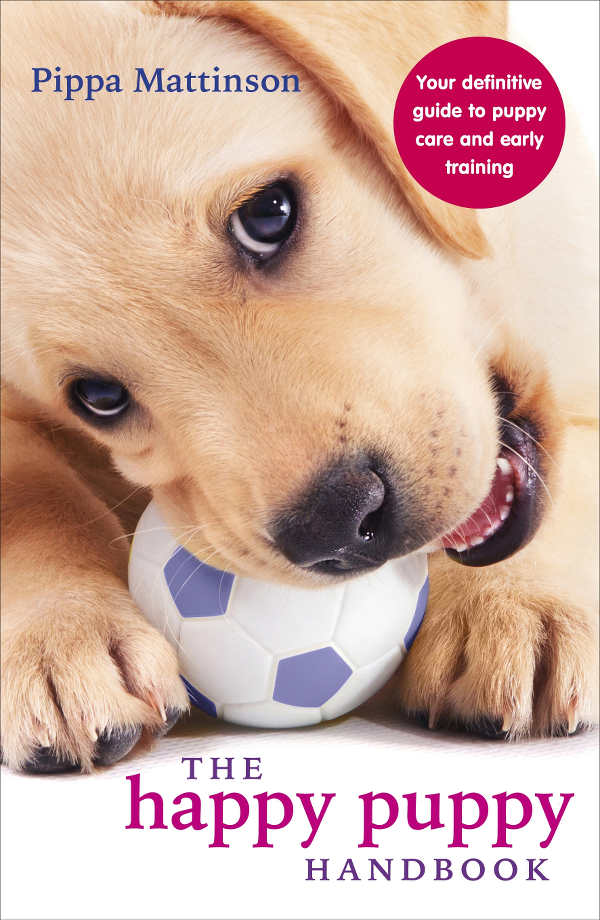 Finding An Irish Doodle Puppy
Irish Doodle puppies are very cute! They may be one reason why mixed dogs have steadily been growing in popularity.
When you are looking for Irish Doodle puppies, the most important detail is to find a reputable and responsible Irish Doodle breeders. You should find one that will do all of the required and recommended health tests for the parent dogs to breed healthy puppies.
Additionally, it's important for you to avoid pet stores and puppy mills. These places are usually more interested in making a buck than the care of their dogs and often have poor living conditions for pups.
You can consult our puppy guide as you search for Irish Doodle puppies.
Raising An Irish Doodle Puppy
Early socialization and training are important for raising any puppy. And taking care of Irish Doodle puppies is a big responsibility.
Luckily, we have some great guides to help you with all of the important questions in training and taking care of your puppy:
Irish Doodle Products And Accessories

Pros And Cons of Getting A Irish Doodle
Cons:
At-risk for serious health issues
High maintenance dog
Require lots of room and time for exercise
Pros:
Loyal and affectionate
Intelligent and easy to train
Comparing The Irish Doodle With Other Breeds
The Irish Doodle And The Goldendoodle
The Goldendoodle is another popular Poodle hybrid dog, which is crossed with a Golden Retriever.
Interestingly, both the Golden Retriever and the Irish Setter have working dog backgrounds as gundogs, water dogs, and retriever dogs.
So, if you're looking for an active dog, you can't really go wrong with either hybrid dog breed.
And you will discover that many Irish Doodle breeders also breed Goldendoodles, likely for this same reason! Take a closer look at our full comparison here.
You can consider and compare other Irish Poodle mixes here:
Similar Breeds
Here are some other dog breeds you might want to consider:
Irish Doodle Breed Rescues
There are some rescues dedicated to "doodles."
Otherwise, you can try contacting rescues for the Irish Doodle's parent breeds.
USA
UK
Canada
Australia
The Poodle Club Of Queensland Inc.
Please let us know of any rescues we can add to our lists!
Is The Irish Doodle Right For Me?
This hybrid dog makes a wonderful pet dog for an owner with the time and interest in keeping this active, athletic, and friendly dog enriched and engaged!
They make a wonderful companion and are intelligent dogs who have the potential to become service or therapy dogs. But make sure you're up to the task of taking care of these dogs.
If you have any experiences with an Irish Setter Doodle, let us know in the comments below. We'd love to hear from you!
References And Resources
Barnette, C. (2016). Legg-Calve-Perthes Disease in Dogs." VCA Hospitals.
Beynen, A. (2019). "Diet and canine gastric dilatation." Dier-en-Arts.
Bianca, R., et al. (2018). "Poodle Dog Breed Information." American Kennel Club.
Brooks, W. (2003). " Immune Mediated Hemolytic Anemia (IMHA) in Dogs and Cats." Veterinary Partner.
Canine Health Information Center (CHIC). (Accessed 2019). "What Genetic diseases and/or conditions should my breed be screened for?" Orthopedic Foundation for Animals (OFA).
Carneal, T., (2016). "Health Concerns" The Poodle Club of America.
Glickman, L., et al. (2013). "The Irish Setter Club of America National Health Survey," Irish Setter Club of America.
Gough, A., et al. (2018). "Breed Predispositions to Disease In Dogs and Cats." Wiley Blackwell.
O'Neill, D. G., et al. (2013). "Longevity and Mortality of Owned Dogs In England." The Veterinary Journal
Pederson, N. C., et al. (2015) The effect of genetic bottlenecks and inbreeding on the incidence of two major autoimmune diseases in standard poodles, sebaceous adenitis and Addison's disease." Canine Genetics and Epidemiology.
McAteer, K., et al. (2018). "Irish Setter Dog Breed Information." American Kennel Club (AKC), 2018.
Rusbridge, C. (2014). " Canine idiopathic epilepsy." In Practice.
Thomas, J. (1996). "Von Willebrand's Disease in the Dog and Cat." Veterinary Clinics of North America: Small Animal Practice.