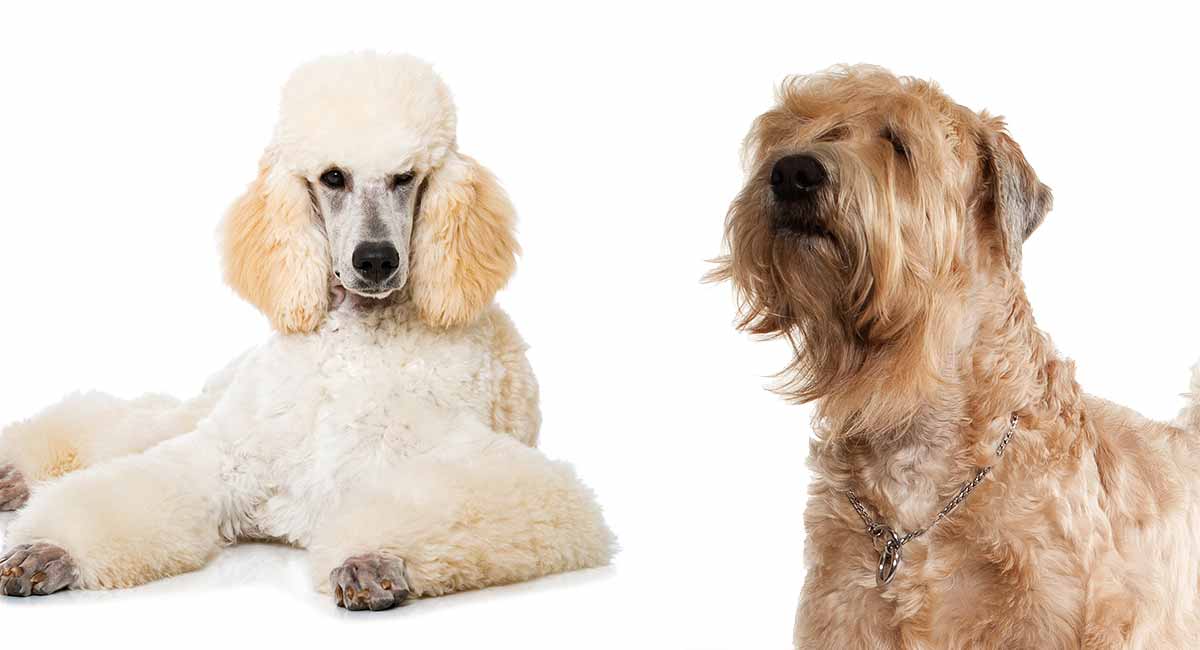 The Whoodle dog, is a mix between a purebred Soft-Coated Wheaten Terrier and a purebred Poodle.
A medium to large dog, it can weigh anything from 40 to 70 pounds. This fluffy pup boasts curly to wavy hair, and comes in a variety of colors.
Whoodles love to play, and need consistent training and socialization to curb their strong prey drive.
What's In This Guide
Whoodle FAQs
Our readers' most popular and frequently asked questions about the Whoodle.
Here's a quick overlook of this cute puppy.
Whoodle: Breed At A Glance
Popularity: Fairly unknown
Purpose: Companionship
Weight: 40 to 70 pounds, Miniature ranges from 25 to 40 pounds
Temperament: Smart, loyal and active
Are you interested in an in-depth look at this fluffy crossbreed?
Whoodle Breed Review: Contents
Are you curious to learn more about this poodle and soft-coated wheaten terrier mix?
If you were wondering what is a Whoodle, look no further.
Are you considering getting a Wheaton Poodle, and are you wondering if they would be a good fit for your family?
In this article, we're going to go over everything you need to know about this mixed breed dog, including personality traits and physical health.
The Hybrid Controversy
There are lots of opinions about mixed breed dogs. Plenty of people are all for the new varieties of pooches, while others don't find the idea nearly as appealing.
We've talked about purebred dogs versus mutts before and gone over the various pros, cons and arguments for each side of the debate.
If you'd like some additional reading about hybrid dogs and the ongoing assumptions and controversy that surround them, you should also check out this article by Carol Beuchat.
Whether or not you're a supporter of purposefully crossing purebred dogs, it's undeniable that the Whoodle is a cute result.
Want to know more about this fluffy pup?
History and original purpose of the Whoodle
Sometimes called a Sweatenpoo, Wheaten-doodle or a Wheatenpoo, the Whoodle is a crossbreed.
This mixed breed dog is a blend between a poodle and a soft-coated wheaten terrier.
As such, and because it's a fairly recent breed, we don't have a lot of information about its history.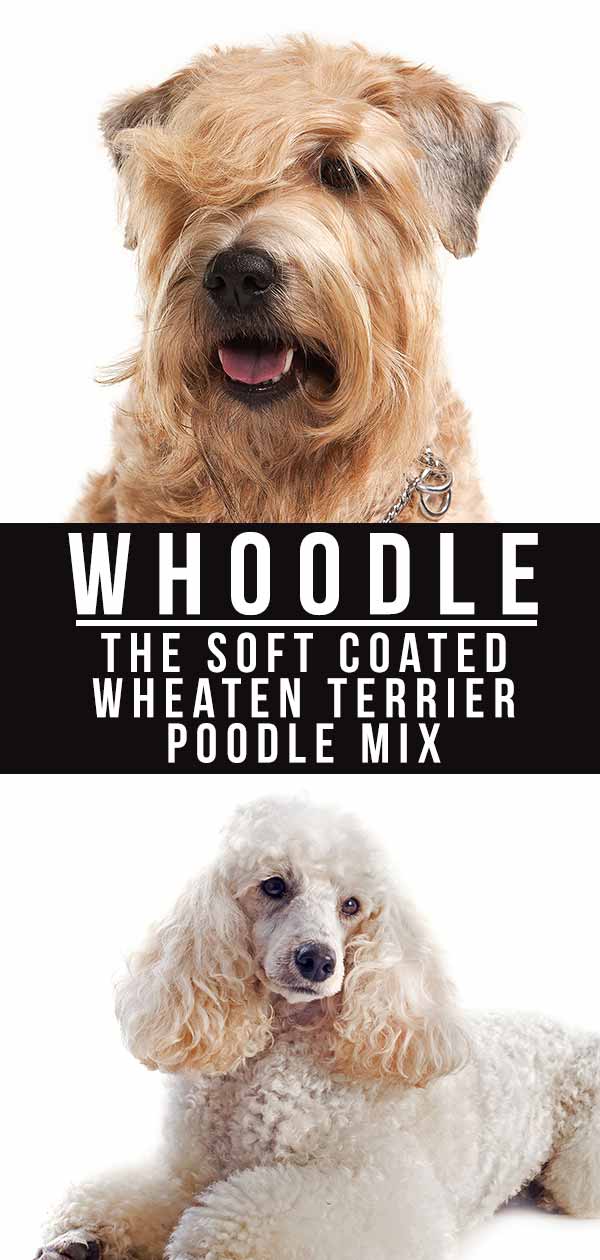 There hasn't been enough time for breeders to develop standards, discover consistent personality traits, or identify any serious health or behavior concerns.
Whoodles, like other mixed dog breeds, take traits seemingly at random from either side of their lineage, which makes each individual Whoodle unique.
Because of this huge range of lineage traits, adult Whoodles vary greatly in height, weight, coat color and texture, and health.
In general, many happy Whoodle owners have reported their pups to be delightfully playful and energetic dogs that are eager to please.
Let's take some time to explore the parent breeds of the Whoodle so that we can better understand the history of the Wheaten Terrier Poodle mix.
The Soft-Coated Wheaten Terrier
The soft-coated Wheaten Terrier, also known more simply as the Wheaten, is a mid-sized sporting terrier.
Wheatens are originally from Ireland and have been around for more than 200 years.
Wheatens were developed from a medley of local farm dogs, and share ancestry with the Irish terrier and the Kerry Blue Terrier.
They were bred to be an all-purpose farm dog. Their initial duties included herding and guarding livestock, as well as vermin hunting.
Because they were bred for the cooler weather of Ireland, soft-coated Wheaten Terriers do well in temperate to colder climates. Due to their hair, they are at risk for overheating in warmer climates and on especially hot days.
The Poodle
A popular breed of dog, some state the poodle originated in Germany as a water sporting dog. European canine federations state this breed originated in France.
Either way, Poodles specifically were used for water retrieving, such as duck and waterfowl hunting.
They are considered to be one the most intelligent and trainable breeds, being classified as the second most intelligent dog breed after the Border Collie.
As a mix, Whoodles are a recent crossbreed. Are you ready to know everything about this fluffy pup?
Fun facts about the Whoodle
Although this is still a rare mix, some Whoodles are leaving their mark on the world!
Abby, a miniature whoodle, is helping high schoolers deal with everyday stress, while the fluffy Bitsy just appeared in one of the pics of the month at a local Northern New York magazine.
Here's what you need to know about this cute crossbreed.
Whoodle appearance
As with pretty much every other trait, the look of your Whoodle dog will be a mix of both of its parents.
Because this is a fairly recent mix, every Wheaten Terrier Poodle mix is unique when it comes to their looks.
To have a better idea, take a look at what the Wheaten and the Poodle look like!
Wheaten Terrier appearance
Wheatens are a medium-sized dog with a sturdy build. They range in size from 16 to 20 inches in height and tend to weigh from 30 to 50 pounds.
Wheatens are born with reddish-brown coats or white. As they grow old, their coat grows out to a whiter, wheaten color.
When puppies reach 3 years of age, their coats will already have reached their definite color. Like Poodles, Wheatens lack an undercoat, and their single-layer hair keeps growing.
Because of this, they need regular grooming and brushing to keep their skin and coat healthy.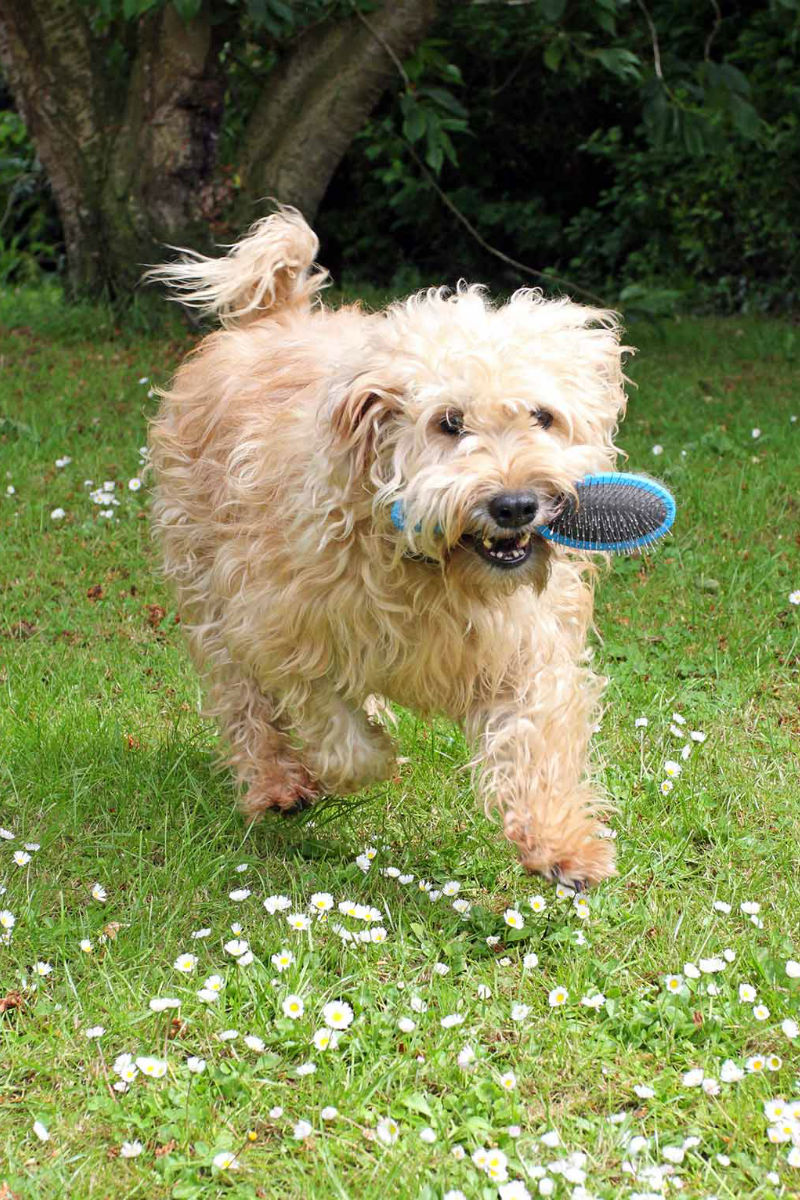 Poodle appearance
Poodles have very distinct curly coats that come in a variety of colors. Their soft, plush coats have only one layer, making them shed slightly less than other dogs.
This breed has a sturdy, athletic build, with dark eyes and folded ears.
Poodles also come in three different sizes. The Standard is over 15 inches in shoulder height, the Miniature stands between 10 and 15 inches tall, and the Toy version is under 10 inches.
What do Whoodles look like?
A Whoodle dog can be a combination of both its parents, or lean towards one breed the most.
Because Wheatens are born a darker color and only reach their final look at 3 years of age, it's usual for Whoodle pups to change as well.
Adult coat colors among Whoodles are quite varied. Whoodles have been bred in colors such as black, chocolate, red, silver, cream or apricot.
Although usually a medium to large dog, Whoodles also come in smaller sizes. Want to know more?
Miniature Whoodles
Because the Poodle comes in three different sizes, breeders are able to create miniature versions of its crosses as well.
Even though most Whoodles are the result of crossing a Standard Poodle with a Wheaten, some breeders try their hand with a Miniature or Toy Poodle and a Wheaten Terrier.
Some Miniature Whoodles can be found, and usually weigh from 20 to 45 pounds, and stand at less than 15 inches of height.
These pups are even less common than their standard counterparts, so you might have a harder time finding one.
Now that you know how the Wheaten Terrier Poodle mix looks like, let's examine their temper.
Whoodle temperament
To know if this is the right breed for you, take a look at how its parent breeds behave. This will give you a better idea of how your Whoodle pup might turn out like.
Wheaten Terrier temperament
This is an intelligent, energetic and playful breed.
The Wheatens are known to be easygoing and loyal to their families.
Wheatens are good dogs for training, but as other Terriers, they don't react well to harsh or heavy-handed punishments.
This breed has a reputation for being great guard dogs who won't bark without reason.
They usually are observed barking only to alert their humans about strangers or other things of concern. Many owners state Wheatens are great watch dogs, but not guard dogs, because they rarely get aggressive.
Since the soft-coated Wheaten terriers were bred to be working farm dogs, they do have a strong prey drive. This means that, unless they are socialized with other animals as puppies, Wheatens may not be safe around other pets such as cats.
Local wildlife like squirrels, rabbits and small birds might also be in danger!
Considered to be great with children, Wheatens have a great reputation for being friendly and delightful family dogs.
Poodle temperament
Standoffish with strangers, it can take time for a Poodle to warm up to a new person.
Highly energetic, both physically and mentally, Poodles need plenty of exercise and mental stimulation to remain well-behaved.
The larger, standard-size Poodles are the better choice for families with small children.
All poodles, regardless of size, should be socialized to be good with children and other pets.
A stable and relaxed home gives the best environment.
How do Whoodles behave?
Coming from two intelligent breeds of dogs, Whoodles tend to be quite smart and easy to train.
The hunting history of both Poodles and Wheatens make the Whoodle have a very strong prey drive.
This makes it key to properly socialize them at an early stage, especially if you intend to have other pets or already own birds or cats.
Whoodle's prey drive can make it harder for them to warm up to other dogs and even small children, so training and socialization should be a priority.
Because both of its parent breeds were bred to work independently, this crossbreed also needs consistent training to understand they need to listen to their owners.
Their guard tendencies can develop into annoying barking behavior if not properly channeled.
Using early positive reinforcement training will achieve better results. Harsh training methods based on yelling and other negative consequences will only instill fear and aggression in an otherwise happy and playful mix.
If socialized early and correctly, a Wheaten Terrier Poodle mix can do well in households with children and other pets.
To keep your new pup behaving at its best, it's key to offer structured training and exercise time. Here's how to do it.
Training and exercising your Whoodle
Whoodles are moderate to very active, requiring regular walks and playtime for exercise to maintain their health and fitness levels.
Because of their Poodle heritage, they are very smart and get bored easily. Avoid bad behaviors by offering different training options and keeping your sessions engaging.
If you see your pup starts having trouble focusing, cut the training and let them get some energy out. You'll see they will happily return to their training after a bit of exercise.
As we have already mentioned, socialization is key for this crossbreed. When done correctly, it will curb the Whoodle's high prey drive and make it easier to live with smaller animals and children.
Socialization is also important to prevent your new pup from becoming a barker.
Because of their guarding instincts, they will tend to let you know about everything they consider a threat -loudly.
Let them know what noises and situations are normal to keep them from barking unnecessarily.
Now that you know how to train them, it's time to take a look at how to care for this mix.
Whoodle health and care
Many will argue that hybrid dogs have better health than purebred dogs, because they have a larger gene pool.
While this has a basis in scientific fact, it's not recommended to expect a crossbred dog to be naturally healthy.
A hybrid dog breed such as a Whoodle is vulnerable to the issues and diseases of both parents.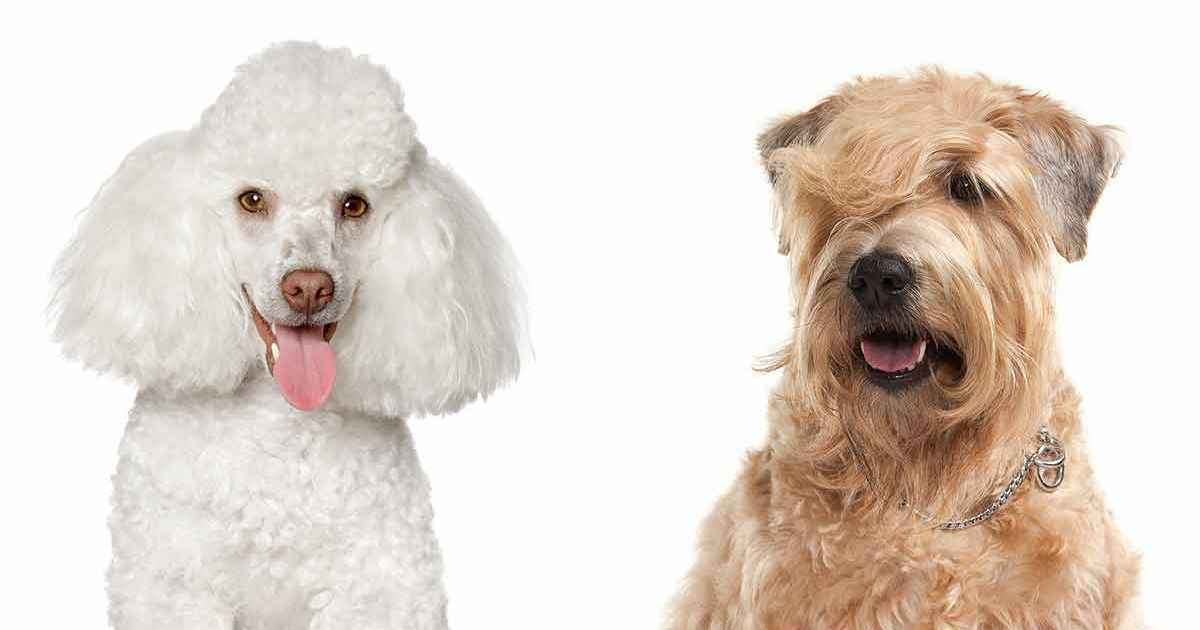 Because of this double whammy of risk, we're going to go over the health risks and concerns for both soft-coated wheaten terriers and poodles.
If you are considering adding a Whoodle in your family, it's very important for you to understand all the possible health issues your pup may be at risk for.
Knowing the health concerns for each parent breed will also give you a knowledge base to work from when interviewing Whoodle breeders.
Poodle Health Issues
Poodles have an average life span of 10 to 13 years, and although quite healthy, they are at a higher risk of some conditions.
Their health problems can include kidney issues, thyroid issues, gastric dilation volvulus and hip dysplasia.
Ear problems are also prevalent due to their nonshedding hair growing into their ear canals, causing blockages and infections. Consistent ear cleaning and care will keep them healthy.
Poodles are also commonly affected by Addison's disease. This is a hormonal disorder that occurs when the adrenal glands aren't properly producing the hormones they should.
In turn, this wrecks the electrolyte count in the body, as well as stress levels.
The symptoms to watch for include weight loss, excessive thirst, reduced appetite, vomiting, diarrhea, weakness, lethargy and abnormal mood behaviors.
Thankfully, Addison's disease is treatable with medications if caught early.
Soft-Coated Wheaten Terrier Health Issues
Wheatens tend to be relatively healthy, but are known to suffer occasionally from a few diseases or issues.
There are two protein-wasting conditions that soft-coated wheaten terriers are known to have. Both can be managed with a strict diet and medications but only if caught early.
One of these conditions is protein-losing nephropathy, known as PLN. This is usually seen in large breed dogs, females are especially at risk.
This condition stems from the filtering properties of the kidneys being damaged. When the kidneys don't filter properly, the dog ends up losing blood serum and protein into the urine.
Symptoms of PLN include weight loss, loss of appetite, vomiting, low production of urine despite proper water intake and fluid retention.
The other protein wasting condition is protein-losing enteropathy or PLE. It causes dogs to be unable to properly absorb protein from their food during digestion.
Symptoms for PLE include lethargy, vomiting, diarrhea with blood or mucus, decreased appetite, and fluid buildup in the abdomen or chest cavity.
While some experts consider that there is a genetic predisposition, we don't understand the mode of inheritance.
This means that your best bet is asking your breeder for the health history of the Wheaten parent, to make sure they don't suffer from these dangerous conditions.
Other health issues Soft-coated Wheaten Terriers are known for include Addison's disease, renal dysplasia, inflammatory bowel disease, allergies and atopic eczema.
Your Whoodle could be at risk of any of these conditions, so ask your breeder before getting a pup!
Besides looking into the health history of your Whoodle's parents, you need to be aware of how to properly care and groom your new pup.
Here's everything you need to know about grooming your pup, starting from a common question: are Whoodles hypoallergenic?
Are Whoodle Dogs hypoallergenic?
Not really.
Both poodles and soft-coated wheaten terriers are considered hypoallergenic dogs, because they don't have traditional "fur".
Nevertheless, no dog can truly be "hypoallergenic".
So-called hypoallergenic breeds have been called that because they lack an undercoat, and only have one layer of fur.
In spite of this, dog allergens are found not in the hair itself, but in the dog's saliva and skin, which all dogs have.
Both Wheatens and Poodles shed slightly less than most other dogs, because they have a single layer of hair, but that won't alleviate allergies for those who suffer from them.
If you're still interested in this mix, here's how to groom and take care of their fur.
Whoodle Grooming and Care
Because both Poodles and Wheatens have a single layer of fur, the coat of Whoodle dogs is more like hair than fur.
Their coats need to be consistently groomed to avoid matting and skin irritation, and should be clipped regularly because it grows indefinitely.
The combination of a curly poodle coat and a silky wheaten coat make a whoodle's coat a toss-up.
They range from nearly straight, corded to curly. It also can be medium to long in length. However, their coats do tend to be rather dense.
You may have to groom your Whoodle using the same methods as your average poodle owner.
Now that you know how to care for your new pup, it's time to decide if this is the right crossbreed for your pack.
Do Whoodles make good family pets
An important question about bringing any dog into your home is if the dog will be a good fit for your family.
Both the Wheaton Terrier and the Poodle are active, highly intelligent breeds.
This makes the Whoodle a smart dog that needs to be properly stimulated to ensure they remain non-destructive and calm when left alone during the workday.
This crossbreed is better for active families that enjoy spending time outside and will offer their pup at least an hour of daily exercise and playtime.
Because of their strong prey drive, they will need an experienced owner willing to put the time and effort into their training and socialization.
They can get used to living with other animals like cats and other dogs, but they will need constant supervision and proper training.
Your backyard should be fenced to prevent your new pup from running after cats, dogs and local wildlife.
Wheaten Terrier Poodle mix dogs do better with families with older children. Overall, this mix is good-natured, playful and cuddly, given they are provided with proper exercise time.
Still convinced this is the right choice for you? Think about rescuing then!
Rescuing a Whoodle
Rescuing a dog can be a very fulfilling experience for both of you.
Especially when it comes to Terriers and their mixes, many of them end up in shelters because their original owners didn't understand their training and exercise needs.
If you are convinced the Wheaton and Poodle mix is the right choice for your family, looking at your local shelters and rescue centers might be a good option.
Check out our complete guide on adopting a puppy to have a better idea of what to expect.
Once at the shelter, let the volunteers advise you on the best choice for what you're looking for. Because they have dealt with these dogs, they know their personalities and needs really well.
It will be easier to make the right choice after you have spent some afternoons with the dogs, so get ready for this to be a lengthier process than it would be just buying a puppy.
Nevertheless, it can also be a great experience and will guarantee you end up with the right pup for your pack.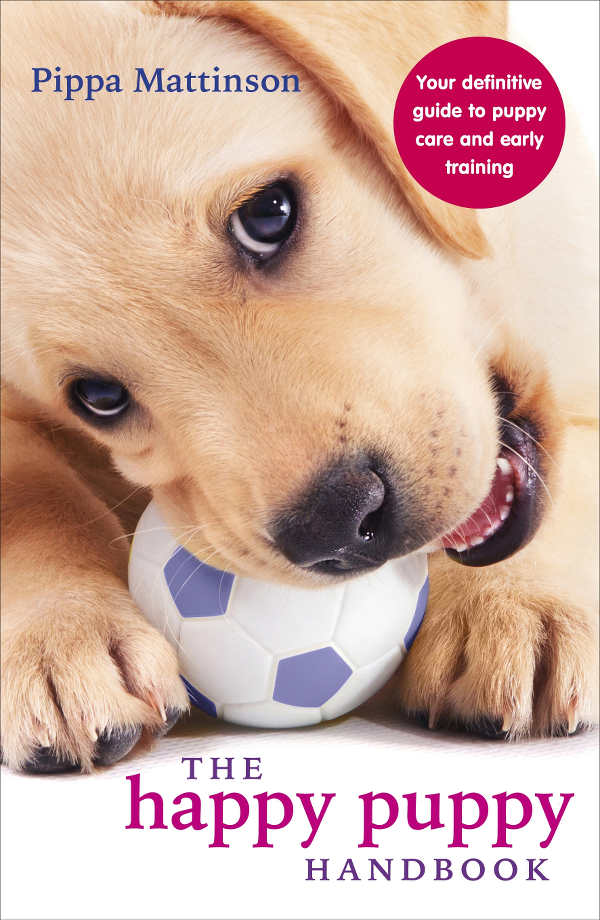 Take a look at our list of Whoodle rescue centers here, to see if there's one waiting for you right now!
If you'd rather have a better idea of your puppy's origins, a breeder might be a good option. Here's what to do if you'd like to go that route.
Finding a Whoodle puppy
Being an unrecognized and still relatively rare breed, finding a Whoodle puppy is going to be a bit of a chore.
Once you do find a breeder and because of the wide range of possible traits, you'll want to handpick your puppy.
An online search for a breeder is a good place to start. It could also be good to ask around for recommendations for reliable breeders.
Check with any breed fan clubs online, or ask your local animal shelter, groomers or veterinarians.
You're going to want a breeder who's done the work to screen out health and personality problems from both parents.
It's important to choose a breeder that has their dog's best interest in mind. Puppy mills and pet shops usually breed their dogs without paying attention to their health or the genetic conditions the parents might pass onto the pups.
Buying from these sources just feeds a system that doesn't care about dogs, and is only focused on economic gains.
Choosing a breeder
A responsible breeder will only mix healthy, happy parents.
Regardless of a breeder being a small hobby breeder or a professional breeder, ask to tour their facility and meet both parents of the puppies.
As with checking out any puppy breeder, you'll want to inspect not just the puppy's area for cleanliness and care but the rest of the home.
This includes areas the parent dogs and other animals have access to.
You'll want to be sure that puppies are being properly socialized and handled.
Be aware of any breeders who segregate puppies for any reasons other than health or disease.
Be wary of any breeders who always have puppies available or who are breeding multiple litters at a time.
Being a popular "designer" hybrid breed, there are unfortunately going to be fashion breeders who are simply trying to turn a profit and don't have the animal's health or well-being in mind.
Now that you have found a puppy, it's time to raise it!
Raising a Whoodle puppy
Caring for a cute pup is a big responsibility. Check out our handy guides made to help you with all aspects of puppy care and training.
These will be especially useful if you're new to having dogs, or properly caring for them.
Everything from introducing your new pup to your beloved cat, to potty training, is easier when you have an expert by your side!
Besides training, it's essential that you have the best products for your new pup.
Whoodle dog products and accessories
Because your new pup might take after their Poodle side, here are some of our top recommendations to take care of their coat so they are healthy and happy.
Still unsure about this mix? Here's our final take on it.
Pros And Cons of Getting A Whoodle
Pros
Friendly and smart
Easy to train
Great dog for older families
Cons
Strong prey drive that needs consistent training
Highly active dog needing around an hour of daily exercise
Curly coat in need regular brushing and grooming
If you're thinking this might not be the right option, check out other breeds.
Similar Breeds
If this one doesn't look like the right choice, here are other dog breeds you might want to consider:
Are you sure about getting this crossbreed? If so, start by looking at these breed rescues.
Whoodle Breed Rescues
Because they are a relatively new mix, Whoodle rescue centers are nonexistent. Nevertheless, one or two might have found their way into other breed rescues for lack of a better fit.
Try your hand at Terrier and Poodle rescues around your home and check if they have a Whoodle available for adoption. You might be surprised!
USA
UK
Australia
Do you have a Whoodle? What do you love most about your canine companion? We want to hear from you in the comments below.
References And Resources
Gough A, Thomas A, O'Neill D. 2018 Breed Predispositions to Disease In Dogs and Cats. Wiley Blackwell
O'Neill et al. 2013. Longevity and Mortality of Owned Dogs In England. The Veterinary Journal
Adams VJ, et al. 2010. Results of a Survey of UK Purebred Dogs. Journal of Small Animal Practice.
Schalamon et al. 2006. Analysis of Dog Bites In Children Who Are Younger Than 17 Years. Pediatrics
Duffy D et al. Breed differences in canine aggression. Applied Animal Behavior Science 2008
Strain G. Deafness prevalence and pigmentation and gender associations in dog breeds at risk. The Veterinary Journal 2004
Packer et al. 2015. Impact of Facial Conformation On Canine Health. PlosOne
Goodwin, L. V., et al., 2011, "Hypercoagulability in dogs with protein‐losing enteropathy," Journal of veterinary internal medicine, Volume 25.2, pgs. 273-277
Littman, Meryl P., et al., 2000, "Familial protein‐losing enteropathy and protein‐losing nephropathy in Soft Coated Wheaten Terriers: 222 cases (1983–1997)," Journal of veterinary internal medicine, Volume 14.1, pgs. 68-80.
Morgan, J.P., Wind, A., and Davidson, A.P., 2000, "Hereditary bone and joint diseases in the dog: osteochondroses, hip dysplasia, elbow dysplasia," Schlütersche.
Sadek, D. and Schaer, M., 1996, "Atypical Addison's disease in the dog: a retrospective survey of 14 cases," Journal of the American Animal Hospital Association, Volume 32.2, pgs.159-163.
Littman, M. P., Dambach, D. M., Vaden, S. L., & Giger, U. (2000). Familial protein‐losing enteropathy and protein‐losing nephropathy in Soft Coated Wheaten Terriers: 222 cases (1983–1997). Journal of veterinary internal medicine, 14(1), 68-80.
Littman, M. P., Wiley, C. A., Raducha, M. G., & Henthorn, P. S. (2013). Glomerulopathy and mutations in NPHS1 and KIRREL2 in soft-coated Wheaten Terrier dogs. Mammalian genome, 24(3-4), 119-126.