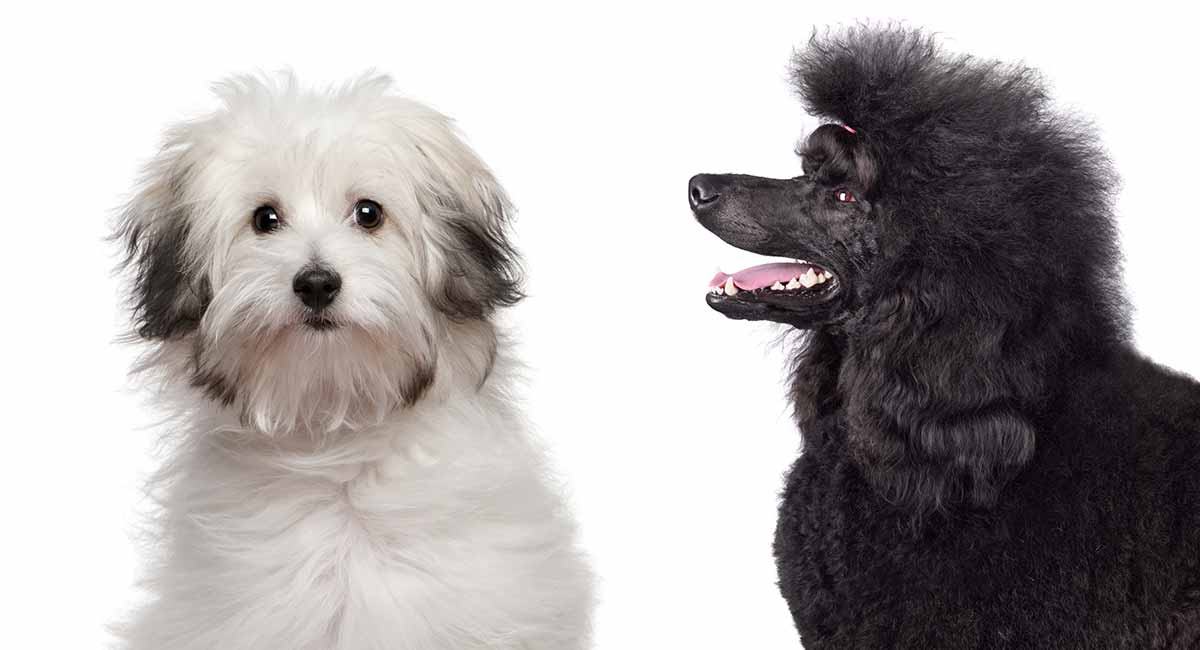 The Bolonoodle is a cross between a purebred Bolognese and Poodle.
Intelligent, loyal, and absolutely adorable, it's not surprising that this is a popular hybrid dog.
Could this mixed breed be the right pet for you and your family?
Read on to learn all about the amazing Bolonoodle.
But first, let's take a look at the controversy surrounding mixed breed dogs.
Purebred vs Designer Dog Debate
Dogs like the Bolonoodle are often referred to as designer dogs.
This means their parents are two different purebred breeds or dogs who have a known ancestry or pedigree.
Designer dogs are not the same as mutts whose heritage is unknown.
Mutts are often the result of mixing two or more different breeds.
Breeders of designer dogs set out to combine the most desirable qualities of the two parent breeds.
Advocates of this practice will also claim that these dogs are healthier than purebred dogs due to something known as hybrid vigor.
There is evidence that, due to inbreeding, purebred dogs often suffer from genetic conditions.
However, purebred breeders will argue that their dogs are cultivated to breed standards that reduce health problems and keep bloodlines untainted.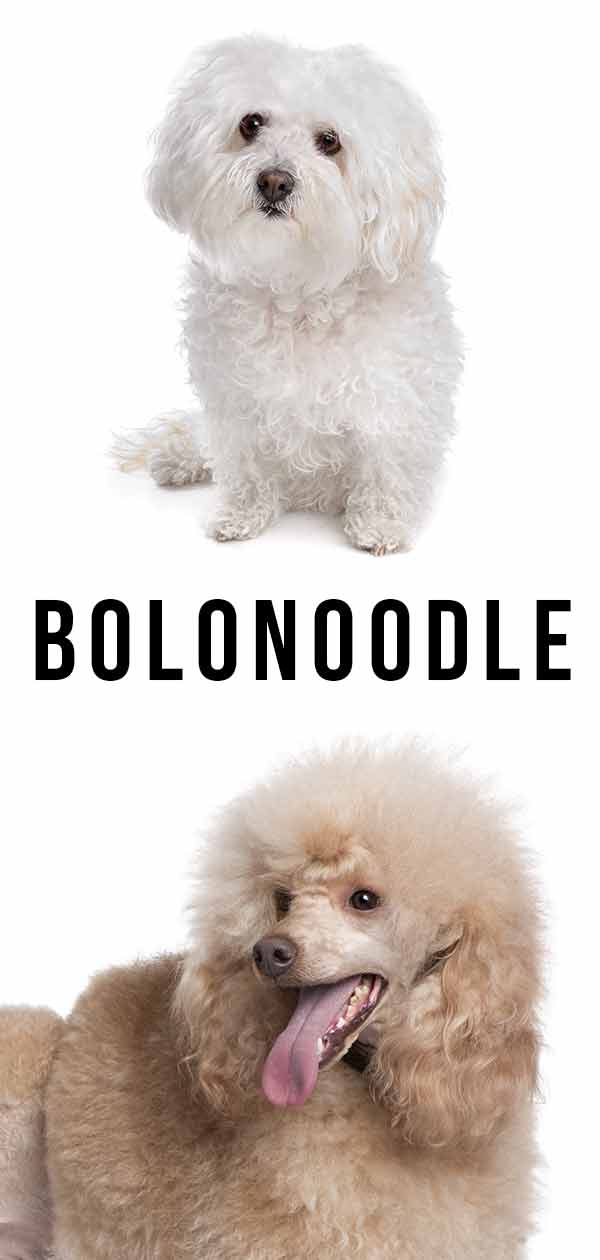 Where Does the Bolonoodle Come From?
The Bolonoodle is a recently recognized hybrid, and the best way to learn more about them is to look more closely at each of the parents.
Bolognese Origins
The breed takes its name from Bologna, Italy and has its roots with the Italian aristocracy.
As far back as the 11th and 12th century, nobility sought these dogs for their beauty, grace, and charm.
As a member of the Bichon family, they're related to the Maltese, Bichon Frise, Havanese, and Coton de Tulear breeds.
In 1668, Cosimo de Medici sent eight Bolognese to Belgium so that they could be given as gifts to the wealthy and influential families of Brussels.
As the power of the nobility passed, the Bolognese almost became extinct.
Thanks to a few breeders in Italy and Belgium, that didn't happen.
Poodle Origins
Despite their association with France, the Poodle originated as a duck hunting breed in Germany over 400 years ago.
Eventually, the eye-catching Poodle caught the attention of European nobility, who prized them for their high intelligence and showy good looks.
The Miniature and Toy Poodle were bred down from larger Poodles and display the same breed characteristics.
Fun Facts About the Bolonoodle
The Bolonoodle is most often the combination of a Bolognese and a Miniature Poodle, although the Standard and Toy versions have also been used.
The Bolonoodle is also known as the Bolopoo, Bolodoodle, Bolognesepoo, and Bolognesedoodle.
Liz Stannard brought the Bolognese to England in 1990.
They're also referred to as the Bichon Bolognese.
King Umberto of Italy gave a Bolognese to Princess José of Belgium on her birthday.
The famous flamboyant Poodle clip is not just for show.
Hunters used this cut to provide ease of movement while protecting the dog's vital organs in cold water.
Poodles are excellent swimmers.
Although he sang about a hound dog, Elvis loved Poodles.
He owned several and also gifted them to the women in his life.
Bolonoodle Appearance
As a mixed breed, the Bolonoodle can inherit physical characteristics from either parent.
It's not uncommon for designer dogs to favor either the sire or the dam almost exclusively.
Sometimes they end up with traits in the middle of their parents, though, too.
Bolognese Appearance
The Bolognese is a compact, stocky, squarely-built dog.
They range in height from 10 to 12 inches and weigh between 5.5 and 9 pounds.
Their single layer, pure white coat is soft and fluffy, and it stands out from their body in long loose curls.
The breed possesses a short muzzle with long, dangling, high-set ears and round, dark eyes.
Poodle Appearance
The Miniature Poodle stands from 10 to 15 inches and weighs from 10 to 15 pounds.
Well-proportioned and squarely built, under that iconic curly coat the breed sports an athletic physique.
He carries himself with confidence.
Oval-shaped eyes, a long muzzle, and thick ears that hang close to the face are other defining features.
Although many Bolonoodles are white, they can also come in the many various Poodle colors.
Bolonoodle Temperament
As with appearance, hybrid dogs can take after either parent when it comes to personality, or be a mix of both.
Bolognese Temperament
The Bolognese is generally calm, playful, and easy-going.
However, that will change if you leave them on their own for more than a few hours at a time.
The breed can be prone to separation anxiety.
This devoted and attentive dog will like to follow you around and is unhappy without a great deal of companionship.
The Bolognese is the quintessential lapdog, happiest when being petted, played with, and doted on.
They can be shy around strangers, but generally get along well with other dogs and pets.
Poodle Temperament
The Poodle has earned their reputation for being a very smart dog.
This is an active and highly trainable breed who's happy to show off their abilities.
Proud and loyal, they can also be leery of strangers, and may even tend to be snappish, although rarely aggressive.
This is also a breed who likes companionship, so you can expect the Bolonoodle to require plenty of attention.
Training Your Bolonoodle
The Bolonoodle is typically easy to train, as both parents are very intelligent and highly trainable.
They have a natural willingness to please and learn, but puppies can be a bit mischievous.
The Bolognese is subject to something known as small dog syndrome.
This occurs when the dog thinks he's the pack leader and that you're there to serve his needs.
To avoid this response, be gentle and consistent when correcting behaviors like barking and growling.
He should respond well to positive training methods that use rewards and praise.
Crate training often works well to house train the Bolonoodle.
Exercising Your Bolonoodle
As a small dog, the Bolonoodle will only require several short walks throughout the day.
This playful pup will also enjoy playtime with you, either indoors or in a securely fenced yard.
We recommend you have a variety of toys to keep him occupied when no one is around.
Bolonoodles may also enjoy longer walks, and as Poodles are excellent swimmers, they often take to the water.
Bolonoodle Health
The Bolonoodle is a fairly healthy dog, with an average lifespan of 12 to15 years.
However, like any mixed breed dog, they are susceptible to health conditions that affect both parent breeds.
Both the Bolognese and the Miniature Poodle share some health concerns that we'll look at first.
Mitral valve disease is the most common cardiovascular disease in dogs.
Small dogs like the Bolonoodle are at an even higher risk.
Eye disorders, including progressive retinal atrophy that leads to blindness, affects both parents.
Patellar luxation is a common orthopedic disease in which the kneecap pops out of place and can lead to osteoarthritis.
The Miniature Poodle is also at risk for:
Sebaceous adenitis
Cushing's disease
Diabetes
Epilepsy
Von Willebrand's disease
Hip dysplasia
Recommended health tests for the Miniature Poodle include:
Hip evaluation (Miniature and Standard)
Ophthalmologist evaluation
PRA optigen DNA test
Patella evaluation
The American Bolognese Club recommends health testing for the following:
CERF (Canine Eye Registration Foundation)
Patellar evaluation
Bolonoodle Grooming and Feeding
The fluffy coat of the Bolonoodle is typically medium length and can be wavy or curly.
Use a rubber bristle paddle to brush them twice a week to prevent matting.
Both parents are low shedders.
If your Bolonoodle's fur is curlier like the Poodle parent, they may require more frequent grooming sessions or need to be clipped.
Luckily, this breed loves attention and won't mind the extra pampering.
Unfortunately, the Bolonoodle is prone to obesity.
Food and treats used for training need to be monitored.
An adult Bolonoodle will eat about half a cup to one cup of good-quality food, divided into two daily meals.
Do Bolonoodles Make Good Family Dogs?
Their small size and friendly nature make the Bolonoodle an excellent pet for a wide range of families.
These intelligent dogs are easy to train, don't require a lot of exercise, and are perfect for apartment living.
Full of fun, these dogs are happy to be around kids, other dogs, and small pets.
If there's a downside to their personality, it's that some of these dedicated lapdogs can tend to be clingy.
This is a dog who will form a strong bond with their people and won't want to be left alone for very long.
For this reason, they are well-suited for seniors, singles, and homes where someone is usually available.
Rescuing a Bolonoodle
There are many reasons why dogs end up in shelters.
Although it's true that some are there due to behavior problems, that's not true for most cases.
Moving, divorce, a new baby, money troubles, and not having enough time to care for an animal are just some of the reasons dogs get left in shelters.
Even many behavior problems in dogs trace back to the way they were treated and cared for.
Finding a Bolonoodle Puppy
With the ever-increasing popularity of mixed breed dogs, it shouldn't be hard to find a Bolonoodle puppy.
However, it's advisable to stay away from pet stores and online advertisements.
Many of these dogs come from puppy mills.
These facilities are known for unethical breeding practices.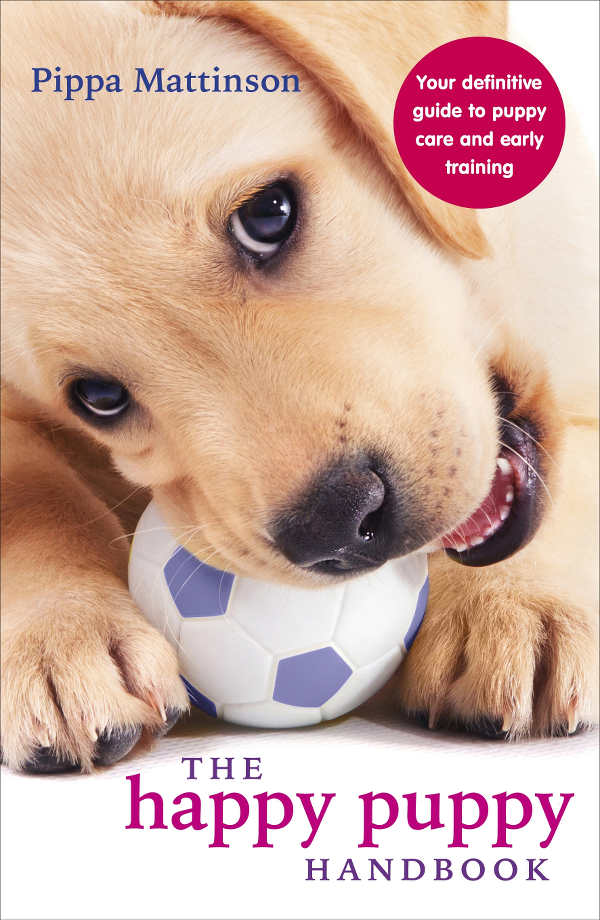 Puppies often received the minimum requirements in terms of socialization, health care, and feeding.
This article offers a step-by-step guide to finding an ethical breeder.
Raising a Bolonoodle Puppy
Bringing a new puppy into your life and home is a big responsibility.
Early socialization, a proper training and exercise regimen, and a good diet are the basics to ensuring you raise a happy and healthy dog.
The Happy Puppy Handbook and Total Recall: Perfect Response Training for Puppies and Adult Dogs will help you prepare for life with your new best friend.
Bolonoodle Products and Accessories
If your Bolonoodle has Poodle curls, check out this selection of grooming tools.
Your pup will love having her own pint-sized bed to snuggle into.
Interactive toys are a good way to mentally stimulate an intelligent breed like the Bolonoodle.
Pros and Cons of Getting a Bolonoodle
Before you make a final decision, it's good to look at the pros and cons of the Bolonoodle.
Cons:
Subject to separation anxiety if left alone too much
Requires lots of attention
Susceptible to small dog syndrome
Pros:
This fluffy dog is extremely cute, even when fully grown
Their small size makes them adaptable to any living space, including small apartments
Intelligent and easy to train
Low shedding
Doesn't require much exercise
Extremely friendly and loyal
Similar Bolonoodle Breeds
If you're still narrowing down your puppy search, here are some similar small mixed breeds to consider:
Bolonoodle Rescues
These are rescues where you might find a Bolonoodle:
If you know of other rescues that specialize in these breeds, please tell us about them in the comments below.
Is a Bolonoodle Right for Me?
There's no question that this playful, affectionate pup is hard to resist.
Loyal, friendly, and utterly adorable, the Bolonoodle mixed breed dog is a good fit for just about anyone.
Before you bring a Bolonoodle into your home, make sure you have the time to devote to a dog who needs tons of attention.
Older adults and singles who are looking for a steadfast and devoted companion are an ideal match for the Bolonoodle.
References and Resources
Beuchat, C., The Myth of Hybrid Vigor in Dogs…Is a Myth, The Institute of Canine Biology, 2014
Bellumori, TP, et al., "Prevalence of inherited disorders among mixed-breed and purebred dogs: 27,254 cases (1995–2010)," Journal of the American Veterinary Medical Association, 2013
Duffy, DL, et al., "Breed differences in canine aggression," Applied Animal Behavior Science Volume 114, Issues 3–4, 2008
Parker, HG, et al., "Myxomatous mitral valve disease in dogs: Does size matter?" Journal of Veterinary Cardiology, Volume 14, Issue 1, 2012
Meurs, KM, et al., "Myxomatous mitral valve disease in the miniature poodle: A retrospective study," The Veterinary Journal, 2019
Aguirre, G., et al., "Progressive retinal atrophy in the Miniature Poodle: an electrophysiologic study," Journal of the American Veterinary Medical Association, 1972
Harasen, G.,"Patellar luxation," The Canadian Veterinary Journal, 2006