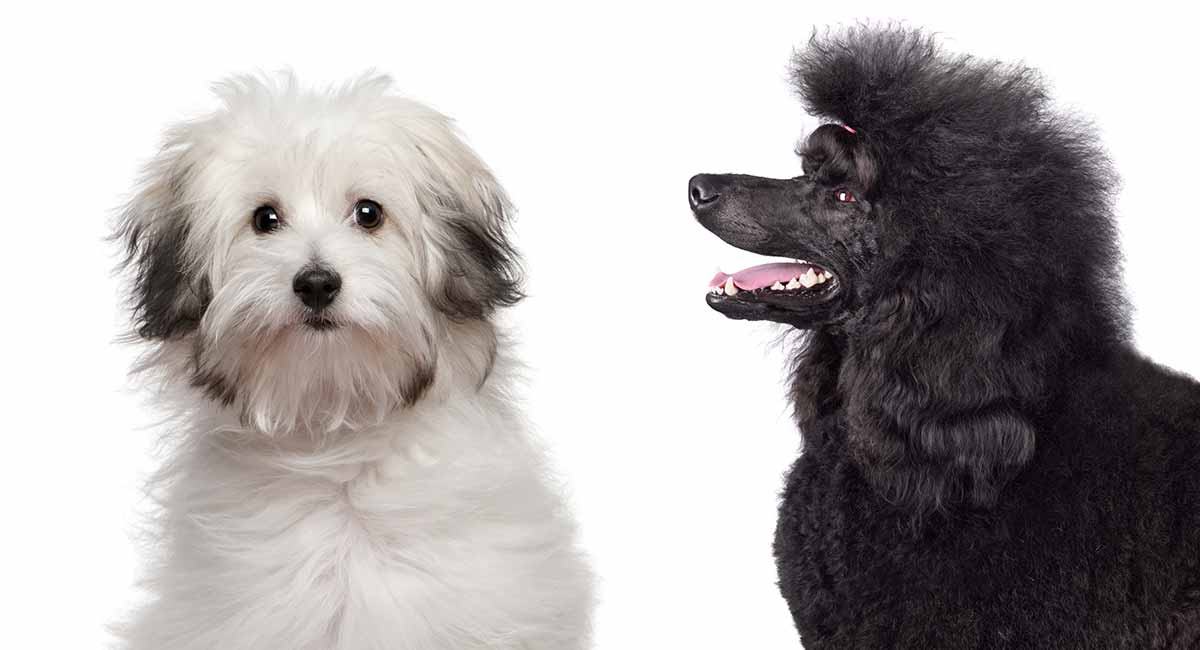 Bolonoodle puppies grow into intelligent and loyal companion dogs. Also known as the Bolondoodle, Bolodoodle, or Bolognese Poodle, the Bolognese Poodle mix is an increasingly popular family pet. This is a small hybrid breed well suited to an apartment lifestyle. A Bolonoodle full grown, won't reach much more than 12 inches in height. Today we are going to look at the pros and cons of Bolonoodles, and help you to decide whether this is the perfect pet for your family.
What Is A Bolonoodle Dog?
The Bolonoodle is a cross between a purebred Bolognese and Poodle. Breeders hope to combine the best aspects of each breed into one cute package.
The Bolonoodle is also known as the Bolopoo, Bolognesepoo, and Bolognesedoodle. Because this is a recent hybrid, and the best way to learn more about the breed is to look more closely at each of the parents.
Where Do Bolonoodles Come From?
The Bolognese breed comes from Italy, and was bred for their beauty, grace, and charm. As a member of the Bichon family, they're related to the Maltese, Bichon Frise, Havanese, and Coton de Tulear breeds. To produce the Bolonoodle, the Bolognese was mixed with the Miniature or Toy Poodle, which originated as a duck hunting breed in Germany over 400 years ago.
The Poodle Bolognese mix is a relatively recent dog, only having gained popularity really in the last ten to twenty years. Your puppy will be a cute combination of any of the Poodle or Bolognese's characteristics, so it's important that you like both breeds if you are considering bringing home a Bolonoodle puppy.
What Do Bolonoodles Look Like?
The Bolonoodle varies quite a bit, but they tend to be medium sized, floppy eared and have soft curly fur. They can be compact and stocky like the Bolognese, or athletic like the Poodle. But they tend to fall somewhere in between. The Bolognese is a compact, stocky, squarely-built dog.
Bolonoodle Grooming
The fluffy coat of the Bolonoodle is typically medium length and can be wavy or curly. Although many Bolognese Poodles are white, they can also come in the many various Poodle colors. Grooming their coat needs to be carried out regularly. Use a rubber bristle paddle to brush them twice a week to prevent matting.
If your puppy's fur is curlier like the Poodle parent, they may require more frequent grooming sessions or need to be clipped. Luckily, this breed loves attention and won't mind the extra pampering.
Are Bolonoodles Hypoallergenic?
The Bolognese Poodle mix is a breed that comes from two curly coated parents that have low shedding tendencies. However, no dog is 100% allergy free for humans as this is passed on in their saliva and dander. If you suffer from allergies and are looking for a pet, make sure you spend time around several Bolonoodles before you pick a puppy to ensure they don't trigger your allergies. But be aware that even then it's not a certainty that your dog won't set them off.
Bolonoodle Size
Miniature Poodles and Bolognese are very similar sizes, so if these are your pup's parents then your full grown Bolonoodle will be somwhere between 10 to 12 inches as an adult.
If they are mixed with a Toy Poodle, they will be on the smaller end of the scale, and if they are mixed with a Standard Poodle then they could be several inchces taller.
The average Bolonoodle adult weight is somewhere between 5.5 and 15lbs, quite a range! Check your dog is the right weight for their height, rather than just going by this scale however. A taller dog should be a little heavier, but a shorter dog shouldn't weigh that full 15!
Bolonoodle Temperament
The Bolonoodle is generally calm, playful, and easy-going. They are intelligent dogs that thrive when around their human family for most of the day. They can be prone to separation anxiety.
This devoted and attentive dog will like to follow you around and is unhappy without a great deal of companionship. They can be shy or aloof around strangers, but generally get along well with other dogs and pets. Lots of socialisation at a young age will help to keep them comfortable.
Training Your Bolonoodle
The Bolonoodle is typically easy to train, as both parents are very intelligent and highly trainable. They have a natural willingness to please and learn, but puppies can be a bit mischievous. They respond well to positive training methods that use rewards and praise. Crate training often works well to house train the Bolonoodle.
Exercising Your Bolonoodle
This Poodle mix is an active dog, that has clever parents who need lots of activity. This doesn't need to be long formal walks, training sessions and games of fetch or dog are great too.
We recommend you have a variety of toys to keep them occupied when no one is around, and that you try out some fun dog brain games too. Bolonoodles may also enjoy longer walks, and as Poodles are excellent swimmers, they often take to the water.
Bolonoodle Health
The Bolonoodle is a fairly healthy dog, with an average lifespan of 12 to15 years. However, like any mixed breed dog, they are susceptible to health conditions that affect both parent breeds.
Both the Bolognese and the Miniature Poodle share some health concerns that we'll look at first.
Mitral valve disease is the most common cardiovascular disease in dogs. Small dogs like the Bolonoodle are at an even higher risk. Eye disorders, including progressive retinal atrophy that leads to blindness, affects both parents. Patellar luxation is a common orthopedic disease in which the kneecap pops out of place and can lead to osteoarthritis.
The Miniature Poodle is also at risk for:
Sebaceous adenitis
Cushing's disease
Diabetes
Epilepsy
Von Willebrand's disease
Hip dysplasia
Recommended health tests for the Miniature Poodle include:
Hip evaluation (Miniature and Standard)
Ophthalmologist evaluation
PRA optigen DNA test
Patella evaluation
The American Bolognese Club recommends health testing for the following:
CERF (Canine Eye Registration Foundation)
Patellar evaluation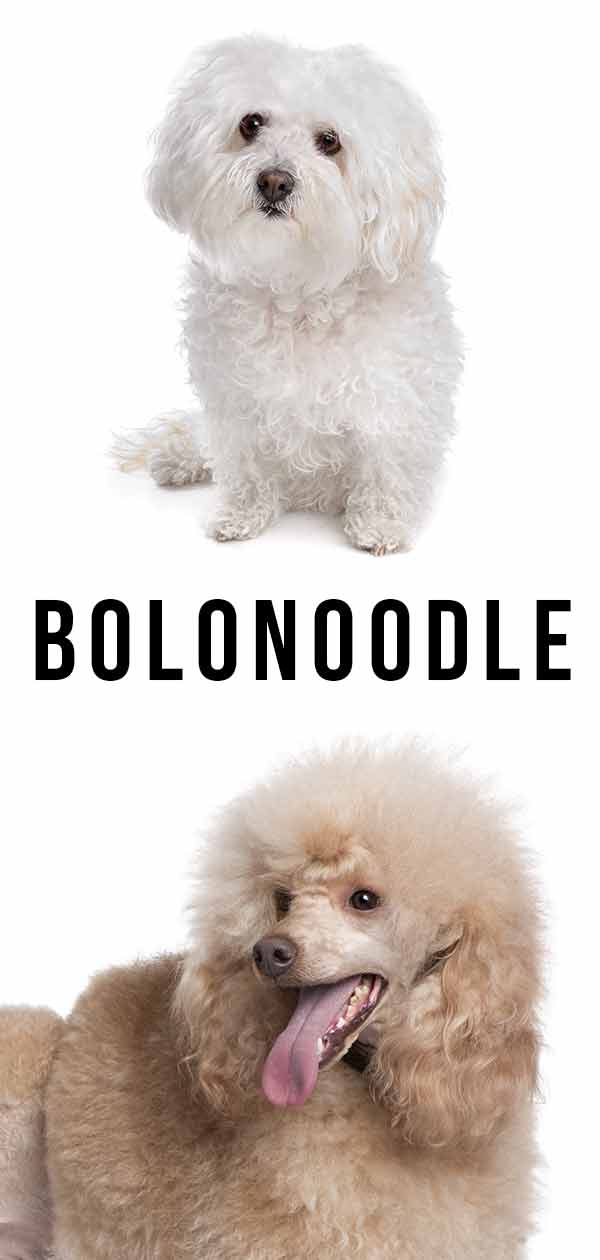 Purebred vs Designer Dog Debate
Dogs like the Bolonoodle are often referred to as designer dogs. This means their parents are two different purebred breeds or dogs who have a known ancestry or pedigree. Breeders of designer dogs set out to combine the most desirable qualities of the two parent breeds.
Advocates of this practice will also claim that these dogs are healthier than purebred dogs due to something known as hybrid vigor. There is evidence that, due to inbreeding, purebred dogs often suffer from genetic conditions.
Do Bolonoodles Make Good Family Dogs?
Their small size and friendly nature make the Bolonoodle an excellent pet for a wide range of families. These intelligent dogs are easy to train, don't require a lot of exercise, and are perfect for apartment living.
Full of fun, these dogs are happy to be around kids, other dogs, and small pets. If there's a downside to their personality, it's that some of these dedicated lapdogs can tend to be clingy.
This is a dog who will form a strong bond with their people and won't want to be left alone for very long. For this reason, they are well-suited for seniors, singles, and homes where someone is usually available.
Pros and Cons of Getting a Bolonoodle
Before you make a final decision, it's good to look at the pros and cons of the Bolonoodle.
Cons:
Subject to separation anxiety if left alone too much
Requires lots of attention
Can be a little wary of strangers
Pros:
This fluffy dog is extremely cute, even when fully grown
Their small size makes them adaptable to any living space, including small apartments
Intelligent and easy to train
Low shedding
Doesn't require much exercise
Extremely friendly and loyal
Rescuing a Bolonoodle
There are many reasons why dogs end up in shelters. Although it's true that some are there due to behavior problems, that's not true for most cases.
Moving, divorce, a new baby, money troubles, and not having enough time to care for an animal are just some of the reasons dogs get left in shelters. Even many behavior problems in dogs trace back to the way they were treated and cared for.
Finding a Bolonoodle Puppy
With the ever-increasing popularity of mixed breed dogs, it shouldn't be hard to find a Bolonoodle puppy. However, it's advisable to stay away from pet stores and online advertisements.
Many of these dogs come from puppy mills. These facilities are known for unethical breeding practices. Puppies often received the minimum requirements in terms of socialization, health care, and feeding.
Good breeders will have just a few dogs, and they will all have a strong bond with their owner. They will know their names, and have a purpose beyond breeding puppies. Ask to see health certificates for both parents that are relevent to their breeds.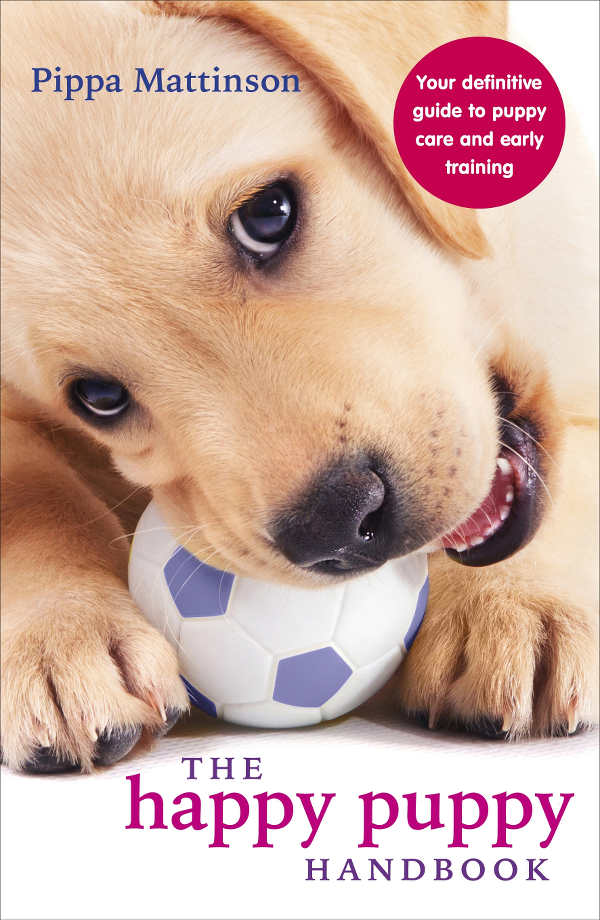 Remember that good breeders ask and want to be asked lots of questions. They will be able to tell you all about who the puppies have met, what they've been eating and doing each day. And will not let them go to their new home until they are 8 weeks old.
Bringing a new puppy into your life and home is a big responsibility. Early socialization, a proper training and exercise regimen, and a good diet are the basics to ensuring you raise a happy and healthy dog.
Is a Bolonoodle Right for Me?
There's no question that this playful, affectionate pup is hard to resist. Loyal, friendly, and utterly adorable, the Bolonoodle mixed breed dog is a good fit for just about anyone.
Before you bring a Bolonoodle into your home, make sure you have the time to devote to a dog who needs tons of attention. Older adults and singles who are looking for a steadfast and devoted companion are an ideal match for the Bolonoodle.
Bolonoodle Products and Accessories
If your Bolonoodle has Poodle curls, check out this selection of grooming tools. Your pup will love having her own pint-sized bed to snuggle into. Interactive toys are a good way to mentally stimulate an intelligent breed like the Bolonoodle.
Similar Bolonoodle Breeds
If you're still narrowing down your puppy search, here are some similar small mixed breeds to consider:
Bolonoodle Rescues
These are rescues where you might find a Bolonoodle:
If you know of other rescues that specialize in these breeds, please tell us about them in the comments below.
References and Resources
Beuchat, C. The Myth of Hybrid Vigor in Dogs…Is a Myth, The Institute of Canine Biology, 2014.
Bellumori et al. "Prevalence of inherited disorders among mixed-breed and purebred dogs: 27,254 cases (1995–2010)," Journal of the American Veterinary Medical Association, 2013
Duffy et al. "Breed differences in canine aggression," Applied Animal Behavior Science Volume, 2008.
Parker et al. "Myxomatous mitral valve disease in dogs: Does size matter?" Journal of Veterinary Cardiology. 2012.
Meurs et al. "Myxomatous mitral valve disease in the miniature poodle: A retrospective study," The Veterinary Journal, 2019.
Aguirre et al. "Progressive retinal atrophy in the Miniature Poodle: an electrophysiologic study," Journal of the American Veterinary Medical Association, 1972.
Harasen, G."Patellar luxation," The Canadian Veterinary Journal, 2006.