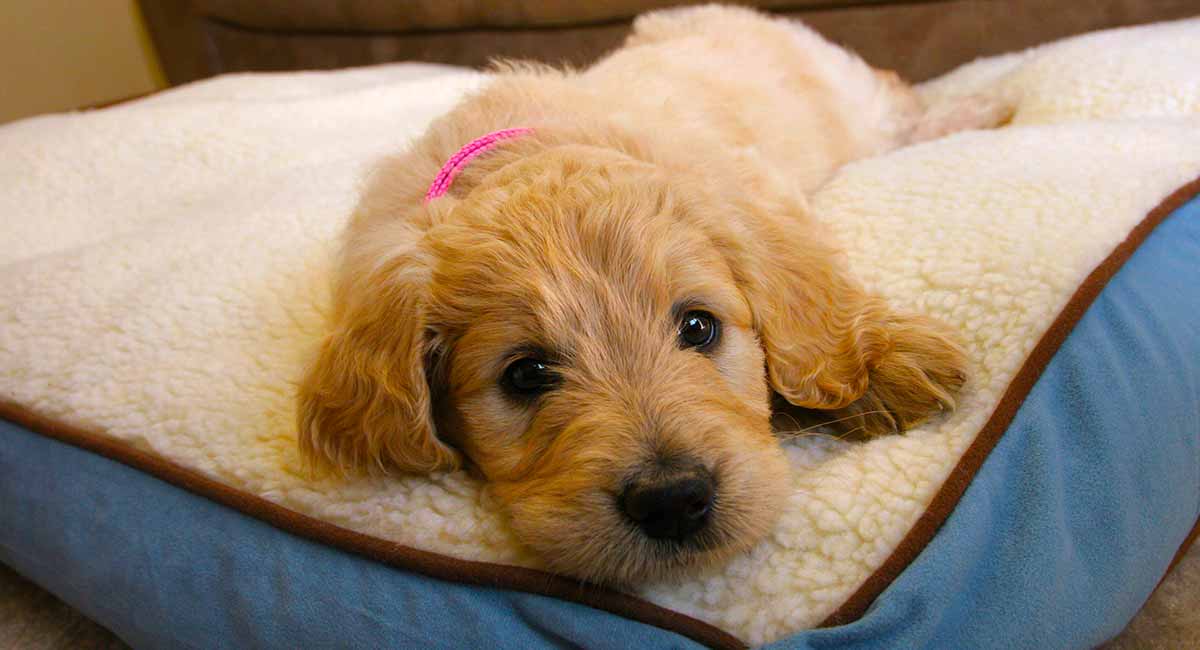 Goldendoodle puppies skyrocketed in popularity in the past few years, with this mix of friendly Golden Retriever and intelligent Standard Poodle being found happily settling into homes around the world.
I am probably going to sound more biased than normal here in their favor, but I have genuinely found every member of this designer dog breed I've met to be playful, energetic and fun company. And although they might send the odd toddler flying with the enthusiasm to say hello, they tend to have minimal guarding instincts, and a goofy demeanor that is winning more hearts every day beyond the pet world, as seeing eye dogs and therapy companions too. However, there are downsides to these bouncy pups, including a high maintenance coat, large size and a need to belong that can extend into separation anxiety and destructive behaviors if left alone for long periods.
Contents
Why Hybridize A Perfectly Good Pair Of Pups?
Hybrid breeds are actually not new in the canine world, although having an official name for them is quite new. In fact, every single purebred dog breed we know today began as some form of mixed dog breed. Pedigree dogs like the Golden Retriever have a past full of Spaniels and other breeds.
Some people believe that hybrid dog breeds dilute the purebred dog lines. However, many purebred dogs can suffer from health issues caused by a less-diverse genetic pool. For instance the glorious Golden is now so prone to cancer that it's putting off potential pet parents.
Mixed breed dogs have hybrid vigor, where diversifying the gene pool decreases the chance of these nasty diseases being passed along.
The Goldendoodle appeared in the United States in the 1990s. Produced from mixing a Golden Retriever with a standard Poodle, people hoped that they would pass on the kind and clever qualities of both breeds, and be less problematic for allergy sufferers.
Because they have been around for a few generations now, you can be more confident in what you are getting from a Goldendoodle than other mixed breeds. Especially if you have an F1b Goldendoodle that has one Goldendoodle parent and one Poodle parent.
Goldendoodle Appearance
A Golden Retriever Poodle mix is usually bred from a Standard Poodle, the tallest of the Poodle types. They have loose wavy fur, a fairly broad long face and floppy ears with silky fur.
Your average adult weighs around 65lbs, and stands about 22 inches at the shoulder as a rough guide.
Grooming and Coat Care
Curly dogs shed less because the fur they lose gets tangled in their existing coat. This doesn't mean that they don't need grooming, in fact they need a lot of care to stay healthy. You'll find most Goldendoodles need clipping like the Poodle side of the family, which you can either do at home or get a professional dog groomer to help you with. I've found particular problem areas with long wavy furred dogs are their legs and behind the ears, so that's something to pay attention to.
Make sure you get them used to being brushed from the week you bring your puppy home. Use a soft comb to begin with, and make sure to provide lots of tasty treats every time you run it through their hair.
Are They Hypoallergenic?
One of the key reasons why this dog has become so popular is because of its reputation for being hypoallergenic. Unfortunately, there is no such thing as a totally hypoallergenic dog breed. This is because all dogs produce the protein fel D 1. This is present in dogs' saliva, skin and urine.
Many people don't realize that pet allergies are caused by coming into contact with this protein. It is not simply a case of being around pet hair.
Allergies can be less of a problem for some pet allergy sufferers because these dogs have a tendency to shed less thanks to their Poodle parentage. However, not all Goldendoodles will take after their Poodle parent. Therefore, it's important to study the parent dogs closely so you can know what to expect when your puppy grows up.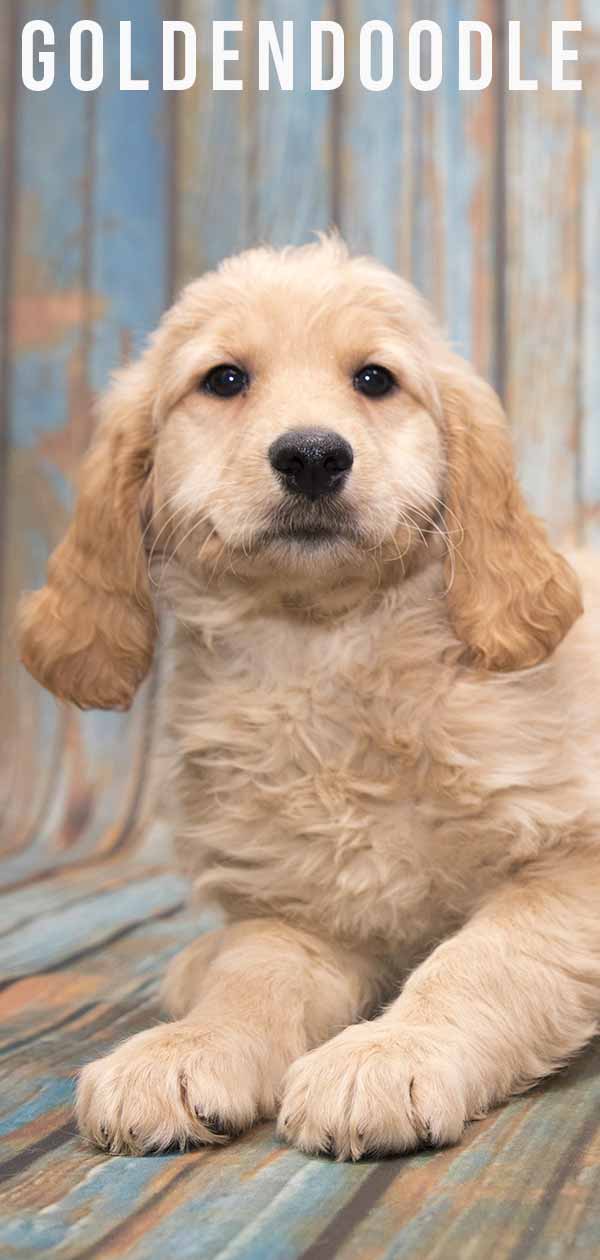 Goldendoodle Temperament
Many different factors can influence the temperament of a puppy. Such factors include birth order, gender, parent dog temperament, early training and socialization, the weaning process and more.
Goldendoodles are a reliably bright, sociable, friendly and affectionate pet dog. But although this breed has a reputation for sweet personalities and temperaments, the best way to know for sure is to meet and spend time with each parent dog.
This mix is frequently recommended as a service and therapy dog. They are not at all shy or wary in the company of people they don't know. However, even the most naturally friendly of puppies will benefit from good socialization.
This breed truly has a golden personality, so much so that these dogs will make poor watchdogs at best. They are just too friendly and sociable, although they are still likely to alert you with an enthusiastic woof or ten!
Do They Make Good Family Pets?
Goldendoodles can make a great family pet for the right family. However, it's important to recognize that each family is unique.
If you have young children in the home, they can be a great addition because they are social and full of energy.
They are also relatively safe to have around young kids. A study of dog bites in children showed that Retriever cross-breeds are five times less likely to bite than breeds such as German Shepherds or Dobermans.
Consider how much time you and your family will have to dedicate to your dog. For example, Goldendoodles need plenty of exercise and grooming. On the other hand, they are a low-shed breed. This means you won't have to worry about heavy house cleaning.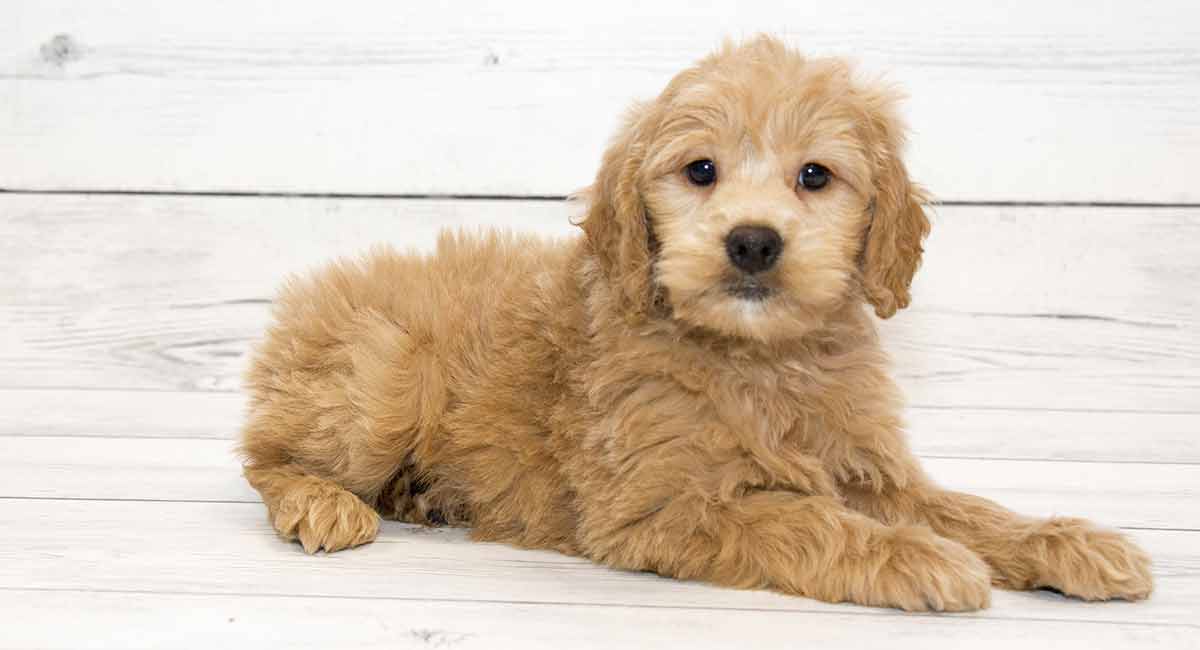 Training and Exercise
Goldendoodles are smart just like their parents and can get into mischief without early training, socialization, sufficient daily enrichment and activity.
Also, because they are so friendly and energetic, socialization with people and other dogs is vital to help your pup understand how to behave when out and about. However, I frequently find them more likely to dance around their families feet than run off into the bushes.
We recommend limiting exercise to short walks and play time during puppyhood. Don't be fooled by this breed's playful and social temperament; a puppy is still a puppy!
Poodles originated as water retrieving dogs, so they make great swimmers. Thus, coupled with the fact that Golden Retrievers are typically very easy to train, you should have no problems getting your Goldendoodle used to the water for some exercise.
Take a look at some of our training guides to get up to speed on training. Because of the Goldendoodle's friendly and excitable personality, our impulse control guide will be particularly useful.
Health and Care
Both the Golden Retriever and the Poodle have certain known health issues that occur more frequently within each dog breed. Any good breeder will take care to test all parent dogs to rule out passing on any known genetic health issues to puppies.
Goldendoodles are prone to hip dysplasia and PRA blindness. They also have a high risk of developing bloat, which causes the stomach to twist. This is a serious problem and can be fatal.
Because Golden Retrievers have a higher-than-average incidence of cancer, look for a litter with an older Golden Retriever parent to cut down your odds.
The average lifespan for a Golden Retriever is 12.25 years. The average lifespan for a Poodle is 12 years. Therefore, your Goldendoodle's expected lifespan is around 12 years. It won't make a huge difference if your dog most closely takes after one parent dog.
Other important factors can influence lifespan. These include diet, enrichment activities, exercise, vet care and lifestyle.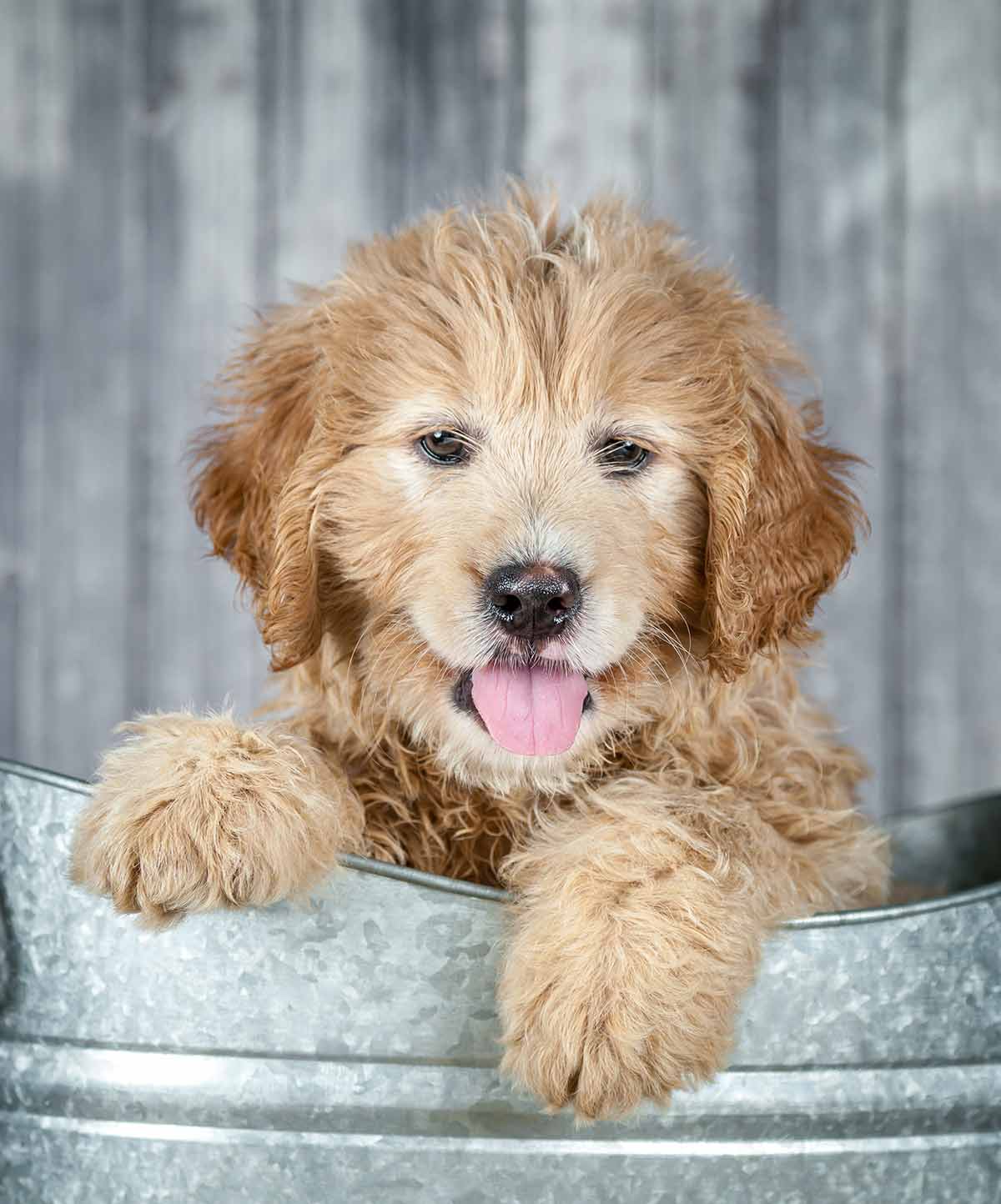 Breeders and Puppies
Good breeders health test potential parents and socialize their puppies. They spend money on vet checks, quality food and toys for the whole litter. When you visit your puppy, their parents will have a strong and obvious bond with the breeder. And a purpose beyond producing babies, such as an agility dog or a valued family pet.
Goldendoodle Puppy Price
Pricing in general starts around $1,000 and can be as high as $5,000+ depending on the kennel, the parent dog lineage and other factors.
How much your puppy will cost is a question that can have different answers based on the generation of the puppies too. By generation we mean f1 versus f1b:
F1 Goldendoodle puppies have

one Poodle parent dog

and

one Golden Retriever parent dog

.
F1b Goldendoodle puppies have

at least one Goldendoodle parent dog

.
It is easier to control important issues such as coat shedding, personality, temperament, health concerns and adult size when breeding f1b Goldendoodle puppies.
Most breeders will choose to specialize in either f1 or f1b Goldendoodles, although some breeders will breed both dogs. Future litters of f1b Goldendoodles (two Goldendoodle parent dogs) will be f2b, f3b, f4b and so forth.
Adult Dog Rescue
Rescuing is a great idea if you have your heart set on a non-shed/low-shed dog. One of these puppies can change quite a bit in the course of a year or two. In addition, it's difficult to know in advance whether a particular puppy will take after the Golden Retriever or Poodle parent dog.
Plus, it is important to remember that they are lively, active, and energetic dogs in general. This does not always work out well once the owner discovers how much time and energy their new puppy requires.
This can result in a Goldendoodle puppy being returned to the breeder or surrendered to a shelter or rescue center while it waits for a new home. Under the right circumstances, that new home could be yours.