The Airedoodle is a hybrid dog with two purebred parents, the Airedale Terrier and the Poodle. Airedoodles are medium to large, active and affectionate dogs with curly coats. They make loyal companions, good watchdogs and great pets for families that enjoy training and grooming.
Colors and size may vary depending on the Poodle parent. And Airdoodles can weigh up to 60lbs and reach 24 inches in height. Your Airdoodle puppy will need plenty of exercise as they grow, and thorough training and socialization.
Today we look at whether the Airedoodle dog is a good family dog, and which homes this lively, loving dog will suit. We'll help you find a happy, healthy Airedoodle puppy. And to raise them to be a fun, well mannered member of the family!
Contents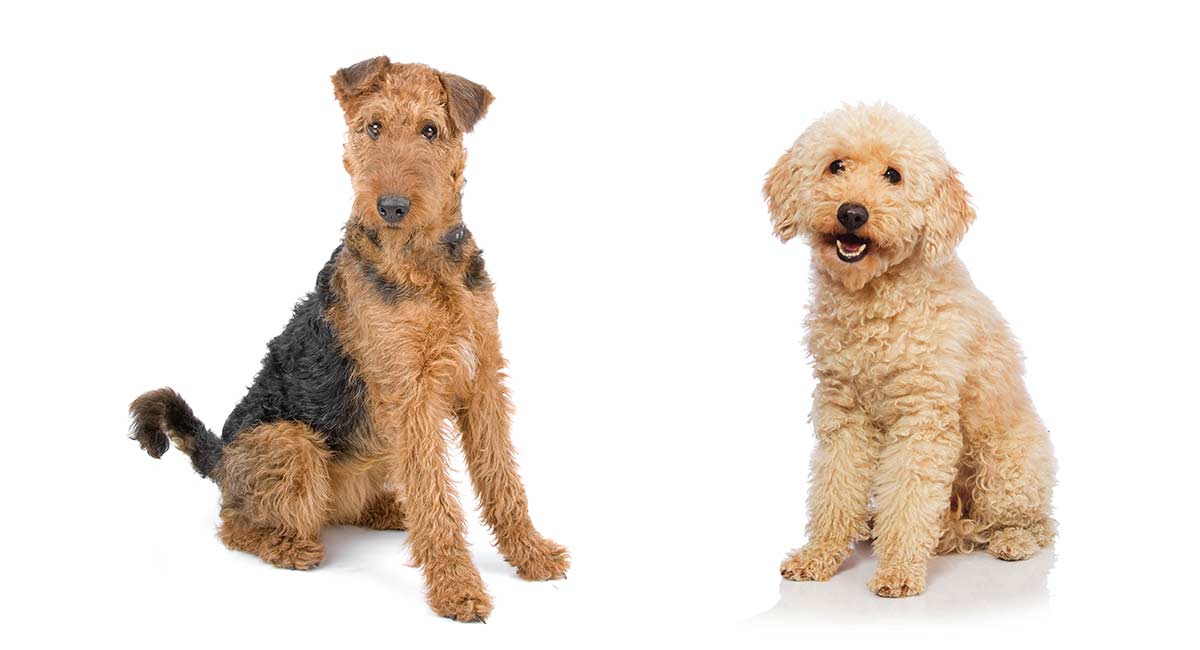 Airedales and Poodles are both very intelligent dogs, so the Airedoodle is going to be a smart cookie. They are also hard working breeds, with high prey drives and a strong bond to their owners. Although sometimes disinterested in or wary of strangers, these dogs are very loyal to their families and make loving pets in the right homes.
Where Do Airedoodles Come From?
When we look back at some of the most famous canine movie stars, what we see is a lineup of mixed breed dogs – in short, mutts! Spike, the "Old Yeller" movie dog, was a rescued Labrador/mastiff mix puppy who developed into his trainer's most famous canine acting student! And Higgins, canine star of "Benji," a spaniel mix, was a natural from the moment his trainer adopted him from the animal shelter.
The Airedoodle is a really interesting hybrid mix!
From each purebred parent dog line, the Airedoodle inherits some amazing traits and qualities, including nobility, smarts, athletic talent, and a tremendous work ethic.
Origins of the Airedale Terrier dog
The Airedale Terrier dog is nicknamed the "King of Terriers," despite being a working dog right from the start. This is the largest purebred terrier.
The Airedale Terrier is named for this dog's birthplace in Aire Valley, a region that is 100 miles south of Scotland in northern England.
What is most interesting is how the AKC describes the birth of the Airedale Terrier is that this dog was "manufactured" by crossing several different purebred dog lines together.
The Irish Terrier, Bedlington Terrier, English Black and Tan Terrier, Otterhound, and certain other retriever and setter breeds are thought to have contributed to the breed now called the Airedale Terrier.
Poodle History
Today's Poodle dog is bred in three sizes: standard, miniature, and toy. The latter two lines are more recent, however. In France, the Poodle is the national dog, where they are called "Caniche". Translation: "duck dog".
The Poodle dog's fine, springy, curly hair has often given rise to flamboyant show clips. These are certainly eye-catching but can mask this dog's intelligence, athleticism, courage, and versatility.
These dogs are not only one of the smartest canine breeds on the planet, but they come from a noble hunting and working dog lineage.
Airedoodle Appearance
With any hybrid dog, and especially with first generation litters (F1) from two different purebred parent dogs, it is not easy to predict exactly what a given puppy may be like. This inherent unpredictability comes from not knowing how the genes from each parent dog will interact in a given puppy.
F1, F1b, F2 and F3 Airedoodle Dogs
Once you get past the first generation liters into second generation or later (F1b, F2, F3, etc). It becomes a bit easier to predict what a puppy's appearance, personality, temperament, and health may be like.
This is because starting in the second generation, you may see parent dog pairings where both parent dogs are Airedoodles.
One parent dog is an Airedoodle and the other parent dog is a Poodle, or one parent dog is an Airedoodle and the other parent dog is an Airedale Terrier.
The first combination will be the most stable in terms of predicting what puppies will be like. The more removed from the first generation pairing you get, the more stable the traits of the puppies are likely to become. For this reason, we focus here on first generation (F1) puppies and take a look at each purebred parent dog. This will give you a big picture perspective on what an F1 Airedoodle dog may be like!
Airedoodle Size, Weight and Height
Airedoodles can be anywhere from 13 – 23 inches in height and weigh between 15 – 70lbs!
The Poodle is bred in three sizes: standard, miniature, and toy. The standard Poodle stands 15+ inches and weighs 40 to 70 pounds. The miniature Poodle stands 10 to 15 inches and weighs 10 to 15 pounds. The toy Poodle stands less than 10 inches and weighs 4 to 6 pounds.
The Airedale Terrier is bred in one size. The adult dog will stand 23 inches high and weigh 50 to 70 pounds. Here, you can see there may be great size variety even within a litter of Airedoodle puppies!
Airedoodle Coats & Grooming
The Airedale Terrier has a short, wiry, thick coat that is generally kept clipped short.
This dog is often recommended for people who have pet allergies because of the low shedding.
Weekly brushing is often sufficient to keep the coat healthy.
Are Airedoodles Hypoallergenic?
The Poodle has a long, curly, thick coat that many call "hypoallergenic." While there is no truly hypoallergenic dog breed, the Poodle may come closest because this dog rarely sheds.
Poodles can need more frequent brushing with longer clips. What this means is that any Airedoodle puppy is likely to inherit a low-shedding coat from either parent dog.
Airedale Personality and Temperament
Airedoodle dogs are one of the hybrid dog breeds where each parent dog shares some wonderful traits common with each other! Both the Airedale Terrier and the Poodle come from a strong working and hunting dog background.
And since both have a great work ethic, a strong people-pleasing personality, natural intelligence, and athleticism, you can reasonably expect to see these same attributes in your Airedoodle puppy.
Socialization & Training for Airedoodle dogs
Both the Poodle and the Airedale Terrier are incredibly smart dog breeds.
So the most important part of training Airedoodles is twofold: you should always use positive training methods and provide consistent training.
You can expect that your Airedoodle puppy will thrive with early and ongoing training and socialization with family, new people, and other dogs.
The Airedoodle can make a great athlete and will likely enjoy and excel in agility, rally, show, K-9, and service and therapy dog training.
Airedoodle Health
One of the big unknowns in hybrid dogs today is health.
This is because you are taking the individual health history of two long-standing purebred dog lines and combining those genes together in the puppies.
So you need to invest the time up front to learn everything you can about potential health issues that your Airedoodle puppy may inherit from either parent dog line.
Health testing for Airedale Poodle cross dogs
We recommend testing the Airedale parent dogs for:
Hip dysplasia
Heart problems
Renal disease
Eye issues
Autoimmune thyroiditis
Elbow dysplasia.
The Poodle Club of America currently recommends testing these dogs for:
Addison's disease
Atrial septic defect
Bloat
Cushing's disease
Epilepsy
Hip dysplasia
Hypothyroidism
Legg-Calve-Perthes disease
Eye diseases

Von Willebrand's disease.
Are Designer Dogs Healthier?
Hybrid or "designer" dogs are quite popular among dog owners today, and these dogs can have some surprising strengths and benefits to offer! However, not everyone is a fan of crossing two different purebred dog breeds to produce puppies.
The idea of hybrid dogs is less popular with the purebred breeders. This is because breeders of purebred dog lines such as the Airedale Terrier and the Poodle have worked hard to breed dogs that conform precisely to the purebred breed standard.
However, purebred dog lines sometimes also have genetic health weaknesses that develop when dogs are bred to look a certain way. Here, canine biologists say that crossing two purebred dog lines can strengthen both through "hybrid vigor."
How Long Do Airedoodles Live?
Airedoodle dogs should live on average around 13 years.
Is an Airedoodle a Good Family Dog?
The Airedoodle can make an excellent family dog even for families with young children.
However, because both the Airedale Terrier and the Poodle have a strong prey drive, this may not be the ideal pet dog for families with other vulnerable pets.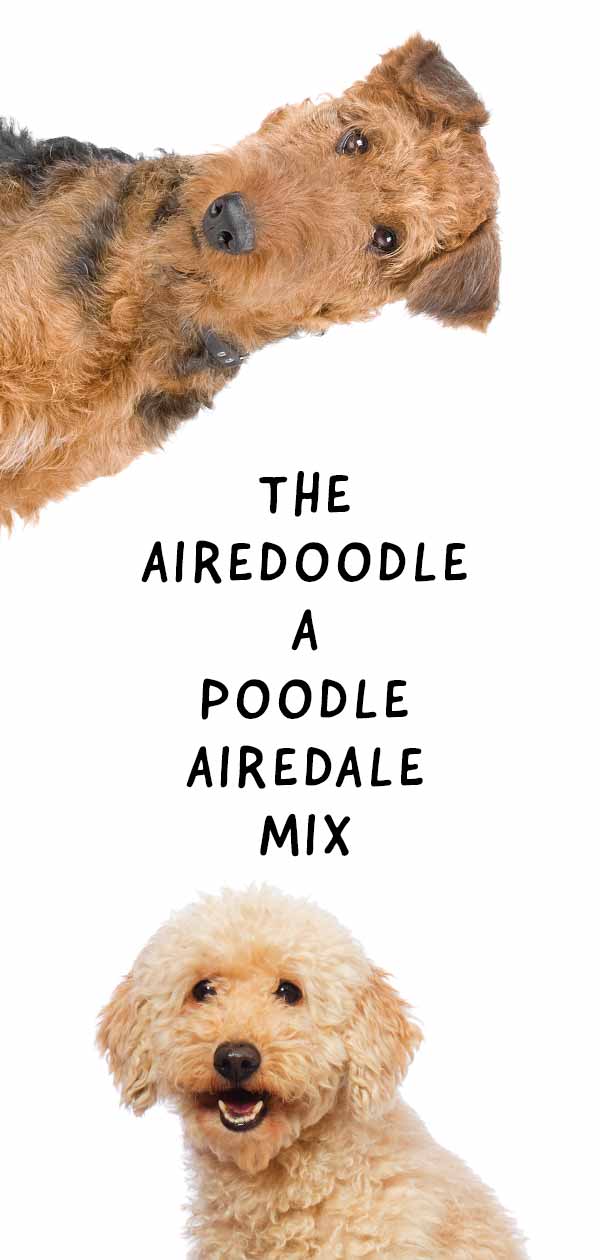 Finding an Airedoodle Puppy
Choosing from a litter of very cute Airedoodle puppies won't be easy – you can count on that! Here, the best way is to start by identifying reputable and responsible Airedoodle breeders who do all of the required and recommended health tests before breeding their parent dogs.
As of now, breeder pricing for Airedoodle puppies starts around $1,000. Airedoodle rescue is another great way to find an Airedoodle puppy, and you can often pay less in the rehoming fee by working with a rescue shelter.
Are Airedoodles Good Pets?
The Airedale terrier poodle mix dog has a lot to offer you if you have the time to provide an active, enriching life for this wonderful hybrid dog!
Readers Also Liked
References and Further Reading
Harness, J. "The Most Famous Mutts Ever," Neatorama, 2012.
VanOver, S. "Official Breed Health Statement: Airedale Terrier," Airedale Terrier Club of America, 2014.
Burge, S., "Official Breed Health Statement: Poodle," Poodle Club of America, 2015.

Cook, J. et al, "What is an Airedoodle?," Wicket Gate Farm Kennels, 2018.

CHIC/OFA, "Poodle Health Testing," Canine Health Information Center/Orthopedic Foundation for Animals, 2018.

CHIC/OFA, "Airedale Terrier Health Testing," Canine Health Information Center/Orthopedic Foundation for Animals, 2018.