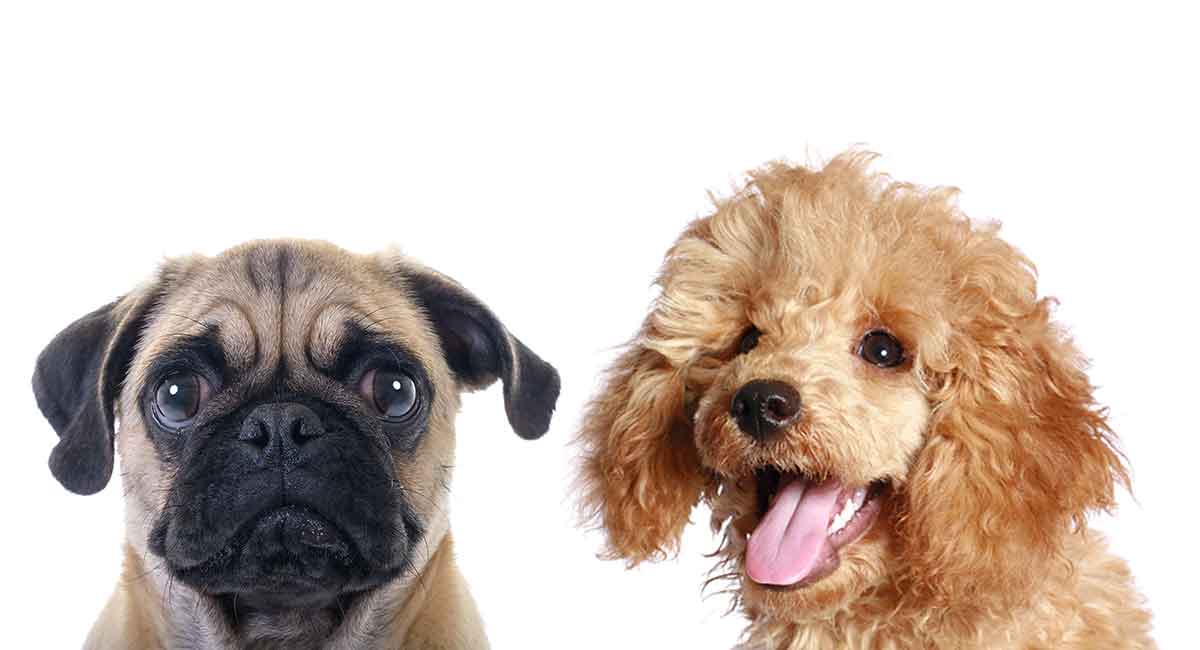 The Pug Poodle mix is also known as the Pugapoo, Pugoodle or Pugadoodle.
This might be a cute mix, but is this pup the right pet for you?
We'll take a closer look at the Pug Poodle mix and its parent breeds, so that you can make an informed decision about whether a Pugapoo is a good choice for you and your family.
Pug Poodle Mix
The Pugapoo is what's known as a designer mixed breed dog.
A designer mix has parents that are two different purebreds. Purebreds are dogs that have a known ancestry, or pedigree.
Designer mixed breeds are different from traditional mutts.
Because most mutts have two or more breeds with unknown ancestry in their background.
The idea of designer crossbreeds is to combine the best qualities of two different breeds in the offspring.
Many people also think that mixed breed dogs are healthier than purebred dogs.
It is true that purebred dogs can suffer from health conditions caused by a lack of diversity in their genetic lines.
Outcrossing can lead to more robust health in the mixed breed offspring—a concept called hybrid vigor.
However, it's important to make sure that both the Pug and Poodle parents of your Pugapoo are as healthy as possible.
That's why it's vital to work with a responsible breeder who health tests their Pug and Poodle breeding stock for inherited health conditions.
We'll come back to this later in our Pugapoo puppies section, but let's look at the Pug and Poodle breeds first.
Pug Cross Poodle
There are three distinct types of Poodle: Standard, Miniature, and Toy.
Toy Poodle crossed with Pug is the most common Pugadoodle dog, so we'll focus on the tiniest of the Poodles.
The Poodle breed originated with the Standard, which was then bred down to the Miniature.
Toy Poodles came into being in the early 20th century, when it was created as a companion animal for sophisticated city dwellers! They are smart and confident little dogs.
The cute little Pug is also classified as a Toy breed.
The Pug is an ancient companion dog breed of the Far East.
The first Pugs came to the West in the 1500s, and quickly became popular pets.
The Pug is known for its playful, loving, and happy personality, traits that have made it a favorite family pet for years.
What are the origins of the Pug Poodle mix?
Designer mixed breeds are a relatively recent development in the history of dogs.
Most came into fashion just a few decades ago.
The Pugapoo tends to be a smaller-sized dog with a personality that's friendly, affectionate, and outgoing.
What does a Pugapoo look like? As a mixed breed dog, the size and coat type can vary quite a bit.
Let's take a closer look at the physical characteristics of the Pugapoo.
Pug Cross Toy Poodle Description
The Pug is a sturdy and compact little dog, weighing between 14 and 18 pounds.
They are generally between 10 and 12 inches tall at the shoulder.
The Pug has a short, smooth coat. Coat color is fawn or black. Fawn Pugs have distinctive dark masks.
The coat does shed, but overall grooming requirements are minimal.
Once a week brushing is usually fine for Pugs.
The Toy Poodle has a more elegant appearance than the Pug. Toy Poodles weigh between 6 and 9 pounds.
They stand 10 inches or less at the shoulder.
The coat is dense and curly. Poodle coats can come in a wide range of solid colors.
Popular colors include black, white, silver, apricot, and cream.
The Poodle coat requires much more maintenance than a Pug's.
Many owners take their Poodles to professional groomers.
However, they are low shedders and can be a good choice for people with allergies.
Pugapoo Traits
What about the Pugapoo's size and coat characteristics?
It's important to remember that mixed breed dogs can inherit the appearance of either parent breed in any combination.
Generally, the Pug cross Toy Poodle is a small dog, ranging between 10 to 20 pounds in weight and 8 to 12 inches in height.
Since the Miniature and Standard Poodles are larger than the Toy, a Pug crossed with these Poodles will produce a larger Pugapoo.
Is the Pug Poodle mix hypoallergenic?
The Pugapoo coat can favor one parent breed over the other.
While Poodles are known as "hypoallergenic" dogs, there are no guarantees with a Pugadoodle.
Their coat can be straight, curly, or somewhere in between.
Coat length can be short, medium, or long.
The Poodle comes in a wider range of coat colors than the Pug.
Your Pugapoo can be black, white, or any shade in between.
Some Pugapoos have the dark muzzle of a Pug, while others have a solid coat.
Pugapoos generally have a lower-maintenance coat that a purebred Poodle, but they can require more grooming than the Pug.
Shedding can also vary from minimal to normal.
Pugapoo Personality
The Pug was bred as a lap dog.
Poodles were working dogs, which in the smaller varieties have been bred to become pets over the years.
They both have traits that make the Pugapoo an appealing family pet.
The Poodle is known for its intelligence, energy, and loyalty to its family.
The Pug is famously cheerful, charming, and mischievous.
While mixed breed dogs can inherit the temperament traits of either parent breed in any combination, the Pugapoo is generally a loving and social dog.
They require a moderate amount of exercise and are very trainable.
Be sure to start socializing your puppy from an early age and use only positive reinforcement training techniques.
Pug Poodle Mix Health
The Pugapoo's parent breeds both have known genetic health conditions which can be passed on to the mix.
Let's look at the Pug, Poodle, and the cross.
Pug health
Pugs are not healthy dogs.
The Pug is a brachycephalic (flat-muzzled) breed.
The inherent structure of the Pug's head and face makes it prone to several health problems.
These health problems include difficulty breathing.
Due to blocked airways, collapsed larynx, gastrointestinal issues, heart failure, and difficulty regulating body temperature in hot weather.
The Pug can also suffer from multiple eye problems because the flattened face causes the eyes to protrude.
This is called brachycephalic ocular syndrome.
The Pug's wrinkled skin, especially on the face, can lead to a condition called skin fold dermatitis (which can develop into a more serious bacterial infection known as pyoderma).
Another health problem related to the inherent structure of the Pug is hemivertebrae, which is a painful spinal deformity seen in breeds with screw tails.
Poodle health problems
While Poodles don't have the kind of health problems associated with body structure like the Pug, they do suffer from some serious genetic health conditions.
Poodles can suffer from joint problems such as hip dysplasia, luxating patella, and Legg-Calve-Perthes disease, which causes disintegration of the hip joint.
Poodles can also be prone to epilepsy, skin problems, eye problems, a bleeding disorder called Von Willebrand's disease, and an adrenal gland condition called Cushing's disease.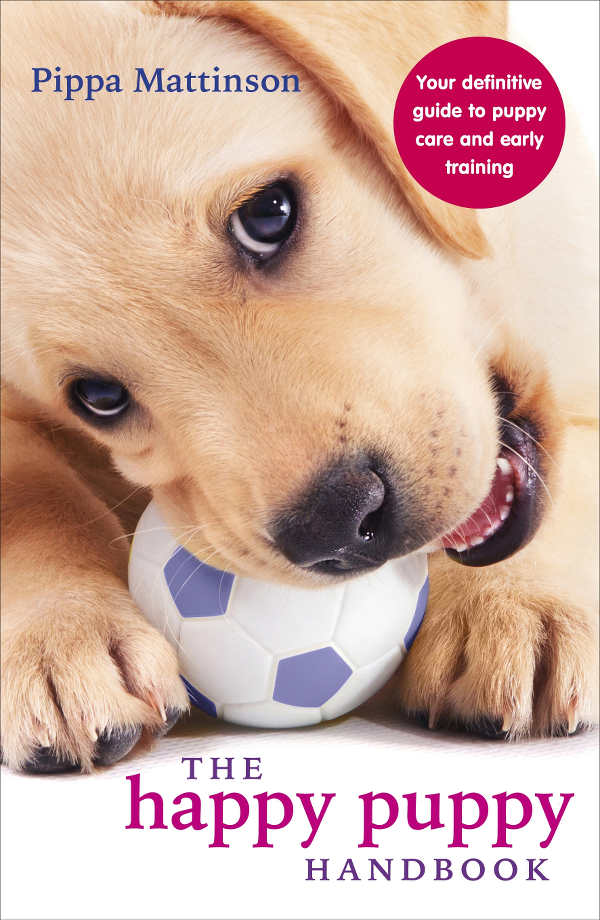 Because both parent breeds are prone to some serious health conditions, your Pugapoo can inherit these health problems as well.
While it's impossible to predict which (if any) of these health problems your Pugapoo will inherit from its parents, there are ways you can minimize the risk.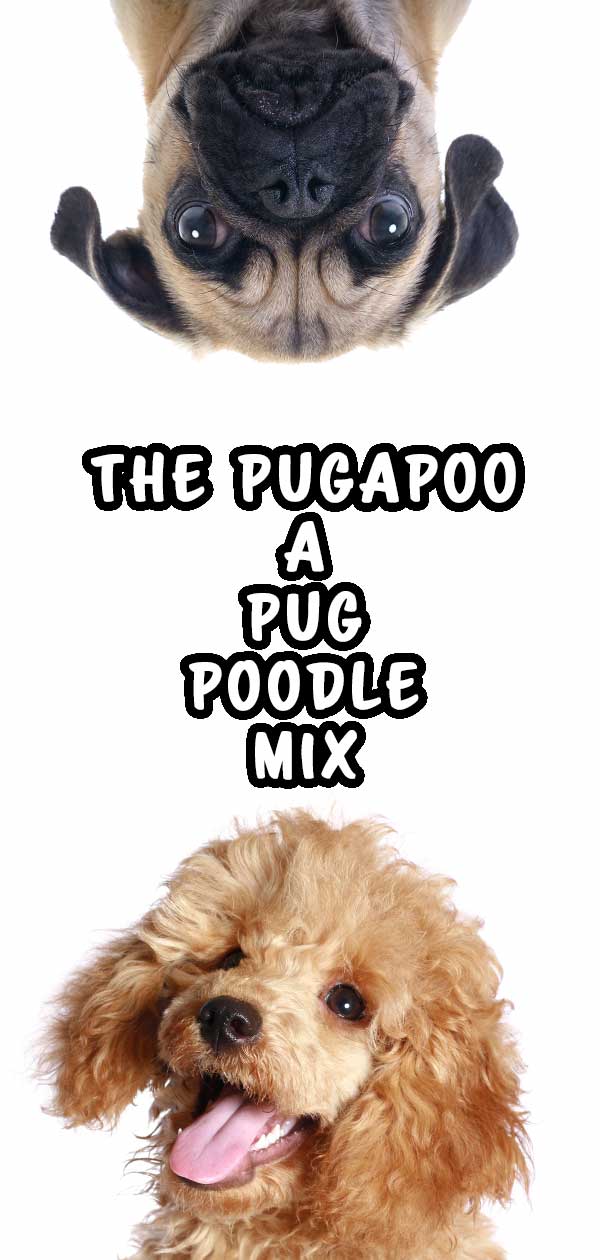 Pug Poodle Mix Puppies
Responsible Pugapoo breeders will health test their Pug and Poodle breeding stock for inherited health conditions.
It's important for potential owners to choose Pugoodle puppies from reputable breeders and avoid buying puppies from pet stores and online ads.
Genetic tests are available for many of the inherited health problems of the parent breeds.
Your breeder can also have their veterinarian test for certain joint and eye conditions and have the results certified by the Orthopedic Foundation for Animals.
Reputable breeders will share all relevant test results with potential buyers.
Remember that brachycephalic breeds like the Pug can suffer from serious health issues.
To minimize some of the health problems associated with brachycephaly, your puppy's Pug parent should have a more pronounced muzzle than average.
In addition to reviewing test results and the facial structure of the Pug parent, be sure to visit your breeder in person.
Observe the living conditions of the home or kennel area.
You should be able to meet your puppy's littermates and at least one parent.
The puppies' eyes, noses, and rear ends should be clean and free of discharge.
Choose a puppy that is lively and not overly shy.
Is a Pugapoo the Right Dog for You?
The Pugapoo mixes the healthy Poodle with the unhealthy Pug.
As there is no way to predict the outcome of the mix, we can't recommend it.
The risks of their taking after the Pug parent facially are too high.
However there are some other great Poodle mixes you might like to consider.
References and Further Reading
Beuchat, C. The Myth of Hybrid Vigor in Dogs…Is a Myth. The Institute of Canine Biology, 2014.
American Kennel Club.
Pug: Brachycephalic Airway Obstruction Syndrome (BAOS). Universities Federation for Animal Welfare, 2016
Problems with Wrinkly Dogs: Skin Fold Dermatitis. Legacy Animal Medical Center.
Ryan, R., Gutierrez-Quintana, R., ter Haar, G., et al. Prevalence of Thoracic Vertebral Malformations in French Bulldogs, Pugs and English Bulldogs with and without Associated Neurological Deficits. The Veterinary Journal, 2017.
Yotsuyanagi, S.E., Rosa, N.M., Burger, C.P., et al. Legg-Calve-Perthes Disease: A Retrospective Study. World Small Animal Veterinary Association World Congress Proceedings, 2009.
Toy Poodle. Northwood Veterinary Hospital.