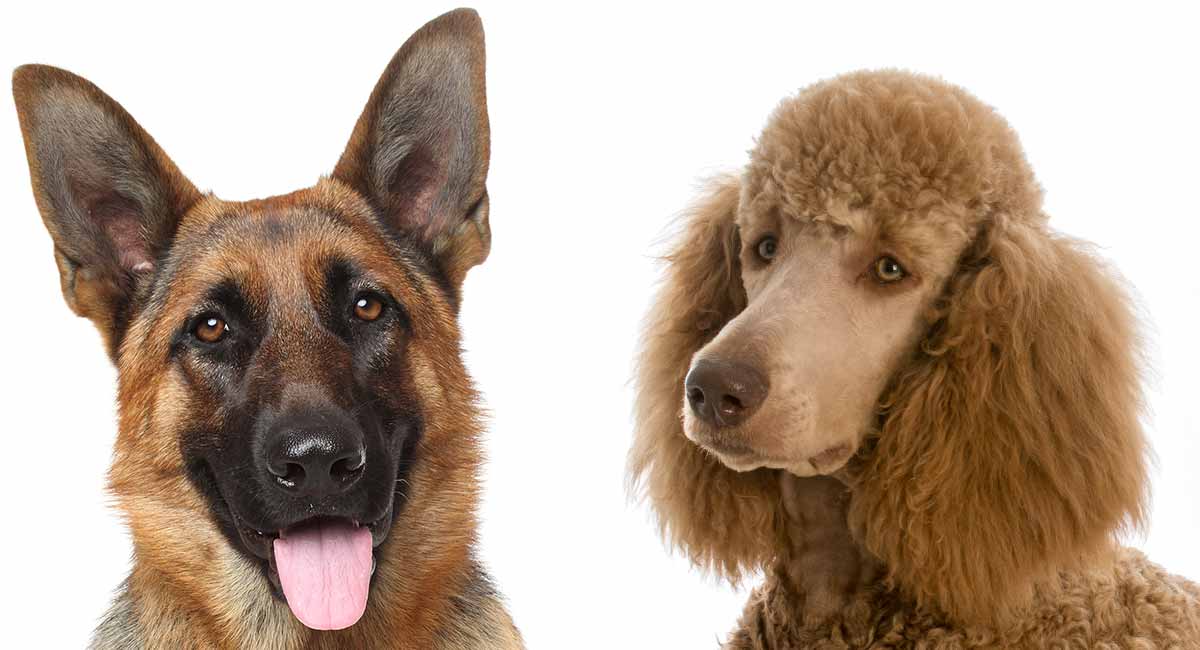 If you've been looking for an article on the Shepadoodle, you've found it!
Today, we are doing an honest assessment on this increasingly popular crossbreed, mixing the German Shepherd and Standard Poodle.
Let's take a look at his origin, his temperament, and everything else you want to know before bringing him home!
What Is a Shepadoodle?
The Shepadoodle, sometimes called the German Shepadoodle, Shepherd Poodle or German Shepherd and Poodle mix, is the designer dog offspring of the German Shepherd and the Poodle.
But what is a designer dog and how does it differ from a mutt? Good question.
A Brief Overview of the Designer Dog Debate
There is some debate regarding designer dogs, also known as hybrids or crossbreeds, and the reason why is quite compelling.
Some say crossbreeds are just mutts.
Those who support crossbreeding, though, point out that mutts have a lineage of several different breeds in their bloodline.
Crossbreeds are the carefully chosen offspring of two specific purebred parents.
If you would like to learn more about the crossbreeds or mutt controversy, visit us here.
Another issue in regard to first generation crossbreeds revolves around health.
To cross or not to cross – that is the question!
As many dog lovers and experts are aware, purebred dogs are known to suffer from certain inheritable health issues due to generations of overbreeding in increasingly smaller gene pools.
While some experts insist that crossbreeding could be a solution to this issue, others disagree.
In fact, many experts are certain that crossbreeds are just as prone to inheriting genetic health issues as purebreds are.
To read a full article on the issue of purebred dogs versus crossbred dogs, click here.
While we wait for the experts to sort it all out, we might as well continue learning about the crossbreed that brought us here—the Shepadoodle!
Origin of the Shepadoodle
Unfortunately, since the Shepadoodle is a newer generation crossbreed, there is very little known about his exact origin.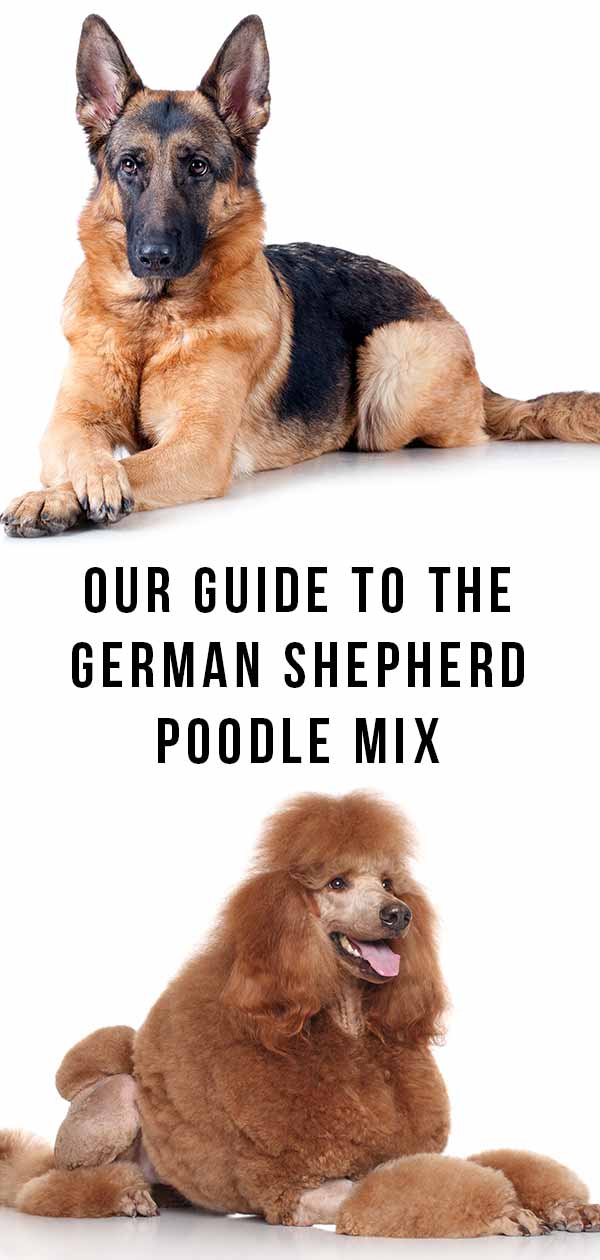 However, we can still learn quite a bit from looking into the histories of his purebred parents.
History of the German Shepherd
As his name suggests, the German Shepherd is believed to be the descendant of herding dogs from Germany, which varied in type depending on the region.
During the 1800s, enthusiasts and breeders got together to breed different types of German herding dogs throughout Germany to create what eventually led to the modern-day German Shepherd.
It is common knowledge that the German Shepherd of today is a famous police and military dog. But did you know that most of his skills came from his days herding sheep?
Now, due to his incredible intelligence, loyalty, and courage, the German Shepherd is a renowned working dog.
He also ranks at number two on the American Kennel Club's list of America's most popular dog breeds!
History of the Poodle
It may surprise you to learn that the Poodle, though often referred to as the "French Poodle," is actually of German descent, much like his German Shepherd counterpart.
In fact, there is no true French Poodle, as the Poodle breed was created in Germany nearly 400 years ago, bred primarily to hunt ducks.
And you know that fancy pompon haircut the Poodle is so well known for? Believe it or not, this flashy haircut had a purpose.
The Poodle's flamboyant pompons eventually became something of a fashion statement.
They were originally used to protect the Poodle's sensitive body while allowing him dexterity in the freezing waters of Germany as he hunted ducks.
Not only does the Poodle have a history of work-ethic and notability, but he is also quite the entertainer, adding street shows and circus performances to his long list of talents throughout history!
The Poodle continues to delight his owners with his amazing intelligence and family-friendly disposition.
With two breeds as popular as the German Shepherd and the Poodle, it's no wonder breeders thought to cross them.
But what will their crossbreed offspring act like? Let's find out.
The Personality of a Shepadoodle Crossbreed
The Shepadoodle temperament is going to depend on what traits he inherits from his parents.
Let's take a look at the basic temperamental traits of the German Shepherd and the Poodle in hopes to better determine the possible behavioral traits of German Shepherd Poodle mix.
German Shepherd Personality
Known for his intelligence and unstoppable courage, the German Shepherd is a top choice for military and police work.
While he is definitely tough, this is also an excellent breed for children and families.
However, the German Shepherd is very active and can be slow to mature, sometimes proving too much for families with very small children.
Most German Shepherds do perfectly well with other household pets, but some have a tendency to go after smaller animals like cats.
They may also have a tendency to show aggression with dogs of the same sex; however, if they are properly socialized at an early age, this is unlikely to be an issue.
Poodle Personality
The Poodle is also a family-friendly dog, known for his intellect and flair for showmanship. This is a breed who enjoys learning new tricks and likes to show off.
Despite their fanciful look, the Poodle is a true dog's dog and enjoys getting messy!
However, due to his hunting background, owners with smaller pets in the home should not leave them alone with the Poodle unsupervised.
Shepadoodle temperament
So, considering that both the German Shepherd and the Poodle are highly intelligent, loyal, and loving breeds to their families, it's easy to assume your Shepadoodle will have those same characteristics.
Still, as with all dogs, we recommend early socialization and obedience training to ensure that your Shepadoodle grows up to be a well-adjusted dog.
Estimated Weight of a Shepadoodle
Because the Shepadoodle is a crossbreed, pinpointing his estimated size is going to be difficult.
Some breeders may promote a "mini Shepadoodle."
Although poodles do come in three size varieties, one of them being miniature, it is highly unlikely that a German Shepherd is going to be crossed with a mini Poodle.
Instead, breeders may specifically choose smaller German Shepherds and Poodles to cross in hopes of creating a smaller than average Shepadoodle.
However, there may still be a wide variety of size options.
Shepadoodle size
The purebred German Shepherd grows as big as 22 to 26 inches tall and can weigh anywhere from 50 to 90 pounds!
As previously mentioned, the Poodle comes in three size varieties, but in the case of a German Shepherd Poodle cross, the typical practice is to cross the German Shepherd with the Standard Poodle, who is over 15 inches tall and weighs 40 to 70 pounds.
Keeping the above in mind, you can expect your Shepadoodle to be anywhere from 15 to 26 inches tall and weigh between 40 and 90 pounds.
Shepadoodle Description – What Does He Look Like?
Like all crossbreeds, the Shepherd and Poodle mix is going to vary in looks depending on which purebred parent he takes after most.
The best way to guess what your Shepadoodle may look like is to study the physical characteristics of his purebred parents.
GSD Coats
For starters, the German Shepherd has a durable, double-layered coat that sheds heavily and can be either medium or long.
It comes in five standard colors, including:
Black and Gold
Red and Black
Black and Silver
Sable
Black
The German Shepherd is also known for his erect ears, bright eyes, and a long tail.
Poodle Coats
With his long ears and thick, curly hair that hardly sheds, the Poodle could not look more different.
His coat comes in ten standard color varieties, such as:
Black
Apricot
White
Cream
Tan
Blue Belton
Blue
Silver
Sable
Brown
When it comes to the Shepadoodle, it is important to remember that you are dealing with a crossbreed.
For this reason, you could get a number of coat combinations listed above. It will all depend on chance and genetics!
The Shepadoodle's Life Expectancy and Health Concerns
Since the German Shepherd and Poodle is a crossbreed, the German Shepherd Standard Poodle mix could be prone to a number of health issues inheritable from his purebred parents.
With a lifespan of 7-10 years, the German Shepherd is prone to elbow and hip dysplasia, blood disorders, digestive issues, epilepsy, eczema, eye issues, dwarfism, and skin allergies.
The Poodle has a longer lifespan of 10-18 years and can be prone to Addison's disease, hip dysplasia, progressive retinal atrophy, epilepsy, thyroid issues, bloat, and hypoglycemia.
You may want to consider early health screening for your Shepadoodle to better ensure he starts off on the right foot!
Early health screening could help you to prepare for or even prevent certain health concerns inherent to this crossbreed.
Grooming and General Care of My Shepadoodle Dog
When thinking about a German Shepherd Poodle, it's important to consider grooming time and general care.
The grooming needs of a German Shepherd x Poodle could vary since the type of coat he has will depend on what he inherits from his parent breeds.
While the German Shepherd has minimal grooming needs and only requires occasional brushing and bathing, the Poodle requires extensive brushing to keep from getting mats in his thick, curly fur.
Furthermore, the German Shepherd is a shedder, while the Poodle is not. While there is no such thing as a truly hypoallergenic dog, the Poodle still produces much less dander than most breeds and is, therefore, a great choice for allergy sufferers.
Unfortunately, it will be hard to say if your Shepadoodle will be "hypoallergenic" or not, and chances are he will shed a bit.
You should also prepare to cut your German Poodle mix's nails regularly to keep them from breaking, and clean his ears to avoid infections.
Exercise and Training for a Shepadoodle
Since both the German Shepherd and the Poodle are such intelligent breeds, it comes as no surprise that a Shepherd Poodle mix should be a breeze to train.
With consistency and the treat-based reward system, the German Shepherd Poodle crossbreed is likely going to pick up new routines quickly!
However, keep in mind that the German Shepherd is an especially energetic breed, so a prospective owner will need to be patient if their Shepadoodle inherits this trait.
Speaking of energetic, both the German Shepherd and the Poodle are active breeds who are naturally athletic and need plenty of physical and mental stimulation to keep them from getting bored and destructive.
An hour or two of exercise a day should meet the Shepadoodle mix's needs.
And, as previously mentioned, early socialization and obedience training will be key to ensuring this crossbreed is well-rounded.
Deciding if a Shepadoodle is Right for You
The Shepherd Poodle Cross is an intelligent, family-friendly dog with a lot of energy, but does that mean he is right for you?
He will do best in homes with large, fenced in yards and an owner who has the ability to train and exercise him properly.
If you don't mind a bit of gambling when it comes to shedding and grooming, and if you and your family are ready for an intelligent, active, and courageous crossbreed, then the Shepadoodle may be right for you!
Let's Find a Shepadoodle Puppy!
Getting your hands on Shepadoodle puppies may seem easy, but you'll want to make sure you are going through the proper sources.
If you get your German Shepherd cross Poodle pup from the right place, it will better ensure a happier, healthier dog in the long run.
For this reason, always do plenty of research before deciding where to get your German Shepadoodle puppies.
When coming from a breeder, German Shepherd Poodle Mix puppies could run you anywhere from $500 to $1000 or more, depending on if their parents are show quality or not.
However, a benefit of going through a breeder is that you'll have the option to ask questions regarding any issues that may have cropped up with the parent breeds or previous litters.
Also, keep in mind that reputable breeders will be able to provide health certificates that prove their German Shepherd Poodle puppies have been health screened and are healthy and adaptable.
On the other hand, if you are looking to spend much less, adoption fees through a shelter are typically $50 to $100. Not only that, but shelters will usually cover initial vet fees.
Whichever route you take, we hope your Shepadoodle puppy is everything you hoped it would be!
Good luck. Leave us a comment and let us know how it goes!
References
Hedhammer A, Olsson SE, Andersson SA, Persson L, Pettersson L, Olsson A, Sundgren PE, Canine Hip Dysplasia: Study of Heritability in 401 Litters of German Shepherd Dogs, Journal of the American Veterinary Medical Association
Borbala Turcsan, Adam Miklosi, Eniko Kubinyi, Owner Perceived Differences Between Mixed-Breed and Purebred Dogs
Silvia Ruefenacht, Sabine Gebhardt-Henrich, Takeshi Miyake, Claude Gaillard, A Behavior Test on German Shepherd Dogs: Heritability of Seven Different Traits, Applied Animal Behavior Science
T.R. Famula, J.M., Belanger, A.M. Oberbauer, Heritability and Complex Segregation Analysis of Hypoadrenocorticism in the Standard Poodle, Journal of Small Animal Practice
Tiffani J Howell, Tammie King, Pauleen C Bennett, Puppy Parties and Beyond: the role of early age socialization practices on adult dog behavior, Volume 6, pages 143-153
Nathan B Sutter and Elaine A Ostrander, Dog Star Rising: The Canine Genetic System, Nature Reviews Genetics, Volume 5, pages 900-910
Lowell Acumen DVM, DACVD, MBA, MOA, The Genetic Connection; a Guide to Health Problems in Purebred Dogs, Second Edition, 2011
Purebred Vs. Mutt – Common Objections to Mixed Breed Dogs
Carol Beuchat Ph.D., The Myth of Hybrid Vigor in Dogs…Is A Myth