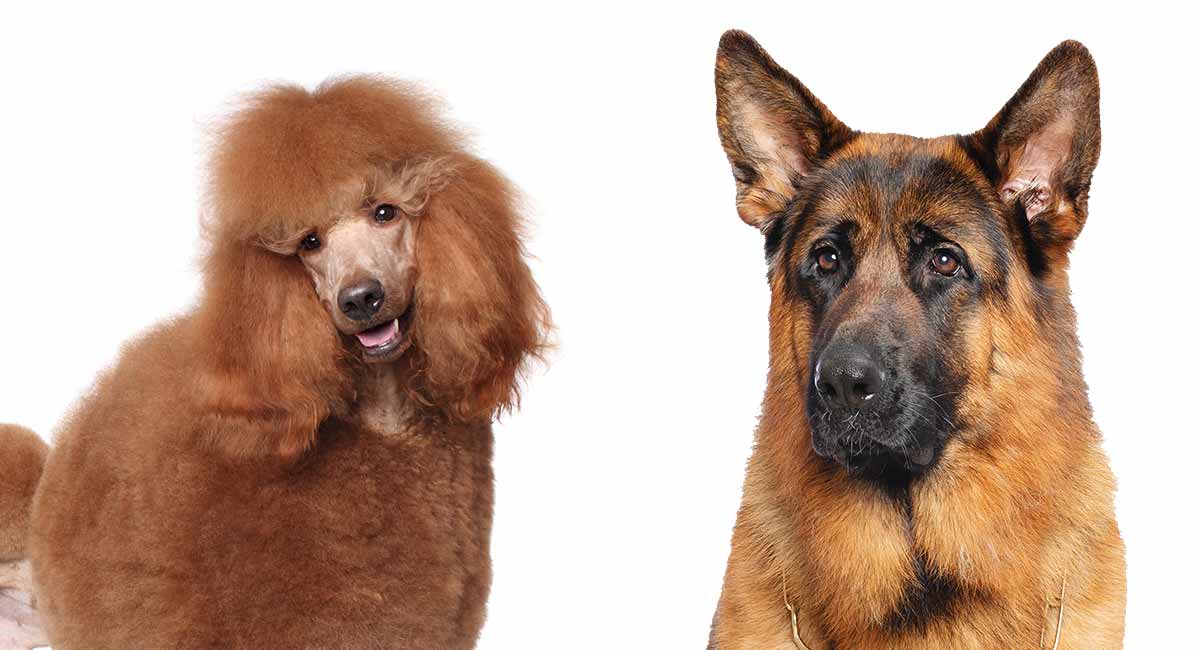 Shepadoodle dogs are loving, loyal, smart, energetic and active. They are affectionate, bond strongly with their families and are eager to please, so easy to train! A German Shepherd Poodle mix, they have a protective streak and can be good watchdogs and guard dogs too. Standing up to 26 inches heigh and sometimes weighing 90 lbs, they come in white, grey, black, brown, tan and more! Today we'll look at the traits, characteristics and typical behaviors of this big hybrid dog. We'll help you to adopt a Shepadoodle puppy, and to give them the right diet, care, exercise and training to help them fit into your lifestyle.
Contents
Usually bred with a Standard Poodle rather than a Miniature Poodle or Toy Poodle, these dogs tend to be fairly large. A Shepadoodle isn't an ideal apartment pet, but can make a good companion for adult homes, active singles or those with older kids. They love joining in with active lifestyles, and have a surprisingly playful side too, especially in puppyhood.
What is a Shepadoodle?
A Shepadoodle is a German Shepherd Poodle mix. They will normally be a Standard Poodle mix, rather than the smaller Miniature or Toy Poodle. This large dog will be confident and affectionate with their families, but less interested in strangers.
The Shepadoodle is sometimes called the Germadoodle, German Shepadoodle, Shepherd Poodle or German Shepherd and Poodle mix. This is an active dog that loves to play and can be trained easily. Although they do need consistent socialization to curb their herding instincts and prey drive.
Popularity: Rare
Purpose: Companionship, service dog
Weight: 40 to 70 pounds
Temperament: Sweet, smart and loyal.
German Shepherd Poodle Mix History
Since the German Shepherd Poodle mix is a newer generation crossbreed, there is very little known about his exact origin. However, we can still learn quite a bit from looking into the histories of his purebred parents.
The German Shepherd is the descendant of herding dogs from Germany. During the 1800s, enthusiasts and breeders got together to breed different types of German herding dogs. This eventually led to the modern-day German Shepherd we know and love.
It is common knowledge that today's German Shepherd is a famous police and military dog. But did you know that most of his skills came from his sheepherding days? Now, due to his incredible intelligence, loyalty, and courage, the German Shepherd is a renowned working dog.
Though often referred to as the "French Poodle," the Poodle is actually of German descent. When out duck hunting, the extra hair on the Poodle's joints helped them stay warm and protected as they got in and out of the freezing German lakes to retrieve ducks.
Not only do Poodles have a history of work-ethic and notability, but they are also quite the entertainer. Throughout history, Poodles have also performed in street and circuses around the world! As a family pet, Poodles delight their owners with their amazing intelligence and family-friendly disposition.
Fun facts about the German Shepherd Poodle mix
Anything fun and interesting about the breed that doesn't fit in the sections below. Celebrity owners of the breed, news stories, the breed in literature or film
Although still relatively uncommon, the German Shepherd Poodle Mix is close to the heart of many people. As of October 2019, the hashtag #Shepadoodle boasts more than 23K mentions. Not bad!
Shepadoodle Appearance
Shepadoodle dogs tend to be long legged, with slim bodies and shaggy, wavy coats. They have long faces, droopy ears and a wide open grin. Coat colors range into several colors and patterns.
The German Shepherd Poodle mix is going to vary in looks depending on which purebred parent they take after most. The best way to guess what your Shepadoodle may look like is to study the physical characteristics of its purebred parents. Although you can be more confident with second and third generation mixes.
The German Shepherd dog has a sturdy build and distinctly erect ears, bright eyes and a long tail. On the other hand, we have the Poodle. With their long ears and thick, curly hair that hardly sheds, the Poodle could not look more different than the German Shepherd! They also have bright, round eyes and a slender build that gave them an edge when hunting and swimming.
Shepadoodle Coats and Colors
Your Shepadoodle could have a wide range of colors and patterns to their coat. This will depend upon what genes their parents pass along to them.
Coat-wise, the German Shepherd has a durable, double-layered coat that sheds heavily and can be either medium or long. They come in five standard colors, including:
Black and Gold
Red and Black
Black and Silver
Sable
Black
Poodles are thick, curly coated dogs and come in many standard colors, such as:
Black
Apricot
White
Cream
Tan
Blue Belton
Blue
Silver
Sable
Brown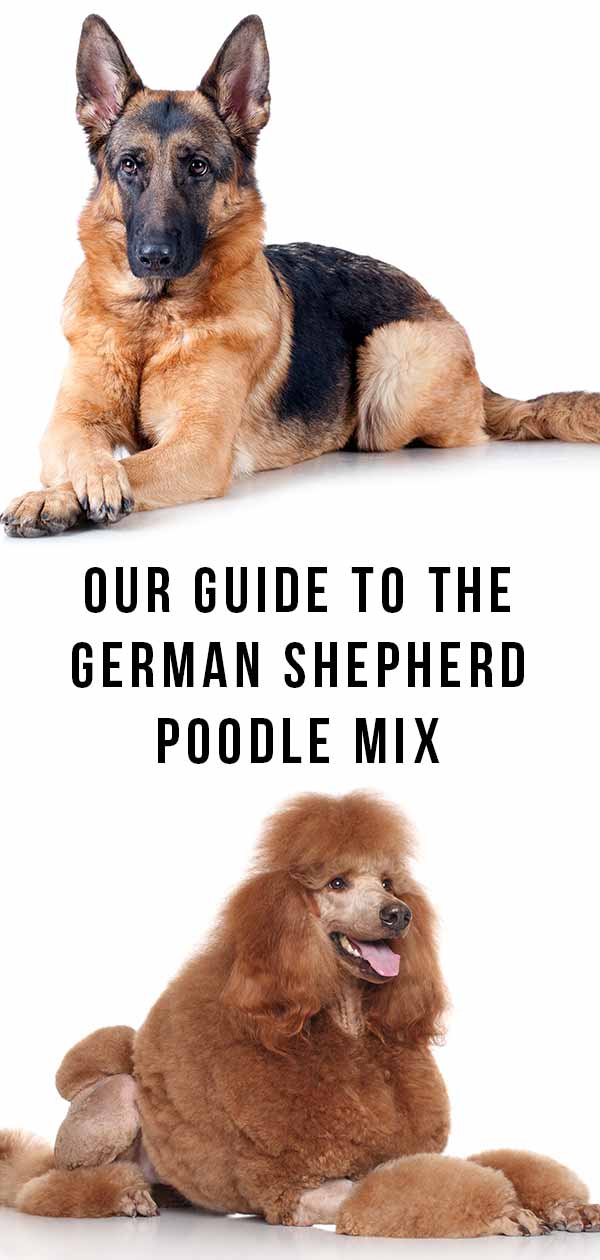 Shepadoodle Grooming
Poodles do shed a bit less than most dogs, and the hair they do shed gets trapped in their curls. This is to say, Poodles and other curly-haired dogs give the impression of shedding less, but still need constant grooming and brushing to keep their skin healthy and their coats tangle-free. If your German Shepherd Poodle mix does take after the coat of its curly parent, they might shed a little less than a regular dog.
Nevertheless, the grooming needs of a German Shepherd Poodle mix could vary greatly, since the type of coat they have will depend on which parent they take after.
Either way, your Shepadoodle pup will probably need a good brushing at least twice a week to avoid getting mats. If they do have curlier hair, you might need to up the brushing frequency.
You should also prepare to cut your German Poodle mix's nails regularly to keep them from breaking and clean his ears to avoid infections.
Are Shepadoodles Hypoallergenic?
Not really. The "Doodle" craze started mainly because it is widely thought that Poodles are hypoallergenic. This is simply not true. Neither Poodles nor its crossbreeds are "hypoallergenic". No dog can be.
Shepadoodle Size, Weight and Height
You can expect your German Shepherd Poodle mix to be anywhere from 15 to 26 inches tall and weigh between 40 and 90 pounds.
Poodles also come in three sizes: Toy, Mini and Standard. German Shepherd and Poodle mixes are usually crossed with Standard Poodles. Because the Standard Poodle is over 15 inches tall and weighs between 40 and 70 pounds, Shepadoodles are usually a medium to large dog.
The purebred German Shepherd grows as big as 22 to 26 inches tall and can weigh anywhere from 50 to 90 pounds!
Mini Shepadoodles
Even though both German Shepherds and Poodles are large dogs, when crossing with a Toy or Mini Poodle, some breeders have achieved a smaller version of the German Shepherd Poodle mix.
Nevertheless, one can never be sure about the adult size of a crossbreed until they are actually all grown up.
You should always try to meet the parents of your pup so you can have an idea of the size they might have as adult dogs.
To achieve these "miniature shepadoodles", breeders may specifically choose smaller German Shepherds and Poodles to cross in hopes of creating a smaller than average cross.
Shepadoodle Temperament
The average Shepadoodle will be smart, active, energetic and very loyal.
They are unlikely to be big fans of strangers, but with socialization will accept visitors in the home without worrying too much.
They are likely to having some watchdog if not guarding instincts too. And feel protective to their families, homes and possessions.
The Shepadoodle is very active and can be slow to mature, sometimes proving too much for families with very small children. Most do perfectly well with other household pets, but some have a tendency to chase and go after smaller animals like cats.
German Shepherds like to please their owners, although they are also great at working independently. Because of their large size and high energy levels, these dogs need experienced owners and active families that will train and socialize them as needed.
German Shepherd Poodle Mix Personality
Considering that both the German Shepherd and the Poodle are highly intelligent, loyal, and loving breeds to their families, it's easy to assume your German Shepherd Poodle mix will have those same characteristics. Still, as with all dogs, we recommend early socialization and obedience training to ensure that your pup grows up to be a well-adjusted dog.
Shepadoodles are usually loving, smart companions, but it's best to meet their parents and their tempers to have a better idea of how your pup could behave as they grow older. Because of the hunting and herding past of its parents, the German Shepherd Poodle mix might have strong herd or prey instincts that could cause issues when dealing with smaller pets and very young children.
To enjoy the company of your new pup, it's essential you offer early training and socialization. Here's what you need to know about this crossbreed's training needs!
Training your Shepadoodle
Since both the German Shepherd and the Poodle are such intelligent breeds, it comes as no surprise that a Shepherd Poodle mix should be a breeze to train. With consistency and a positive, treat-based reward system, the German Shepherd Poodle crossbreed is likely going to pick up new routines quickly!
The Shepadoodle's athletic build demands plenty of physical and mental stimulation to keep them from getting bored and destructive. It can be a challenge to keep your pup's attention for long periods of time, so breaking up training into smaller chunks might be a good idea.
An hour or two of exercise a day should meet the German Shepherd Poodle mix's needs.
Puppy Socialization
Socialization, especially when it comes to other pets, is key with this crossbreed. Because the German Shepherd and the Poodle have herding and hunting origins respectively, your Shepadoodle might have the instinct to hunt or herd other small animals.
Avoid any issues by offering plenty of structured exercise time and early socialization. This will ensure your pup can easily get along with other pets.
Designer Dog Health
There is some debate regarding designer dogs, also known as hybrids or crossbreeds, and the reason why is quite compelling. Some say crossbreeds are just mutts. Those who support crossbreeding, though, point out that mutts have a lineage of several different breeds in their bloodline.
Crossbreeds are the carefully chosen offspring of two specific purebred parents. Purebred dogs are known to suffer from certain inheritable health issues due to generations of overbreeding in increasingly smaller gene pools. While some experts insist that crossbreeding could be a solution to this issue, others disagree. And at the moment, we just don't have enough information to known for sure. But what definitely helps is health testing these puppies' future parents for any condition that could impact either breed.
Shepadoodle Health
Since the German Shepherd Poodle mix is a crossbreed, they could be prone to a number of health issues inheritable from their purebred parents.
The German Shepherd is prone to elbow and hip dysplasia. These conditions can easily be tested in both parents. Ask your breeder if your pups' parents if they have been tested bor dysplasia. German Shepherds should also be tested for degenerative myelopathy.
Blood disorders, epilepsy, eczema, eye issues, dwarfism, and skin allergies are also common. This breed is at a greater risk of bloat too.
Although usually healthy, poodles are prone to certain diseases that are genetically inherited. They can be prone to Addison's disease, hip dysplasia, progressive retinal atrophy, epilepsy, thyroid issues, bloat, and hypoglycemia.
You may want to consider early health screening for your German Shepherd Poodle mix to better ensure they start off on the right paw! Early health screening could help you to prepare for or even prevent certain health concerns inherent to this crossbreed.
How Long Do Shepadoodle Dogs Live?
German Shepherd Dogs have a lifespan of 7-10 years. On the other hand, the Poodle has a relatively long lifespan of 10-18 years.
As mixes tend in general to live a little longer than purebred dogs, you could reasonably hope that your Shepadoodle will live into their teens.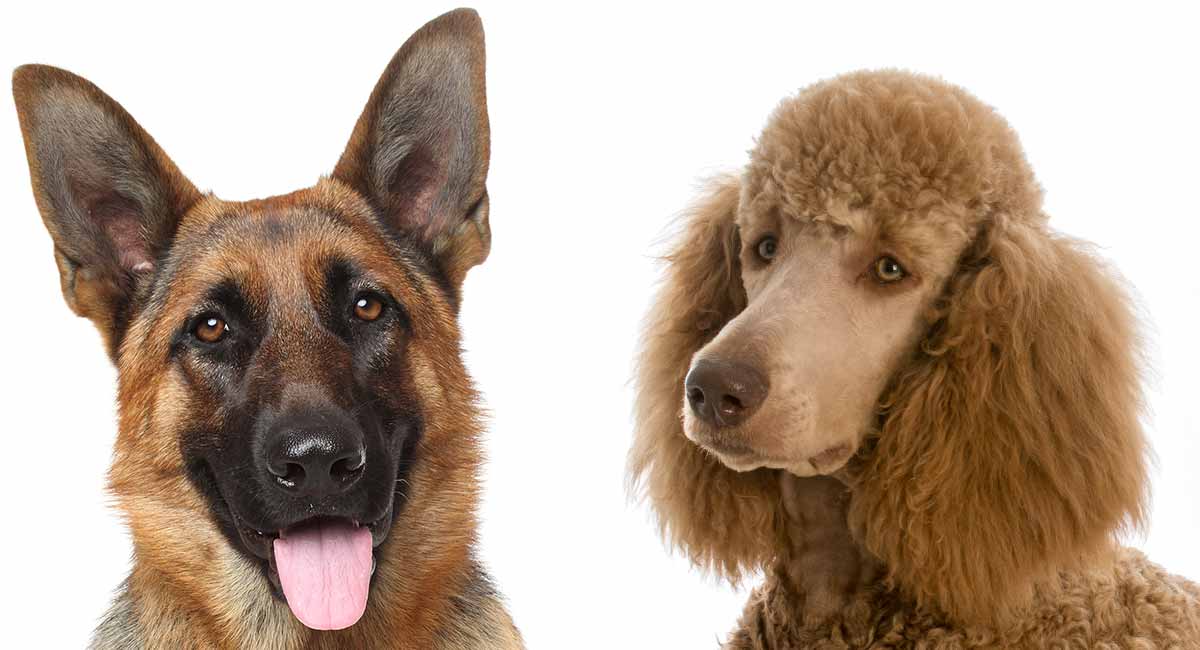 Are German Shepherd Poodle Mixes Good Family Pets?
The Shepherd Poodle Cross is an intelligent, family-friendly dog with a lot of energy, but does that mean he is right for you?
He will do best in homes with large, fenced-in yards and an owner with the ability to train and exercise him properly.
If you don't mind a bit of gambling when it comes to shedding and grooming, and if you and your family are ready for an intelligent, active, and courageous crossbreed, then the German Shepherd Poodle mix may be right for you!
Pros And Cons of Getting A German Shepherd Poodle mix
Shepadoodles could be a great addition to your pack. Still unsure? Here's our final roundup to help make up your mind.
Pros
Great for active families
Smart dog that's easy to train
Sweet tempered and like to please their owners
Cons
Not hypoallergenic, and needs brushing at least twice a week.
Medium to large dog that needs moderate to high levels of activity.
Might develop herding or prey instincts if improperly socialized.
Shepadoodle Rescue
Now that you're set on this fluffy crossbreed, it's time to find a puppy. Have you considered a rescue? Rescuing a pup can be a very fulfilling experience for everyone involved. For starters, you're giving a second chance at a loving home at a pup that's been waiting for you.
On the other hand, you can have a better idea of how your dog might look and behave like. To rescue a German Shepherd Poodle mix, take a look at your local shelters and ask around. Even though they are fairly rare, you might be surprised!
If you-re a first-time dog owner, take advantage of shelter volunteers: ask if there's anything you should know, take their advice when it comes to training and picking the best pup for your family.
Although there are no specific German Shepherd Poodle mix rescues, you might stumble upon one of these fluffy pups at Poodle, Doodle or German Shepherd rescues.
If you're having a hard time finding a German Shepherd Poodle mix at your local rescue centers, you might want to try your hand with Shepadoodle breeders.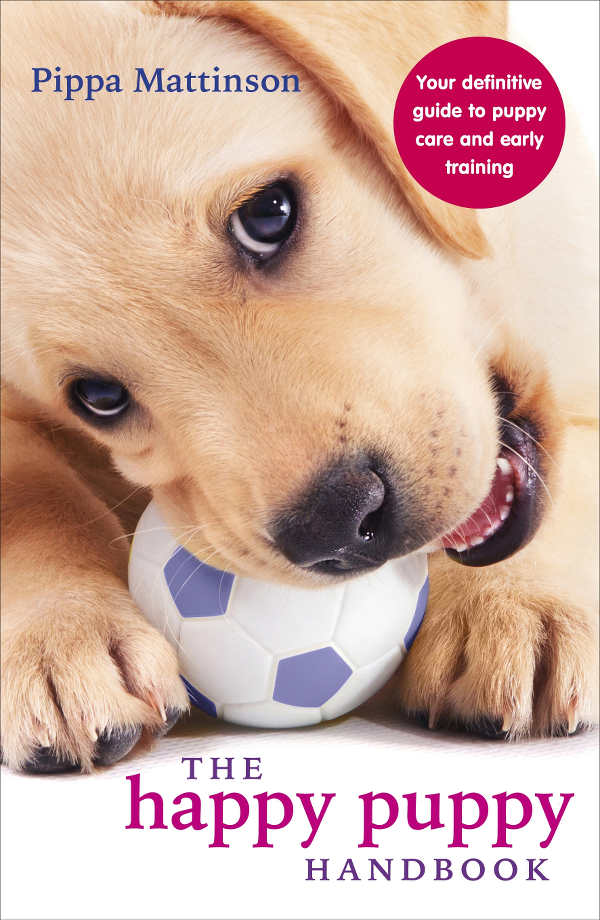 German Shepherd Poodle Mix Puppies
Getting your hands on Shepadoodle puppies may seem easy, but you'll want to make sure you are going through the proper sources. If you get your German Shepherd cross Poodle pup from the right place, it will better ensure a happier, healthier dog in the long run.
For this reason, always do plenty of research before deciding where to get your German Shepadoodle puppies. When coming from a breeder, Shepadoodle puppies could run you anywhere from $500 to $1000 or more, depending on if their parents are show quality or not.
However, a benefit of going through a breeder is that you'll have the option to ask questions regarding any issues that may have cropped up with the parent breeds or previous litters.
Also, keep in mind that reputable breeders will be able to provide health certificates that prove their German Shepherd Poodle puppies have been health screened and are healthy and adaptable.
Shepadoodle Puppy Care
Caring for a vulnerable puppy is a big responsibility. There are some great guides to help you with all aspects of puppy care and training.
From getting along with other pets, and potty training, we can help you make these first moments with your pup a happy and fulfilling experience for both of you.
Similar Breeds
You might want to consider these other Poodle mixes if the Shepadoodle doesn't look like the right fit for you. There's plenty to choose from!
Convinced this is the right choice for you? You might want to look into adoption before buying from a breeder.
Here are some rescues that could have Shepadoodle pups.
German Shepherd Poodle Mix Breed Rescues
Because they are a relatively new crossbreed, Shepadoodle rescues are pretty much non-existent. Nevertheless, there are many Doodle rescues where a Shepadoodle might land for lack of a better fit.
Check out these rescues and shelters that have been working to rehome doodle pups. You might find the right fit for your family!
USA
UK
Australia
Do you have other rescues where to find Shepadoodle pups? Comment down below and let us know!
References And Resources
Gough A, Thomas A, O'Neill D. 2018 Breed Predispositions to Disease In Dogs and Cats. Wiley Blackwell
O'Neill et al. 2013. Longevity and Mortality of Owned Dogs In England. The Veterinary Journal
Adams VJ, et al. 2010. Results of a Survey of UK Purebred Dogs. Journal of Small Animal Practice.
Hedhammer A, Olsson SE, Andersson SA, Persson L, Pettersson L, Olsson A, Sundgren PE, Canine Hip Dysplasia: Study of Heritability in 401 Litters of German Shepherd Dogs, Journal of the American Veterinary Medical Association
Borbala Turcsan, Adam Miklosi, Eniko Kubinyi, Owner Perceived Differences Between Mixed-Breed and Purebred Dogs
Silvia Ruefenacht, Sabine Gebhardt-Henrich, Takeshi Miyake, Claude Gaillard, A Behavior Test on German Shepherd Dogs: Heritability of Seven Different Traits, Applied Animal Behavior Science
T.R. Famula, J.M., Belanger, A.M. Oberbauer, Heritability and Complex Segregation Analysis of Hypoadrenocorticism in the Standard Poodle, Journal of Small Animal Practice.
Tiffani J Howell, Tammie King, Pauleen C Bennett, Puppy Parties and Beyond: the role of early age socialization practices on adult dog behavior, Volume 6, pages 143-153.
Nathan B Sutter and Elaine A Ostrander, Dog Star Rising: The Canine Genetic System, Nature Reviews Genetics, Volume 5, pages 900-910
Lowell Acumen DVM, DACVD, MBA, MOA, The Genetic Connection; a Guide to Health Problems in Purebred Dogs, Second Edition, 2011.
Carol Beuchat Ph.D., The Myth of Hybrid Vigor in Dogs…Is A Myth