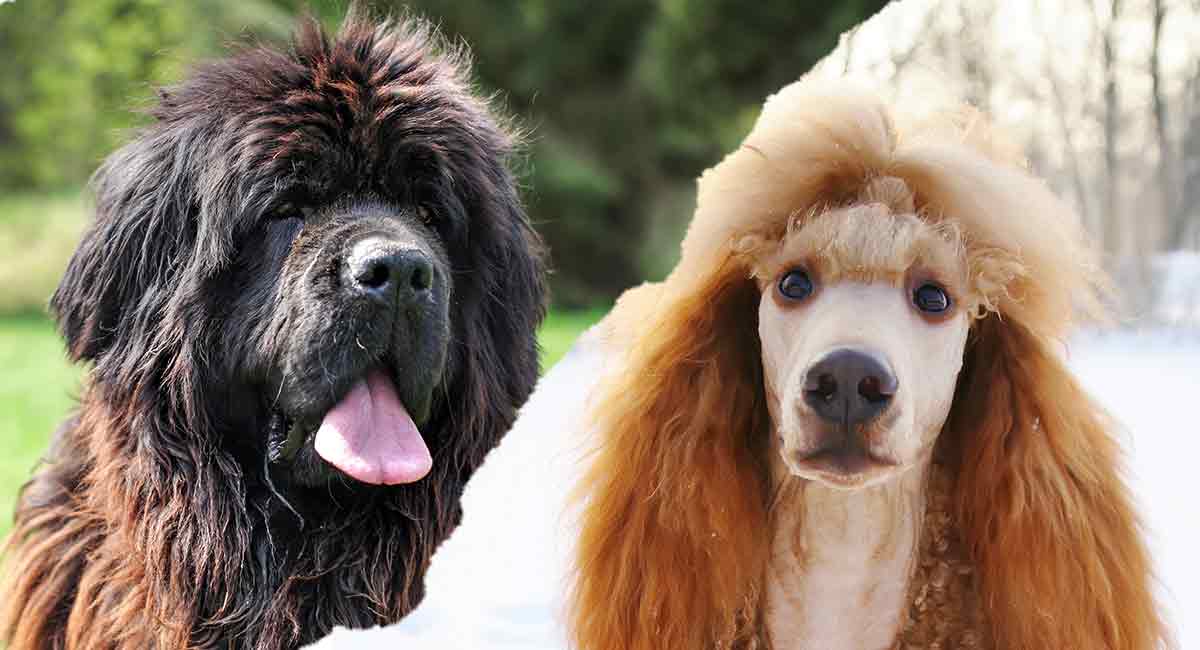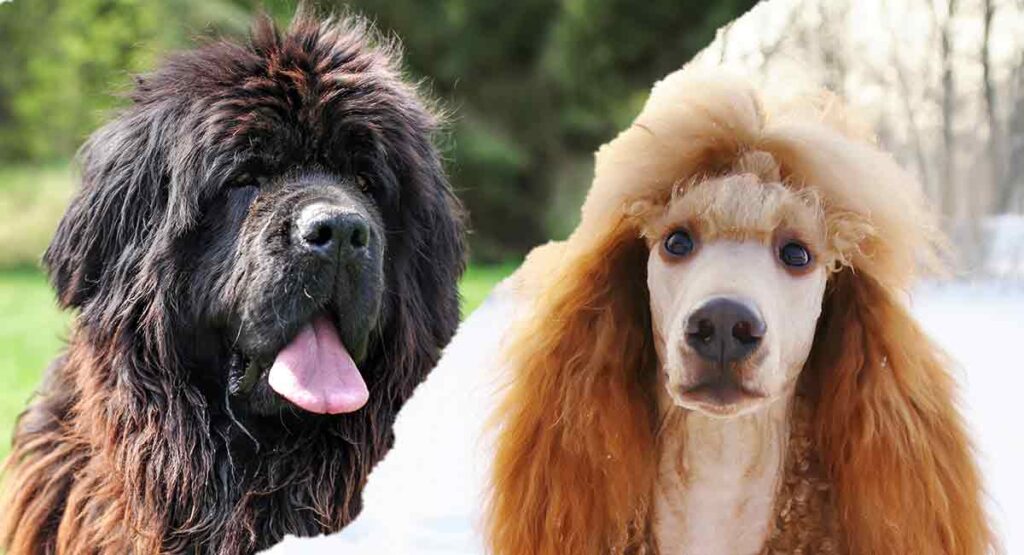 A Newfypoo is a mixed breed dog with one Newfoundland parent and another Poodle parent. They are gentle, affectionate, smart and loyal. These large, energetic pups weigh up to 150lbs and grow up to 30 inches tall. They make active companions or working dogs. They are very trainable but have bags of energy, so they do best in larger homes with big backyards. These doodle dogs have thick, wavy, oily, water resistant coats and broad faces, kind eyes and droopy ears.
Contents
Newfypoo puppies combine the intelligent, confident, temperament of the Poodle with the patient, even-tempered personality of the Newfoundland. Both breeds share a history of working in water and a love of the outdoors. Today we'll look at whether this giant dog is a good fit for your home, working hours, hobbies and lifestyle.
History and Original Purpose of the Newfypoo
Like many first-generation crossbreeds, the exact origin of the Newfypoo is not known. However, we do know that the Newfypoo originated in the United States. The exact date of origin is unknown, but the International Designer Canine Association began recording and recognizing the breed officially in 2009.
For more information on the origin of this fine dog, we can look to the roots of the parent breeds. The Newfoundland dog as we know it today originated from working dogs brought to England from Newfoundland in the early 1800's. The dogs were often used on fishing boats and other sailing ventures, and even served an important role in the Lewis and Clark expedition!
The Poodle is the National Dog of France, and remains extremely popular in France today. But, despite the popularity in France, the Poodle actually originated in Germany. It was originally bred for use as a duck hunter, and its history dates back more than 400 years. Over time it became more common as a lapdog with the Miniature and Toy varieties coming into existence.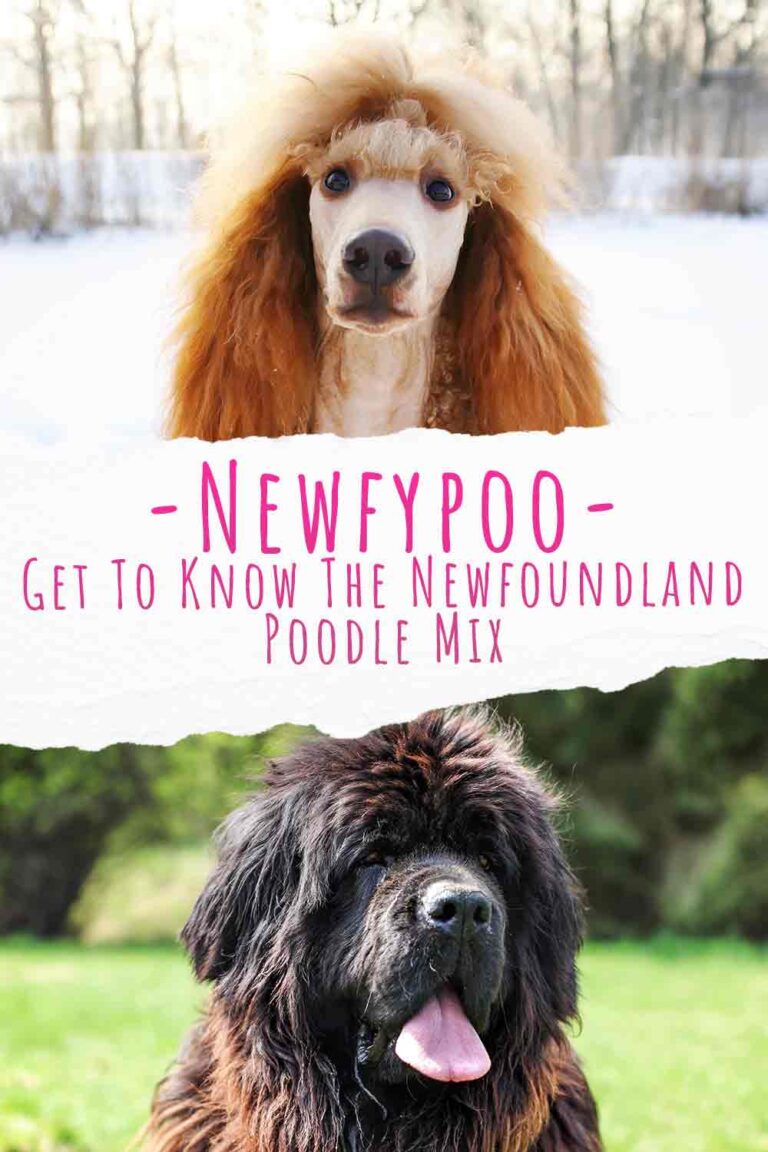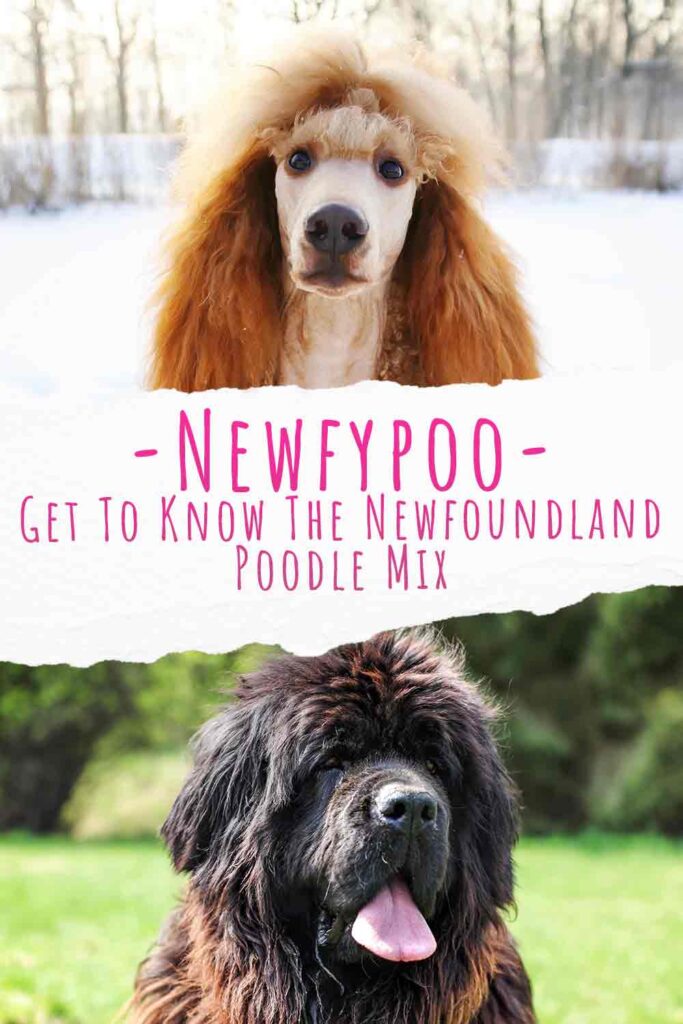 Newfypoo Appearance
| | | | |
| --- | --- | --- | --- |
| | Newfoundland | Standard Poodle | Newfypoo |
| Size | Giant breed | Large breed | Somewhere inbetween |
| Height | 26 – 28 inches | Minimum of 15 inches | 20 – 28 inches |
| Weight | 100 – 150 pounds | 40 – 70 pounds | 70 – 150 pounds |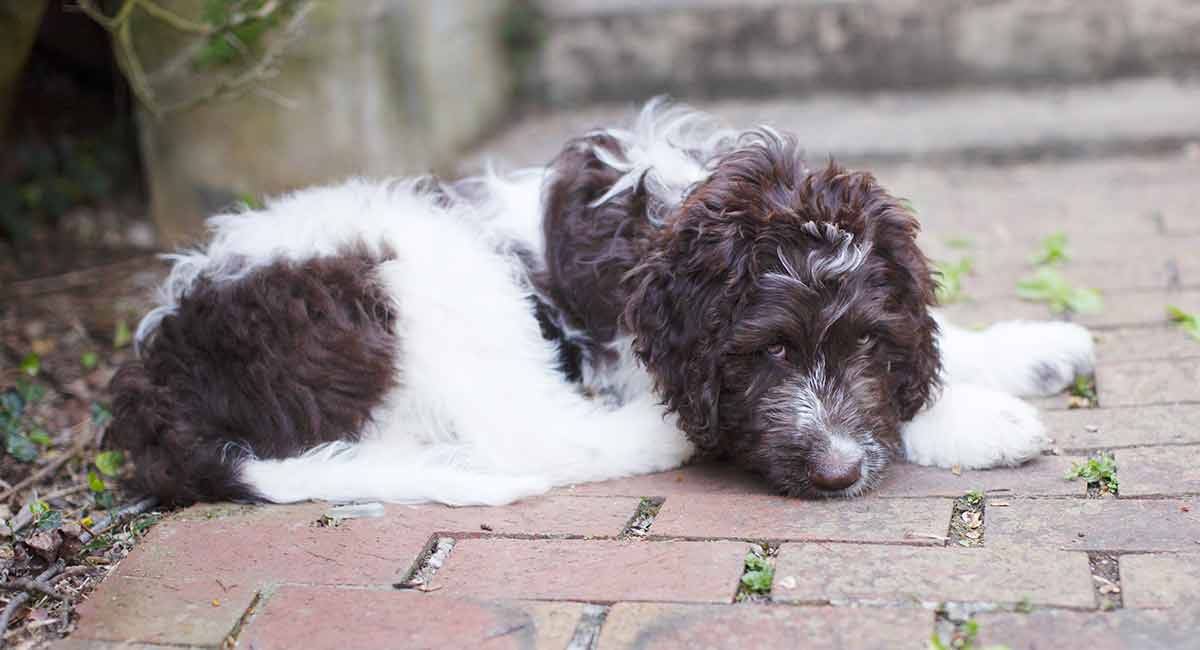 Coat and Colors
The Newfypoo typically has a thick, curly, oily, and water-resistant coat. The majority of Newfypoos will be various shades of black, brown, or grey, but other colors are possible as well.
Of course, these characteristics can vary significantly from dog to dog, because this is a cross-breed. So, take a look at your puppy's parents for an idea of what they could inherit.
Grooming
Grooming is essential for this breed, and can be rather time-consuming. The thick, curly coat of the Newfypoo requires frequent brushing, ideally on a daily basis. It should also be trimmed fairly regularly, as the Poodle's genetics means that the coat will be continually growing.
Ears should be checked regularly for signs of infection or irritation. Newfypoos should be bathed around once per month, or as needed.
Keep in mind that Newfypoos also love to get dirty, wet, and muddy whenever possible – so you may end up bathing them more than you expect! Some Newfypoo owners report difficulty in taming the thick, oily coat of their dogs – so many choose to utilize professional grooming services.
Are Newfypoo Dogs Hypoallergenic?
Sadly, no dog breed is completely hypoallergenic. But, despite their relatively thick coat, Newfypoo shedding is actually minimal to moderate. With frequent brushing, shedding isn't a major concern with this breed. We will talk about grooming a Newfiedoodle in more detail later in this guide.
Spending time with a Newfoundland Poodle mix puppy before you bring them home is a good way to learn if they trigger your allergies. On top of shedding, the natural oils in their coat can sometimes stain walls and furniture, so this is important for potential owners to keep in mind.
Temperament Traits
The cross between Newfoundland and Poodle typically results in a friendly, affectionate, and loyal dog. Newfypoos are highly intelligent, loving, and protective dogs. They typically get along well with just about everyone, so long as they are properly socialized.
This breed is fiercely loyal and loving, and these dogs will always keep a protective eye on their families.
Despite this protective nature, Newfypoos are usually open to meeting new people and other dogs, but only as long as they are well socialized and trained from a young age.
This intelligent breed requires both physical and mental stimulation in order to thrive. They enjoy training and regular exercise of both mind and body.
Are Newfypoos Good with Kids?
Newfypoos typically do well with children, but young children should always be supervised. Even the friendliest Newfoundland Poodle mixes can accidentally hurt children due to their massive size.
Despite their typically friendly nature, aggression is always possible with any breed. Proper socialization is absolutely key to raising a friendly, well-behaved pup. And, make sure you teach any children in your household how to interact with dogs, to keep any risks of fearful aggression to a minimum.
Barking
Most people find that Newfypoos aren't that vocal, especially compared to mixes that involve breeds like Huskies! However, Newfiedoodles are loyal and affectionate dogs that form very strong bonds with their owners. This means they are prone to separation anxiety.
Being left alone for too long can lead to destructive behaviors, including barking. And, as a large to giant breed mix, you can expect the barking to be pretty loud.
Training and Exercise
Newfypoo dogs will typically respond well to training. They are intelligent dogs and are usually eager to please their owners.
While not hyperactive, they enjoy frequent walks and activities. Ideally Newfypoos should get at least 60 minutes of vigorous exercise per day.
This breed enjoys walks and runs, and also takes naturally to swimming and water activities. Keep in mind that young puppies can damage their joints by doing too much jumping and playing.
It's best to tire them out with low-impact activities like walking or swimming so they don't get overzealous with their playing.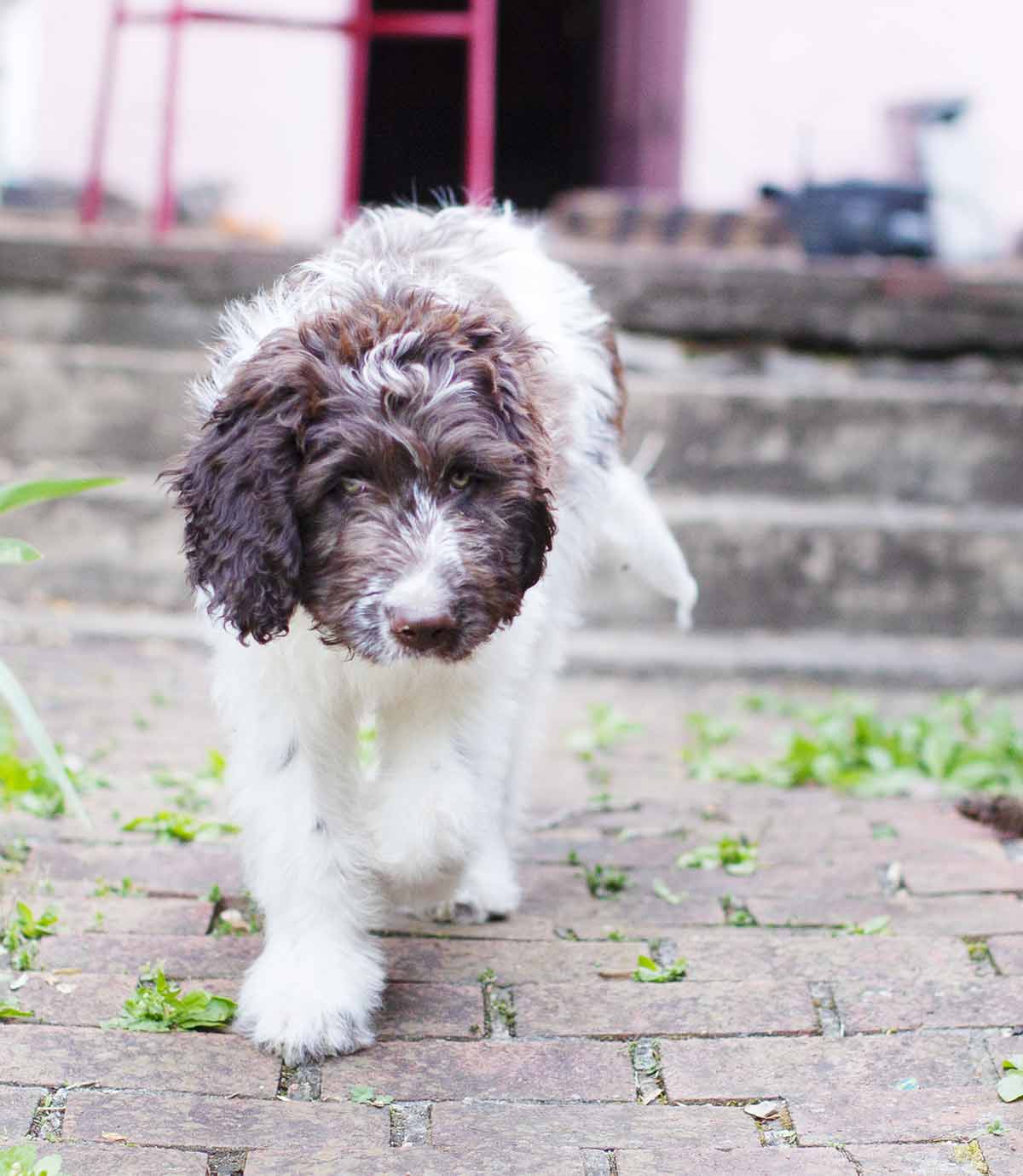 Newfypoo Health and Care
Like any hybrid breed, Newfypoos may be prone to some of the health problems their parent breeds suffer from. It's impossible to predict what problems, if any, a dog will suffer from.
| | |
| --- | --- |
| Heart: | Subaortic stenosis, dilated cardiomyopathy. |
| Brain: | Epilepsy. |
| Eyes: | Progressive retinal atrophy (PRA), cataracts, glaucoma, cherry eye. |
| Joints: | Hip and elbow dysplasia, patellar luxation. |
| Other: | Sebaceous adenitis, diabetes, bloat. |
Lifespan
On average, Newfoundland dogs live for 9.67 years, with Standard Poodles living on average for 12 years. Of course, these are only average stats. So you can expect your mix to live around 9 to 12 years, but with great general care they may live longer.
Do Newfiedoodles Make Good Family Pets
The Newfypoo can make for a wonderful companion. Their friendly, loving nature is endearing, and they are quite adorable! With that said, this breed is certainly not for everyone.
First off, this is a LARGE breed that can even enter the Giant categorization. That means they need plenty of space, a large vehicle for transportation, and a huge quantity of food! It also means they are expensive to feed and maintain.
Newfypoos are also highly social and can suffer from separation anxiety. Thus, the ideal owner will have plenty of time to spend with their pup. This breed also needs plenty of exercise, and will be happiest if they are able to swim and run regularly.
Rescuing a Newfypoo
This is not a very common breed, so it can be difficult to locate a Newfypoo puppy. A Newfypoo rescue through a local adoption agency is always possible. Rescue dogs are usually older, have some basic training, and are a little cheaper. However, it can still be hard to find one of these dogs. So, what's the best way to get started?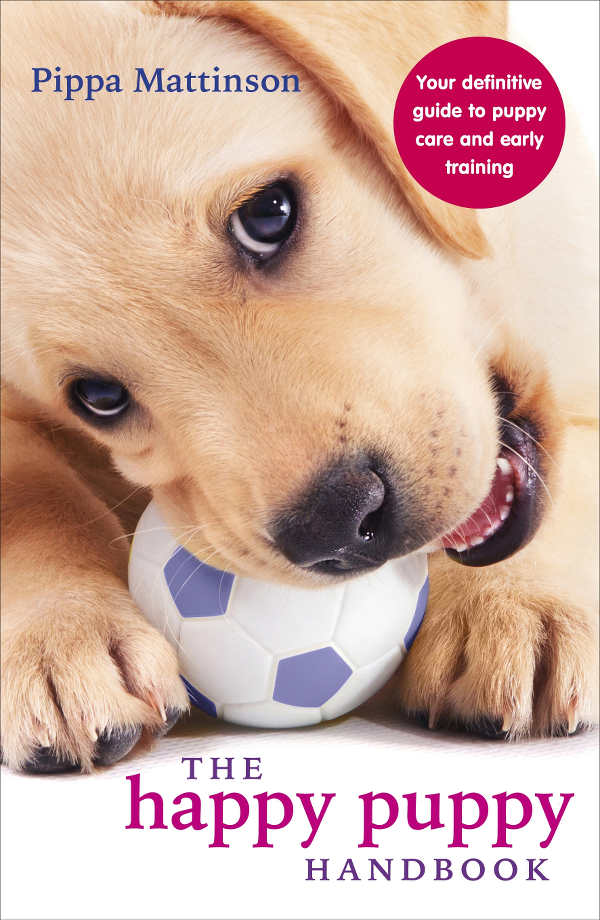 Rescues specific for mixed breeds are not common. You'll struggle to find a rescue center dedicated to the Newfypoo. But, you can take a look at rescue centers for large breeds, or those dedicated to the parent breeds in this mix.
Newfypoo Puppies
For many people, raising a puppy is preferable to rescue. And if you do that, you must make sure you're dealing with a reputable breeder! Finding Newfypoo breeders can be difficult, depending on where you live. The breed is not very popular yet, so breeders can be hard to come by.
You want to find a reputable breeder that takes good care of their pups. Beyond that, the breeder should conduct all necessary health tests on their breeding stock. Hip and heart tests are the most important for this breed.
Mixed breeds are constantly growing in popularity, so you may manage to find a Newfypoo breeder with ease as demand grows.
Prices
If you do find a reputable breeder, the Newfypoo price will typically be around $500-$2,000, with the bulk falling in the $1,000-$1,500 range. Of course, this varies depending on your region and other factors.
Before committing to a breeder, be sure to do your homework. Research the breeder's reputation, and speak to past clients if possible.
Also, don't be afraid to ask the breeder about their certifications, training, and any health tests they conduct on their dogs.