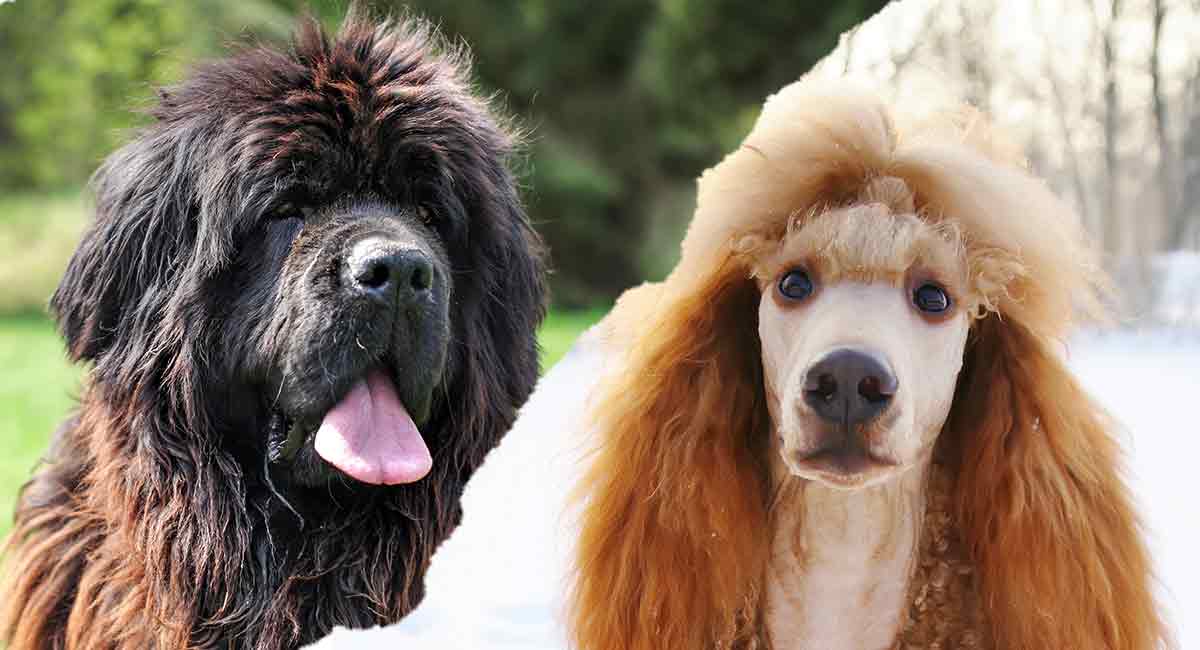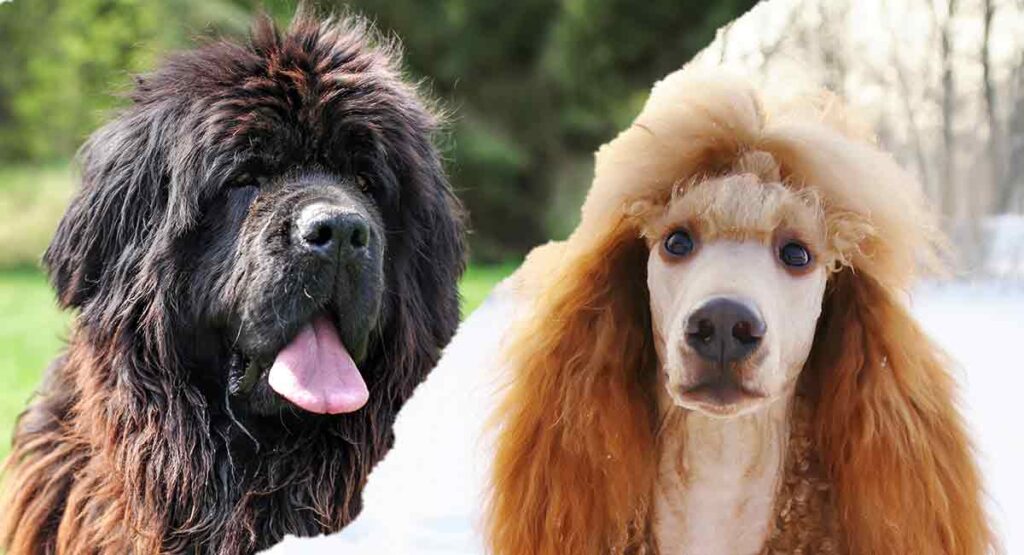 The Newfypoo seeks to combine the intelligence and active temperament of the Poodle with the patient, devoted personality of the Newfoundland. The result is a friendly, intelligent breed with a loving personality.
Generally, a Newfoundland Poodle mix will be a large dog with curly, water-resistant fur. Newfiedoodles can come in a huge spectrum of colors, so take a look at the parent dogs to predict how your puppy will look.
Quick Stats: Newfoundland Poodle Mix
| | |
| --- | --- |
| Popularity: | On the rise! |
| Purpose: | Family pet but also does well as a working dog. |
| Weight: | 70 – 150 pounds. |
| Height: | 20 to 28 inches. |
| Temperament: | Intelligent, affectionate, loyal. |
| Coat: | Thick, curly, and water-resistant. |
Common Newfiedoodle Questions
Follow the links to find out more!
Pros And Cons of Getting A Newfydoodle
| | |
| --- | --- |
| Pros | Cons |
| Loyal, affectionate, social temperament | Risk of natural hunting and chase instincts |
| Generally a low shedding breed | Grooming sessions will still take a while because of their size |
| Intelligent and eager to please during training | Needs plenty of space at home and to exercise |
| Can come in a huge range of colors | Impossible to predict how this mix will look before it arrives |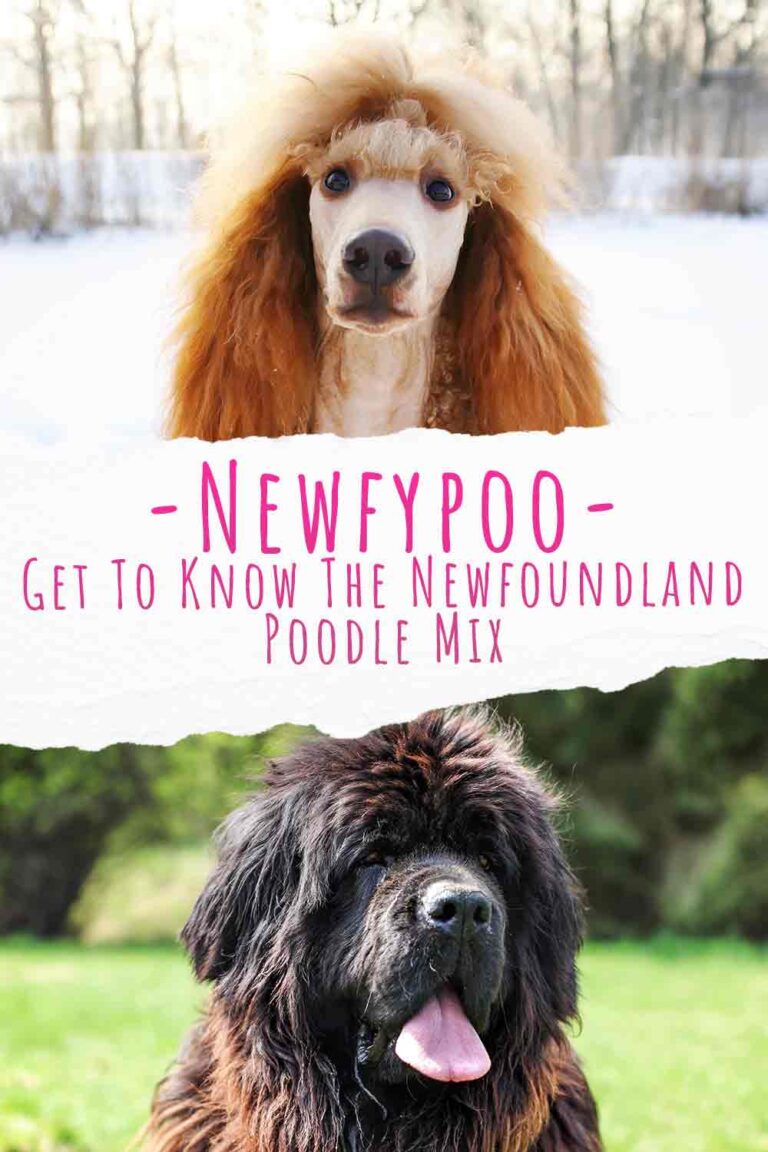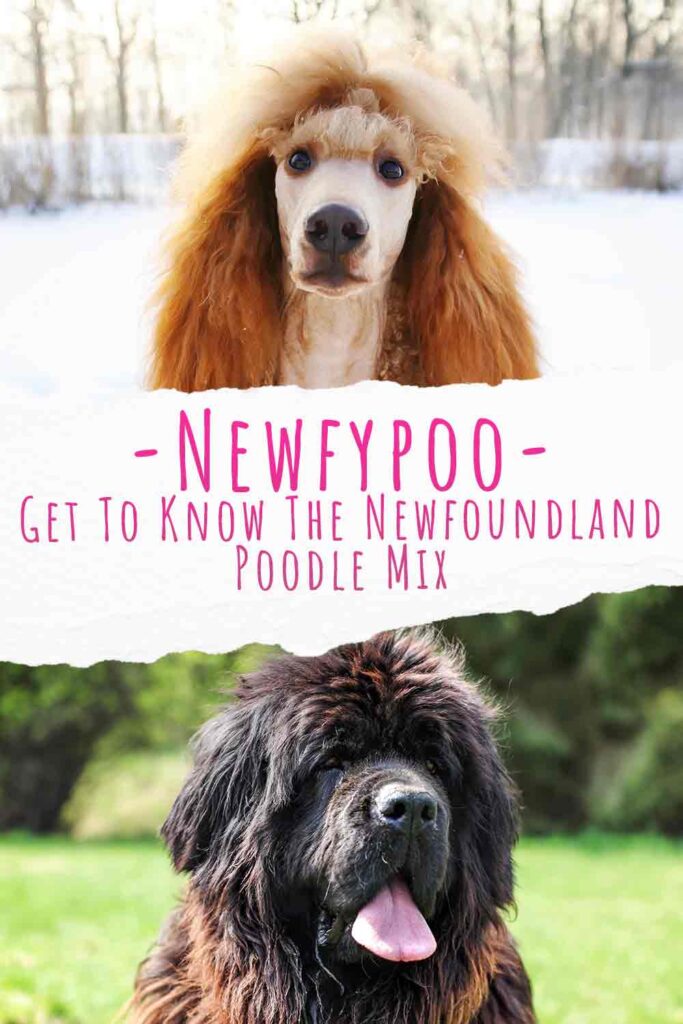 What Else Is In This Guide?
For a variety of reasons, the Newfypoo is becoming a popular choice for many families and dog-lovers. Are you wondering if a Newfypoo puppy is right for you?
History and Original Purpose of the Newfypoo
Like many first-generation crossbreeds, the exact origin of the Newfypoo is not known. However, we do know that the Newfypoo originated in the United States.
The exact date of origin is unknown, but the International Designer Canine Association began recording and recognizing the breed officially in 2009.
For more information on the origin of this fine dog, we can look to the roots of the parent breeds.
The Newfoundland dog as we know it today originated from working dogs brought to England from Newfoundland in the early 1800's. The dogs were often used on fishing boats and other sailing ventures, and even served an important role in the Lewis and Clark expedition!
The Poodle is the National Dog of France, and remains extremely popular in France today. But, despite the popularity in France, the Poodle actually originated in Germany.
It was originally bred for use as a duck hunter, and its history dates back more than 400 years. Over time it became more common as a lapdog with the Miniature and Toy varieties coming into existence.
Fun Facts About Newfoundland Poodle Mix Dogs
The Newfoundland Poodle mix is not hugely popular at the moment, but is slowly gaining traction. This mix goes by a number of different names, including the Newfiedoodle and Newfypoo!
The Newfypoo, by definition, is a first generation designer dog. This means a cross between two purebred breeds. There is some controversy surrounding these first-generation crosses.
Purebred advocates argue that keeping dog breeds pure offers more consistency and predictability – which is true, to some extent.
On the other hand, advocates of designer dogs claim that keeping bloodlines pure can lead to health issues – which is also true, to some extent.
If you're interested in further reading, this article on hybrid vigor from the Institute of Canine Biology is a good place to start.
We also covered this topic in greater detail in our Purebred vs Mutt article.
Newfypoo Appearance
You'll never be able to fully predict the characteristics of a mixed-breed dog – so if you're looking for ultimate predictability, a purebred dog may be a better fit.
In mixed breeds, physical and behavioral characteristics can vary significantly depending on the genetic makeup of the dog.
| | | | |
| --- | --- | --- | --- |
| | Newfoundland | Standard Poodle | Newfypoo |
| Size | Giant breed | Large breed | Somewhere inbetween |
| Height | 26 – 28 inches | Minimum of 15 inches | 20 – 28 inches |
| Weight | 100 – 150 pounds | 40 – 70 pounds | 70 – 150 pounds |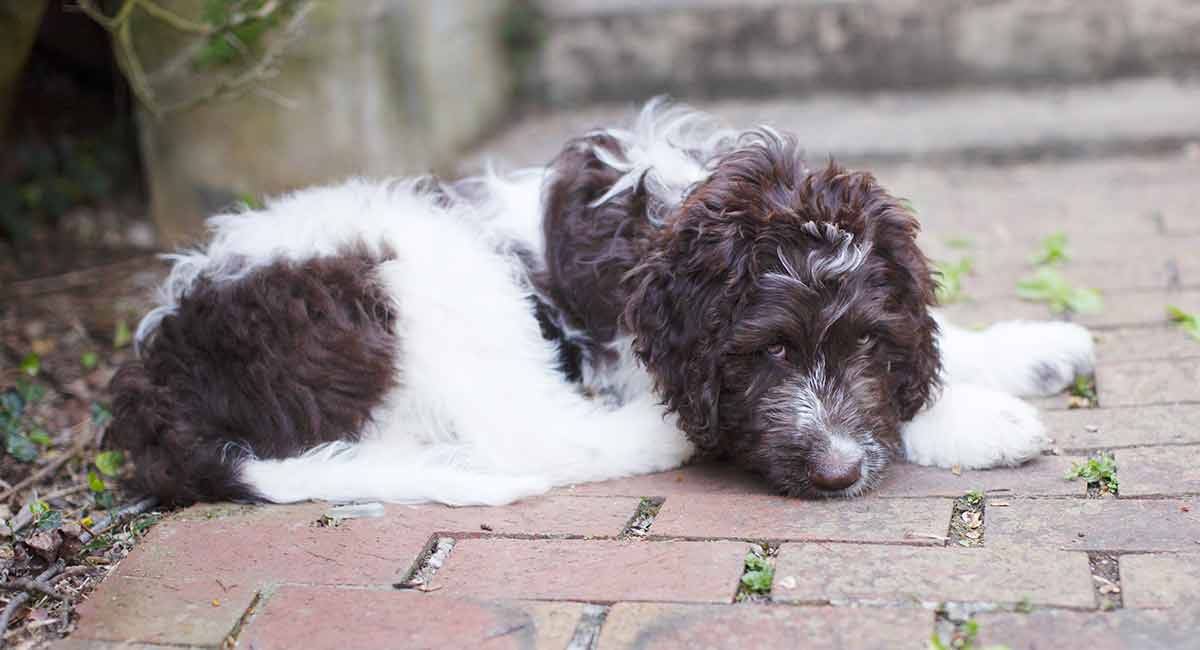 Newfypoo Coat and Colors
The Newfypoo typically has a thick, curly, oily, and water-resistant coat.
The majority of Newfypoos will be various shades of black, brown, or grey, but other colors are possible as well.
Of course, these characteristics can vary significantly from dog to dog, because this is a cross-breed.
So, take a look at your puppy's parents for an idea of what they could inherit.
Are Newfiedoodle Dogs Hypoallergenic?
Sadly, no dog breed is completely hypoallergenic. But, despite their relatively thick coat, Newfypoo shedding is actually minimal to moderate.
With frequent brushing, shedding isn't a major concern with this breed. We will talk about grooming a Newfiedoodle in more detail later in this guide.
Spending time with a Newfoundland Poodle mix puppy before you bring them home is a good way to learn if they trigger your allergies.
On top of shedding, the natural oils in their coat can sometimes stain walls and furniture, so this is important for potential owners to keep in mind.
Newfiedoodle Temperament
The cross between Newfoundland and Poodle typically results in a friendly, affectionate, and loyal dog.
Newfypoos are highly intelligent, loving, and protective dogs. They typically get along well with just about everyone, so long as they are properly socialized.
This breed is fiercely loyal and loving, and these dogs will always keep a protective eye on their families.
Despite this protective nature, Newfypoos are usually open to meeting new people and other dogs, but only as long as they are well socialized and trained from a young age.
This intelligent breed requires both physical and mental stimulation in order to thrive. They enjoy training and regular exercise of both mind and body.
Are Newfypoos Good with Children?
Newfypoos typically do well with children, but young children should always be supervised.
Even the friendliest Newfoundland Poodle mixes can accidentally hurt children due to their massive size.
Despite their typically friendly nature, aggression is always possible with any breed.
Proper socialization is absolutely key to raising a friendly, well-behaved pup.
And, make sure you teach any children in your household how to interact with dogs, to keep any risks of fearful aggression to a minimum.
Newfoundland Poodle Mix Barking
Most people find that Newfypoos aren't that vocal, especially compared to mixes that involve breeds like Huskies!
However, Newfiedoodles are loyal and affectionate dogs that form very strong bonds with their owners. This means they are prone to separation anxiety.
Being left alone for too long can lead to destructive behaviors, including barking. And, as a large to giant breed mix, you can expect the barking to be pretty loud.
Training and Exercising your Newfypoo
Newfypoo dogs will typically respond well to training. They are intelligent dogs and are usually eager to please their owners.
Both parent breeds have histories working closely alongside humans, so your puppy is bound to inherit this trainable nature.
And, training is vital for large dogs like this, to minimise the risk of them accidentally hurting someone.
Use positive reward methods for best results when training a Newfoundland Poodle mix.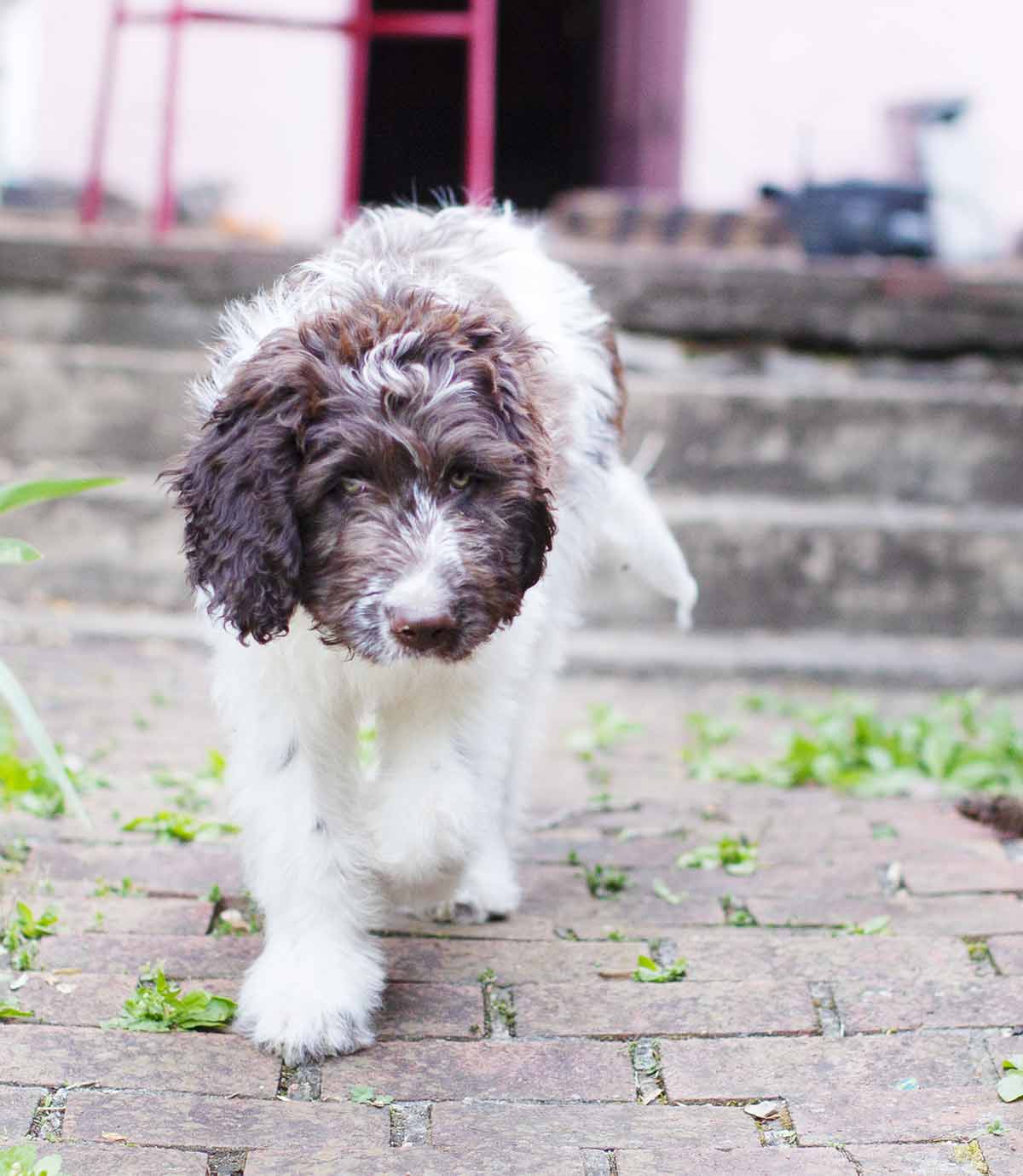 Exercise Needs
The Newfypoo is a fairly active breed. While not hyperactive, they enjoy frequent walks and activities.
Ideally Newfypoos should get at least 60 minutes of vigorous exercise per day.
This breed enjoys walks and runs, and also takes naturally to swimming and water activities.
Keep in mind that young Newfypoos can damage their joints by doing too much jumping and playing.
It's best to tire them out with low-impact activities like walking or swimming so they don't get overzealous with their playing.
Newfypoo Health and Care
Like any hybrid breed, Newfypoos may be prone to some of the health problems their parent breeds suffer from. It's impossible to predict what problems, if any, a dog will suffer from.
Newfiedoodle health risks to be aware of:
| | |
| --- | --- |
| Heart: | Subaortic stenosis, dilated cardiomyopathy. |
| Brain: | Epilepsy. |
| Eyes: | Progressive retinal atrophy (PRA), cataracts, glaucoma, cherry eye. |
| Joints: | Hip and elbow dysplasia, patellar luxation. |
| Other: | Sebaceous adenitis, diabetes, bloat. |
Subaortic Stenosis
This heart problem involves the narrowing of the aortic valve. It is present in puppies from birth, and means your dog's heart must work harder to pump blood.
This can lead to complications such as muscle failure.
Dilated Cardiomyopathy
Dilated cardiomyopathy occurs when your dog's heart muscle degenerates, causing the muscle walls to become thinner and to stretch.
This eventually leads to a larger heart. Dilated cardiomyopathy is a common health issue in large breed dogs.
Epilepsy
Epilepsy is a neurological disorder that can result in seizures. In fact, according to a 2014 study, this is the most common chronic neurological disorder in dogs.
This problem is most often managed with medication.
Progressive Retinal Atrophy
PRA is an inherited eye disorder that progressively leads to blindness. The term of this disorder actually describes a group of eye problems that are very similar in their onset and symptoms.
You can read more about PRA in dogs here.
Cataracts
Canine cataracts involves a clouding of your dog's eye lens. This problem requires surgery in order to see any improvement.
However, finding a veterinarian with the required training and ability to perform this surgery can be very difficult and costly.
Glaucoma
Glaucoma is another eye disease that can lead to blindness in dogs. It can be caused by other diseases and problems like tumors, which will also need to be treated.
Severe cases may require surgery.
Cherry Eye
Cherry eye is a disorder in which the third eye of your dog prolapses. This problem will require surgery.
Hip and Elbow Dysplasia
Hip and elbow dysplasia is another health issue that is common in large breed dogs. This issue occurs when the ball and socket of your dog's joint is malformed.
Testing can reduce the risk of puppies inheriting this disorder.
Patellar Luxation
This health problem occurs when your dog's kneecap moves out of place, or dislocates.
Sebaceous Adenitis
Sebaceous adenitis is a skin disorder that can lead to dry flaky skin and hair loss. It can often cause Poodles to lose the curl in their fur, which may be seen in Newfypoo mixes, too.
Diabetes
Dogs with diabetes may not produce enough insulin, or they may produce too much insulin.
This can severely impact their diet, and means their care needs will be much larger.
Bloat
Newfypoos may be prone to bloat (gastric dilation volvulus), a potentially life threatening condition.
As large dogs, Newfypoos eat a LOT of food – but intake should be closely monitored and discussed with your veterinarian.
To avoid bloat and related issues, some vets will recommend smaller, more frequent meals for this breed.
Speak with your veterinarian if you have any questions or concerns.
General Health of Cross Breeds
As we learnt earlier in this guide, some believe that mixed breeds are healthier than purebred dogs thanks to a widening of the gene pool.
However, mixed breeds are still prone to the same health issues as their parent breeds, and health testing dogs before breeding from them is very important.
It's good to be aware of any potential health concerns so you can watch for warning signs.
As with any breed, frequent vet visits are important to maintaining proper health.
General Care
Grooming is essential for this breed, and can be rather time-consuming. The thick, curly coat of the Newfypoo requires frequent brushing, ideally on a daily basis.
It should also be trimmed fairly regularly, as the Poodle's genetics means that the coat will be continually growing.
Ears should be checked regularly for signs of infection or irritation. Newfypoos should be bathed around once per month, or as needed.
Keep in mind that Newfypoos also love to get dirty, wet, and muddy whenever possible – so you may end up bathing them more than you expect!
Some Newfypoo owners report difficulty in taming the thick, oily coat of their dogs – so many choose to utilize professional grooming services.
What is the Newfypoo Life Expectancy?
On average, Newfoundland dogs live for 9.67 years, with Standard Poodles living on average for 12 years.
Of course, these are only average stats. So you can expect your mix to live around 9 to 12 years, but with great general care they may live longer.
Do Newfiedoodles Make Good Family Pets
The Newfypoo can make for a wonderful companion. Their friendly, loving nature is endearing, and they are quite adorable! With that said, this breed is certainly not for everyone.
First off, this is a LARGE breed that can even enter the Giant categorization.
That means they need plenty of space, a large vehicle for transportation, and a huge quantity of food! It also means they are expensive to feed and maintain.
Newfypoos are also highly social and can suffer from separation anxiety. Thus, the ideal owner will have plenty of time to spend with their pup.
This breed also needs plenty of exercise, and will be happiest if they are able to swim and run regularly.
Not for Novice Owners
The Newfypoo also requires a degree of patience. They are avid diggers, and their oily coat can sometimes leave stains on walls and furniture.
The grooming requirements for this breed are relatively high and can be time-consuming. In short, this is a wonderful dog to own – but it's NOT an easy one!
Prospective owners of Newfypoos should closely consider the care requirements for this breed, as well as the potential health concerns.
Cost should also be considered, as food alone for a Newfypoo can easily exceed $50 a month.
If you're okay with all the downsides of this breed, and can set aside the time and love to properly care for the dog, then the Newfypoo can make for a fantastic companion!
Rescuing a Newfypoo
This is not a very common breed, so it can be difficult to locate a Newfypoo puppy.
A Newfypoo rescue through a local adoption agency is always possible. Rescue dogs are usually older, have some basic training, and are a little cheaper.
However, it can still be hard to find one of these dogs. So, what's the best way to get started?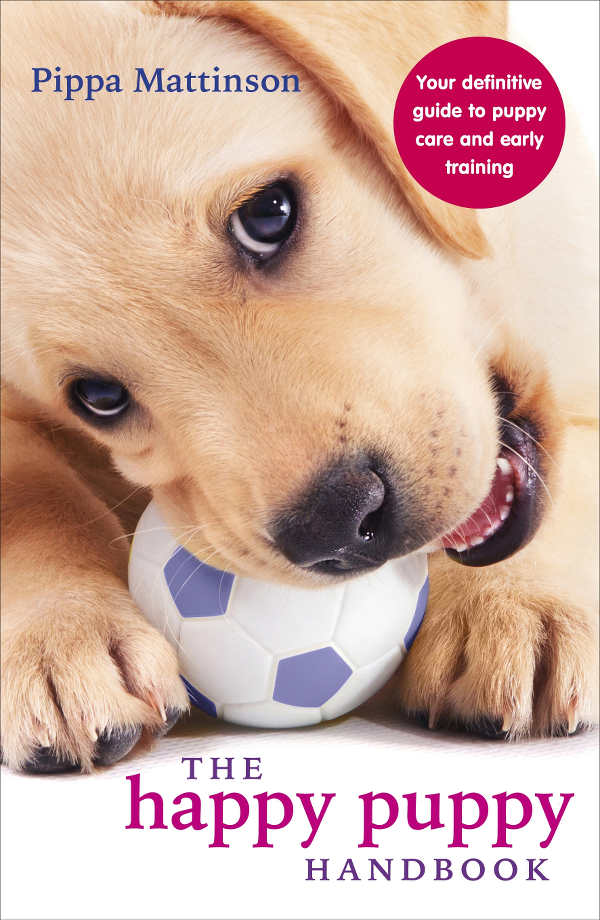 Finding a Rescue Center
Rescues specific for mixed breeds are not common. You'll struggle to find a rescue center dedicated to the Newfypoo.
But, you can take a look at rescue centers for large breeds, or those dedicated to the parent breeds in this mix.
Newfiedoodle Breed Rescues
If you know of any other rescue centers that have Newfiepoos, pop them in the comments.
Finding a Newfoundland Poodle Mix Puppy
For many people, raising a puppy is preferable to rescue. And if you do that, you must make sure you're dealing with a reputable breeder!
Finding Newfypoo breeders can be difficult, depending on where you live. The breed is not very popular yet, so breeders can be hard to come by.
You want to find a reputable breeder that takes good care of their pups.
Beyond that, the breeder should conduct all necessary health tests on their breeding stock. Hip and heart tests are the most important for this breed.
Mixed breeds are constantly growing in popularity, so you may manage to find a Newfypoo breeder with ease as demand grows.
Where to Avoid
When searching for a puppy, make sure you never buy from puppy mills or pet stores. These places often jump on trends for certain breeds to make a quick profit, but their dogs and puppies are usually poorly treated and unhealthy.
Puppies from these places may be cheaper upfront, but the higher risk of health issues in the future means they will cost you more overall.
Newfoundland Poodle Mix Price
If you do find a reputable breeder, the Newfypoo price will typically be around $500-$2,000, with the bulk falling in the $1,000-$1,500 range. Of course, this varies depending on your region and other factors.
To locate a breeder, search the internet for local sources. You may also look into local dog clubs and breed clubs for advice.
Before committing to a breeder, be sure to do your homework. Research the breeder's reputation, and speak to past clients if possible.
Also, don't be afraid to ask the breeder about their certifications, training, and any health tests they conduct on their dogs.
If they are defensive or unwilling to answer your questions, that's a sign that you should avoid their services.
Raising a Newfypoo Puppy
These mixed breeds need just as much care as any other dog, if not more because they will grow into such a large breed.
Be careful when exercising your puppy in order to protect their joints. Invest in good quality food, and never be afraid to ask your vet for advice.
Training and socialization from a young age is vital, so you may want to look for an online training course, or puppy classes near you.
Newfypoo Products and Accessories
Raising a puppy will also require that you have all of the right products. Take a look at some of the guides below that will ensure you have everything you need.
Similar Breeds
The Newfypoo isn't for everyone. So, if you're looking for a similar breed, you can continue your research in some of the following guides.
The Newfoundland Poodle Mix: Summary
There is an important factor to remember with any crossbreed: the outcome is unpredictable. But, in general the Newfypoo is a very large breed with curly fur, a lovely temperament, and quite a few potential health concerns.
Make sure you have the time to dedicate to this breed, for their general care and their training needs. Puppies must be well socialized.
Do you have a Newfiedoodle at home? Tell us all about them in the comments!
References And Resources
| | |
| --- | --- |
| Gough, A. (et al) | 'Breed Predispositions to Disease In Dogs and Cats', Wiley Blackwell (2018) |
| O'Neill (et al) | 'Longevity and Mortality of Owned Dogs In England', The Veterinary Journal (2013) |
| Adams, V. (et al) | 'Results of a Survey of UK Purebred Dogs', Journal of Small Animal Practice (2010) |
| Duffy, D. (et al) | 'Breed Differences in Canine Aggression', Applied Animal Behavior Science (2008) |
| Farrell, L.L. (et al) | 'The Challenges of Pedigree Dog Health: Approaches to Combating Inherited Disease', Canine Genetics and Epidemiology (2015) |
| Oberbauer, A.M. (et al) | 'Ten Inherited Disorders in Purebred Dogs by Functional Breed Groupings', Canine Genetics and Epidemiology (2015) |
| Wiersma (et al) | 'Evaluation of 15 Candidate Genes for Dilated Cardiomyopathy in the Newfoundland Dog', Journal of heredity (2007) |
| Dekomien, G., & Epplen, J. T. | 'The Canine Recoverin (RCV1) Gene: a Candidate Gene for Generalized Progressive Retinal Atrophy', Mol Vis (2002) |
| Notes, B. | 'Canine Gastric Dilatation-Volvulus (Bloat)', EPIDEMIOLOGY (1995) |
| Leighton, E. A. | 'Genetics of canine hip dysplasia', Journal of the American Veterinary Medical Association (1997) |
| Vredegoor, D. (et al) | 'Can f 1 Levels in Hair and Homes of Different Dog Breeds: Lack of Evidence to Describe Any Dog Breed as Hypoallergenic', Journal of Allergy and Clinical Immunology (2012) |
| Barnette, C. | 'Aortic Stenosis in Dogs', VCA |
| Llera, R. | 'Dilated Cardiomyopathy in Dogs', VCA |
| Charalambous, M. (et al) | 'Treatment in Canine Epilepsy – A Systematic Review', BMC Veterinary Research (2014) |
| Raghuvanshi, P. & Maiti, S. | 'Canine Cataracts and its Management: An Overview', Journal of Animal Research (2013) |
| Simpson, A. & McKay, L. | 'Sebaceous Adenitis in Dogs', Compendium (2012) |