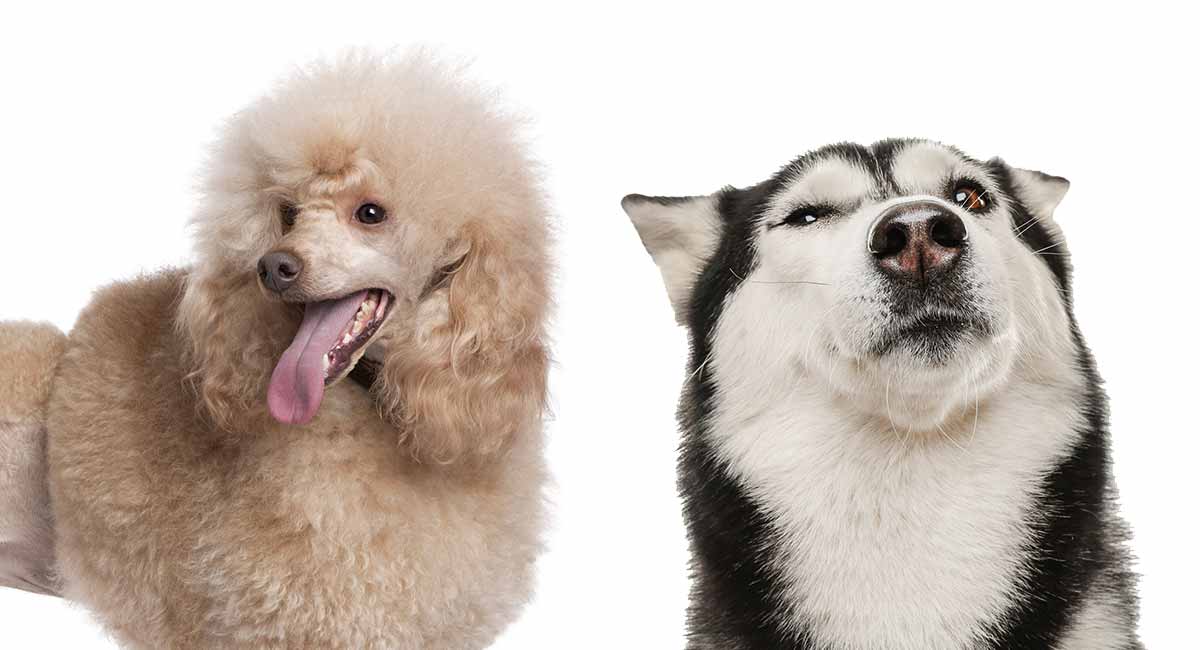 The Husky Poodle mix is a clever, active and driven dog. Bred from two enthusiastic and headstrong parents, the Huskydoodle is likely to be a confident dog. Today we take a look at the pros and cons of bringing home a Husky Poodle cross puppy, and help you to decide whether this dog is a good fit for your home.
Contents
What is a Husky Poodle mix?
The gorgeous Husky Poodle mix is known variously as the Huskydoodle, the Siberpoo and the Poosky! This is a cross between a purebred Siberian Husky and a purebred Standard Poodle.
The Siberpoo stands at an average of 14 to 26 inches tall and can weigh from 45 to 60 pounds when fully grown. Although quite high mainttainance when it comes to training, they are intelligent and loyal dogs.
Popularity: The Siberian Husky ranked 14th while the Standard Poodle ranked 7th
Purpose: Huskies were (and still are) working dogs. Poodles were originally water-retrievers.
Weight: 40-65 pounds
Temperament: Bright, strong-willed and energetic
Husky Poodle mix FAQs
These are our readers' most popular and frequently asked questions about the Poosky. You can click on the links to jump straight down to the answer!
History and original purpose of the Husky Poodle mix
The Siberian Husky isn't actually a wolf hybrid, despite its looks. The breed first appeared in Siberia as a working dog bred by the Chukchi people. Huskies have maintained that noble profession of sled pulling for thousands of years.
They rose to prominence in 1925 when they delivered crucial medicine to the Alaskan town of Nome, saving the town from being wiped out by an intense diphtheria epidemic.
The Poodle, despite being associated with France, is a breed that is thought to have arisen in Germany for hunting waterfowl. They're among the best canine swimmers, even though we normally think of them as prim and proper show dogs.
Since the Siberian husky and poodle mix is not purebred, there are no records of the breed's origins – official or otherwise. It's likely that many breeders began to produce them at the same time when designer dogs started gaining traction.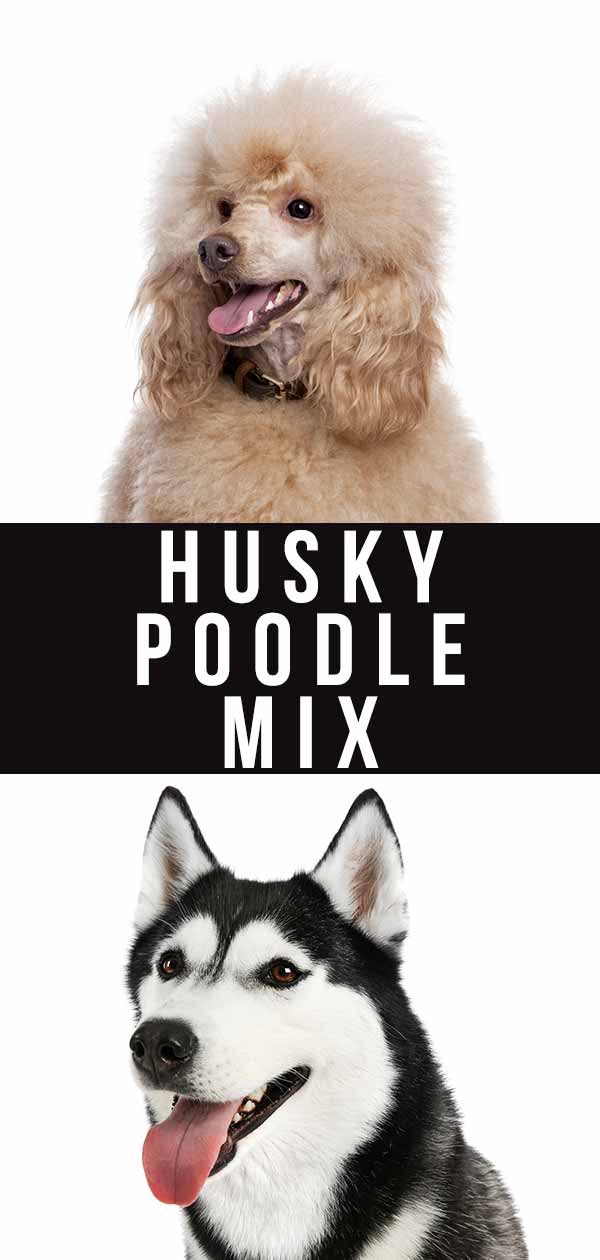 Husky Poodle Mix Appearance
The Husky Poodle mix has a coat that is usually multi-colored with markings, especially on the head and chest. They tend to stay on a spectrum of black to white, and grey is a frequent color as well.
While huskies often have erect ears, the ears of a huskydoodle are almost always floppy. Their noses are invariably black, but that shouldn't come as a surprise.
It's important to remember that there are no guaranteed traits in a crossbreed. The appearance, behavior, health, and all other traits of a huskydoodle puppy are inherited randomly from both parents. It might have the startling blue eyes of a husky, or it might not. He or she could have the poise of a poodle or, you guessed it, he or she might not!
For that reason, it's difficult to generalize about designer dogs and crossbreeds. There are characteristics that tend to be a combination of both breeds, rather than just being picked from one or the other.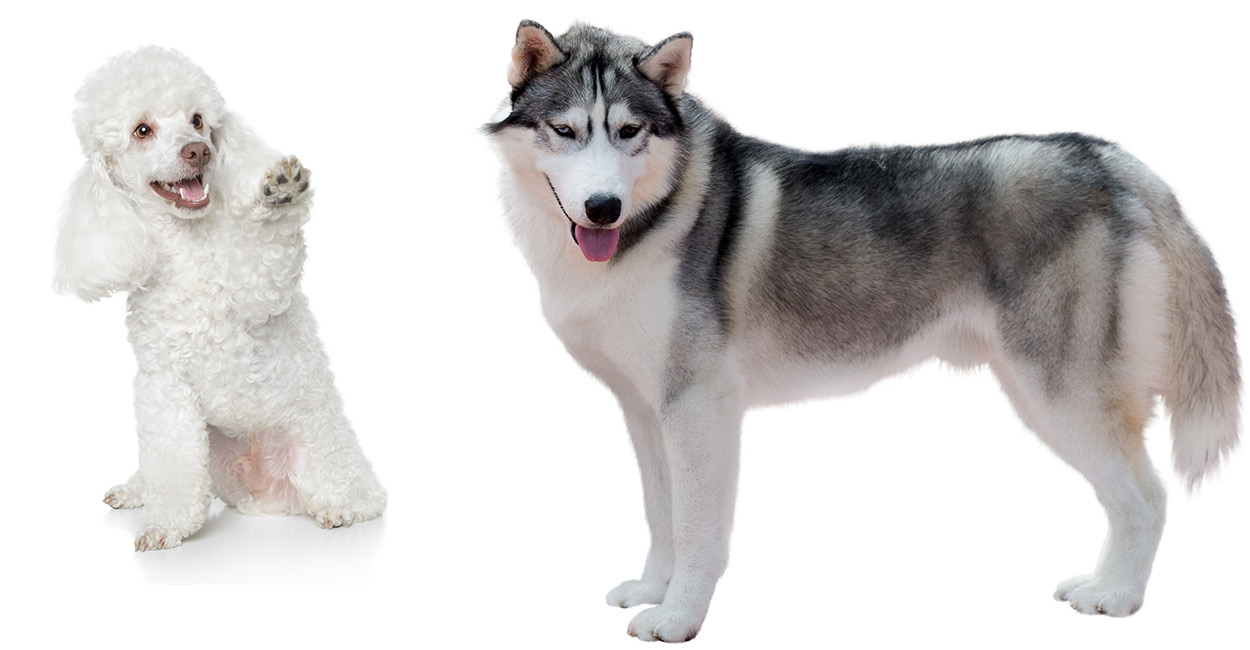 Size
Size is one such trait. A huskydoodle will grow to be a large dog, anywhere from 45-60 lbs and 14 to 25 inches tall. Both of the parent breeds are well-built, active dogs, so you should expect the same from the crossbreed.
Coat Care
The Husky Poodle mix is usually a shaggy dog that can have quite curly hair. They need a weekly brush at minimum, and if they take more after their Poodle parent will need clipping too.
You can do this at home if you know how, or take them to a professional dog groomer regularly.
Grooming a Husky Poodle Mix
Huskies have a "double coat." The top layer of the coat is called the "guard layer". This means it has long thick hairs that allow the skin to breathe, but protect the layer beneath. On the other hand, that bottom layer, or undercoat, has thick, soft hairs that trap heat. The undercoat is shed a couple times a year, depending on temperatures.
A Huskydoodle may or may not have the double coat of a husky. It will probably adopt the wiry, curly hair of the poodle, though. While both of the parent breeds are dogs that require intensive grooming, the Huskydoodle tones that down a bit.
You won't ever need to shave them like you might for a poodle (and you also don't need to make your Huskydoodle look like topiary). You won't have to give your dog a trim in the summer like a Husky requires, because regular brushing should be sufficient.
That being said, they are prone to matted coats. This is a trait passed on by their poodle parent. This can be avoided by brushing regularly with a wire brush. That activity makes for some good bonding time, though, so enjoy it!
Is the Husky Poodle mix Hypoallergenic?
Technically, no dog is 100% hypoallergenic because all dogs produce some amount of dander.
People like to tout Poodles as being hypoallergenic, but it's not entirely true. Their curly fur does tend to capture shed hairs and dandruff, which reduces the amount of allergens in the air. The requisite brushing and shaving, though, releases them and can cause allergic reactions.
This mix is unlikely to be a great match for allergy sufferers. Although Poodles are low shedding, the Husky is definitely not. It's also worth remembering that mixes tend to have a coat that blends their parents, so they are unlikely to have tight curls like Poodles do.
The Huskydoodle presents a happy medium – the curly hair reduces dander, though it is still present. If you're too sensitive to the allergens to have a husky, but really like that aesthetic, the Huskydoodle might be for you!
Husky Poodle mix Temperament
A Husky crossed with a Poodle is like asking for an espresso with a caffeine booster – it's a lot. They're very smart and very active. It's not the kind of dog you can leave at home in a kennel all day. They make great working dogs. For instance, a huskydoodle would not be out of place as a service animal or working on a farm.
A crossbreed like this will require a lot of attention, so make sure you're able to give it. At the same time, Huskydoodles are almost catlike in their ability to lounge. Expect your dog to be lazy when you're available and bouncing off the walls when they want play time.
A Husky-Poodle mix will always be loyal to its family. They also like to form strong bonds with one person. Since they are generally a friendly, happy cross, you can expect them to be sociable around strangers that don't emanate bad vibes. Also like their parents, Huskydoodles can be obstinate and stubborn. It will require a firm hand to ensure obedience.
Mixed Breeds are Mixed Bags
Poodles are known to be highly intelligent and active. They can reach a level of training and socialization superior to that of some other breeds, which contributes to their public perception as pretentious and snooty.
On the other hand, your siberpoo might inherit the derpy "talking" that makes huskies so adorable. It could have both, or neither, of these traits!
Training and Exercising your Husky Poodle mix
Both dogs are known to be high-maintenance in several regards. Notably, they require advanced training and socialization. Large dogs have the potential to cause a lot of damage to objects and people, so you need to be able to depend on their training.
Frankly, huskydoodles aren't a great choice for first time dog owners (and neither are huskies or poodles). Training can be a long, difficult process for these breeds.
Start while they're young, because their attitude (and capacity for destruction) only increases as they age. Ideally you should enroll in obedience lessons within a few weeks of getting your dog – those lessons also help establish your dominant role in the relationship.
Since they can be stubborn and have short attention spans, frequent training for short durations is a good strategy. Use lots of praise and rewards to convince your husky-poodle mix puppy that listening to you is worth his time!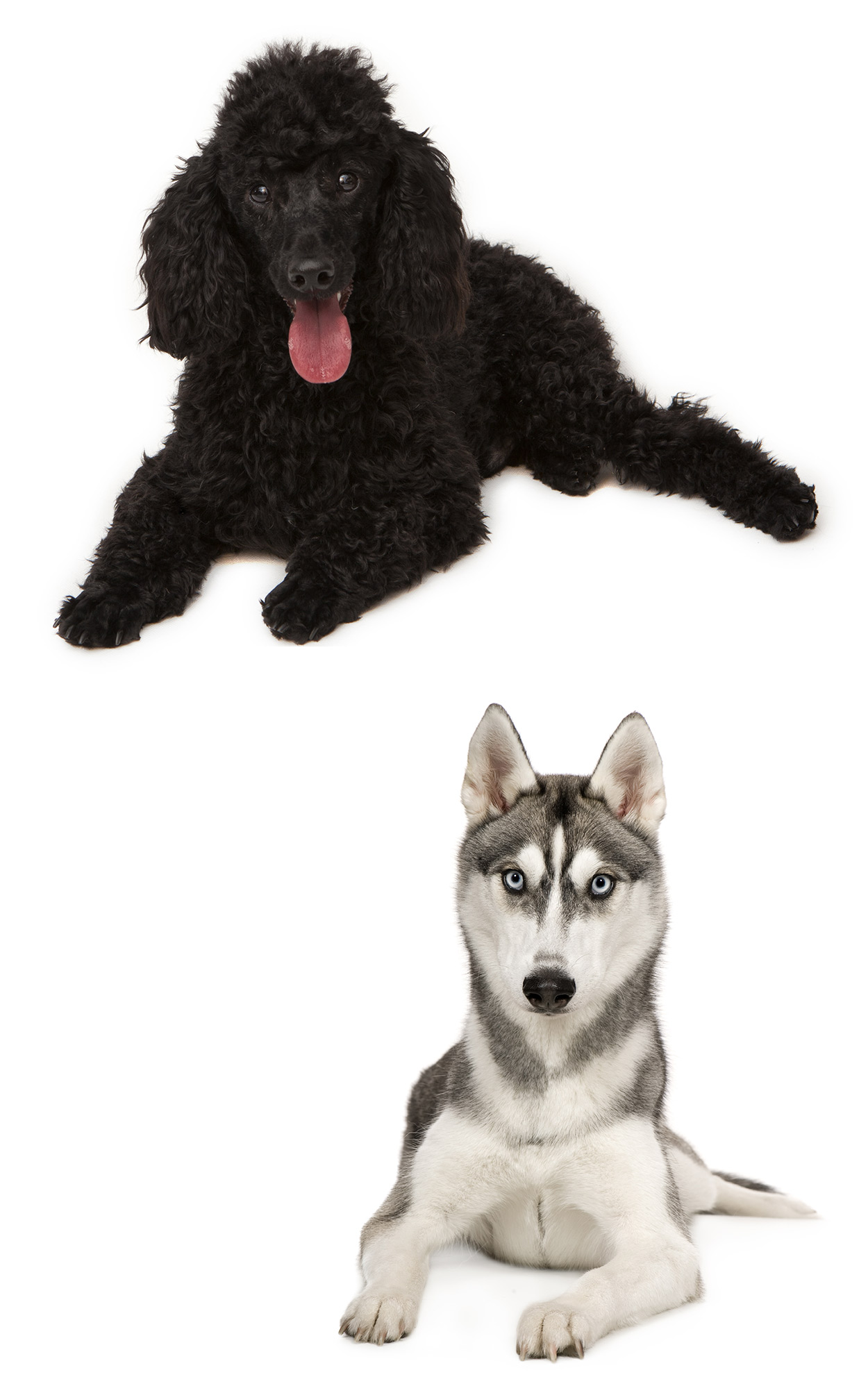 Exercise for Huskydoodles
Daily exercise is a must for the Huskydoodle. Ideally, they should get between 45 minutes and an hour of active, outdoor time. They need space to run around and stretch their muscles.
An apartment is a poor place for a big, active dog like the huskydoodle. They really need a backyard of some kind, even if it's small. Daily walks to a dog park are a good substitute.
Kill two birds with one stone and enroll in some agility classes! They get your dog moving and also help instill obedience. Plus, it's really cool when your dog can do tricks people have never seen before.
Husky Poodle mix Health and Care
When trying to predict health issues a crossbreed (or designer dog) might have, you look to the parents. Both Huskies and Poodles are known to frequently suffer hip dysplasia, so you can anticipate mobility loss in the later years of a Huskydoodle's life.
That hip issue is the only major overlapping medical problem the breeds share, though, so it's the only one that is still probable. As a crossbreed, your huskydoodle will benefit from "hybrid vigor". As a result, he should be healthier due to the increased genetic variation.
Also watch out for skin problems like irritation or rashes. These generally arise as a result of improper grooming. Stay on top of it and your pup will be fine!
Designer Dogs
The last few decades have seen the rise of "designer dogs," a loaded term that simply refers to a cross of markedly different dog breeds. Oftentimes, a designer dog is the result of two pedigreed parents.
The Siberian husky and poodle mix has been at the forefront of the wave of designer dog popularity because it's sturdy build and high average intelligence make it a great companion.
Although traits can never be guaranteed in a cross breed, a husky mixed with a poodle has the potential to be a great combination. Husky x Poodle usually requires less intensive grooming, which is a big plus for people who don't have a lot of time.
Of course, the most influential reason for their popularity is no doubt the appearance of the husky-poodle mix puppies – there is no cuter pup.
Designer Dog Controversy
For centuries, there were two kinds of dogs: pedigreed purebreds and mutts. This worked out well for dog breeders – they registered their dogs with kennel clubs and so their litters were pedigreed pups that could command high prices.
However, in order to maintain the purity of the breed, pedigreed dogs undergo a lot of inbreeding. That is, they mate with closely-related dogs – oftentimes members of their immediate family.
We don't do that as humans because we recognize that it often leads to health problems because of genetic depression . We know that there is strength in diversity – and that is doubly true for genetics.
Hybrid Vigor
This brings us to the topic of hybrid vigor. There is a myth perpetuated that hybrids, especially in the first generation, are somehow weaker and more prone to illness than pedigree dogs. In fact, it's the exact opposite.
Centuries of inbreeding has produced common health issues in pedigrees. As we've seen above, the stunning Siberian husky is prone to several eye-degeneration diseases. Furthermore, the body types of dogs like chihuahuas or bulldogs practically guarantee they will have brachycephalic airway issues.
Mutts, and more recently, designer dogs, alleviate some of these issues by adding genetic diversity that helps mitigate innate health issues and slightly altering body types to less extreme conformations.
Don't let anyone tell you that designer dogs are less healthy. That's wrong. Science will back you up.
How long do Husky Poodle mixes live?
The Huskydoodle has a lifespan of around 10-13 years of good health. A proper diet and exercise can extend this period.
Do Husky Poodle Mixes Make Good Family Pets?
Is the Husky Poodle mix a loyal, protective dog? Absolutely. Is it a patient dog? Not always.
Neither huskies nor poodles are known to be very tolerant of poking, prodding, or tugging habits of infants and small children. They're not a big fan of surprises or sudden, loud noises. Huskydoodles are quite similar in this regard.
If your house has young children, it might be better for you to look into other, more kid-friendly, breeds.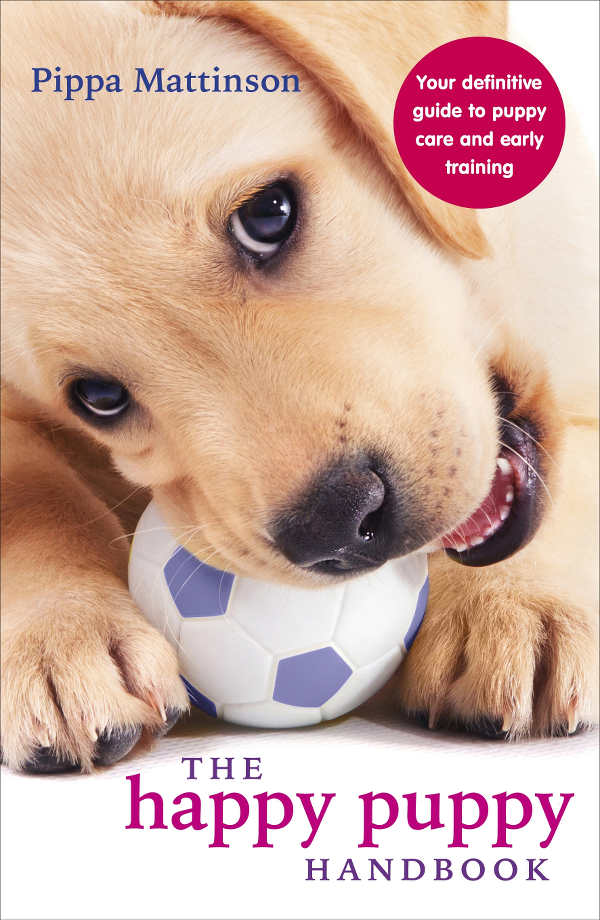 Of course, if you train your dog (or your kids) very well, it will never be an issue. Generally speaking, though, it's better to be safe than sorry. Wait to get a Huskydoodle until your children have grown old enough to know to 'let sleeping dogs lie.'
Pros And Cons of Getting A Husky Poodle mix
Cons
These are large, energetic dogs that need a lot of exercise and a fair amount of space.
We know from Husky owners that depending on which coat type your mix favors, this mix may be a nightmare for anyone sensitive to dog hair.
This mix breed has the potential to be impatient with young children.
Pros
Both parent breeds are loyal so this mixed breed could make a great companion and guard dog.
Strong wills abound in both parent breeds. The resulting mix may result in a dog with bundles of personality.
You can be almost certain that this dog will be a thing of beauty! This of course, is subjective!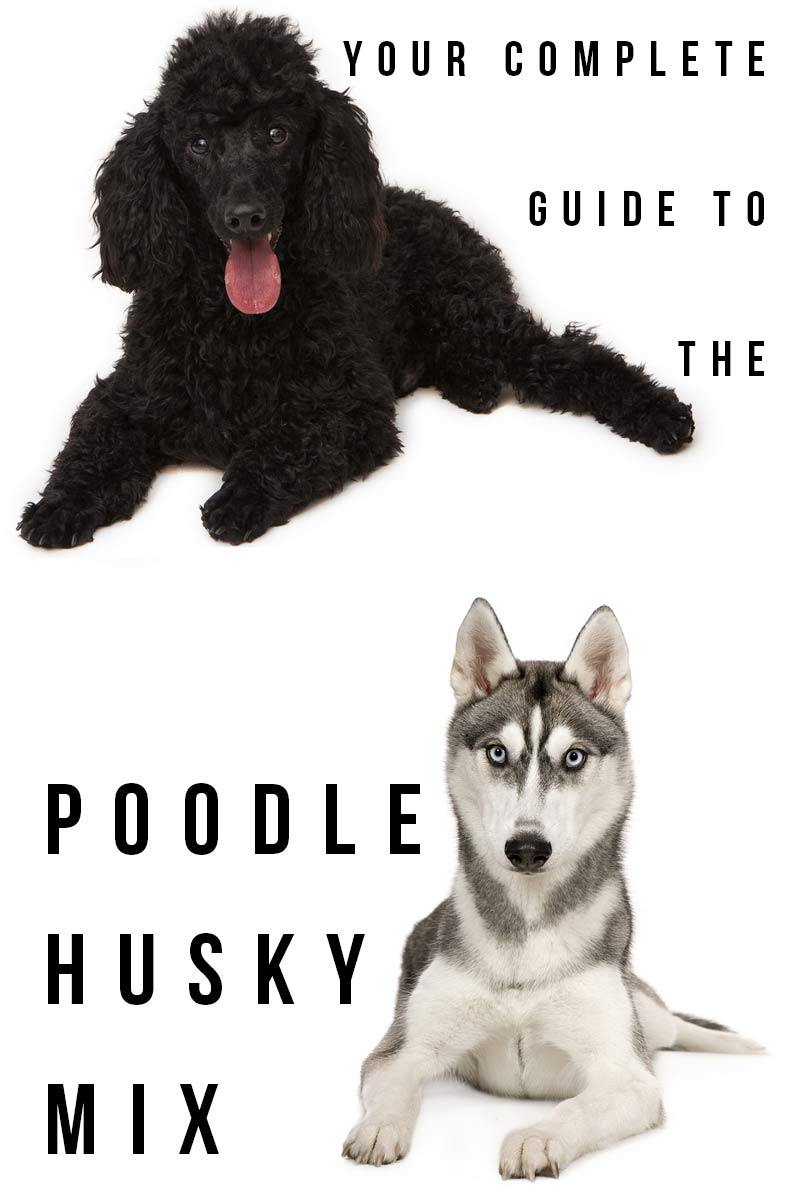 Husky Poodle Mix Puppies
You might have your heart set on a Siberpoo. In that case, there are some things you need to know.
Firstly, you will probably be hard pressed to find a dedicated breeder of this mix. Your best bet is to keep an eye on a local rescue. You might have some luck talking to breeders of either parent breed.
Most importantly, you should avoid puppy mills or pet stores. Pet stores usually source their dogs from puppy mills. Puppy mills are essentially places where people breed dogs, en masse, for profit. They usually have terrible standards of care for their animals and should be avoided.
Finding the Right Breeder
Be sure to do a thorough background check on the breeder you consider. Find reviews from third parties or sources you trust. Since you're not concerned about pedigree, you can consider a wider variety of breeders.
Be sure to meet the parent dogs if possible to get an idea of temperament and appearance. Inquire (and verify with a vet if possible) about the medical history of the parents.
Always have your puppy tested at a vet for current health and congenital problems, especially if the breeder says it's not necessary. That's a suspicious thing to say. Even if the parents were the picture of good health, it's important to make certain you're getting a healthy puppy.
Husky Poodle mix products and accessories
While these products weren't designed specifically for this mix, they were designed for similarly sized dogs with similar amounts of energy!
Indestructible Dog Beds
Indestructible Dog Toys
Similar Breeds
Since designer dogs are all the rage these days, you should have no problems finding a mixed breed, but you might find a Husky Poodle mix tricky to track down. Check out specific crosses like a toy poodle-husky mix, or a mini poodle mix. Here are some others you might want to look at.
Rescuing a Husky Poodle mix
With the tag "designer dog" you are unlikely to find one for sale for less than $500. Prices can reach up to $2000 – suspiciously close to that of "superior" purebreds!
If money is an obstacle, then you might have better luck finding a siberpoo at a local rescue. That being said, there are considerable financial burdens to keep in mind whether you rescue a dog or buy one.
Aside from being the cheaper option, another benefit of rescuing a dog include giving an older dog a new lease on life. Also, if you do rescue an older dog, you are more likely to know about any serious health conditions that dog has.
Husky Poodle mix Breed Rescues
Here are some breed rescues for each parent breed. If you know of any amazing rescue centers for these breeds please let us know in the comments. We're happy to add any you know about!
USA
UK
Australia
Canada
References And Resources
Gough A, Thomas A, O'Neill D. 2018 Breed Predispositions to Disease In Dogs and Cats. Wiley Blackwell
O'Neill et al. 2013. Longevity and Mortality of Owned Dogs In England. The Veterinary Journal
Adams VJ, et al. 2010. Results of a Survey of UK Purebred Dogs. Journal of Small Animal Practice.
Schalamon et al. 2006. Analysis of Dog Bites In Children Who Are Younger Than 17 Years. Pediatrics
Duffy D et al. Breed differences in canine aggression. Applied Animal Behavior Science 2008
Strain G. Deafness prevalence and pigmentation and gender associations in dog breeds at risk. The Veterinary Journal 2004
Packer et al. 2015. Impact of Facial Conformation On Canine Health. PlosOne
Beauchat, C. 2014 The myth of hybrid vigor in dogs…is a myth. Institute of Canine Biology
Mattinson, P. 2018. Purebred vs Mutt. The Labrador Site
Wills, MB. 1997. A review of the progress in canine hip dysplasia control in Britain. Journal of the American Veterinary Medical Association