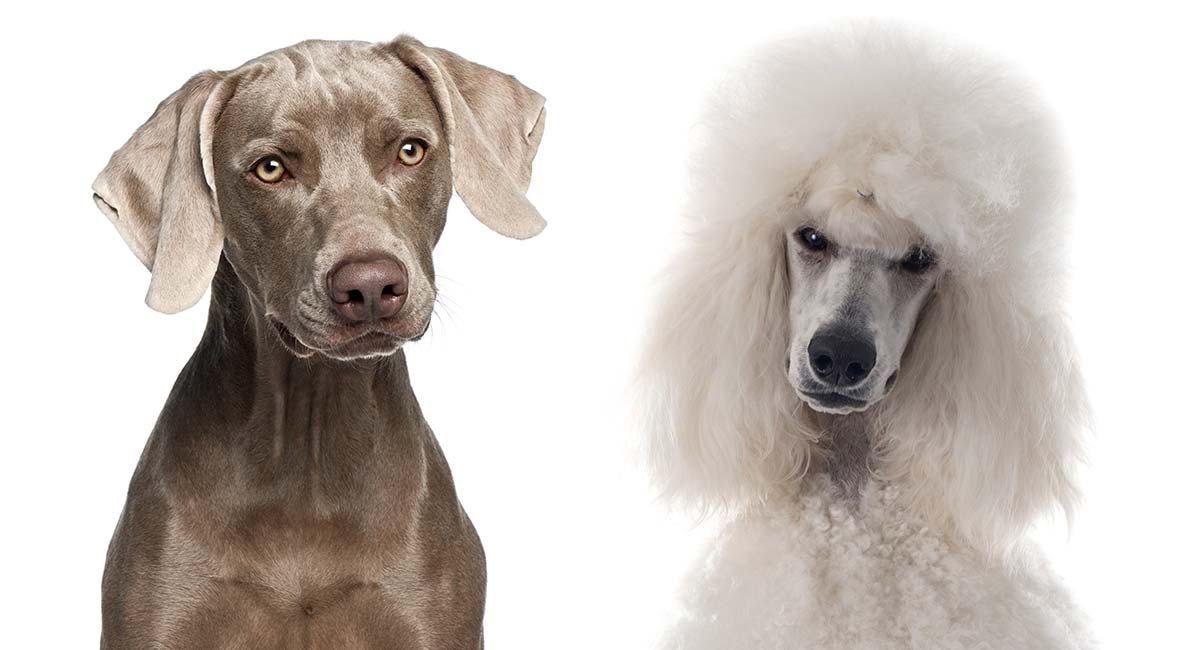 The Weimardoodle is an active, intelligent and very loyal dog. Their gentle nature and enthusiasm for life make them great companions for busy homes. Today we are going to take a look at the pros and cons of Weimardoodle puppies. Helping you to decide whether a Weimaraner Poodle mix is the right new pet for your lifestyle.
Contents
What is a Weimardoodle?
The Weimardoodle combines two intelligent and active dog breeds into one package. With its intelligent eyes and long face, the Weimardoodle looks similar to a Poodle in shape. Yet, the Weimaraner influence is just as strong. The result is a certain scruffy nobility that is very endearing.
They are tall dogs of medium weight, with a scruffy coat and a loving personality. They are clever, lively and love spending time with their families.
Where do Weimardoodles come from?
While the exact time and place of origin of the Weimardoodle is unknown, the generally held view is that they were first developed in the United States around 20 years ago. While the Weimardoodle is undoubtedly a new kid on the block, we know a lot about its parent breeds, the poodle and the Weimaraner.
Poodle Origins
It's believed that the Poodle originated in Germany over 400 years ago. It was bred to be a water hunting dog. The name "poodle" is thought to originate from the German word "pudel," meaning "to splash in water." Despite its German origins, much of the breed's development is thought to have happened in France.
A powerful swimming dog, the poodle is also loyal, hardy and clever. It was bred to be the perfect water hunting companion. Along the way it became a desirable, easy to train, and easier to love pet and companion.
Weimaraner Origins
The Weimaraner is a younger breed. Developed over 200 years ago, the Weimaraner was intended to be a hunting dog for the German nobility. Its name comes from the German city of Weimar, whose court nobles first set about creating the Weimaraner breed.
Originally, the German breeding clubs were extremely possessive of the Weimaraner. A lot of effort was invested in keeping its bloodline pure. As few as 1,500 dogs were allowed to be registered at a time! This was true until as recently as the 1920s, when the breed finally crossed the Atlantic to the United States. Today the Weimaraner is a popular pet as well as a respected sporting companion.
Weimardoodle Size
The Standard Poodle stands around 18-24 inches tall and weighs between 50 and 70 pounds. The Weimaraner is a larger dog, its height typically reaching around 25 inches and its weight ranging between 55 and 75 pounds.
A full grown Weimadoodle adult will be a similar size to their parents. Expect a tall 24-25 inch dog, that weighs from 50 – 75lbs.
What do Weimardoodles look like?
Usually, a Weimardoodle's coat will be shaggy, but not quite as wavy and dense as a Poodle's. However, they can also have a straighter, coarser coat. One that is closer to that of the Weimaraner. Colors can be black, grey, chocolate, fawn, white or speckled.
Because Weimardoodles are bred from two very different breeds, there's considerable variation among them. Both Poodle and Weimaraner characteristics will show up in the dog but to varying degrees. The Weimardoodle is likely to be a shaggy yet stately looking dog, with an obvious athleticism derived from its strong hunting poodle and Weimaraner pedigree.
The Poodle is famous for its proud bearing and well-proportioned, squarely built frame. Of course, its tightly curled fur is one of the Poodle's most distinctive features.
Physically, the Weimaraner is clearly an athletic dog with a strong musculature and an alert, agile shape. In complete contrast to the Poodle, the Weimaraner's coat is sleek and smooth, further emphasizing its developed musculature.
Weimardoodle Temperament and Behavior
The Weimardoodle is known for its quick, adaptable intelligence. They also love staying active. They are always happy to run, swim and retrieve. This is a big, bold and enthusiastic dog. It's also a running breed and needs plenty of space to roam.
Weimardoodle dogs can get frustrated if they can't get the exercise they need. Although a Weimardoodle puppy shouldn't be over exercised when they are still growing, you can keep them happy with plenty of training games.
Home Life
Weimaraners develop a strong attachment with their family. It's quite common for them to experience mild separation anxiety when left alone for extended periods. A Weimaraner mix may well take after their parent in this way and would therefore be better suited to families that are able to keep their furry companion company in daily family activities. Being from two active and intelligent breeds, they're also going to need lots of exercise.
Training and Obedience
The Weimardoodle is an intelligent dog that responds very well to positive reinforcement training. They also have the potential for strong hunting instincts from both sides of the family tree. So a good, well-proofed recall is very important. Although they are normally friendly dogs, it is still worth socializing your puppy from a young age to give them confidence in all the situations they might come across as an adult.
Weimardoodle Grooming
A Weimardoodle's grooming needs will vary. If it has inherited more from the poodle side, its coat will be longer, more wavy and will require extra attention. Brushing will be required at least every other day. This will ensure that matting, burrs and debris are taken care of.
On the other hand, if a Weimardoodle's coat comes more from the Weimaraner side, its coat will be shorter, less wavy and considerably easier to maintain. In either case, it's important to regularly check a Weimardoodle's ears every week or so as they're particularly prone to infection and irritation. Cleaning them is a simple matter of using an ear solution available from any pet store.
Health Issues and Special Needs
Before beginning the process of looking for Weimardoodle puppies and speaking with Weimardoodle breeders, it's important to do your own research into the breed's health issues and special needs. The American Veterinary Medical Association (AVMA) recommends early health screening based on known inherited health conditions.
Health issues to screen in Weimardoodles include:
Hip evaluation: This is a test for hip dysplasia, a common hereditary skeletal condition in which the ball and socket of the hip fails to develop properly, causing a gradual deterioration in function.
Ophthalmic evaluation: This is a test for a variety of hereditary eye diseases. While these conditions typically do not develop until later in life. An early eye screening can be used to identify potential problems.
Other conditions to request screening for are hypothyroidism, Addison's disease and heart disease. It's important to make sure that you check with Weimardoodle breeders to see if they screen their pups for genetic problems and can provide paperwork to verify a clean bill of health.
While it won't be possible for a Weimaraner rescue, generally it's a great idea to meet the Weimardoodle puppy's parents and visually check their condition. Always ask for evidence of the health tests of the Weimardoodle puppy's parent, and walk away if these are not forthcoming.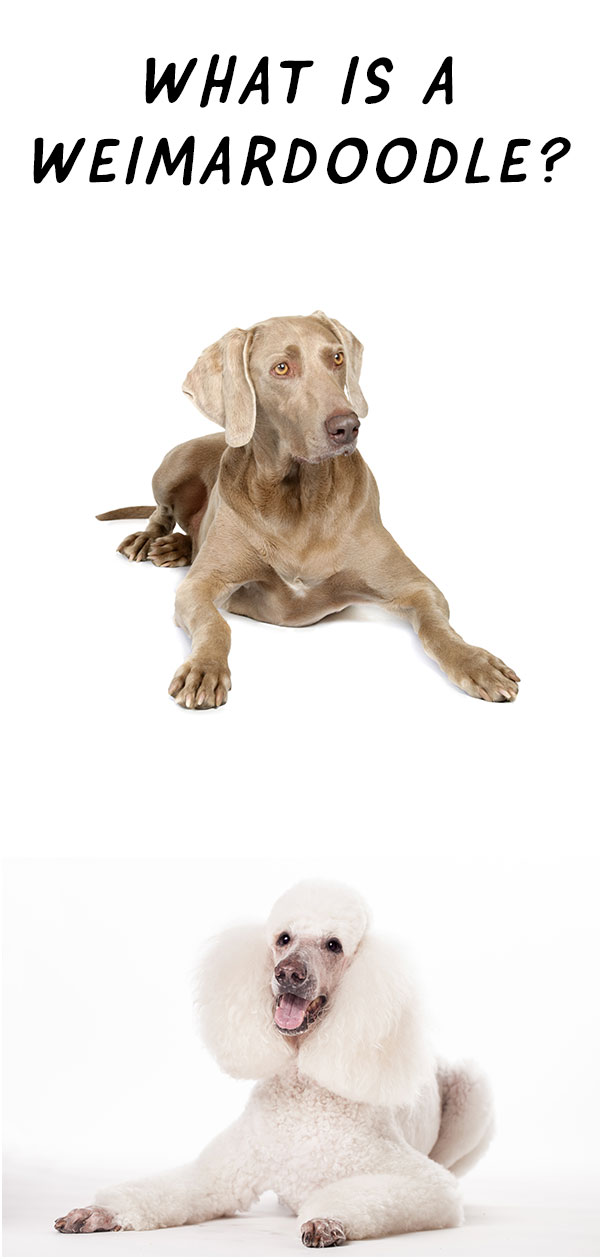 Purebreds Versus Designer Dogs
There is a controversy surrounding purebred and "designer breed dogs." The designer dog is a popular term for a cross between two purebred dogs. The Weimardoodle is classified as a designer breed because it is a Weimaraner x Poodle mix.
The controversy boils down to the pros and cpns of being able to predict the appearance and character of your dog. Purebred dogs are predictable. But a varied gene pool is a benefit of mixed breeding. Those who advocate for purebred dogs argue that there are significant advantages associated with their breed purity. It guarantees a certain predictability in a dog's traits and physical characteristics.
The other side of the coin is that a confined gene pool can cause lifelong health problems. Those supporting mixed breeding argue that genetic diversity safeguards the dog from inbreeding and imparts "hybrid vigor." A natural tendency to good health and vitality that they argue gradually disappears from purebreds. The trade-off, of course, is that there is a higher level of uncertainty within the breed. There will be larger variances, both physically and in temperament.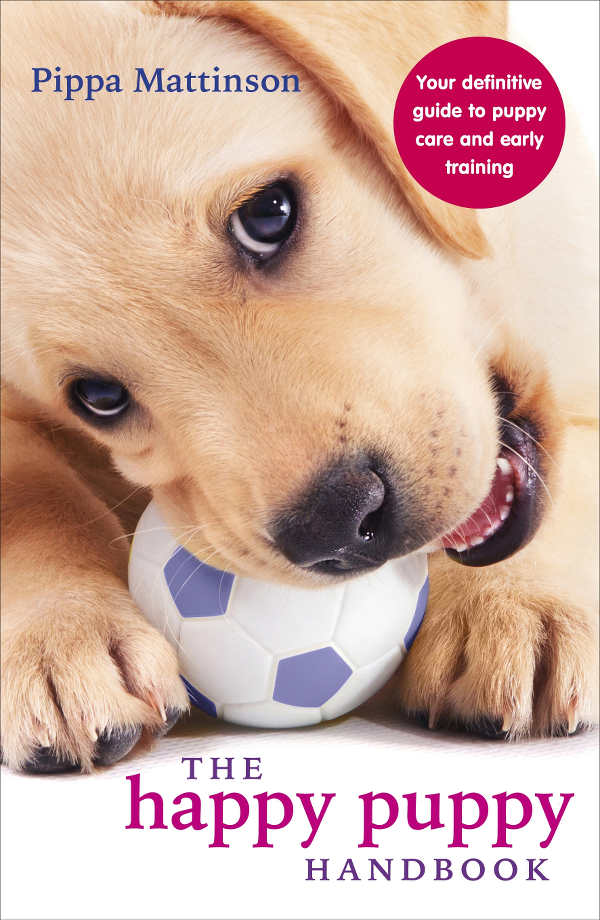 Healthier or not?
The dog's health and well-being will also be affected by a greater number of genetic variables. To put it bluntly, you don't know what you're going to get. There is little scientific consensus on whether purebreds or designer breeds are healthier. For now, the controversy rages on with compelling evidence supporting both positions.
Weimardoodle Puppies
It's important to make sure that your puppy has two health tested and friendly parents, even when they are a mixed breed. Meet the mother in person, and make sure that she has a strong bond with her owner. She should know her name, and ideally live in the house along with their human family.
Avoid breeders that are unwilling to share information about their dogs, answer your questions or that breed a lot of different dogs with no goal beyond profit. Ask lots of questions of your potential puppy's breeder and expect a lot in return. Good breeders want to get to know you to ensure you are the right match for their dog.
As this mix isn't very popular at the moment, you might have to wait for a while to find your puppy. Don't be tempted to rush into any litter that comes available, if you wait a good one will come around eventually. Although you might have to travel!
Pros and Cons of the Weimardoodle
Cons
Lots of grooming
Potential for separation anxiety
High training needs
Pros
Intelligent
Friendly
Fit and active
Is a Weimardoodle the Right Choice for You?
If you like intelligent and eager dogs, and have an active home, then the Weimaraner poodle mix is a great option to consider. Make sure that you are ready to commit yourself to a lot of training and exercise. And that you are able to have the dog with you for much of the day.
We hope the information in this article gives you a good start in deciding whether a Weimardoodle will be a fitting addition to your family.
Find Out More
References and Further Reading: