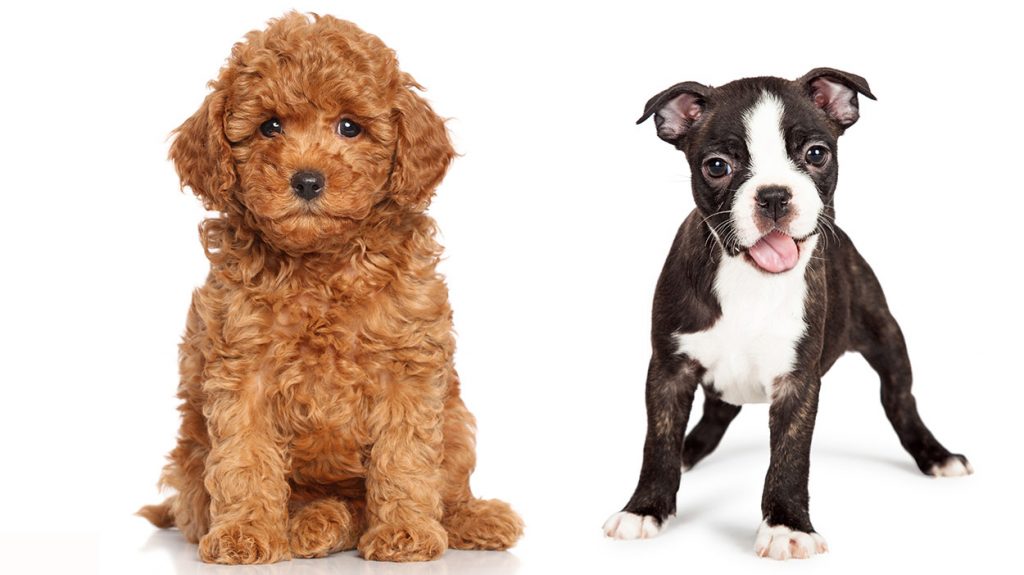 The Bossi Poo is the hybrid offspring of the purebred Boston Terrier and the pedigree Toy or Miniature Poodle. Also know as the Boston Poodle or Boston Poo, this little dog certainly has the cute factor. The Bossi Poo's purebred parents are both active and intelligent. Any dog-lover who enjoys being outdoors and has the patience for training will love this crossbreed!
Contents
Small in stature but big in personality, this dog is a perfect fit for many homes. Yet sadly we wouldn't recommend this mix unless you are very careful when choosing a litter, as they have the potential to inherit some unpleasant health problems from their gorgeous Boston Terrier parent.
Origin of the Boston Terrier Poodle Mix
Both his purebred parents have fascinating histories, however, and each of their unique lineages can help to give us some insight into what type of personality traits and instincts their Bossi Poo puppy could inherit.
The Boston Terrier's story begins in early 19th century England, where terriers and bull-type dogs were bred specifically for pit fighting and ratting contests. Around the late 1860s, an impressively built dog named Judge, who was a cross between a Bull Dog and the since extinct White English Terrier, became the patriarch for the modern day Boston Terrier.
The Poodle is renowned for his fanciful coat, but did you know that the cut of the Poodle's thick curly fur was actually more for practicality in his early history than for looks? Back in his working days, the Poodle's haircut was intricately designed to help him swim easily through bodies of water while at the same time protecting the delicate parts of his body from the elements.
Aside from hunting, the Poodle's showy nature made him an excellent circus dog, while his nose made him a favorite companion on truffle hunts! The Toy Poodle, specifically bred for companionship, didn't come into existence until the breed made its way to the United States of America in the early 20th century.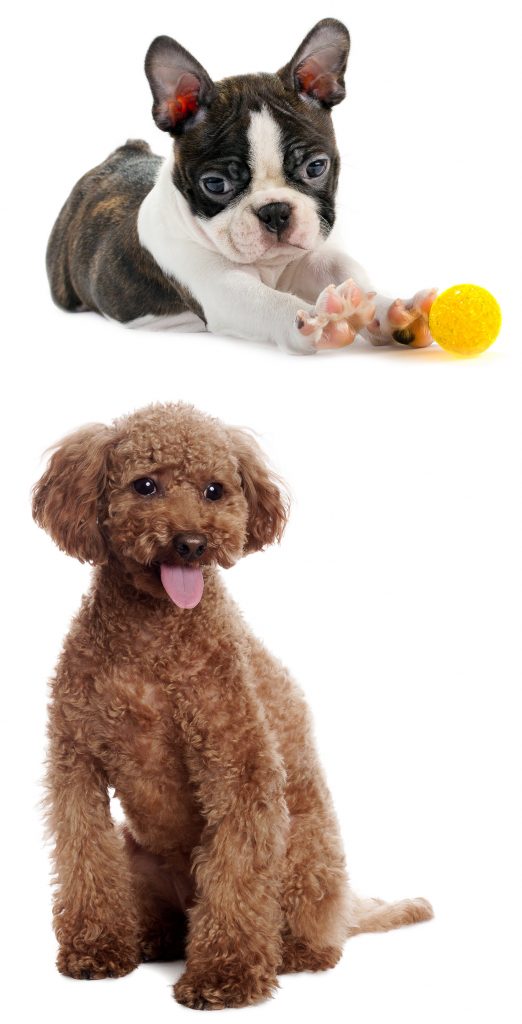 Bossi Poo Defining Characteristics
The Bossi Poo inherits a wide range of physical traits from both parents. This means features like coat color, weight, and height, will be left up to chance depending on which parent the Bossi Poo takes after most.
The Boston Terrier and the Poodle couldn't look more different! The Boston Terrier is a compact dog with a short, shiny coat that comes in three standard markings:
black and white
dark brown and white
brindle and white.
The full-grown Boston Terrier will be 15-17 inches tall and will weigh anywhere from 12-25 lbs.
The Poodle comes in three size variations:
tοy (Under 10 inches and 4–10 lbs)
miniature (10–15 inches tall and 10–15 lbs)
standard (Over 15 inches tall and 40–70 lbs).
The Poodle is athletically built with a thick, curly coat that comes in three standard colors:
Bossi Poo Grooming
The Boston Terrier is a mild shedder, and simple brushing with a grooming comb should help to keep loose hairs from furniture and floors and keep his dashing 'tuxedo' styled coat nice and shiny! Aside from that, the Boston Terrier is a low maintenance dog who only requires the occasional bathing.
The Poodle, on the other hand, will take a bit more upkeep. Although the Poodle is hypoallergenic, his thick, curly coat requires frequent brushing to help keep it from becoming matted.
Keeping the above information in mind, a prospective Bossi Poo owner should also prepare to clean their Bossi Poo's ears regularly to keep wax and moisture at bay. He will also need his nails trimmed to avoid splitting and cracking.
Bossi Poo Temperament
When dealing with any crossbreed, the outcome in regard to things like temperament can be unpredictable, and the Bossi Poo is no exception. However, both the Boston Terrier and the Poodle share some similar qualities. For example, a prospective owner can except their Bossi Poo puppy to be highly intelligent, eager to please, and fairly active.
The Bossi Poo is an extremely intelligent dog who is known for his comedic personality and friendly disposition. He makes an excellent city dog, but he is active and requires exercise to stay healthy and happy. This means he will need more than solely being let outside in the yard to play.
We should also keep in mind that if the Bossi Poo becomes bored or is left alone for too long, he may become hyperactive or develop anxiety or destructive behaviors. Still, with proper toys, training, and exercise, this mix makes a wonderful family pet who enjoys being around people and making his family laugh!
Training and Exercise Requirements
Because both the Boston Terrier and the Poodle are so intelligent and eager to please, we can expect the Bossi Poo crossbreed to be the same, making training easy and fun!
The Bossi Poo is an active crossbreed, especially if he takes after his Poodle parent. Proper exercise like daily walks or runs to the dog park can be fun and healthy for your Bossi Poo.
Both the Boston Terrier and the Poodle are known to make excellent family dogs, but we still recommend early socialization and proper training with your Bossi Poo puppy.
Health Issues and Lifespan of the Bossi Poo
As with all dogs, the Bossi Poo can inherit health issues from either of his purebred parents.
We recommend researching the health issues your crossbreed's purebred parents are predisposed to.
A healthy Boston Terrier's lifespan is 11-13 years, with several inheritable health issues to be aware of, including Patellar Luxation, Hemivertebrae, Sensorineural Deafness, Cataracts, Corneal Ulcers, and Glaucoma.
Because of his shorter, flatter shaped snout, the Boston Terrier is also more predisposed to Brachycephalic Syndrome, which is a syndrome that can cause breathing difficulties and pain.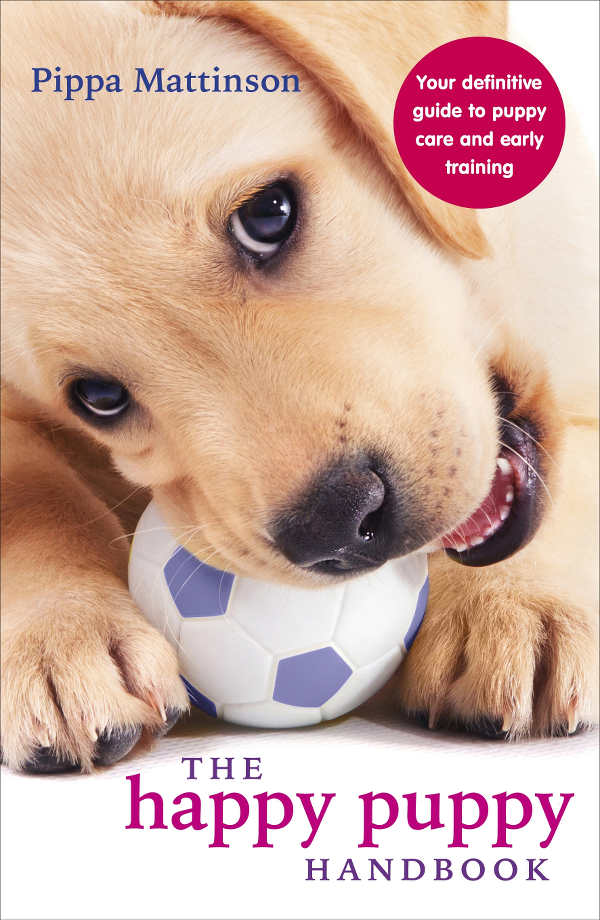 Be aware that your pup could inherit this syndrome and will need the proper care should symptoms arise.
The purebred Poodle has a lifespan of 10-18 years and can be prone to Hip Dysplasia, Epilepsy, Progressive Retinal Atrophy, Addison's Disease, Thyroid Issues, Bloat, and Hypoglycemia.
Keeping the above in mind, your Bossi Poo's lifespan could be anywhere from 10-18 years. Health issues do vary depending on what his parents have passed to him.
Early health screening in your Bossi Poo can help avoid or prepare for future health issues.
Finding a Bossi Poo Puppy
Getting your Bossi Poo from a reputable source is of the utmost importance. We recommend doing plenty of research before you decide where you get your new friend. Although most shelters incur fees, they are often a fraction of what some Bossi Poo breeders will charge. You can prepare for most adoption fees to be anywhere from $50-$100. Most shelters will even cover initial vet fees, ensuring the dog ready for his new home!
If you are seeking a Bossi Poo from a breeder, be ready to spend between $500 to over $1,000. This will depend on the breeder and parental history of the pup. Again, do your research and make sure you look into the history of the Bossi Poo's parents when dealing with a breeder.