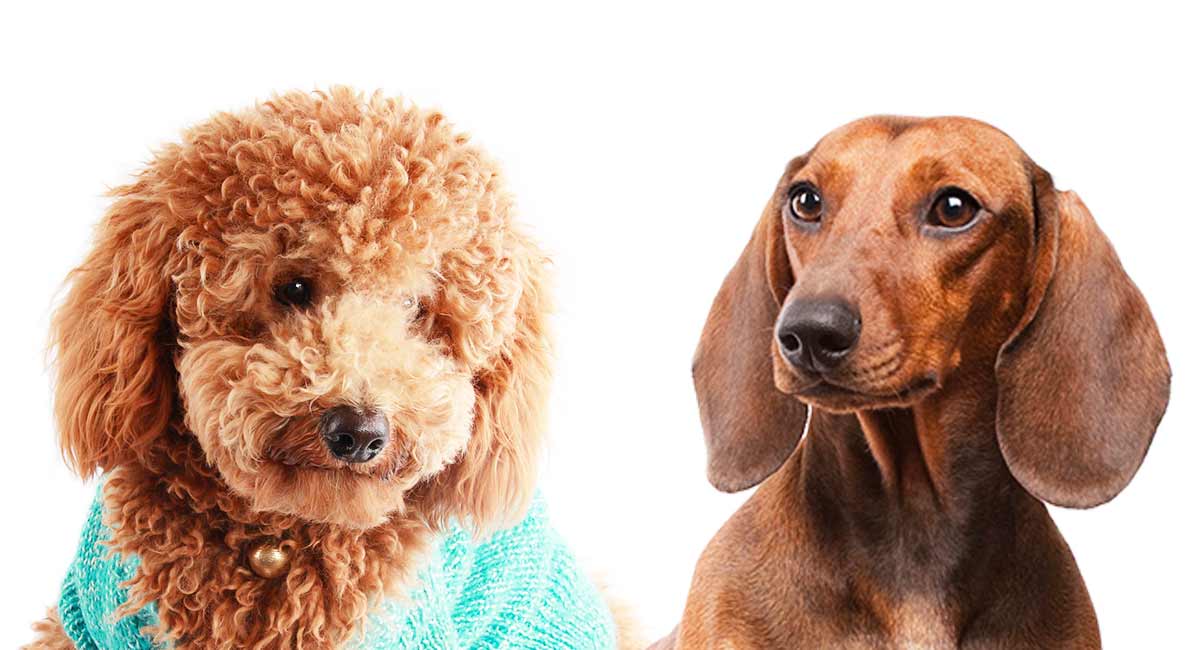 Doxiepoo dogs are cross between the loyal, protective Dachshund and intelligent, affectionate Toy Poodle. A designer dog breed, this potentially low shedding pup will be small with a coat that varies from short and straight to long and wavy, or wire haired! Adult Doxiepoos will be around 8 inches tall and weigh about 16 lbs. They are confident, spirited, playful, active and energetic dogs, with working histories as hard hunting dogs, but fragile bodies. They live on average 13-14 years, but care must be taken when lifting or jumping due to long back and short legs. Careful exercise, attention and training are essential parts of their care.
Contents
The Dachshund Toy Poodle mix is also known as the Doxipoo, Doxiepoodle, Doxiedoodle, Dachspoo, Dachshundpoo and even the Dachshundoodle! A great apartment pet or lapdog for an experienced owner, the Doxiepoo isn't ideally suited to very young kids. They are delicate, and can display watchdog instincts. They might be quite noisy to share a home with and have some health issues you need to consider.
Where Do Doxiepoo Dogs Come From?
The Doxiepoo is a relatively recent cross, growing in popularity. Twenty years ago this mix would be very rare and hard to find, but today they are more prevalent. To learn more about the background of the Doxiepoo, we need to get to know their parent breeds.
The Dachshund originated in Germany and can be traced back at least 600 years. Its name is a German word that translates to "badger hound". This is due to the fact they were bred specifically to hunt badgers, with their low-to-the-ground bodies and long back proving to be perfect for navigating badger dens. Once introduced into America, this breed found immediate love and popularity among the masses.
The Poodle was used as water retrievers. A useful companion to duck hunters because of their incredible swimming ability and intelligence. From there, they started to become a luxury dog, with many nobles all over Europe fawning over the dog's extravagant coat and graceful demeanor. The Toy Poodle variation was first bred in America in the 20th century, to serve as a city-dwelling companion.
Doxiepoo Appearance
The first generation Doxiepoo will have short legs. In generations after that they could either have long or short legs, depending on which parent they take after. They are likely to have an elongated body, narrow muzzle and floppy ears.
The Dachshund sits on short stout legs, leaving them low to the ground. They have a long body, large floppy ears, and a very keen nose. Their coat can come in three main variations—short and smooth, long, or rough and wiry.
The Poodle, on the other hand, stands on much taller legs and is higher up off the ground. They are graceful, elegant dogs with short floppy ears. The coat of the Poodle is iconic. It is curly, dense, and naturally corded. It can either be kept long or regularly clipped to a short trim.
The weight of Doxiepoo's can vary a lot, even amongst the most common cross of the Toy Poodle and the Standard Dachshund. They will fall anywhere from 10 to 22 inches and 4 to 32lbs depending on the type of parents used.
Coats, Colors, Grooming and Shedding
There can be a lot of different coat variations in Doxiepoos, due to the many variations naturally present in the Dachshund. Dachshund dogs have short, long or wirehaired varieties.
The Doxiepoo could have a curly, corded coat like the Poodle, or they could take after the characteristics of the Dachshund coat, whichever variation that may be. However, the odds are the your Doxiepoo will have a medium length, wavy coat.
Grooming requirements depends on what kind of coat the Doxiepoo has inherited. If your dog takes after the Poodle, it may be fairly high maintenance. Daily thorough brushing will be necessary or clipping the hair to a shorter trim to make it more manageable. On the other hand, if they take after a Dachshund coat, weekly brushing may suffice. It's recommended you trim your Doxiepoo's claws once a month and brush their teeth regularly.
Are Doxiepoos Hypoallergenic?
The Doxiepoo might be a low shedding dog, if their coat is very curly like their Toy Poodle parents is. However, they produce allergen carrying saliva and dander, like any dog breed. This means that there is always the potential for a dog allergy to be triggered in an allergic owner, regardless of coat type.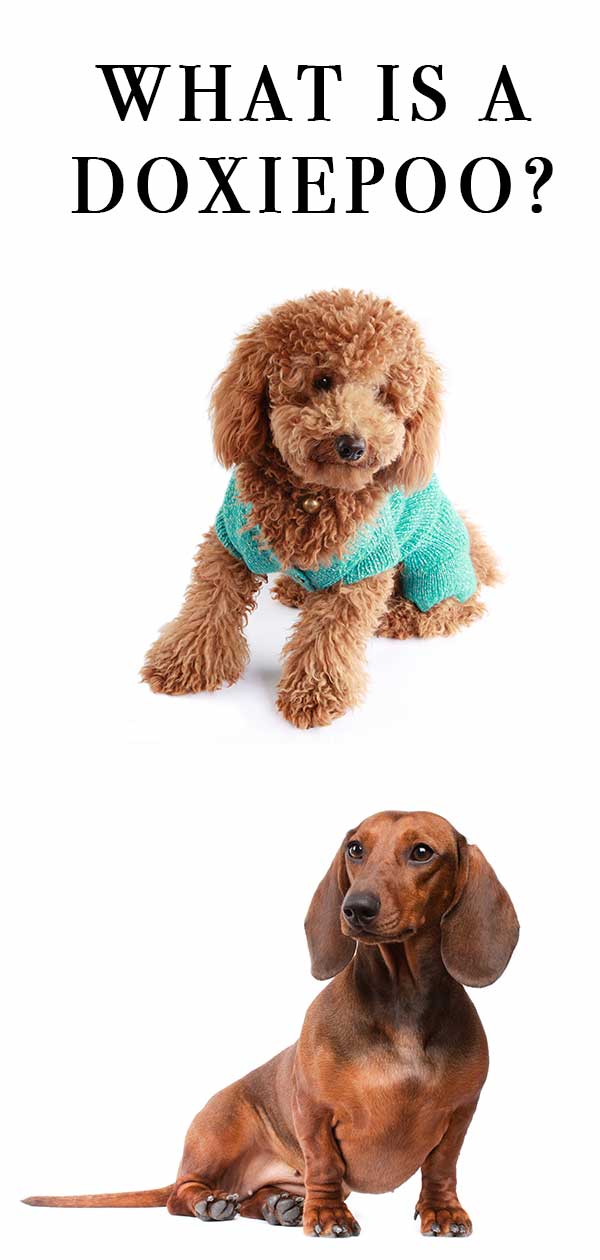 Doxiepoo Behavior and Temperament
The Doxiepoo is a curious, intelligent dog. However, they can be stubborn and independent too. They have a tendency to be wary around people they do not know, which can result in tension or perhaps even aggression towards strangers if they are not socialized properly from a young age. However, they do make good watch dogs because of this.
If they take after the Dachshund they may prove to be guarded around strangers. They might have more of a stubborn, independent nature than if they take after the Poodle. The Doxiepoo is likely to be very intelligent due to having two intelligent parent breeds, though how easy to train they are can vary.
Doxiepoo Exercise
The Doxiepoo should have similar exercise requirements to its parents. Despite their small stature, both the Dachshund and the Poodle are active dogs that require a good amount of daily exercise. A moderate length walk for each dog twice a day suits them nicely.
Training
Doxiepoo dogs take well to positive, reward-based training. However, the Dachshund sometimes proves to be more of a handful to train than the eager Poodles have a sometimes stubborn and easily distracted nature.
Depending on if the Doxiepoo takes after the Dachshund in temperament, you may find them to be more of a challenge to train. It may require a lot of patience. High value rewards and lots of positivity are the way forward.
Socialisation is also very important, as the guarded nature of the Dachshund can sometimes present itself in the Doxiepoo as aggression to strangers or other dogs.
Designer Dog Health
Advocates of pedigree dogs express concerns about the health of these mixed breeds and suggest many of these dogs come from inexperienced greedy breeders hoping to capitalize on a fad. However, a study performed in 2013 analyzed over 27 000 dogs of both purebred and crossbred backgrounds and found that purebred dogs were more at risk of certain genetic disorders.
According to another study that took place in 2013, Mixed breeds also seem to live 1.2 years longer than their purebred counterparts.
Dachshund and Toy Poodle Health
Unfortunately, both parent breeds are known to suffer from some health issues that could present themselves in your Doxiepoo. The Dachshund has a type of dwarfism known as achondroplasia.
Intervertebral disc disease is a serious issue that can stem from achondroplasia. It is a spinal problem where strain on a dog's back can cause a disc in the spine to rupture or become herniated, causing severe pain and inflammation. In severe cases, this can lead to paralysis.
Both the Dachshund and the Poodle are known to suffer from a patellar luxation. This is where the kneecap can slide out of place and become dislocated, causing sudden lameness. Another health risk that is prevalent in both breeds is hip dysplasia. This is where the dogs hip joint does not develop correctly, causing painful arthritis.
Poodles are known to suffer from many eye problems. Cataracts, progressive retinal atrophy (PRA), lens sclerosis, and corneal degeneration are all potential issues. These conditions can cause vision loss and in severe cases lead to blindness. The Dachshund is also at risk of developing some of these conditions but to a lesser degree.
Doxiepoo Health
A Doxiepoo can be at risk of these issues, especially for conditions that are prevalent in both breeds such as patellar luxation and hip dysplasia. It's possible that a Doxiepoo may have the short legs and long back iconic of a dwarf breed if they take after the Dachshund. This may lead to a significantly higher risk of serious issues like intervertebral disc disease.
Not allowing them to jump on and off furniture, or run up and down stairs can help reduce damage. It is incredibly important you check the health of the parent breeds before purchasing a Doxiepoo puppy.
Feeding Your Doxiepoo
Doxiepoos should be fed high-quality dog food. However, caution must be taken to never overfeed them. Obesity can be a real problem in dogs, and even more so if the Doxiepoo has the Dachshund's signature stout legs.
Are Doxiepoos Good Pets?
The Doxiepoo is a friendly and loyal dog and will quickly become attached to members of the family provided they have been raised well. They would do best within a medium-sized family where they are able to fulfill their daily exercise requirements.
This is doubly important if the Doxiepoo has inherited the Dachshunds long back and short legs, as the exercise can strengthen their potentially weak back. They are able to get along with other family dogs provided they have been socialized with them since early life.