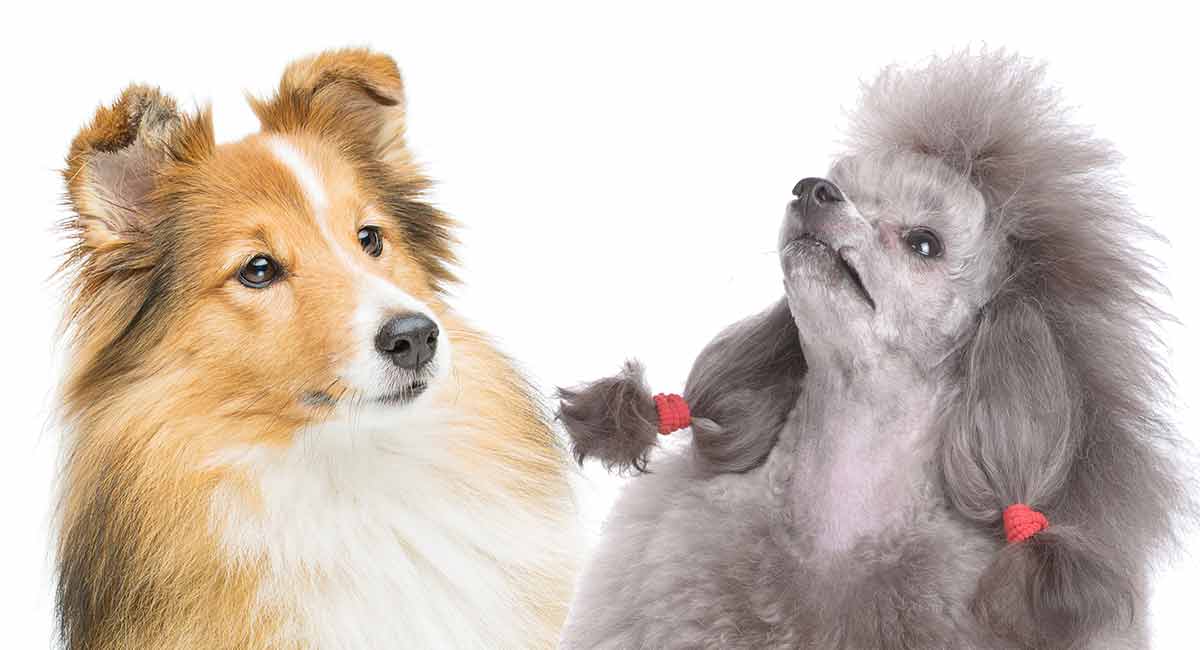 Welcome to our complete guide to the Sheltidoodle.
Do you want to find out if a Sheltipoo puppy is the right mixed breed dog for you?
The Sheltidoodle, also sometimes called a Sheltipoo, is a cross between a Shetland Sheepdog and a Poodle.
Mixed breeds such as the Sheltidoodle are also sometimes known as designer dogs, and they can divide opinion.
Let's take a look at why next.
The Controversy Between Purebred and Designer Dogs
Some dog lovers will only ever choose a designer dog, while others prefer pedigrees.
Some people even think designer dogs shouldn't be allowed.
Supporters of pedigree dogs say that the characteristics of these breeds are easier to predict.
This means that that through the use of health tests and selective breeding, these dogs have less chance of inheriting diseases.
The other side of the debate suggests that by keeping gene pools small by only breeding within pedigrees, there's a greater risk of genetic weakness.
Designer Dogs – The Science
"Hybrid vigor" refers to the theory that by increasing a gene pool (by creating mixed breeds) the health of the resulting puppies will be greater than their pedigree counterparts.
Whatever your opinion, selecting a reputable breeder who carries out a range of health checks and also provides a good level of care for puppies and parents is always vital.
Let's take a look at the Shetland Poodle hybrid.
The History of the Sheltidoodle
The Shetland Sheepdog and Poodle mix is also known as a Sheltidoodle or Sheltipoo.
This mixed breed has become popular relatively recently, so it can be hard to know how your puppy will turn out.
Finding out more about both parent breeds is a great way to work out what potential characteristics your puppy will inherit.
The History of the Shetland Sheepdog
Unsurprisingly, the Shetland Sheepdog hails from the Shetland Islands – the northernmost point of the United Kingdom.
Their original role was to herd sheep, poultry, and ponies.
The reason they were bred to be smaller than the rough-coated collie was pure practicality.
Smaller dogs eat less, and on the harsh islands where food supplies can run low, this was an important consideration.
Due to the remote location of the Shetland Islands, these little dogs, nicknamed Shelties, were relatively unknown in the rest of the UK before 1909, when they were first registered with the Kennel Club.
The History of the Poodle
Poodles originated in Germany over 400 years ago.
Standard Poodles were used as retrievers for waterfowl.
This is where their unique pompon clip originates from – it kept their chest, hips, and leg joints warm when swimming.
The vibrant character of the Poodle meant they became popular in many other countries.
From the Standard Poodle, the Miniature was then bred.
The Toy Poodle was first bred in America, as a way for city dwellers to keep these characterful dogs.
What Can You Expect If You Buy a Sheltidoodle?
With active, working breeds as parent dogs, you can expect an intelligent companion from a Sheltie Poodle dog.
If you're hoping for your Sheltidoodle full grown to look just like a Sheltie, be aware they may inherit more characteristics from their Poodle parent.
They could take after one parent more than the other, or they could be a complete mix of the two.
By researching the Shetland Sheepdog Poodle mix you'll get a good idea of how your Shetland Poodle pup may grow up.
Average Sheltidoodle Size, Height, and Weight
The most accurate way to get an idea of the average size, height, and weight of a Sheltie and Poodle mix is to look at the parent breeds.
This will give you a suggestion as to what bracket an adult Sheltidoodle will fall into.
The Shetland Sheepdog belongs to the herding group.
They have a height of 13–16 inches and a weight of 15–25 pounds.
Three Sizes of Poodles
Poodles belong to the non-sporting group and come in three different sizes: standard, miniature, and toy.
Standard Poodles have a height of over 15 inches and a weight of 40–70 pounds.
Miniature Poodles stand between 10–15 inches high with a weight of 10–15 pounds.
Toy Poodles are much smaller, with a height of no more than 10 inches, and a weight of just 4–6 pounds.
The size, height, and weight that your Sheltidoodle puppy will mature to is going to be more dependent on the size of the Poodle parent.
Make the effort to meet the parent dogs of any puppies you're interested in, as this will help give you a clue as to what size your puppy could grow to.
You will often see Sheltidoodles advertised as a "mini Sheltidoodle" – this is when the Poodle parent is miniature.
Coat Color and Type
Shetland Sheepdogs come in a wide range of colors, ranging from combinations of black, white, tan, blue merle, and sable.
Shelties have a generous double coat, which sheds a lot.
The Poodle breed comes in a huge variety of colors.
Those accepted as standard colors by the American Kennel Club include apricot, black, blue, brown, cream, gray, red, silver, and also white.
You may also see Poodles with combinations of these colors, although that is less common.
Poodles have hair that grows constantly, and then falls out after about 21 days.
As such, they shed a lot less than other breeds.
Be aware that your Shetland Sheepdog and Poodle mix puppy could end up with a mixed colored coat or a plain coat.
They may have low-shedding coats like a Poodle or a coat more like a Sheltie that will shed a lot more.
Grooming and General Care
The profuse double coat of the Shetland Sheepdog needs brushing between 2–3 times a week to prevent matting.
Clipping or shaving is not recommended with double-coated breeds, as their coat is designed to protect them from both heat and cold.
Poodles need daily brushing to prevent their curly coat from matting.
You can also clip their coats to reduce the frequency of brushing required.
Both breeds need regular nail trims.
Due to the fact that both of the parent breeds require regular grooming, you can expect the same for your Shetland Poodle puppy.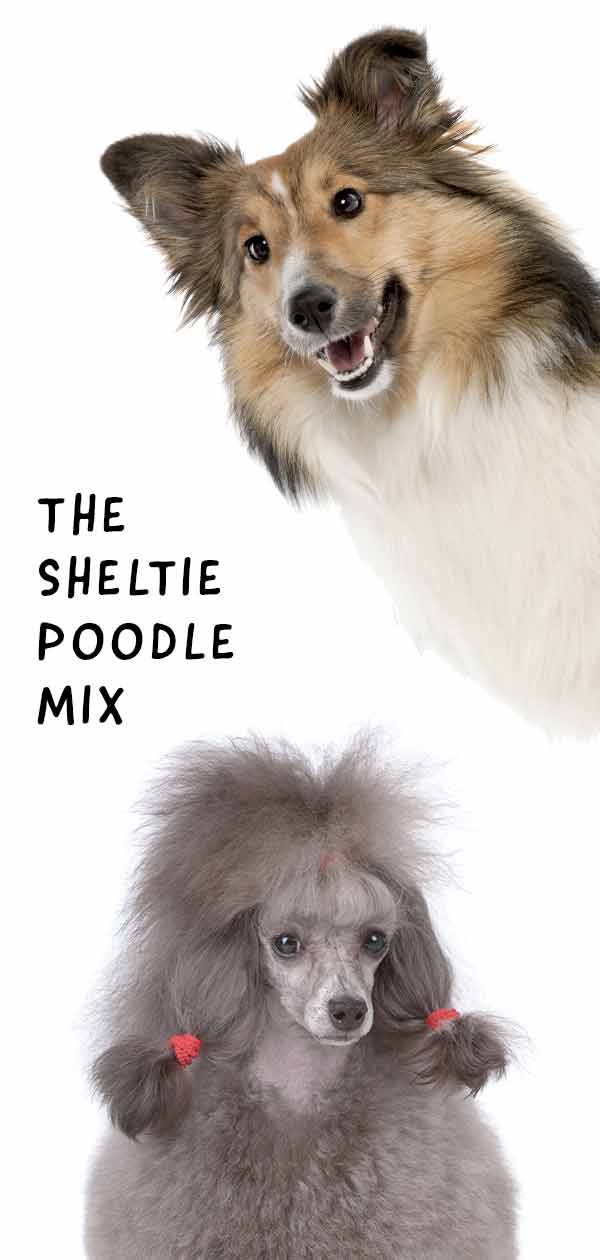 Sheltidoodle Temperament and Behavior
Shetland Sheepdogs are an active breed and enjoy regular physical and mental stimulation.
They are well-known for being extremely successful at canine events, such as agility and obedience.
Shelties are a vocal breed, and bark more than many other dogs.
They are very sensitive and will quickly pick up on the mood of family members.
Due to their strong herding instincts, Shetland Sheepdogs love to chase things.
As such, training them to have excellent recall is vital, as is keeping them on a lead when necessary.
Socialization and Training
Shelties are extremely intelligent, so puppy training classes are definitely a good idea with this breed.
They enjoy being challenged and love learning new tricks.
They can be relatively wary of strangers and will often bark when new people come to visit.
Poodles are also an intelligent breed and are easily trained at puppy class.
Poodles love to please their owners, so will try their very best for you.
Exercise Requirements
Shelties are energetic and athletic.
While they love regular exercise, they're also adaptable and happy to adjust to your pace of life.
Poodles require a reasonable amount of exercise every day.
They love swimming, going for runs, and training that will also exercise their minds.
You can be fairly sure any Sheltie Poodle mix will require an above average amount of exercise.
Health of Your Sheltidoodle Puppy
As with many purebred dogs, both the Shetland Sheepdog and Poodle can be prone to a number of health issues which may also affect their mixed breed offspring.
Here's a rundown of the main issues to be aware of.
Shetland Sheepdog Health
While Shelties are, on the whole, very healthy, there's a number of conditions that can affect them.
These include hip dysplasia, dermatomyositis (Sheltie skin syndrome), gallbladder mucoceles, epilepsy, thyroid diseases, von Willebrand's disease (vWD) and eye diseases.
At a minimum, the American Shetland Sheepdog Association recommends the following tests:
Hip Evaluation
Ophthalmologist Evaluation
There are also a number of elective and optional tests which can be seen on the official health statement.
Poodle Health
Poodles of all types are also affected by a number of conditions, although the majority of Poodles are very healthy.
These conditions include hip dysplasia, bloat, epilepsy, sebaceous adenitis, immune-mediated problems, von Willebrand's disease, and orthopaedic problems.
Some of these are type specific.
The Poodle Club of America recommends a wide range of tests, including:
Hip Evaluation
Ophthalmologist Evaluation
PRA Optigen DNA Test
Patella Evaluation
The official breed club health statement has more information.
Life Expectancy
Shelties are expected to live between 12–14 years.
Poodles have a life expectancy of 10–18 years
You can expect your Shetland Poodle mix to fall within this range.
Sheltidoodle Puppies
Searching for Sheltie Poodle puppies is exciting, but be sure to spend time looking for a breeder with a strong reputation.
They should be happy to let you spend time with both parent dogs.
Make sure you discuss health checks, vaccinations, and any ongoing care required.
Sheltie Poodle mix puppies should have eye and hip exams.
Ask your breeder for the results of both parent dogs.
Is a Sheltidoodle Puppy Right for Me?
Like all puppies, Sheltipoo puppies are undeniably cute.
Despite this, make sure you prioritize the temperament and behavior of any breed over their appearance.
Sheltidoodles are extremely intelligent and love being challenged mentally and physically.
They need a moderate to high amount of exercise to ensure they run off their energy.
Sheltie Poodle cross dogs are family oriented and will enjoy spending time with you.
Let us know what you love about the Sheltipoo in the comments below!
References and Further Reading