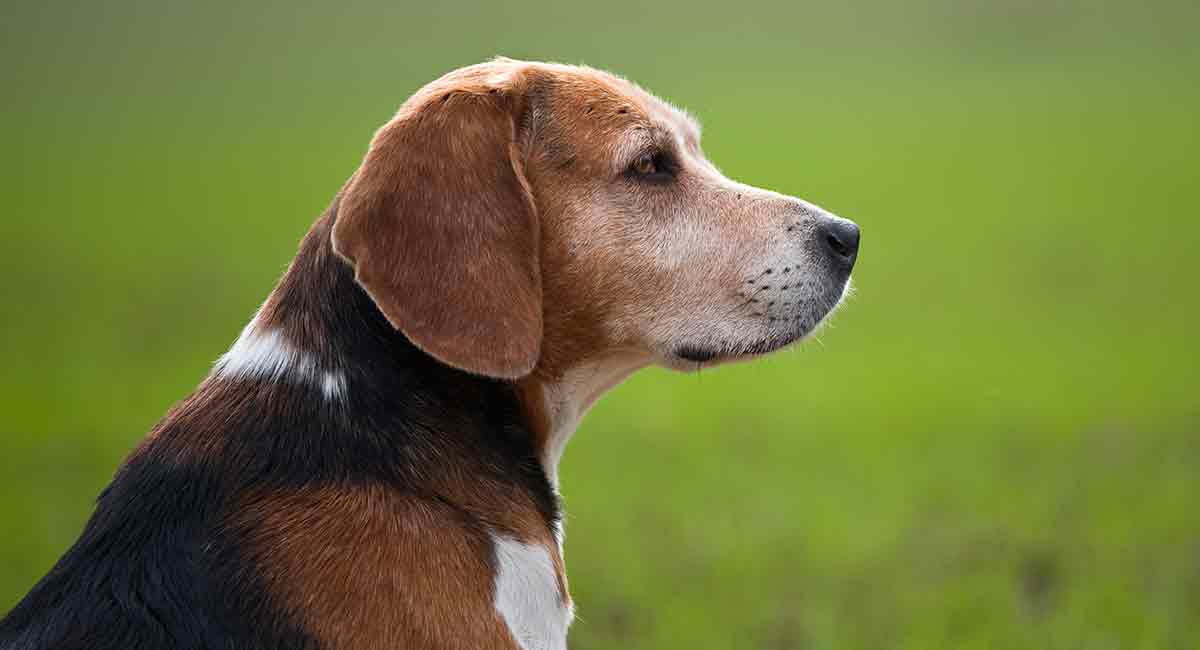 As your old Beagle ages, his needs change.
After years and years of faithful companionship, we are keen to adjust to our dogs' needs.
We want to keep them as healthy and happy as possible through their "retirement."
If you have a Beagle that is heading toward old age, you might be wondering if there are any specifics you need to know when caring for this particular breed.
We will have a look at Beagle specific tips in this article.
If you would like some more general information about Beagles, then head over to our Beagle Dog Breed Information Center to find out more about these classic hounds.
When Is a Beagle Officially Elderly?
A dog is considered "geriatric" when he has completed 75-80 percent of his expected life span.
The American Kennel Club estimates that a Beagle's expected life span is 10-15 years.
So, if we do a little math, 75 percent of 10 is 7.5 years.
That of course is the very youngest estimate. So, rounding it up, a Beagle over 8 years of age is getting on in years and could do with some special consideration.
Caring for an Old Beagle
As dogs age, their bodies systems slow down, and there may be some signs of general wear and tear.
This does not mean that your dog is ready to shut up shop just yet.
With some adjustments to their diets, routines and surroundings, they can live out their senior years to the absolute fullest.
Unless there is another health issue going on, your geriatric Beagle will still be very keen to eat, play and explore.
But, for instance, perhaps getting their head down to food bowl level is a little more difficult these days.
Older dogs may also become forgetful.
Making Adjustments to Accommodate Older Dogs
Some simple adjustments like raising the food bowl and leaving it in the same spot may be simple solutions to address such problems.
Of course, if your Beagle still isn't interested in his food, a trip to the vet might be warranted.
Similarly, ramps, rugs on slippery floors, comfy bedding, easy access to the toilet, extra attention to temperature control (ex. access to the indoors).
And even stylist dog coats are other simple adjustments that will keep the pep in your old pooches' step.
You may also need to think about keeping boisterous kids (humans and puppies) away from older dogs, as fading hearing and sight, along with fragile bones, are all factors that could lead to injury if play gets a little out of hand.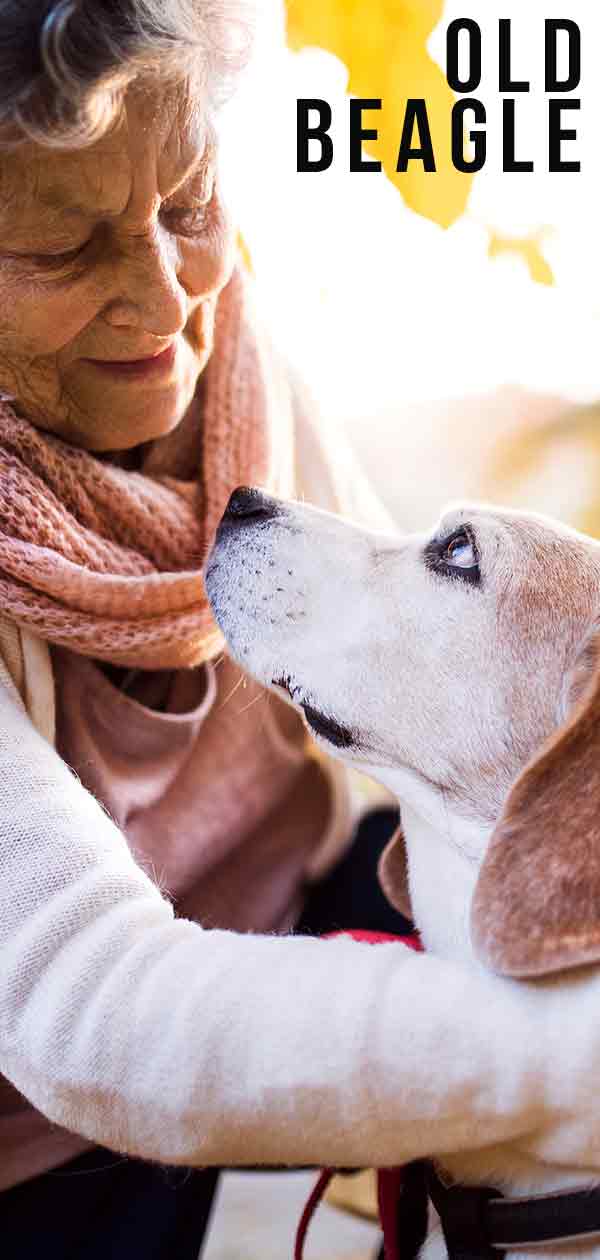 Old Beagle Diets
Many older dogs start to suffer with kidney problems or dehydration, so plenty of clean, fresh water at the ready is important for anyone who lives with an older dog, Beagle or not.
What you feed your senior Beagle will largely depend on your dog and what health conditions, if any, he has developed.
Some more general tips are as follows:
Beagles are particularly prone to get a little tubby.
As all dogs get older, they can't run around and keep the weight off like they used to.
For this reason, an older Beagle is at risk of becoming overweight or obese, which will put even more stress on his bones and joints.
Many older Beagles will benefit from a diet with less fat and calories.
Sudden Weight Loss With Old Beagles
When your Beagle becomes very old, however, bear in mind that he might start to lose weight, perhaps due to decreased appetite or a weaker sense of smell.
If this happens, the fat and calorie content in his diet may need to be increased again in order to make food more tempting.
This is also a good time to make sure he is getting adequate nutrition.
But fats and calories are not the only things you need to pay attention to when feeding an older dog.
For instance, the American Kennel Club recommends that 25 percent of a senior dog's calorie intake should be comprised of protein, as this helps slow muscle waste and assists in the repair of soft tissue.
Mastering a Healthy Lifestyle for Senior Dogs
Fiber can help with constipation, which can be a problem for some older dogs.
However, be careful that the amount of fiber included in your senior pooch's diet does not interfere with the digestion of other nutrients.
Recent findings suggest that instead of the traditional cellulose-based fibers found commonly in dog food, slightly fermentable fiber may help with nutrient digestion.
This may also assist in the regulation of glucose levels.
Depending on other health conditions your senior dog may be living with, a reduced sodium diet might be required.
However, like us, dogs find a bit of salt in their food tasty, so make sure any reduced sodium diet is still palatable.
Don't underestimate how much a good diet and a healthy lifestyle can help keep your older Beagle in the best shape possible.
A study published in 2006 found that feeding older Beagles a diet rich in antioxidants enhanced the host defense mechanisms of the dogs.
Additionally, so did increasing activity levels and learning activities.
In short, it meant they were better able to fight off infections and toxins.
Your Aging Beagle
The aging process in dogs mirrors that in humans.
Usually they slow down as the result of a variety of conditions, rather than succumbing to just one illness.
Their joints stiffen, and their muscles weaken.
They may be more prone to infections and illness. Cancer, arthritis, diabetes, kidney and heart problems are common issues you will need to keep an eye out for.
Their skin becomes somewhat saggy.
They may get a little lumpy, as they become prone to developing lipomas—small deposits of fat under the skin.
They will also go grey around the face, and their fur becomes dry and brittle.
You may also notice that they become forgetful. Older dogs can experience memory loss just like us.
Sometimes, your old dog might leave messes in the house. Older female dogs in particular may suffer with urinary incontinence.
Attitude Changes in Old Beagles
They might also get grumpy or snappy.
It is possible that this change in attitude is due to hearing and sight loss.
They can't hear you walking up behind them so the sudden sight of a person right next to them could give them quite a fright.
Just make sure that any sudden snappiness is not due to pain, illness or injury.
If you are concerned about any behavior or symptoms your older Beagle is displaying, it is a good idea to contact your vet for a checkup.
While this might sound a little depressing, it is not all bad news.
Your older Beagle will not necessarily experience all of the problems associated with aging.
An older Beagle will be calm and less boisterous than a younger dog—happy to just "be."
And there will be no need to follow him around constantly to stop him from getting into mischief.
10-Year-Old Beagle
A 10-year-old Beagle is old, but not so old that he doesn't have a little pep left in his step.
It is around this age when you should start getting more specific "geriatric" vet checks to keep an eye on his health and pick up any problems early.
Issues such as cancer, arthritis, memory loss, heart problems, kidney problems or diabetes could crop up, so keep an eye out for symptoms.
While your Beagle will still very much want to be part of the action, he might be getting a little stiffer and perhaps he will tire out quicker than he did before.
At this stage, make sure his weight is in check.
The Beagle's sniffer is still likely in good shape, so he might insist on eating just as much food as he did as a young whipper snapper.
Unfortunately this big appetite may come without keeping up the activity levels required to burn it all off.
Keeping your dog at a healthy weight will help reduce stress on his joints and might ward off mobility issues for a few more years.
11-Year-Old Beagle
Depending on the general health of your Beagle, the rate at which he slows down will vary.
Adjust your dog's diet, exercise and living arrangements to keep him comfortable through these changes.
Remember that at this age, your Beagle may still be pretty sharp mentally, so don't forget to keep him occupied and involved in family activities.
12-Year-Old Beagle
As the aging process progresses, keep an eye on your Beagle's behavior and take particular note of signs of pain or confusion.
If you feel some of your dog's symptoms are progressing rapidly, take him to the vet.
There are treatments available for problems associated with aging, and it might just be what the doctor ordered to give him a new lease on life.
Older Beagles may start to develop Cognitive Dysfunction Syndrome.
In short, it is like Alzheimer's for dogs. Your vet can make the diagnosis by carrying out a number of tests.
Communicate well with your vet and let him know of any changes you have noticed.
13-Year-Old Beagle
Your senior dog will continue to slow down, and the grey hairs will keep popping out as your Beagle hits 13.
By this age, your dog, even if healthy, is most definitely a senior citizen.
If he hasn't become much slower, don't be shocked if he starts acting a little "old" by this age.
A frank discussion with your vet about the last years of your dog's life is a good idea so that you are prepared emotionally for what is to come.
It's wise to have plans in place if you need to make any big decisions around the end of your dog's life in the coming months or years.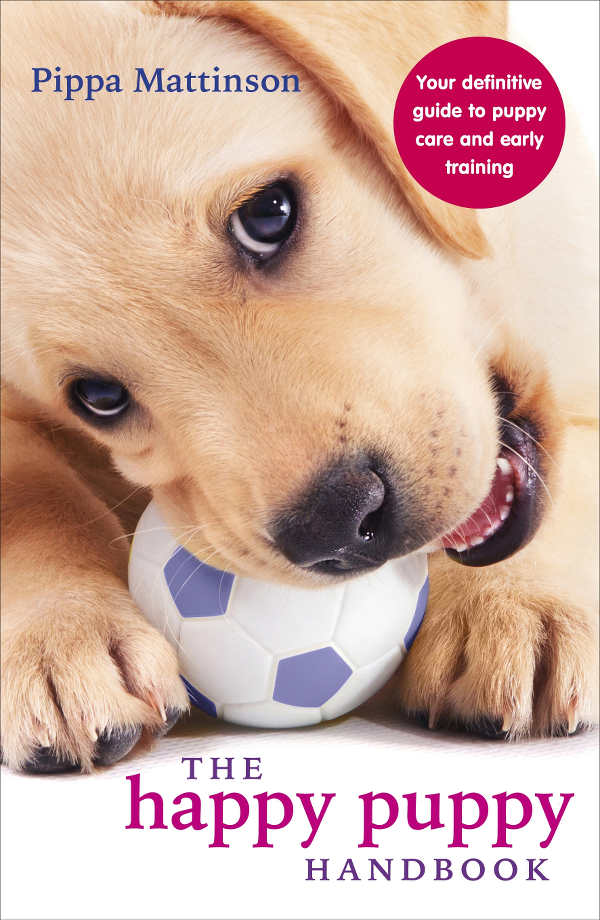 14-Year-Old Beagle
By this stage, your Beagle is probably starting to hit legendary status in your family and probably in your neighborhood too.
Make sure you make regular trips to the vet to monitor your dog's condition and make any adjustments to his care and medication as required.
15-Year-Old Beagle
If your Beagle has hit 15, you both deserve a (gentle) pat on the back.
You may notice your Beagle losing more weight as he hits this age.
Don't be surprised if he seems to suffer memory loss or appears confused at times.
As long as your dog is happy, enjoy old age with him. Treasure these new idiosyncrasies.
Your old pooch may also want to spend most of his time resting. And at that age, he deserves to sleep in as long as he likes.
Make sure he is comfortable and has a nice soft bed in a spot he loves. You have both done so well to get this far.
If your old pooch does seem to be in pain or distress, don't hesitate to take him to the vet and talk about what can be done to ensure your buddy is comfortable.
Your Old Beagle
Most older dogs are still puppies at heart.
They may not be as fast these days, but they have racked up years of experience and make loyal, placid companions.
Deem it a privilege to provide him with all he needs to keep enjoying life to the fullest.
Older Beagles will benefit from some tweaks to his diet to give him the nutrition he needs.
A few adjustments to his accommodations to make getting around a little easier will definitely help him enjoy "retirement."
While it is wise to be prepared for the challenges of old age, don't forget they're called the "golden years" for a reason.
Do you have an older dog? If you have some tips and tricks to help other families with older dogs, let us know what helps your pooch get the most out of life.
Related Articles
References and Further Reading:
Hall, J.A., et al., 2006, "Dietary Antioxidants and Behavioral Enrichment Enhance Neutrophil Phagocytosis in Geriatric Beagles," Veterinary Immunology and Immunopathology, Vol. 113, Issues 1–2, pgs. 224-233,
Hughes, J.M.L., 2008, "Anaesthesia for the Geriatric Dog and Cat," Irish Veterinary Journal
Massimino, S.P., et al., 1998, "Fermentable Dietary Fiber Increases GLP-1 Secretion and Improves Glucose Homeostasis Despite Increased Intestinal Glucose Transport," Journal of Nutrition.
McCullough, S., 2007, "Beagles For Dummies," Wiley Publishing
Mossier, J.E., 1989, "Effect of Aging on Body Systems of the Dog," Veterinary Clinics of North America: Small Animal Practice, Vol. 19, Issue 1, pgs. 1-12