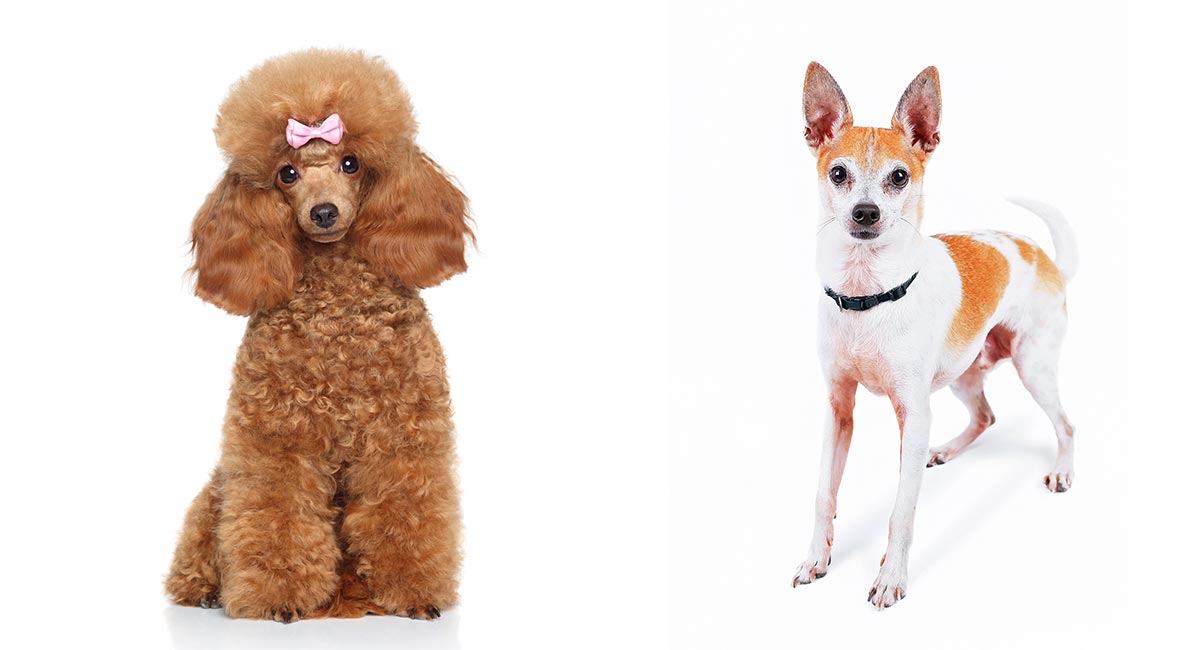 Are you considering becoming the proud owner of a Foodle but have some questions before you take the leap?
Then this is the article you've been looking for!
What Is a Foodle?
The Foodle is the offspring of the Toy Poodle and the Fox Terrier.
Known as a crossbreed, the Foodle is neither purebred nor mutt, and because of this, there is some controversy surrounding his existence.
Before you decide if a Foodle, or any crossbreed, is right for you, there are some things you should know.
The Crossbreed Controversy
On the surface, the practice of crossbreeding may seem harmless, but it has stirred up some dust in the dog world.
For one thing, many experts insist that crossbreeds are simply just glorified mutts. However, supporters of crossbreeding point out that crossbreeds and mutts are different.
Designer dogs are just that—dogs who are designed by breeding two specific purebred parents in the hopes of getting a certain combination of characteristics from each.
Mutts, on the other hand, are not "designer dogs." They carry a lineage of several different breeds in their bloodline and were not "mixed" on purpose.
To learn more about mutts versus crossbreeds, visit us here.
Purebred Vs. Crossbreed Health
But what about health? As you may know, purebreds are becoming progressively prone to genetic health issues as a result of generations of overbreeding.
Those who support crossbreeding are hopeful that the practice may help to reduce these inheritable health problems by widening the gene pool. This may reduce the chances of disease being passed on from generation to generation.
It sounds promising to many, but there are some who disagree, insisting that crossbreeds and purebred dogs are equally susceptible to inheriting a number of genetic health issues.
For a more comprehensive article on the matter of health in hybrid versus purebred dogs, click here.
And now that we've covered the designed dog debate, let's move on to all things Foodle, starting with his origin!
Where Does the Foodle Come From?
Seeing as he is a newer generation crossbreed, the origin of the Foodle is still relatively unknown.
For that reason, the best way to dig into his past is to uncover the roots of his parent breeds.
Origin of the Fox Terrier
Originating in Britain during the 1700s, the Fox Terrier began as a renowned foxhunting dog. He utilized his small stature, outgoing nature, and keen instincts to run foxes from their dens for his master.
This smart and funny breed, known for his quirky personality, has even excelled in show business, with a slew of movies and television shows rocketing him to stardom during the 1930s and '40s.
However, did you know there are two Fox Terrier breeds? That's right! The Wire Fox Terrier and the Smooth Fox Terrier.
In spite of being similar in every other way except for their coat, the Wire Fox Terrier and the Smooth Fox Terrier have long been considered two separate breeds in the UK, with the US following suit and dividing the two in 1985.
Today, the Fox Terrier breeds continue to be adored family pets, talented show dogs, and successful hunting dogs!
Now, what about the Poodle?
Origin of the Toy Poodle
The tiny Toy Poodle is a descendant of the German Standard Poodle, who was originally bred as a duck hunting dog nearly 400 years ago.
Despite being incorrectly referred to as a "French Poodle," the Poodle breed did not become famous in France until after his working days, where his fancy Pompons, which were cut to protect him as he swam through frigid waters after his prey, became a fashion statement amongst nobles.
Highly intelligent and very showy, this entertaining breed also excelled in circus life as well as strutting his stuff in street performances!
The Standard Poodle has been around for hundreds of years, but the Toy Poodle was not created until the breed reached America in the early 20th century.
Bred primarily for companionship, the Toy Poodle thrives in city life and is the ultimate lap dog.
Intelligent, highly social, and very entertaining, the Poodle is currently one of America's favorite dogs, ranking in at number 7 out of 194 on the AKC's list of America's most popular dog breeds.
Foodle Temperament – Fox Terrier Parent
It's likely the Foodle is going to be a smart and funny dog, since both his parent breeds are, but what other traits might he inherit from them?
Let's see!
The Fox Terrier has a quirky disposition and a winning personality. Known for his spunk and lively spirit, this little dog is said to be childlike in manner, with an affinity for play and excitement!
However, he is extremely active and will be more suitable for families with children who are over the age of five.
Smaller children could excite this breed, who enjoys rambunctious play. He will often chase after youngsters and can sometimes nip out of excitement.
While not an aggressive breed, Fox Terriers were bred for hunting and have an incredibly high prey drive.
For this reason, they should not be left unsupervised around smaller household pets like cats, rodents, or birds.
However, Fox Terriers do well with other household dogs.
Though he is rather intelligent, the Fox Terrier does have a tendency to bore easily and can become stubborn if he does not want to do something.
Foodle Temperament – Poodle Parent
While the Poodle was also bred for hunting, the Toy Poodle was created to be a family companion.
However, he still has a high prey drive, and although he is small, he is likely to chase after smaller animals instinctually.
The Toy Poodle is very affectionate and enjoys being around family, although his small size may not make him suitable for very young children who could accidentally harm him.
One of the world's most intelligent dog breeds, the Toy Poodle aims to please and loves nothing more than entertaining his family.
Despite his proud look and fancy coat, the Poodle enjoys being a dog and loves getting messy!
Considering the Poodle and the Fox Terrier are both active, intelligent, and fun-loving breeds, you can expect for your Foodle cross to share the same traits!
However, he could be more stubborn like his Fox Terrier parent or eager to please like his Poodle parent. It will all be left up to chance and genetics!
Foodle Crossbreed Size and Weight
As with all crossbreeds, determining an exact size and weight for the Foodle is nearly impossible.
However, we can guesstimate a range of size and weight of your potential Foodle cross by comparing his purebred parents.
Let's take a look at the Fox Terrier.
Weighing in at 15 to 18 pounds and standing 15.5 inches tall, the Fox Terrier is a small breed with a big personality!
However, his Toy Poodle counterpart is even tinier, weighing 4 to 6 pounds and growing no taller than 10 inches!
So, considering the above information, your Poodle Fox Terrier cross will not grow to be over 15.5 inches tall and could weigh anywhere from 4 to 18 pounds.
Remember, it is all going to depend on genetics and chance, and whichever purebred parent your Foodle crossbreed takes after most.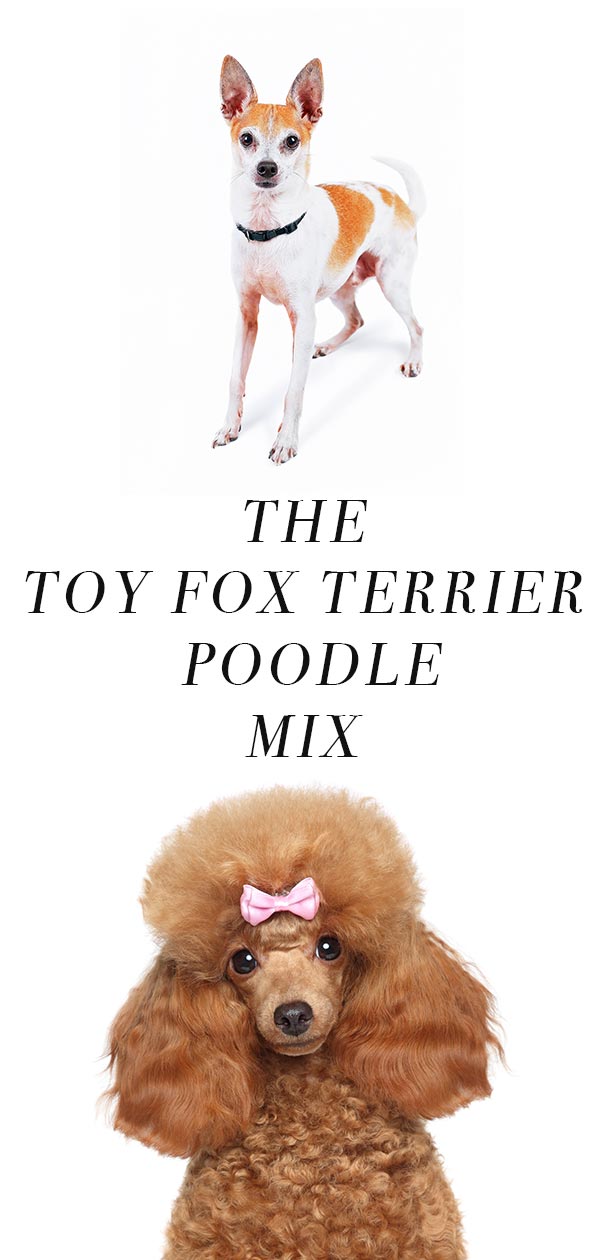 Does the dog in your life have a cat in theirs? Don't miss out on the perfect companion to life with a purrfect friend.

The Happy Cat Handbook - A unique guide to understanding and enjoying your cat!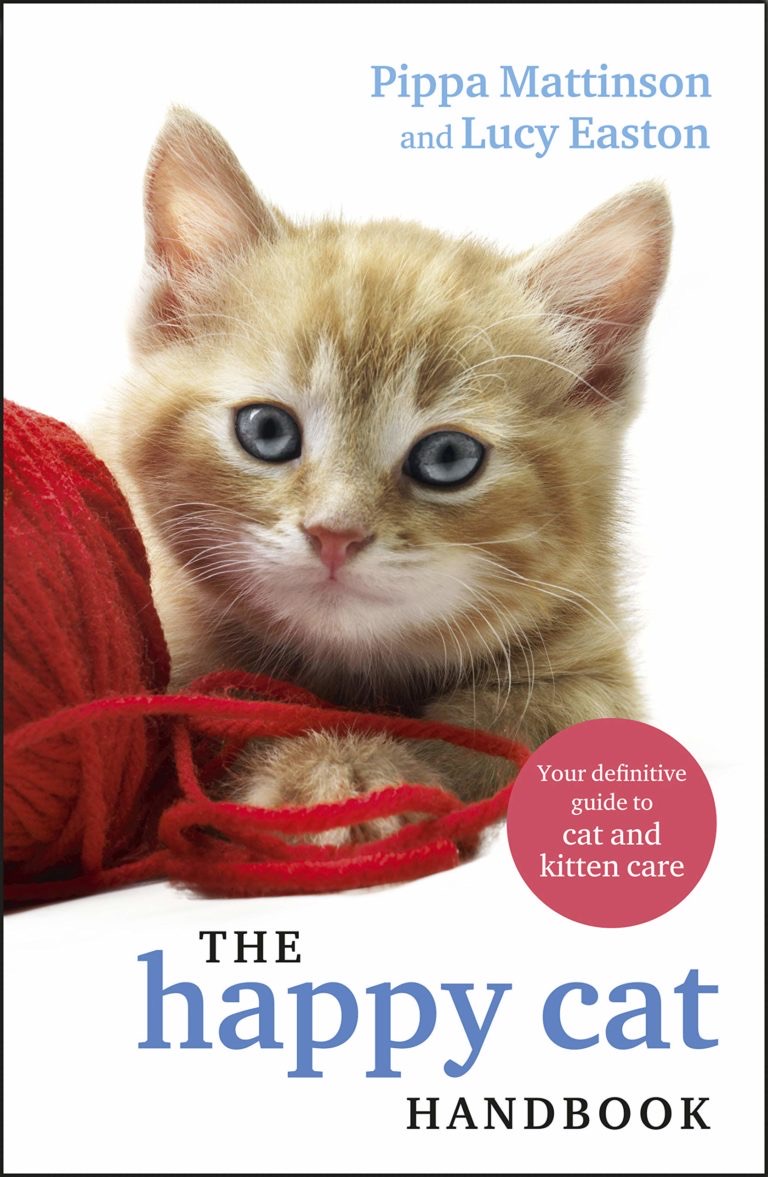 At A Glance – The Description of the Foodle
Of course, the rules of chance and genetics also apply when considering what a Foodle looks like.
The best way to get an idea of this crossbreed's characteristics is going to be by studying the physical attributes of his purebred parents.
The Fox Terrier, for starters, will have either a wire coat or a smooth coat.
And although Smooth Fox Terriers and Wire Fox Terriers are considered different breeds, we should keep in mind that, other than coat texture and length, their breed standards are basically the same.
Let's talk about the coat differences of the Smooth Fox Terriers and Wire Fox Terriers.
As his name suggests, the Wire Fox Terrier has hair that is harsh and wiry to the touch.
And although there is no breed that is 100% hypoallergenic, the Wire Fox Terrier barely sheds, and he produces very little allergy-inducing dander.
The Smooth Fox Terrier, on the other hand, has a shorter, smoother coat that sheds seasonally.
Foodle Colors
However, both the Wire Fox Terrier and the Smooth Fox Terrier have coats that come in the same four color combinations, including:
White
Blue Belton
Tri-Color
White and Chestnut
The Fox Terrier breeds also have long ears, alert eyes, and a naturally long tail that is often docked.
The Toy Poodle also is considered to be hypoallergenic, hardly shedding and producing much less dander than many other allergy-inducing dogs.
His dense, curly coat comes in many colors, such as:
Black

Apricot

White

Cream

Tan

Blue Belton

Blue

Silver

Sable

Brown
The Toy Poodle has long ears and, much like the Fox Terrier, a long tail that is often docked.
Keep in mind that when you're dealing with a crossbreed like the Foodle, the aspects of coat type, texture, and color will be left up to chance.
How Long Does the Foodle Live and What Are His Health Issues?
With a crossbreed such as the Foodle, determining things like lifespan and what types of health issues he may be prone to could be difficult.
For that reason, we recommend looking at the lifespan and any health issues that could potentially come from both the Foodle's purebred parents.
The Fox Terrier, with a life expectancy of 12 to 15 years, is predisposed to patellar luxation, deafness, lens luxation, cataracts, distichiasis, and Legg-Perthes Disease.
So, how about the Poodle?
With a lifespan of 10 to 18 years, the Toy Poodle is prone to inheritable health issues such as Addison's disease, hip dysplasia, progressive retinal atrophy, epilepsy, thyroid issues, bloat, and hypoglycemia.
Since the Foodle is a crossbreed, you may want to consider early health screens.
Early health screening is a great way to prevent or prepare for any inheritable health conditions your Foodle may be predisposed to.
How Do I Groom and Care for A Foodle?
Grooming your Foodle will depend on the coat he inherits from his parent breeds. If the Foodle is a cross between a Toy Poodle and a Smooth Fox Terrier, there is a chance he could shed.
However, if he is a cross between a Wire Fox Terrier and a Toy Poodle then he should hardly shed at all.
Still, both the Poodle and the Fox Terrier require regular brushing and trimming to keep their coats manageable and free from mats and tangles.
You should plan on brushing your Foodle at least two or three times a week and giving him occasional baths when necessary.
Your Foodle will also need his nails trimmed regularly to avoid breakage and his ears cleaned and trimmed to keep infection at bay.
Exercise and Training Requirements for a Foodle
Both the Poodle and the Fox Terrier breeds are active dogs who enjoy being around their family and will require a certain amount of exercise and mental stimulation to stay healthy and happy.
However, the Foodle is a smaller dog, so a brisk walk, a romp in the yard, or even some play in the home should be enough to meet his exercise needs.
Since the Foodle comes from a pair of rather brainy breeds, he will need mental stimulation as well. Teaching him new tricks, offering him doggy jobs, or even providing him with some doggy puzzles will help keep him sharp!
As far as training your Foodle, if he inherits his Poodle parents zest for showmanship, you can expect training to be a breeze!
However, if he is more like his Fox Terrier parent, there is a chance he could become easily bored and stubborn if he's not enjoying himself.
Remember to keep training consistent and fun, and use positive reinforcement, as well as the treat-based reward system.
As with any dog, we recommend early socialization and obedience training to reduce anxiety in your Foodle and to better ensure he is adaptable and well-rounded in any setting.
Is My Home and Lifestyle Ideal for owning a Foodle?
The Foodle is a small dog who does well in many different home types! However, his Fox Terrier parent breed can be a bit rambunctious, so if you have a family with children under the age of 5, you may want to wait to get a Foodle until your kiddos are older.
On the other hand, if you have no children or children over the age of 5, and if you are able to provide the adequate exercise, training, and TLC your Fox Terrier Poodle Mix needs to thrive, then this may be the perfect pup for you!
Finding a Foodle Puppy
There are many resources to go through to get Foodle puppies, so it's important to do your research and make sure you are going through a responsible source.
If you are looking to adopt your Foodle from a shelter, one of the benefits is going to be the price.
Adoption fees are much less than breeder fees, typically running anywhere from $50 to $100, with the added bonus of shelters covering the initial vet cost.
On the other hand, if you would prefer to get your Foodle pup from a breeder, you may be paying anywhere from $500 to over $1000, depending on the breeder and if the parent breeds are show quality.
One of the benefits of going through a breeder is that you will have the opportunity to ask questions about any health or temperament issues with the Foodle's parent breeds or previous litters.
You should also note that reputable breeders should be able to provide certificates proving their puppies have health screened and are cleared to go home with you.
Do you own a Foodle? Don't be shy! Tell us about your experience with the Foodle crossbreed in the comments!
References
Borbala Turcsan, Adam Miklosi, Eniko Kubinyi, Owner Perceived Differences Between Mixed-Breed and Purebred Dogs
William A. Priester, D.V.M., M.P.H., Sex, Size, and Breed as Risk Factors in Canine Patellar Dislocation, Veterinary Medical Association
Silvia Ruefenacht, Sabine Gebhardt-Henrich, Takeshi Miyake, Claude Gaillard, A Behavior Test on German Shepherd Dogs: Heritability of Seven Different Traits, Applied Animal Behavior Science
Tiffani J Howell, Tammie King, Pauleen C Bennett, Puppy Parties and Beyond: the role of early age socialization practices on adult dog behavior, Volume 6, pages 143-153
Nathan B Sutter and Elaine A Ostrander, Dog Star Rising: The Canine Genetic System, Nature Reviews Genetics, Volume 5, pages 900-910
Lowell Acumen DVM, DACVD, MBA, MOA, The Genetic Connection; a Guide to Health Problems in Purebred Dogs, Second Edition, 2011
Purebred Vs Mutt – Common Objections to Mixed Breed Dogs
Carol Beuchat Ph.D., The Myth of Hybrid Vigor in Dogs…Is A Myth